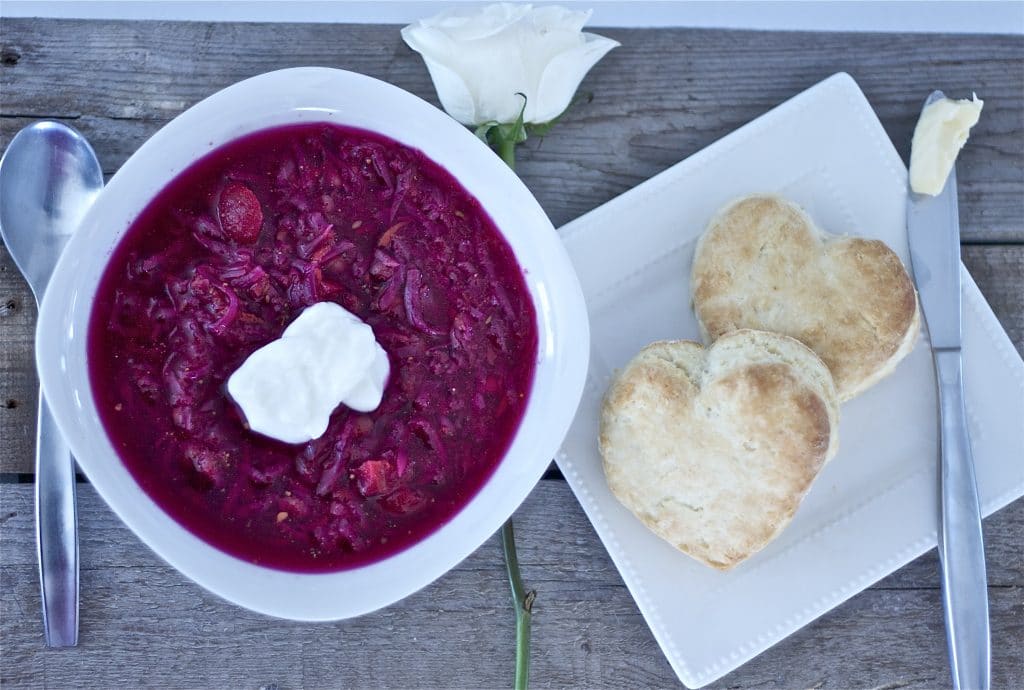 My mom made this easy Heart-Shaped Biscuits and Borscht for my dad a few years ago, and I'm totally ripping the idea straight from her. (Thanks Mom!)
It covers several must-haves for Valentine's Day: something red, something heart-shaped, and of course food.
For the biscuits, you'll need:
2 cups of all-purpose flour
4 tsp baking powder
dash of sea salt
1/4 cup of unsalted butter
1 cup of milk
pastry cutter/blender
pastry brush
baking sheet
parchment paper
mixing bowl
heart-shaped cookie cutter
Directions:
Preheat oven to 425 F.
Sift together the flour, baking powder and salt.
Cut butter into pieces and work into the flour mixture with a pastry cutter.
Add in milk a bit at a time while working the dough – just enough so it comes together. You don't want to over-work it or the biscuits will turn out like a puck instead of nice and fluffy.
Place on a lightly-floured surface and roll out to a 1/2 inch thick.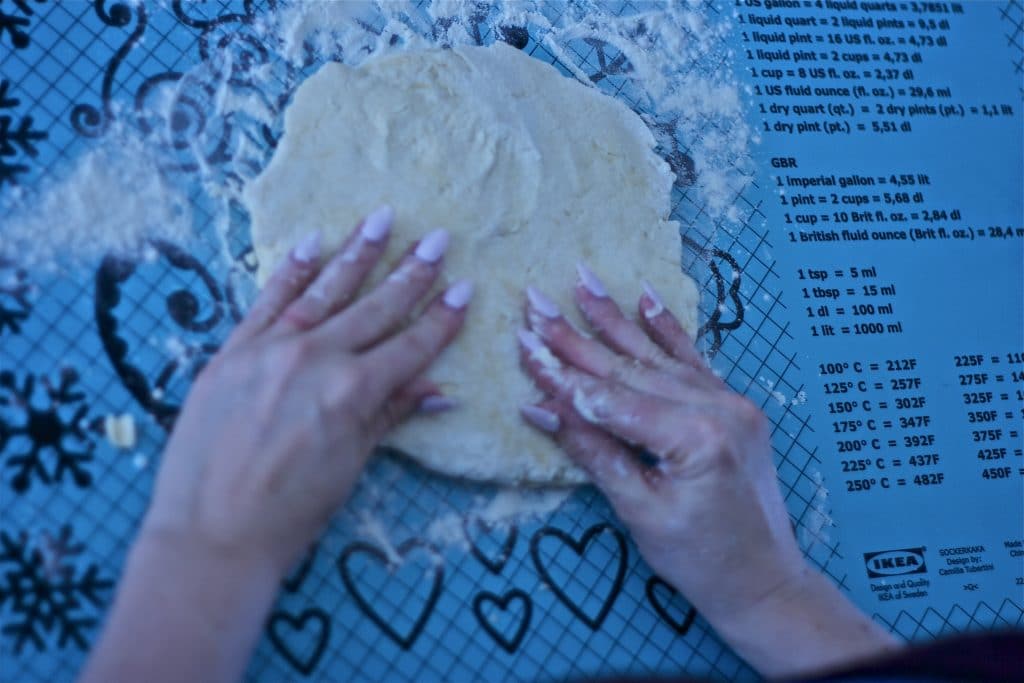 Use your heart-shaped cutter to shape your biscuits.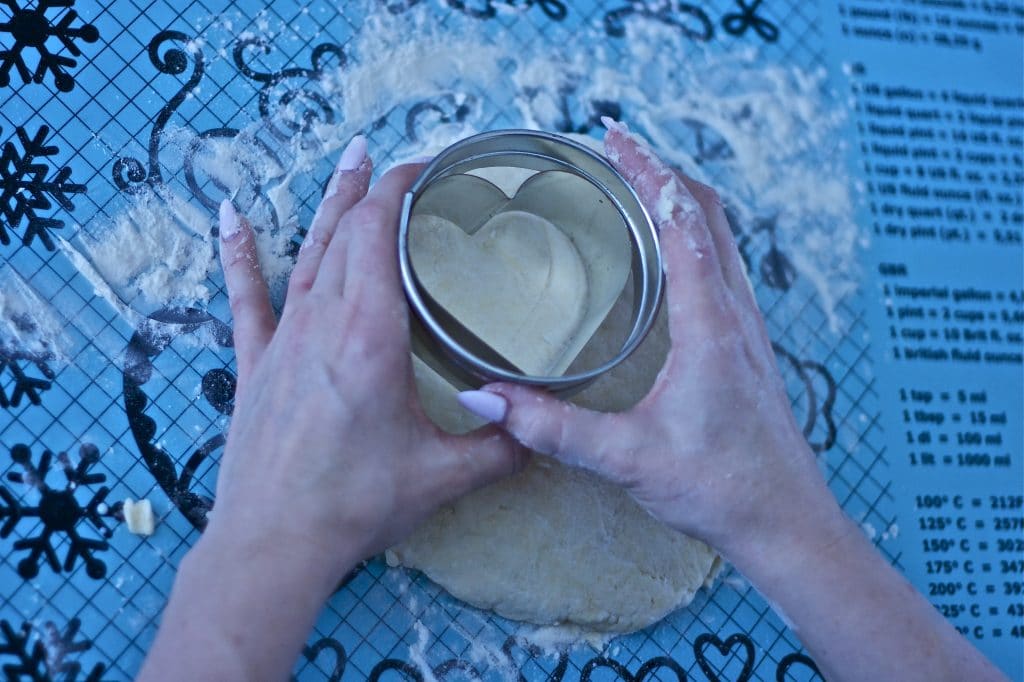 Take a pastry brush to paint a bit more butter onto the front of your biscuits to give them that golden-brown glaze.
Bake for 12-14 minutes.
You can stop at making just the biscuits, or go all the way and whip up this amazing Borscht. I enjoy this classic Ukrainian dish year-round, but it's an especially lovely comfort food on Valentine's Day when it's still a little chilly outside. As mentioned, this is my mom's recipe…and it's the best!
For Mama Skelton's Borscht, you'll need:
8-10 beets
One large onion
1/2 head of thinly-sliced cabbage
1 large can of diced tomatoes
Two tbsp sugar
Four potatoes – grated
Four carrots – grated
3 cans of pork and beans
6 cups of beef broth
1 tbsp vinegar
1 cup of dill – finely chopped
Directions:
Cook unpeeled beets in a large pot of water, then let them cool. (You can do this a day ahead of time if you like.)
Put chopped onion, potatoes, cabbage and carrots in a large stock pot. Cover with water and boil until tender.
Peel the cooked beets, then grate them. Add the grated beets to the rest of the vegetables and simmer for a few minutes.
Add the remaining ingredients and simmer for another 1/2 hour.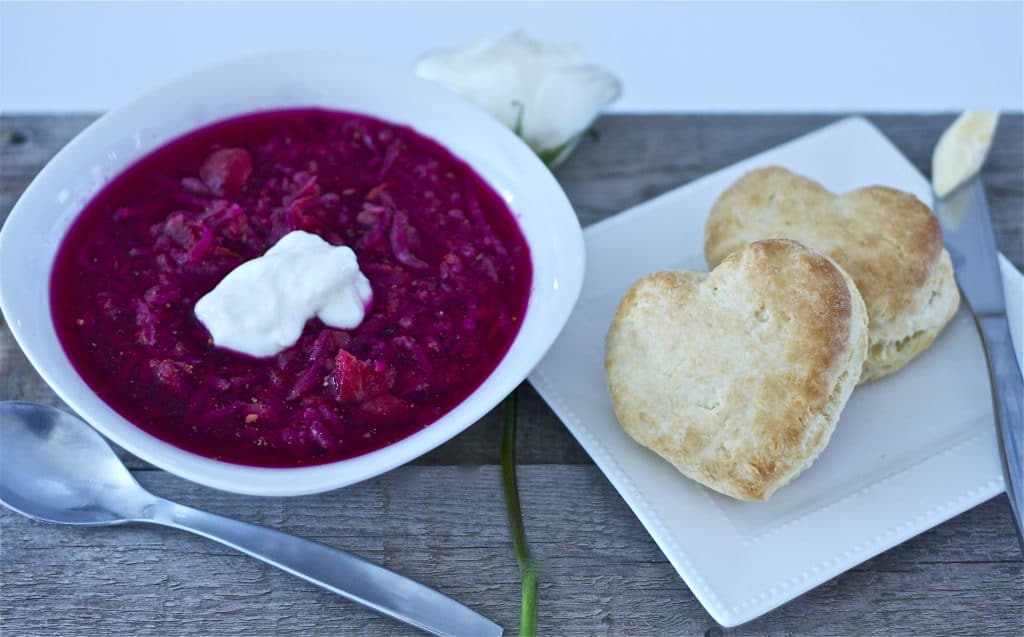 There you have it! Your tummy is full and hopefully your heart is too. Awwwwww….
xx