The coolest and most inexpensive way to spice up your room! Make this hanging bedside table using only a little of your time and little money!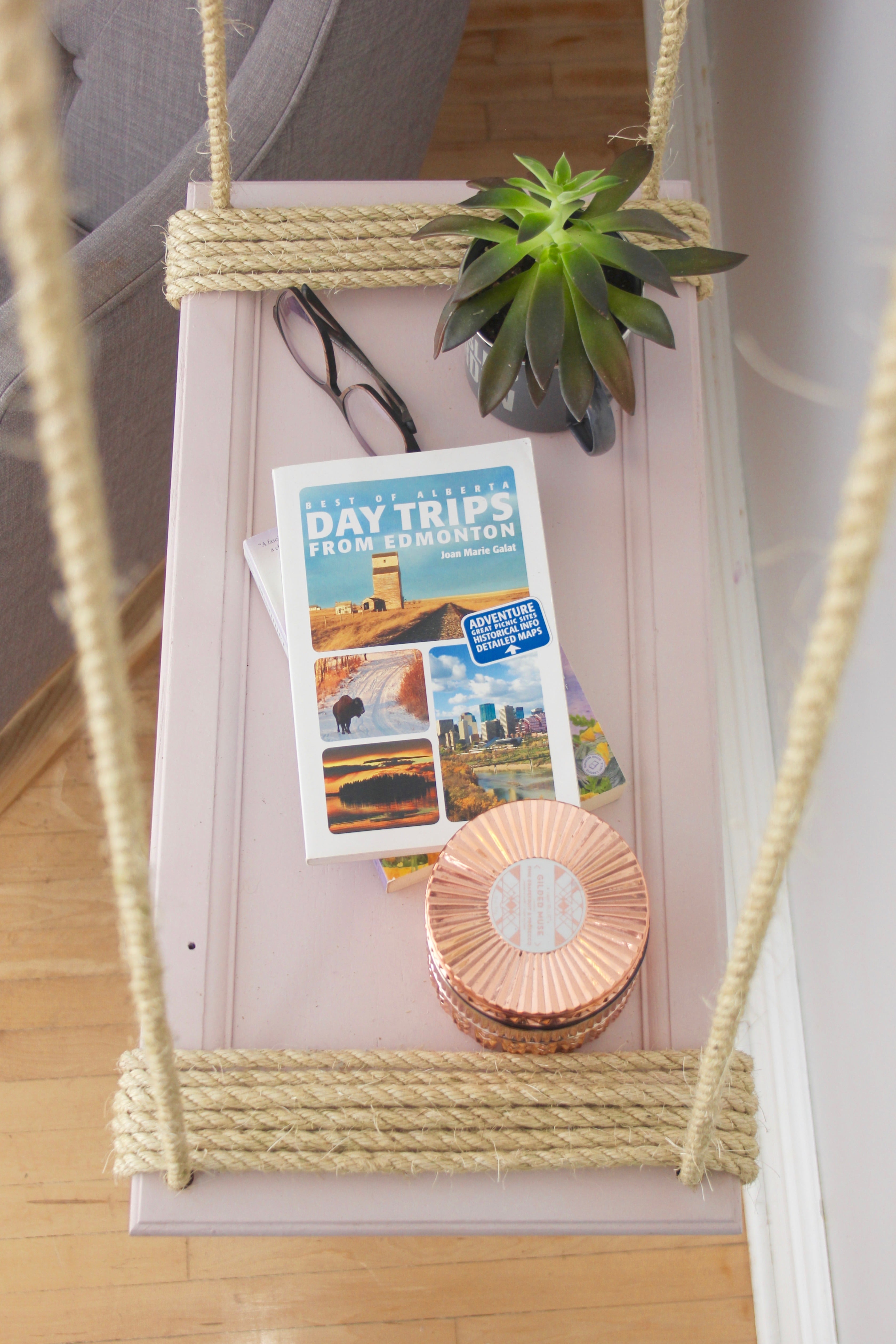 Hanging Bedside Table DIY
Hello, friends! I created this hanging bedside table several months ago for The Edmonton Fall Home Show's Notable Nightstands Challenge, in support of Habitat for Humanity. Now, I'm going to show you how to do it yourself. It's super easy and, I think, really unique. Best part? It's under $20 to make!
You'll Need:
Materials:
Old cupboard door (this one is 11.5″ x 23″)
Twisted sisal rope 3/8″,  50 ft length
Rust-Oleum Chalked Ultra Matte Paint in Blush Pink (or whatever colour you choose!)
Rust-Oleum Chalked protective top coat in Matte Clear
Ceiling hook that can hold 50 pounds

Tools:
Directions:
I scored this old cupboard door at the Habitat for Humanity Restore for $6. Wipe it clean, lightly sand it, and then spray with your Chalked Ultra Matte Paint. I did one coat, drilled holes in each corner of the cupboard, and then did another coat. I topped it off with Chalked Protective Top Coat in Matte Clear.  I let each coat dry for a few hours but it's safe to touch after about 20 minutes.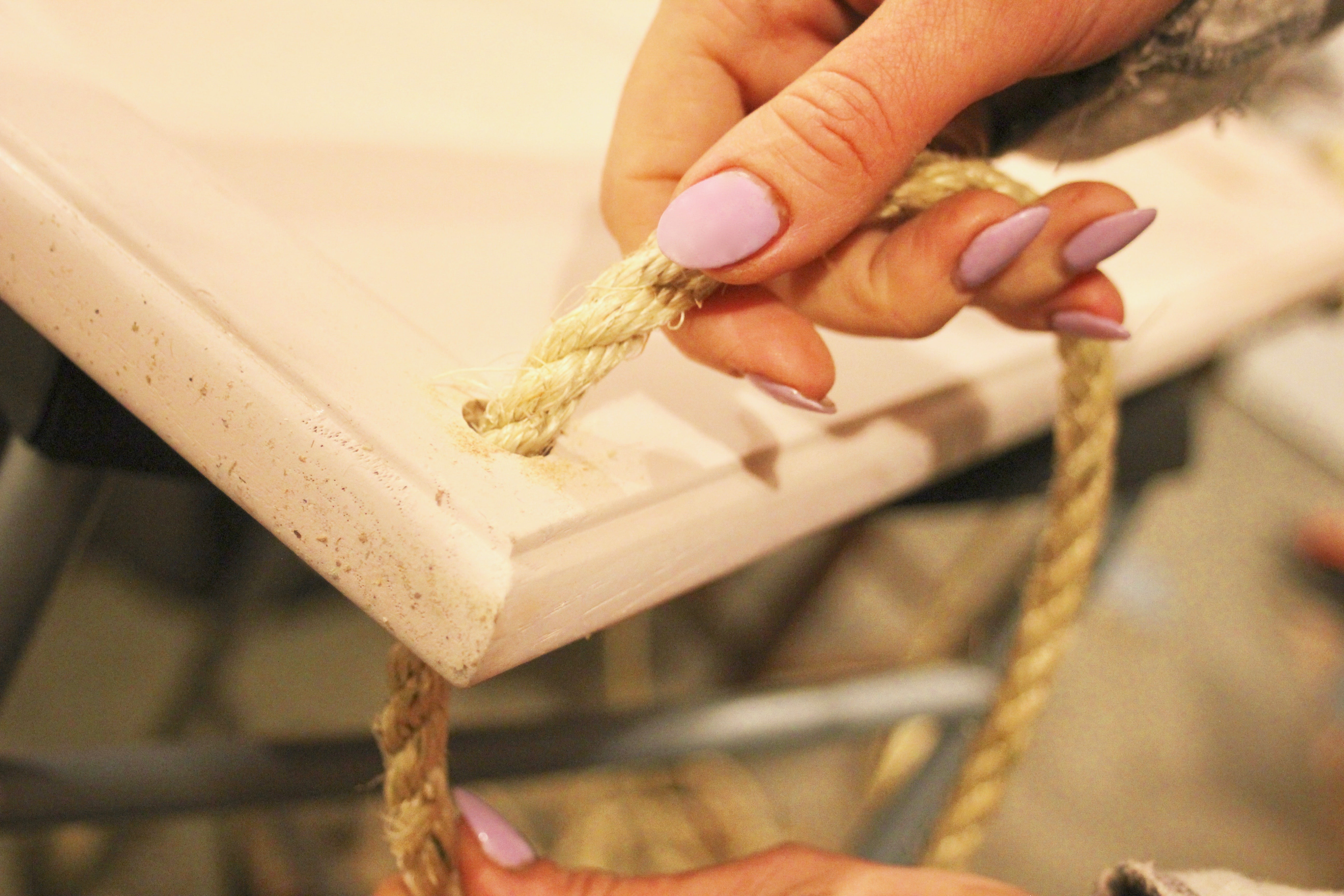 Next, unwind your rope, find the centre, and cut in half so you have two 25-foot lengths of rope. Weave one of the rope pieces through one of the holes, pull down about a foot and tie a knot. Push the other end of the same rope piece through the other hole on the shortest side and tie another knot. Do the same thing on the other side. (The knots are temporary so they don't need to be perfect.) Tie the two sides of rope together and secure a loop to hang your piece.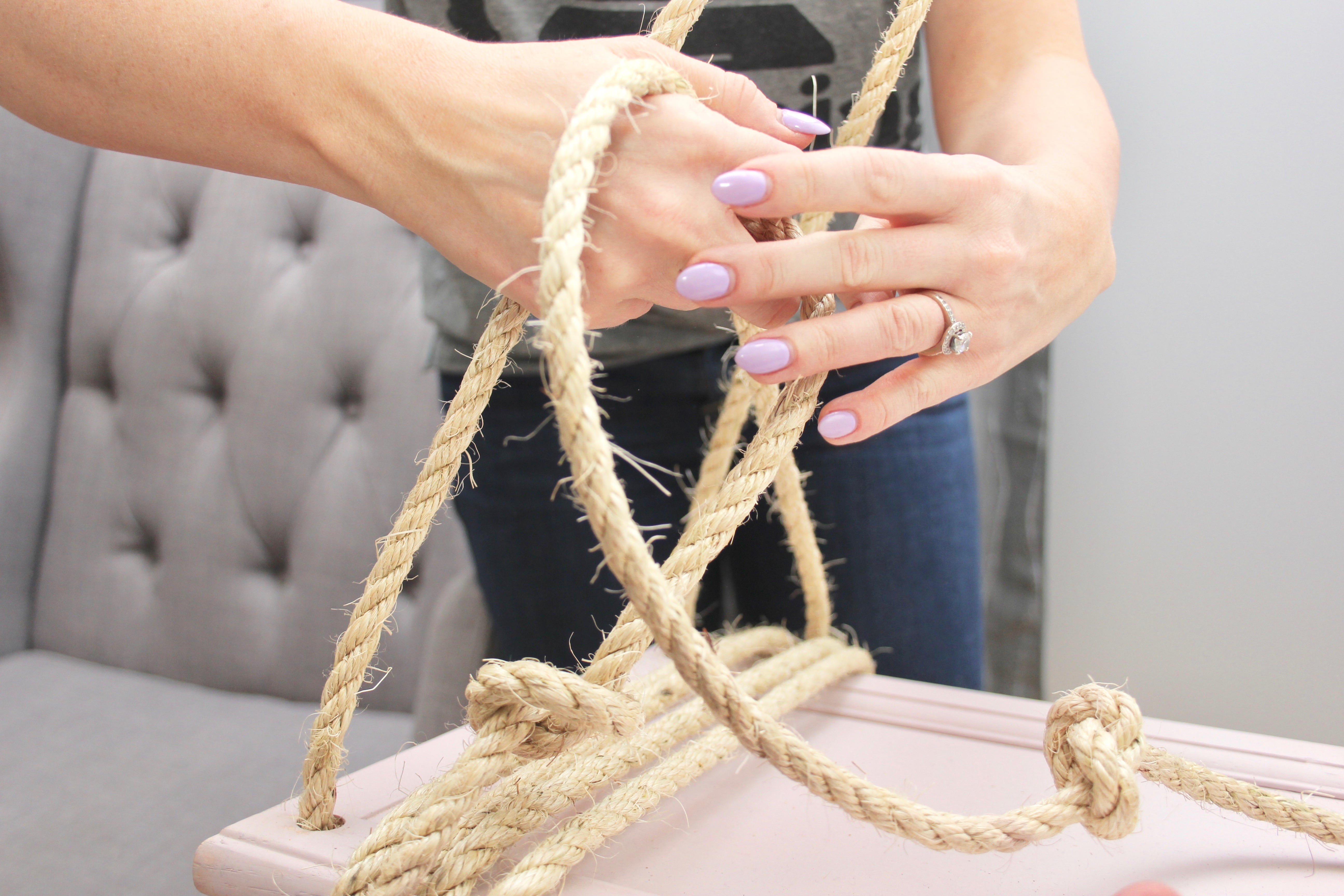 Get your ceiling hook in place and hang the piece. Next, wrap the excess rope around your board several times on each side, knot it, and either tuck in or cut off any pieces sticking out.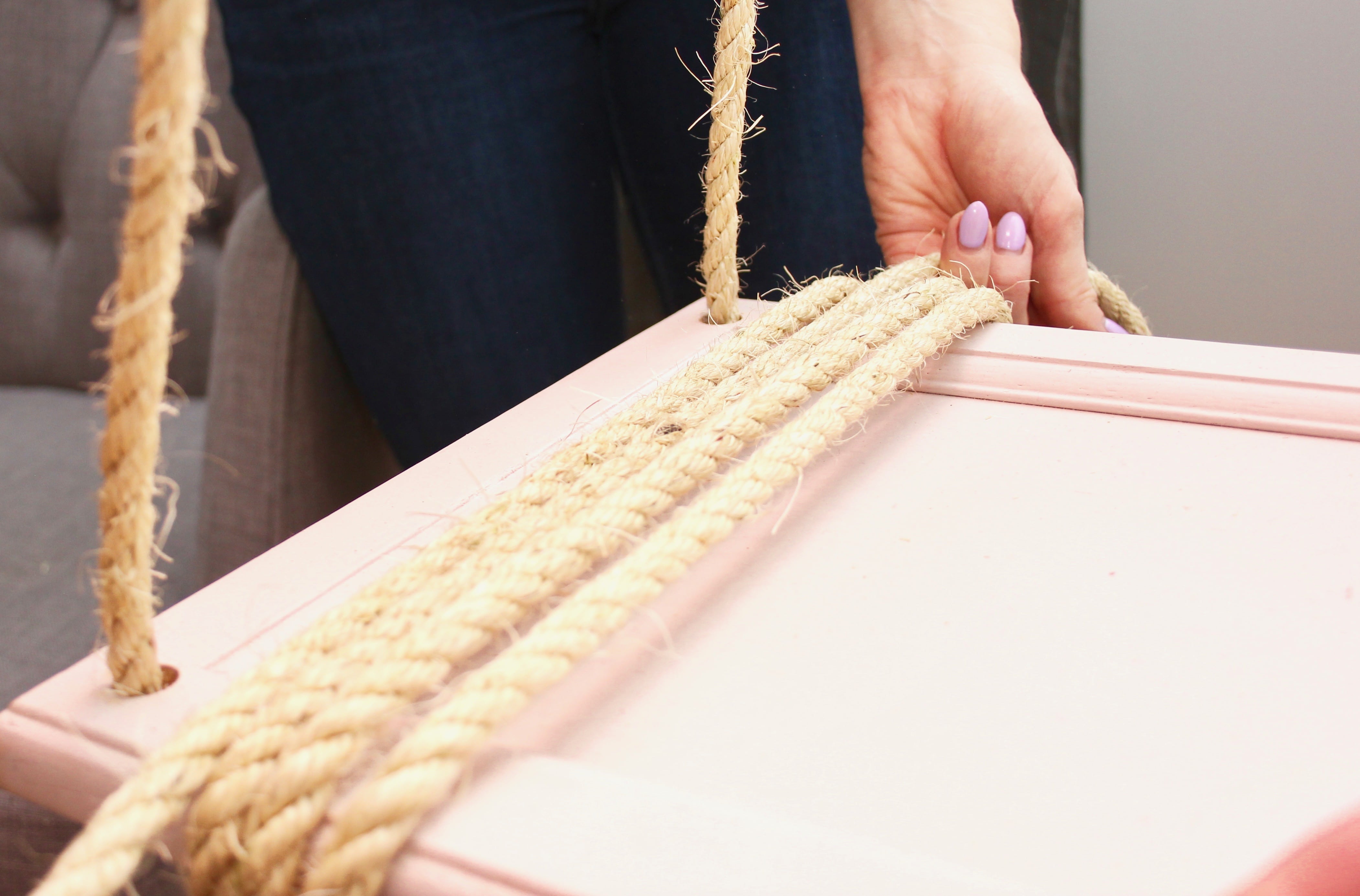 I love the way it turned out! It creates such a whimsical vibe to a space. The best spots for a piece like this would be a master bedroom, reading room, or bathroom to the side of a claw-foot tub!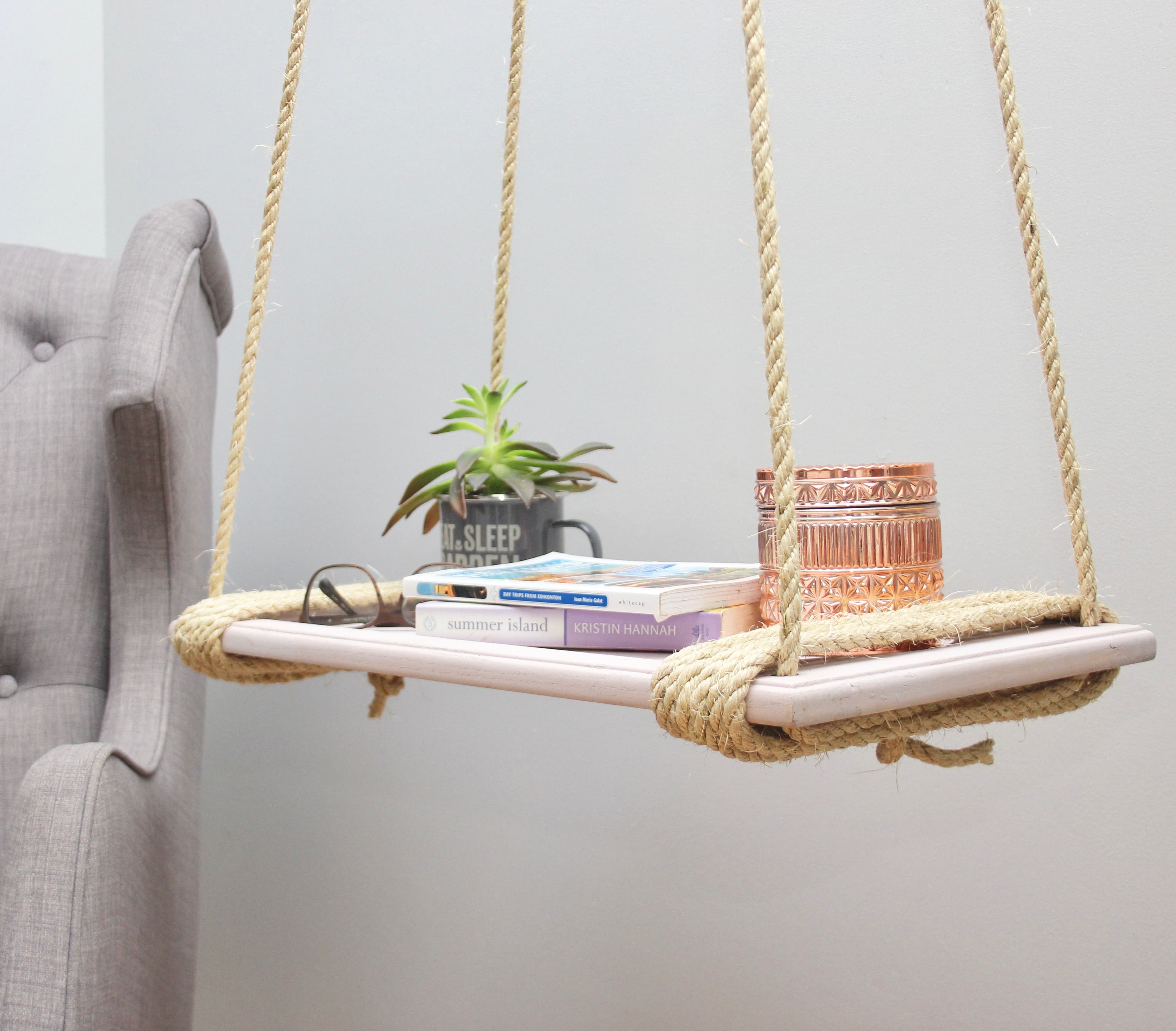 For those in the Edmonton area looking for more DIY and design inspiration, be sure to check out the Edmonton Renovation Show, January 26-28 at the Edmonton Expo Centre.
This post was sponsored by Rust-Oleum Consumer Brands Canada. As always, creative design, ideas, and opinions are my own.
xx