Power-packed with nutrient-rich veggies and a flavourful homemade stock,
this is the best damn chicken noodle soup you'll ever have!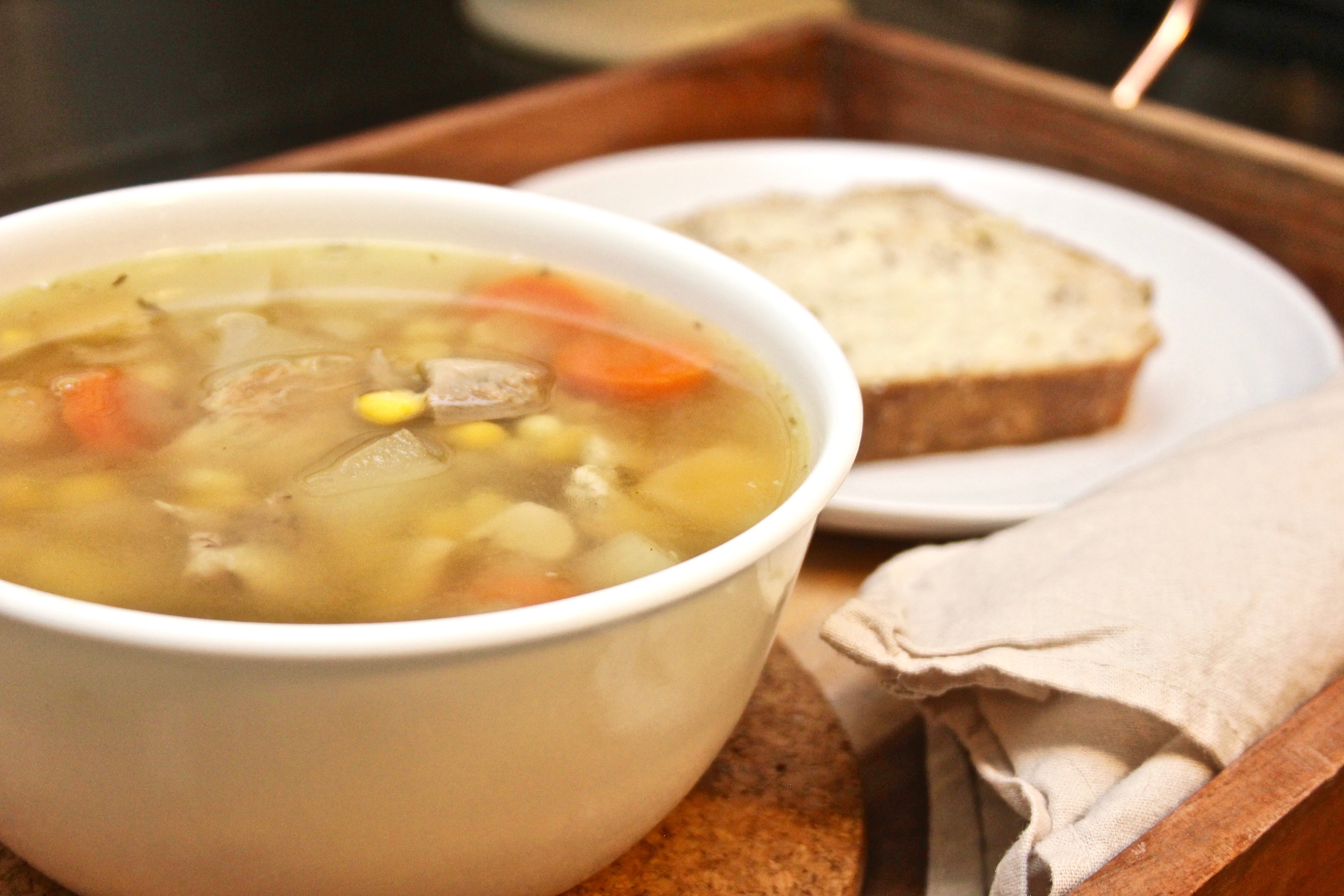 This soup is in regular rotation in our house. The recipe is courtesy my Uncle Lor, who was kind enough to share it with me, and now I'm passing it to you! It's a labour of love (not too difficult, but an investment of your time). When you see your family slurping from their bowls and asking for seconds, it makes every minute of peeling, chopping, and stirring totally worth it! It's also great having some of this special soup stocked in the freezer, which comes in especially handy when family members come down with a cold.
The Best Damn Chicken Noodle Soup
Time Investment:
I won't sugarcoat it – you'll need approximately two hours.
You'll Need:
four litres of homemade chicken or turkey stock (see the Best Damn Chicken Stock recipe here)
six to eight skinned and de-boned chicken thighs (if you have enough left over roast turkey or chicken, you can use that instead)
salt and pepper
garlic powder
three tablespoons of vegetable oil
one large yellow onion
one large purple top turnip
one medium-size rutabaga
six large carrots
two medium-size parsnips
one and a half cups of frozen corn
No Yolks noodles (optional)
crusty sourdough or Italian bread (optional)
Directions:
Preheat oven to 375 degrees (F). Season chicken thighs with salt, pepper, and garlic powder. Bake for 30 minutes.
While your chicken is baking, chop an onion. I love using this hand-cranked chopper, especially for onions. Shop similar ones here and here. Fry chopped onions in a non-stick frying pan (using 1 TBSP of vegetable oil) until translucent. Set aside.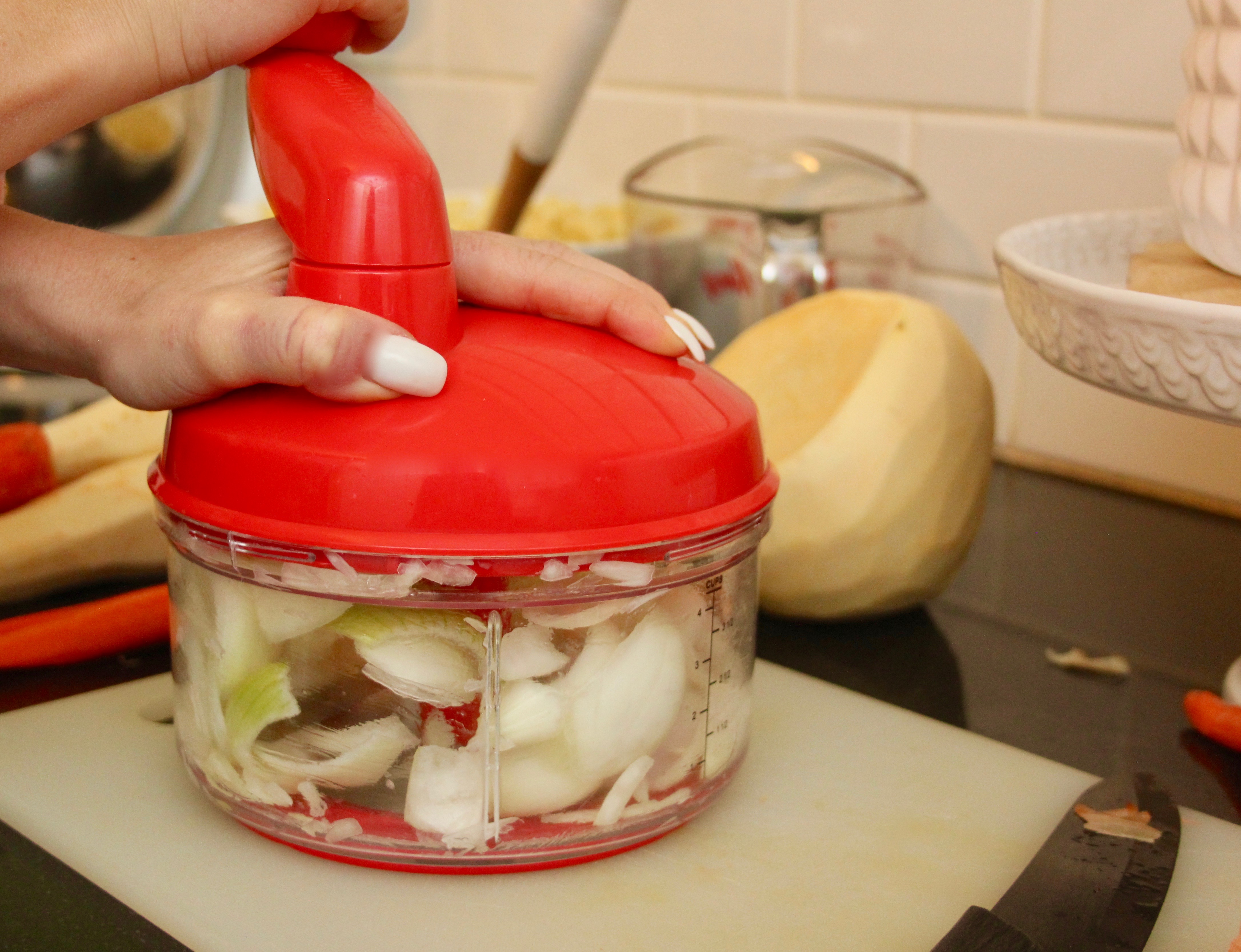 Put your chicken stock into a large stock pot (I use 12 quart) and bring to a boil. Reduce heat and bring stock to a slow boil/simmer.
While your stock is working to a boil, peel and chop your turnip, rutabaga, parsnips and carrots into approx 1″ cubes.
Timesaver tip: when I have a recipe that calls for a lot of veggie or fruit peeling and chopping, I always set up a plastic bag on the counter. I toss all the peelings into the bag and discard everything at once, saving me from going back and forth to the garbage can.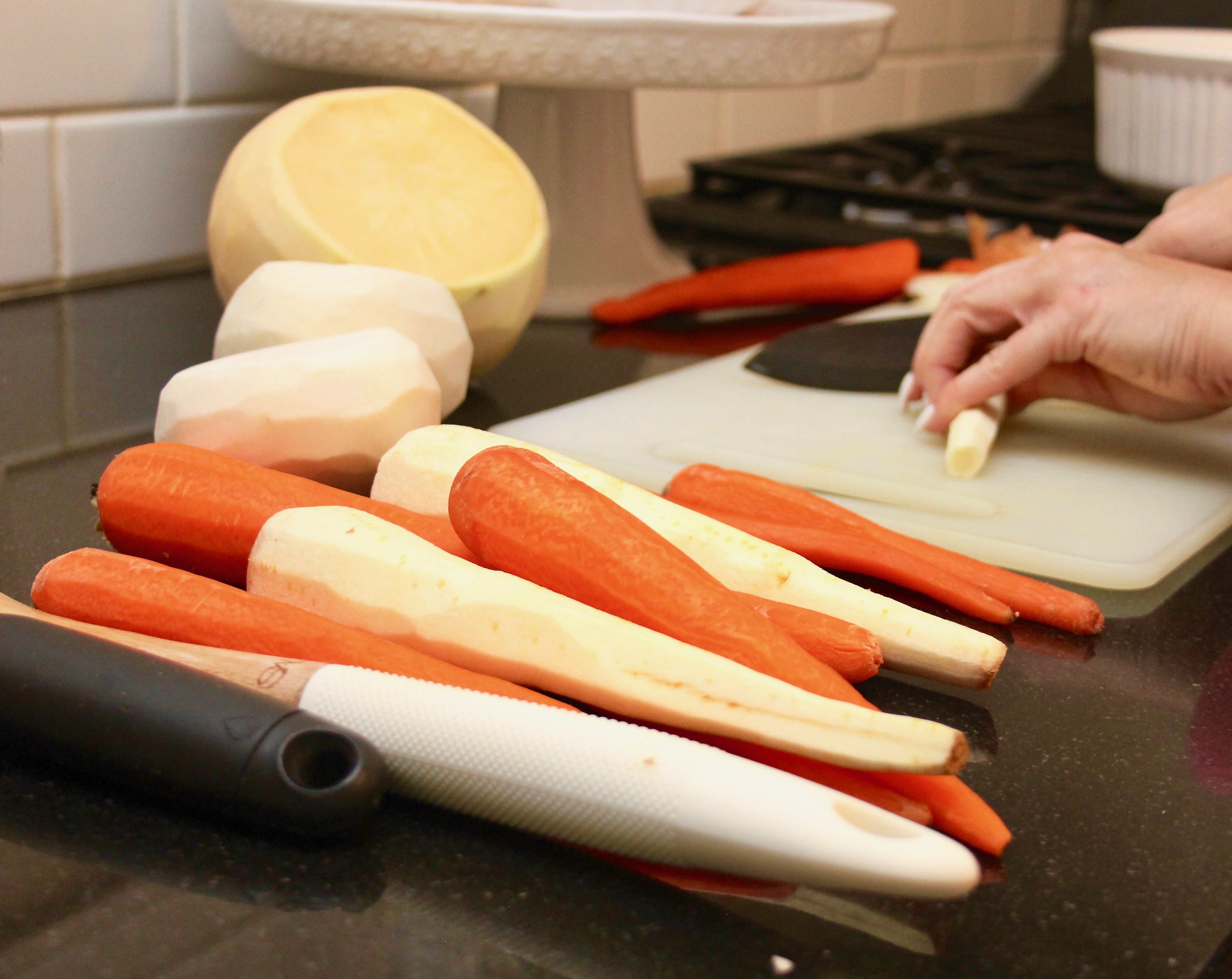 Add the onions, carrots, turnip, and rutabaga to the stock. Simmer on high for 15 minutes. Next, add your parsnip and continue to simmer for ten minutes. While you're waiting, cook up your noodles (if you've chosen to add them to your soup).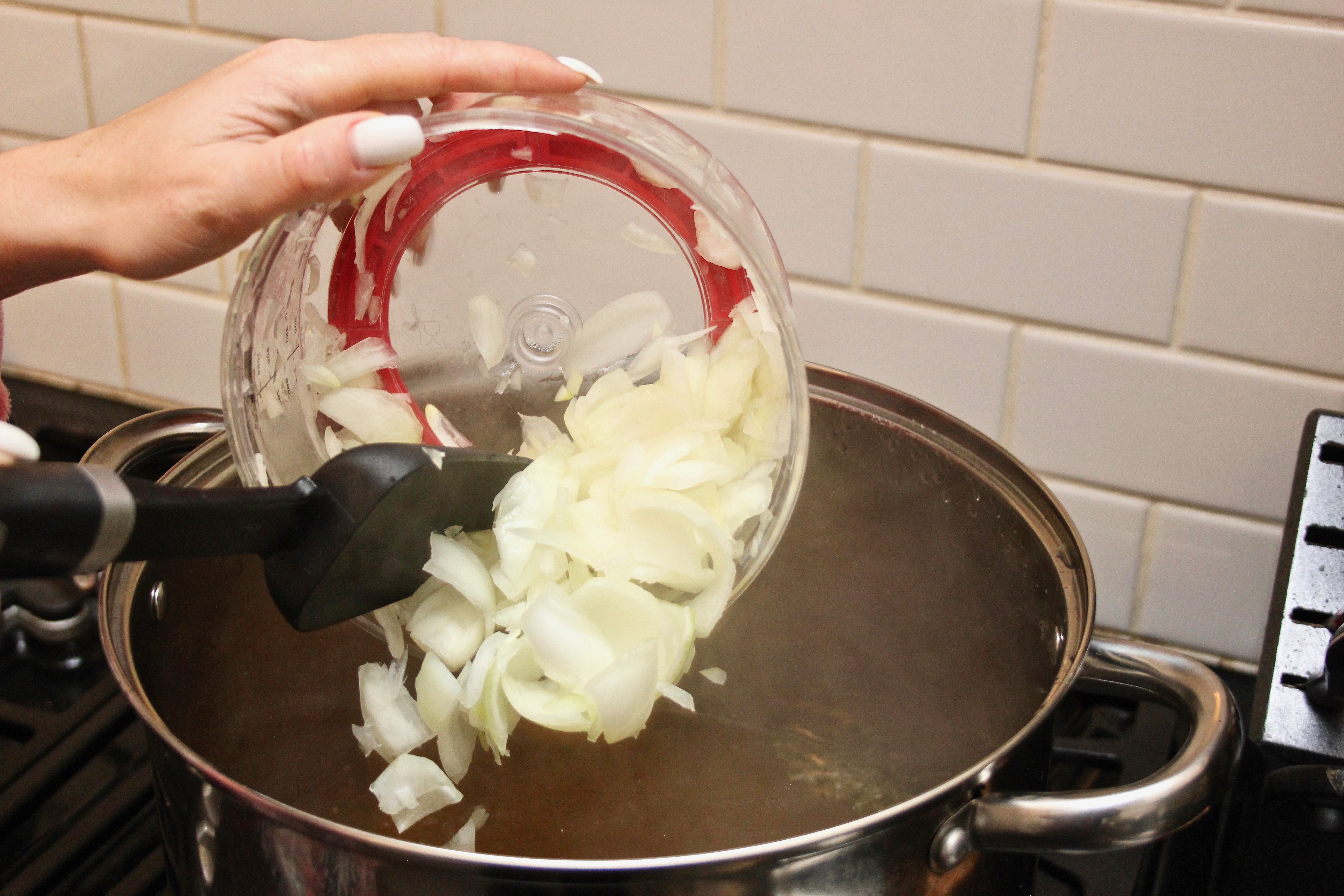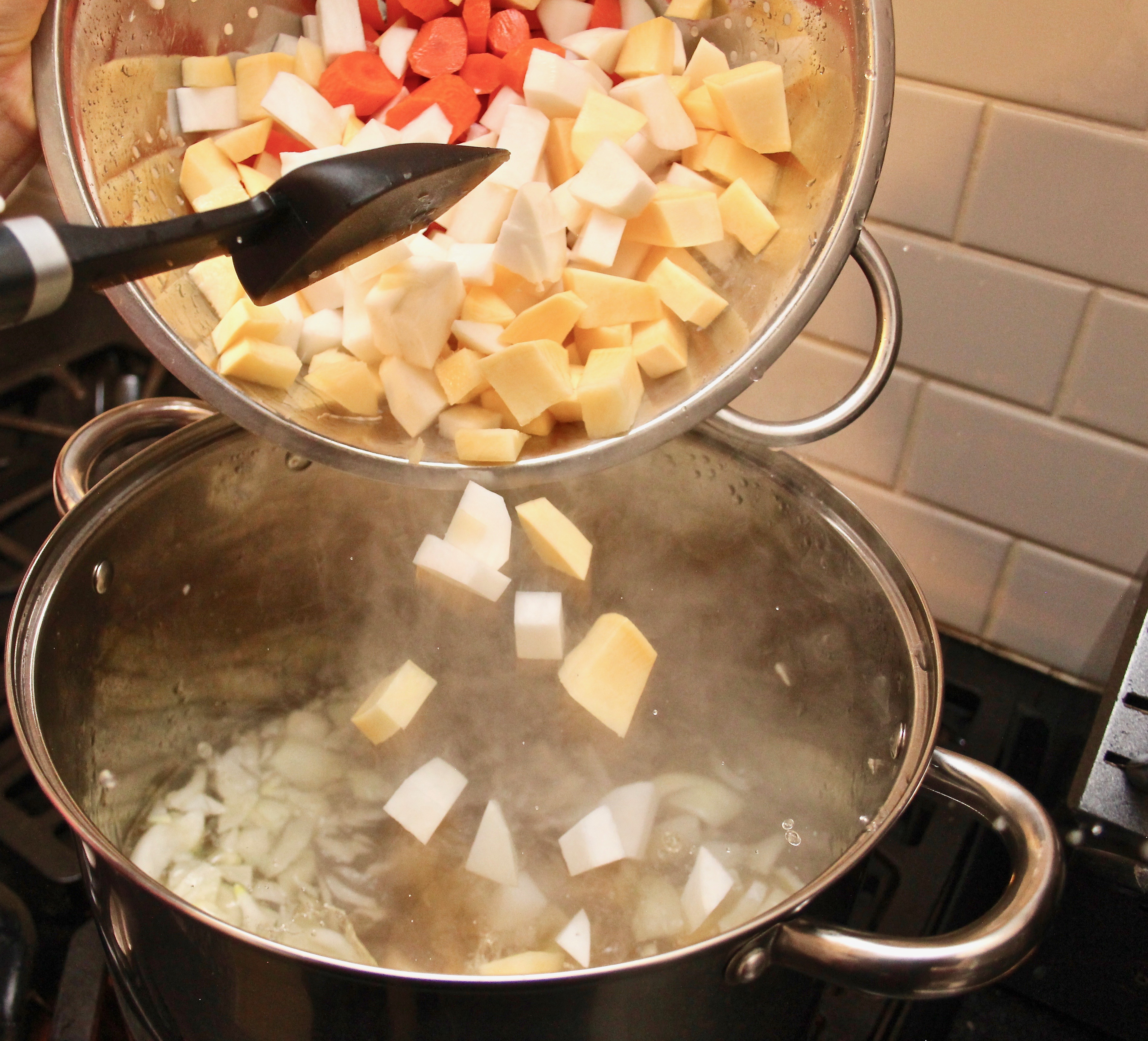 Remove chicken from the oven, cool slightly, and cut into bite-size cubes. Pat down using paper towels to absorb any oil.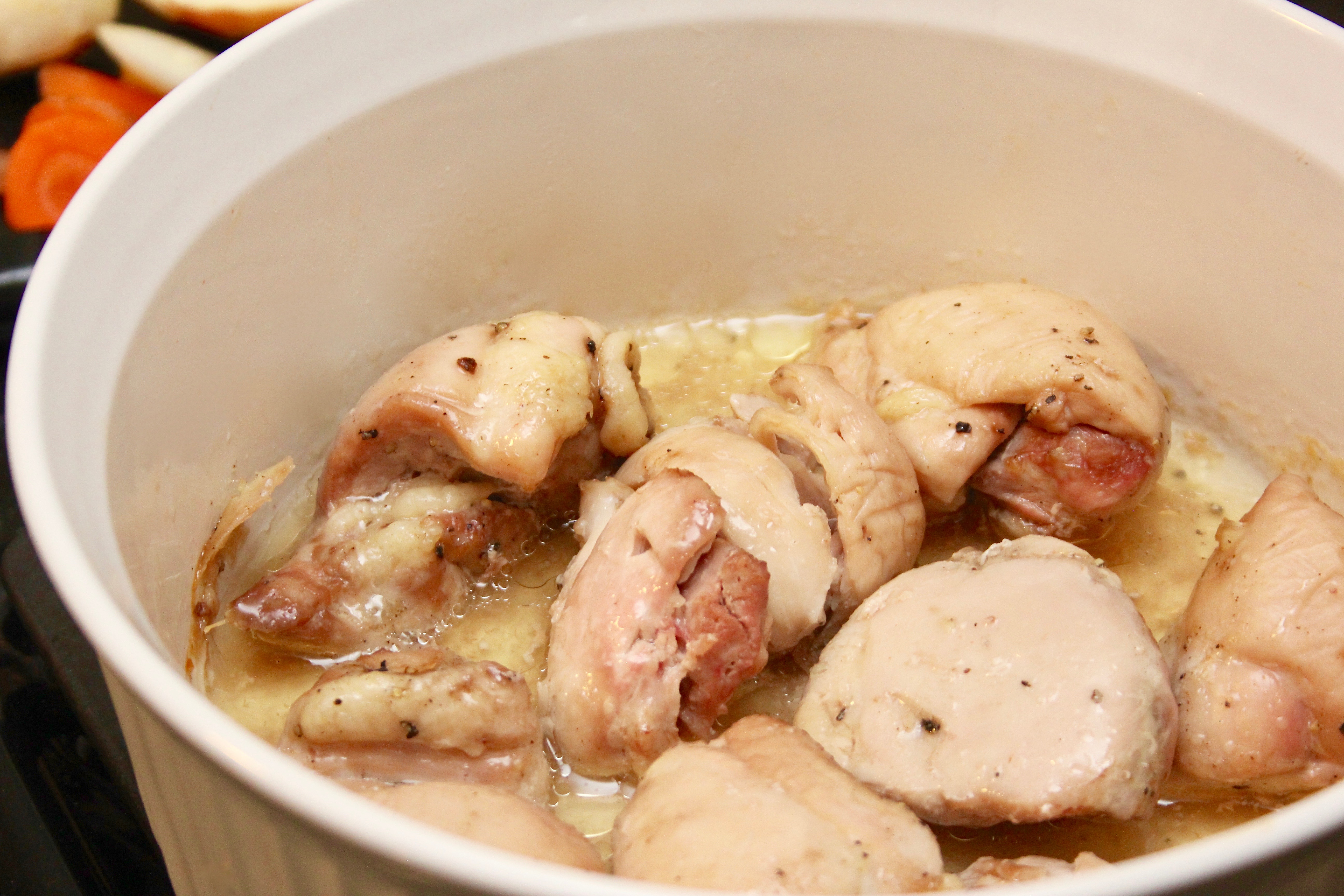 Add chicken and corn to your soup, and simmer on high for another ten minutes (These times are approximate. Cook the vegetables to your preferred tenderness).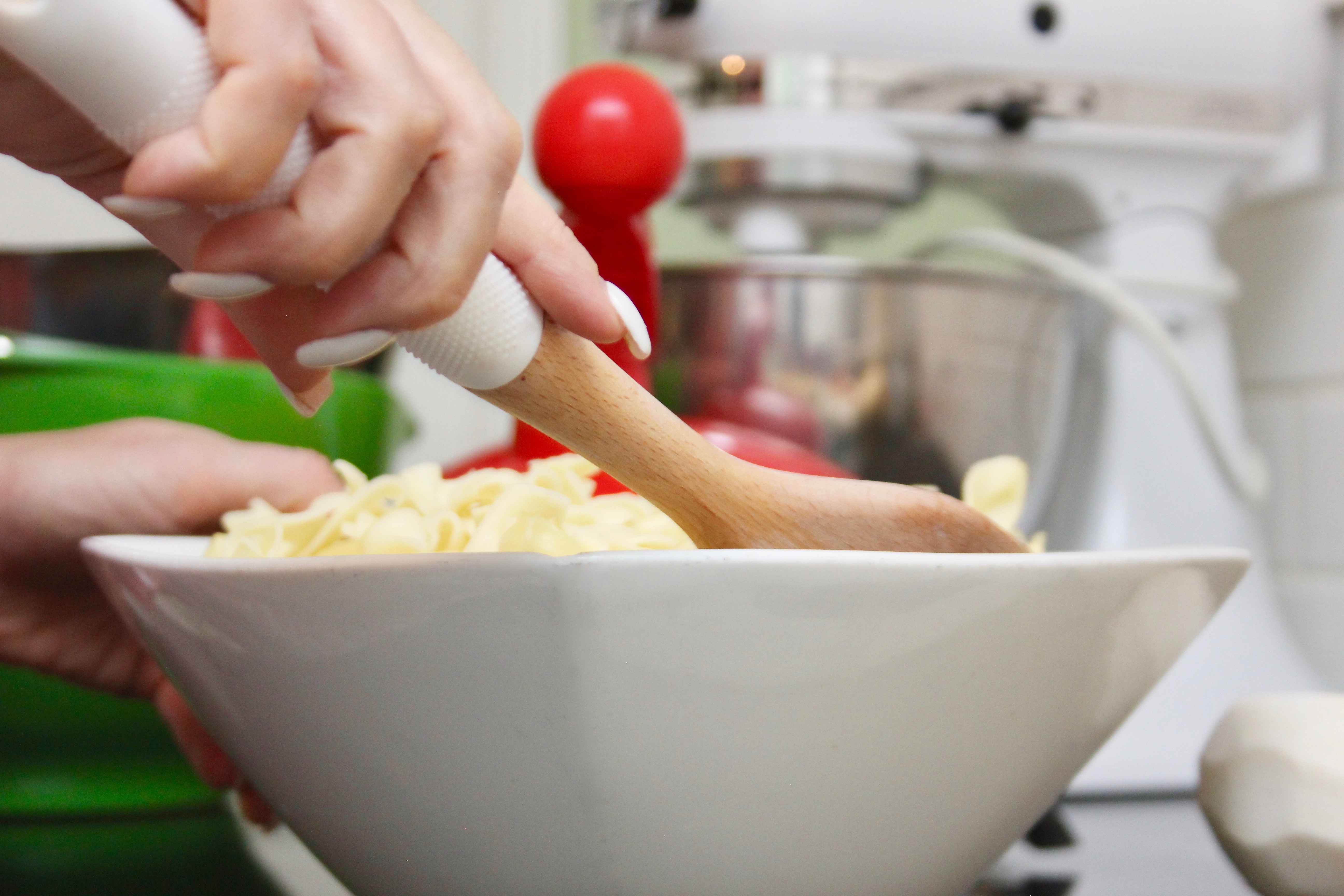 You can leave it as chicken soup, or make it chicken noodle soup by adding cooked soup noodles or pasta. To serve: put noodles in each bowl and then ladle soup on top. We like to serve our soup with a crusty sourdough or Italian bread.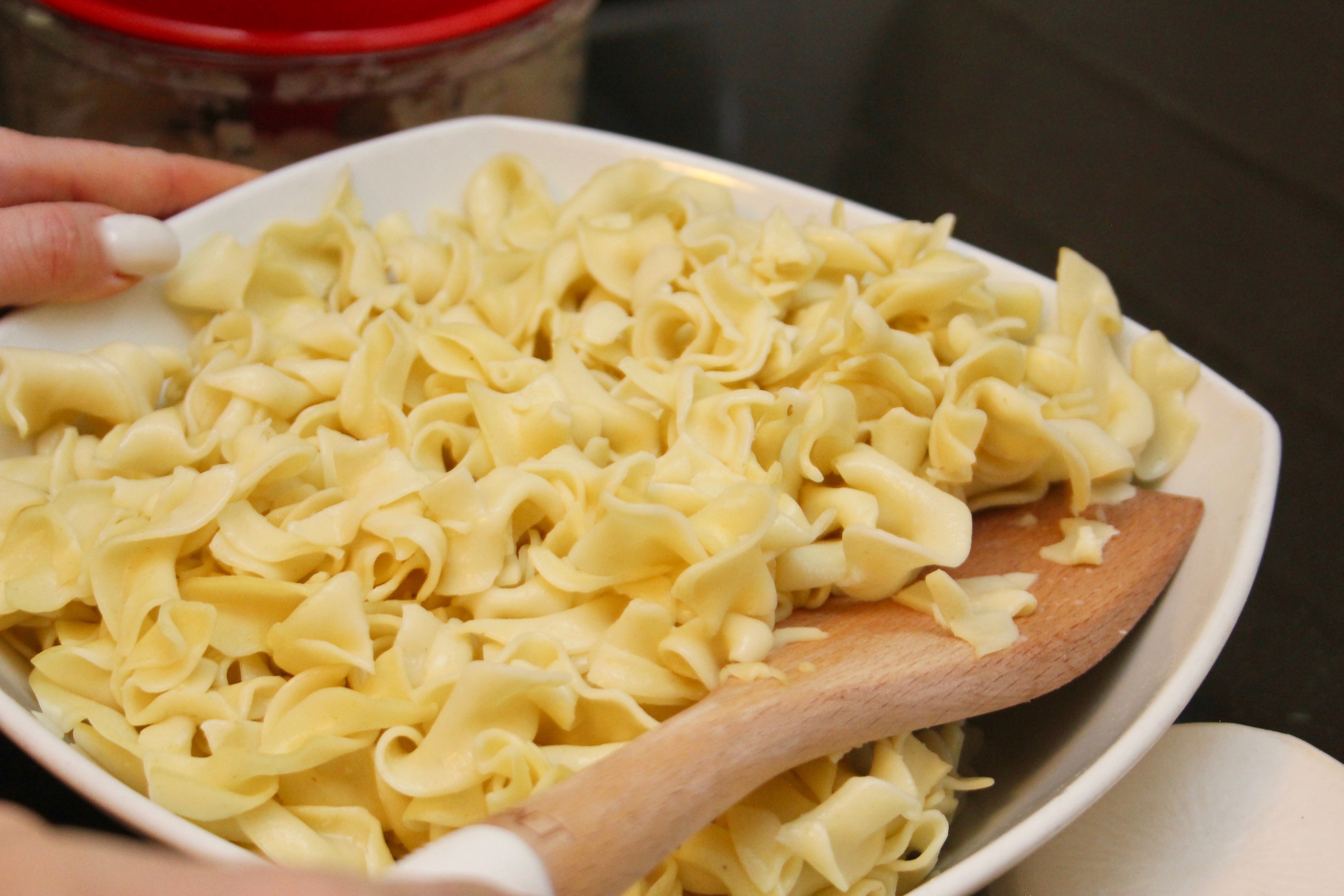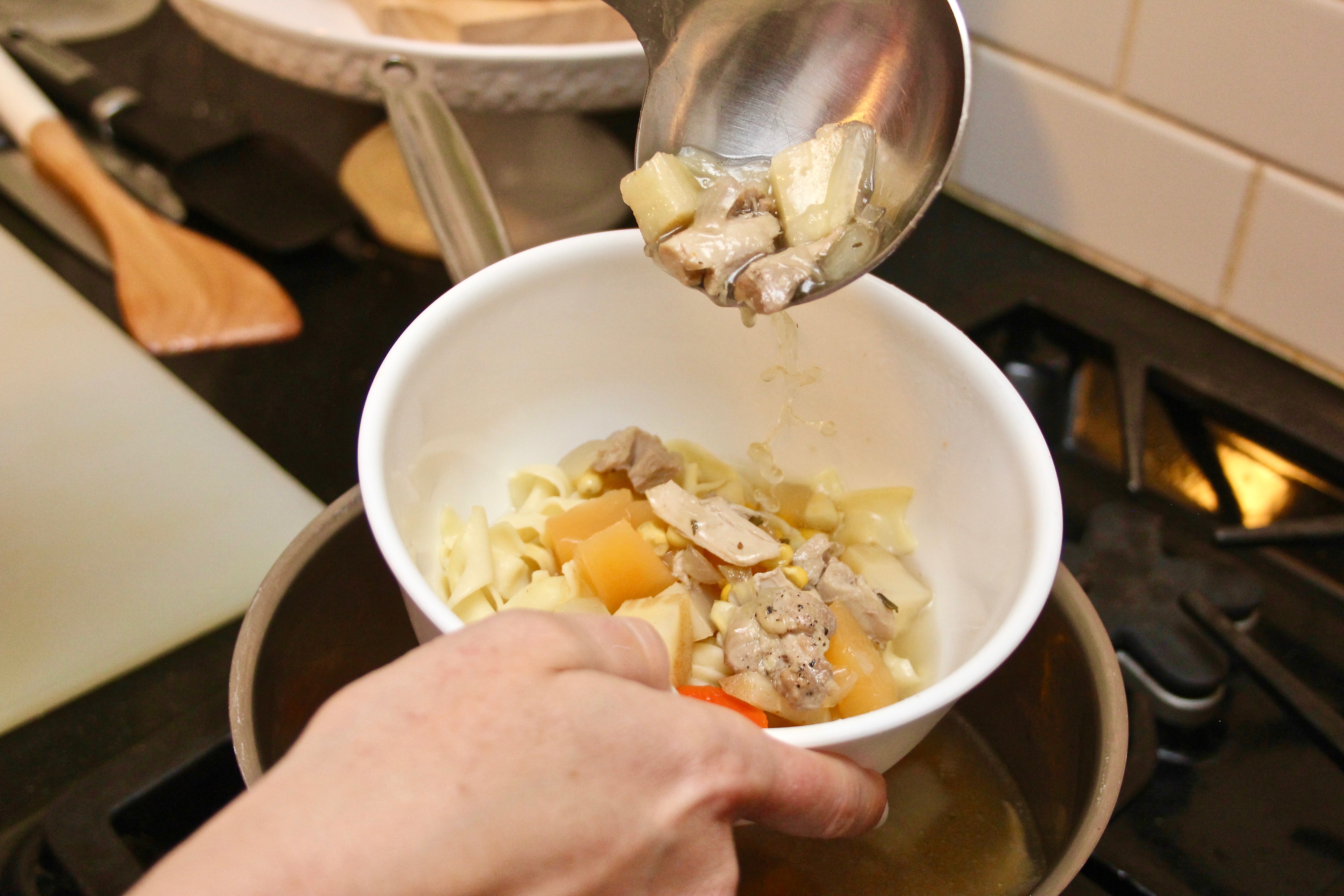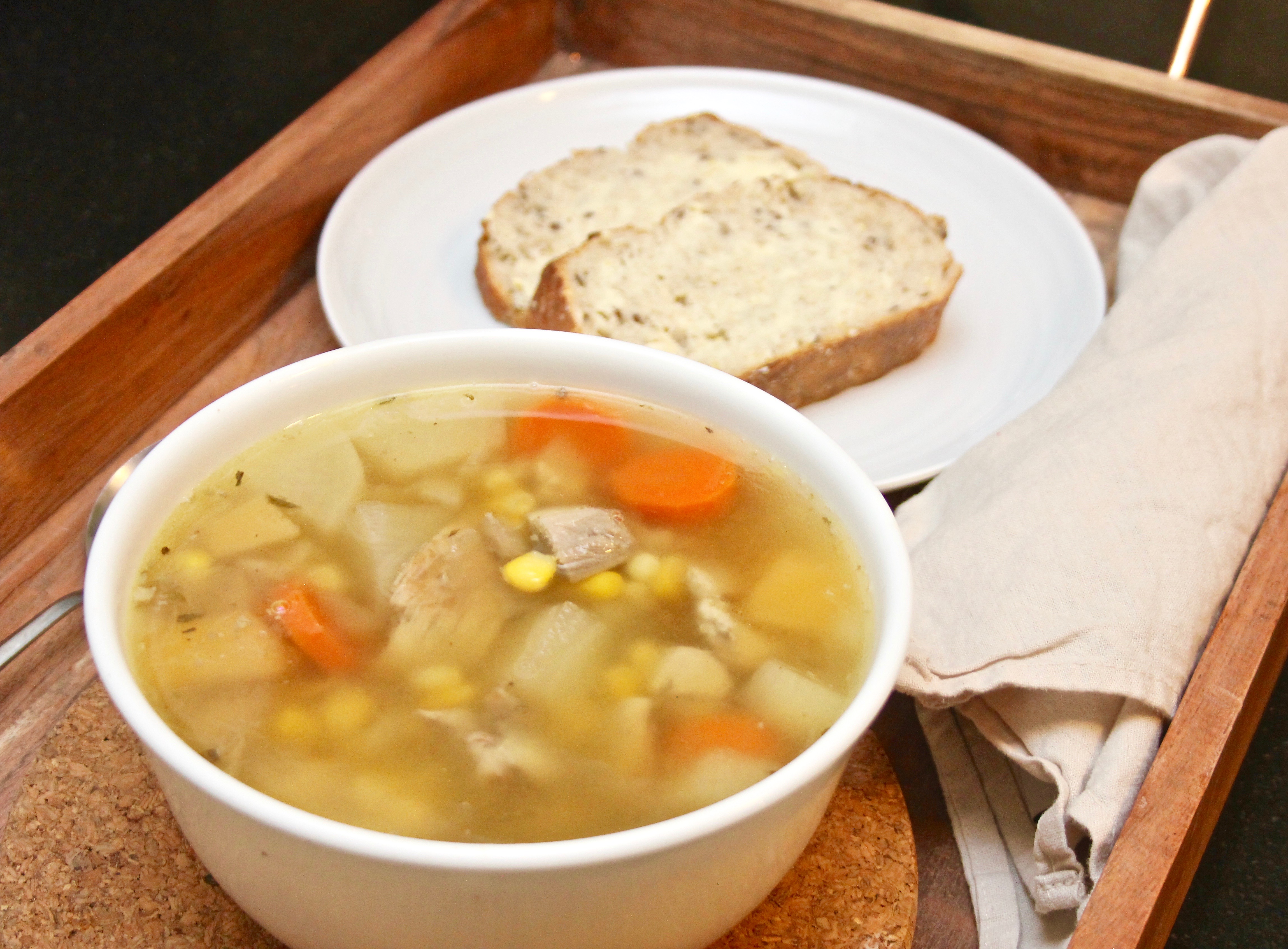 Enjoy, my friends! Pin this to your Soup and Meal Ideas boards and don't forget to follow me on Pinterest!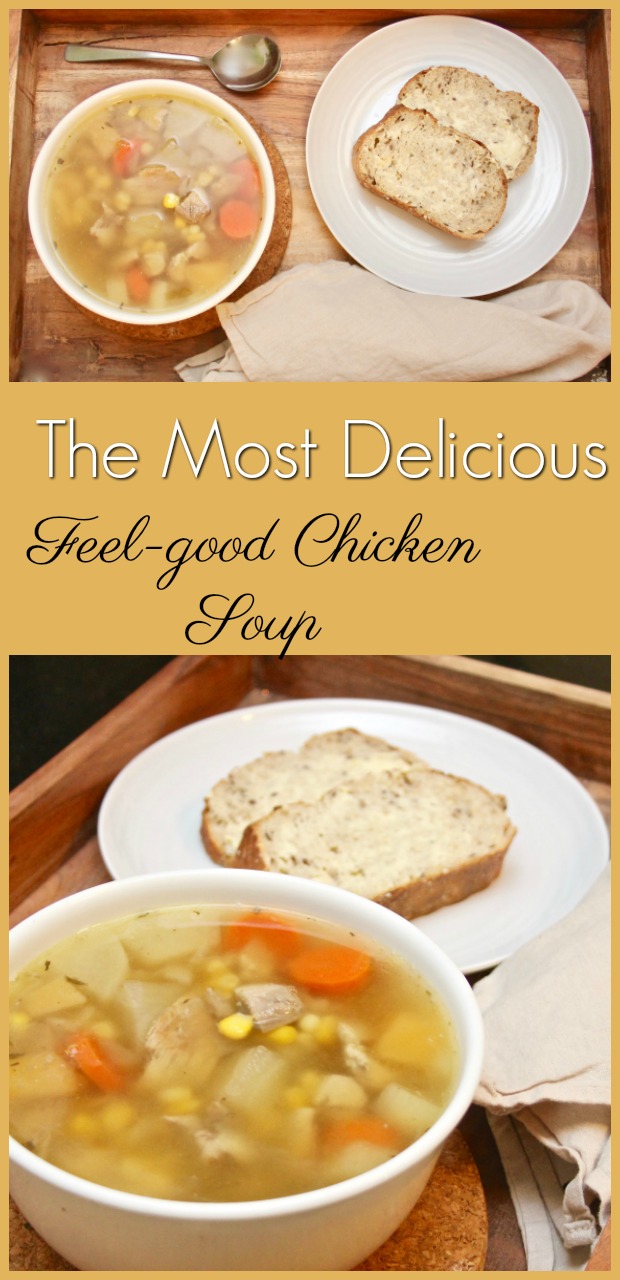 Other Posts You'll Like
How To Make Chocolate Bacon Roses
TimeSaver: The LG QuadWash Review
xx