Welcome to Style File! My goal is to share style advice and outfit inspiration while introducing you to interesting people. I hope you love these tips on Incorporating Trends at the Office!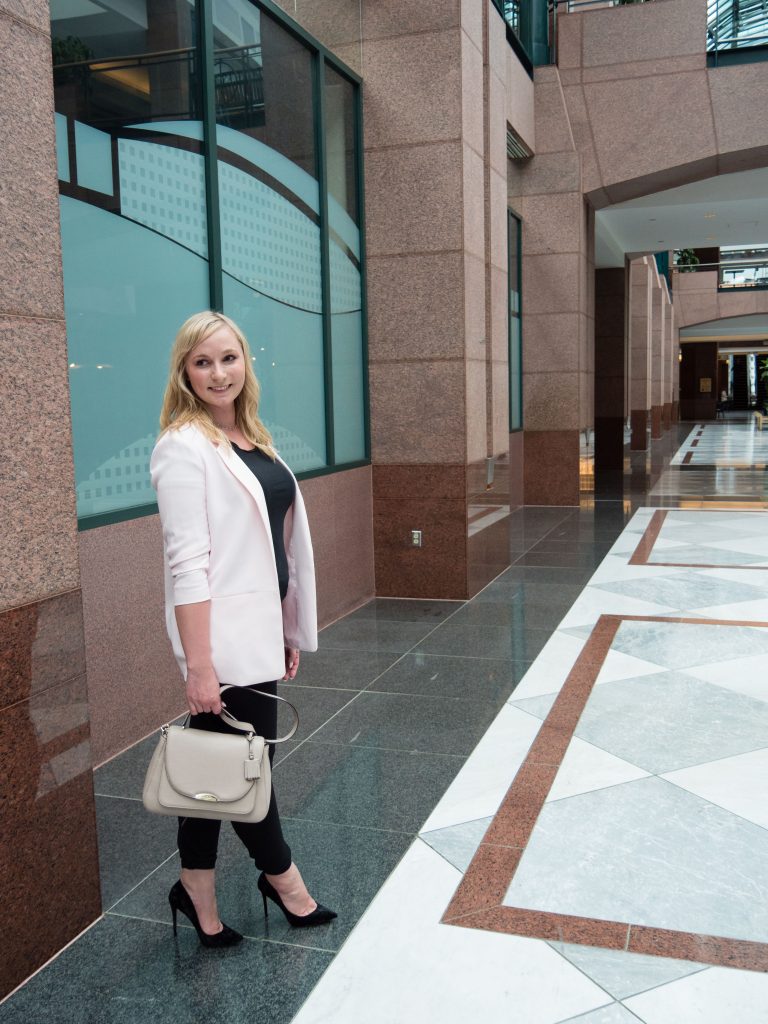 Client: Yvonne Bienias
Fashion Challenge: How to keep it professional at the office, while still having fun with fashion.
Yvonne is a go-getter! I first met her at a networking event about six months ago. She immediately reminded me of me in my early 20's: working two jobs, going to a ton of events, and working her butt off to build her career. I love watching other women chase after what they really want.
Yvonne hired me for an email DIY style consult, where I pass along styling tips along with a list of links to shop. Yvonne wanted to find transitional pieces to carry her from her office job into evening events. Our goal was to find basic pieces, then add a splash of trend. It was really important to Yvonne to support local while building her new wardrobe, and she was hoping to discover a new place to buy basics, jeans and pants that fit. I was happy to oblige!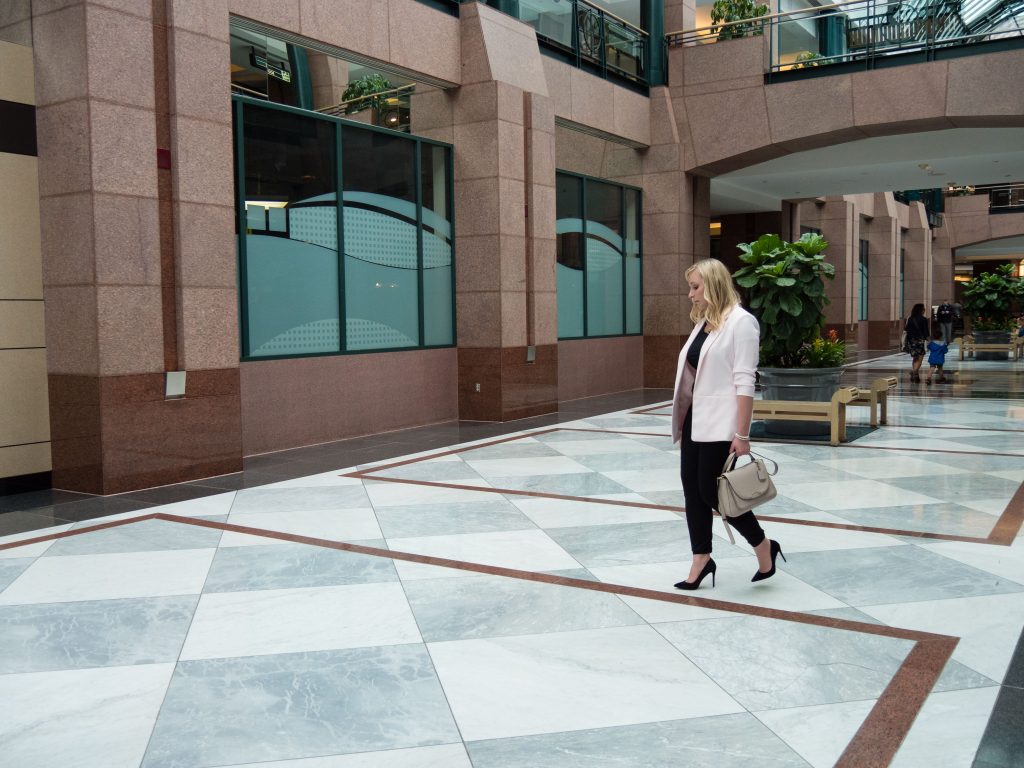 Dexter Dress Pant | Pink Boyfriend Blazer (similar) 
Tell us about you:
To keep it super simple, I am a Polish-Canadian girl living and loving in Edmonton, Alberta.  I work 7 days a week and absolutely love it. During the weekdays, I work in an office with the best team one could ask for. During the weekends, I am an on-air announcer on 925 Fresh Radio. I love interacting with our listeners both on-air and online. I enjoy hearing different stories and talk about all things music and pop culture.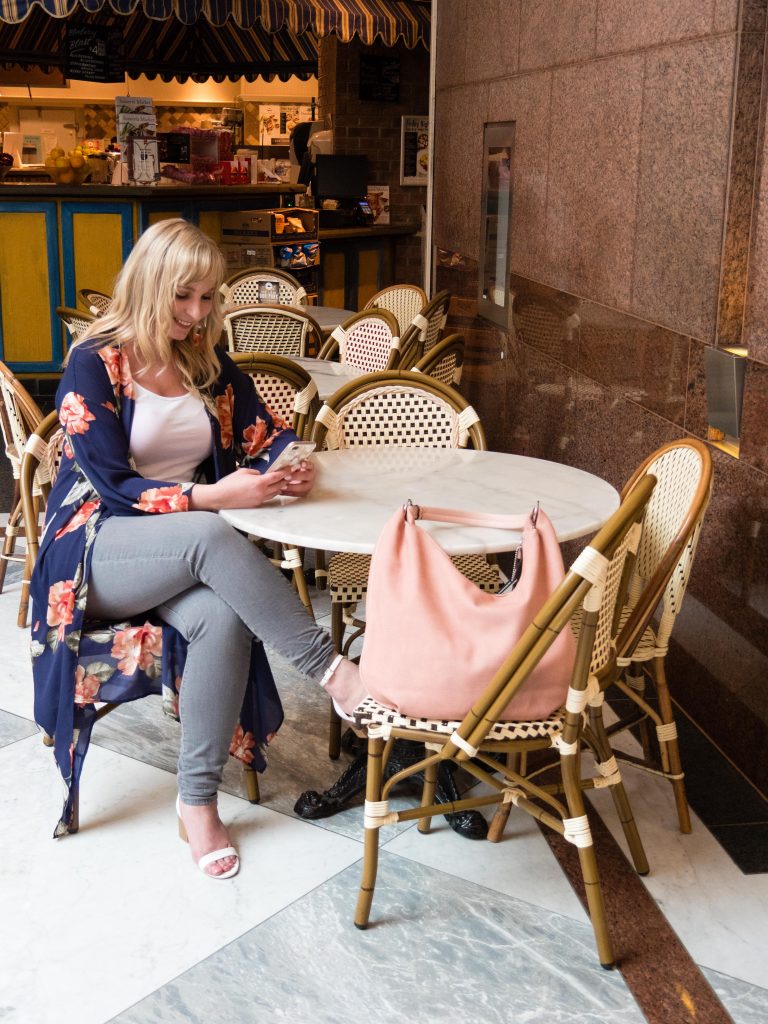 What was your biggest frustration with your wardrobe, pre-styling appointment?
I never knew what goes well with what. I always felt uncomfortable in certain pieces that were "trendy". I struggled to put an outfit together and to make it look like it was super easy to do. My wardrobe was also all over place. I wanted to achieve looks that were consistent, and that would work well for both of my jobs. I also wanted to learn how to spend my money on clothing accordingly.
What were you hoping to achieve with your styling session?
I now know what works well together and how dress for the occasion and feel comfortable at the same time. During this time, I became a brand ambassador with Elle's Closet Boutique. I wanted to represent the shop well and I wanted to make sure that the pieces I was representing looked amazing both casually and dressed up. I really enjoyed working with Kari on this. She was super sweet and with her styling experience, I knew I was in good hands.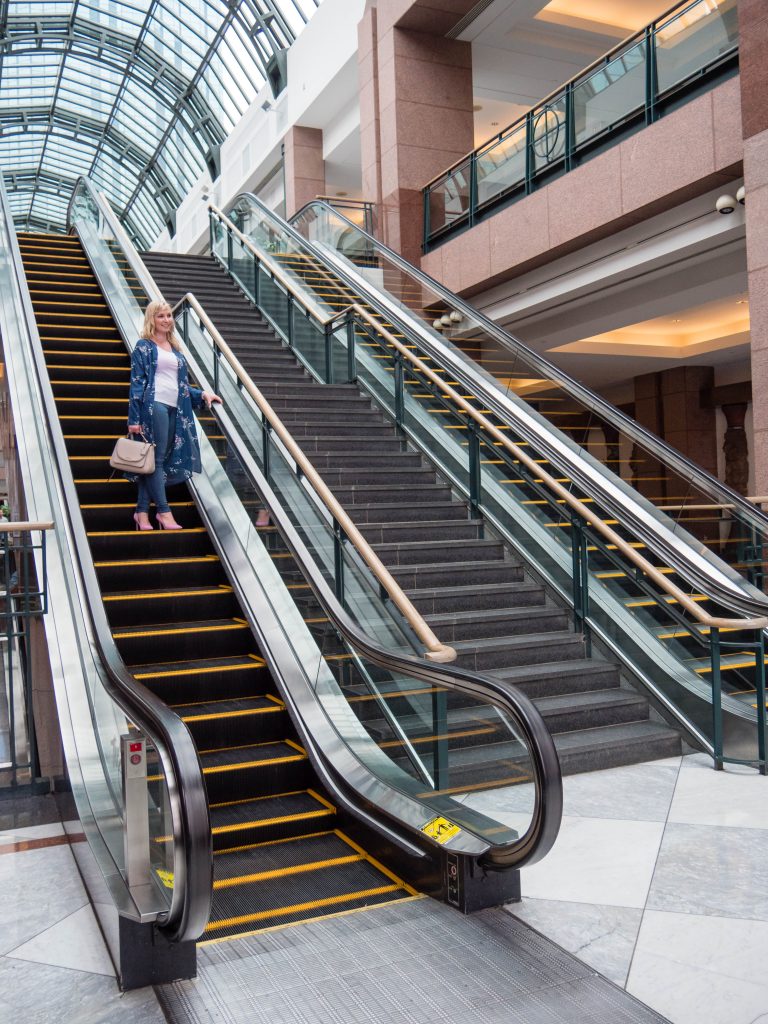 Describe how you feel about your style now:
I feel like I am more aware with trends, what works well with my body type and how to style without feeling intimidated. I understand how to spend my money accordingly and have staples items in my closet so that it is easier for me to put an outfit together.
What's something you wear now you never thought you would?
Kimonos! They were always so daunting because they are super trendy. Turns out, they are great versatile piece for any look. You can dress it up and dress it down. For example, if you only want to wear leggings and a tank and look put together, slap on a kimono and you are good to go. You can also wear them in a business setting with a nice camisole and dress pants.
Pink Pumps (similar) | Floral Duster Kimono (shop it here too)
What's the biggest takeaway from your styling session?
Less is more. You do not to have to over-do it with patterns or vibrant colours. You can make one piece of clothing a "statement" piece and keep your focus on that. I love the colour pink, but I do not want to over due it by wearing too much. I can wear super bright high heels and work my way around them, making them the statement piece for my outfit.
Photo Credit: Andrea Beca
Here are a few pieces I picked for Yvonne:
The Hopkins Blouse: knotted tops are very on trend right now. This one will look amazing with jeans or dress pants and pumps.
Dexter Pant: The best dress pants ever! To be worn with a pump for work. Do a basic tee and boyfriend blazer.
Twist Knot Dress: Basic and comfy but stylish with the knot. To be worn with pumps to dress
it up or wedge sandals and a denim jacket to dress it down.
Other Posts You'll Like:
Style File: Dressing Boho Stylish for a Physical Job
Are you in need of a style upgrade or maybe you know someone who is and you want to treat them? Contact me: kari@kariskelton.com for rates and packages.
xx