Birthday parties are looking a little different these days thanks to COVID-19,
but no matter what size of celebration you're hosting, you can incorporate some of these fun ideas into the big day!
Here's how to throw a super cool Buzz Lightyear birthday party!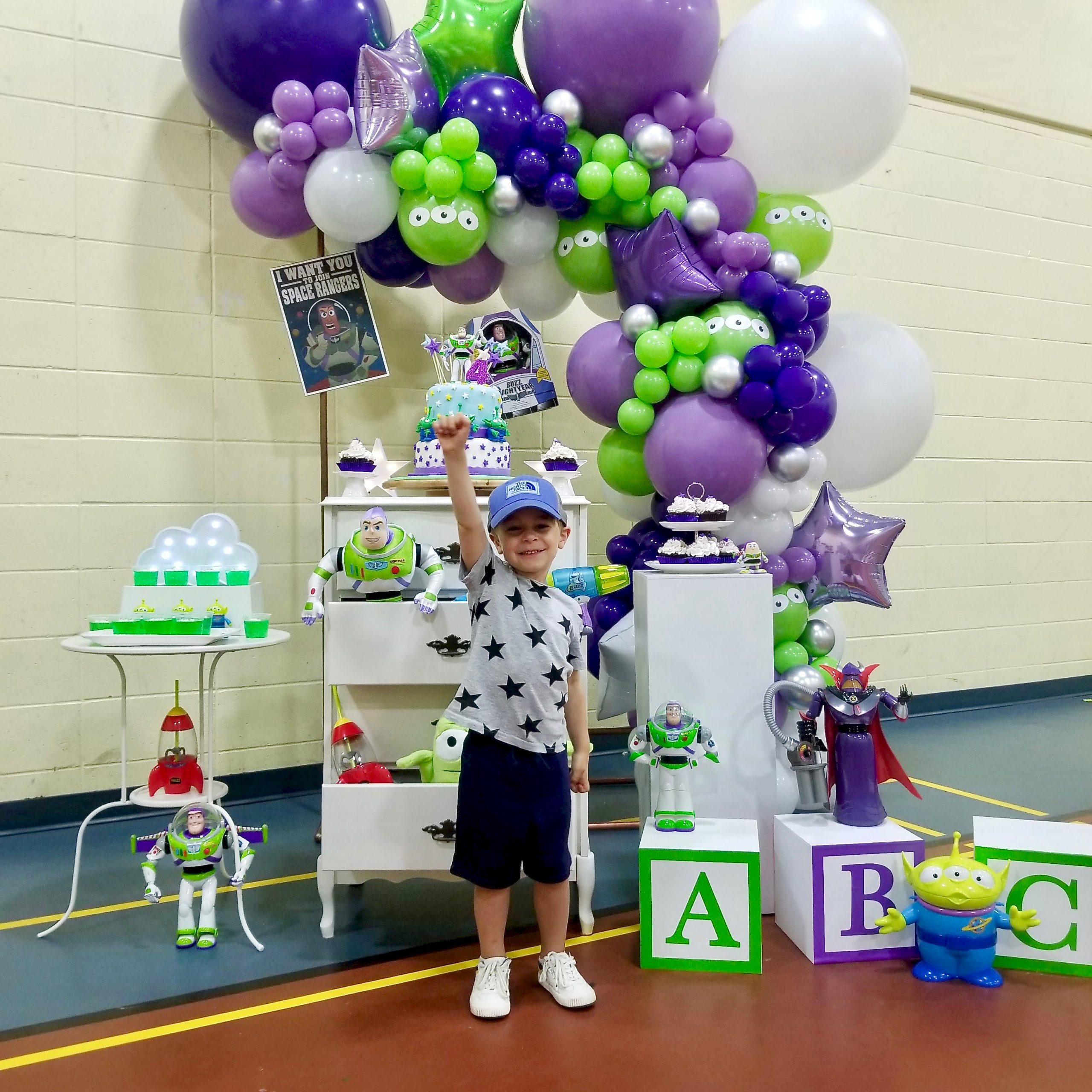 There is a certain point in the months leading up to a birthday that parents need to lock in the theme of the party (we all know how often they like to change their minds)! When Wyatt was turning four last year, his decision was easy – Buzz Lightyear by a mile!
With Toy Story 4 out last year, there was no shortage of fun-themed pieces at party shops, but I always like to venture down the other aisles of the store to make the decor really come to life.
Main Back Drop
We were so thrilled to have Party & Confetti- the event styling and party decoration experts– do the main area backdrop for Wyatt's party. They really took the party to the next level! In the weeks leading up to the big day, we met at the location and reviewed our bigger vision and specific details. I knew it would be pretty cool, but still, they blew my mind! The Party & Confetti crew does all the setup and tear down, so you don't have to worry about a thing. They provided everything you see in these photos (including the toys, the dresser, the balloons and table, etc).
In our current COVID-19 reality, Party & Confetti is offering outdoor installations and custom Balloon Party To Go packages, where you'll get the supplies and instructions to do the set-up all by yourself. Check that out here.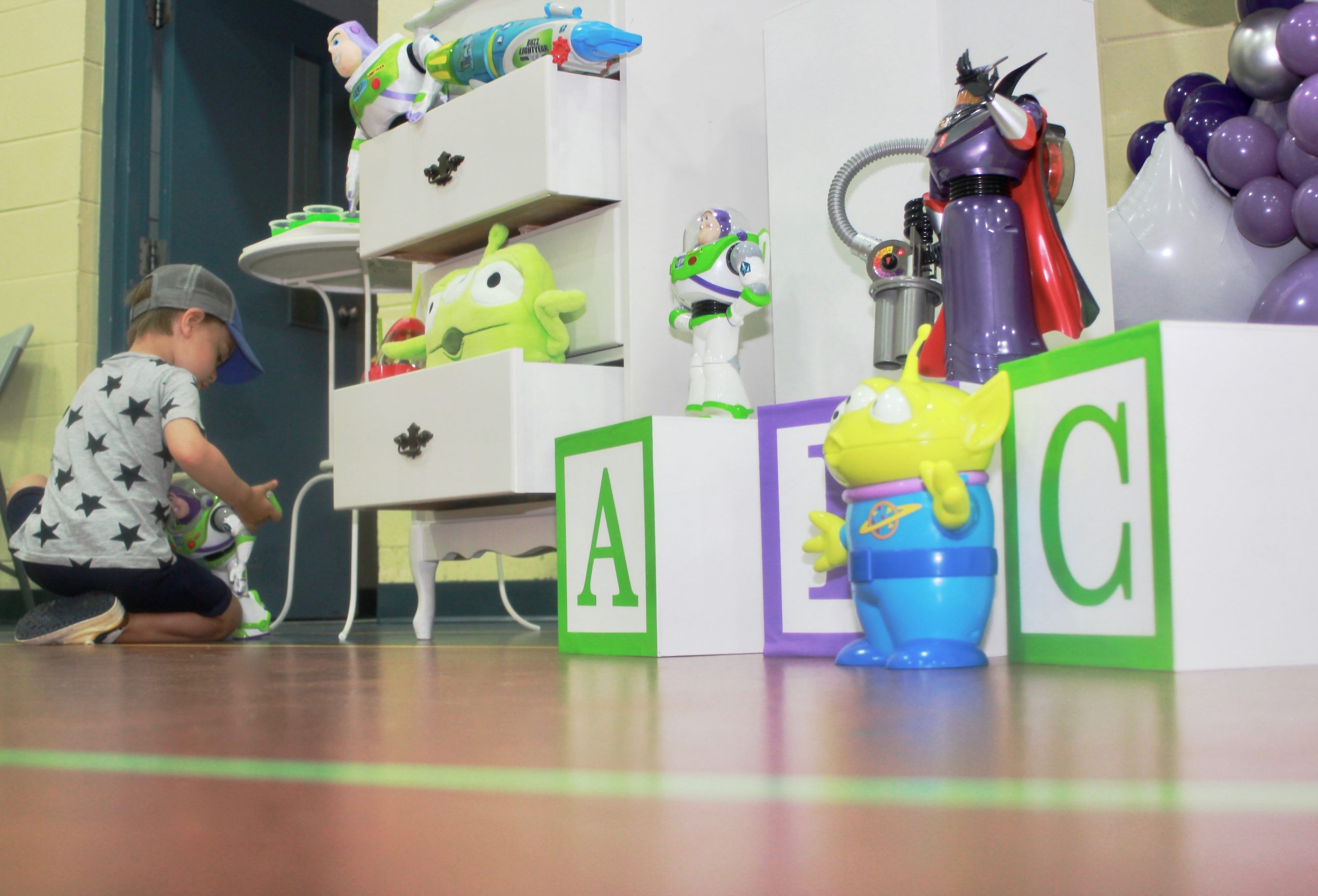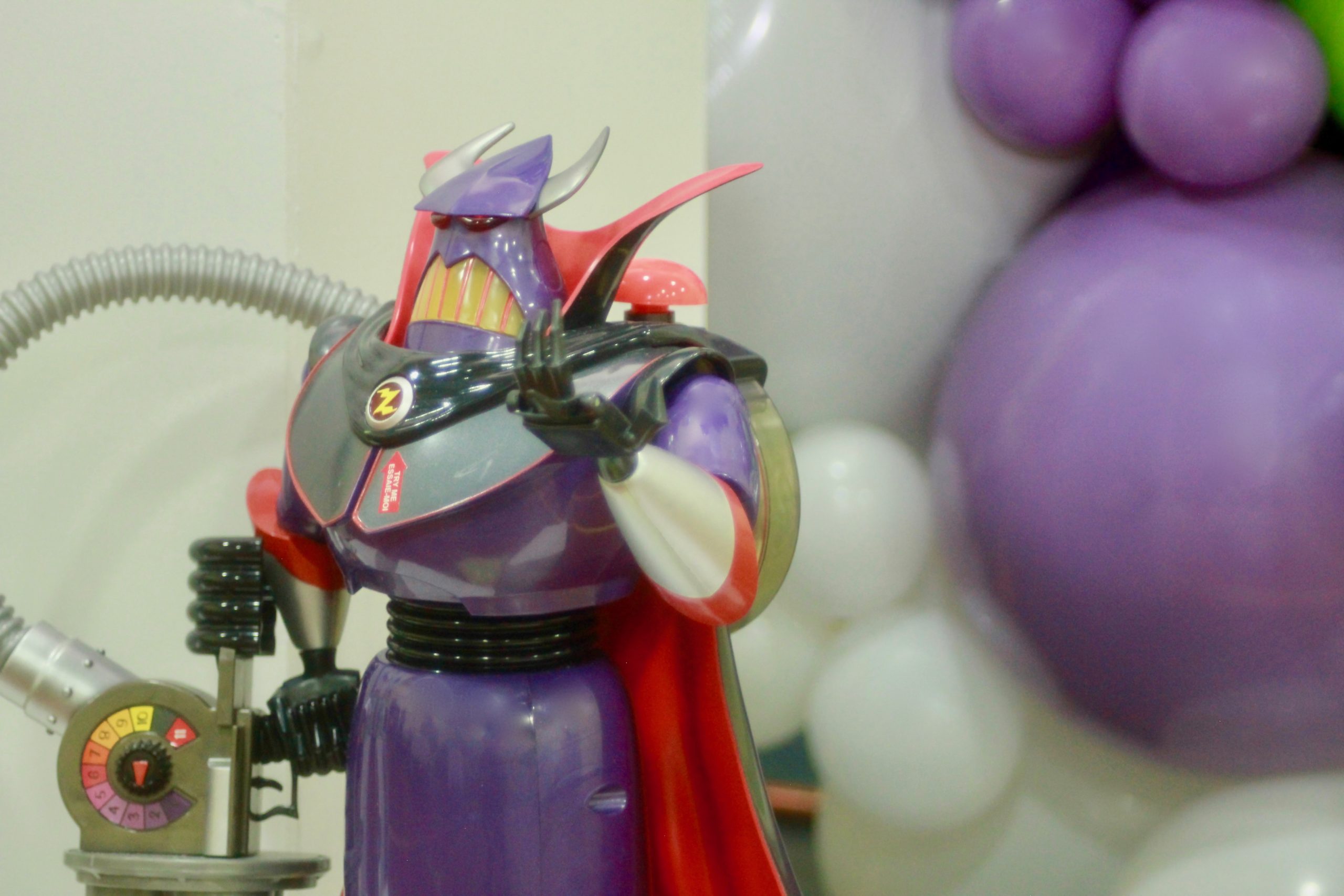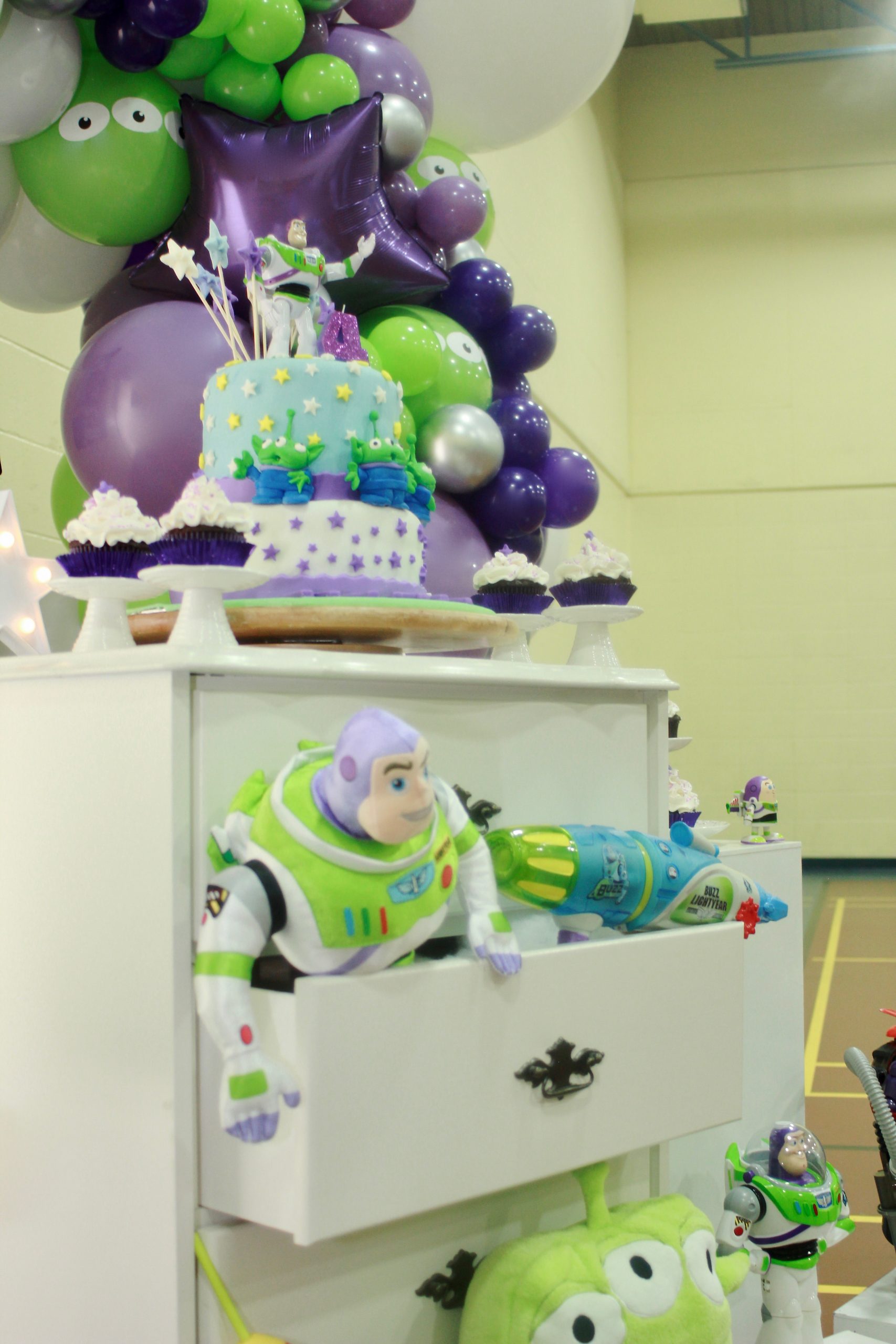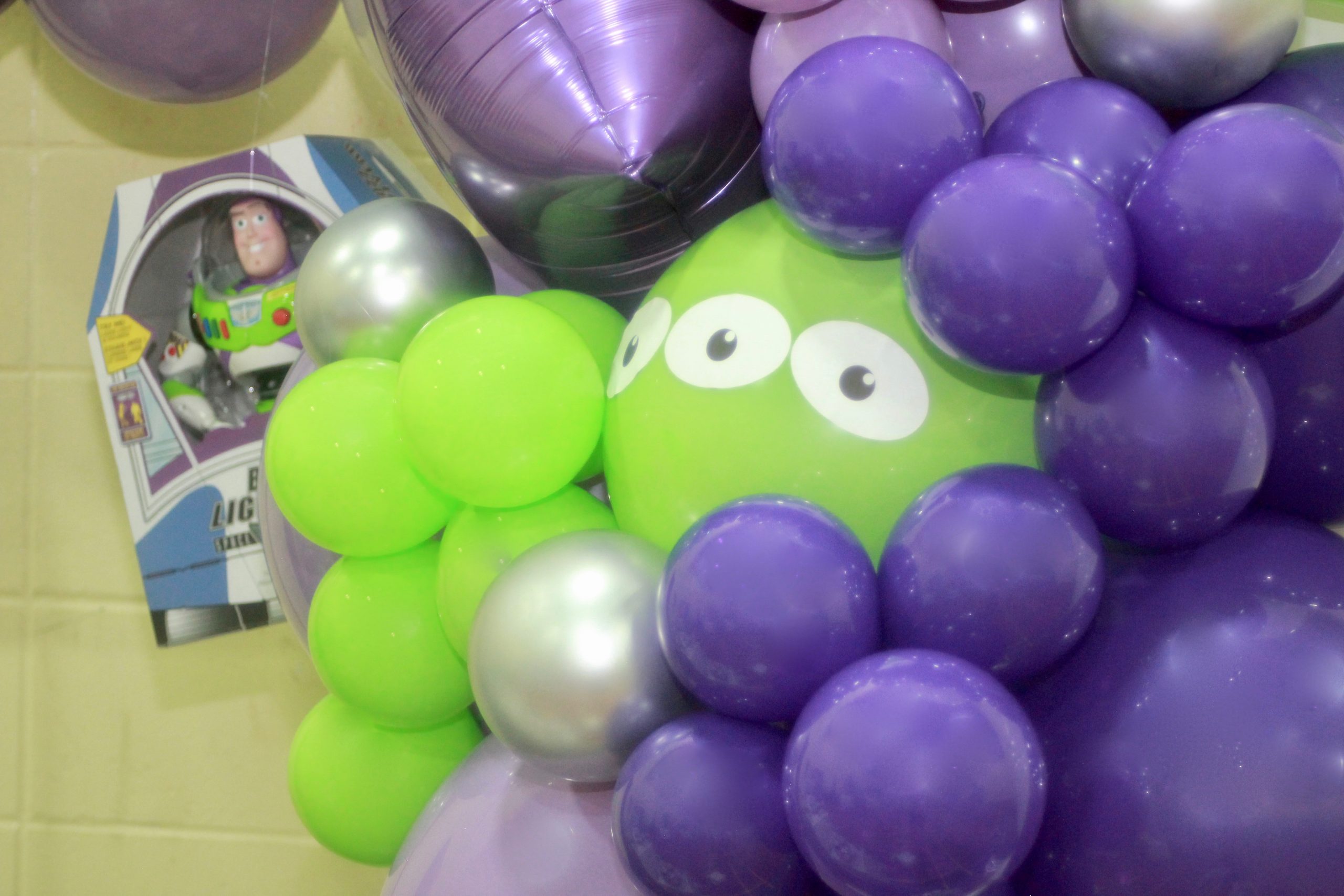 Additional Decor
With the main backdrop as the star of the show, we endeavoured to keep the rest of the decor simple. In your hunt for party pieces, be sure to cruise down the other aisles of the store! That's typically where you can find the coolest, most random things to make your vision come to life.
Consider using circular baking sheets ($2 at Dollarama) as the base for the table centrepieces, and adding a silver balloon weight, which looks rocket ship-like. Take one green pool noodle, cut it into five separate pieces, and place it in silver pots to hold the stars. Glue photos of Buzz Lightyear to big silver stars (Michaels), which you can then glue to bamboo sticks wrapped in silver pipe cleaners. I scored the cool Cloud lights at Dollarama! Each centrepiece was around $10 total.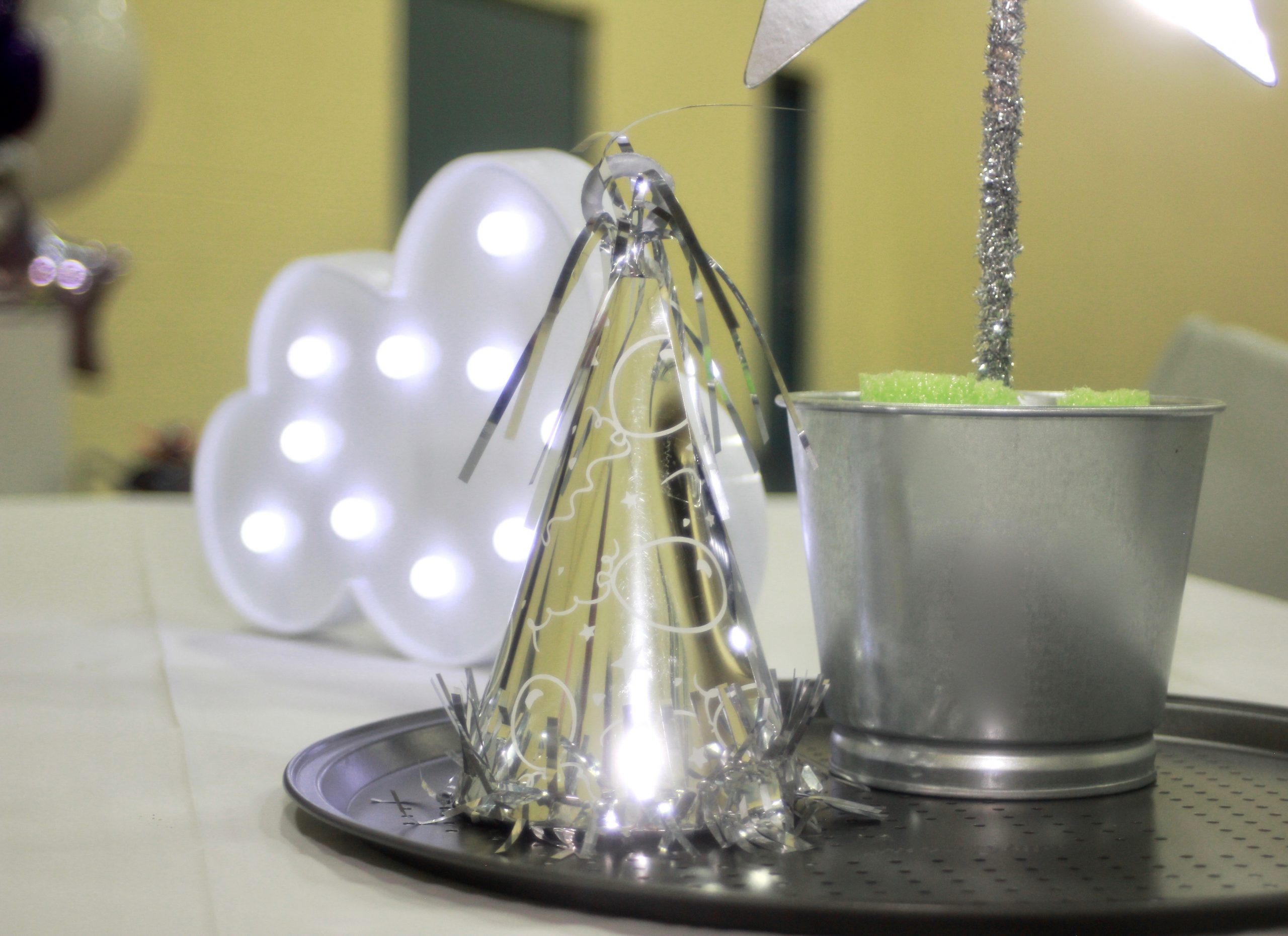 We used our art easel for the Welcome sign. Trace and cut out your letters on sparkly foam core. The giant Buzz balloon is from Party City.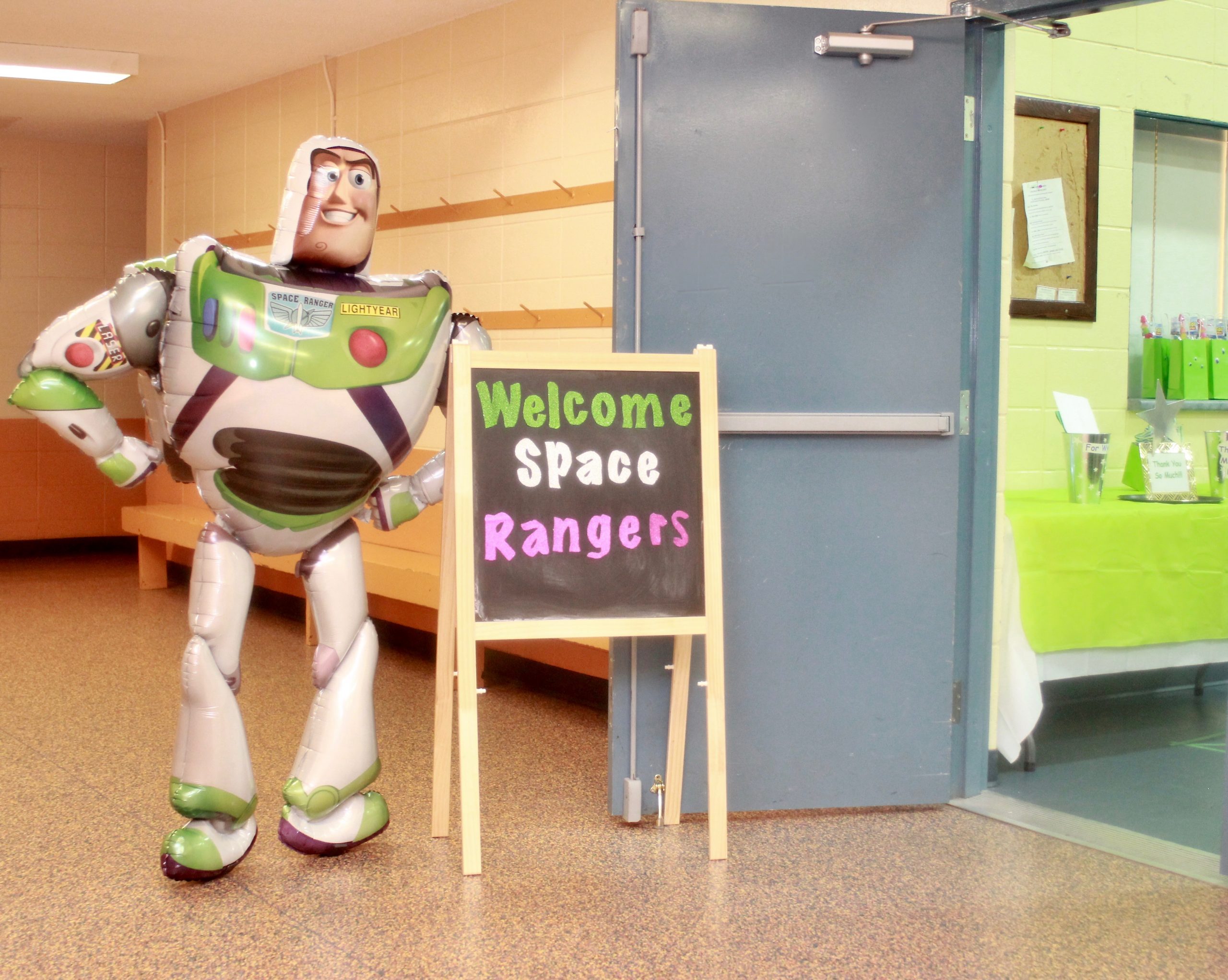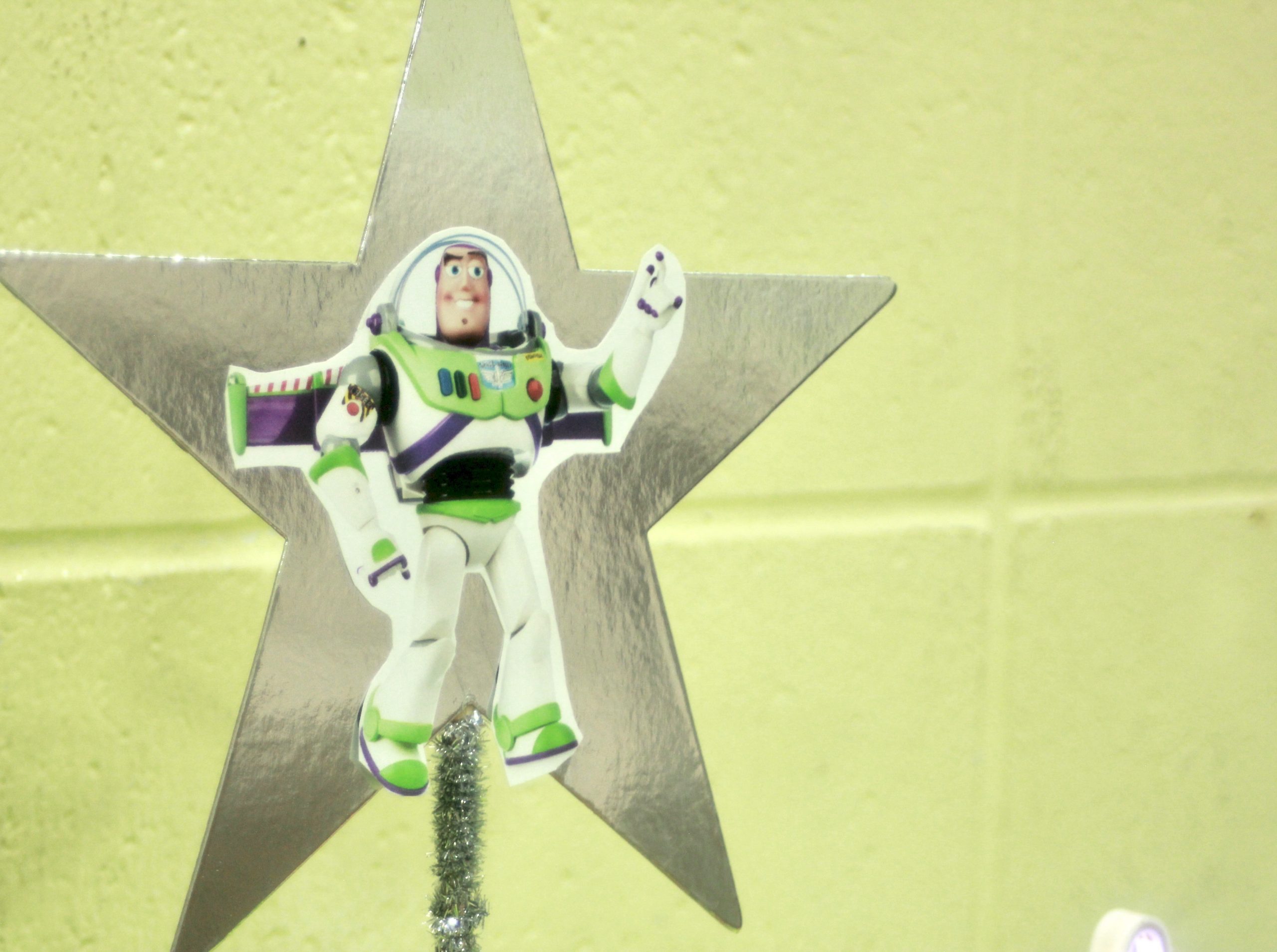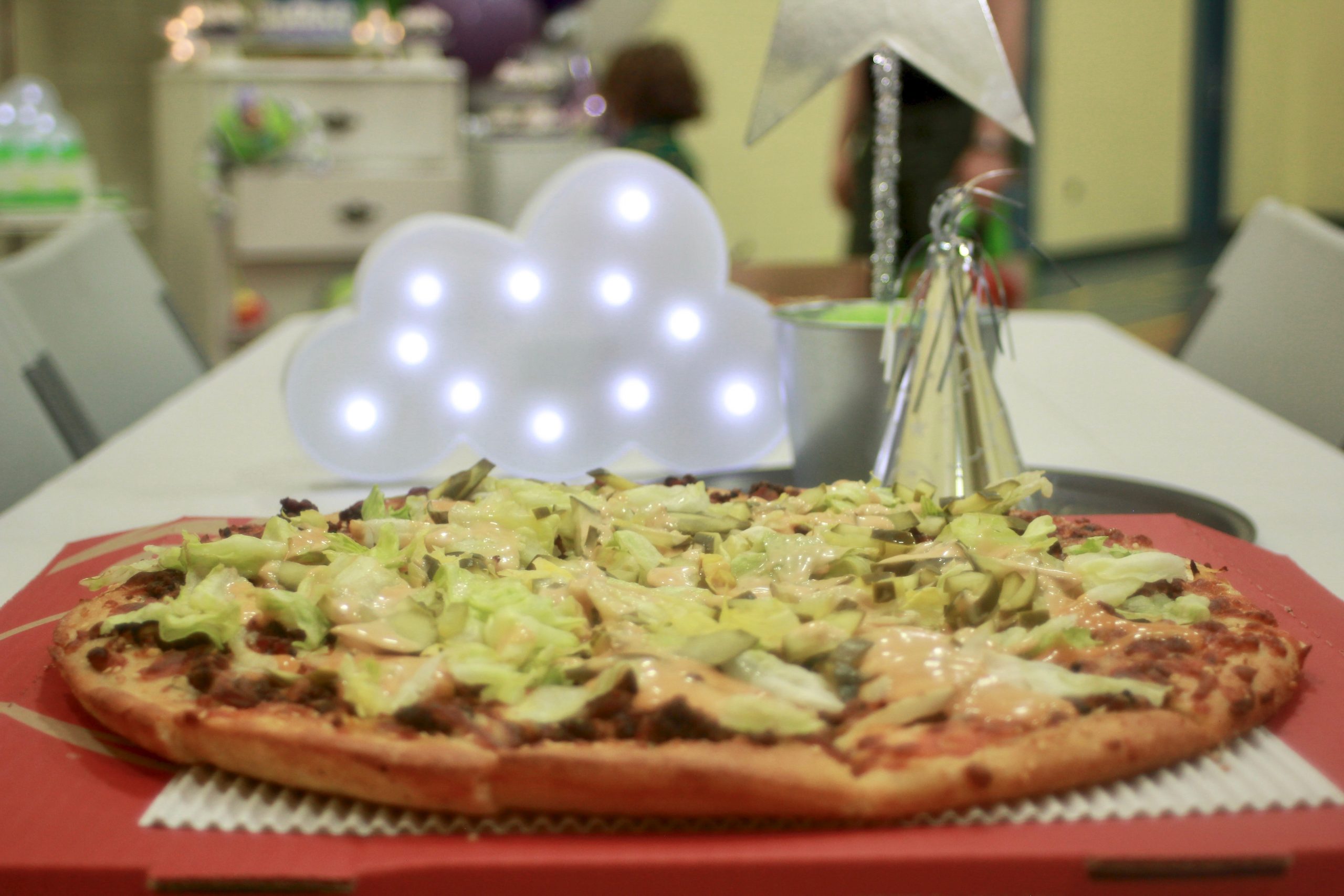 Food + Drink
This is an easy three-ingredient recipe for your Rocket Fuel Punch. Have fun with your basic cheese and fruit by cutting each slice into star shapes, and have some fun with rocket fruit kabobs!
Pizza is always a great option for kids birthday parties, but you can jazz it up even further with custom pizza boxes from Pizza Planet – the restaurant frequented by Andy and his toys in Toy Story. You can buy the pizza boxes here, or check your local supply shop. Here's where we got ours, and this is the template we used to customize the boxes.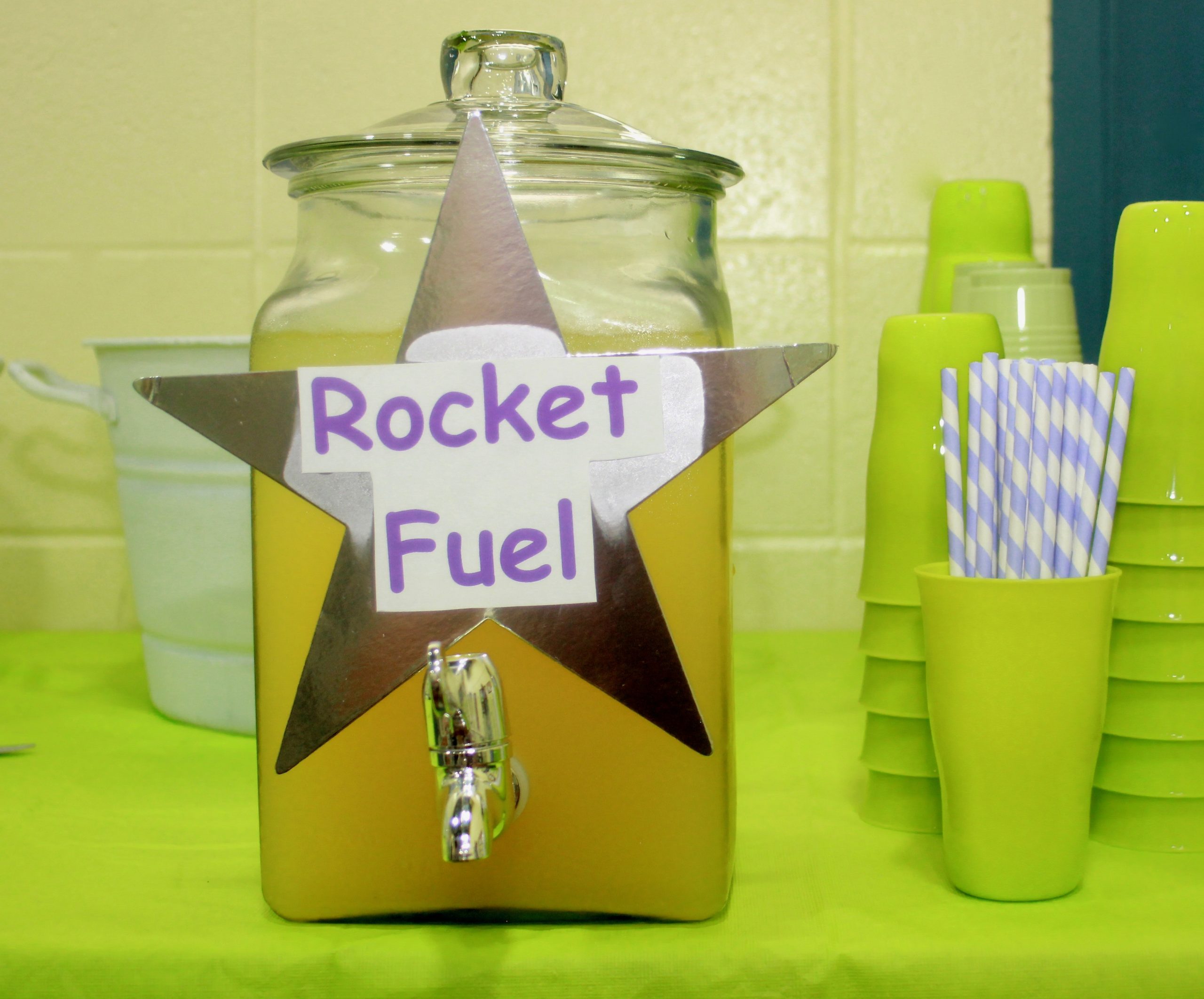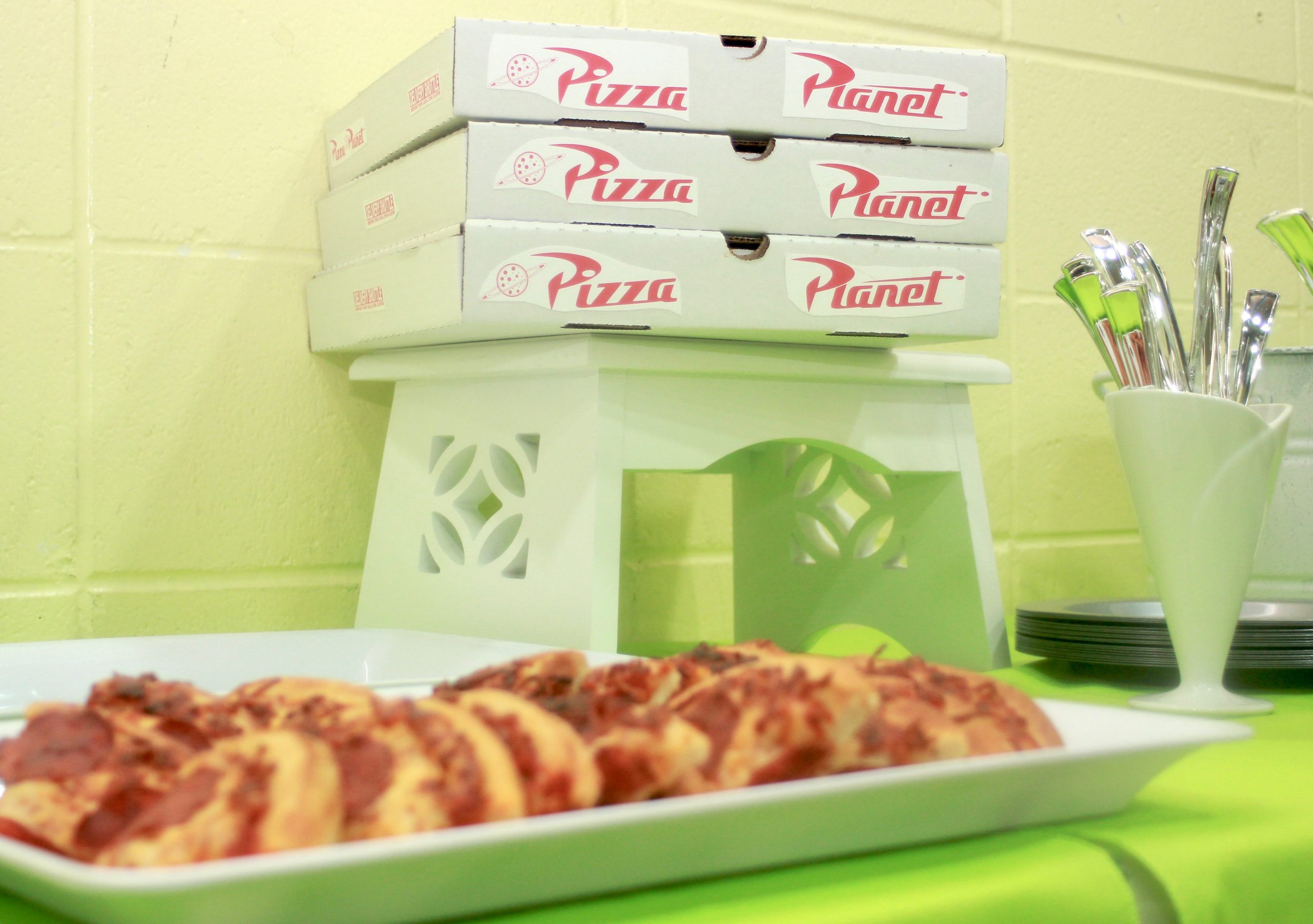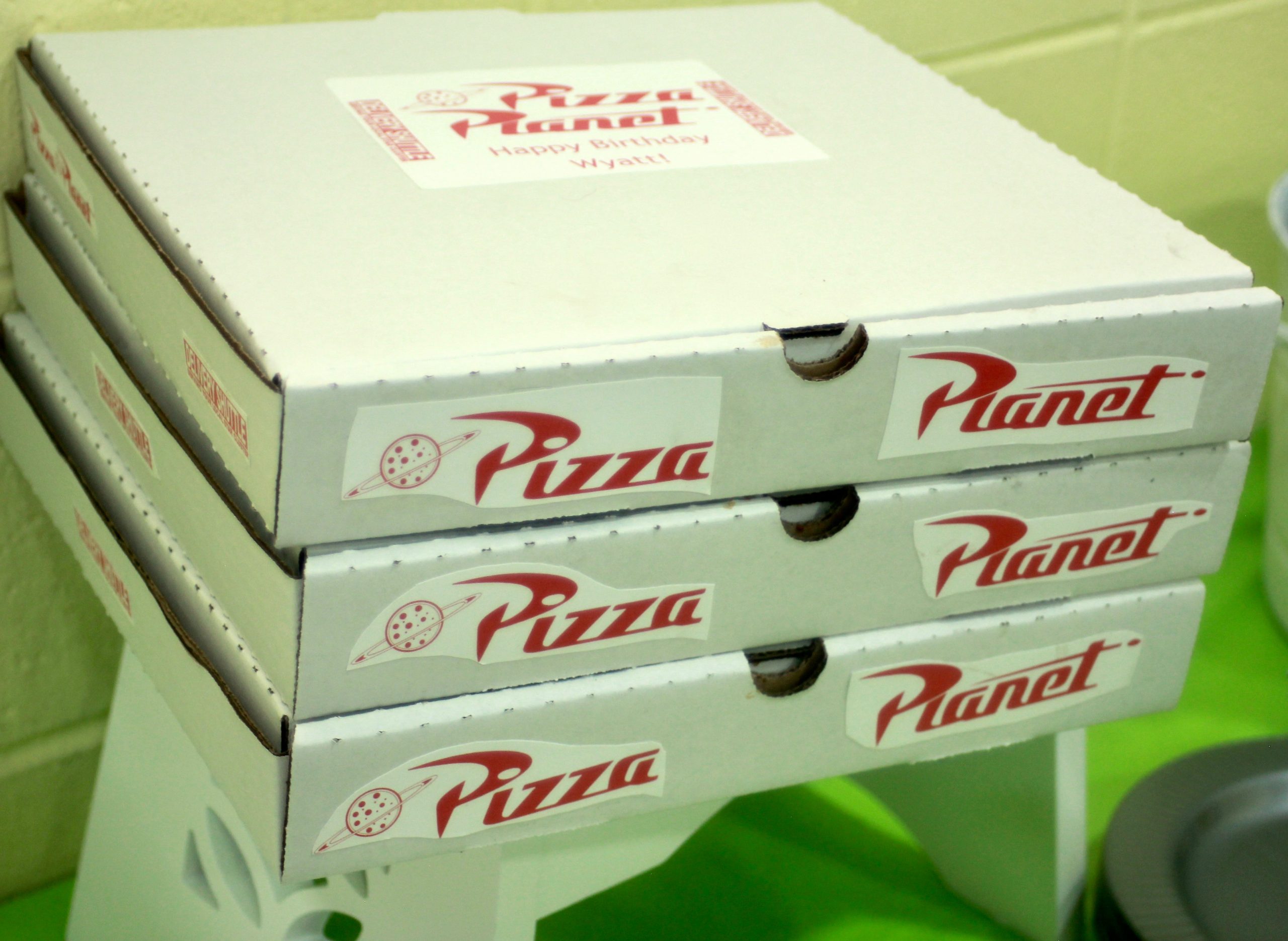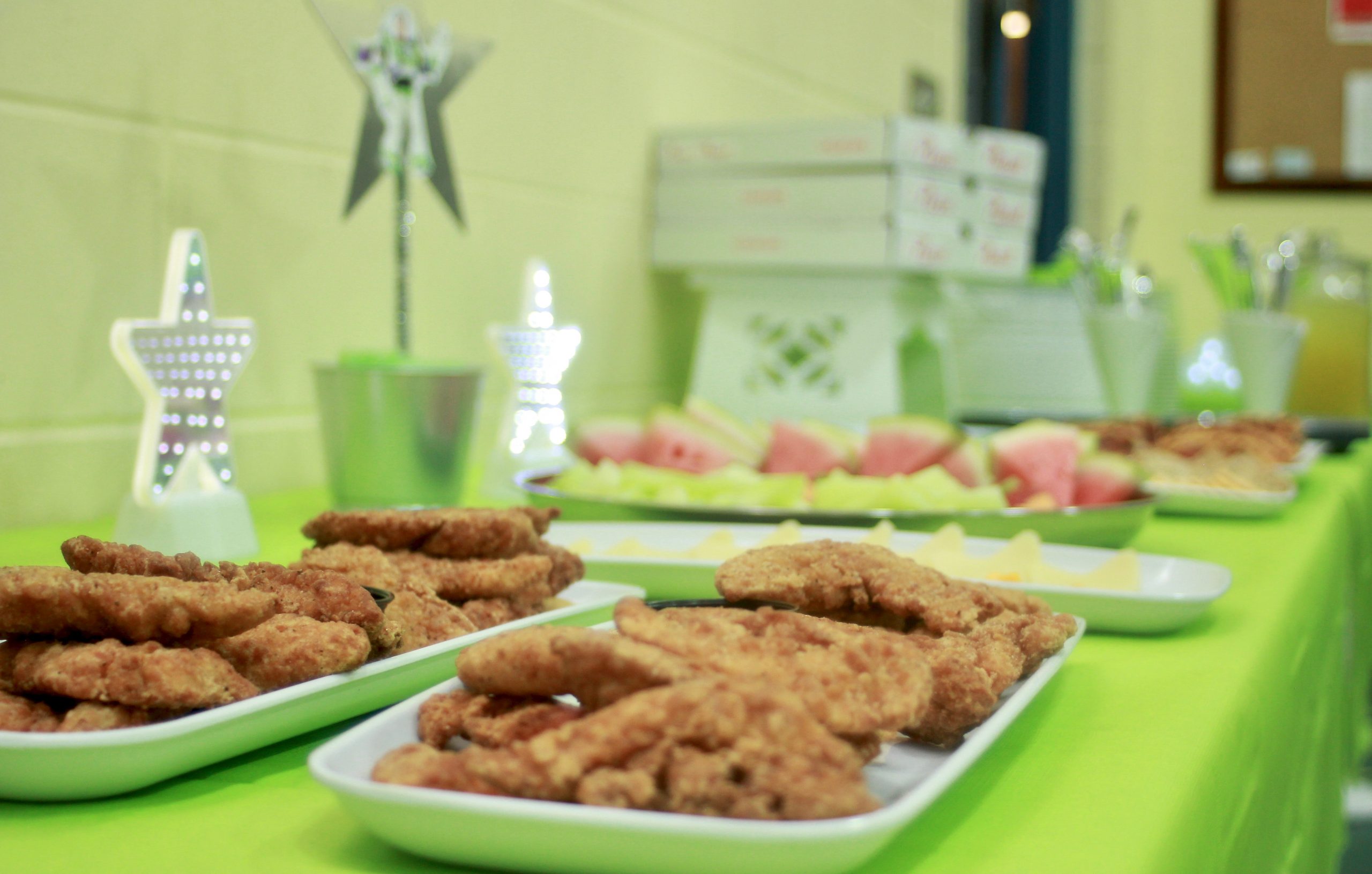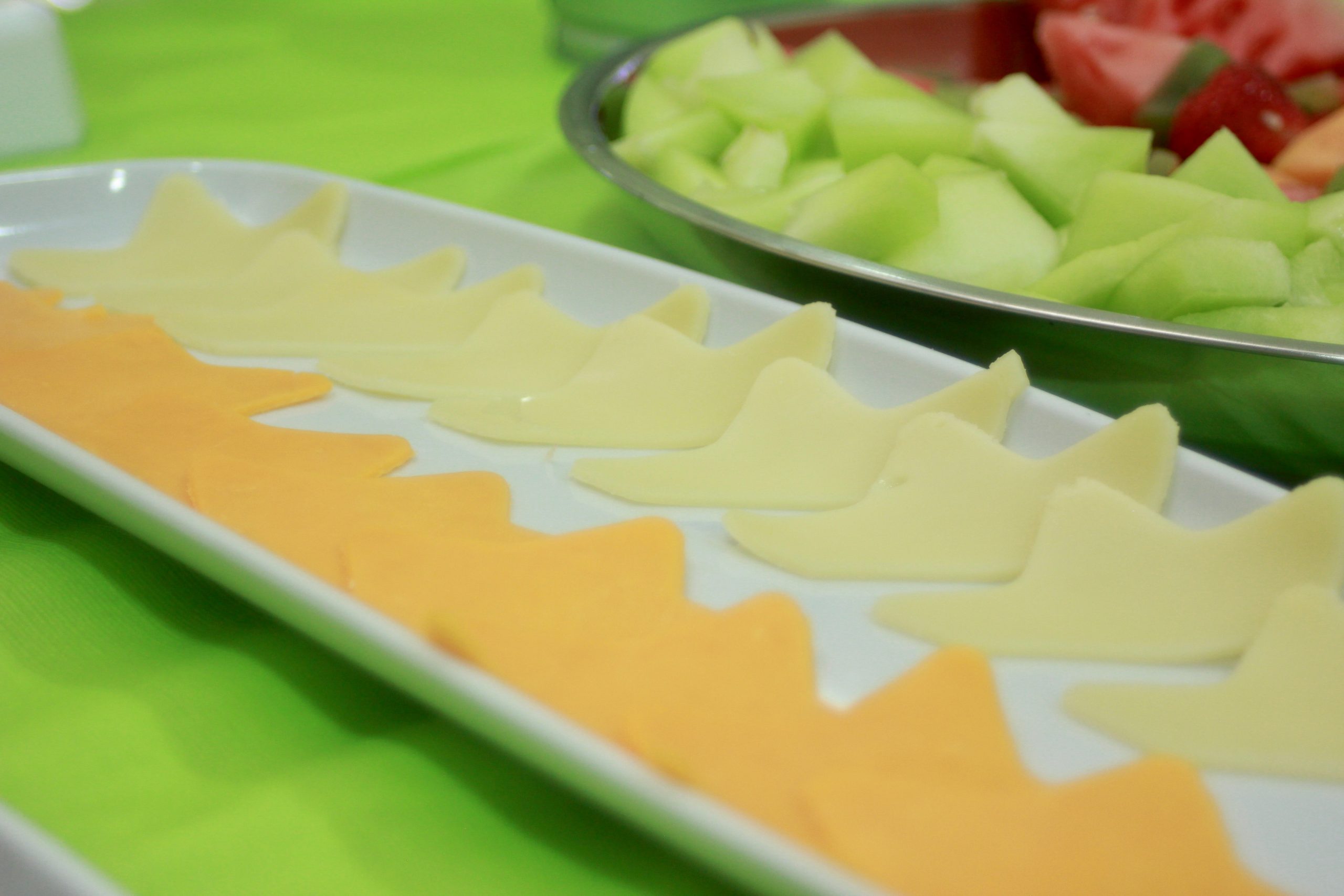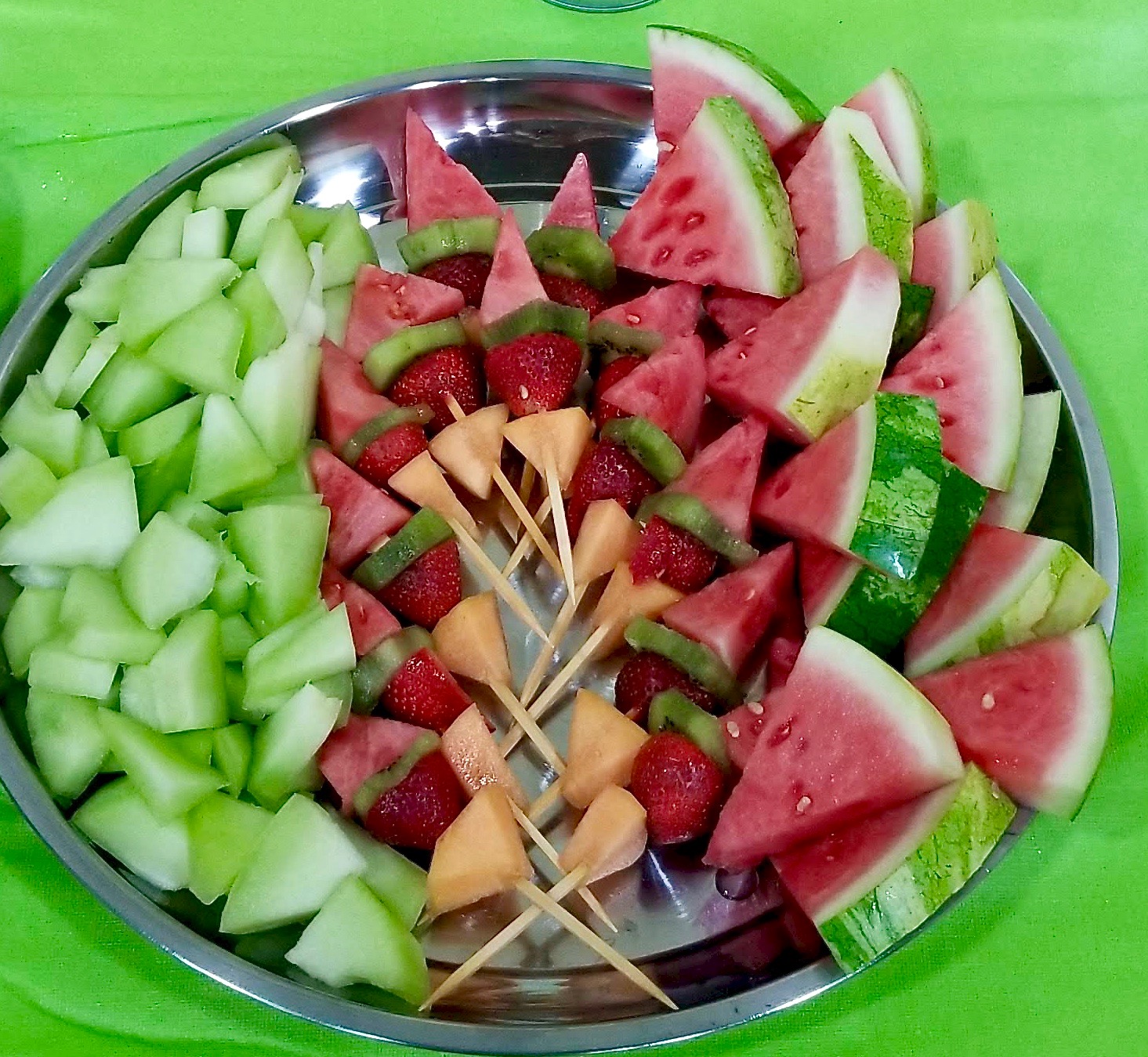 Cake + Treats
We were lucky enough to have my mom bake this incredible cake for the party! You can also include alien jello cups made using this Jello, and these candy eyes. All the treats double up as decor, so it's nice to have them on display right from the start of the party.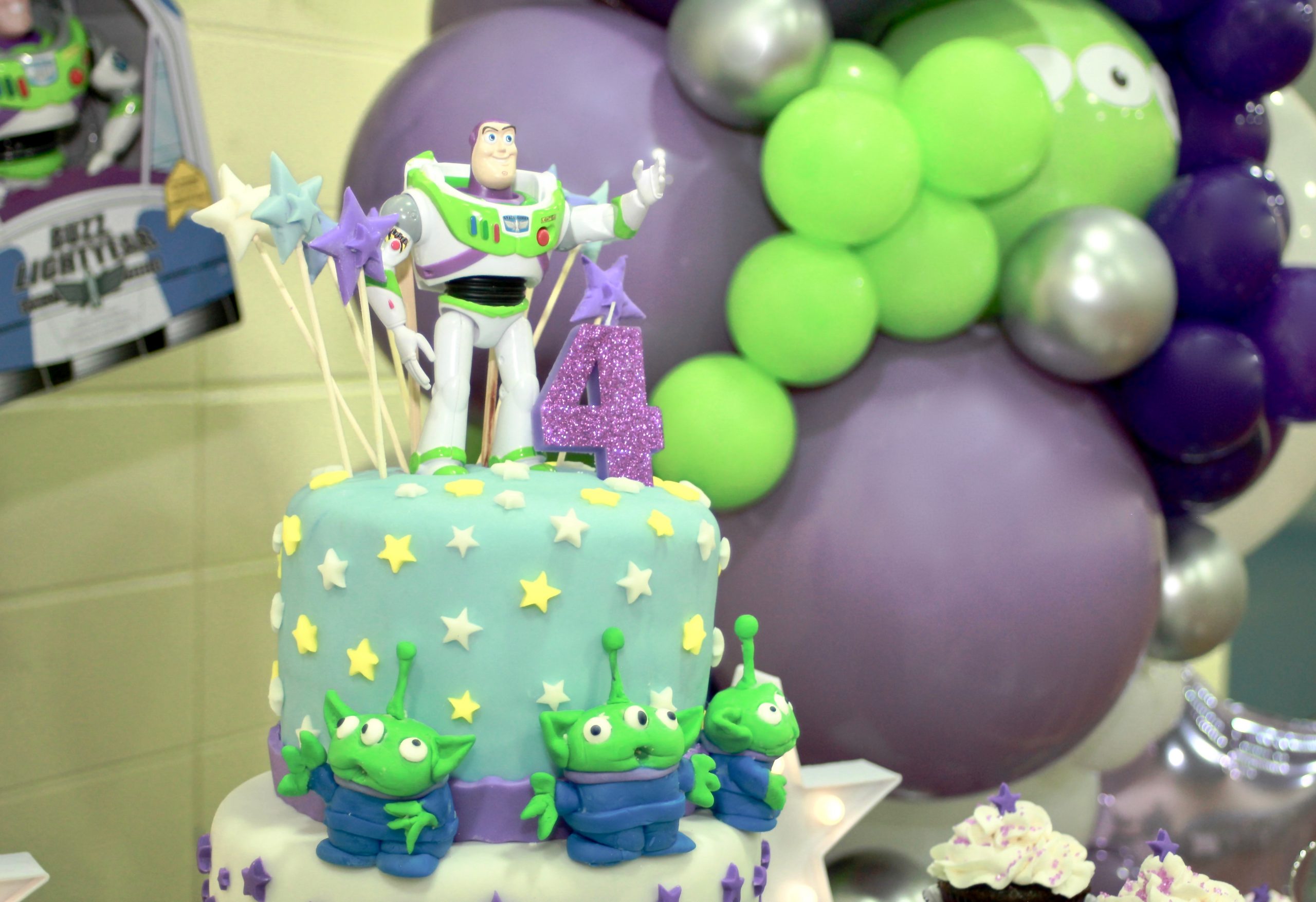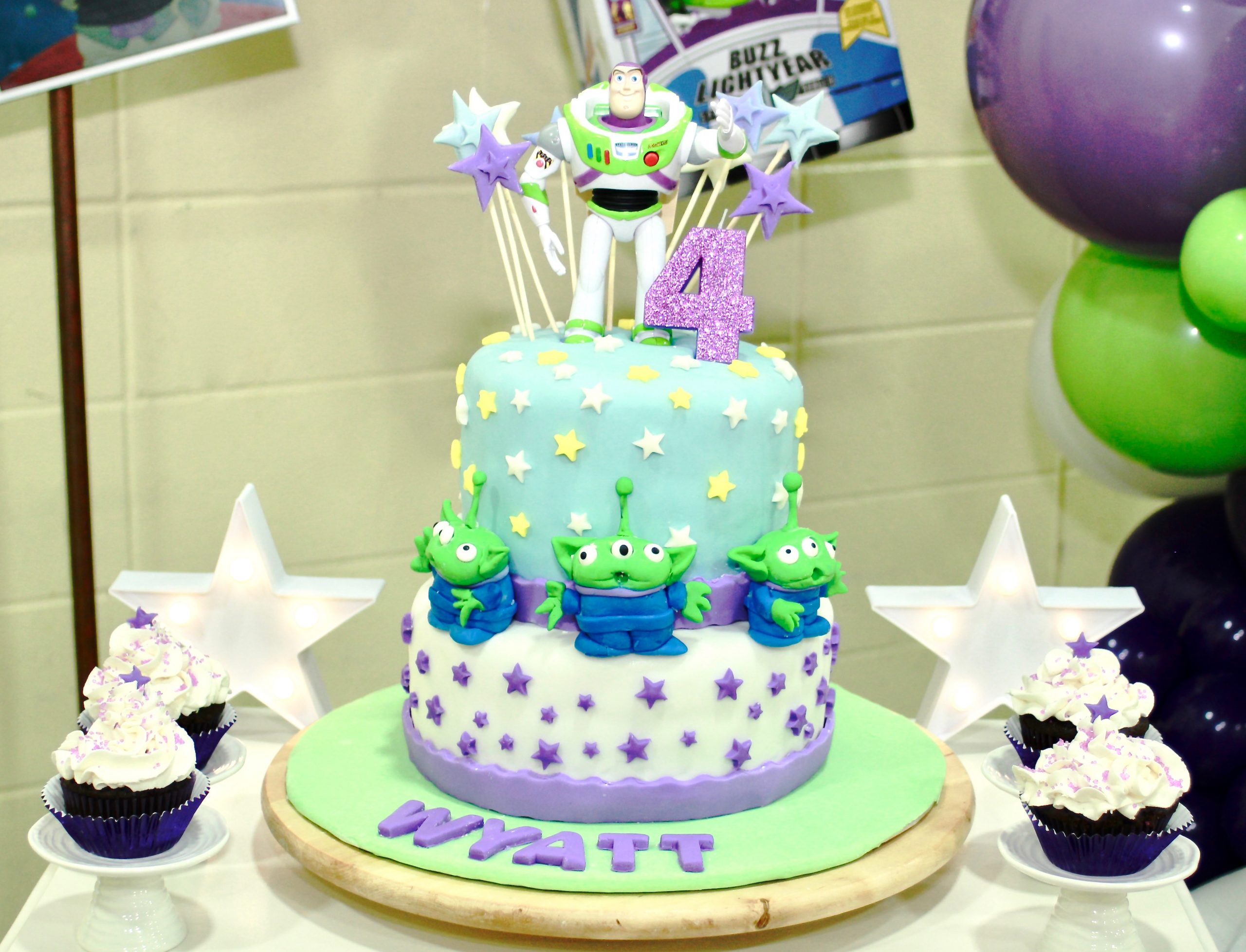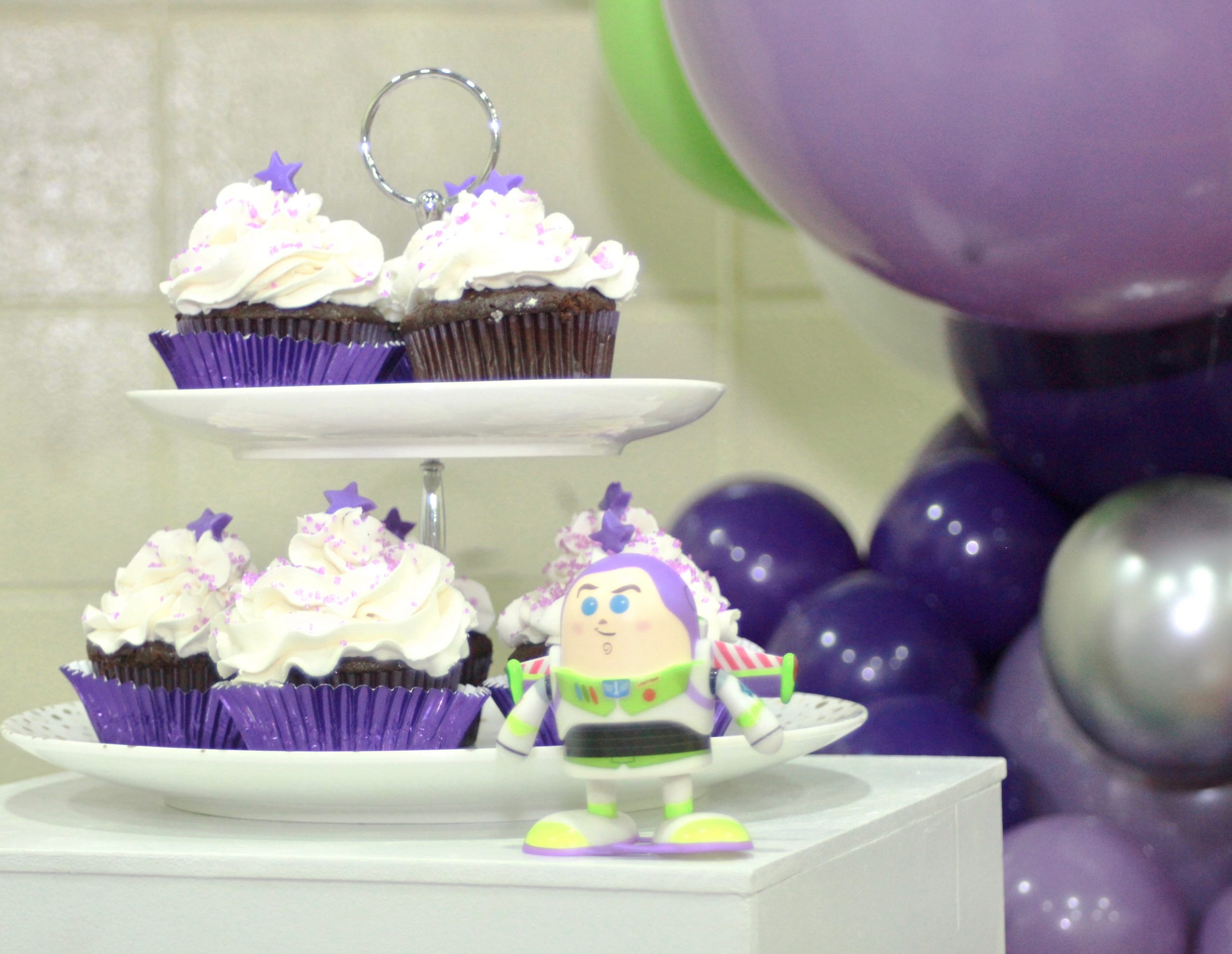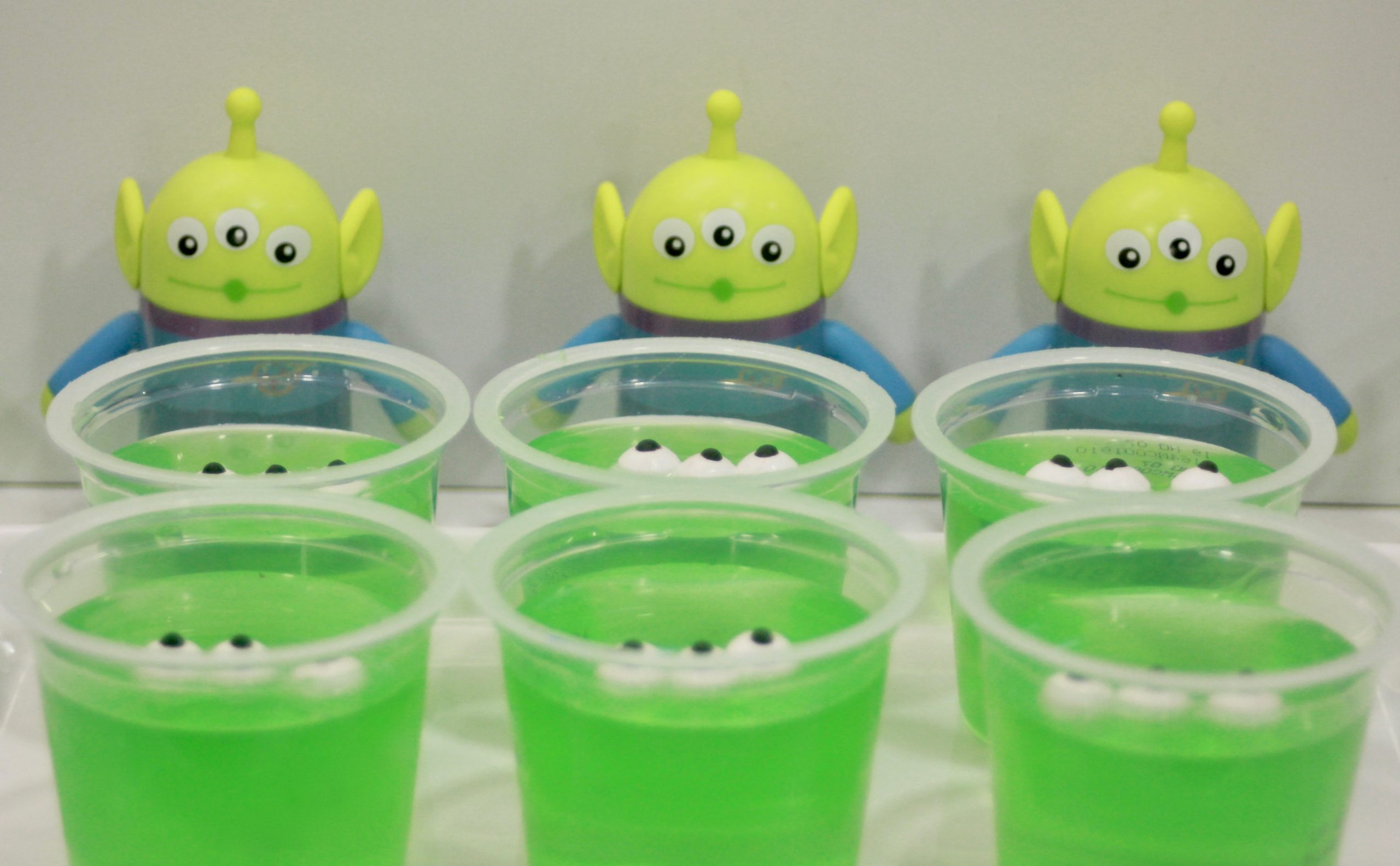 Goody Bags
Jazz up plain green gift bags with googly eyes to make alien goody bags! We popped in these Alien paddle balls, homemade rocket candy sticks, and some bubbles.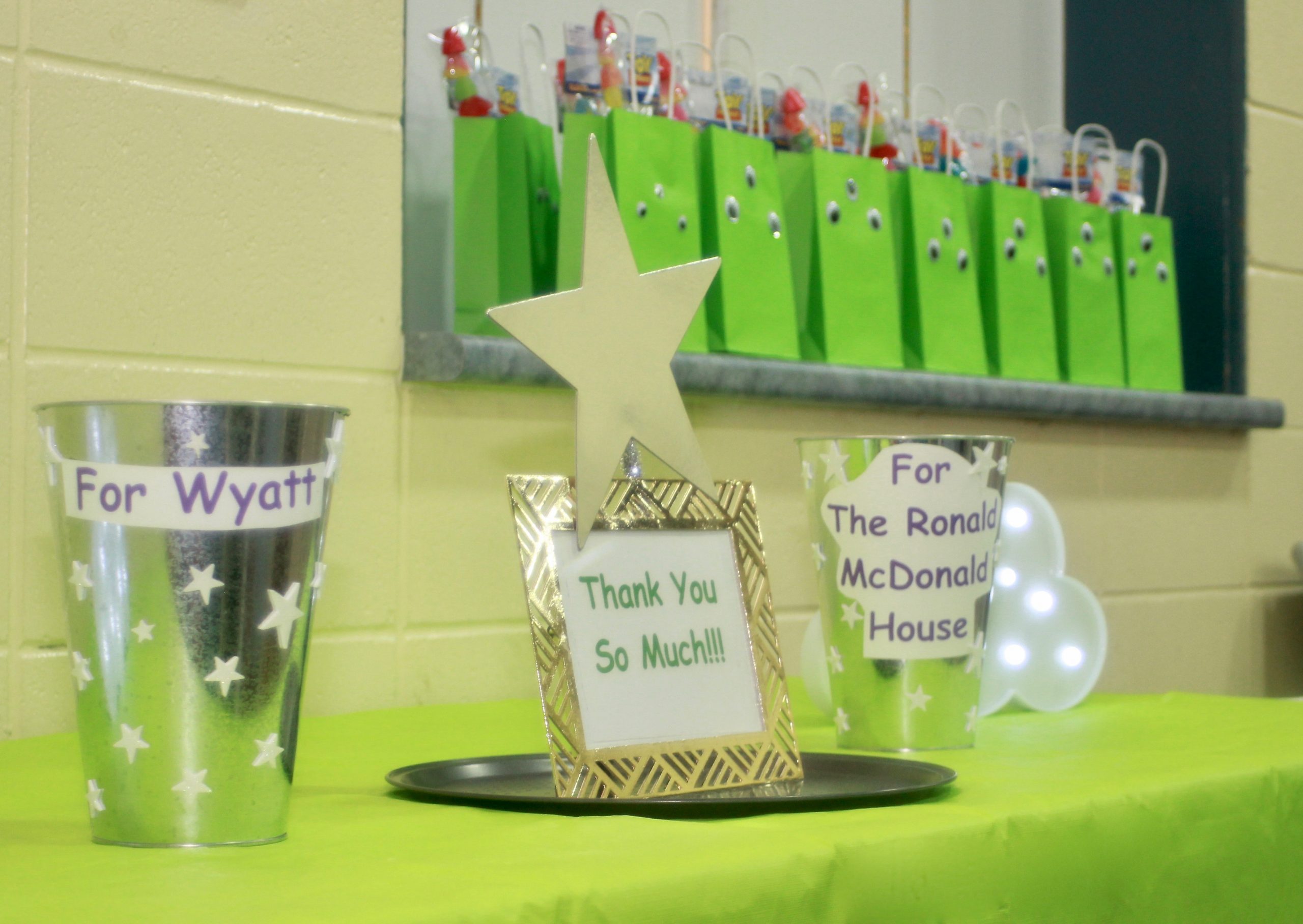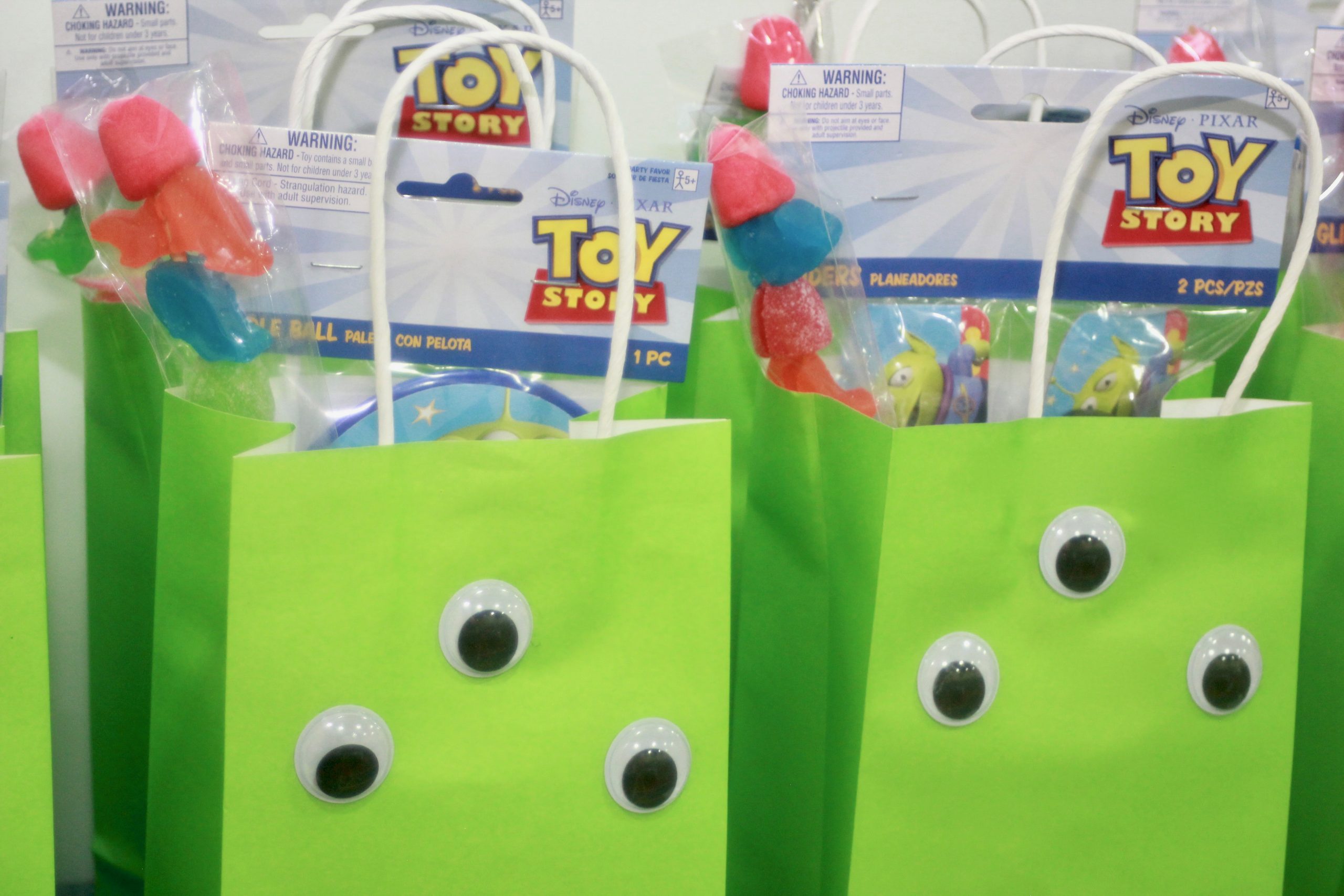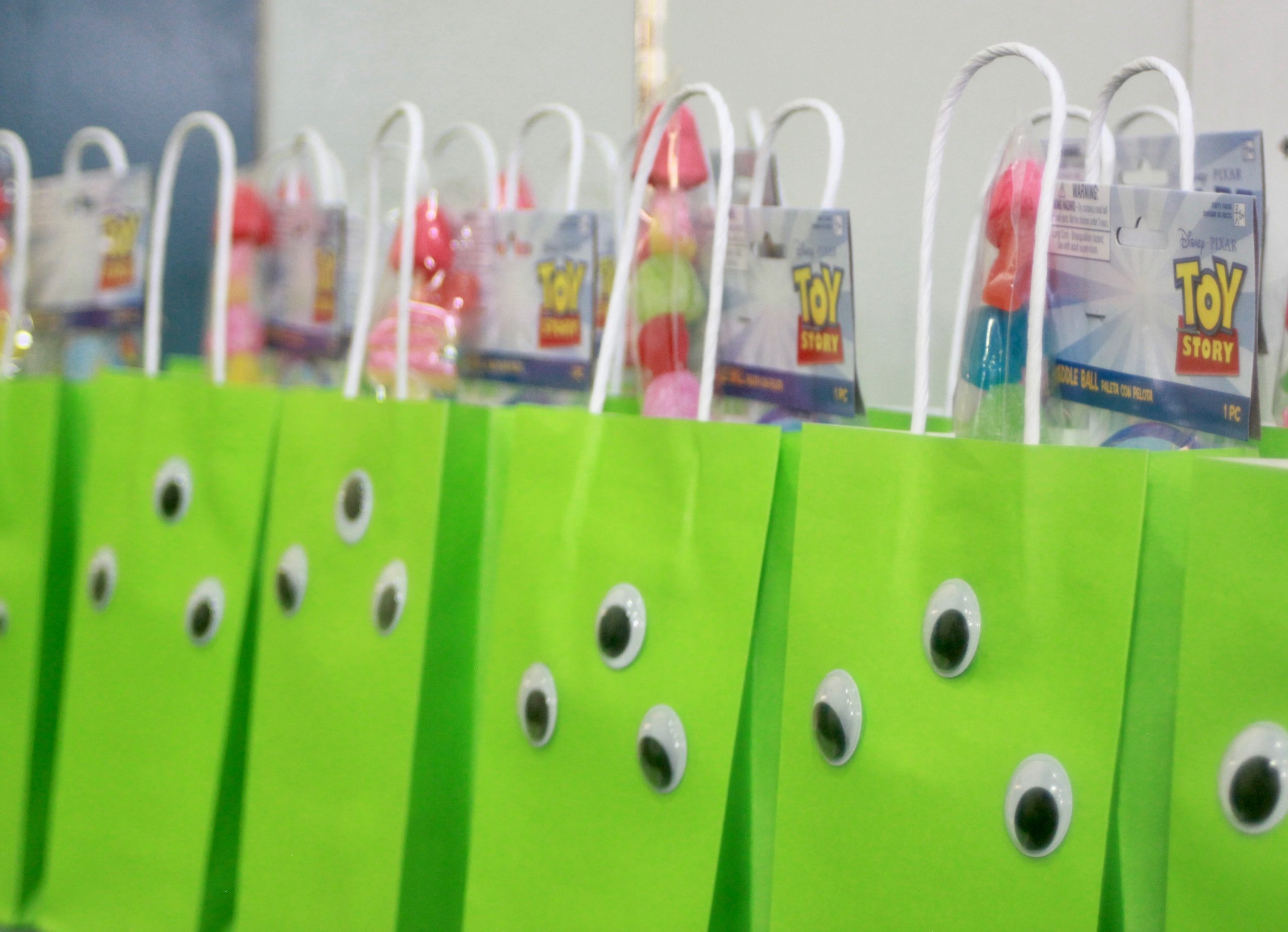 Pin this to your Buzz Lightyear Birthday Party and Toy Story Party board. Follow me on Pinterest here.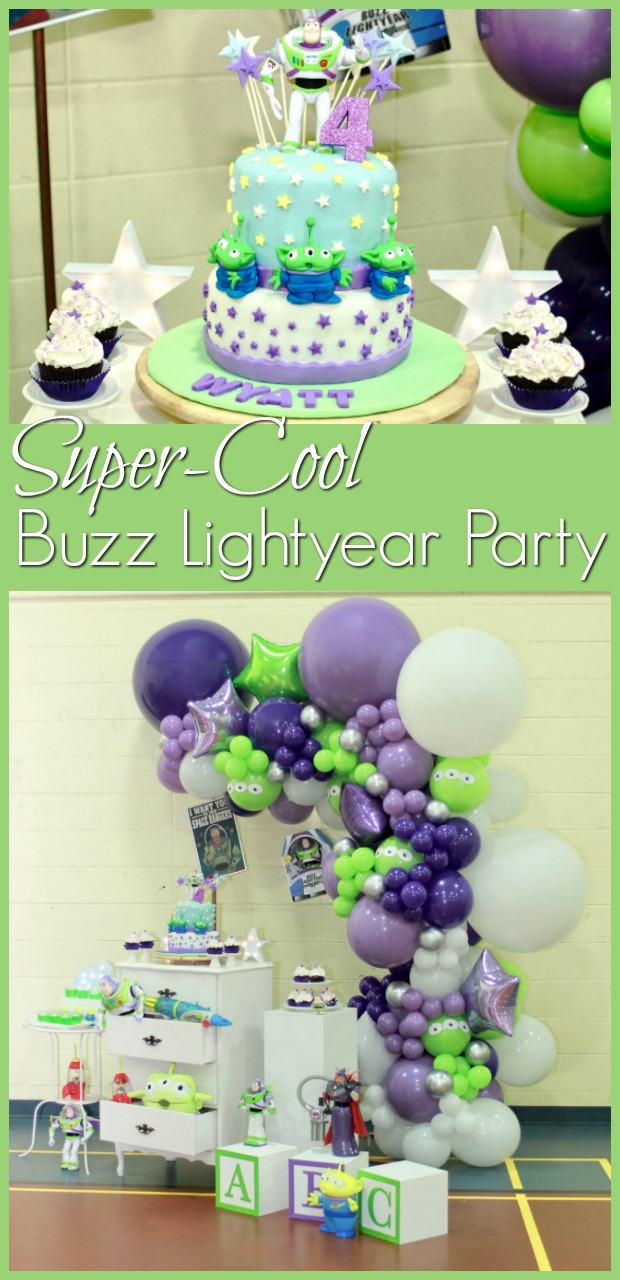 Other Posts You'll Like:
How To Set Up An Arts Centre in a Toddler Room
How To Throw An Awesome Truck Birthday Party
xx