Take a tour of Canada's coolest grocery store! A unique food experience with innovative features that will knock your socks off!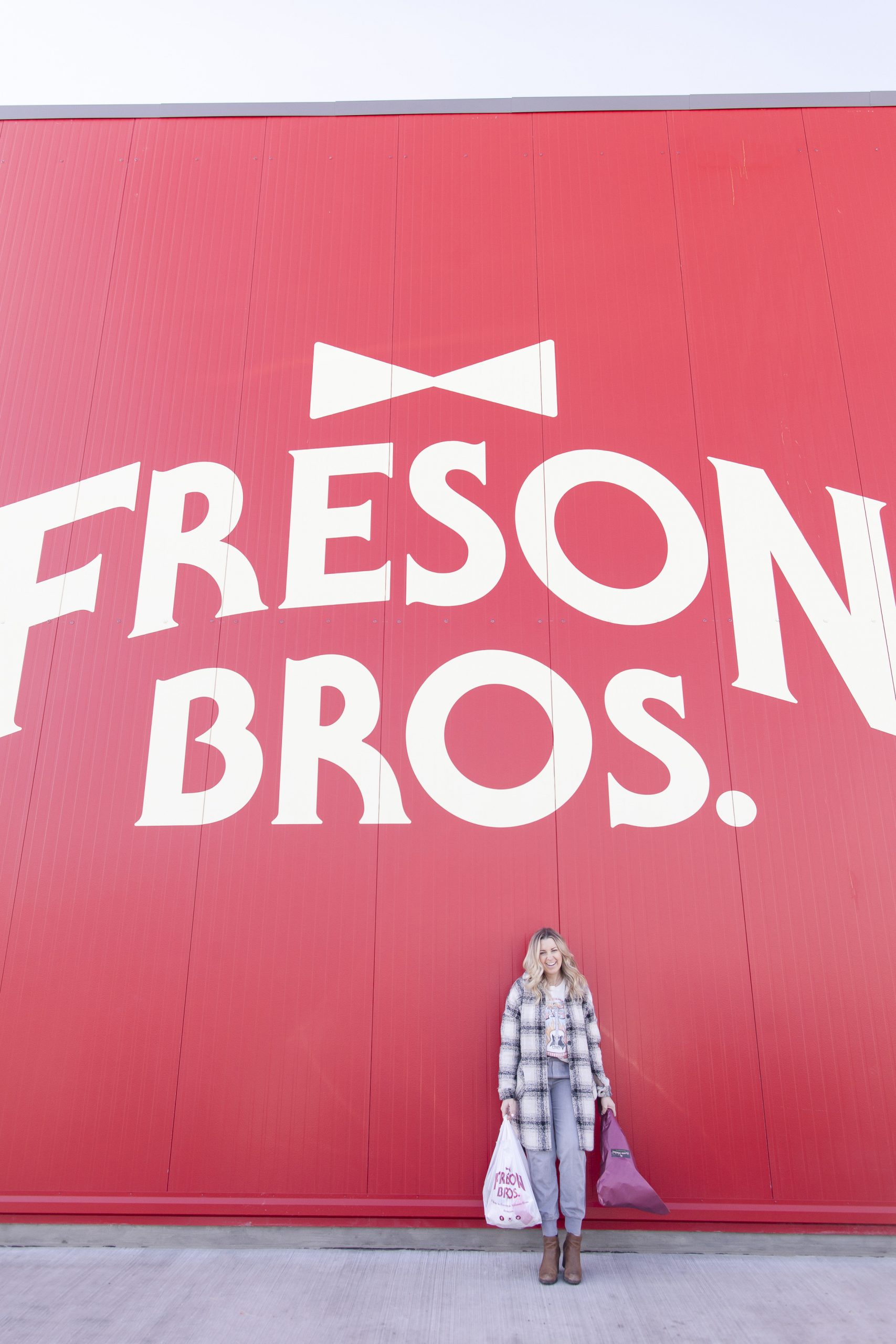 We've been SO excited for the opening of the brand new Freson Bros. in Edmonton, and I cannot wait to take you inside! This store is something special – unlike anything I've ever seen before. Shopping and supporting local is important to our family, and Freson Bros. prides itself on a vast array of goods from Alberta-based producers.
We've been shopping at Freson Bros. in Fort Saskatchewan and Stony Plain for the past several years. We love that it's rooted in community and "authentically Albertan". Started in 1955 by Frank Lovsin and Frank Resek, Freson Bros. is all about family and connection (you definitely feel it when you're there). Learn more about their history here.
At Freson Bros. we believe in the tradition of The Craft. You can see it in the cuts from our Real Master Butchers, and in the food we proudly showcase from Local Alberta Farmers. You'll taste it in our homestyle cooked meals, and in the bread baked daily from our Real Bakers. We're so proud to showcase our talent within our store."
~Doug Lovsin, President
There are many innovative features in the new 42,000 square foot Freson Bros. store in Edmonton (5139 Mullen Road, Rabbit Hill Crossing). I'm going to highlight several that make this grocery store so cool! Be sure to share your favourite part in the comment section at the bottom of this post.
Wine and Beer on Tap
Yes, we're talking about wine and craft beer at a grocery store! I love grocery shopping solo, and I'm looking forward to making the most of that me time; having a glass of wine while finishing my list before I actually start to shop. It's not just wine on tap in the 116-person restaurant, but craft beer and sodas (including Bald Mikes, brewed by Troubled Monk exclusive to Freson Bros., made with the store's own sourdough bread)! Some wine and beer is even available to take home. You can also grab an old fashioned milkshake or ice cream (nothing like a little bribery and incentive when you're shopping with your kids!).
Plant-Based Focus
With more of us looking for meat alternatives, Freson Bros. offers a ton of plant-based options. Conveniently located next to the meat department, you'll find an entire cooler dedicated to plant-based proteins, and a separate Healthy Choice freezer with plant-based protein, entrees, and organic frozen fruit and veggies.
At Freson Bros., we're proud to offer the best quality protein choices, whether it's meat or plant-based alternatives. We have options to fit a wide range of lifestyles, whether your family is vegan, vegetarian. or you just desire to consume less meat and want to substitute plant-based protein a couple of nights a week.

People are also loving the convenience of being able to pick up and take home ready-made plant-based protein meals such as wraps, salads, or other meals in our kitchens. We've got something for everyone!

~Laura Duff, Health and Wellness Specialist, Freson Bros.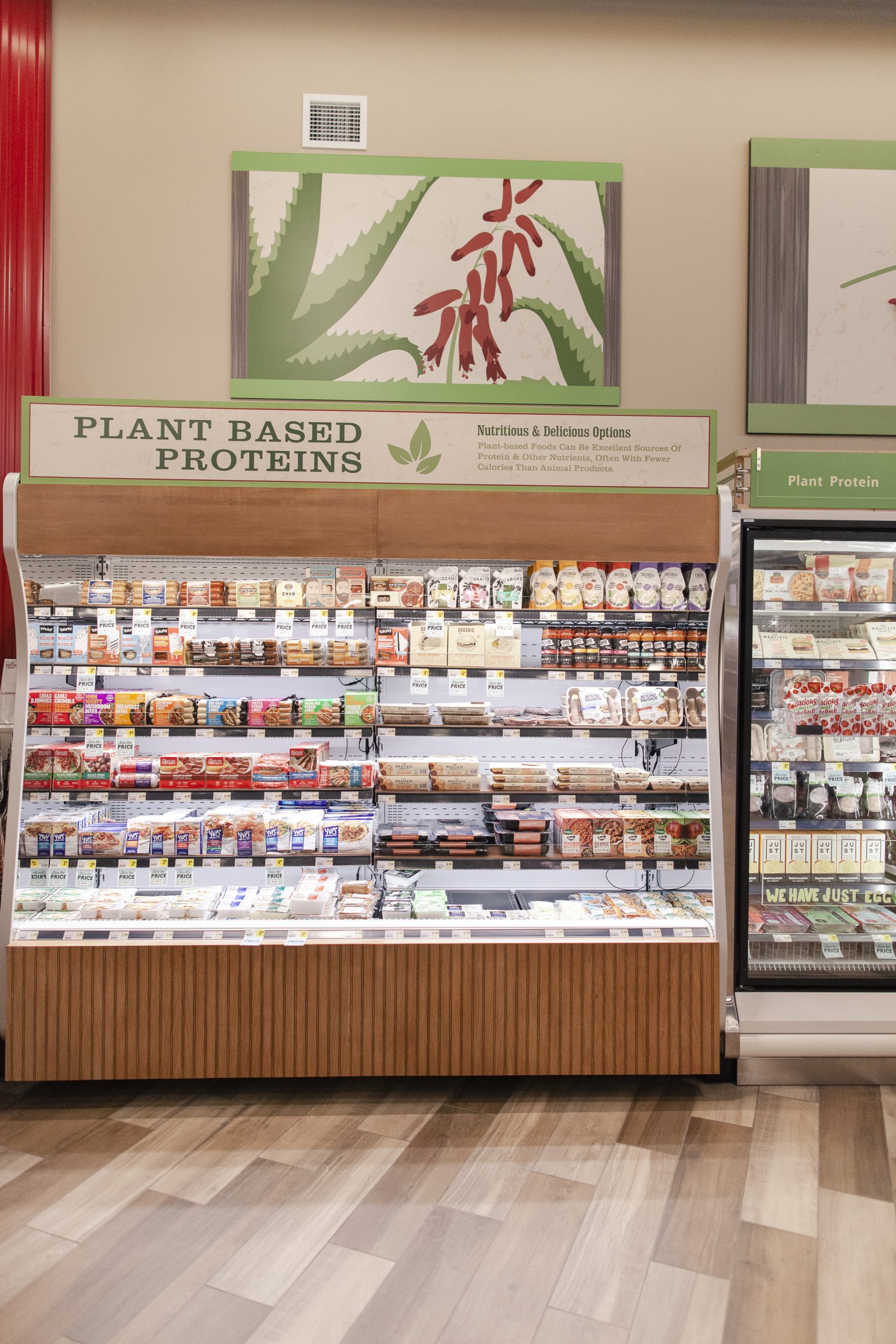 Over in 'On-The-Go', you'll find a whole bunch of ready-made vegan options like Montreal Smoked Tofu and roasted veggie side dishes.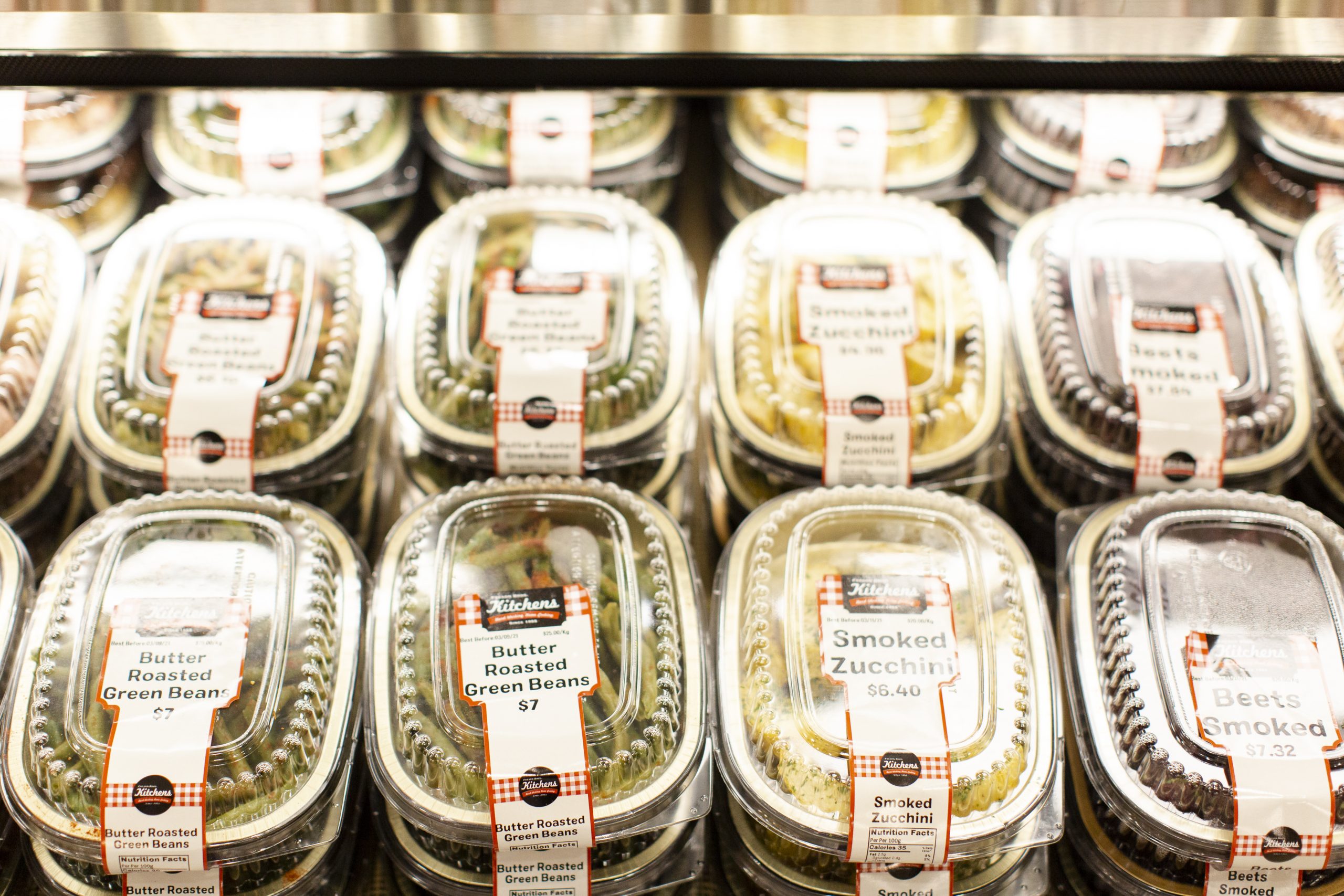 The expansive Healthy Choice department offers several aisles of organic and vegan-friendly items, many of them made in Alberta. Freson Bros. Edmonton also stocks the biggest selection of Alberta-made Kombucha!
I was thrilled to discover one of my favourite products, Ginger Soother, which is the key ingredient to my Ginger Peach Coconut Smoothie recipe.
Made-To-Order Cinnamon Bun Station
It doesn't get any fresher than this: you can now get Freson Bros. famous sourdough cinnamon buns made-to-order! Swing by at the beginning of your shop, and pick them up fresh when you're ready to go. These delicious beauties are hand-rolled and scratch-made with 100% Alberta flour.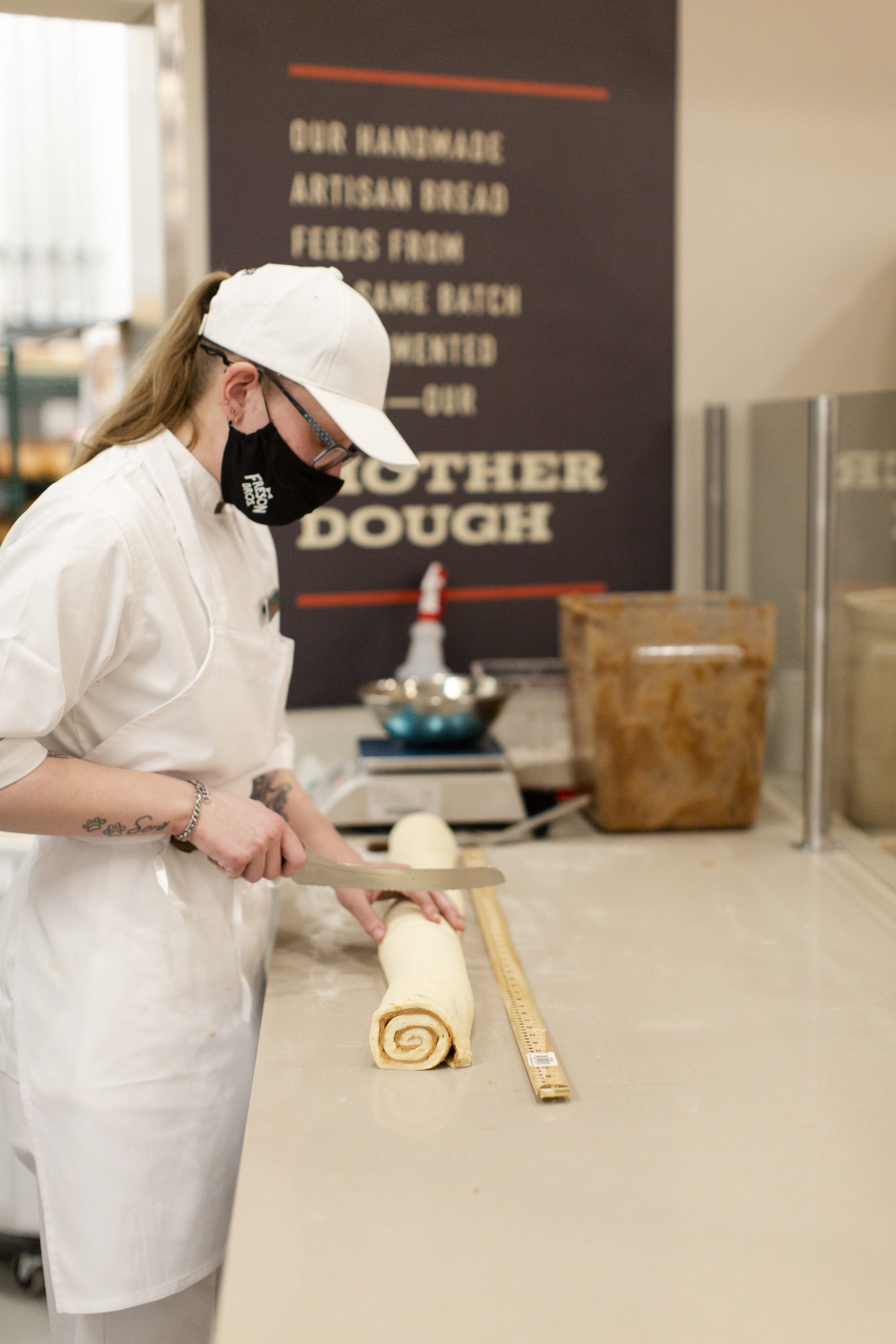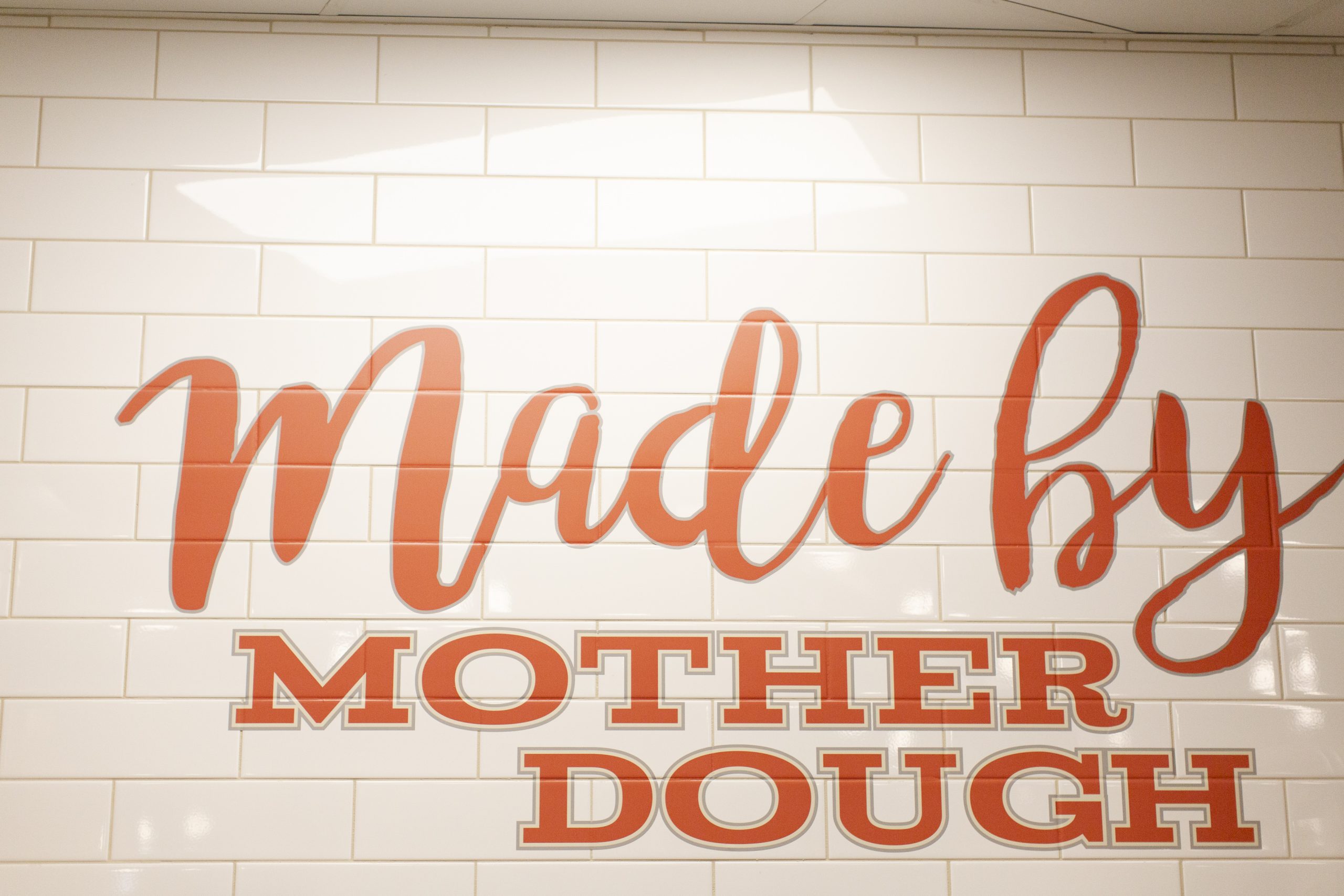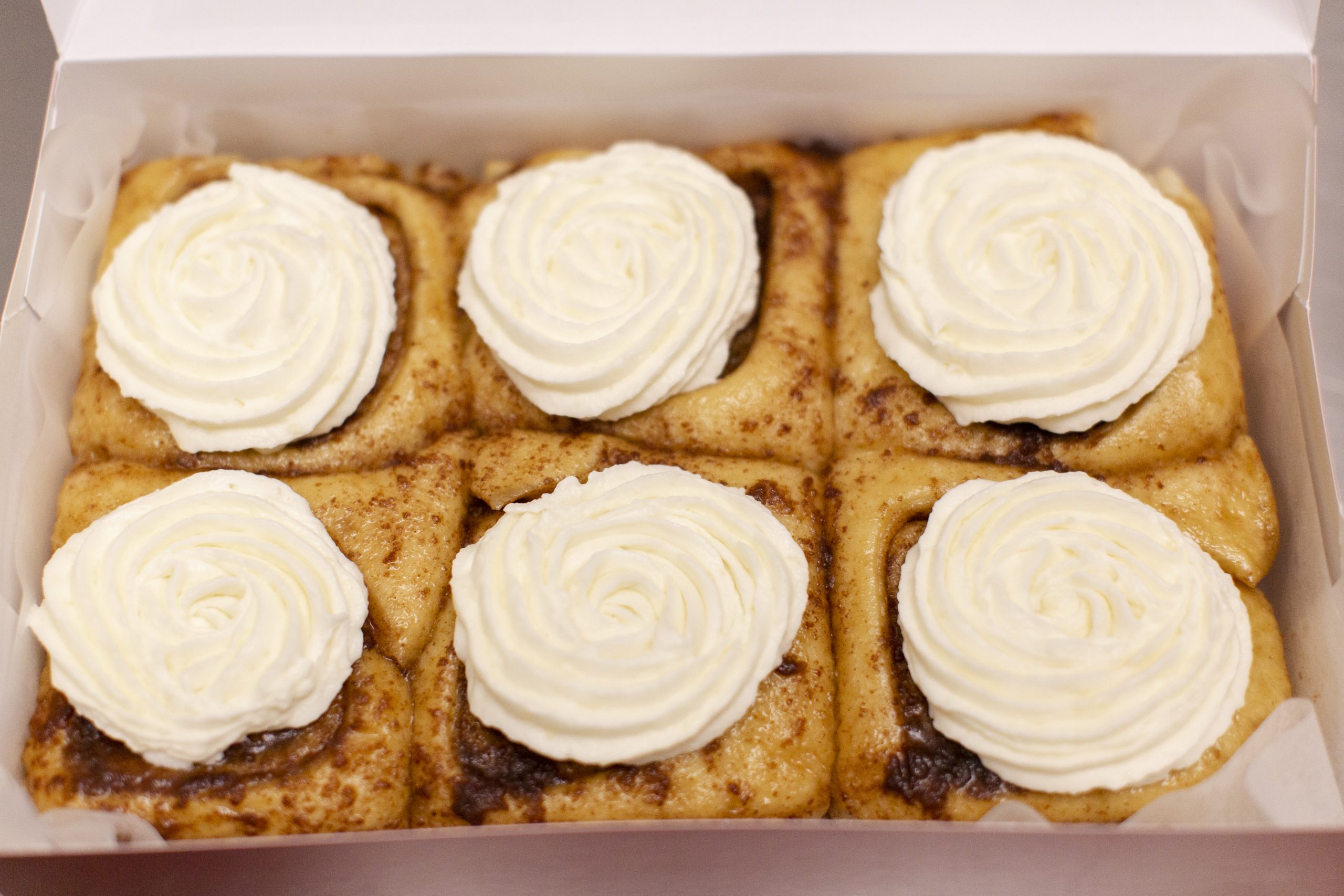 Follow Freson Bros. on Youtube here.
Open Concept
Shopping at Freson Bros. Edmonton is more than just running another errand. It's definitely an experience. The Butcher Shop, Mother Dough Bread Co. (bakery), Deli, and Kitchen Creamery are all open concept, providing transparency, entertainment, and a true sensory experience. Watch your meat being cut, smell your bread being made, and see your cheese being sliced! The open-concept model also allows you to connect with the experts behind the counter.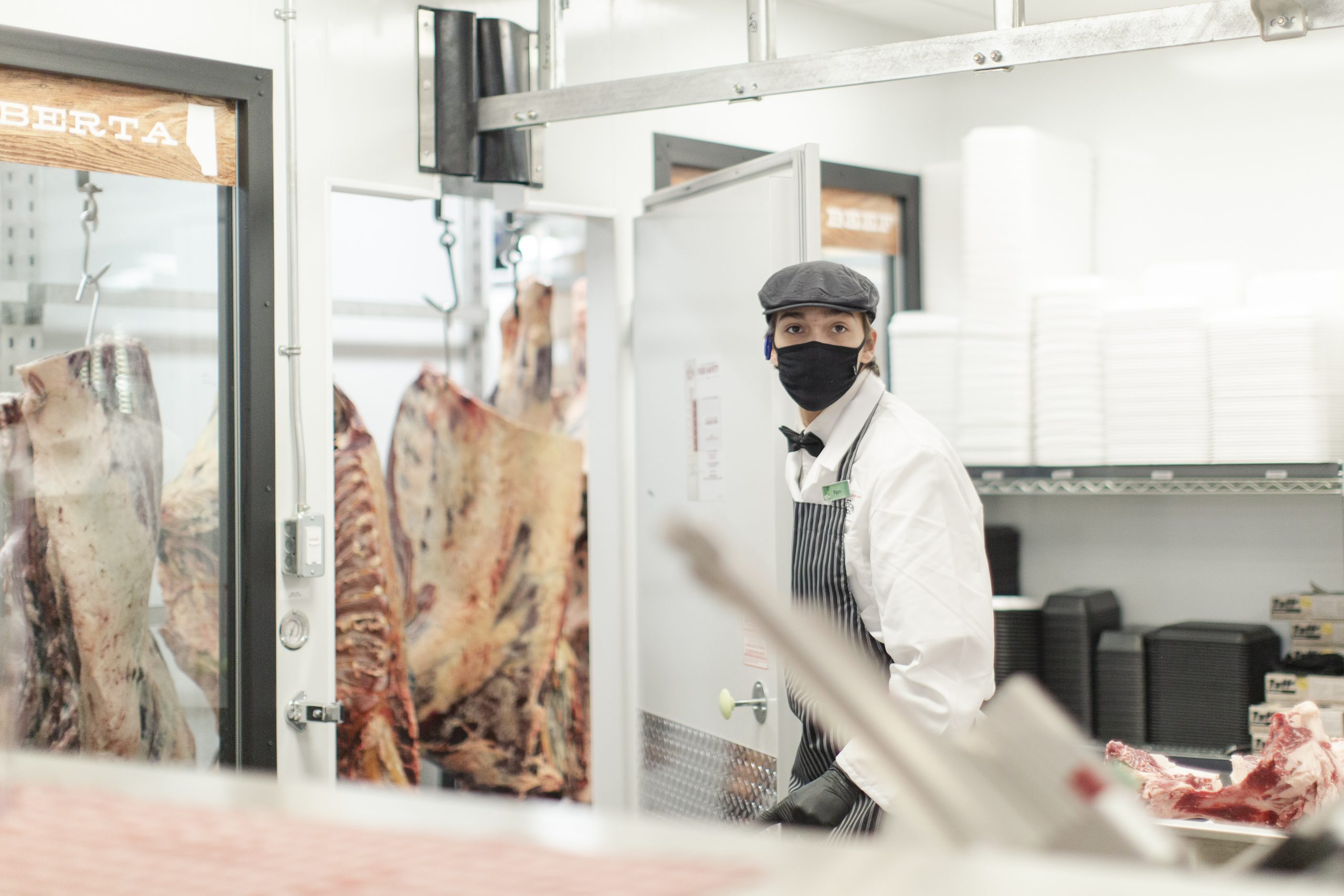 Freson Bros. prides itself on its carcass beef program, where you can watch butchers cut and prep your meat. You can also choose from a large selection of pre-packaged Alberta pork, chicken, turkey, and beef.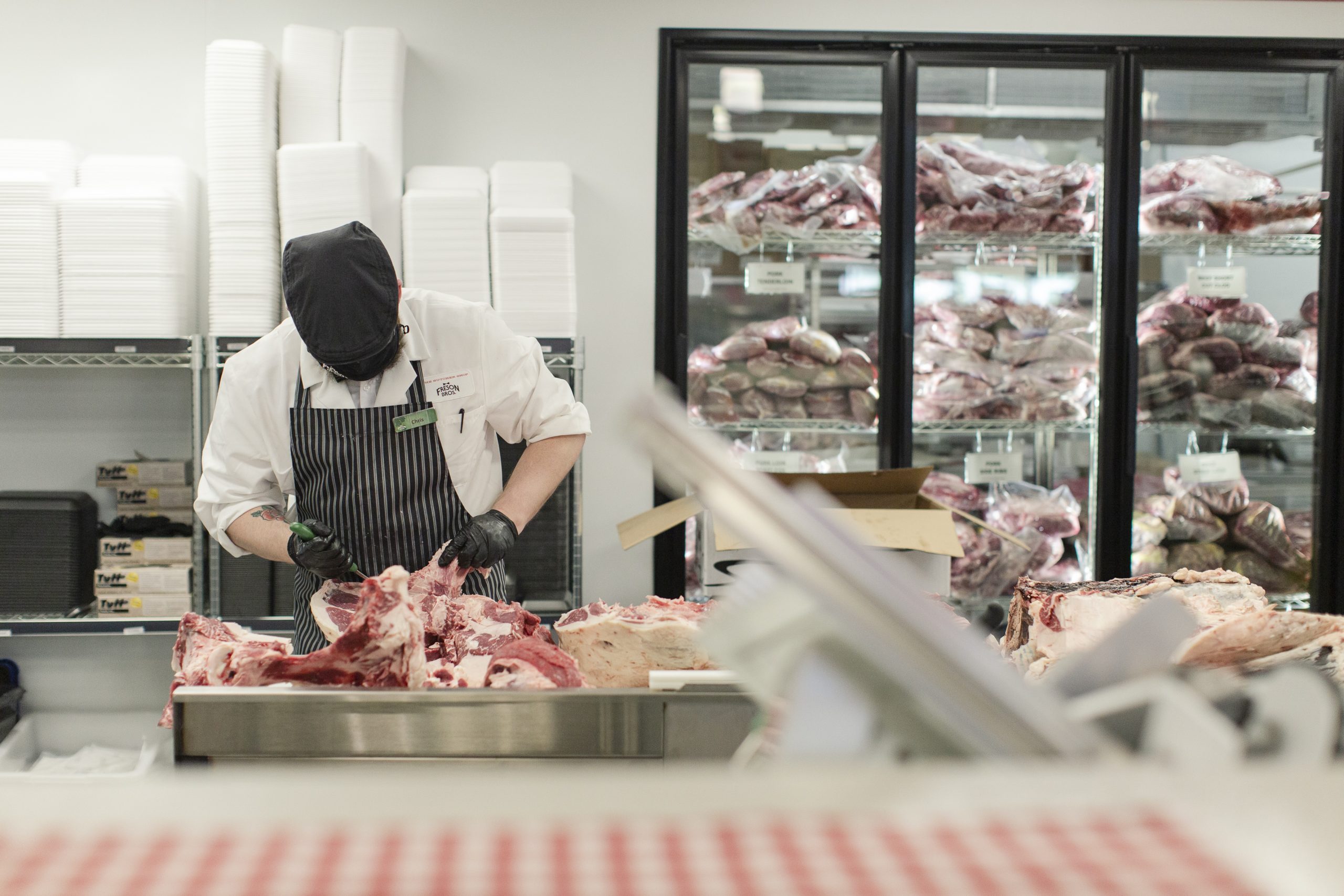 The Mother Dough Bread Co. bakery features sourdough products that take three days to perfect, and decadent tortes made in-house from scratch.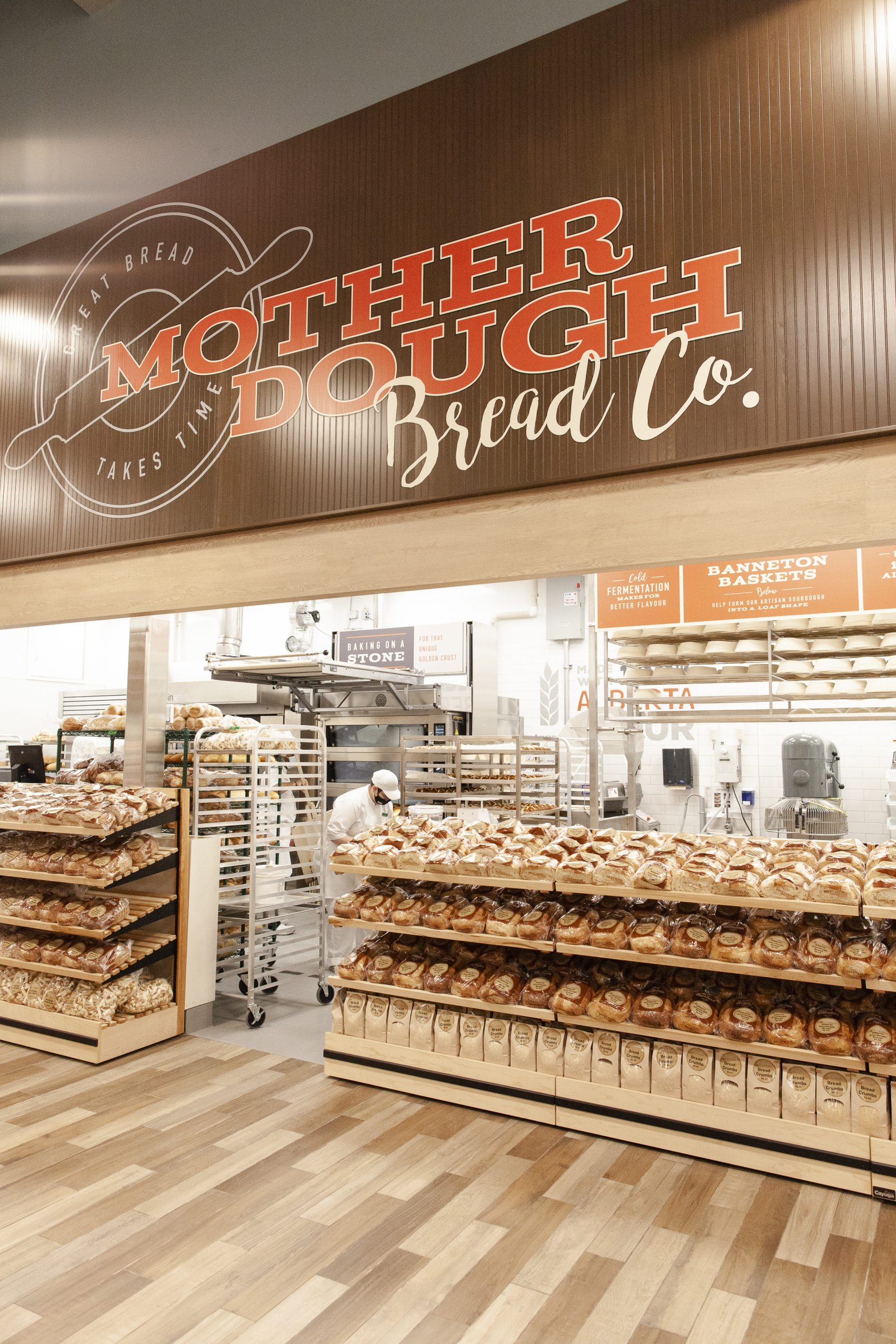 The Kitchen Creamery has a selection of cheeses from across Alberta and Europe, and house-made mozzarella and ricotta.
Shorter Aisles
You'll notice the aisles in Freson Bros. Edmonton are shorter than most other grocery stores, making for a more enjoyable shopping experience.
Made-To-Order Meals To Go
We like to have someone else do the cooking on grocery shopping days! Freson Bros. Edmonton has a variety of meals-to-go options, which are perfect. Make sure you pop by the sandwich station for a made-to-order sourdough artisanal sandwich (there's also pre-made sandwiches and salads if you're in a rush).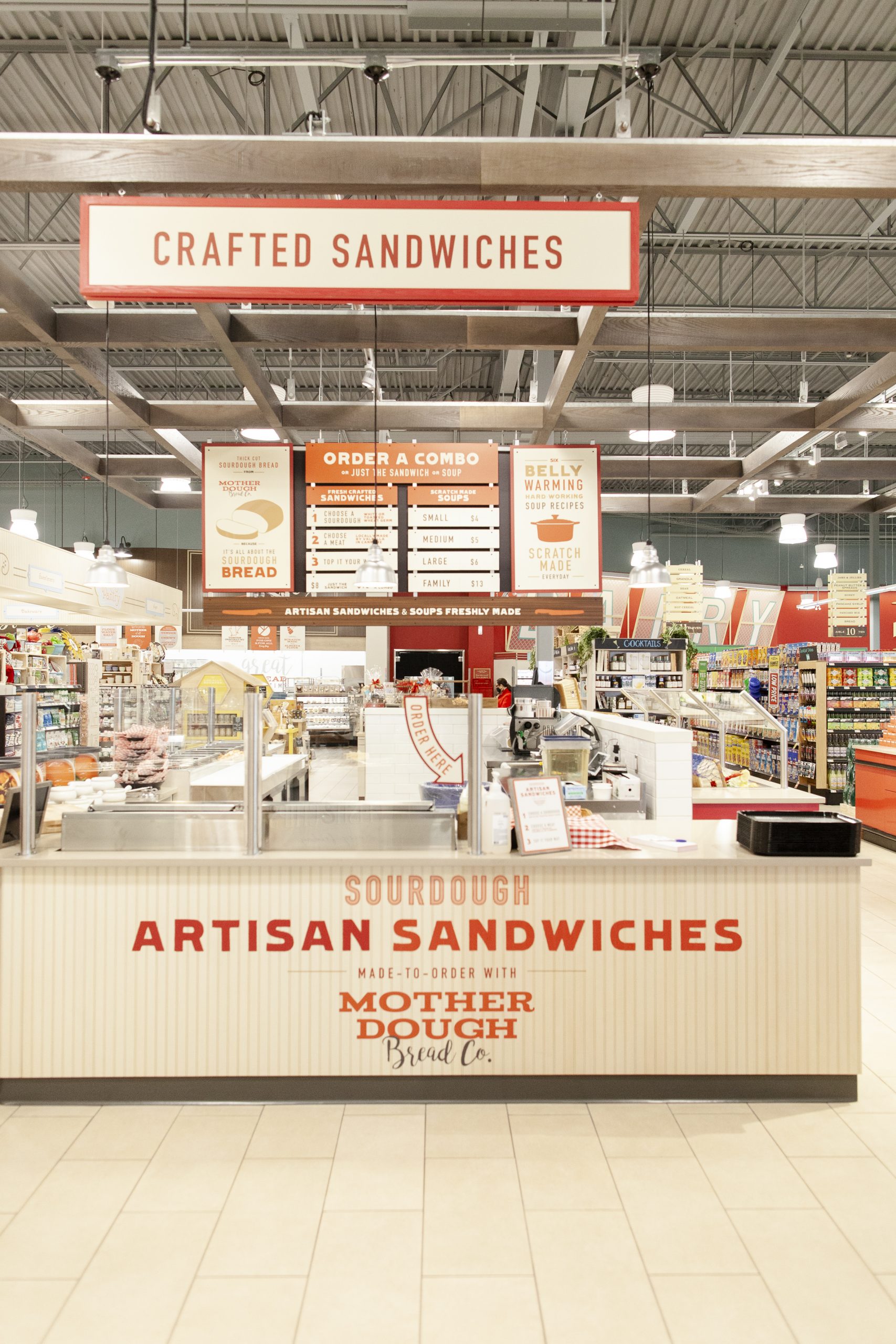 You can also grab a jar or two of beautiful house-made soups, with a refundable deposit on those glass jars.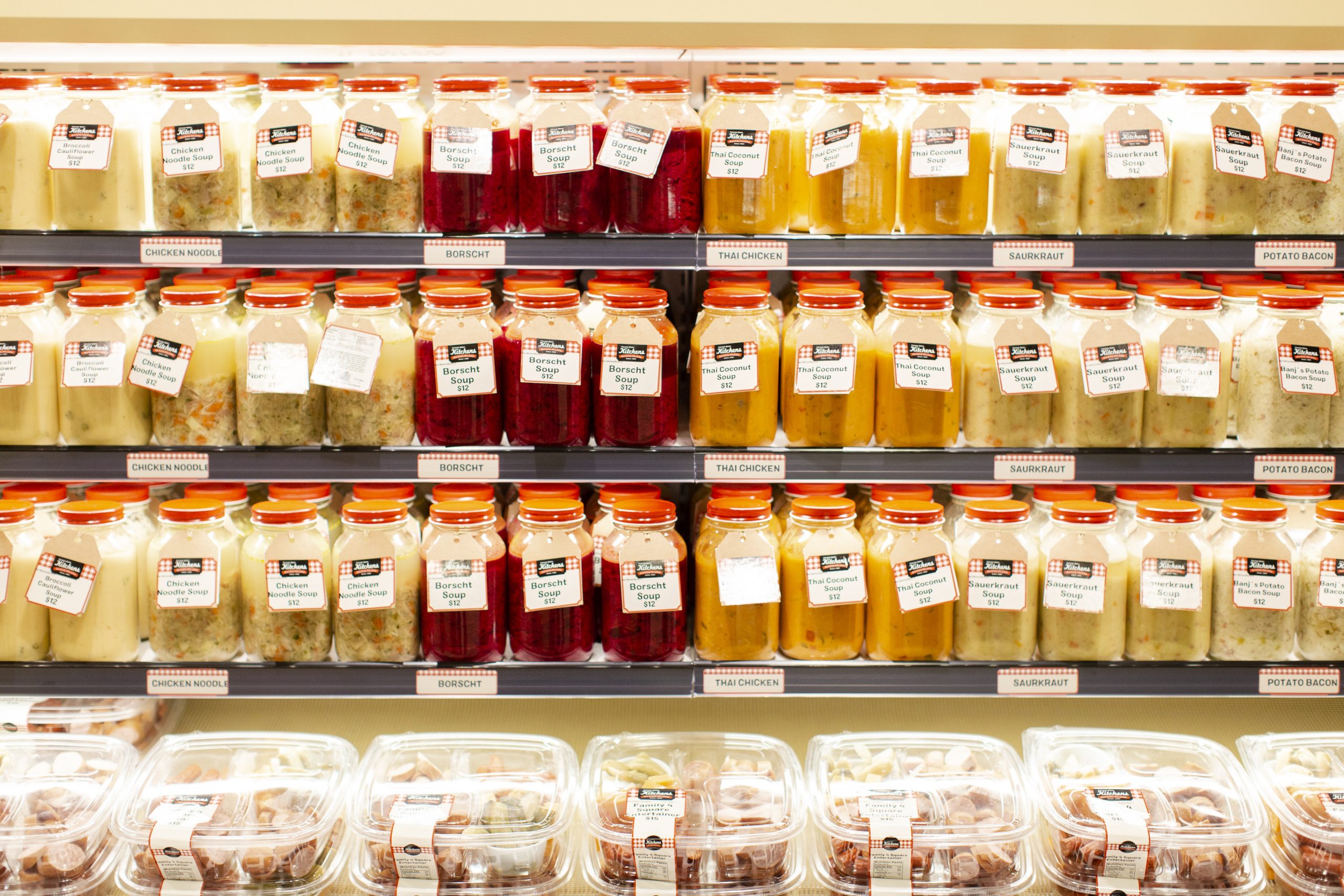 Watch your fresh homemade sourdough pizza being made in Father Dough's firestone oven! Grab a hot slice, full pie, or opt for the "Take and Bake," and pop your pizza in the oven at home.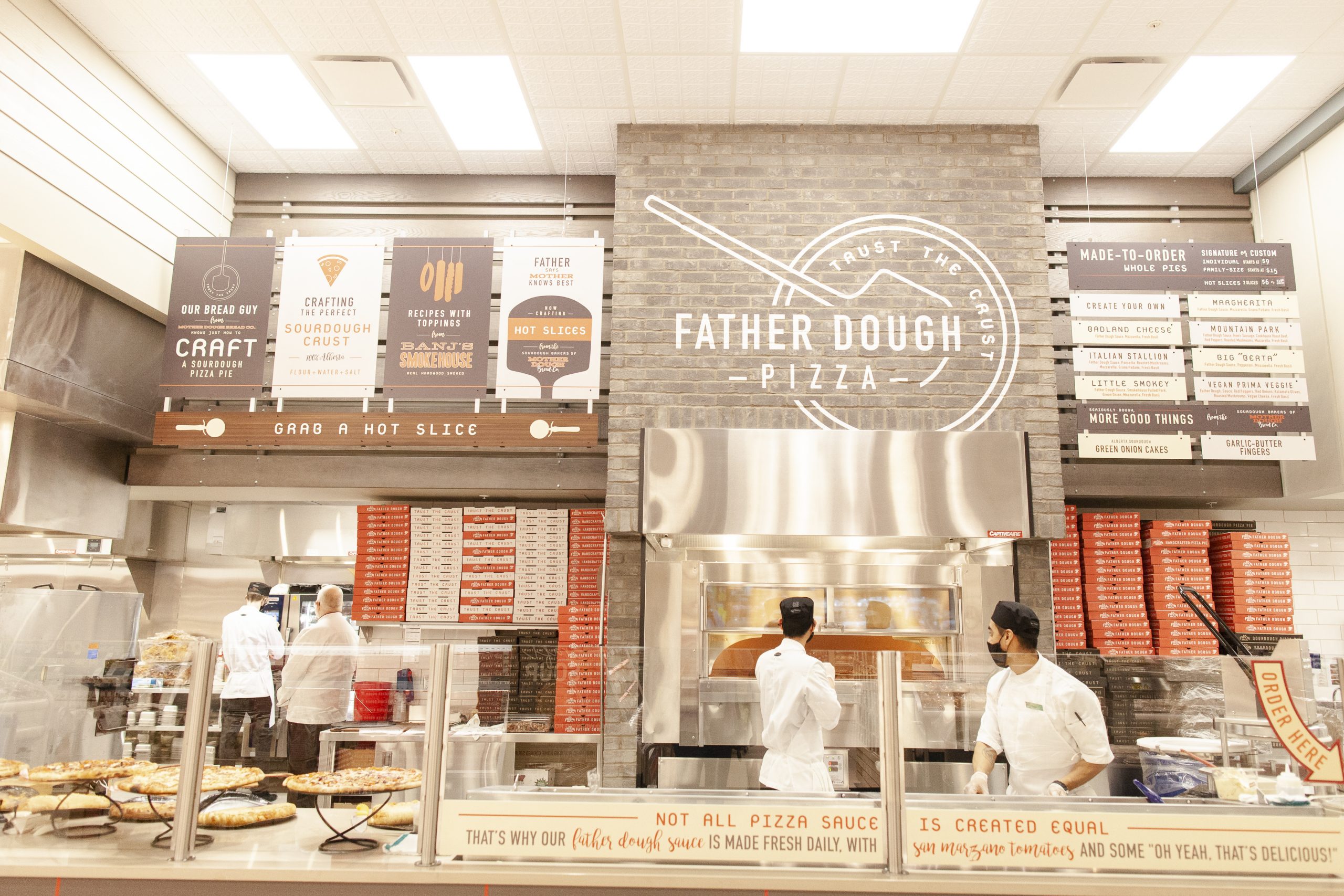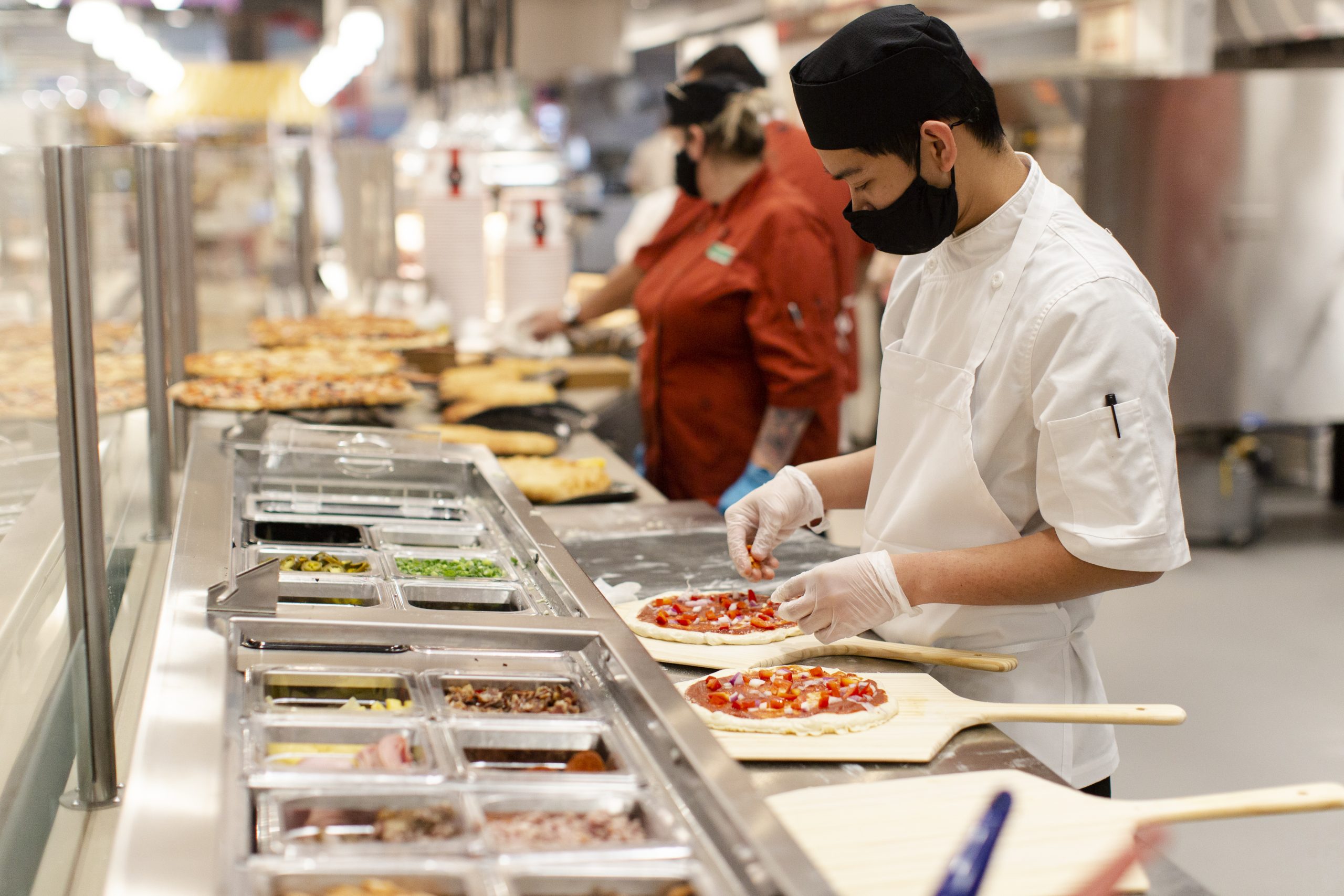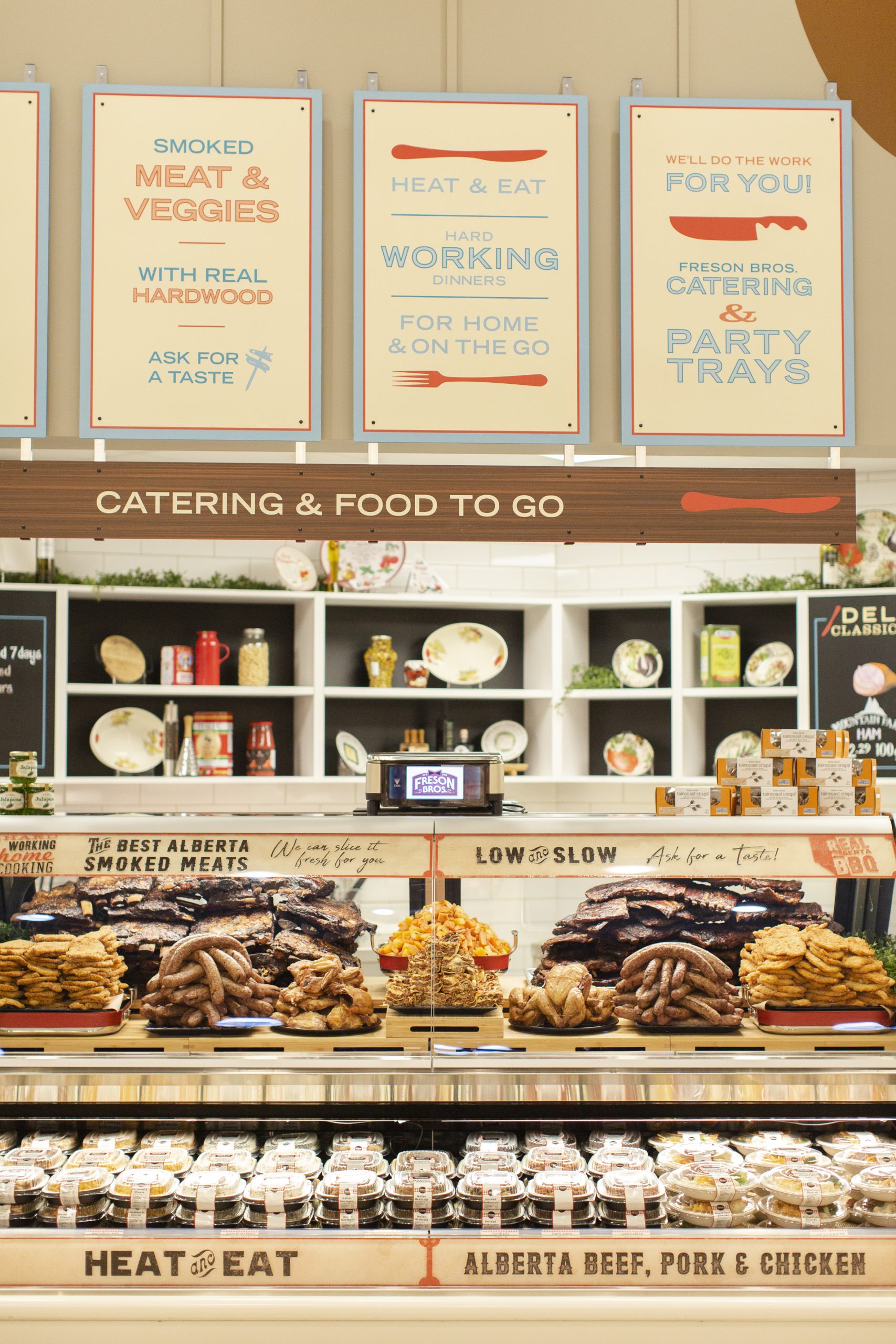 Grab a juicy chicken straight from the old-time authentic rotisserie oven at The Butcher's Cookhouse. There, you can also grab wings, mac'n'cheese, grilled cheese, steak sandwich, and 100% Alberta-chuck Smashburgers. Pancakes, sourdough french toast, and build-your-own omelettes are available on the weekends.
Speciality Aisles
If you're looking to build a beautiful charcuterie board, this is your one-stop-shop! You'll find an entire aisle filled with everything you'll need to make that happen – unique pickles, aiolis, speciality salsas, crackers, pickled veggies, and more. It's a dream!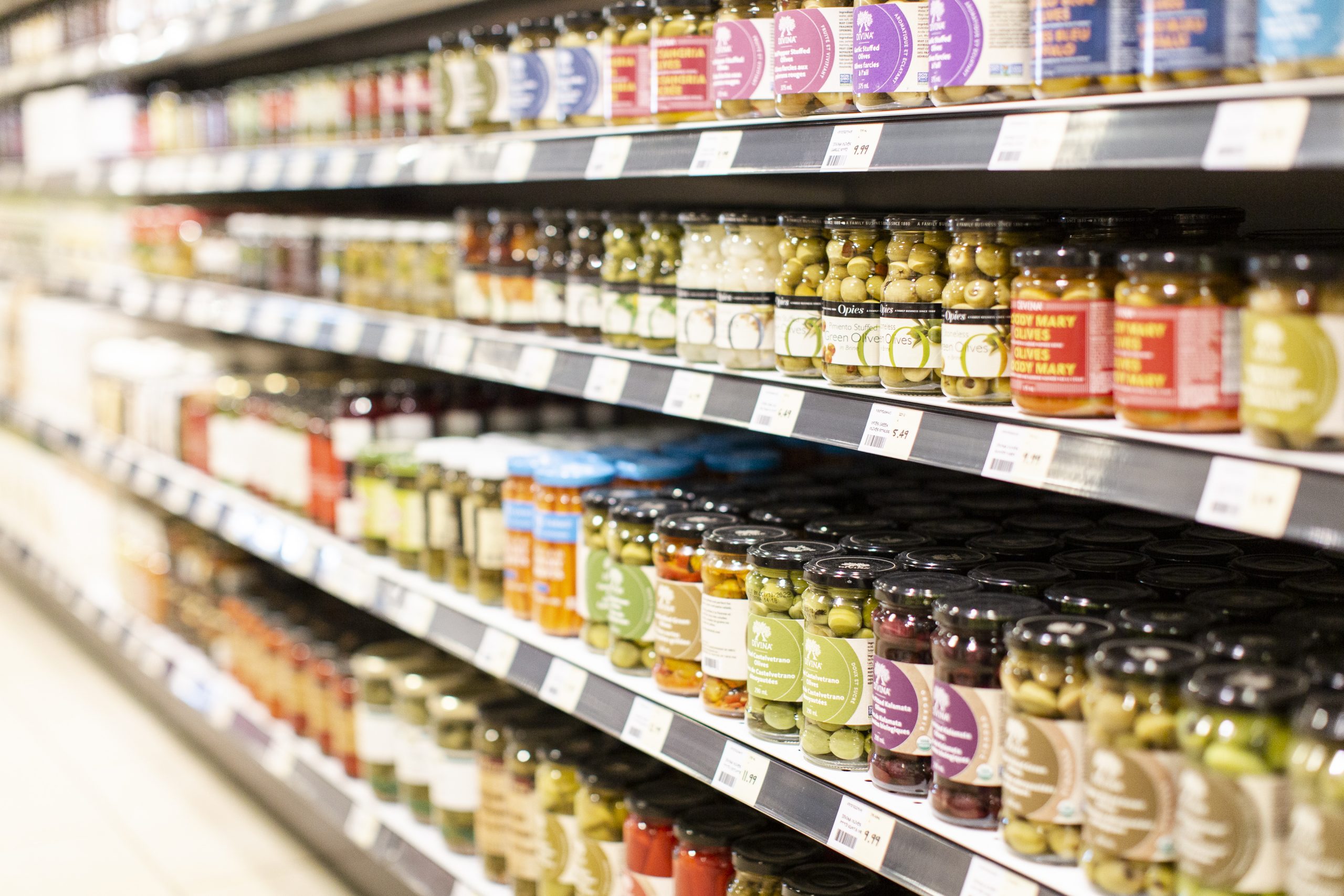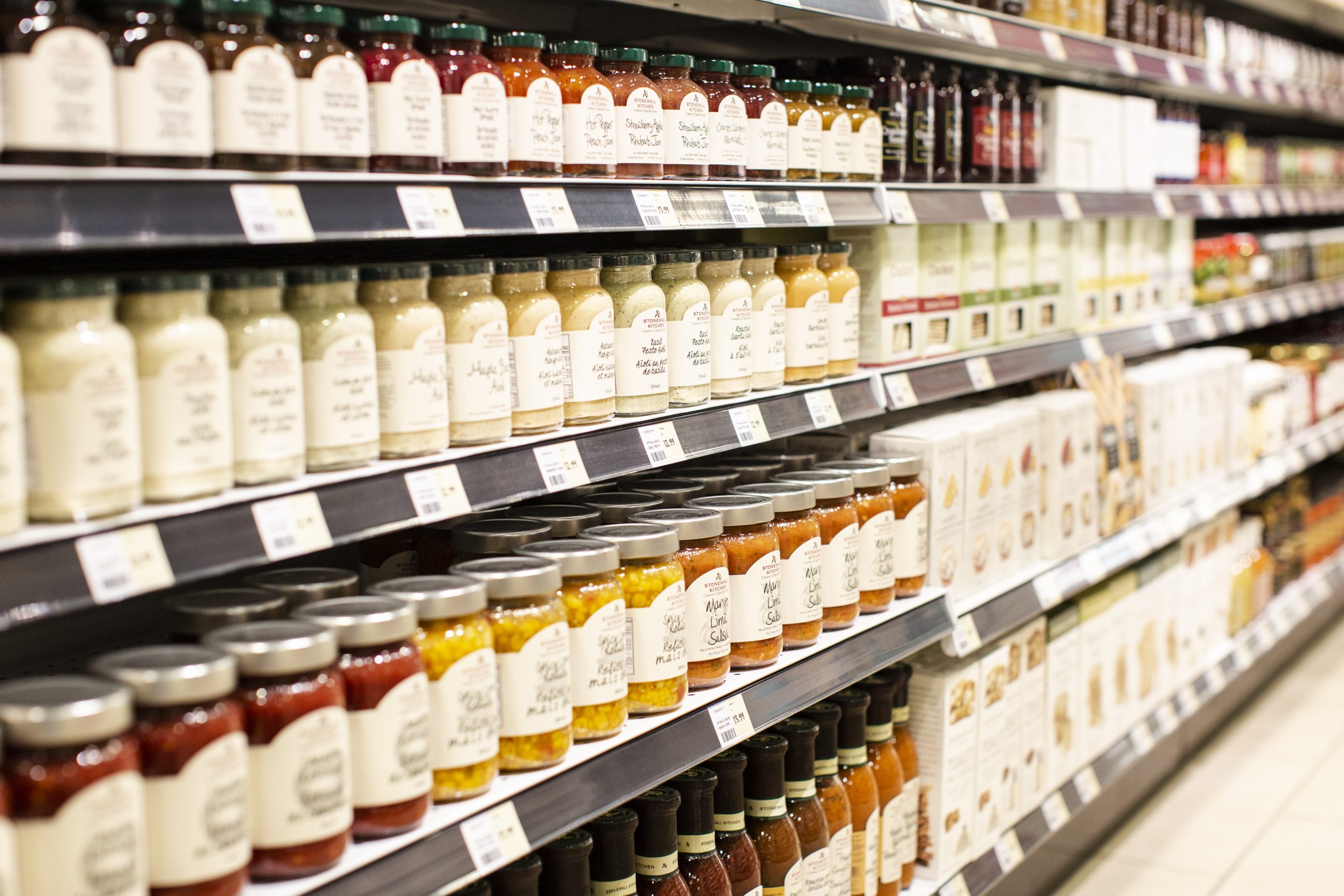 If you love mixing up craft cocktails, definitely swing by the Cocktails section! You'll find some fun drink-making tools and a few unique offerings like Ceder's Classic (a non-alcoholic gin from Sweden) and Gimber (an organic ginger concentrate).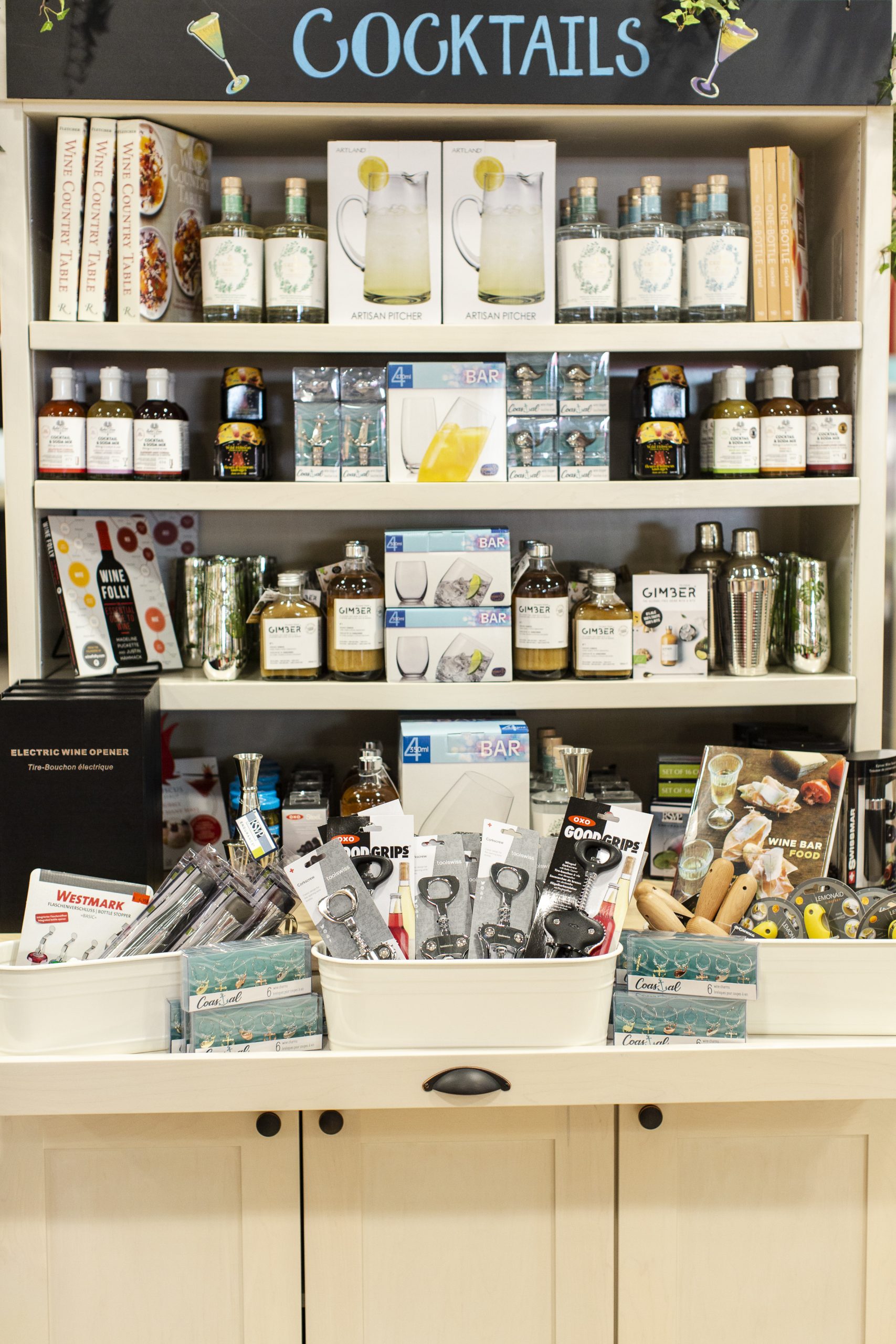 I imagine this would be a chef's favourite aisle – an entire section of gourmet salts! It features so many options with different flake sizes, textures, and colours.
Custom Gift Baskets
Our Custom Gift Baskets allow you to tailor a unique gift to a theme, person, or occasion and it's such a simple process. All you have to do is pick your basket, choose the items you'd like in it and we'll make it up for you. If that's too many choices for you, we also have a great selection of Gift Baskets you can choose from, such as Alberta Favourites, Sweet, Savoury, Break Time and many more.

The options are endless, and we can create your perfect, unique Gift Basket!

~Lesleah Horvat, GM & Floral Specialist
Alberta Honey Collaboration
'Bee' sure to check out the Honey Hive located right by the gourmet salt aisle! You'll find speciality honey from five small Alberta beekeepers. Wild Prarie Soap created an exclusive to Freson Bros. Edmonton line of honey and beeswax-based body care products using Alberta Honey Bee, and Gramma Bees Honey.
Plus, Freson Bros. Edmonton has plans to raise their own bees on the roof of the store starting later this spring.
Unique Cards, Flowers, and Candy Shop
"We're so happy to be able to offer our community a wide collection of cards. Our cards are not the standard range, they are a bit different and special, with positive, beautiful art and timeless inspiration. There's something for every occasion, that everyone would love to receive."

~Lesleah Horvat, GM & Floral Specialist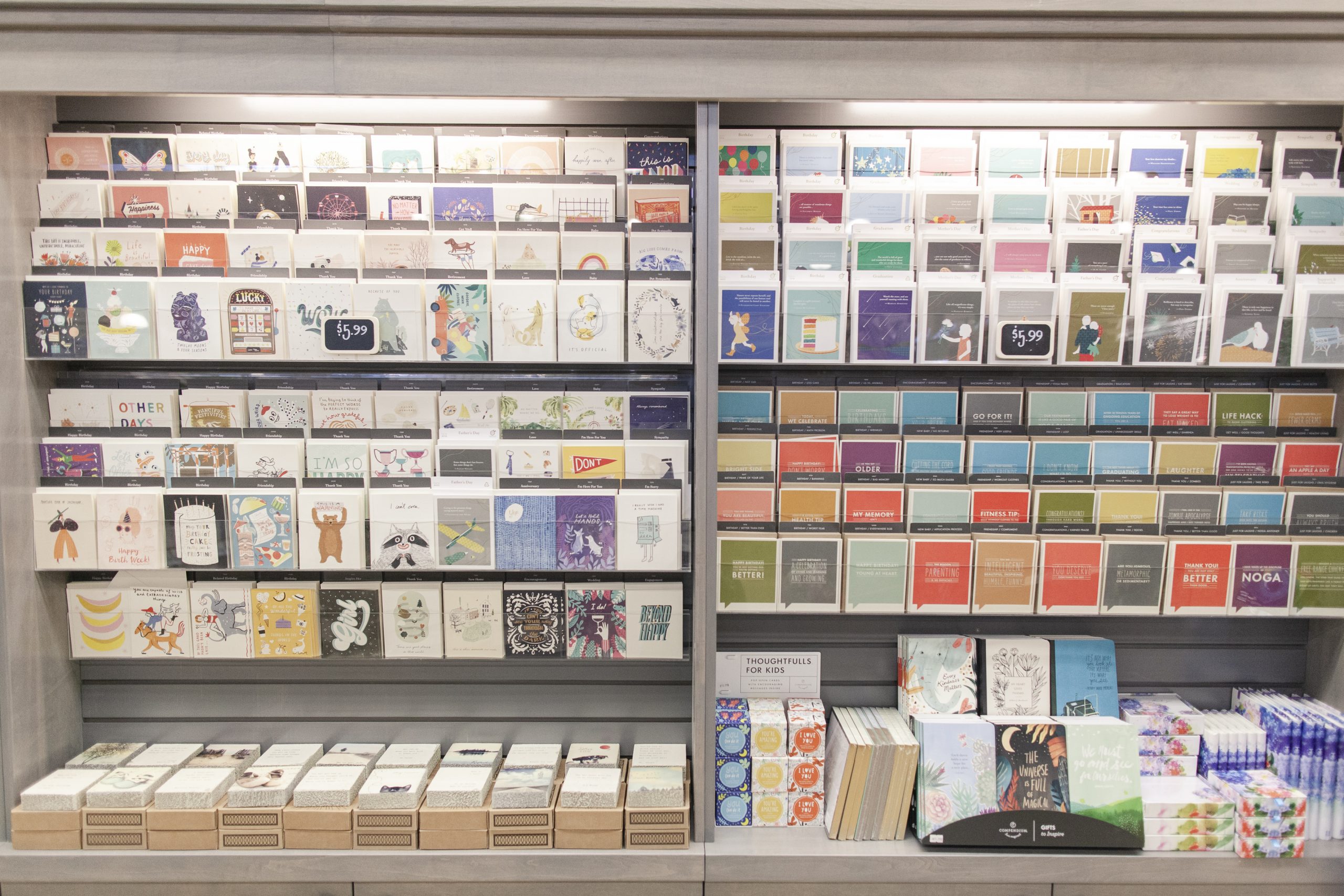 It's not your typical grocery store floral at Freson Bros. Edmonton. Build your own bouquet with options including Orchids and Hyacinth. You can also pick up beautiful plant pots and seeds from West Coast seeds to get your garden going!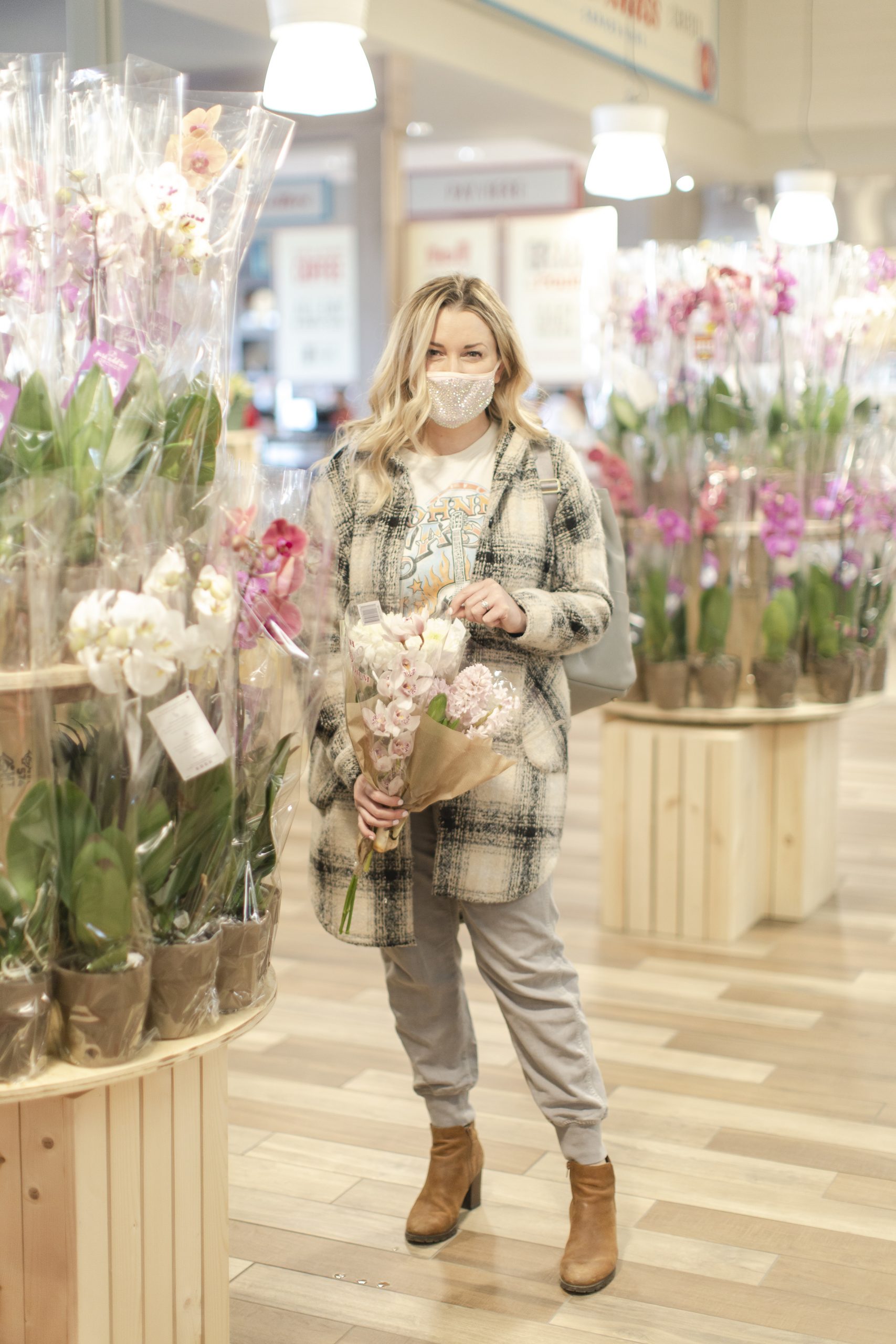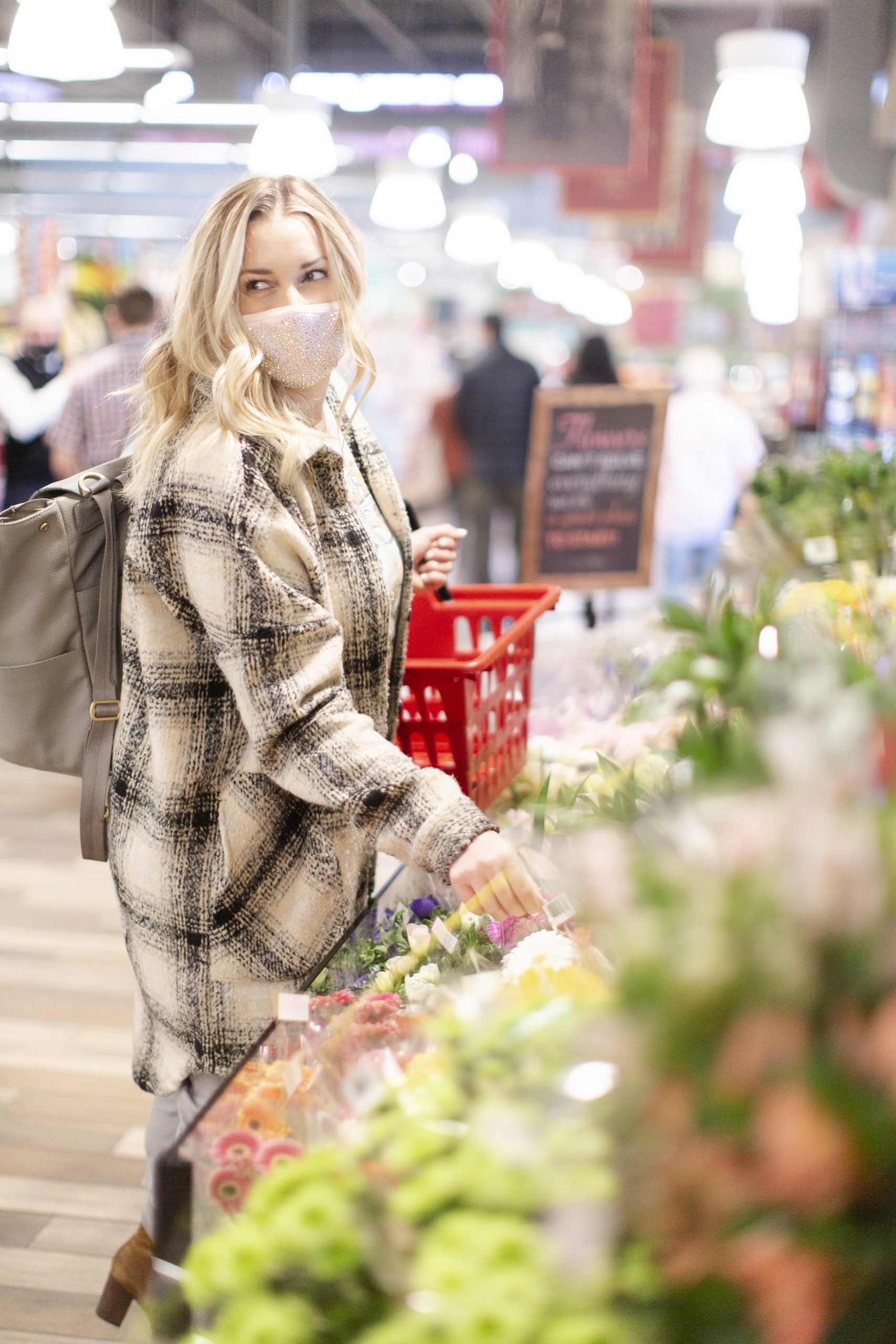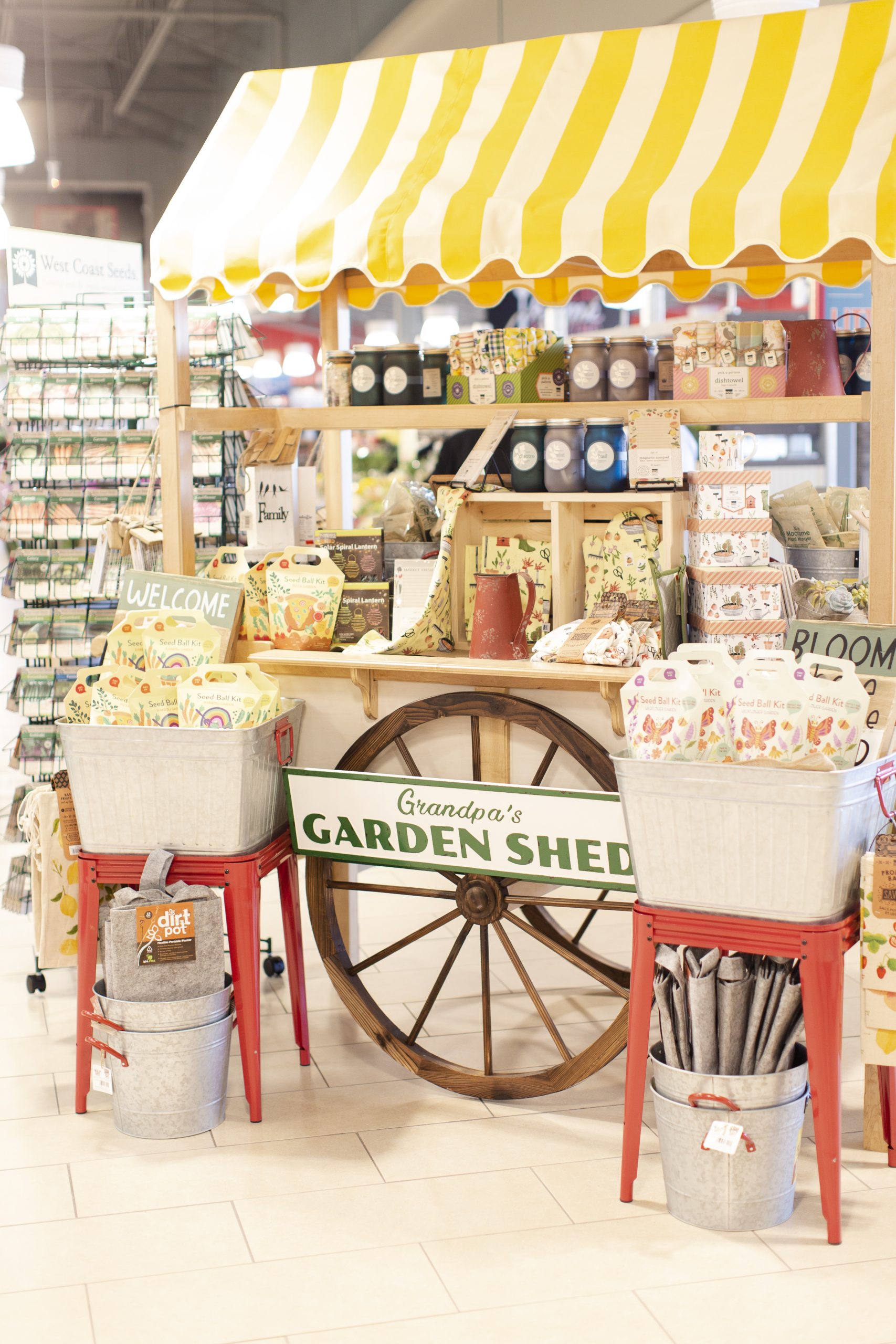 The Sweet Spot is so much fun (and not just for the kids)! Stocked with old-fashioned treats that bring back all the memories (Rosebuds, Scotch Mints, etc.), trendy candy, and the must-try homemade saltwater taffy! I used it to make this rainbow board for St. Paddy's Day.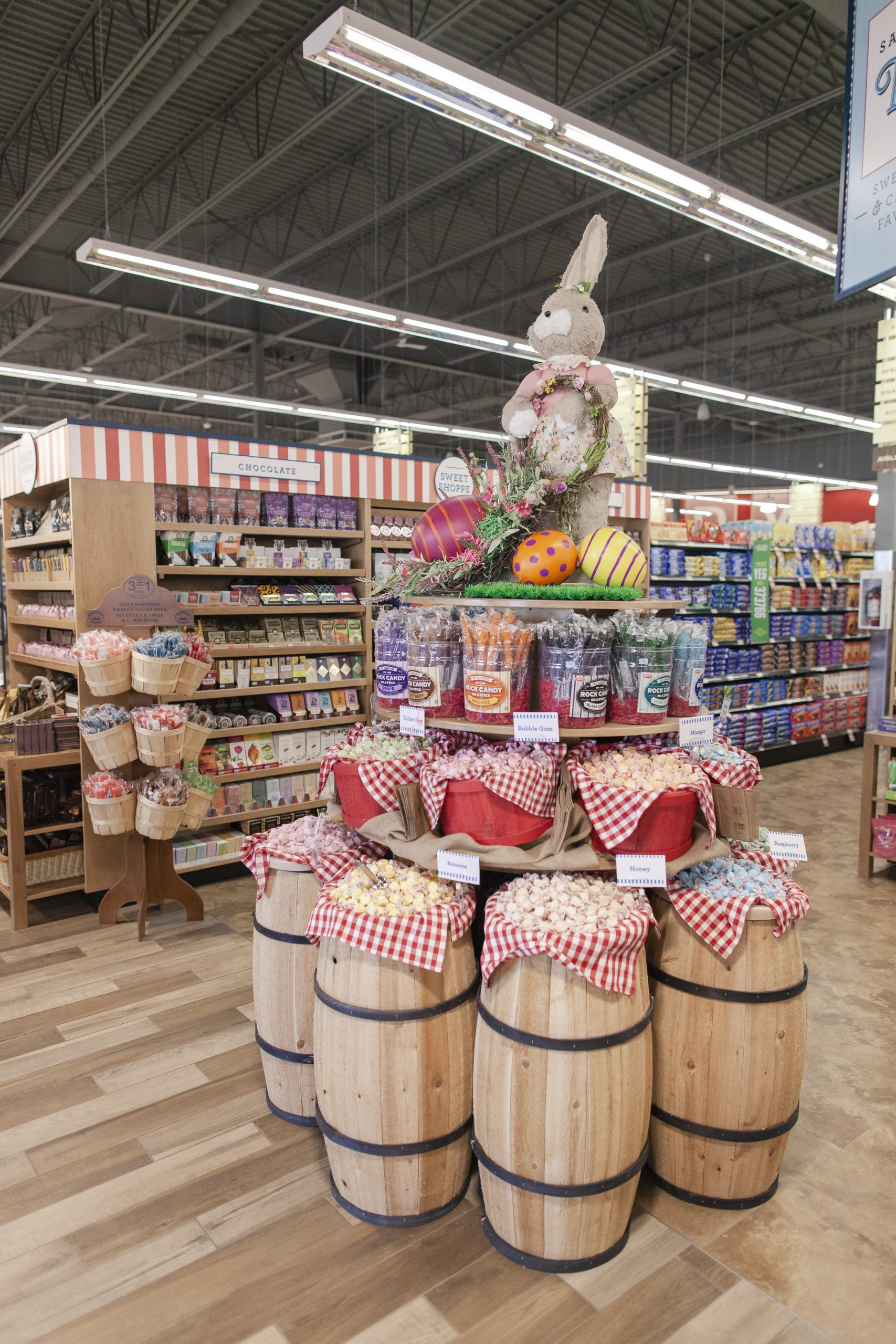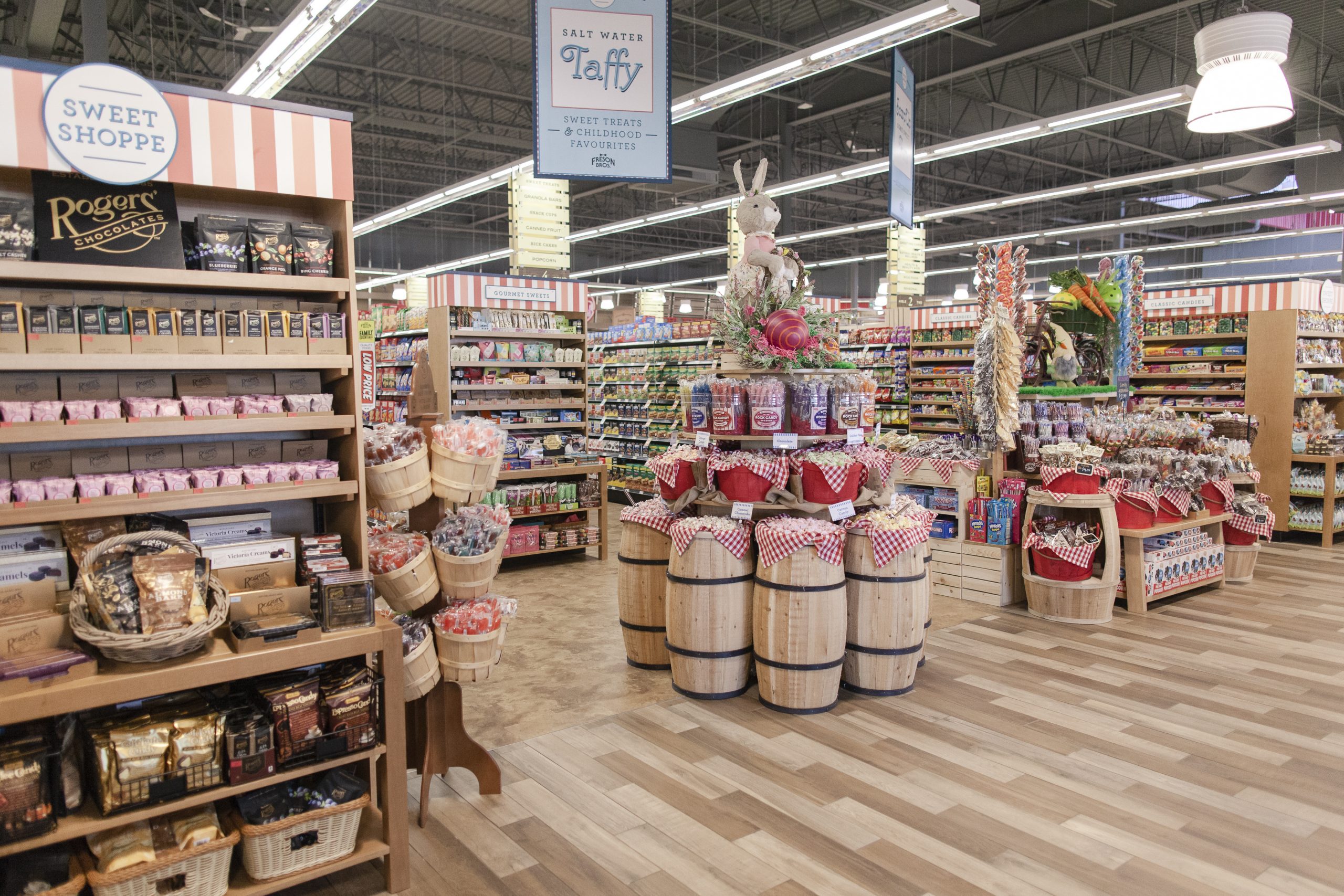 photos: Dallas Curow
I hope you enjoyed the tour! What's your favourite part?
Pin this to your Coolest Grocery Stores boards and follow me on Pinterest.
This post was sponsored by Freson Bros. As always, thoughts and opinions are my own.
Other Posts You'll Love:
Meal Planning Tips + Grocery Shopping Time Management
xx