A mini fire to make smores, an amazing projector best for kids, and all the cozy things you need to create an outdoor movie night at home!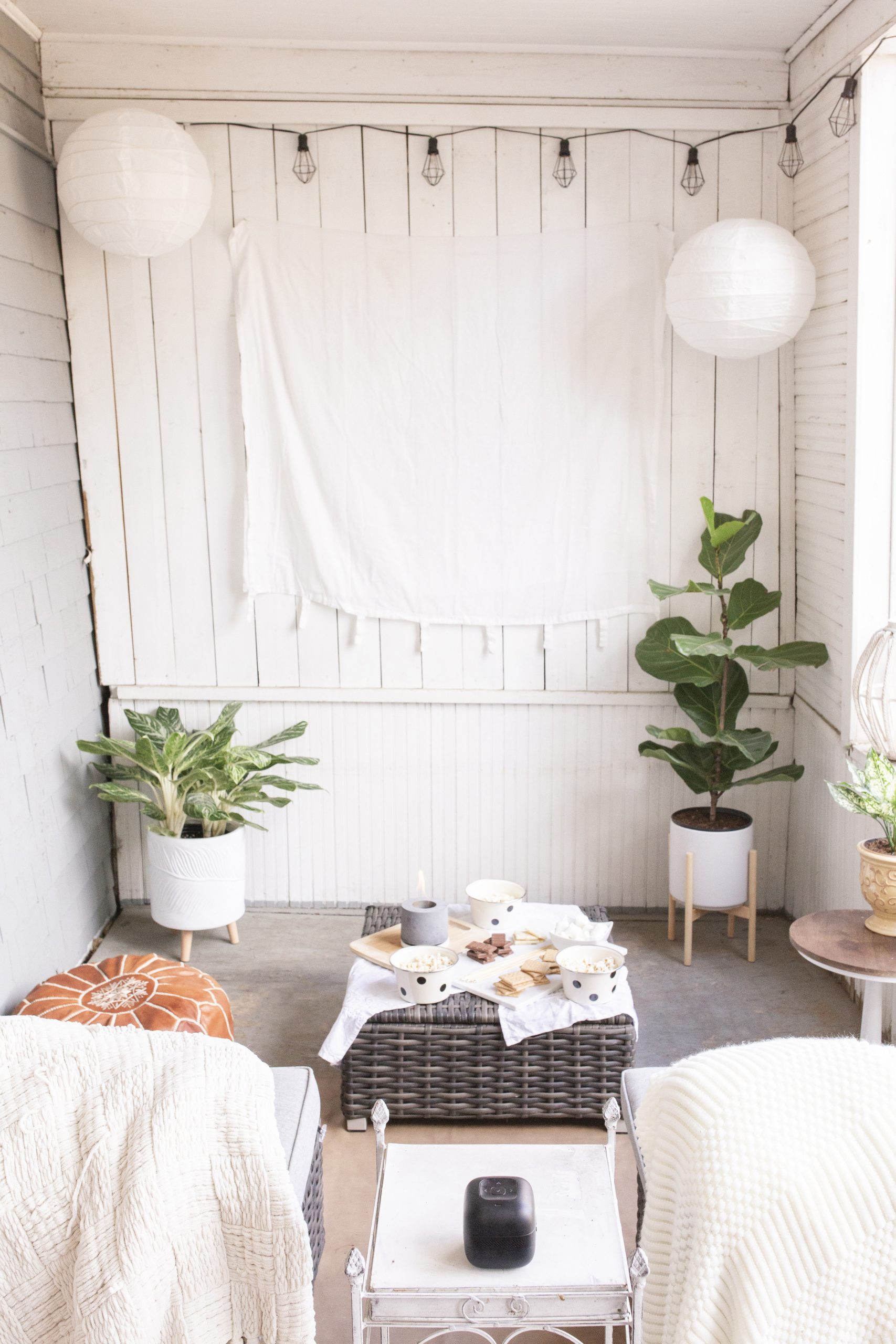 Here's another fun way to make use out of your backyard or deck! This past year-and-a-half has taught us many things – among them to really utilize, maximize, and have fun in the space where we live. Creating an outdoor movie night is another way to do that! Whether it's you and your love snuggled up watching your favourite show or a family movie night, this is a good time!
The Projector
So much to love about the Cinemood projector! I discovered this company on Instagram and got in touch with them right away to work together. It's one of those cool finds that you know others (especially parents) will appreciate. The number one reason I love it is for the cut down on screen time while still being able to keep your kiddos occupied. You can watch movies + TV (Netflix, Prime, Disney, and more), and sports on this tiny portable projector.  It's also preloaded with games for kids encouraging them to move, learn, and play. It can work on any surface and you can operate it from the Cinemood app on your phone!
We've used an old set of curtains and the wall on our back deck to show movies. Our little guy Wyatt has also watched a movie on the ceiling while lying in bed.
Shop the Cinemood projector here.
The Fire
Set up a smores board with your FLÎKR Fireplace from Simone + Ivy! FLÎKR Fire is the original personal fireplace fueled by Isopropyl Rubbing Alcohol. Pour in 5oz and you'll have a cute little fire for 45-60min! It comes with a quartz base which is lined with felt to protect your surface.
The Snacks
Use long bamboo skewers to roast your marshmallows for smores. It's nice to have both white and dark chocolate options. We personally love the Hersey's Sprinkles and Cream bars which we snagged at Freson Bros. and you can also shop them here!
Using smaller individual-sized popcorn bowls is a great way to go! Our polka dot ones are Kate Spade. These washable brown paper bag ones are really cute and these ones you can get personalized for each family member! Check out our recipe for The Best Vegan Popcorn here!
The Other Must-Haves
Other outdoor movie night at home essentials are lots of cozy blankets and pillows! Our toss cushions are from HomeSense but here are three other similar options you'll love:
We added in this Morrocan pouf and surrounded the space in deck plants!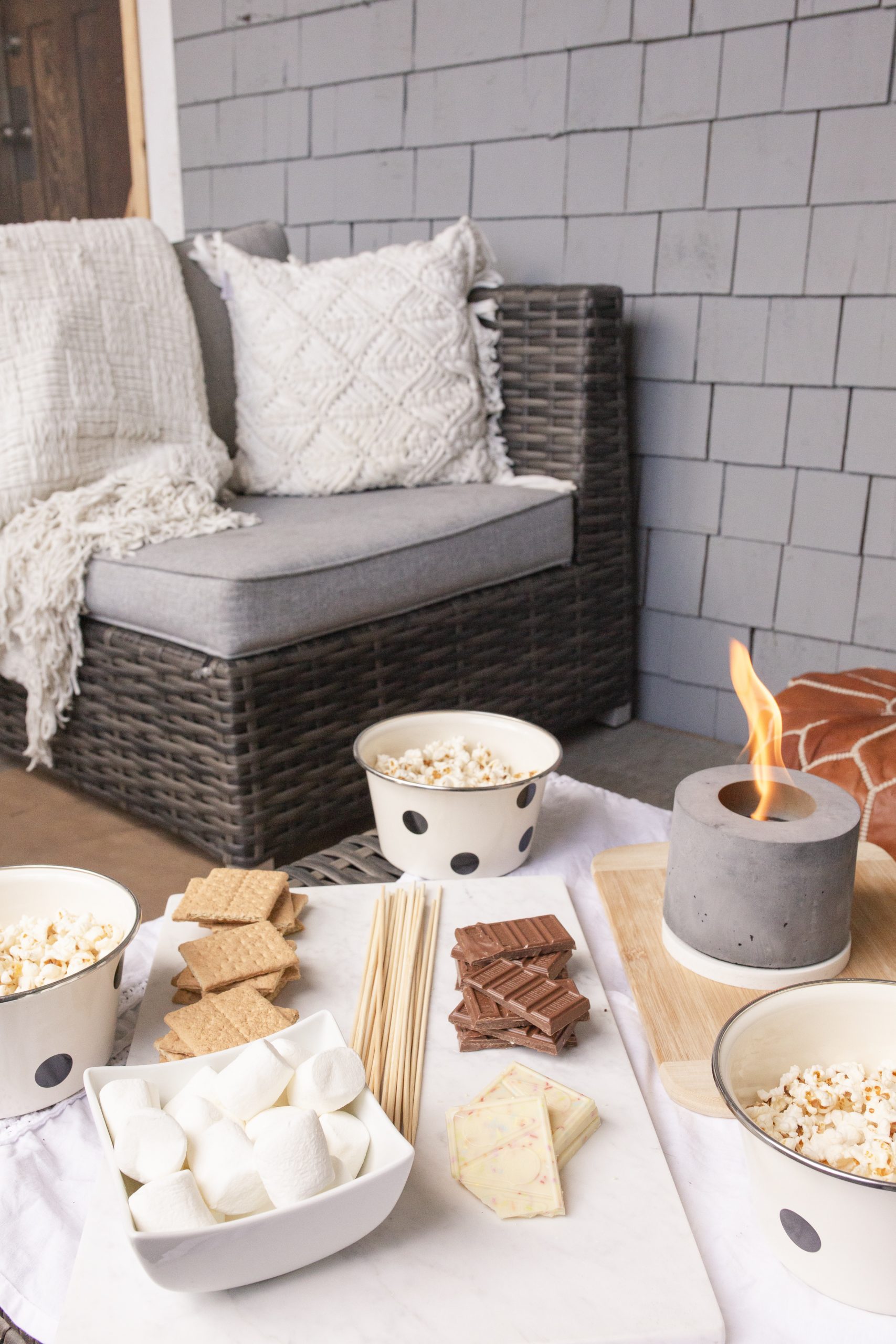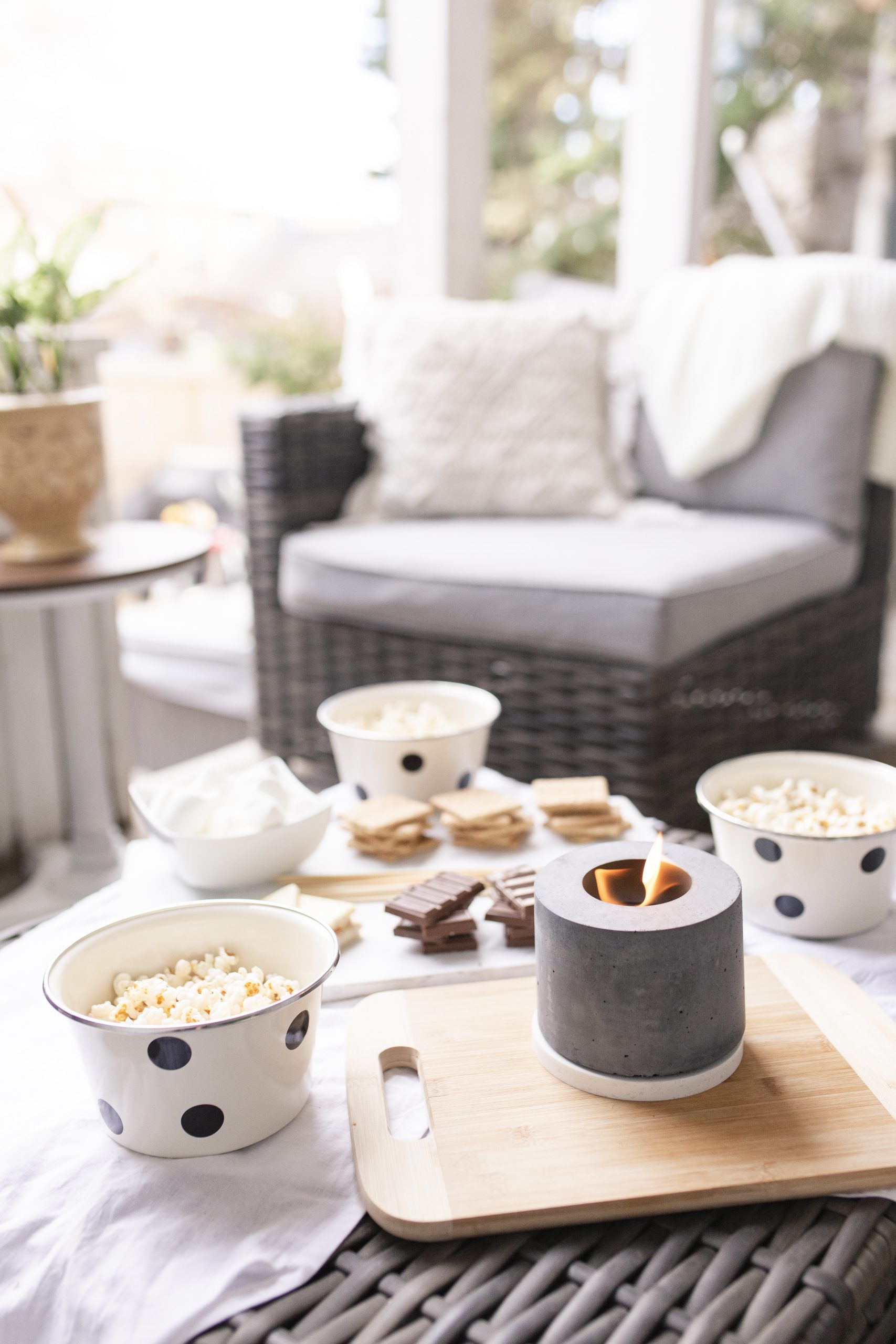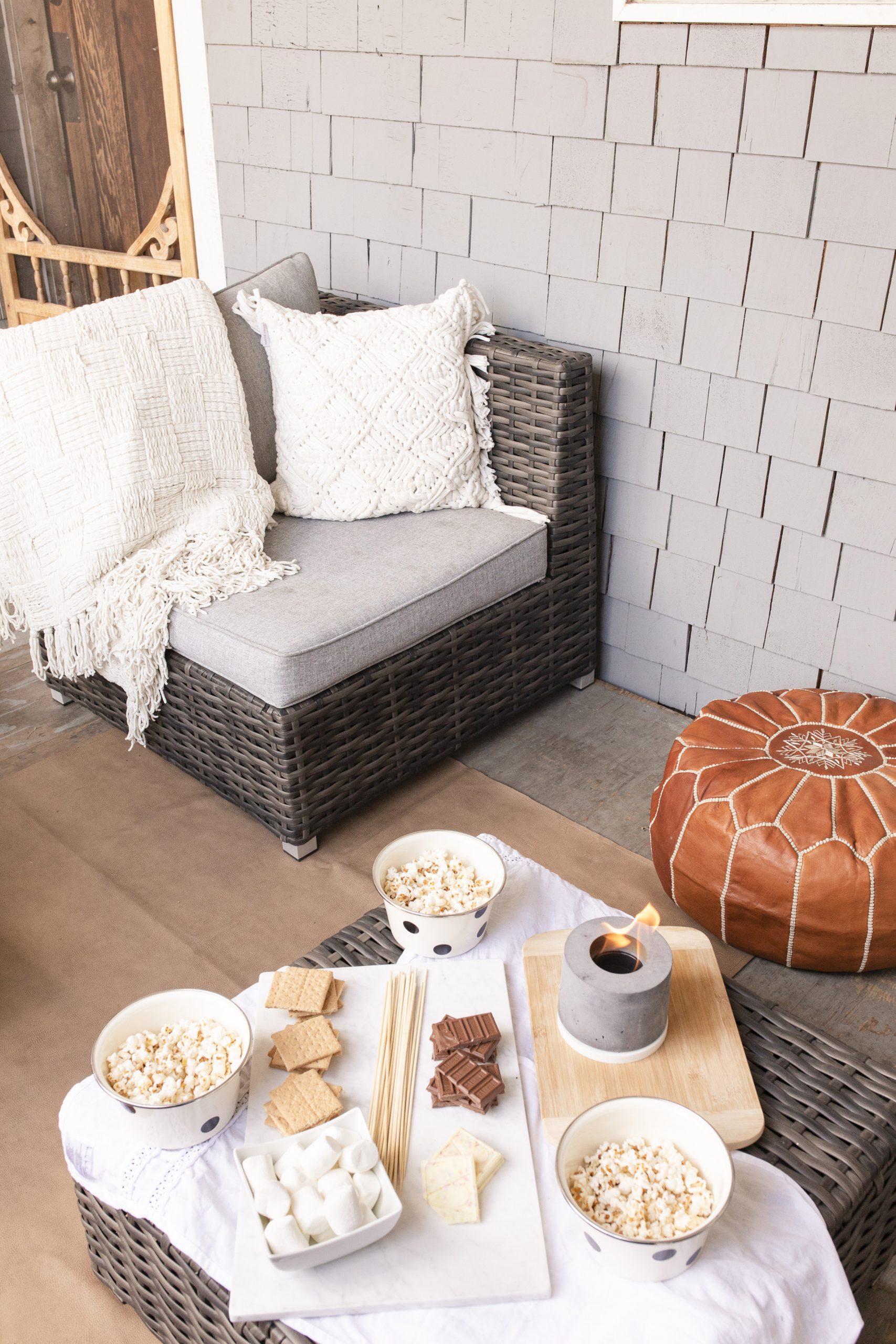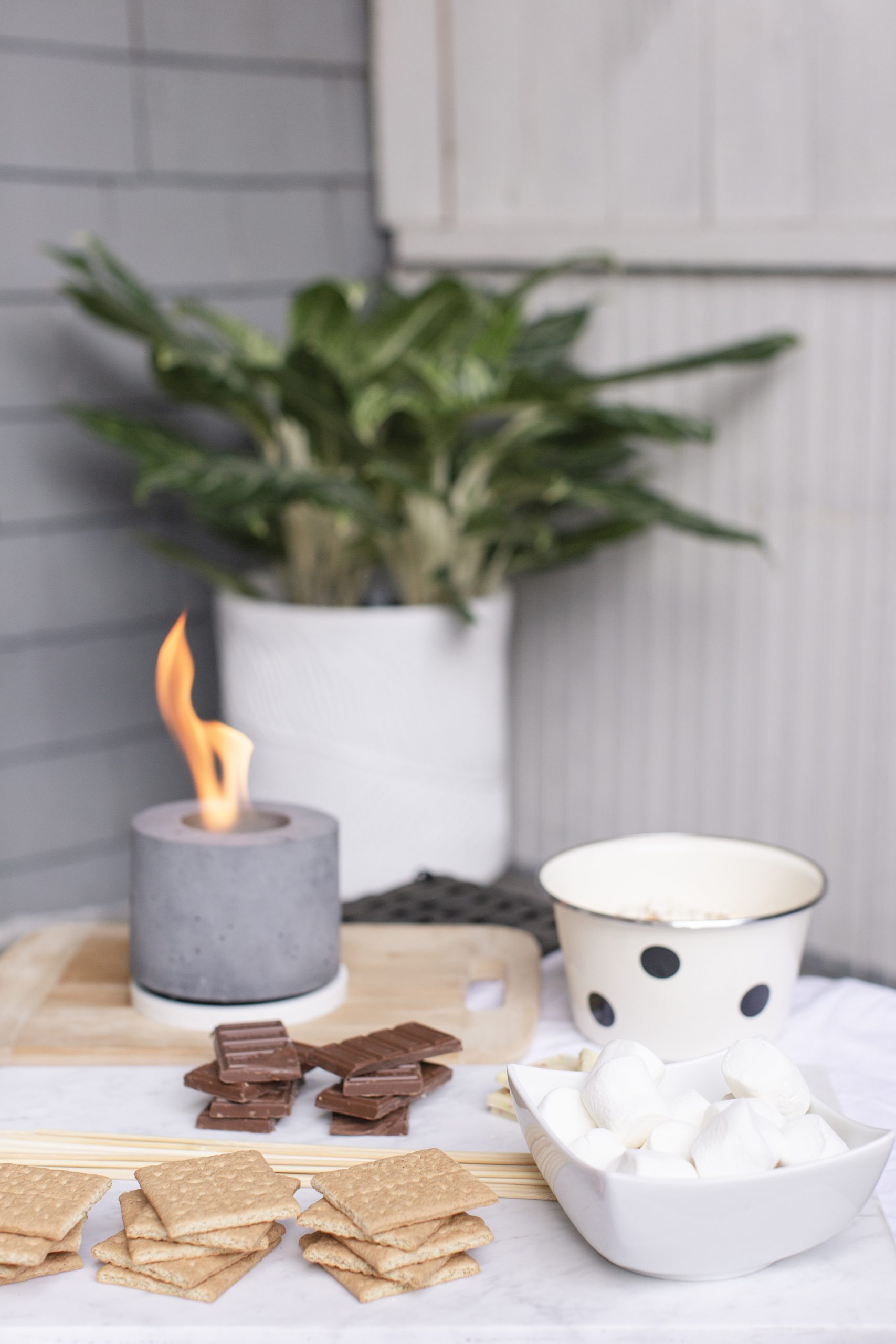 Daytime photos: Dallas Curow
Pin this to your Backyard Summer Fun and Outdoor Movie Night Ideas boards. Follow me on Pinterest here!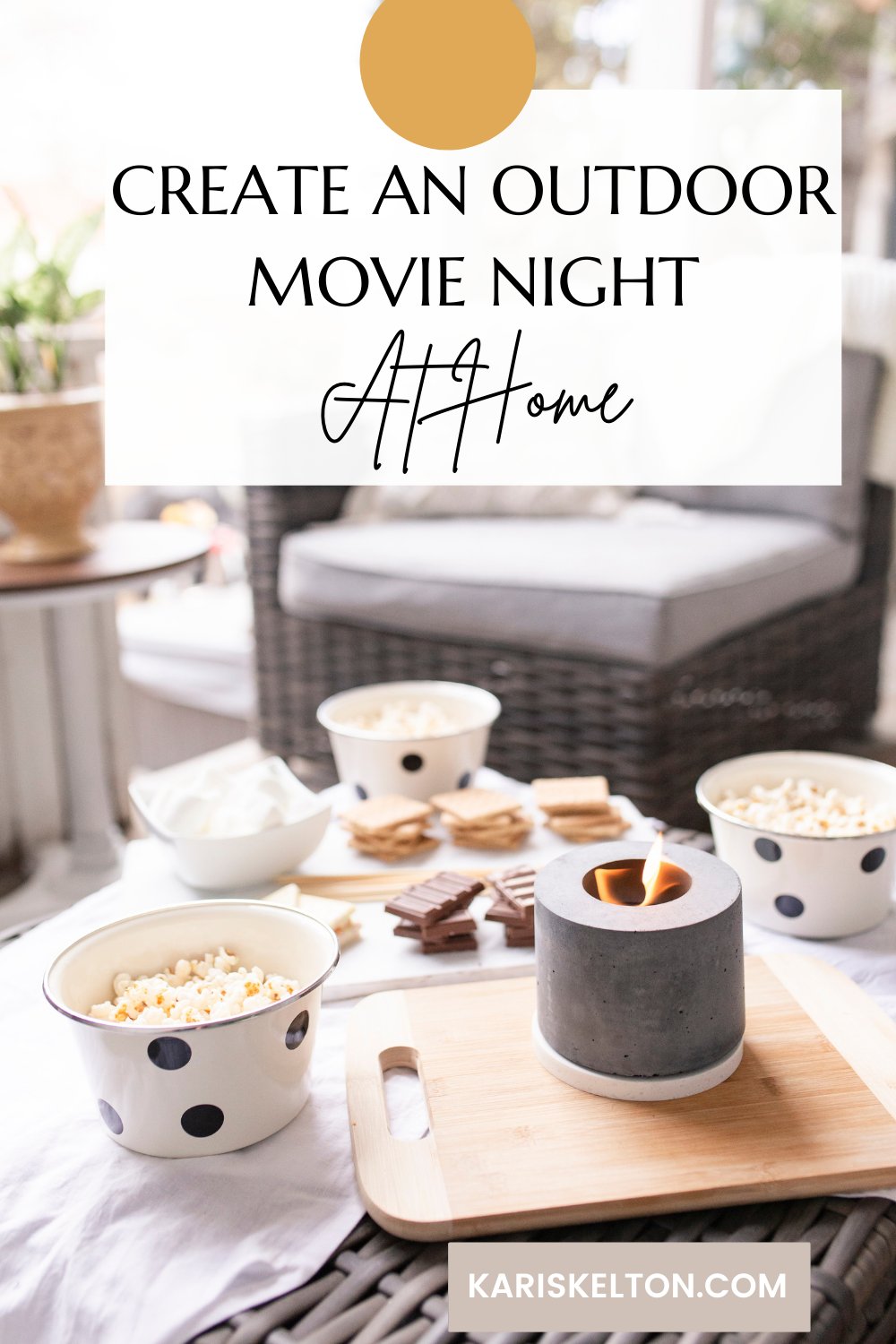 Cinemood gifted us this projector. As always, thoughts and opinions are my own.
Other Posts You'll Love
The Most Stylish Gardening Gear
xx