Here's how to create your work-from-home haven: how I squeezed an office into our 1913 home, tips for setting up a space that brings joy, and inspiration from three additional home workspaces featuring friends of mine!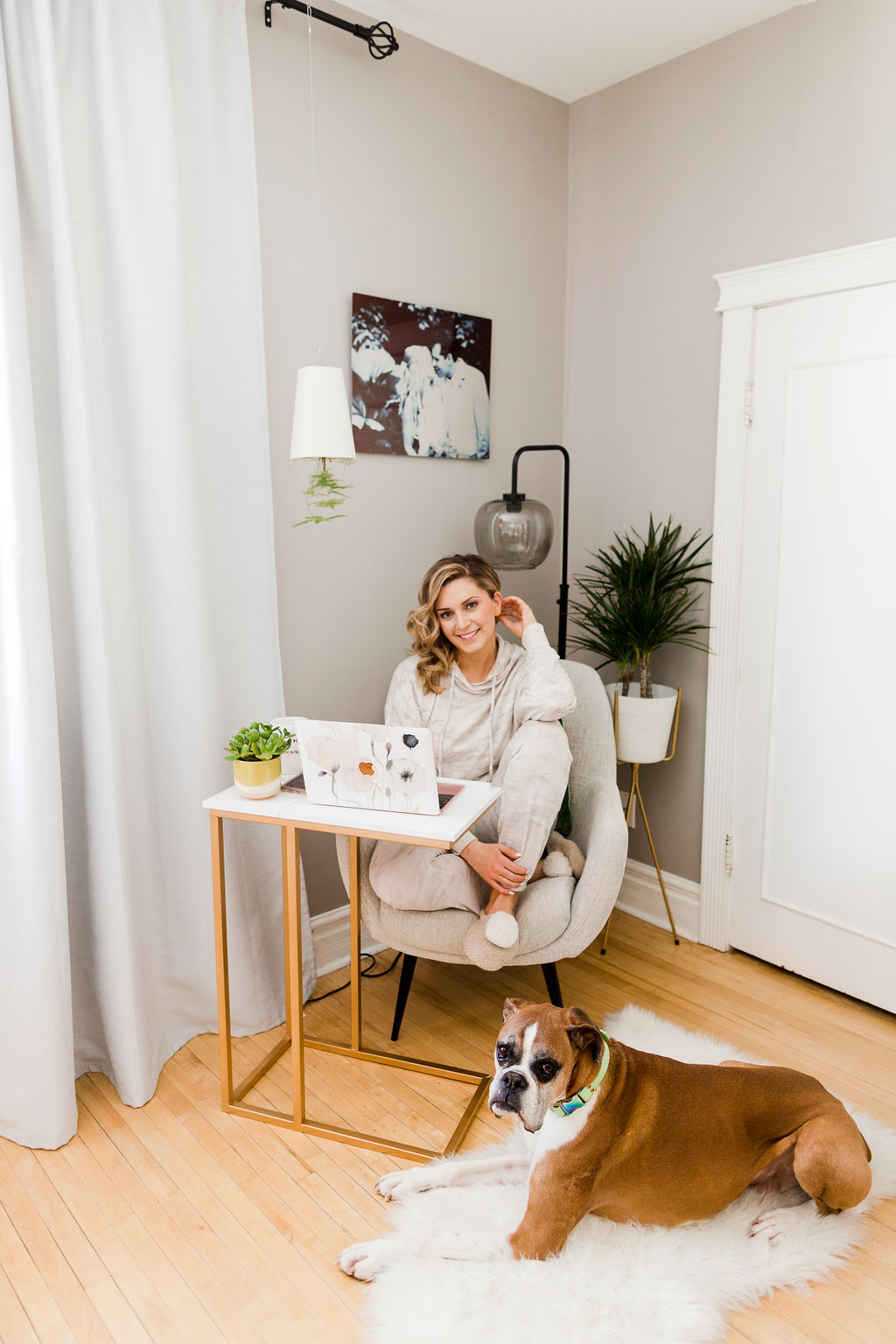 Oh, the joy of working from home! LOL! Sure, it's nice to send work emails in PJs, but being productive can be a challenge. Whether it's kids at home doing online school, that next load of laundry calling your name, or the pup that 'needs' to go out to pee for the 500th time, it can be tough to stay motivated and on track.
I'm no stranger to the work-from-home game. Running KariSkelton.com from our place for the past four years, I've learned a few things when it comes to creating a space where you can actually get stuff done. I have a few tips for you, but first – here's where I work…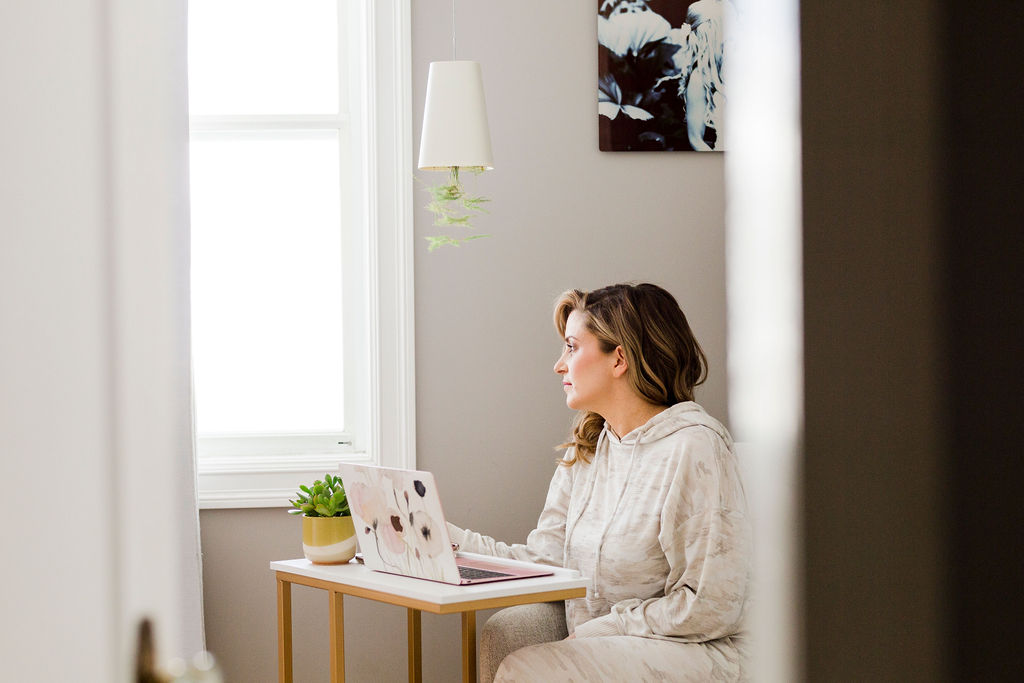 My Work-From-Home Space
When I revamped our master bedroom last year with the help of my friend, interior designer Lindsay Elms of Lori Elms Design Group (full reveal blog post coming next week), I wanted to add a lounge area. A place where Ry or I could read, or work alone in peace. We found a perfect spot, in the corner between the big street-view window and Ry's closet. I love working right next to the window, especially when a gentle breeze flows in, providing a reminder to stop and stare at the monterous 100-year-old trees that canopy our street.
It was equally as important to bring in elements that bring me joy: plants, candles, and our pup Moses, of course!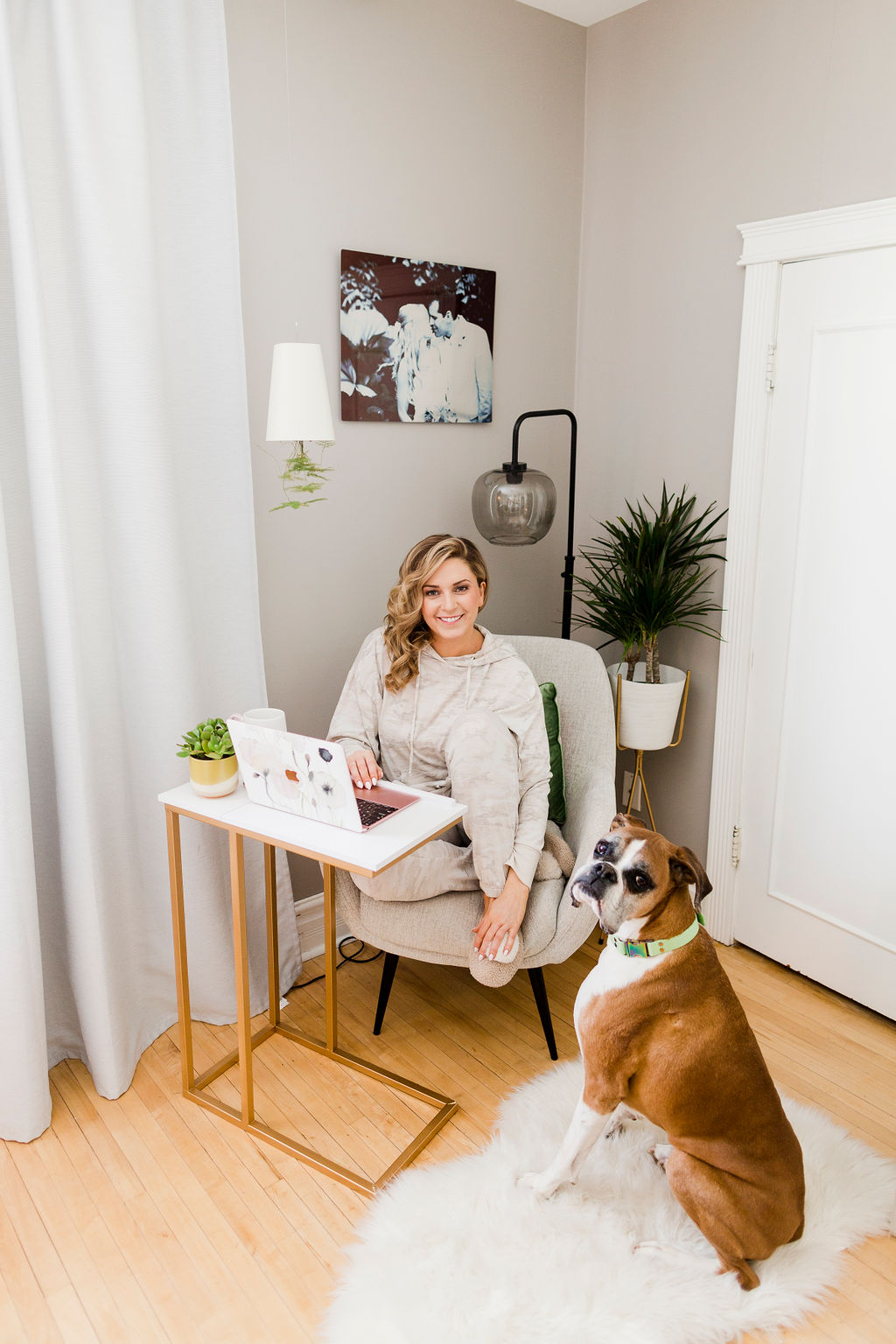 I got this hanging pot from Botaniful, a magical plant loft in North Edmonton. My chair, rug, table, plant stands, and lamp are all scores from HomeSense.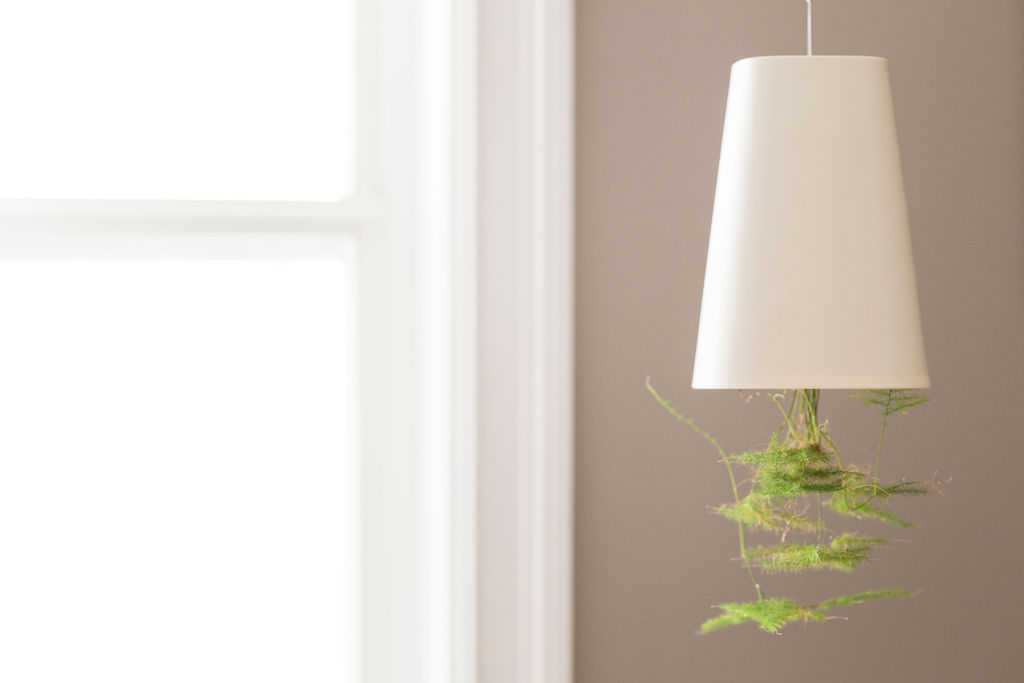 With my office fitting in to our master bedroom, for our mental well-being, it's important the space remain chaos-free. I tuck away my work station equipment (printer, office supplies, etc.) in the spare bedroom closet. I only bring in my laptop and phone, and when I'm done working, I convert the desk (which is actually a side table) back to pictures and plants.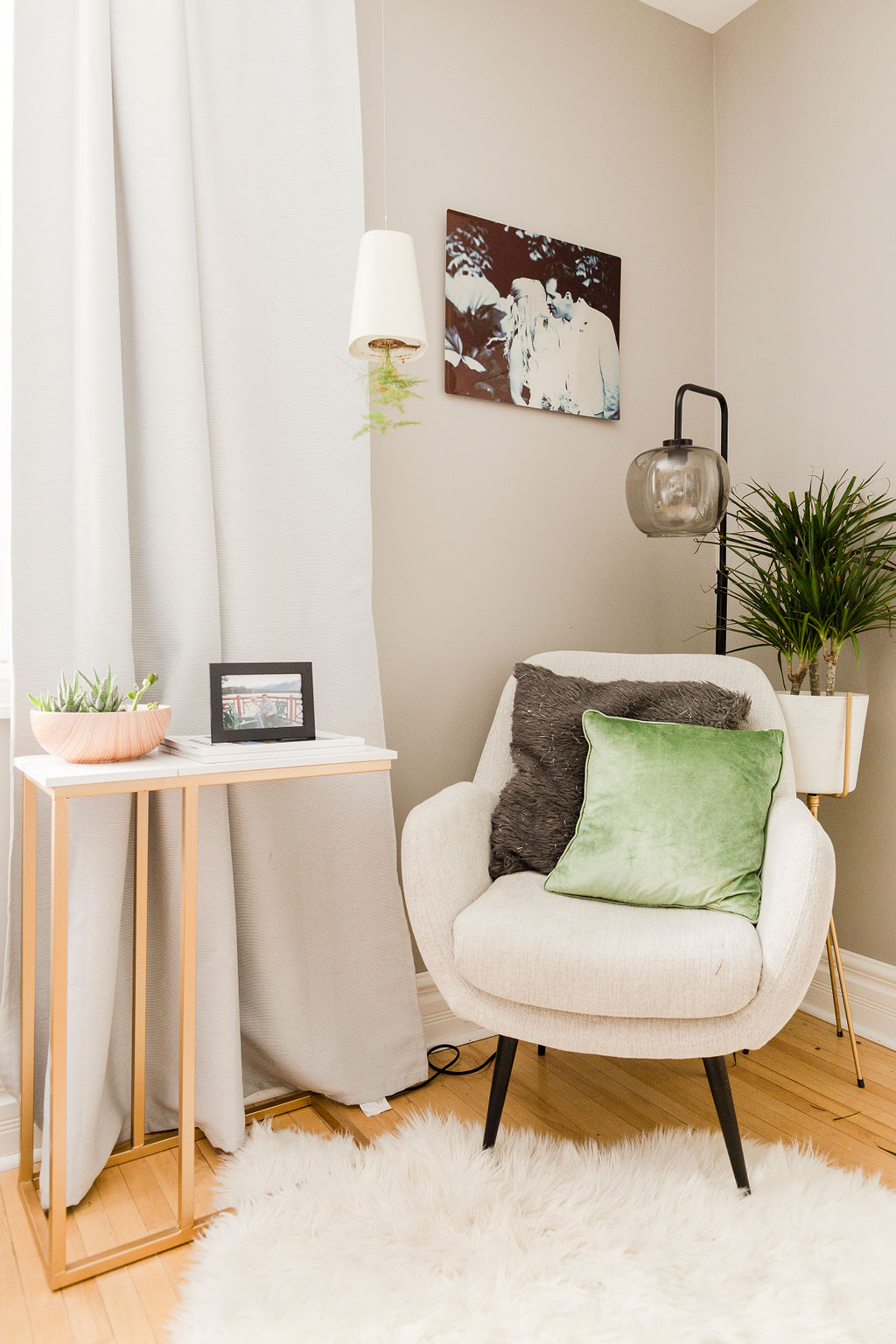 Tips To Create Your Work-From-Home Haven
If you have a separate office – yay for you! If not, here's a few ways to squeeze one in and make it work.
Find multi-purpose furniture pieces that can change functions, such as ottomans that can store office supplies and act as your desk chair, a side table that can operate as a desk surface, etc.
Tuck away your stuff! Designate a drawer or cupboard to your work items, so they're not on display causing more clutter and affecting your quality of life. Even if your supplies are in another room of the house, keep them out of sight until you need them.
Make your space happy! Just because it may be make-shift, that doesn't mean it can't be joyful and pretty. For me, it's plants and candles. For you, it might be a cozy throw or a cool lamp. Find items that bring you joy. I strongly believe we're more productive in a space we love.
Find natural light! If possible, set yourself up near a window to soak up the beauty of the great outdoors. It's proven to be healthy for us! If you have to be tucked away in the basement, be sure to schedule regular 'adult recess time,' where you sit on your front steps for five minutes. I'm continuously amazed at how reinvigorated I feel after a dose of fresh air.
If you're creating a nook in a room of the house, make sure it blends in. Choose complimentary colours and vibes that pair well with your existing decor.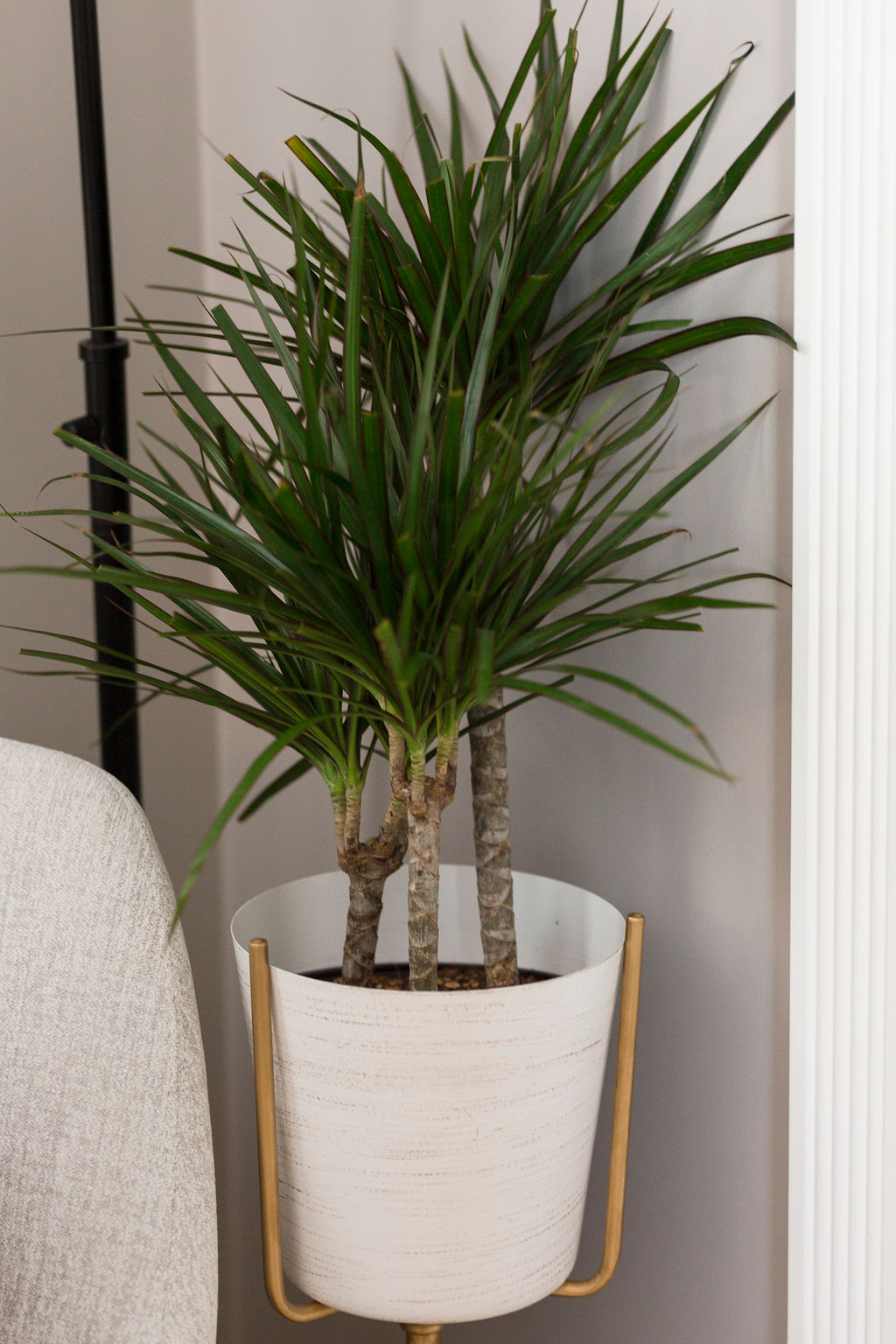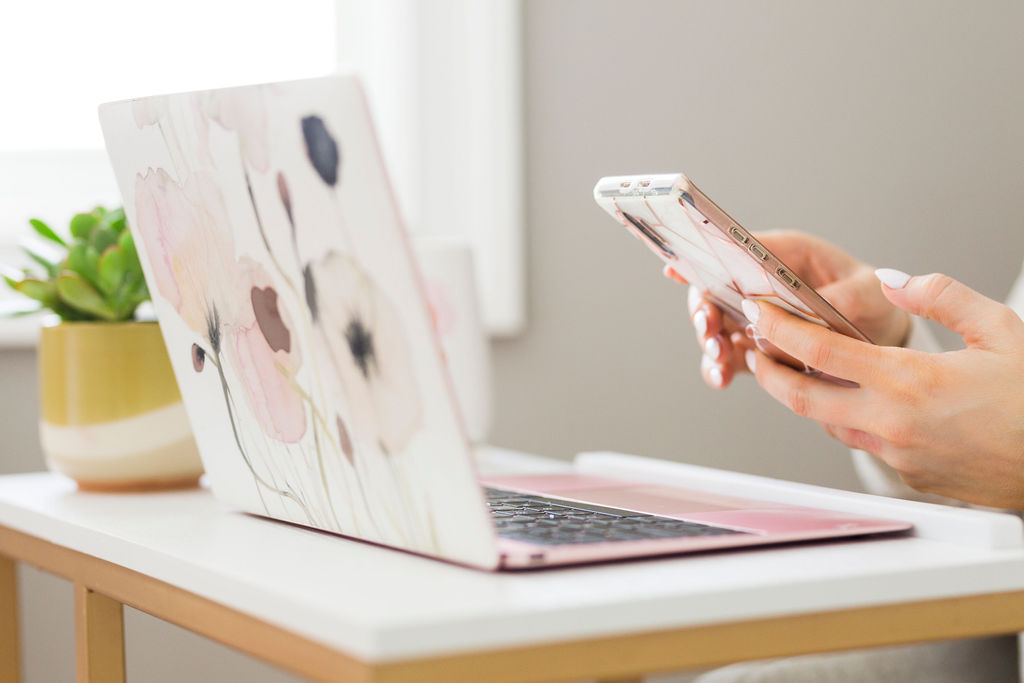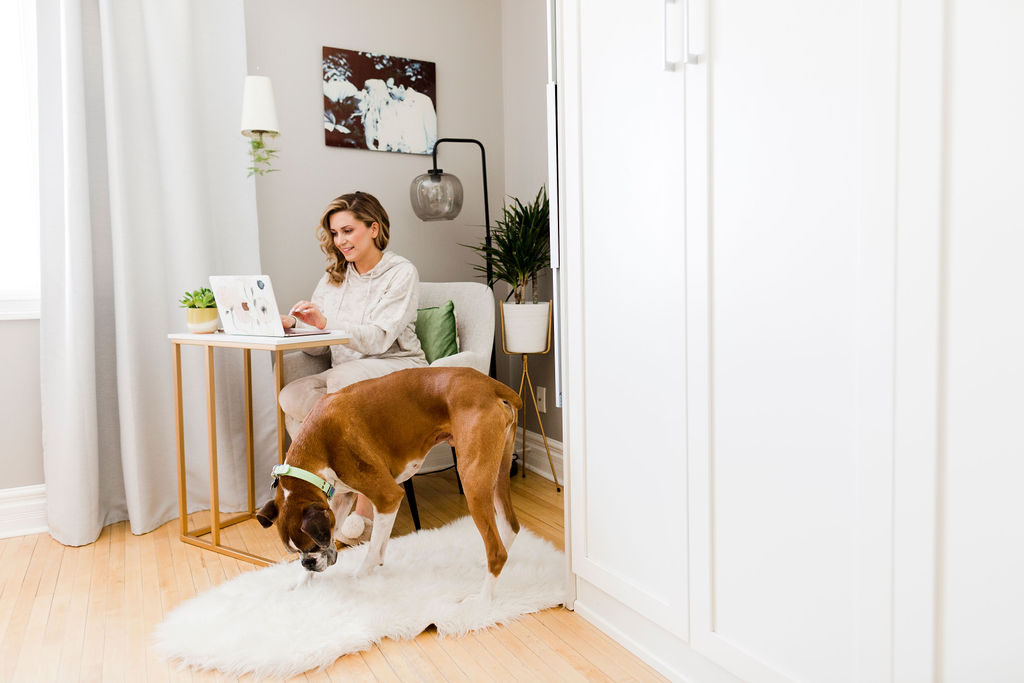 photos: Dallas Curow
Other Work-From-Home Spaces I Love
Designer + Hand Letterer, Justine Ma's Studio
Follow Justine Ma on Instagram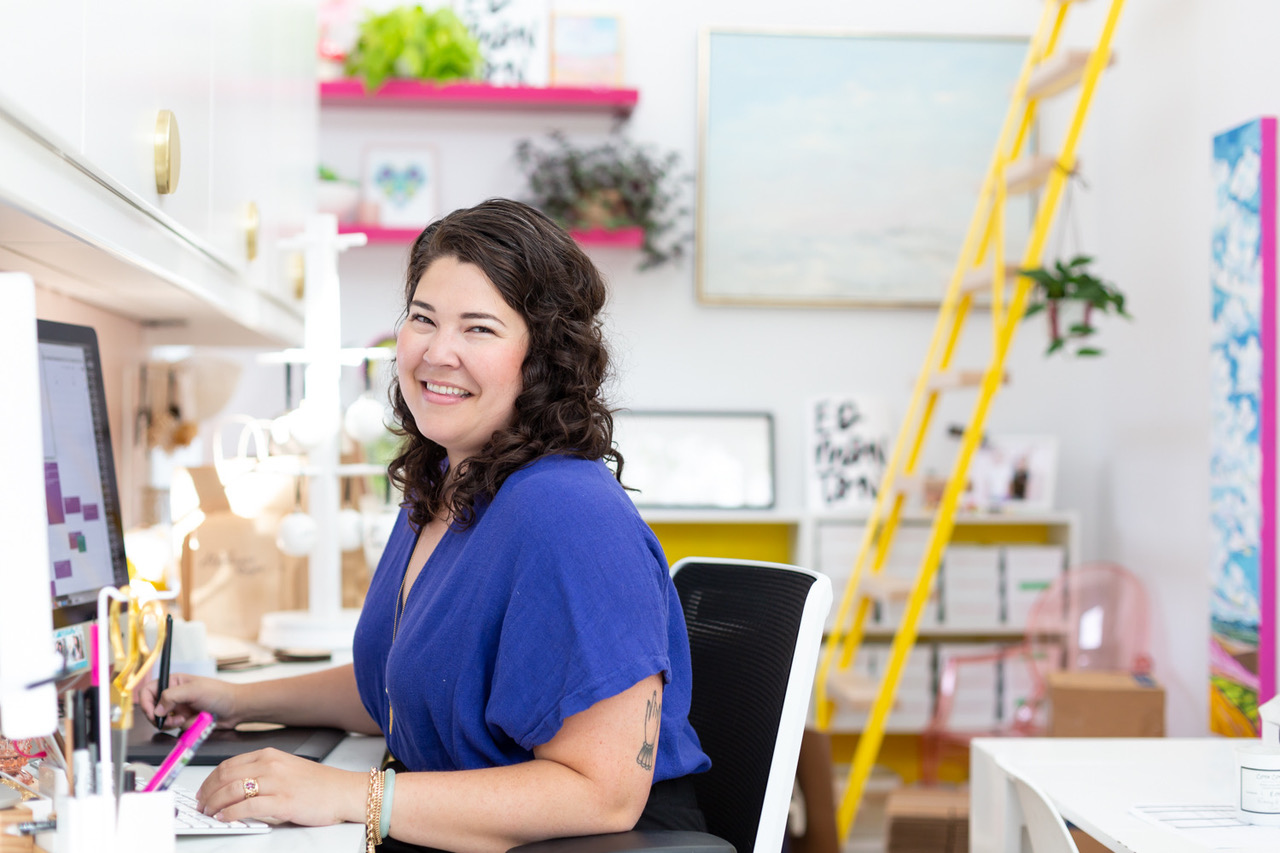 Our home office is an ever-revolving creative space. We spend most of our days in here, from working, packaging, creating, crafting, playing! Our furniture is constantly being moved around, which I love. It's been super functional for us as a family.
Buno Design Co-Founder/Jewelry Designer, Esmahan Abdallah
Follow Buno Design on Instagram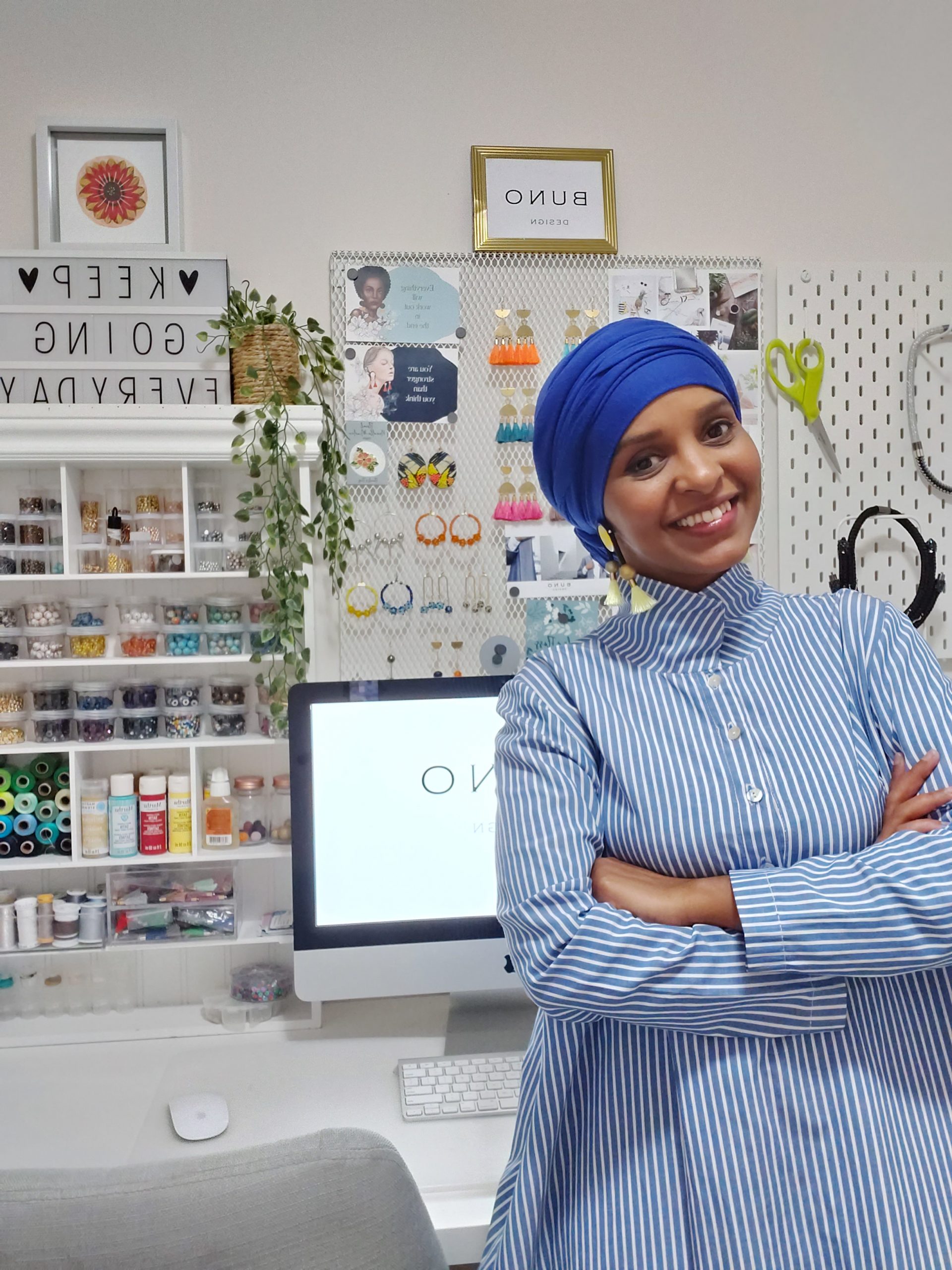 As a jewelry designer working from home, having a studio is a must. This was not an easy task when living in a two-bedroom +den apartment with a family of four. But with some creativity and planning, I managed to create a functional studio space in our Den area. My biggest investment in this space was the Ikea Kallax shelving unit for storage. I chose this shelving unit for its versatility and storage style options.

Every piece of furniture in this space was chosen to serve a specific purpose, whether for storage or working surface. On the walls, I used the Ikea peg board to display our jewelry and store tools. The white furniture gives this space light and airy feel.
Dez Melenka, Co-Owner of The Creative Hive
Follow The Creative Hive on Instagram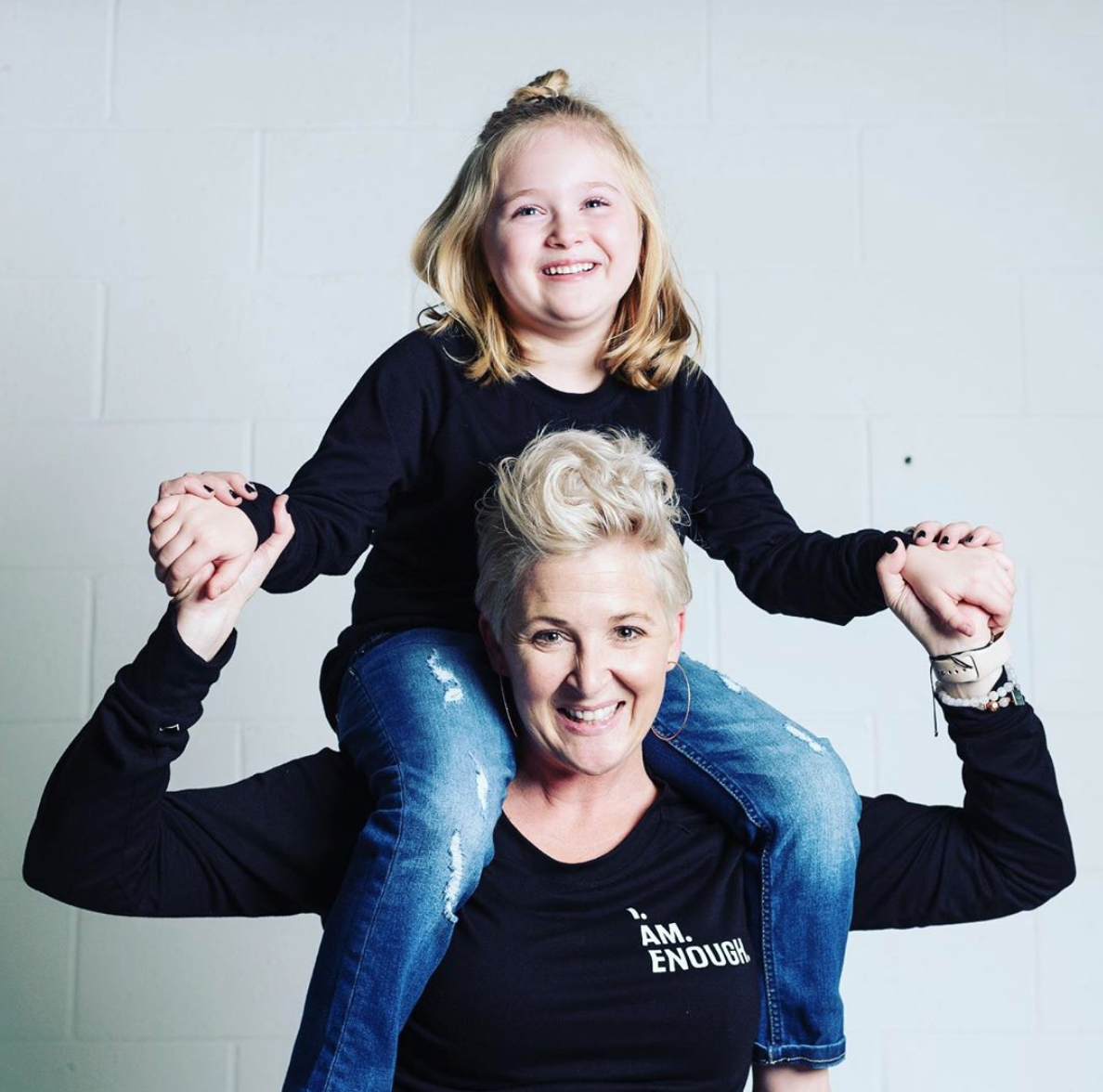 When the pandemic hit and everyone was forced to stay home, Dez converted her family's Bonus Room into an office where she could work and her daughter Charlotte could do online school. You'll notice a desk for both of them in the office – I love it!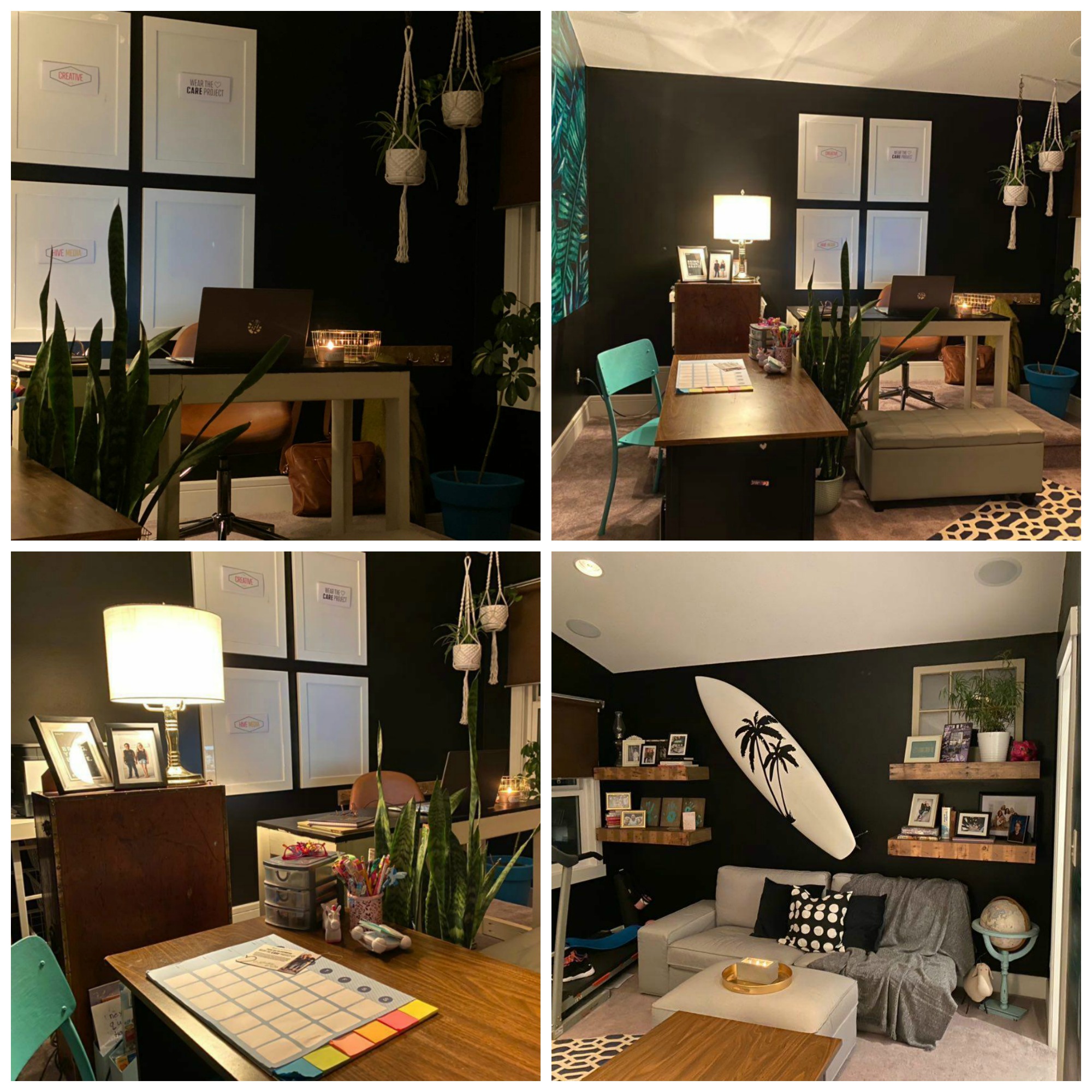 How did you set up your work-from-home space? I would love to see it! Tag me on Instagram, Facebook, and Twitter.
Share your space with me on this Pinterest post and be sure to Pin this to your Work-From-Home boards.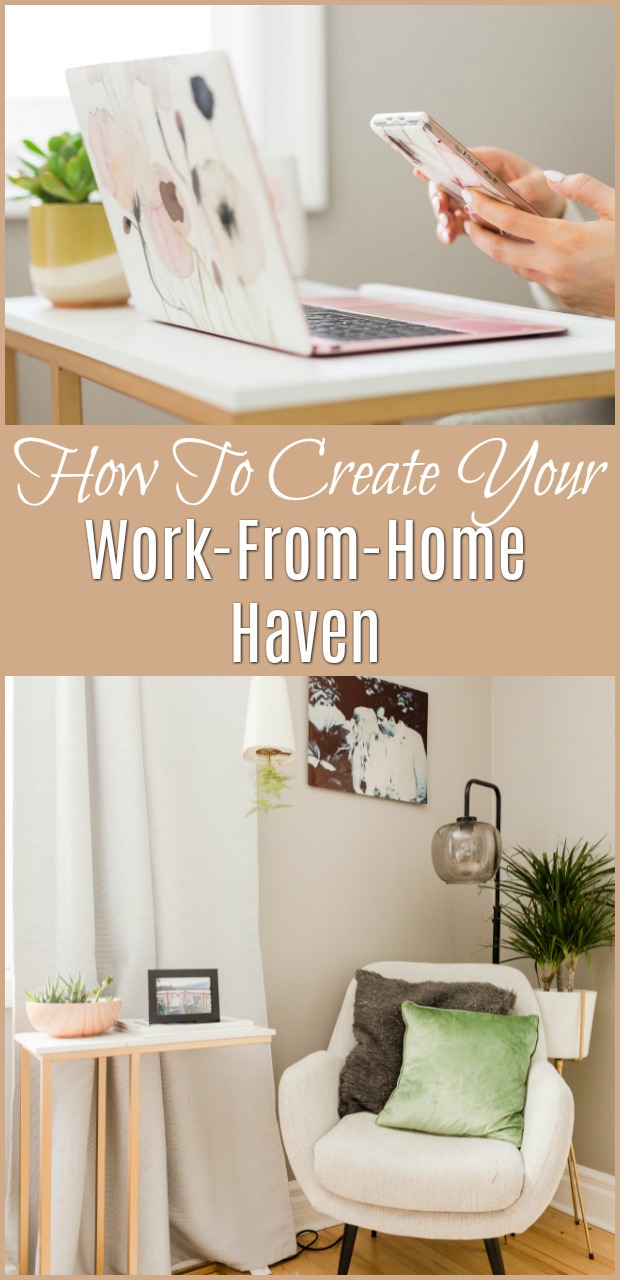 Other Posts You'll Love:
How To Set Up An Arts Centre in A Toddler Room
xx