A few simple ways to add even more excitement in the days leading up to Easter! Whip up these healthy-ish, fairly inexpensive to make, DIY Easter snacks for kids.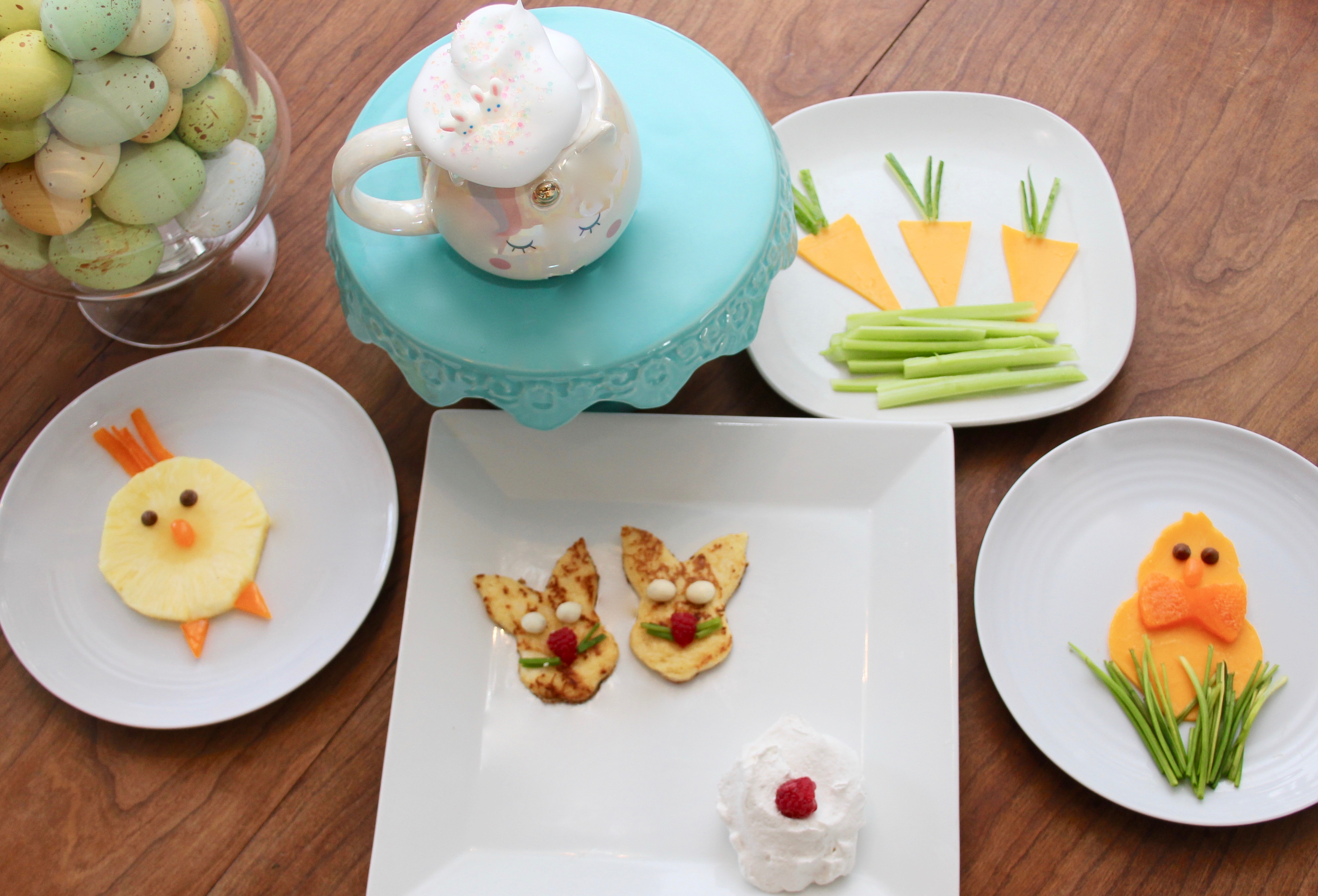 DIY Easter Snacks For Kids
All it takes is a quick trip to the grocery store with around $30 in your pocket, and you'll be able to create these five cute Easter eats for your kids (and watch their little faces light right up)! Pack them in their lunch, do one a day leading up to Easter, or roll out all of them at once – whatever you choose! Either way, it's a great way to build anticipation around Easter. Plus, this is the easiest way to get your little one to enjoy a healthy snack – it's an experience they'll even tell their friends about! Getting artsy with your kid's food is a great way to ensure your picky eater is actually consuming something (it works every time at our place). Friends, this is SO easy to do and you'll be 'Parent of the Year'…for a least a week! 😉
Here are the secrets to these inexpensive and easy-to-make Easter treats…
Hop To It! French Toast

You'll Need:
Your favourite french toast recipe (I love this one)
Yogurt-covered raisins
Raspberries
Chives
Whip cream
Directions:
Whip up your French Toast.
After the toast is cooked and ready, press your bunny face cookie cutter into each piece.
Cut one yogurt-covered raisin in half, and use each half for the bunny eyes.
Cut one raspberry in half and use for the bunny nose.
Chop a few pieces of chives for the bunny whiskers.
Add whip cream and more raspberries on the side.
Easter Sprinkles Steamer: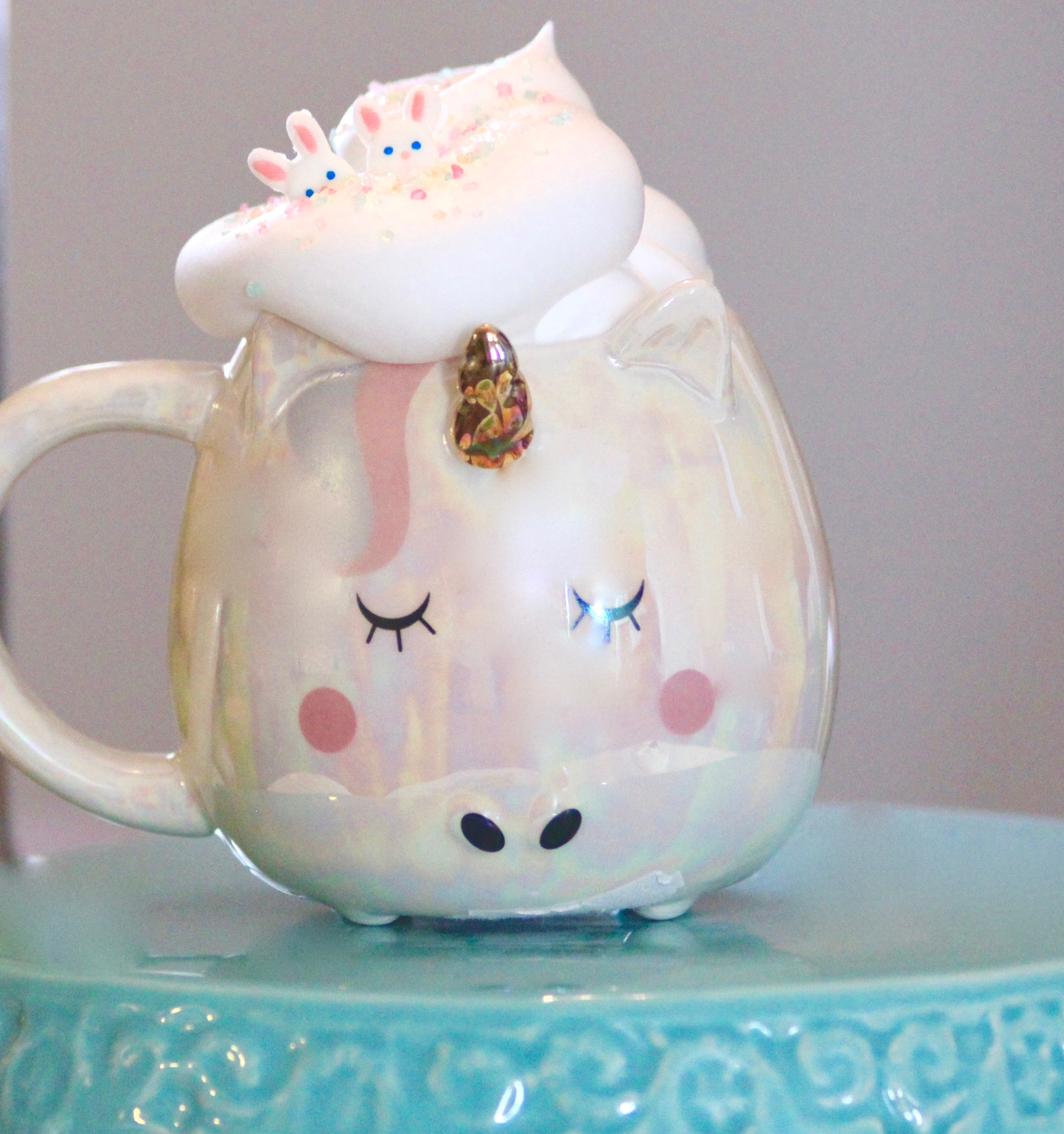 You'll Need:
Vanilla almond milk
Whip cream
Easter sprinkles
Bunny candy
An adorable mug (Our unicorn mug is from HomeSense. This one is cute too.)
Directions:
Steam 1/2 cup of Vanilla Almond Milk (this is the brand we love).
Pour steamed milk into your adorable mug.
Top with whipped cream, sprinkles, and Easter candy.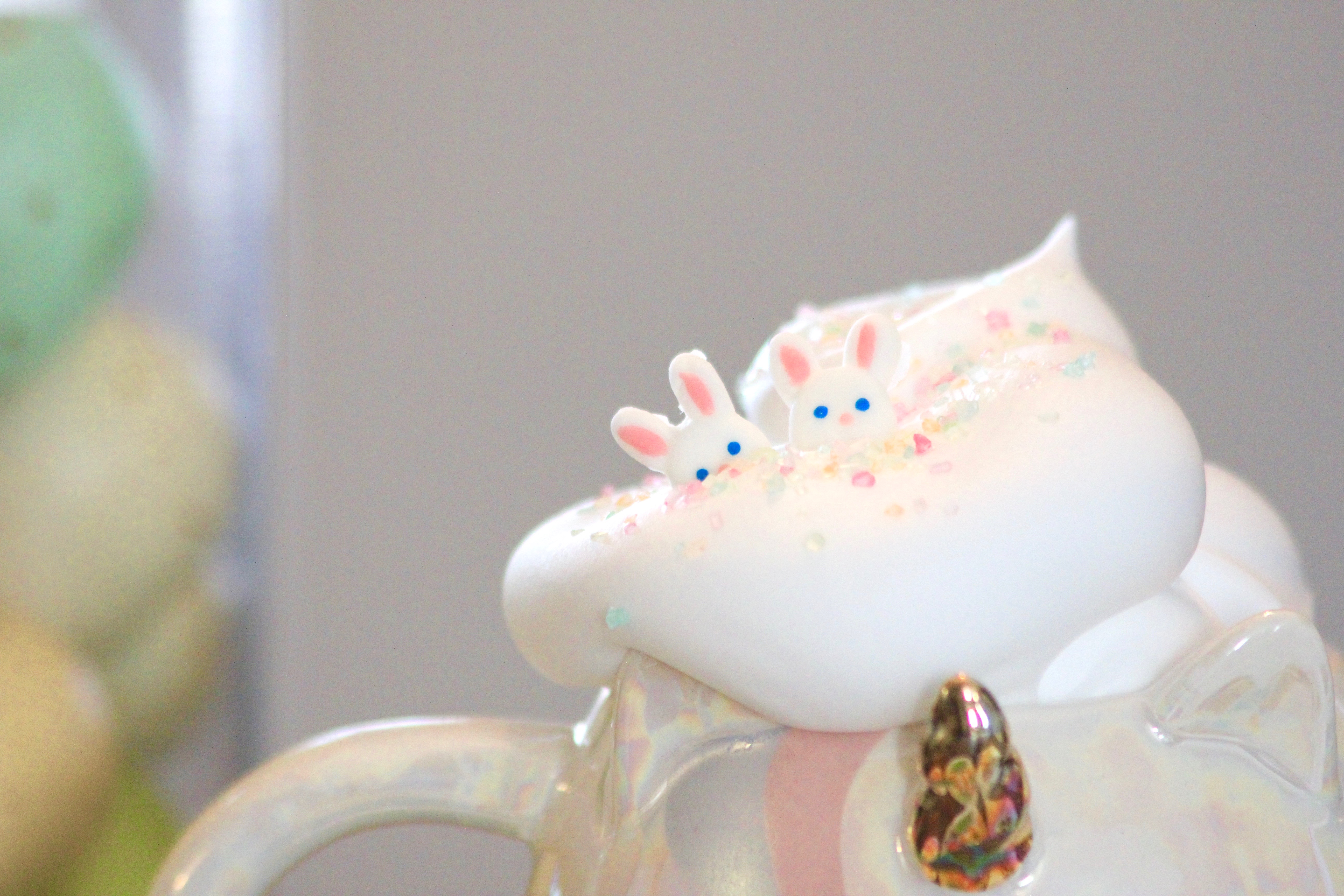 Spiffy Chick Cheese:

You'll Need:
Pre-sliced cheddar cheese
One orange pepper
Chives
Chocolate chips
Orange jelly bean
Chick & bow tie cookie cutter (we used this one)
Directions:
Press your chick cookie cutter into your cheese.
Wash and cut your orange pepper into fours.
Press your bowtie cookie cutter into one piece of your pepper. Place on your cheese chick.
Chop up some chives for grass.
Place two chocolate chips on for eyes.
Cut an orange jellybean in half and use for the nose.
Pineapple Chick: 
You'll Need:
One whole pineapple
One orange pepper (use leftover from your Spiffy Chick Cheese)
Two chocolate chips
Orange jellybean
Directions:
Slice your pineapple.
Chop your pepper into strips for the hair and triangles for the feet.
Add chocolate chips for eyes and the jellybean for the nose.
Carrots in the Grass: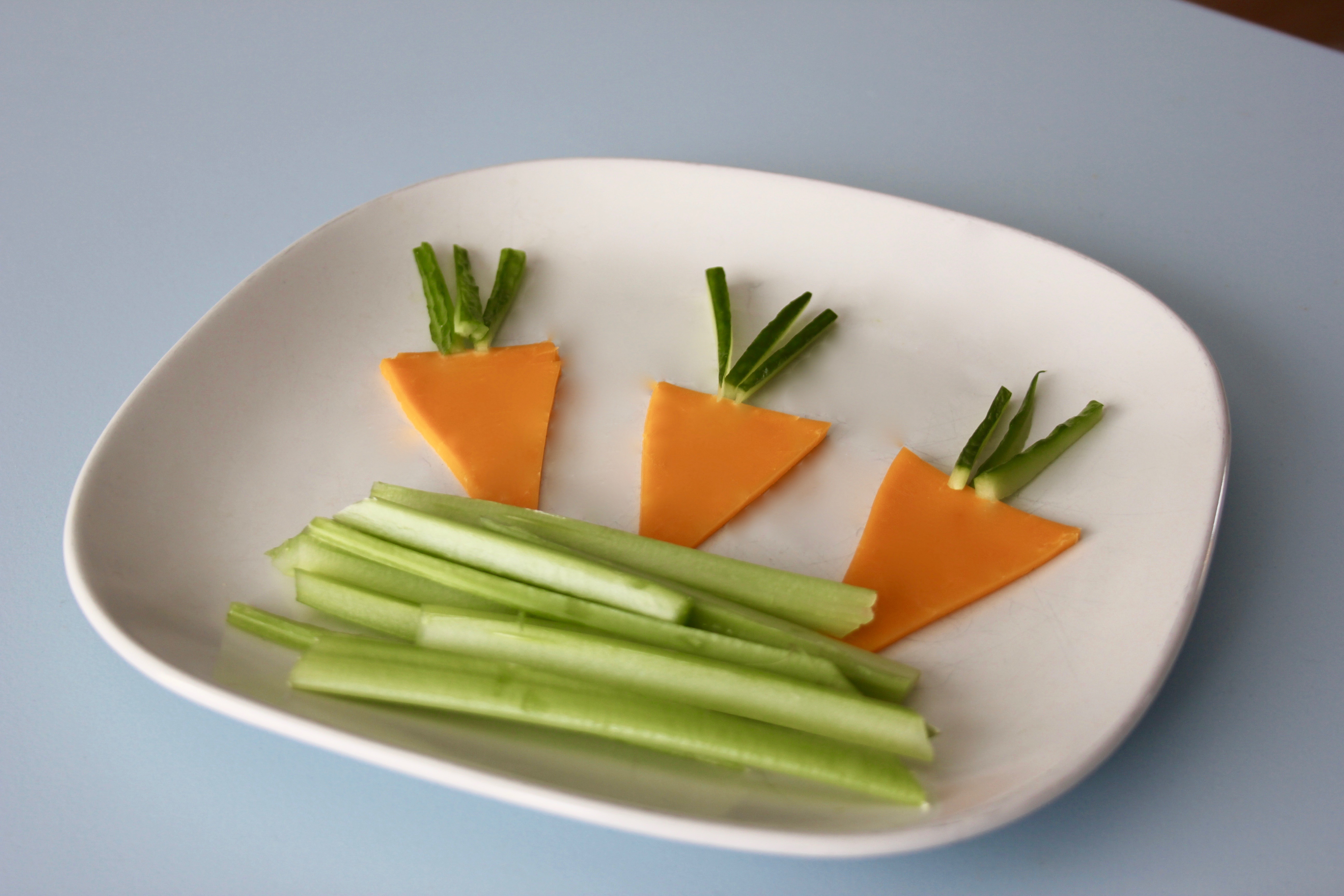 You'll Need:
Pre-sliced cheddar cheese
Mini cucumbers
Celery
Directions:
Slice cheese into triangles.
Thinly chop cucumbers for carrot tops.
Chop celery for grass.
Pin this to your Easter Eats Boards!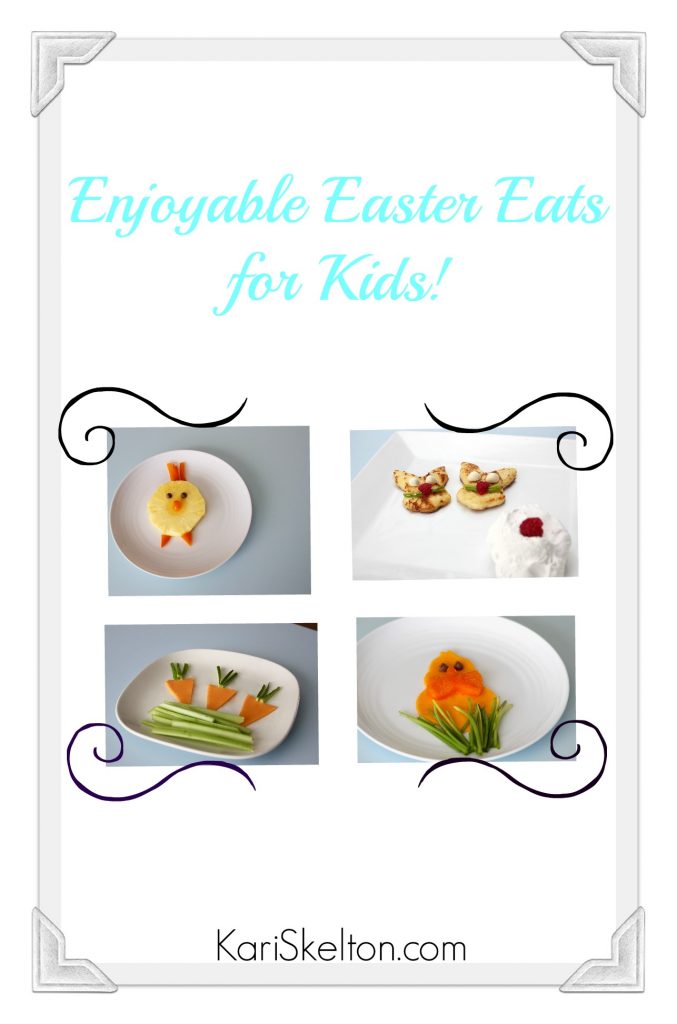 I would love to see your finished product! Tag me in your photos on Instagram and Twitter. Please post any comments and questions below.
Other Posts You'll Love:
The Most Adorable Easter Stuff for Kids
xx