So, your kid's not into arts and crafts. This easy and adorable snowman project might be the one to convert them into a craft lover! Follow this simple how-to, and find ideas and resources to turn this into a full-blown winter-themed activity.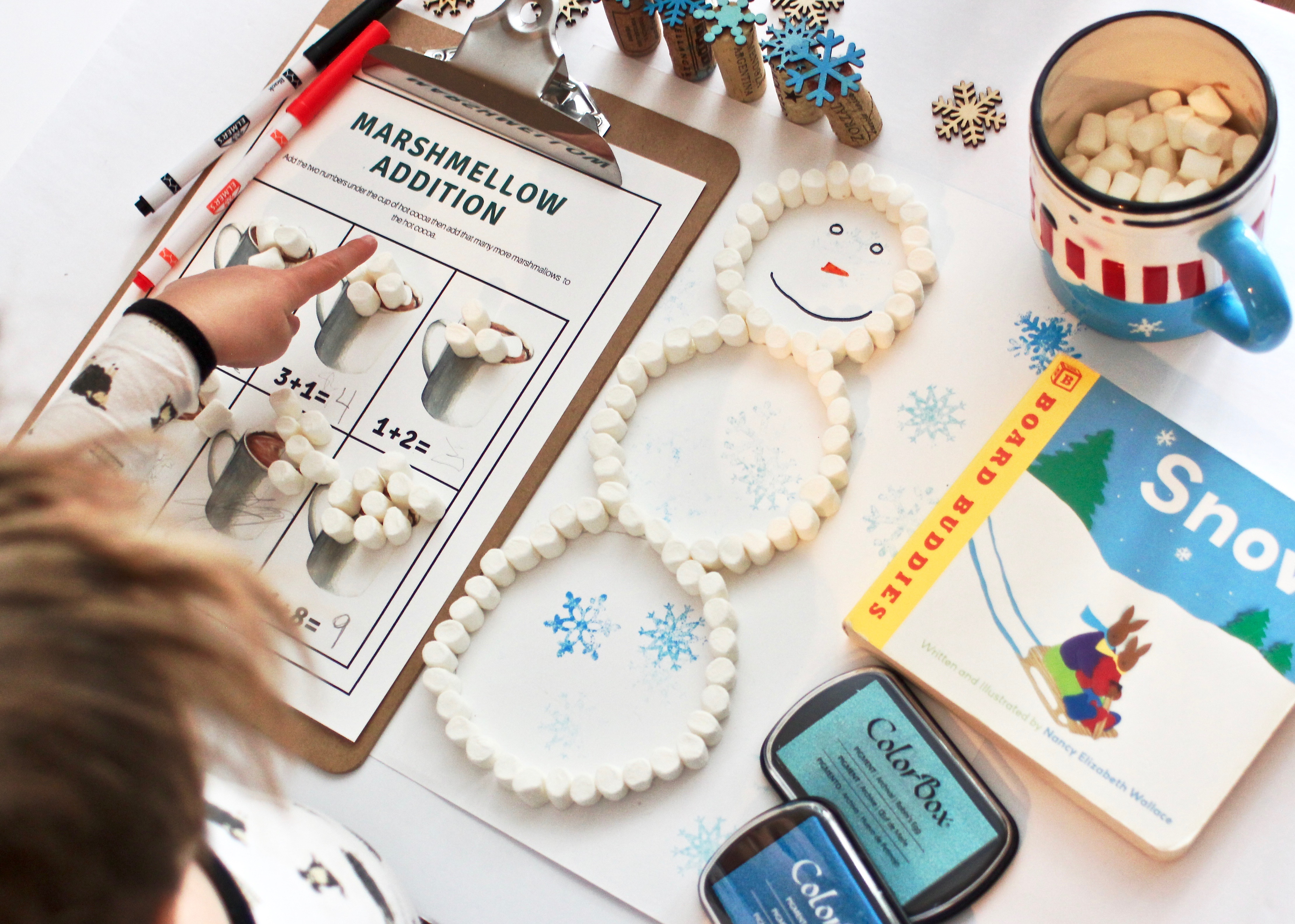 Our little guy Wyatt has never really connected with craft projects, but this one kept him captivated the entire time. I find the key with toddlers is choosing crafts that are quick (we all know how short their attention spans can be) and super-simple to make.
Easy + Adorable Snowman Craft
Total Cost: $12 for everything, minus supplies you may already have in your craft closet.
Time Investment: Totally depends on your child's attention span! We completed ours in about 15 minutes.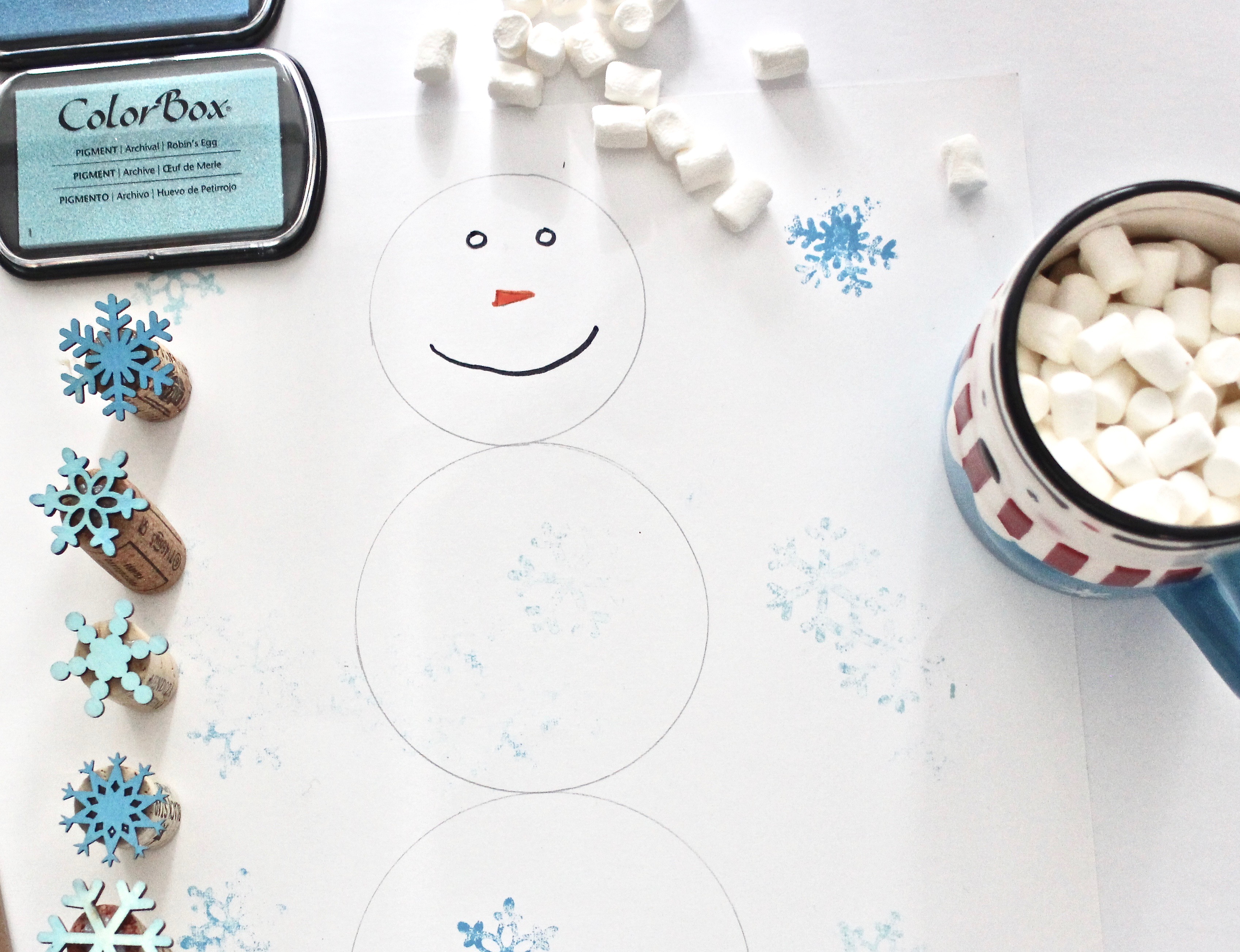 Supplies:
Snowflake stamps – tutorial here
Blue stamp pads
White mini marshmallows
Large white cardstock
Orange marker
Black marker
White glue
Circle tracers
Directions:
Trace out the circles for your snowman's body. I used the bottom of three different-sized cups, but you can free-hand draw them if you're able. Draw your snowman's face with your orange and black markers. I prepped the craft up until this point because Wyatt is only three, but older children can certainly complete the first steps on their own.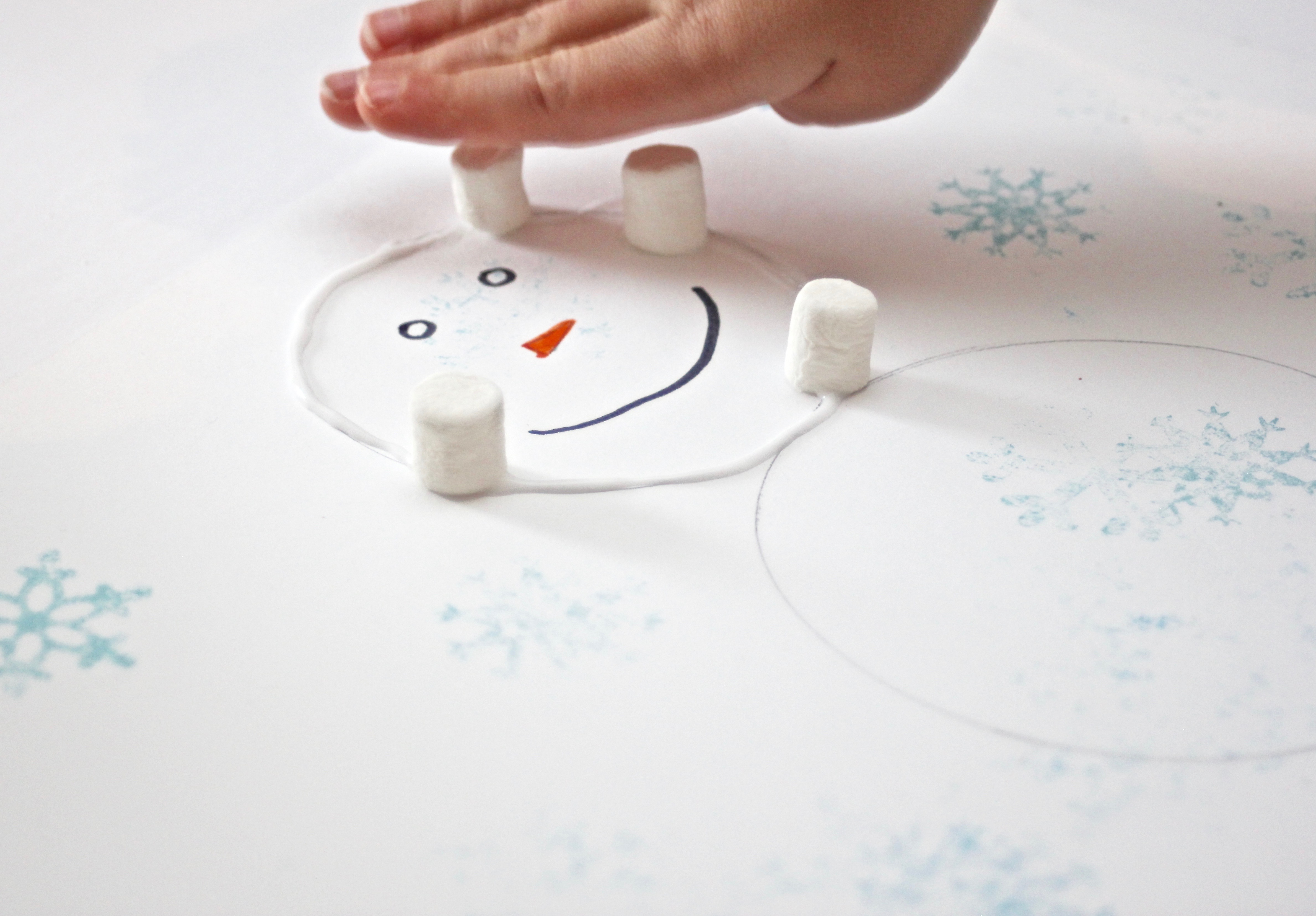 Next, have your little one stamp on their snowflakes. I suggest doing the stamping first to avoid bumping into (and messing up) the marshmallows. Then, cover the top circle with glue, and have your little one place the mini marshmallows. Glue the circles one at a time, from top to bottom, to avoid getting glue on your clothes, etc. Next, glue the middle circle, and then the bottom.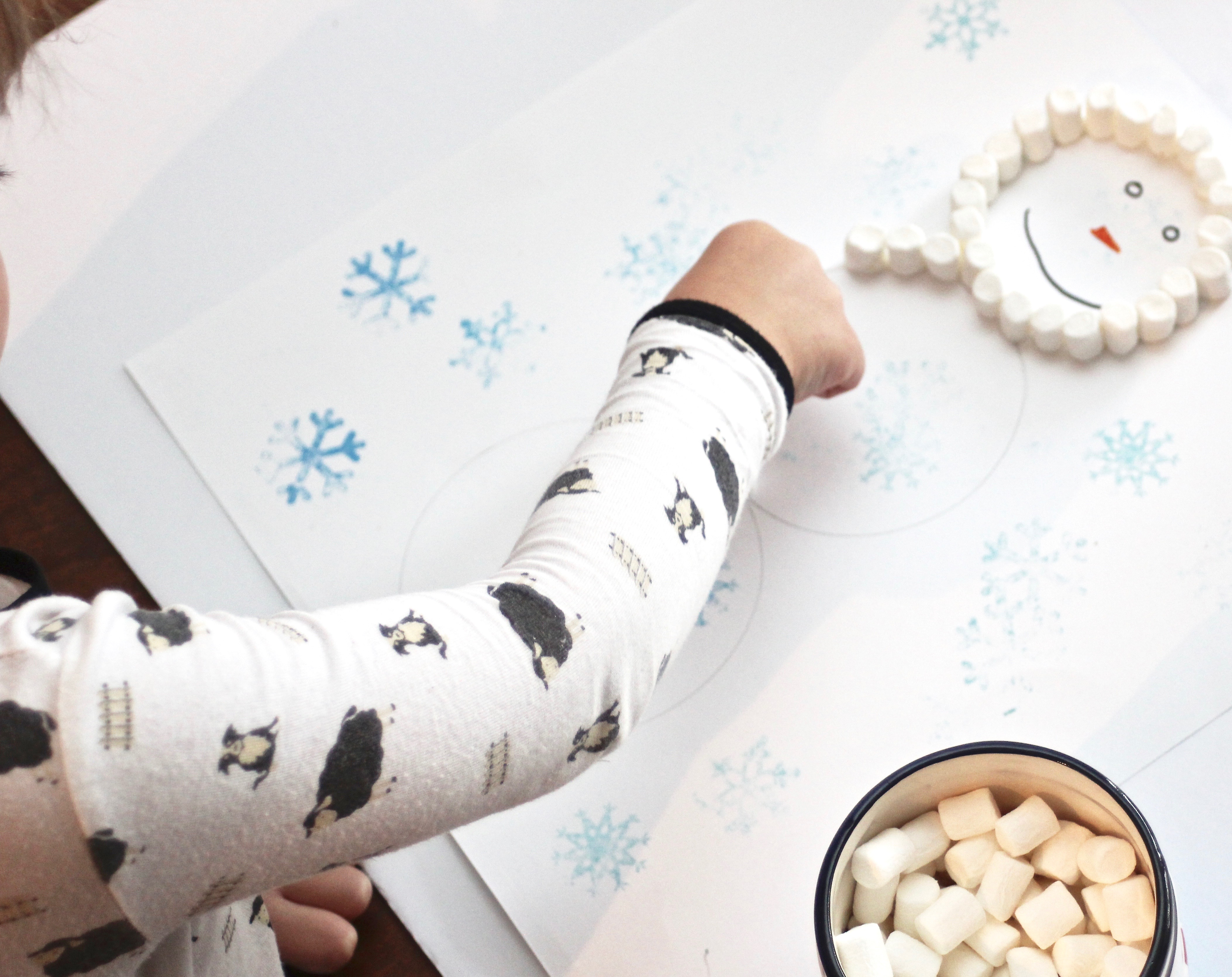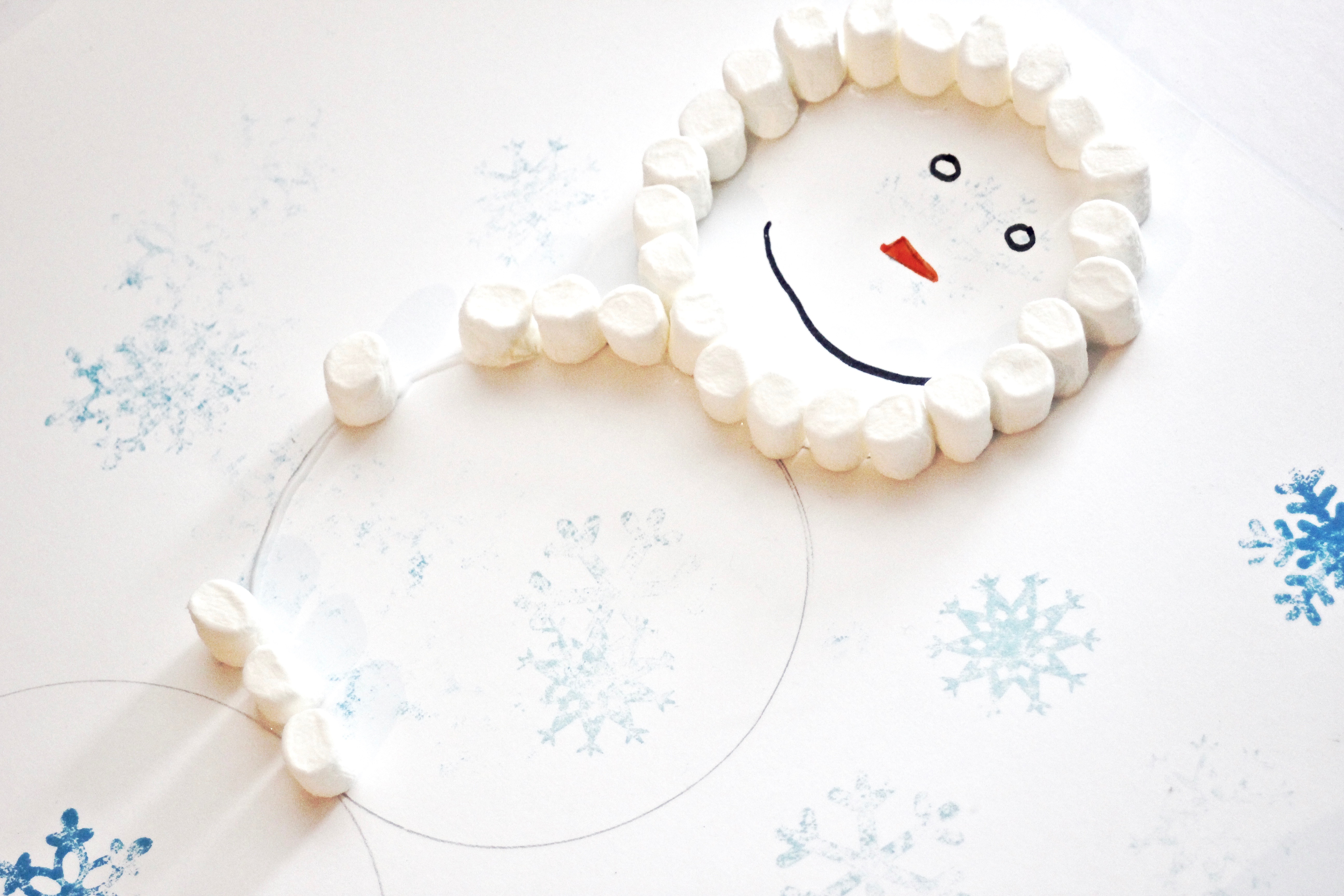 Leave your snowman to dry for a few hours before hanging it up. This is definitely a fridge-worthy craft, because it looks so cute and professional! You could even pop it in a picture frame (without the glass). If you're open to turning this into a winter-themed activity, keep reading below to see what we did…
Winter-Themed Activity
It's a fun idea to incorporate your snowman craft into a further lesson or activity. We used our snowman for an entire week of learning time at home to practice counting, drawing numbers, and learning about winter. I find it's best for the little guys to do one of these per day, or work on them here and there, as opposed to doing it all in one sitting.
Resources: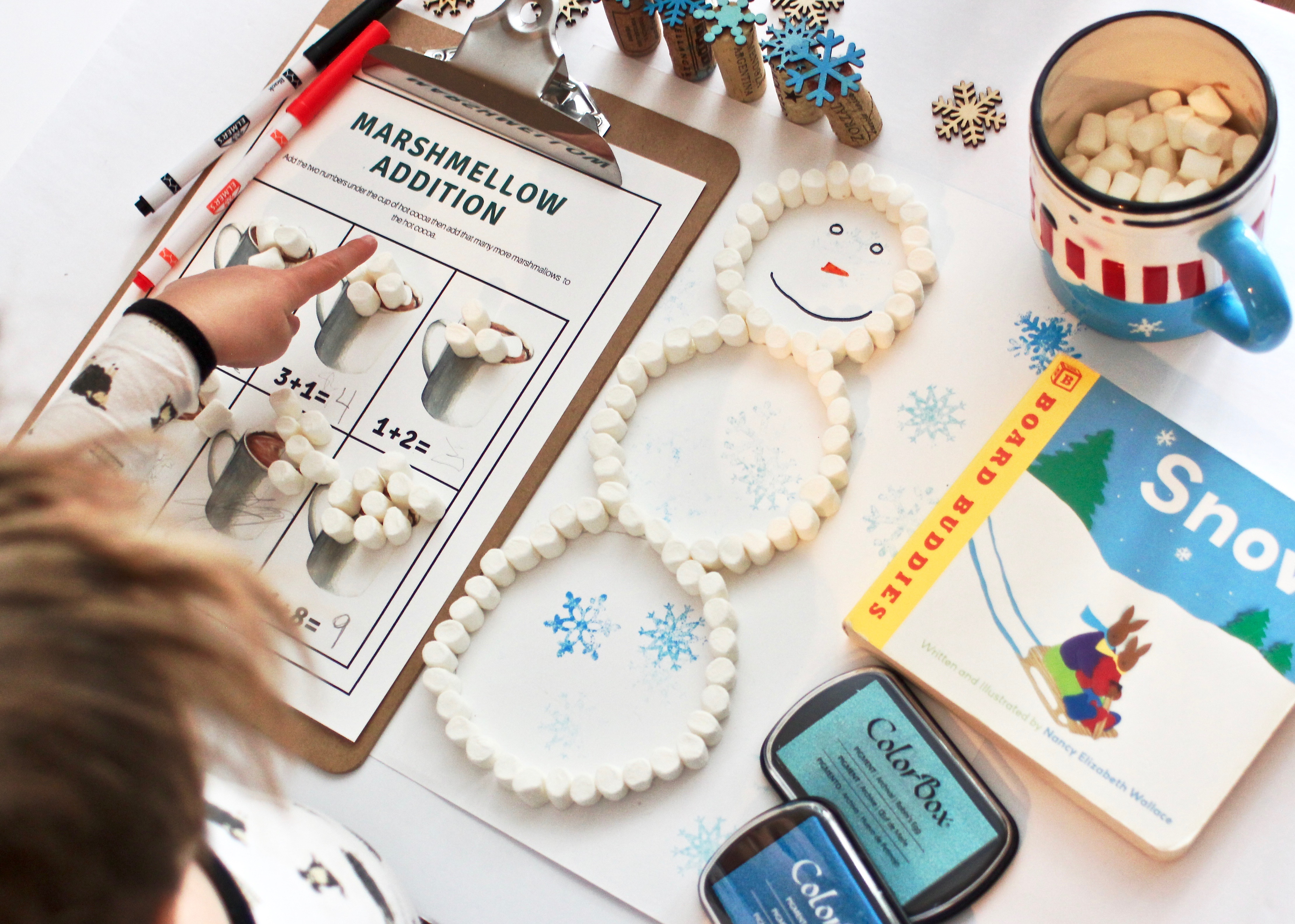 On day one, you can use the marshmallow addition page from The Habitat Schoolhouse's Winter Activity Pack to practice tracing numbers, counting, and addition. Your little one can add and count how many marshmallows go into each cup, and practice writing their numbers below.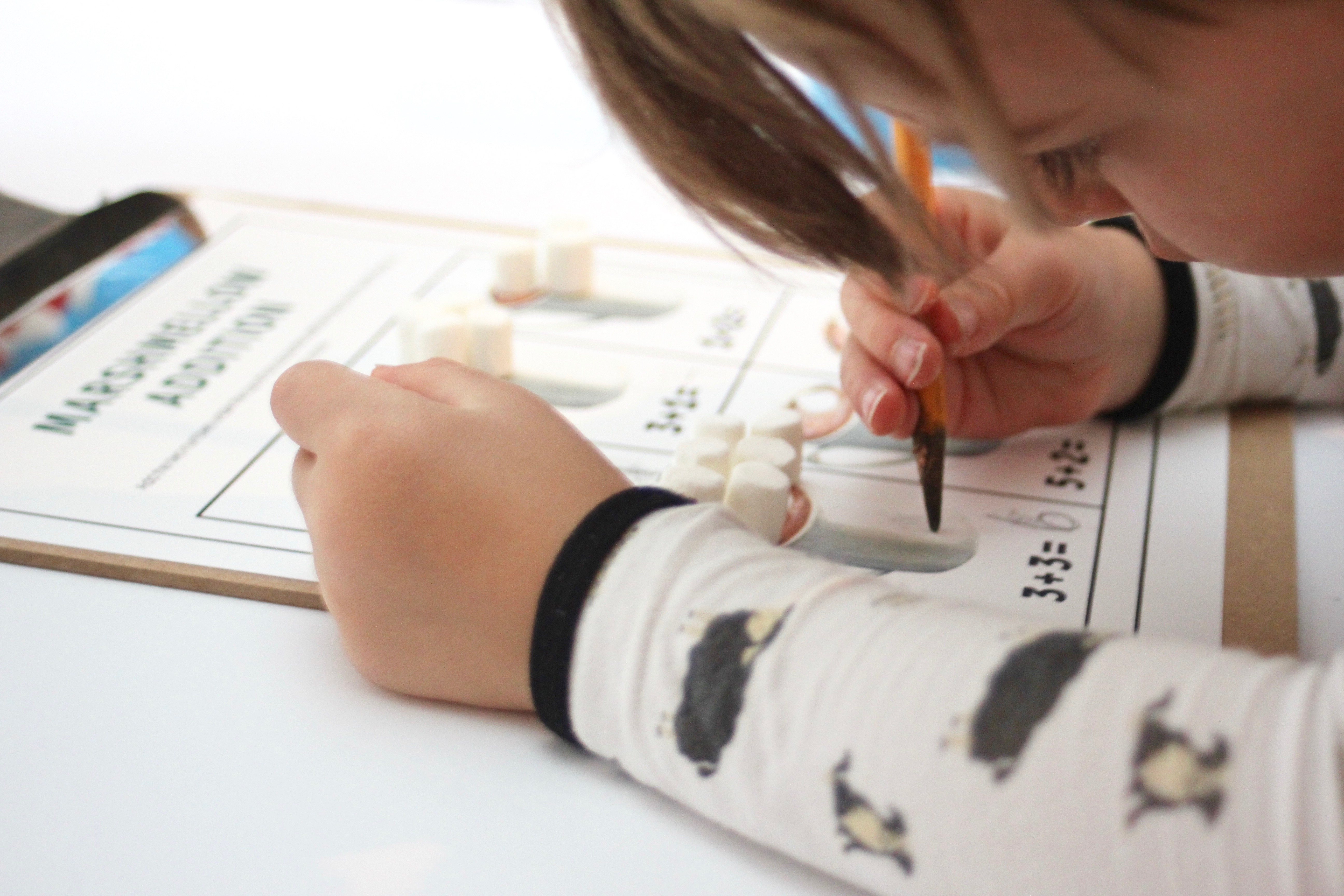 The next day, try out the Winter Order page from The Habitat Schoolhouse's Winter Activity Pack to learn about options for winter fun, and the correct order of doing things in each scenario. If you have time, you could plan to do one of these activities each day of the week. If time is tight, choose one activity to do on the weekend, but use the lesson to build up excitement in the days leading up.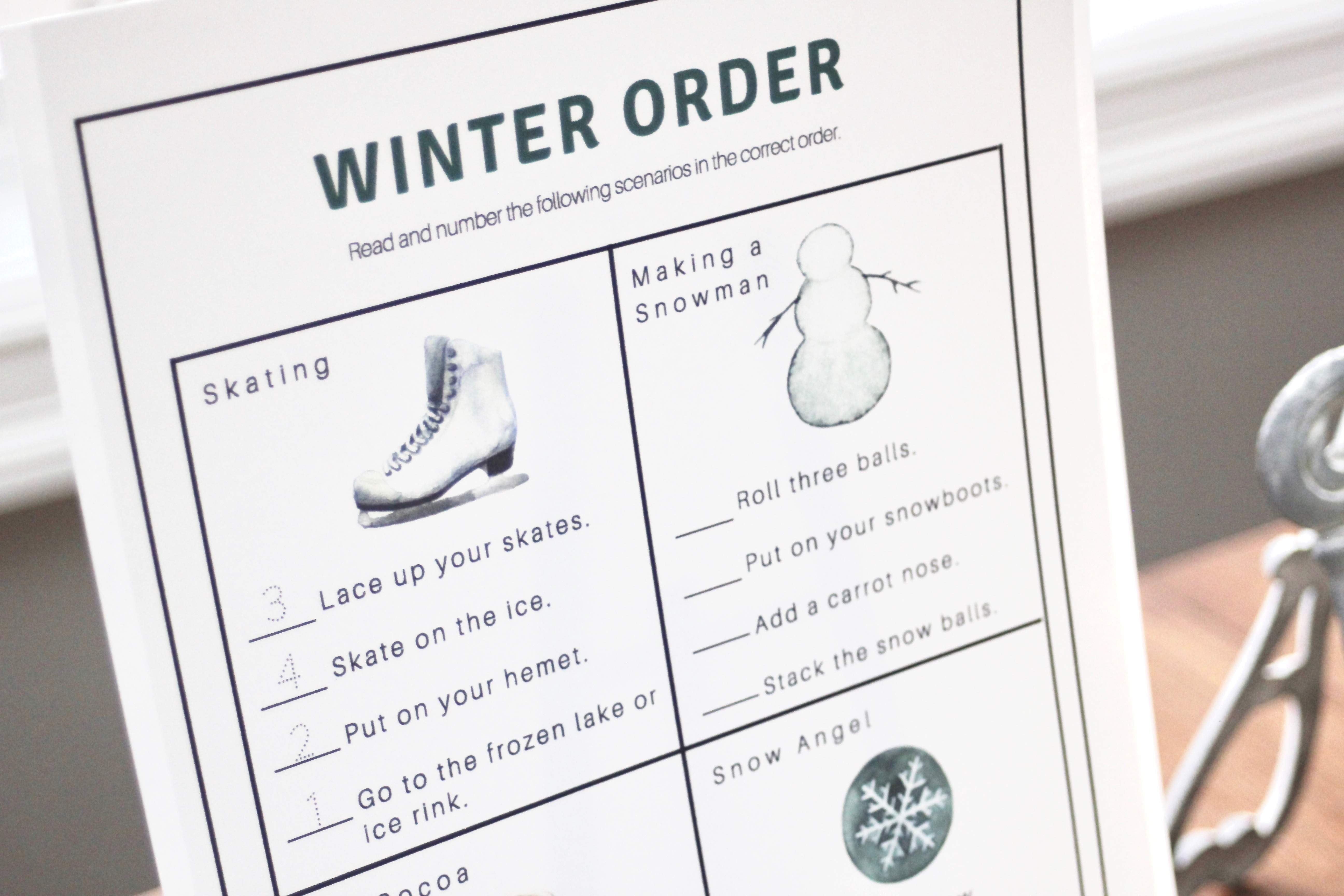 The third day, crack open Nature Anatomy by Julie Rothman, and flip to the snowflake section. Talk about what a snowflake is made of and how it comes to be, and learn about all the different types of snowflakes. It might be a good idea to plan this one for a day when it's actually snowing, so you can head out and catch snowflakes on your tongue.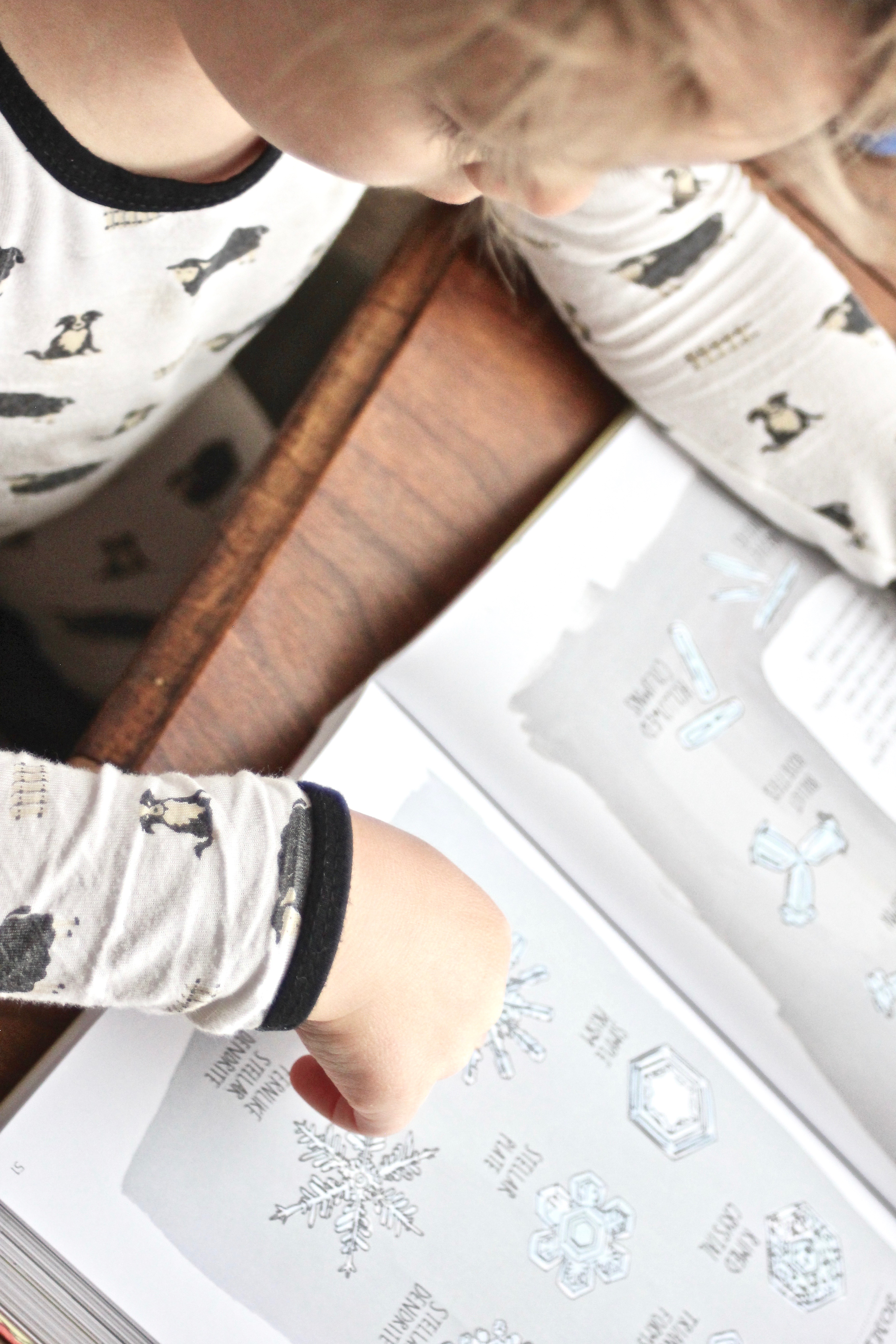 Finally, work some winter-themed books into your activity to keep the conversation and exploration going. There are tons to choose from, but here's what we picked:
Books:
Other ideas to work in throughout the week: head outside to build a snowman, go tobogganing, ice skating, or plan this activity around a winter-themed festival in your hometown. For us, it was the Ice Castles, Silver Skate Festival, and Ice on Whyte Festival (I hear Flying Canoe is really good too!).
I would love to see your creations! Tag me on social media:
Don't forget to Pin this to your Toddler Activity and Kids Crafts board. Follow me on Pinterest here!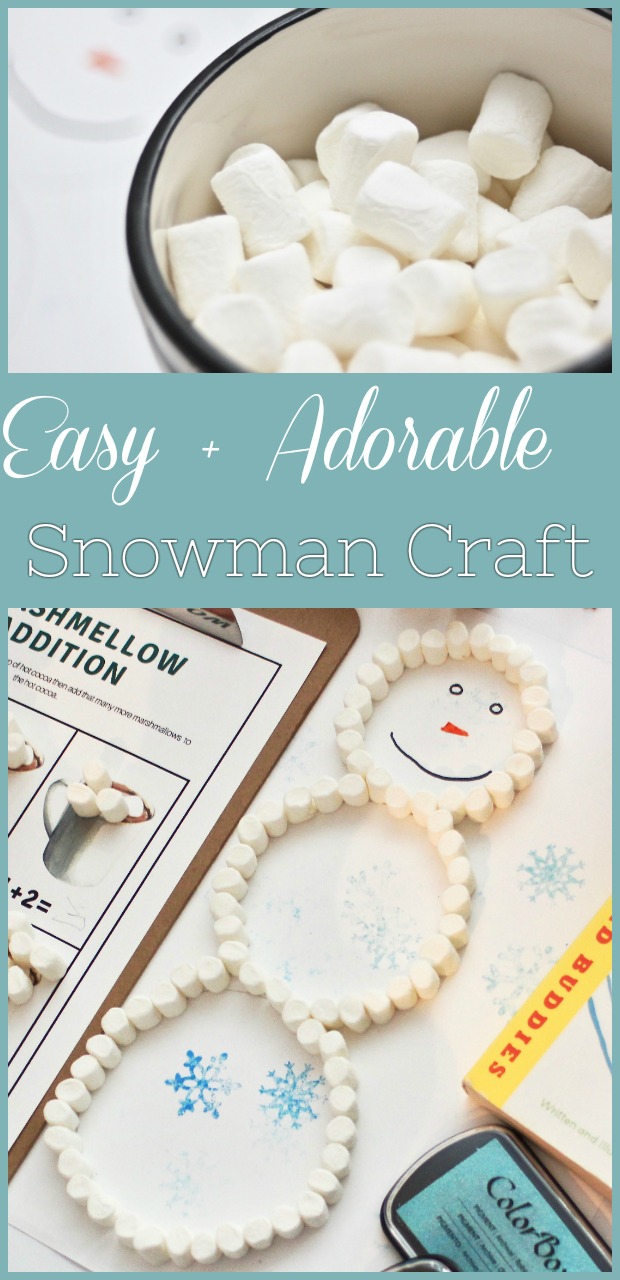 Other Posts You'll Like:
Interactive St. Patrick's Day Craft
Five Simple Ways You Can Create A Joyful Home
xx