Why it's so important to slow down and enjoy the holiday season at home!
Plus- peek at our Christmas decor and get details on a photoshoot giveaway!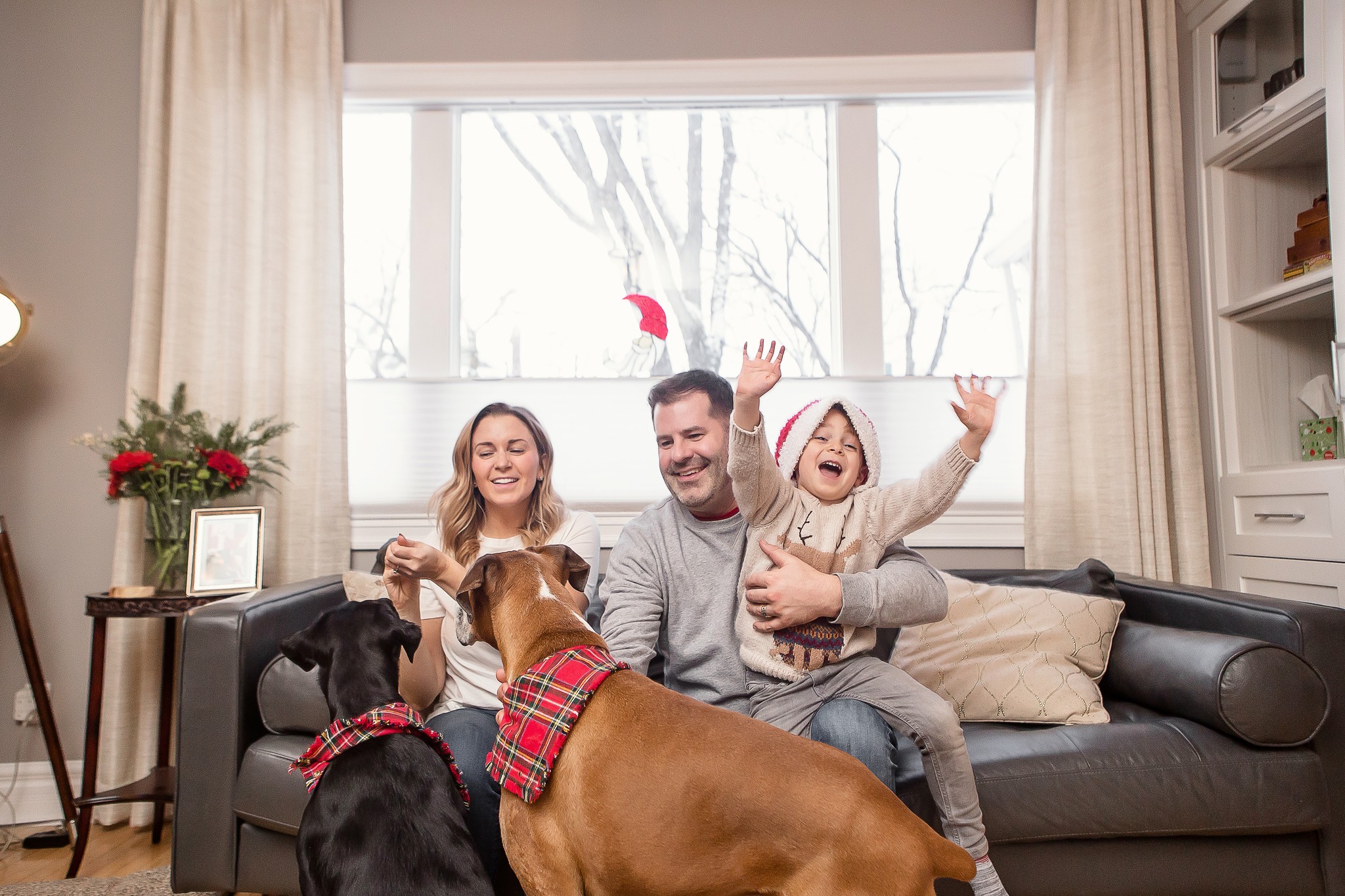 Outside of 'Merry Christmas' and 'Happy Holidays,' I think the phrase we hear most in December is ' I'm SO busy right now!'. Christmas is the most wonderful time of the year (in my opinion), and yes, it is most definitely the busiest for so many of us. It's easy to pack the calendar with parties, visits to light displays, and other holiday activities with the kids, but I believe the real magic happens at home. Of course, we still participate in festive fun around the city, but we've decided to put more of an emphasis on cozying up in the house we love so much.
My husband Ryan and I made it a priority this year to decorate early so we could enjoy the Christmas vibe for as long as possible. Christmas Day is wonderful, but the lead up is equally as magical!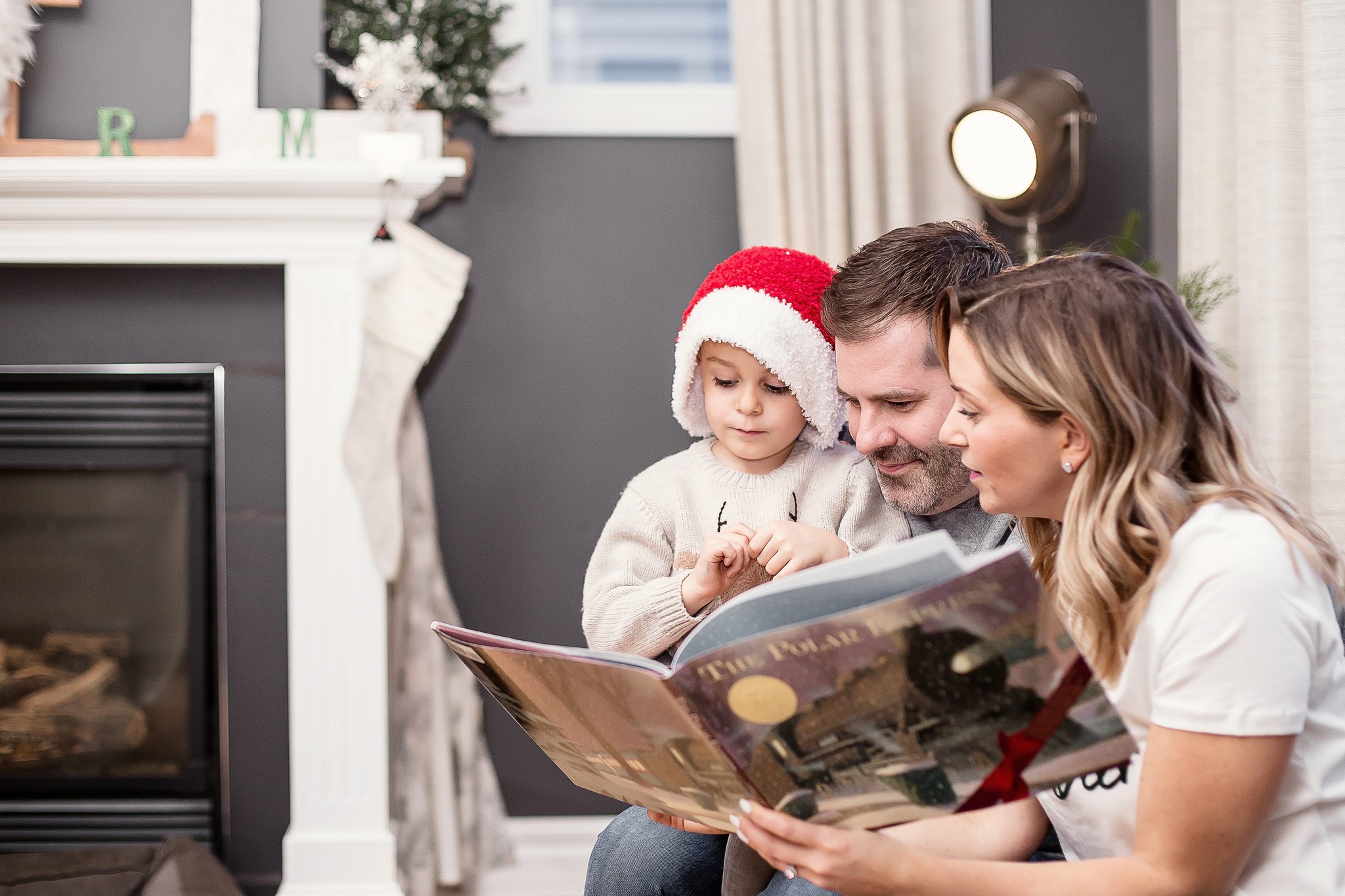 When we recall Christmas past, we usually find that the simplest things – not the great occasions-give off the greatest glow of happiness.        -Bob Hope
We were so thrilled to have Darren LeBeuf of House Stories Canada come into our home to capture moments (alogn with the Christmas set-up we'll want to remember forever). Darren documents the familiar, personal details of your space, and uniquely captures candid moments of your every day. (Look for details on a giveaway with House Stories further down in this post.)
Front Entryway
There's something about an old wooden staircase that sparks so many memories for me around the holiday season. I grew up in an old home with a wooden staircase narrower than the one in our home now, but the creaks are the same. On Christmas morning, my brother and I used to sit a the top of our staircase and wait for the cue from our parents to come downstairs to see what Santa had left. I think about that moment around this time of year when I'm on our stairs.
We typically have a holiday-scented candle or pretty Christmas bouquet on the Newel Post by our front door. It's one of the first things we see (and smell) when we walk in the house. We wrap the faux garland with twinkle lights around the handrail and balusters. I added in a couple of festive cushions on our everyday bench where the shopping bags go right when we come home.
Main Level
Our dining room and living room areas are essentially one open-concept space, so all of the decor is complimentary and filled with meaningful pieces. These wooden Santas were made by my dad, a talented woodworker and stained glass artist!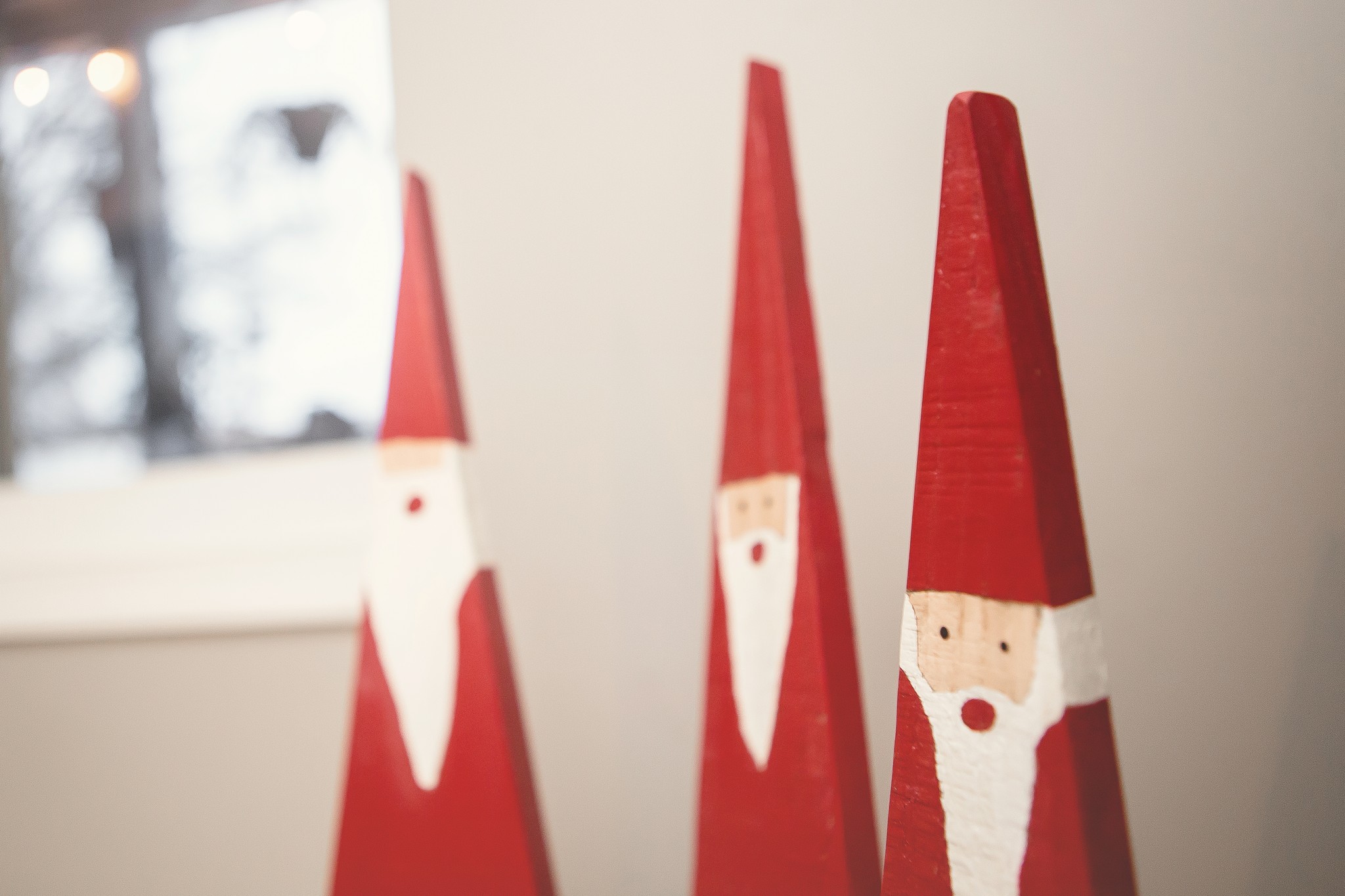 This metal and glass shelving unit houses our records and record player, a few holiday serving platters, and greenery. I swapped out the faux flowers in the trio of mason jar vases for fresh water and evergreens, and lined the back of the unit with twinkle lights. I like to swap out photos in frames to share memories from previous Christmases. This piece sees lots of action year-round, as we're often throwing on some music (especially around breakfast and dinner).
Dining Set
Our buffet and table are an heirloom from Ryan's grandparents, which we refinished several years ago. I clear out everyday pieces from the inside of the buffet in early December, and store only items we'll need for entertaining over the holidays. That ensures the unit stays easy to use, and not crammed with stuff. We have a few decor items on top, including Wyatt's advent calendar, and we use this to hold all the food for Christmas dinner or treats and drinks for get-togethers.
The Tree + Stockings
Our stockings hang from two snowflake stocking holders (everything's from Crate and Barrel). Closer to Christmas, I'll put a curtain rod across the length of the mantle to rest on each holder with the remaining stockings. The gnome ornaments are homemade (by my mom!). I painted the wooden letter markers green, and dusted them with sparkles. As you can see, our puppy Monroe got to the 'W' when we were setting up! 🙂
Stockings typically take us about two hours to open, because on top of what Santa puts in there, we each buy several stuffers per person, and we go one by one until everything's open. We really like to draw things out on Christmas morning!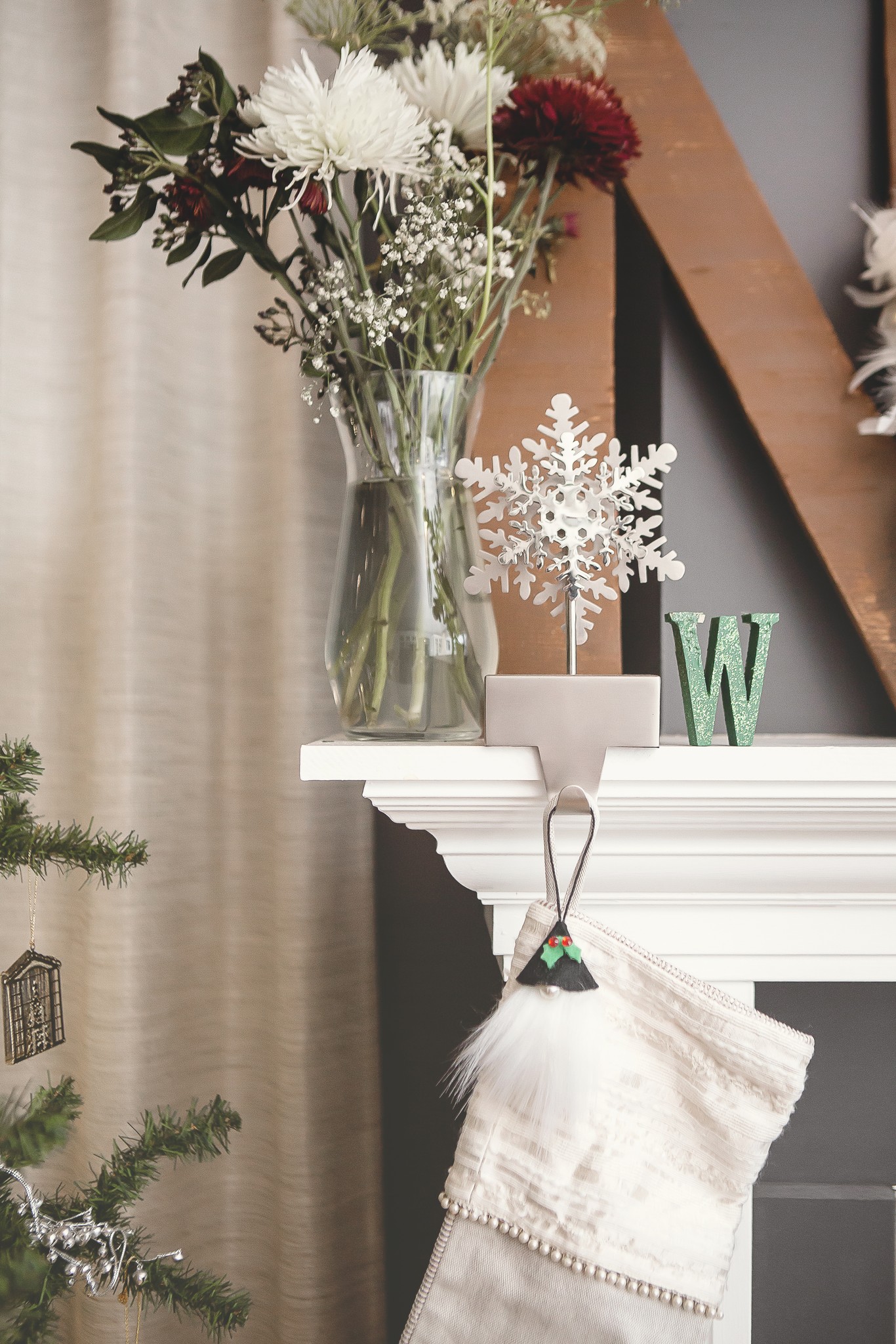 Our tree is filled with a mix of filler ornaments, sentimental pieces, bell garland, and lights. There must close to 250-300 pieces on the tree this year. Next year, I promise to count! You'll notice Wyatt's First Christmas ornament designed by friend Justine Ma, and an angel made out of my nanny's teacup set (made by my dad) among dozens more filled with meaning. I love when guests come over and we can share stories of each one.

Wyatt's Room
Outside of our main space, each additional room of our house features small touches of 'holiday'. The kitchen has a potted evergreen and festive tea towels, the bathroom has a small gold pot with a mini evergreen, and Wyatt's room has it's very own tree! I got this tree last year at Canadian Tire (almost the same one here). He decorates it with all the leftover ornaments from the big tree decoration. 🙂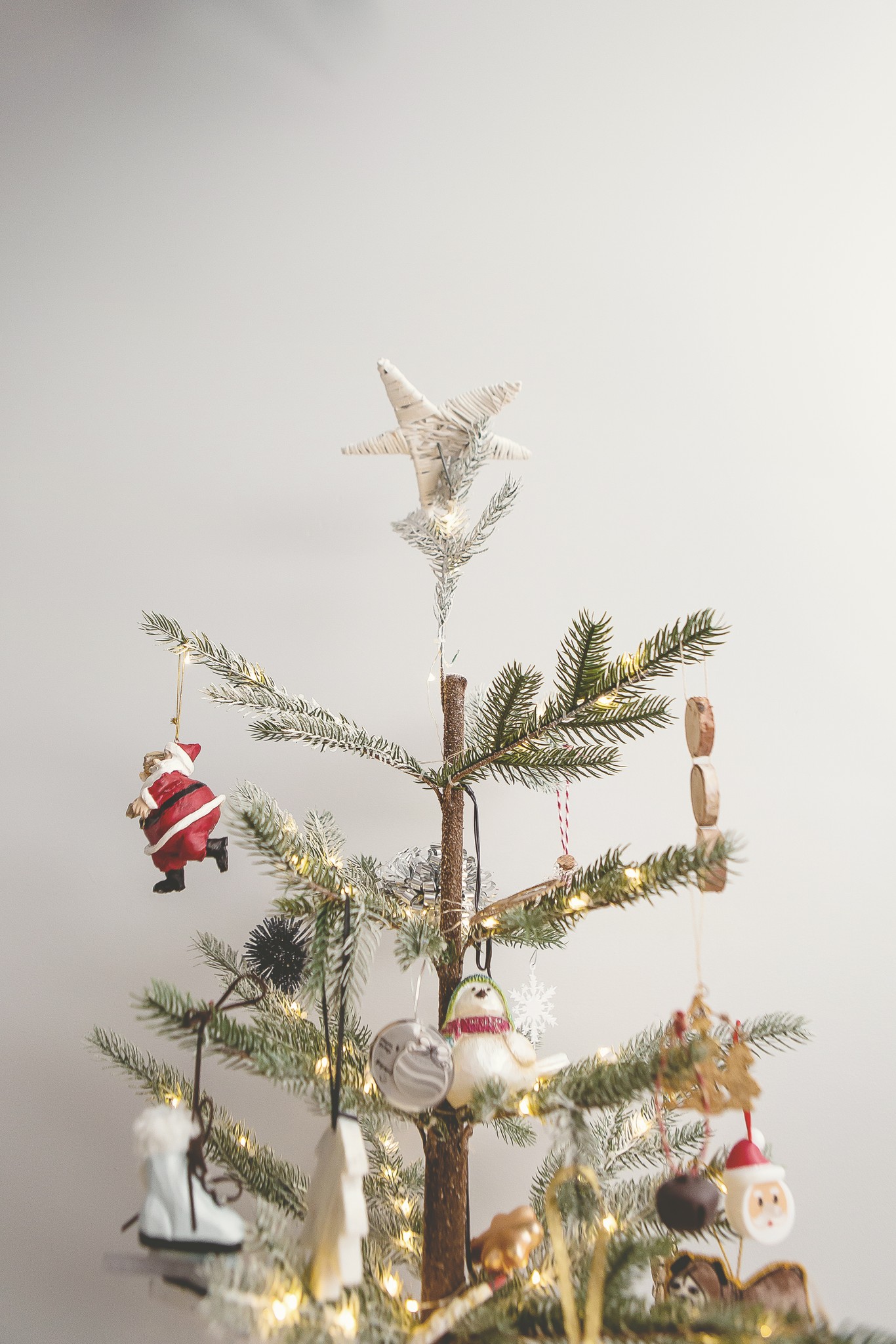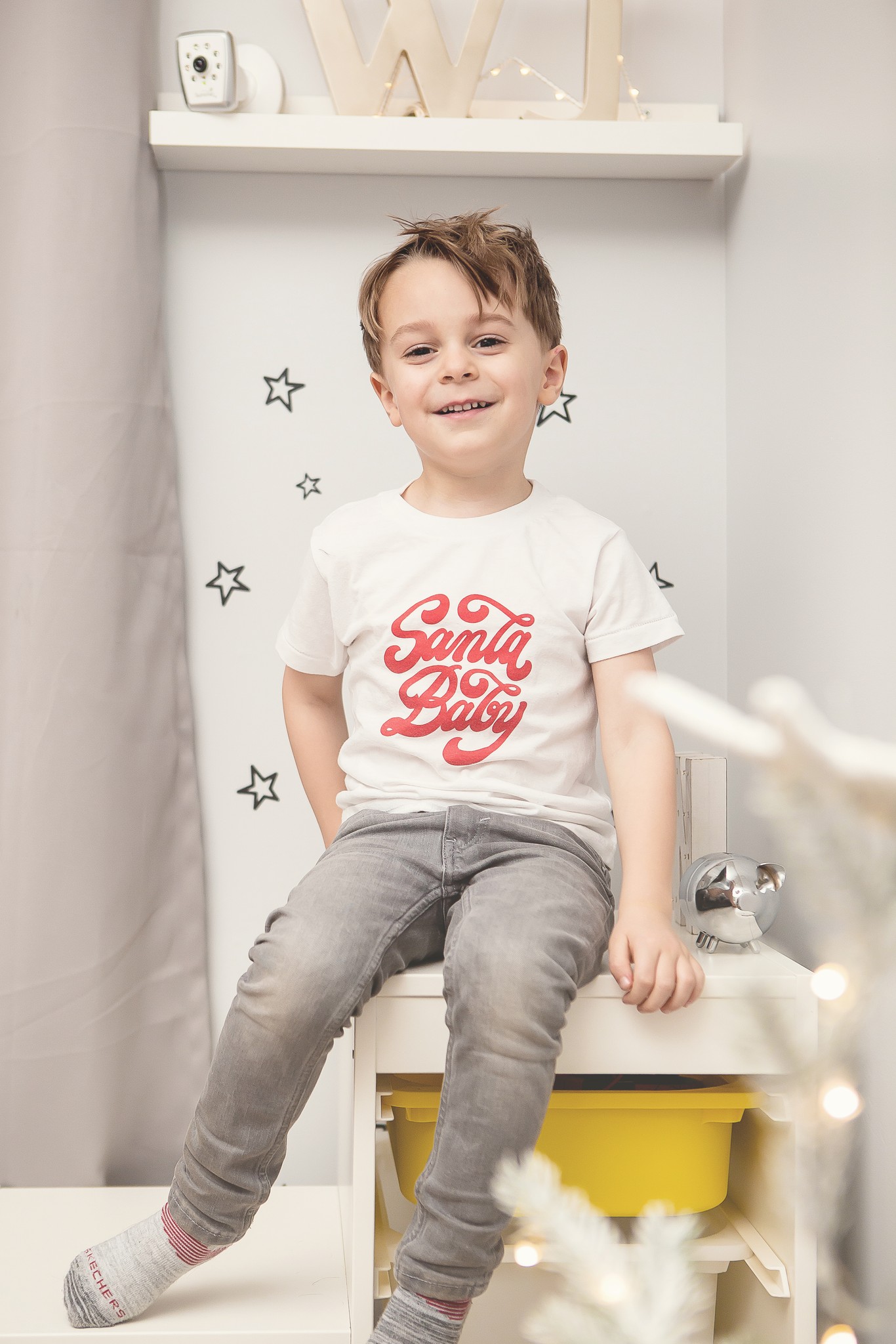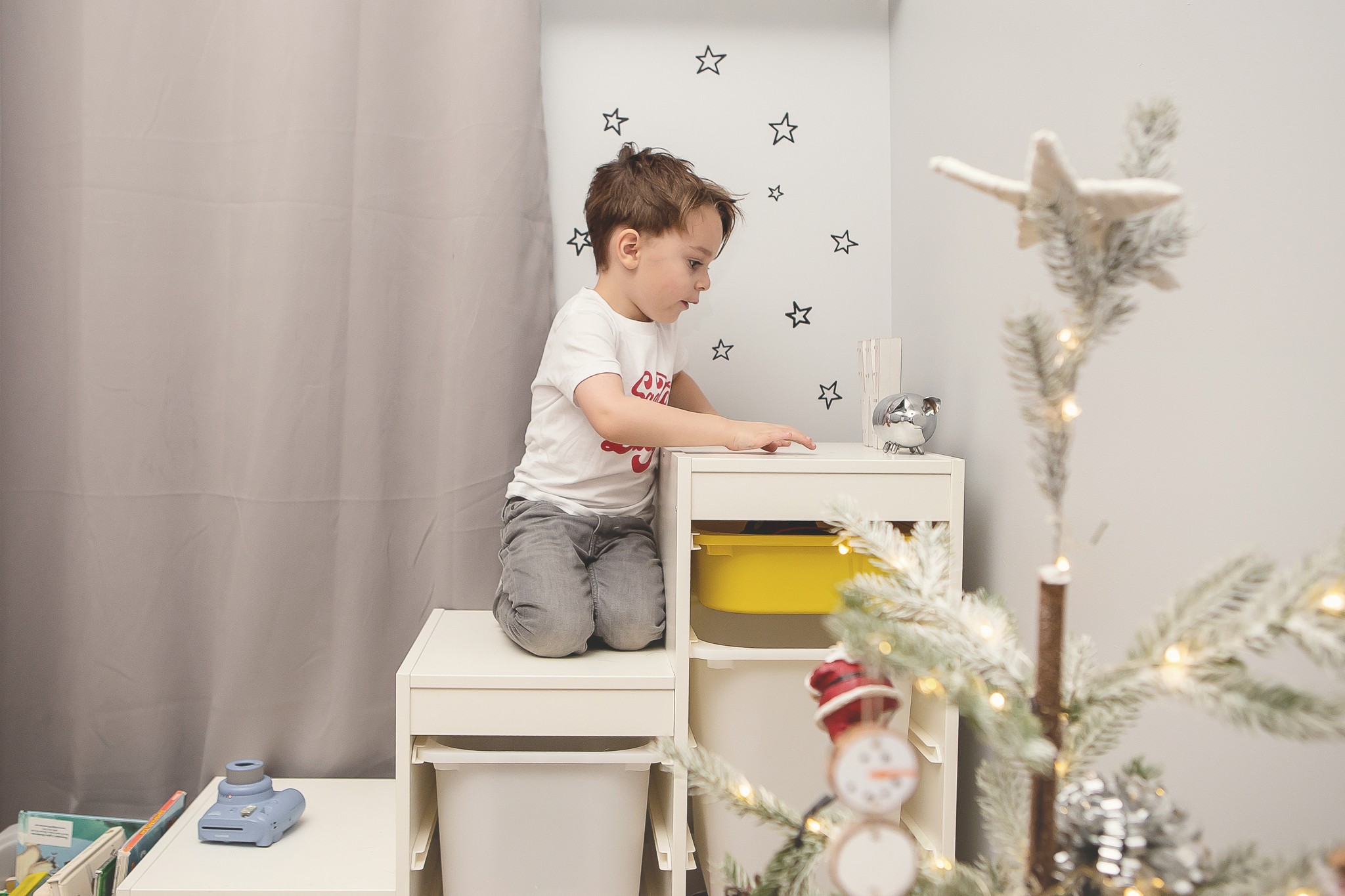 That's it! I hope you enjoyed and feel inspired! Please be in touch with any questions.
House Stories Canada Giveaway!
Our friends at House Stories Canada (who snapped all of these gorgeous photos) are gifting one lucky person a Christmas Mini Shoot valued at $450! You must live in the Edmonton area and have an Instagram account to enter. Here's what's included:
a 1.5-hour shoot capturing your family and your home.
includes a collection of 40 web-optimized images + a complimentary 5×7 print
To enter: go here!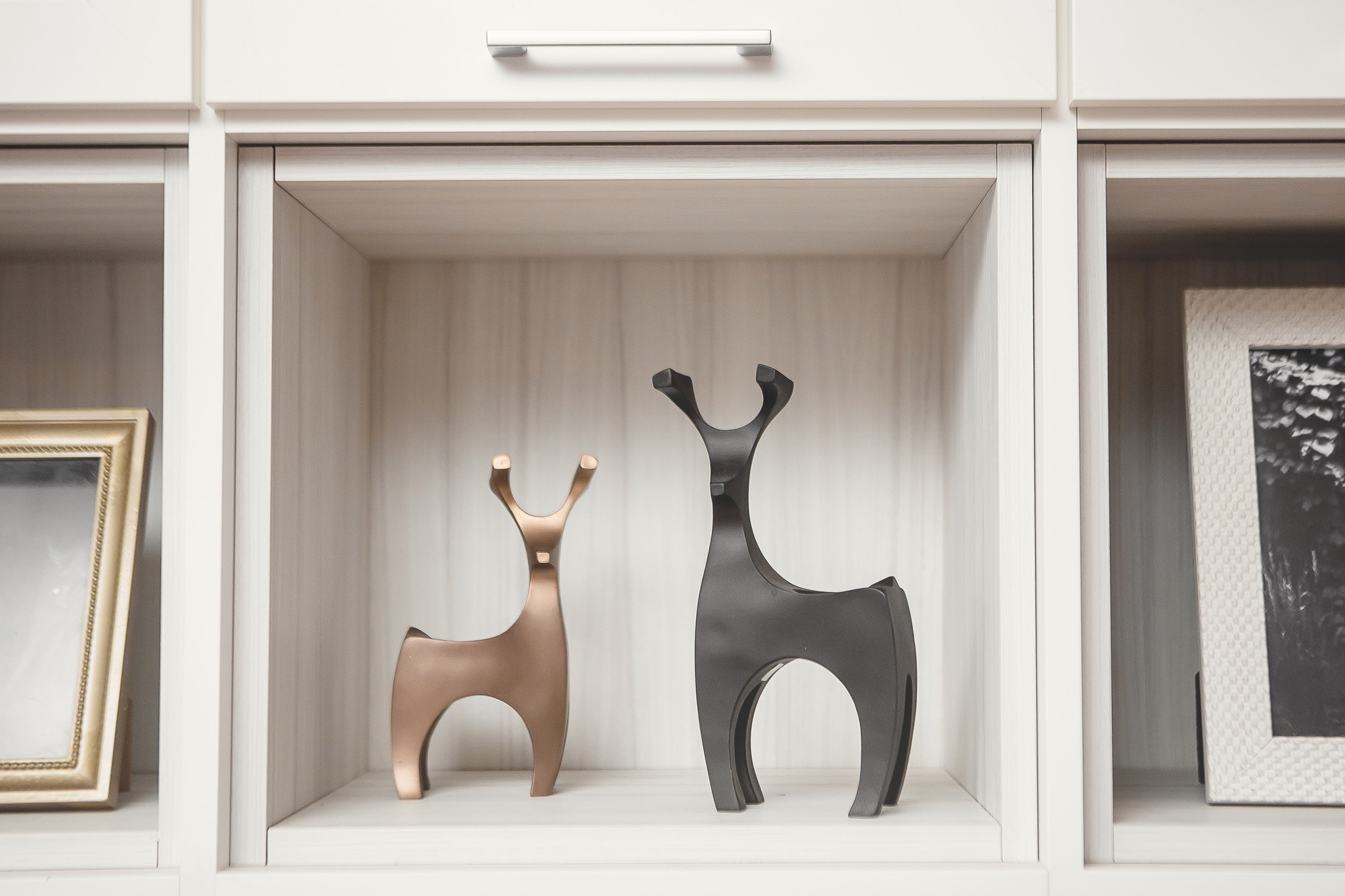 Pin this to your Christmas Traditions and Home For The Holidays boards and follow me on Pinterest here.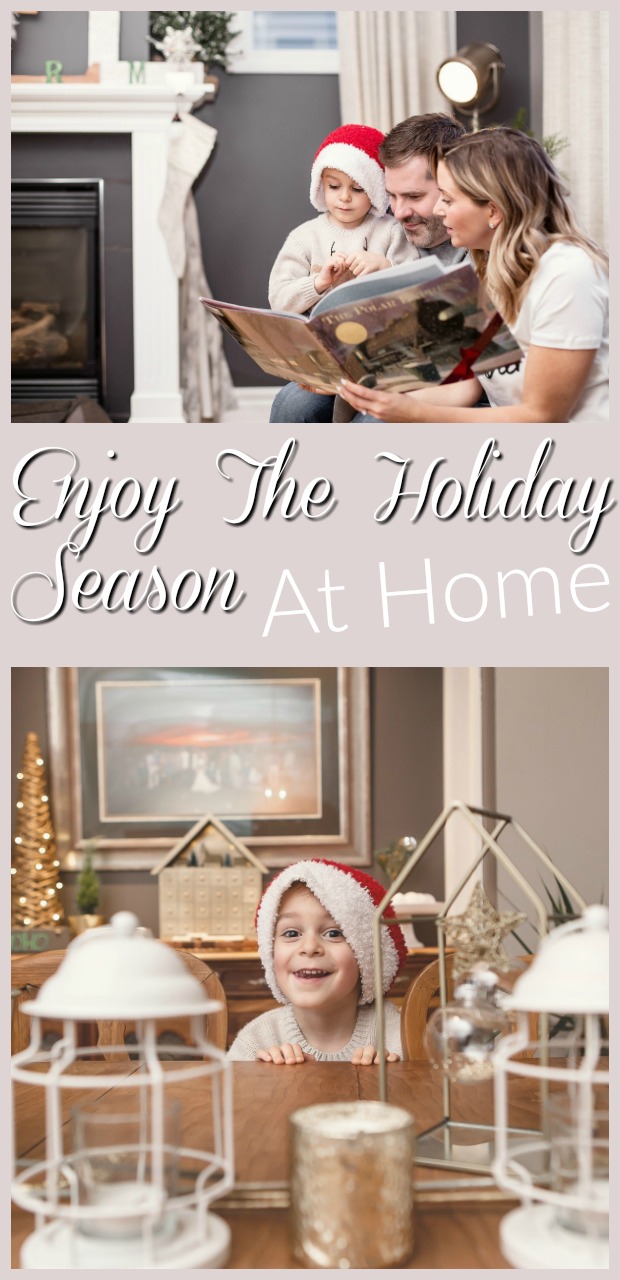 Other Posts You'll Love:
Inexpensive Christmas Tablescape
How To Pull Off The Modern Farmhouse Trend
xx