Your Father's Day feast is covered! Check out Freson Bros. awesome Father's Day BBQ Box, along with a few tips on how to best serve everything throughout the day. Plus, a tablescape idea for Dad's Day with some inexpensive ways to make it look great!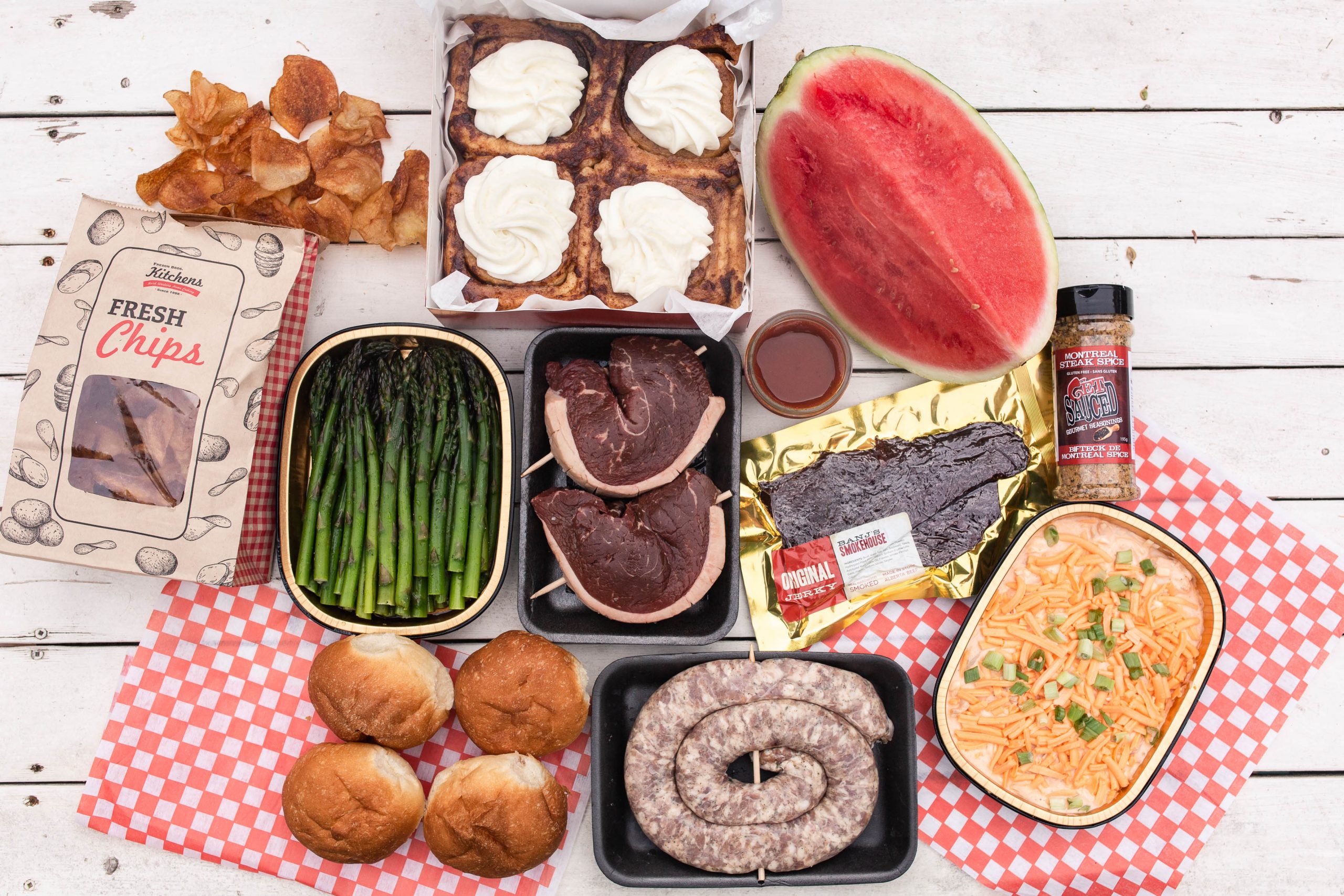 Father's Day is all about the feast! Wouldn't you agree? If your family is anything like ours, all celebrations centre around the food. There's nothing quite like putting on some great music, the sun is shining, the drinks are chillin', the BBQ is fired up, and you're all set to enjoy time with the ones you love!
Our friends at Freson Bros. are out with an amazing Father's Day BBQ Box that covers everything you'll need to celebrate Dad this year! In fact, this box is packed with delicious eats that take you through the whole day: from breakfast to afternoon appys, and then a scrumptious dinner!
Freson Bros. Father's Day BBQ Box
Everything comes in a catering box with a lid and handles on the side, making it super easy for transport. You'll find a sheet of cooking tips in the box as well. Here's what's included:
Two 8oz Coulotte steaks
400g Ivan's coil sausage
'Get Sauced' dry seasoning, Montreal Steak flavour
One package of beef jerky
Three oz barbecue sauce (in a small glass mason jar)
One bag of kettle chips
Buffalo Chicken Hot Dip
Four-pack of sourdough cinnamon buns
One lb of asparagus (seasoned with garlic/herb oil and salt and pepper)
Four sourdough dinner buns
1/4 watermelon, cut and wrapped
Feeds 4-6 people.
*Option to add on a six-pack of Bald Mike's Sourdough Bread Beer.
The boxes are $89, plus GST and are available at Freson Bros. locations in Edmonton, Fort Saskatchewan, and Stony Plain. The beer add-on $18, plus deposit and GST and available only at the Edmonton and Fort Saskatchewan stores. You'll be able to pick up your Father's Day Box between June 18-20. Order yours right here!
Of course, you can enjoy as you please, but below you'll find a few ways to unveil all of this beautiful food throughout the day.
Breakfast with Dad
To kick off the day you can pair those Freson Bros. famous sourdough cinnamon buns with some fresh coffee in Dad's favourite mug and a handmade card. These delicious buns are hand-rolled and scratch-made with 100% Alberta flour. SO good! Set it all on a nice tray and enjoy breakfast on the patio with Dad, or bring him breaky in bed.
Afternoon Appys
Fire up the BBQ and warm up that beautiful Ivan's coil sausage and Buffalo Chicken Hot Dip! Slice up the sausage and set up an appy station outside on the deck, paired with the kettle chips and beef jerky. Get into a game of bocce ball or just chill, chat, and enjoy the sunshine!
The Beer
You have the option to add on Bald Mike's Sourdough Bread Beer to your Father's Day BBQ Box (for an extra $18). Bald Mike's is brewed by Troubled Monk, exclusive to Freson Bros. It's a hoppy and light Belgian white and delicious Sourdough Kavass made with Freson Bros. sourdough bread. Perfect for an afternoon in the backyard!
If you've never been, take a tour through Freson Bros. Edmonton location, which just opened up this past March!
Dinner with Dad
Set up a nice table and start prepping the Coulotte steaks and asparagus. Season the steaks and be sure to let them rest at room temperature for 20 mins. These steaks are juicy and really flavourful – best slow roasted on the grill. Toss your pre-seasoned asparagus on the grill, slice your watermelon, and set out the sourdough buns. This may be the quickest supper prep ever! The whole meal can be ready in less than 10 minutes (or a bit longer depending on how dad likes his meat done).
Father's Day Tablescape Idea
In addition to the yummy food, you can make this dinner different from the rest and bust out a nice tablecloth for Dad! Use a natural woven table runner, wooden trays and, for an inexpensive option, flower pot liners for the layering technique. This will instantly elevate your setup!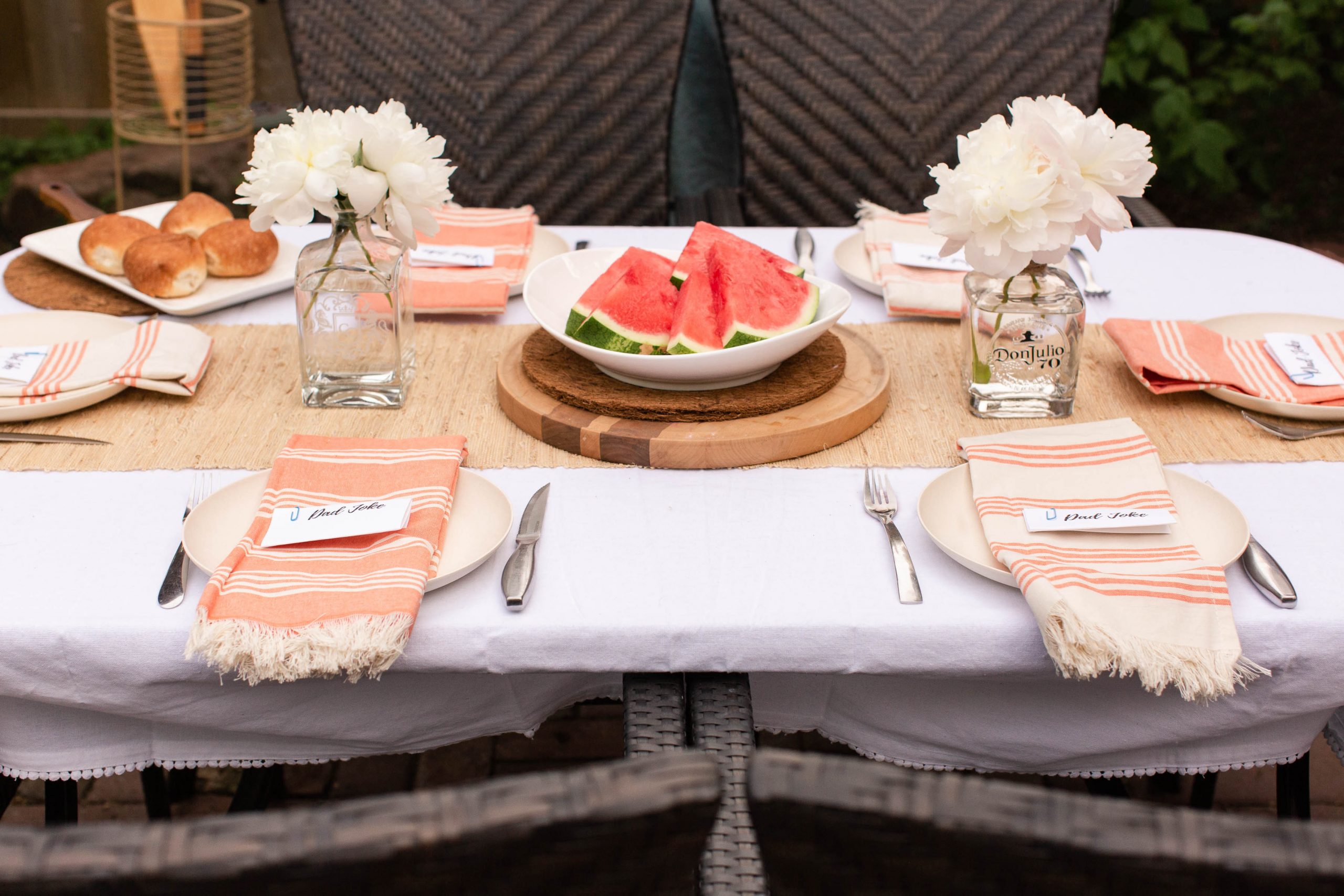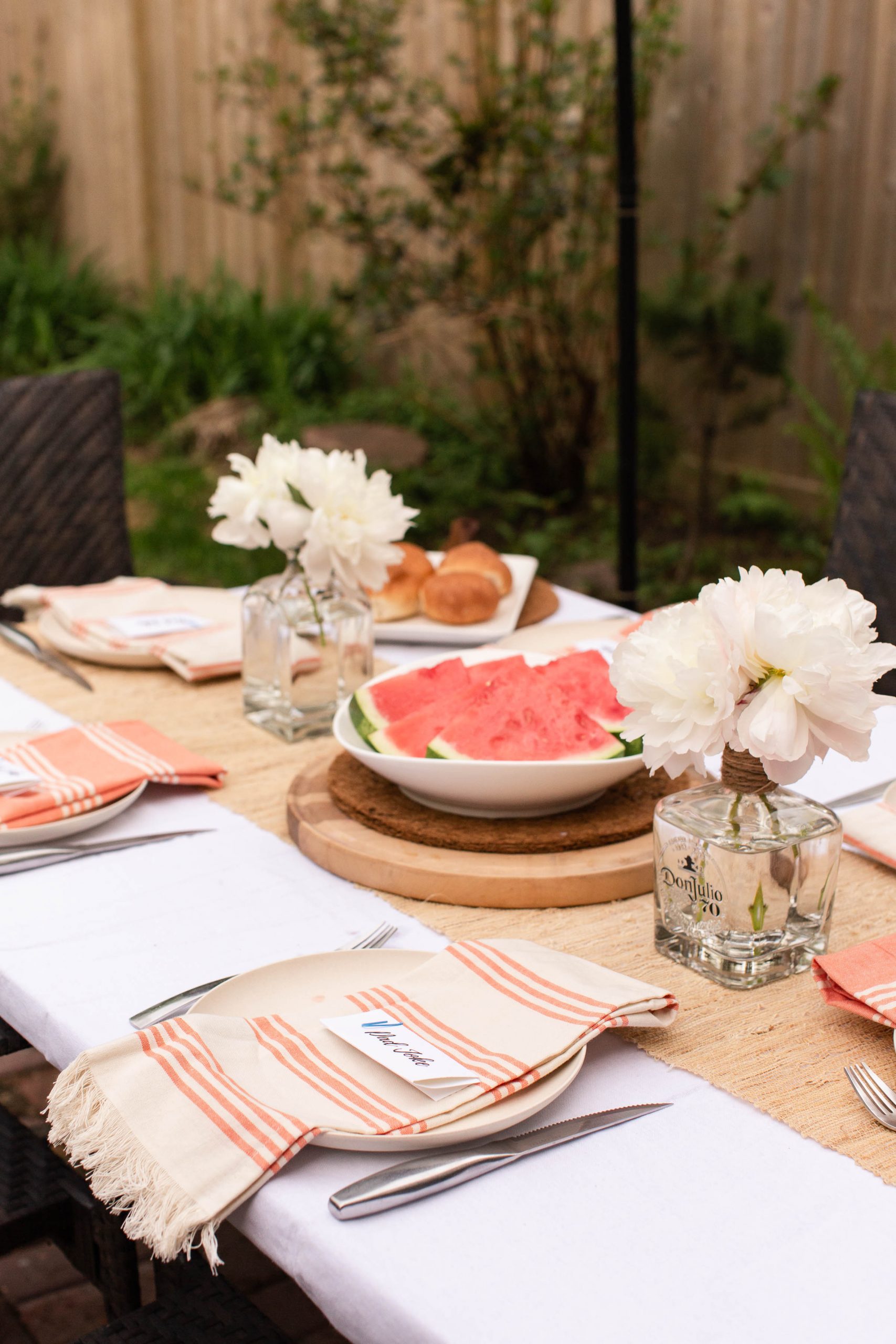 Bring some interest to the table by using empty scotch or tequila bottles as vases. String some lights through your patio umbrella and include a "Dad Joke" at each table setting. After dinner, each person can go around the table and read their joke!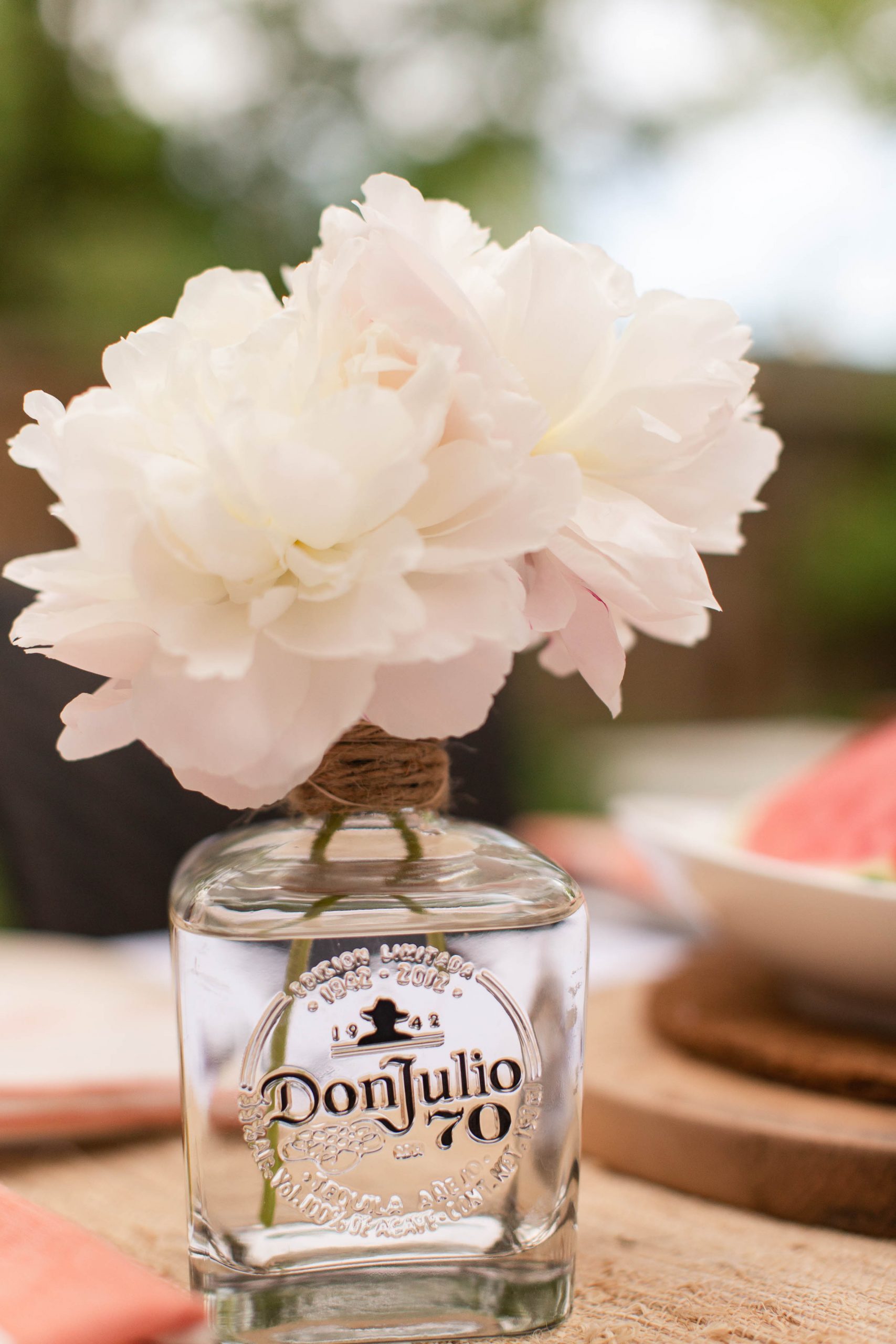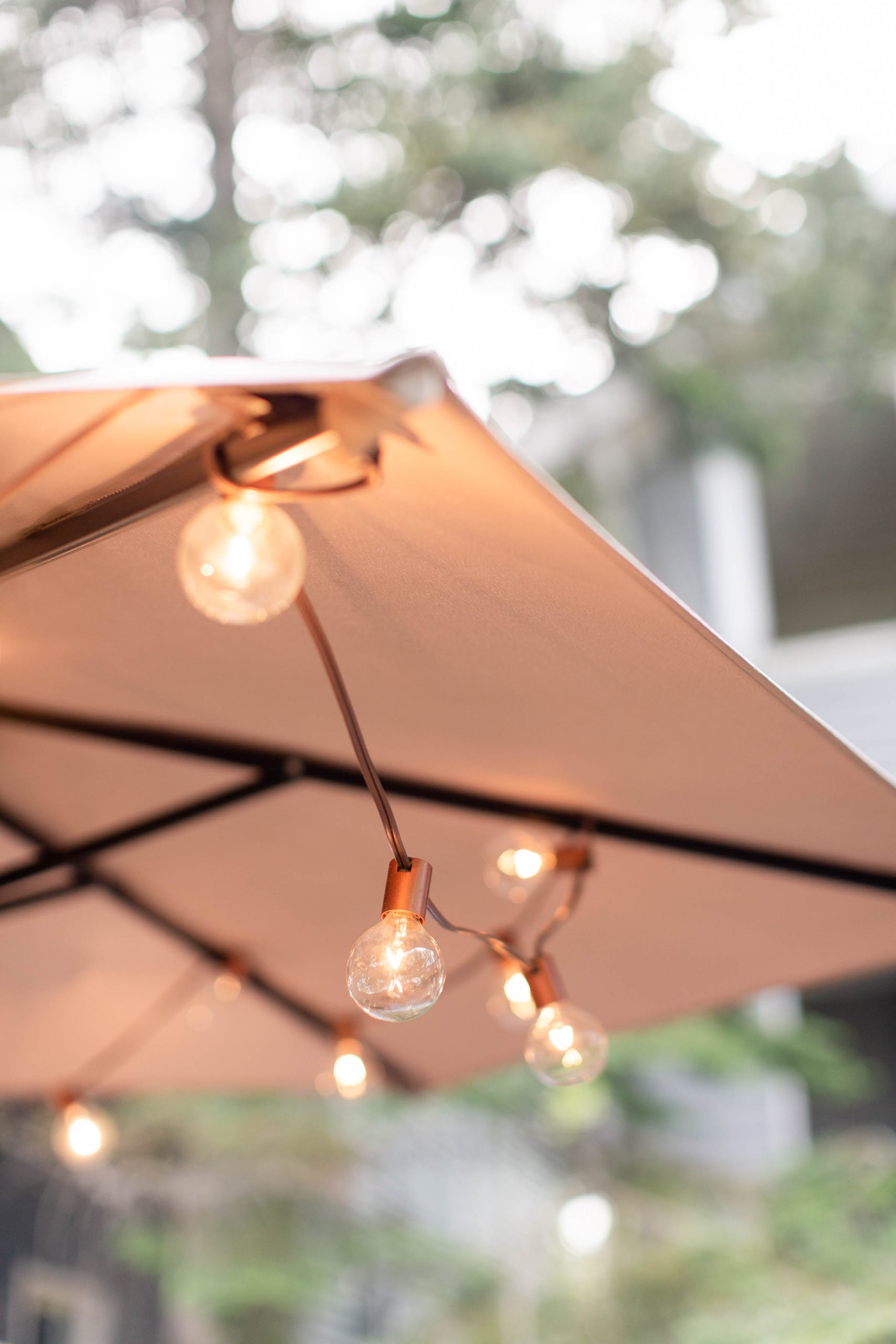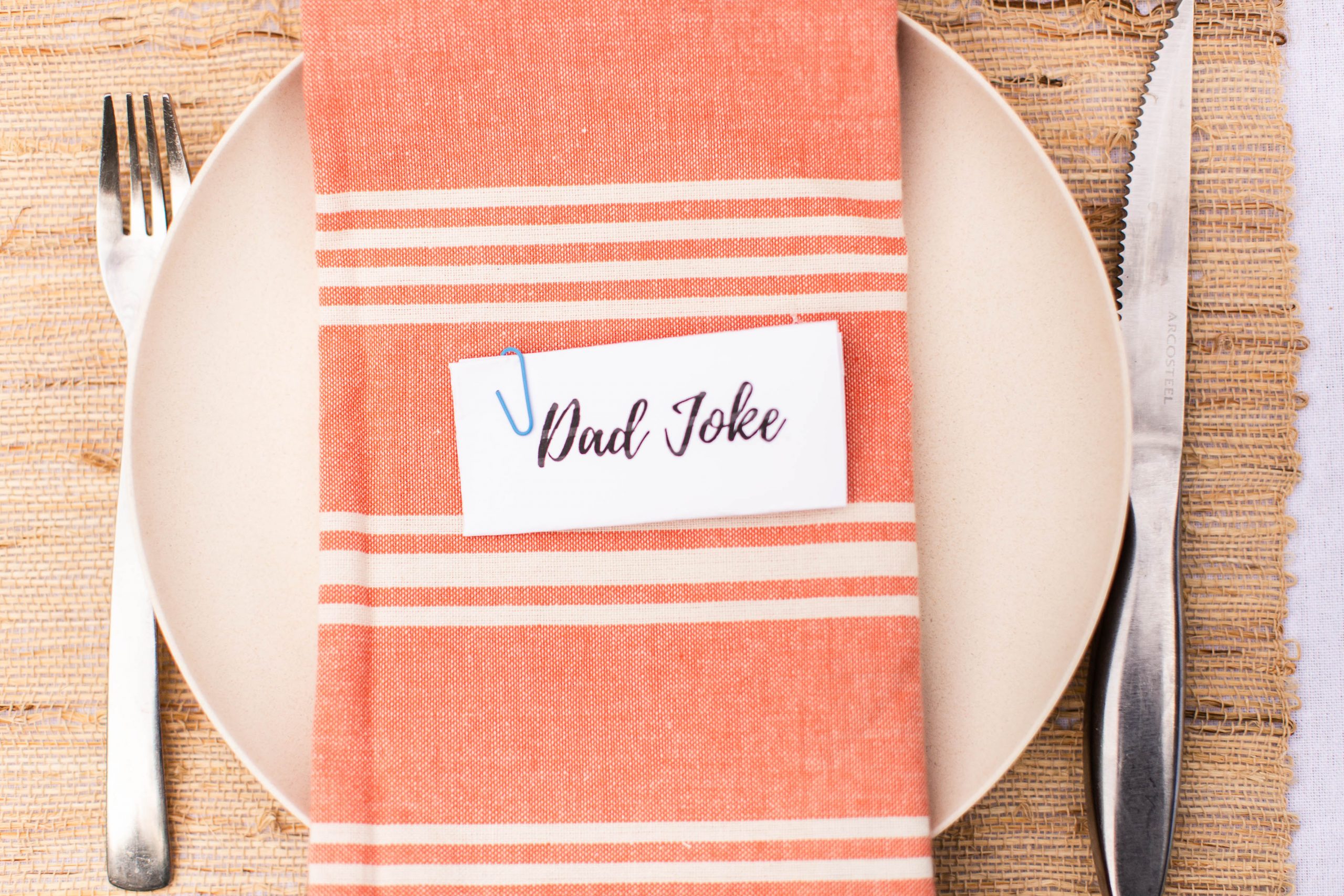 I hope you love these ideas! As always, you can share yours and ask any questions in the comment section below. Order your Freson Bros. Father's Day BBQ Box here!
From our family to yours – Happy Father's Day to all the dad's out there! We hope you have the best day!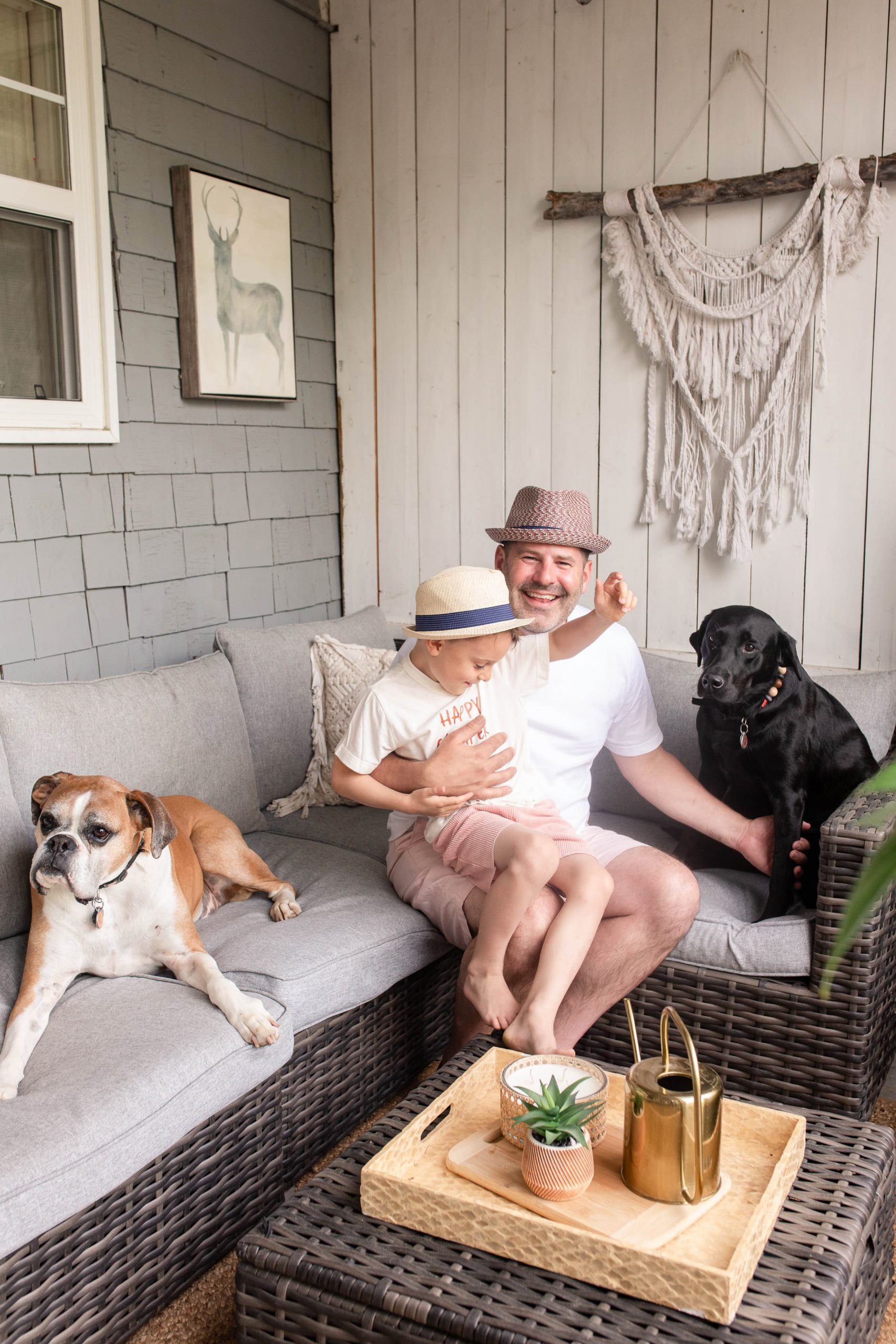 photos: Dallas Curow
Pin this to your Father's Day Meal and Father's Day Tablescape Ideas boards. Follow me on Pinterest here!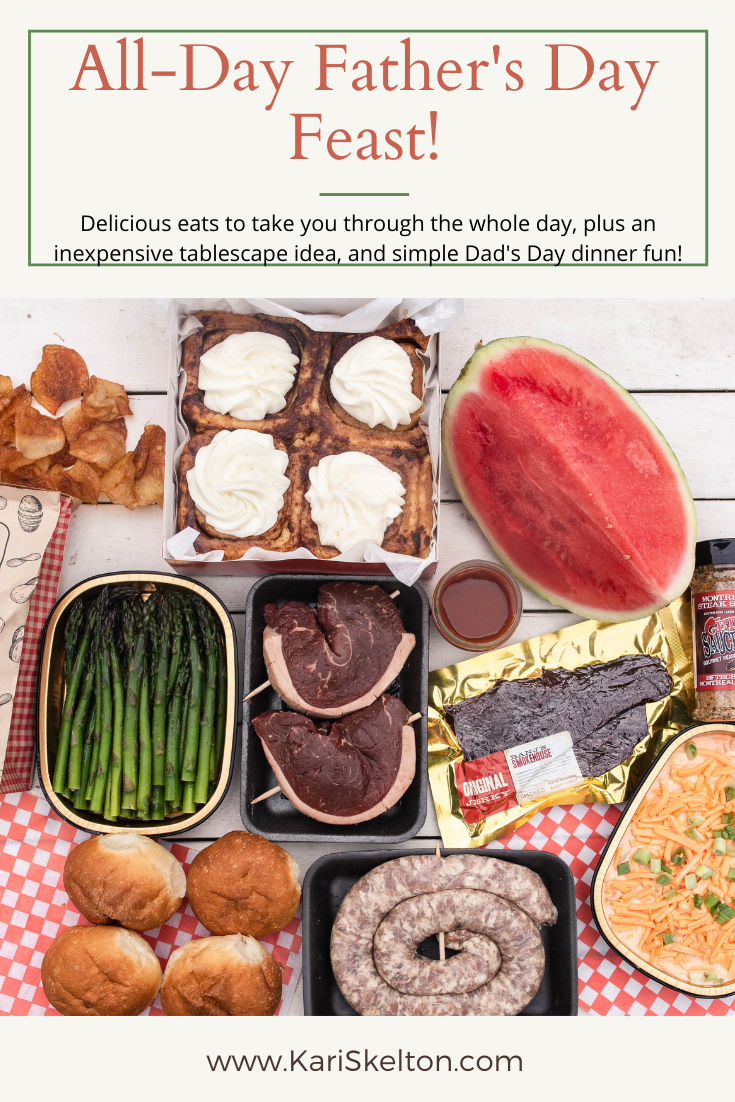 Other Posts You'll Love
Refreshing Grapefruit Paloma Cocktail
Dad's Famous Chicken Taco Salad Recipe
xx
This post was sponsored by our friends at Freson Bros. As always, thoughts and opinions are mine.