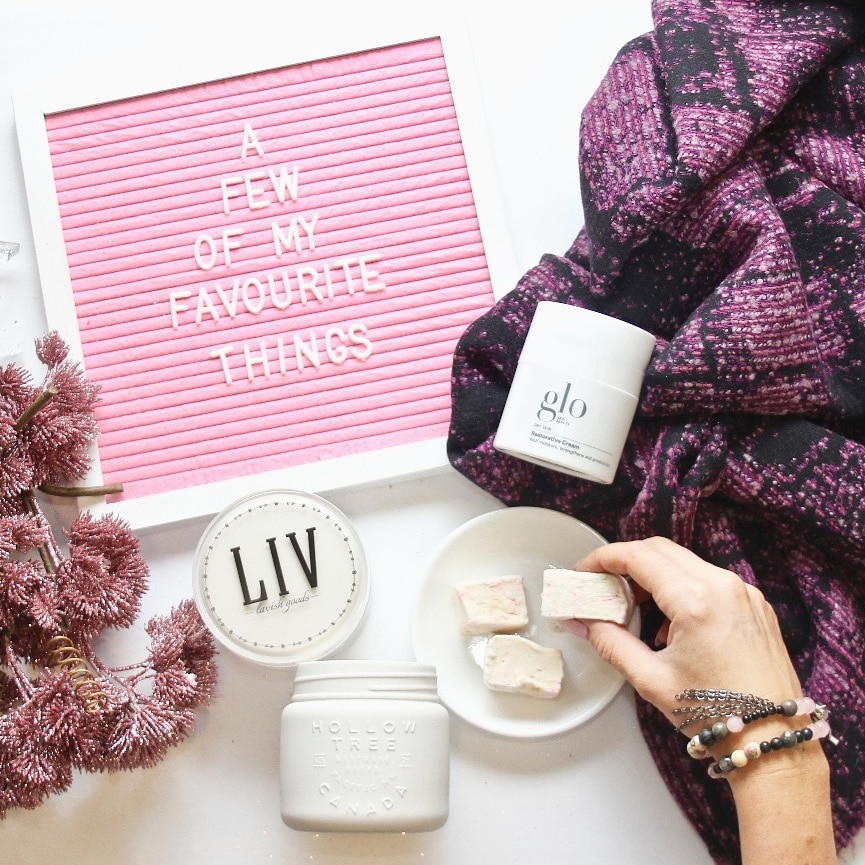 I get such joy out of discovering something really cool, useful, amazing, etc., and then passing it along to my circle (you)! I hope this goes without saying, but everything I feature on my blog, I truly and authentically love and hope you will too! Here's what I'm loving lately…
#1: Krista Norris Scarf. I picked this up during our recent trip to Ottawa. These are the scarves the Trudeaus gave Malia and Sasha Obama during a White House visit for a state dinner in 2016. High-quality material and a variety of prints.
#2: Glo Skin Beauty Restorative Cream. This smells like Gushers fruit snacks. So thick and yummy. Available in Edmonton at Lipstick Empire or online here.
#3: Liv Lavish Goods Peppermint Mocha Coffee Body Scrub. This Made in Canada product has a coconut oil base and a fabulous price! It works wonders on the little puckers on my thighs. 🙂
#4: 'Stoned Intention' Bracelet from Twig and Velvet. I discovered this company at The Beaumont Night Market and felt instantly connected. These are one-of-a-kind pieces (each is custom made). Browse more of their work here.
#5: Hollowtree 'Fireplace' candle. This premium coconut wax candle, made in Whistler, B.C, has easily become one of the best scents of the season. Buy here and find more options here.
#6: Gingerbread and Peppermint Gelatin-Free Marshmallow Treats from Milk and Cookies Bake Shop. Absolutely divine. Watch their Instagram feed to find out where in the Edmonton-area they'll be next. You can order some stuff online too!.
#7: Shop Words & CO. pink felt letterboard. I found this at Red Ribbon Boutique and just had to have one because…well, 💗 pink. These seem to be sold out almost everywhere, except here.
Let me know what you're loving lately!
xx