Tips for how to be an efficient work-from-home parent, why I transitioned careers, and a few working mamas you need to follow!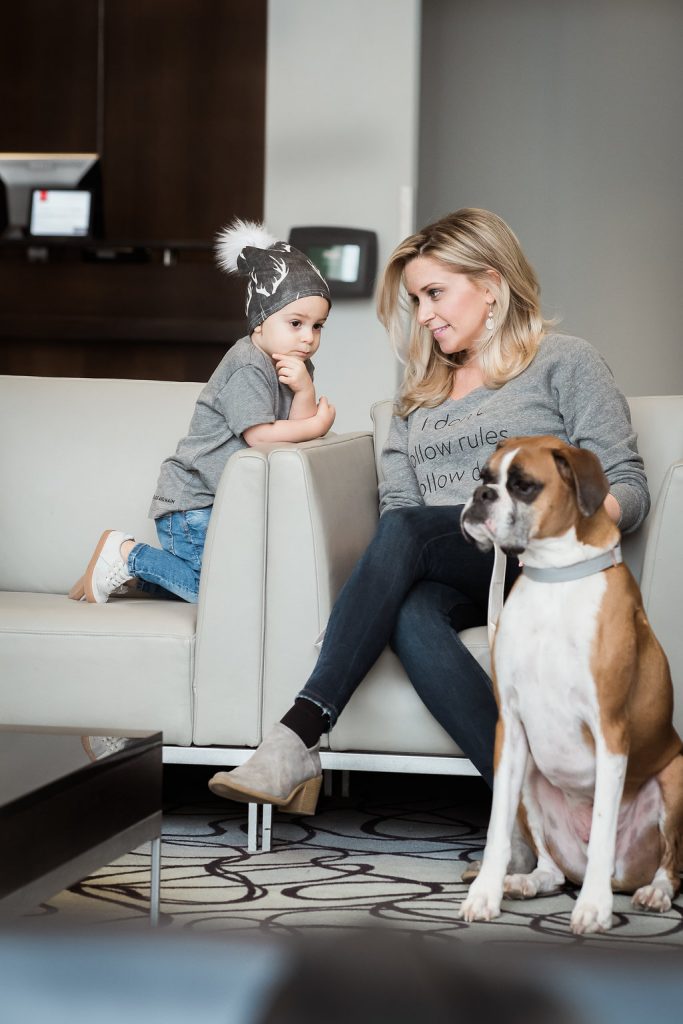 I thought I knew "busy". Then, we had a baby and I started a business. Now I really know busy! In a recent interview on That's So Maven! podcast (listen here), Host Andrea Beca asked me to describe my typical day. I blanked. Maybe because, like many of you, my day-to-day is rarely ever the same (isn't that a beautiful thing?). After giving it some thought, I wanted to give you a little insight into our daily life, and how I work to run a thriving business while being a stay-at-home mom.
On Me: Wild Tee | On Wyatt: Hoodie | Beanie | Shoes (different colour)
First, a bit of history on how I came to be a blogger and stylist. When our son Wyatt was just ten days old, I got a call from my boss at the radio station I was working at, telling me the show I had been part of for the past five years had been cancelled. My co-host was fired, but I was assured I would have a job to return to after my maternity leave. Amid my New Mom Fog, I was unexpectedly dealing with uncertainty in my career. The original plan was to take a six-month mat leave, but after hearing this news, I extended that to a year. I would later find out that my proposed new role at the station wasn't even close to comparable to my previous position. So, instead of returning to radio, I negotiated a buy-out. I had always known one day I would start a lifestyle blog but the question had always been when. This struck me as a perfect time. I could be at home with our son and start my own thing!
I spent six months researching and building my site with Mike Johnston of CMS Critic and The Kitchen Magpie, and officially launched KariSkelton.com in February 2017. In the meantime, thanks to a Snapchat tutorial I did on organizing Wyatt's closet, the styling side of my business began to grow. (I now work with personal shopping clients and style fashion shows.)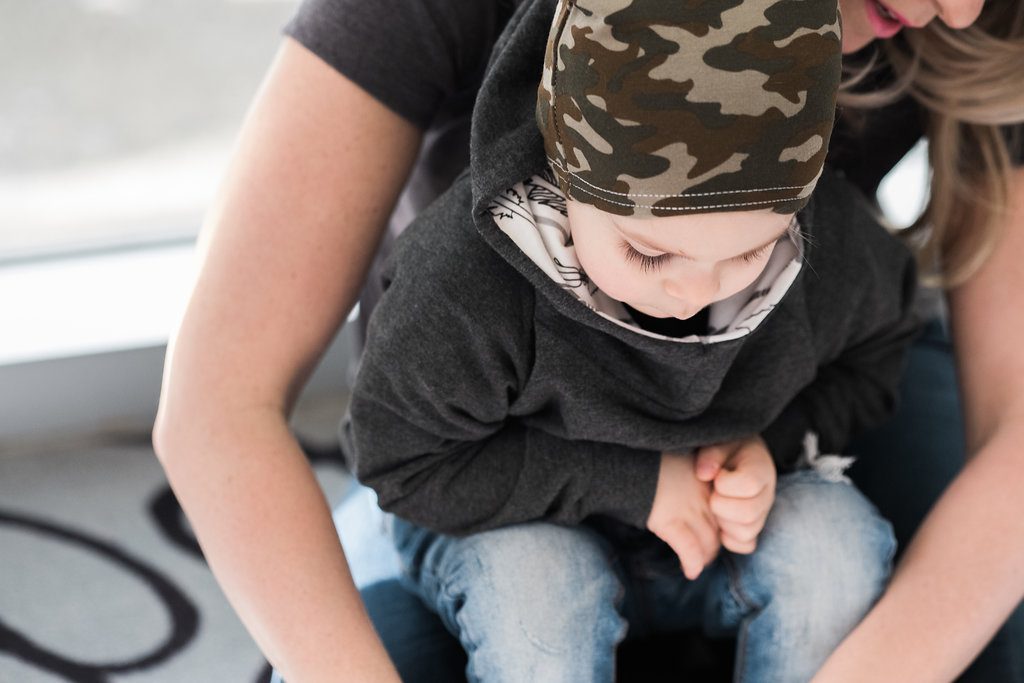 My work tasks consist of writing, editing, taking photos, pitching companies, coordinating on collaborations and projects, managing the business side of my blog, meeting with styling clients for closet edits and personal shops, styling fashion shows, emcee'ing events, and giving presentations on what I do. I don't have a personal assistant. I don't have an agent…but I do have a pretty kick-ass support system, and that is key.
I definitely don't have it figured out yet, but I've created a bit of a structure (and a few boundaries) that have allowed me to be as efficient as possible while still being present with our son. Please steal some of these ideas (below) if you need them!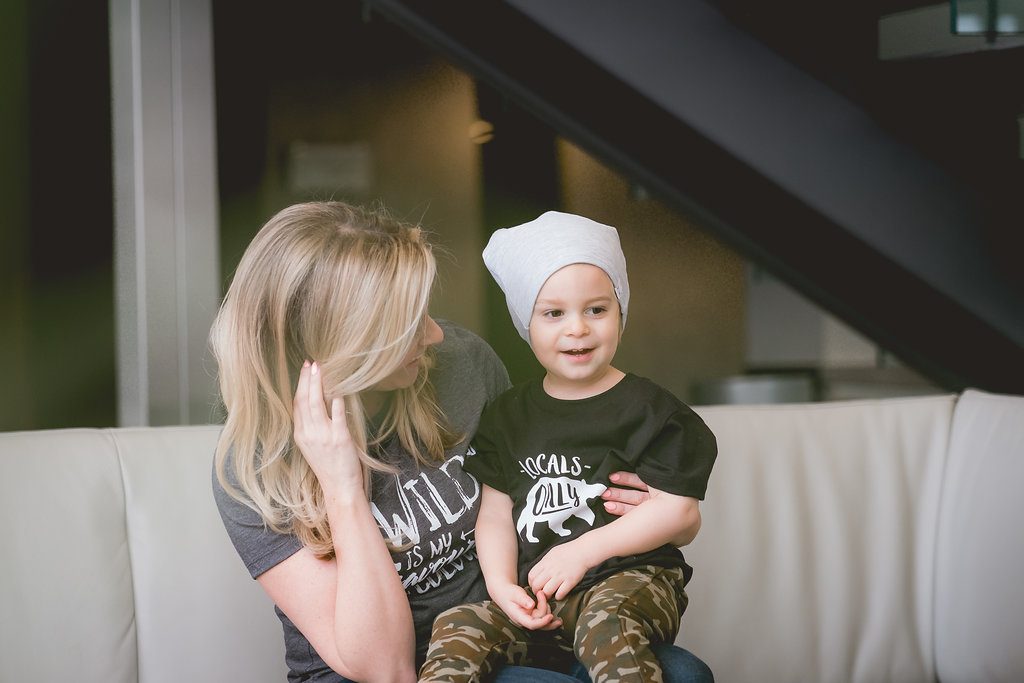 On Wyatt: Locals Tee | Camo Joggers | Grey Beanie
Scheduling:
I devote at least a few hours every week to managing schedules (yes, I also schedule my time to schedule my time #TypeA). For me, this is the number one thing that keeps the ship running smoothly (or at least not crashing into the shore). I'm not talking about penciling in a few things. I'm talking about reviewing the fine details of our week, month, and year. Everything from meetings and workouts to dog walks, buying birthday presents, and who's relieving who from parenting duty and when. Personal time, friend time, family time, time as a couple – it's all in the calendar. I even schedule downtime and free days where there's no schedule. I know this doesn't seem very romantic, but because my husband also has a very demanding career, we HAVE to do this.
Work in the Daytime:
I try to do my writing in the daytime when my brain is fresh. We have occasional care for two hours, twice a week, so this is when I write with no distractions. I also fit work in when Wyatt naps and when Ryan hangs with Wyatt after he's done work. When I first started my blog, my plan was to work in the evenings after we put him to bed, but by the time 7:45pm hits I'm pooped! (A combo of getting old and being a parent.) If there are no events on in the evening, I plan simple tasks like projects around the house, editing photos, or relaxing and watching TV.
Get Picky With Projects & People:
I only choose partnerships I totally love. There's only so much time, so I carefully curate the work I take, and the companies I team up with. Have the same high standards for your relationships. Spend time with those you truly enjoy being around. Our hours are precious!

Work Errands Are Adventures:
If there's a day I need to run around picking up product for photo shoots, or anything work-related, I try to turn it into an adventure for Wyatt. I build up the excitement and make sure we're having fun and talking about all the things we see while we're out. The task may take me a bit longer but at least he's getting something out of it too, instead of just sitting in cart waiting for me to be done.
Time Savers:
Look for little ways to simplify and save time. If you're spending six hours a week cleaning your house, consider hiring a cleaner to free up that time to work or spend time with family. I try to make sure all of our tasks, errands, classes, etc are in the morning to avoid rush-hour traffic in the afternoon. It may seem silly but it saves us 45 minutes to an hour a day! If I have a spare minute in the evening, I will write out text messages and email responses and send them in the morning.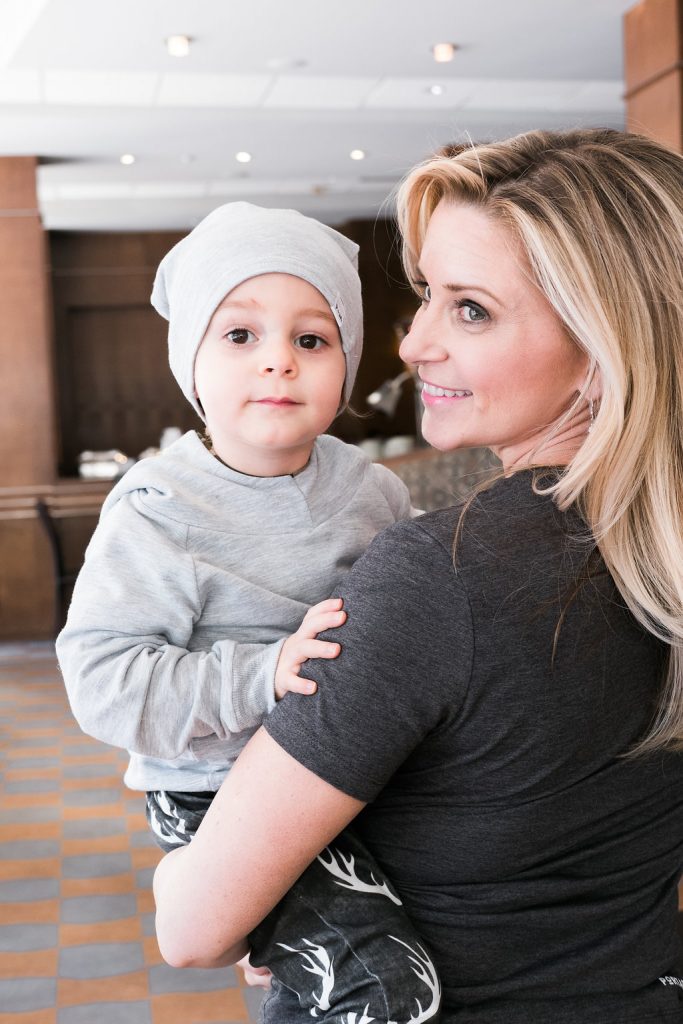 On Wyatt: Grey & Camo Hoodie | Antlers Harems | Grey Beanie
Take Breaks & Focus
Schedule days off. When you're an entrepreneur, it's easy to work all the time but you have to shut it off. I make sure we have highlights in our calendar that force me to stop working. To be honest, I struggle with this. I'm still learning how to manage my time in this role. A tip I snagged from Instagram recently: Set an alarm for one hour and for that hour there's no checking your phone or opening your computer. This allows me to focus on the task at hand. Doing the dishes takes way longer than it should when you're stopping to scroll through your phone every five minutes. Focus.
Morning Fitness:
Wake up and workout! (Just me. The boys still sleep.) Now, before you roll your eyes at my chipper "up and at 'er" attitude, know that I don't do this every day, but I try to three times a week. For me, feeling healthy and strong affects all aspects of my life. I feel like I'm happier, and therefore a better mom, partner, friend, and businesswoman. I have more energy to handle everything. I love getting in that workout before the day truly starts. By 7:00 am, I feel already ahead of my game. I'm exercised, I've consumed a litre of water (yay!), and I've listened to the news on my way to the gym, so I have a basic grasp on what's happening in our world. I get myself ready and get our bags packed for the day (if we're headed somewhere), or I sit and have a moment to myself with my coffee and tend to my social media or emails. (Also: sometimes I say forget it and stay in bed.)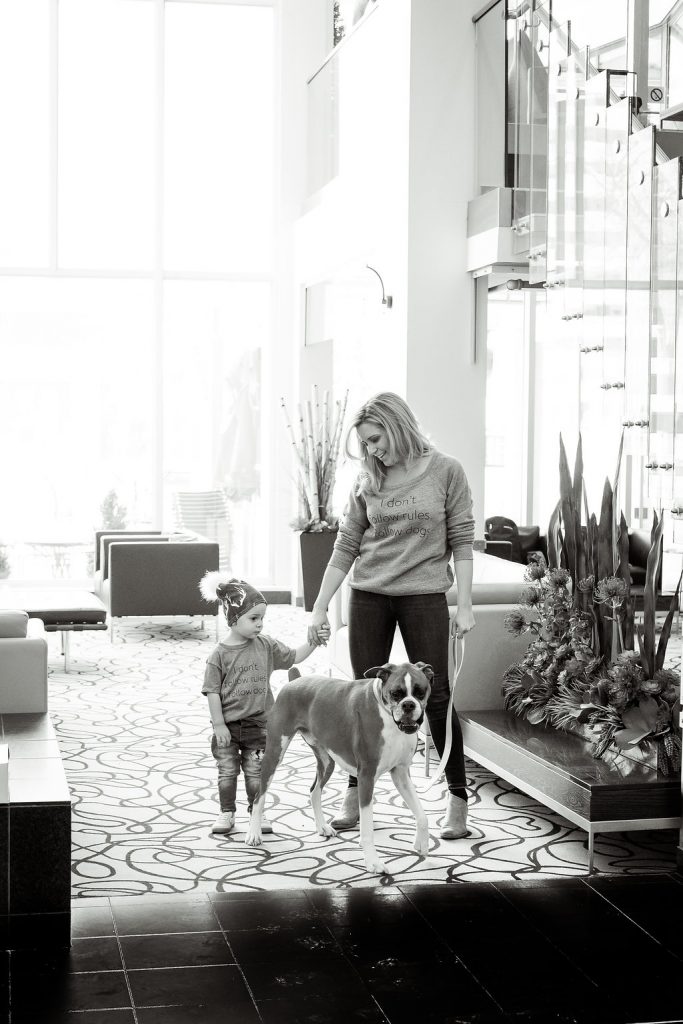 On Me: Dogs Sweatshirt On Wyatt: Dogs Tee | Antler Beanie (similar)
All Photos: Lorraine Marie for Yeg Inspired Magazine
I hope you can take away something from this that will make your business and/or your life easier and more enjoyable! I would love to hear any tips you may have! Comment below and watch the thread for tips from other work-from-home parents! Also, be sure to pop in to my Facebook, Instagram, and Twitter for more fashion and parenting-related conversations.
Here are a few other working mamas I love to follow: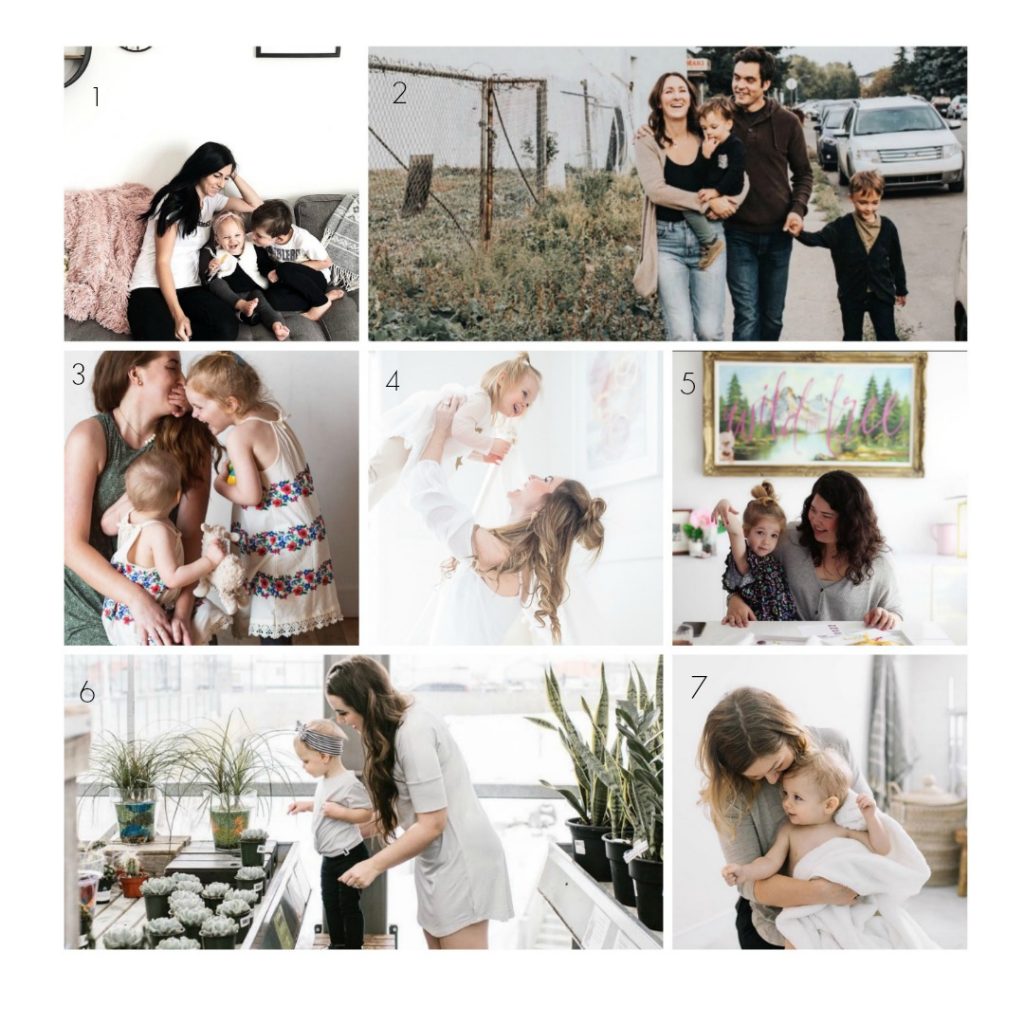 Lauren Hahn | 2. The Momoirs | 3. Honey & Betts | 4. Chandeliers & Champagne | 5. Justine Ma | 6. Northern Style Exposure | 7. Inspired By Lynne
Don't forget to 'Pin' this for later!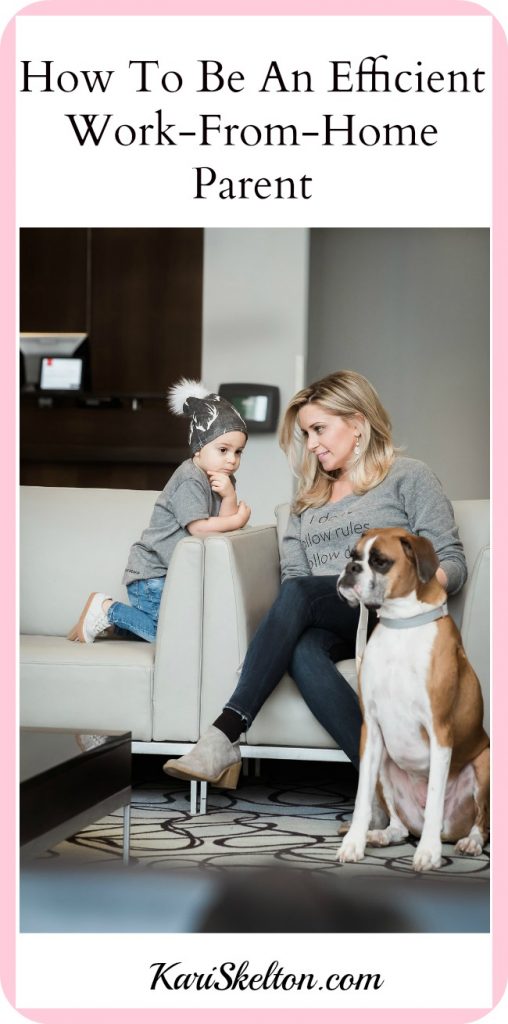 Other posts you'll love:
xx