These holiday gift boxes from Freson Bros. are perfect for porch drop-offs, corporate clients, or your kids' teacher! 
Holiday Gift Boxes From Freson Bros.
Maybe you have a long client list you need gifts for, perhaps you're looking for something special for your kids' teacher, or maybe you're needing to send a gift from far away. Freson Bros. Holiday Gift Boxes are a thoughtful way to gift while taking the stress off you!
In addition to being an impressive place to do your grocery shopping, one of the things that initially blew us away about shopping at Freson Bros. was the selection of beautiful gifts. From cocktail supplies and gourmet bakeware, to an extensive selection (an entire aisle!!) of charcuterie supplies and gourmet salts. They have luxury bath items, candles, unique toys for kids, and the list goes on.
Let's get into how you go about ordering your gift boxes and I want to show you two boxes I personally styled that you can re-create.
How It Works
There are a couple of ways to order your box.
Option #1: Head into your nearest Freson Bros. and select your items. Drop your items at the Gift Station and a Freson Bros. Stylist will arrange everything for you. You can take the box with you or arrange a drop-off.
Option #2: Choose from one of Freson Bros. pre-designed boxes (further down in this post). Order in-store or call in to and arrange delivery.
It's always fun to come up with your own ideas and tailor your box to the person you're buying for. Here are two boxes I styled with everything from Freson Bros. Edmonton!
Christmas Baking Box
Everything they'll need for holiday baking season, including an amazing cookbook by local author and blogger, Karlynn Johnston of The Kitchen Magpie. 
Flapper Pie and a Blue Prairie Sky cookbook
Gingerbread rolling pin
Gingerbread cookie cutter
Festive tea towels
Holiday apron
Mason Cash red mixing bowl
Christmas lollipop
Cocktail Lovers Box
Some fun new tools for whipping up the best cocktails this holiday season! Plus, a few gourmet treats to enjoy.
Glass ornament shaped drink glasses
Batch Cocktails recipe book
Candy cane chocolate
Spiced Apple Bitters
Hot Toddy Kit
Cocktail Shaker Set
Tin of shortbread
Freson Bros. Styled Gift Boxes
Of course, you can pick a gift box that's already been arranged for you! Freson Bros. has several pre-designed options.
Alberta Favourites: a selection of in-season, Alberta-made products
Savoury: Italian favourites
Gathering: Charcuterie meats, cheeses, spreads, and supplies
Orchard Harvest: A selection of in-season fruits and wrapped candy
Sweet: Speciality candy and snacks
Breaktime: Coffee, teas, cookies, spreads, and snacks
Freson Bros. Favourites: In-Season Freson Bros. faves
Orchard Harvest Plus: Seasonal fruit, cheese, sausage, and wrapped candy
Go here to make your selections
*selection may vary due to availability and location.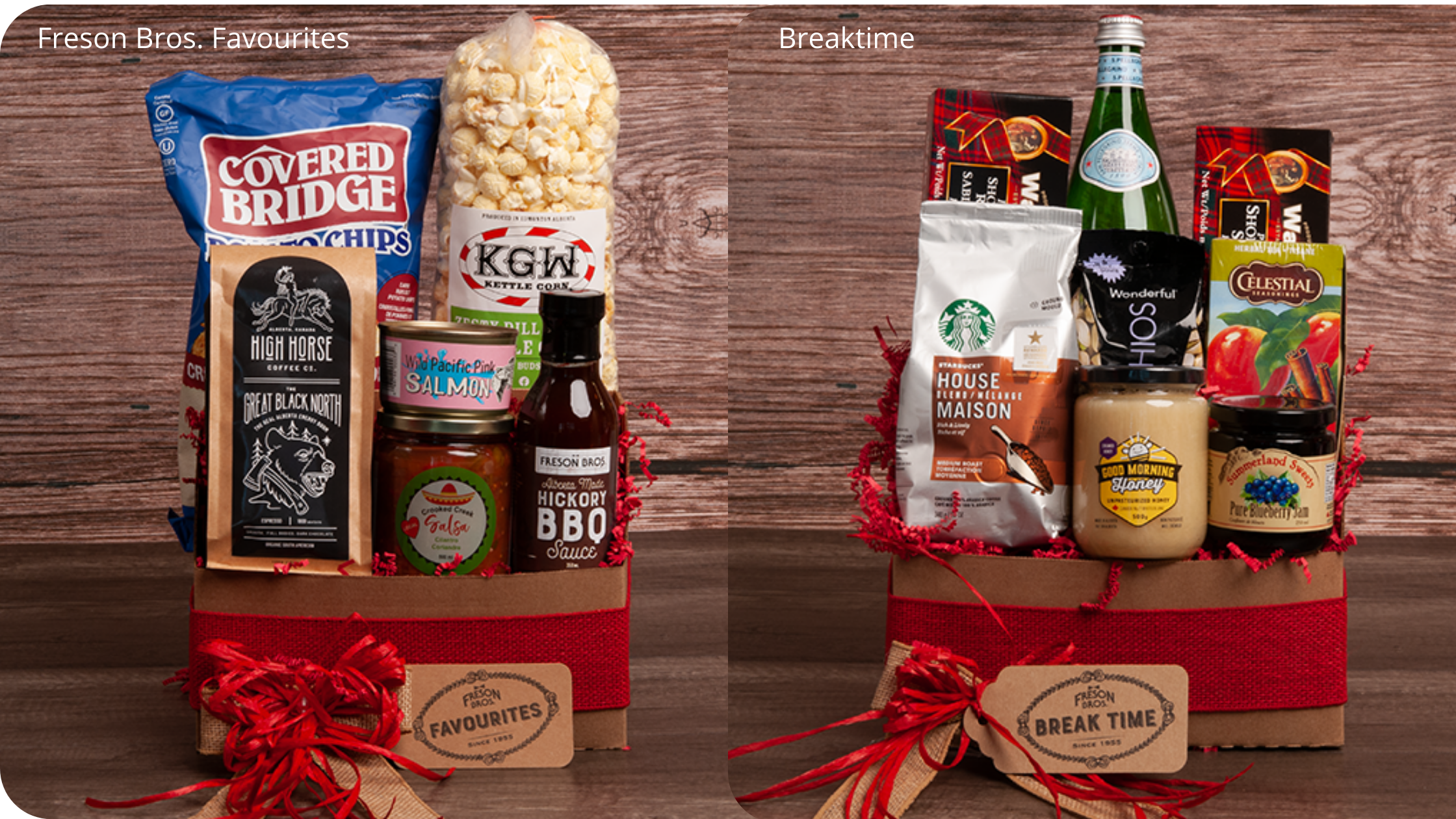 Pin this to your Teachers Gifts and Gift Box boards and follow me on Pinterest here!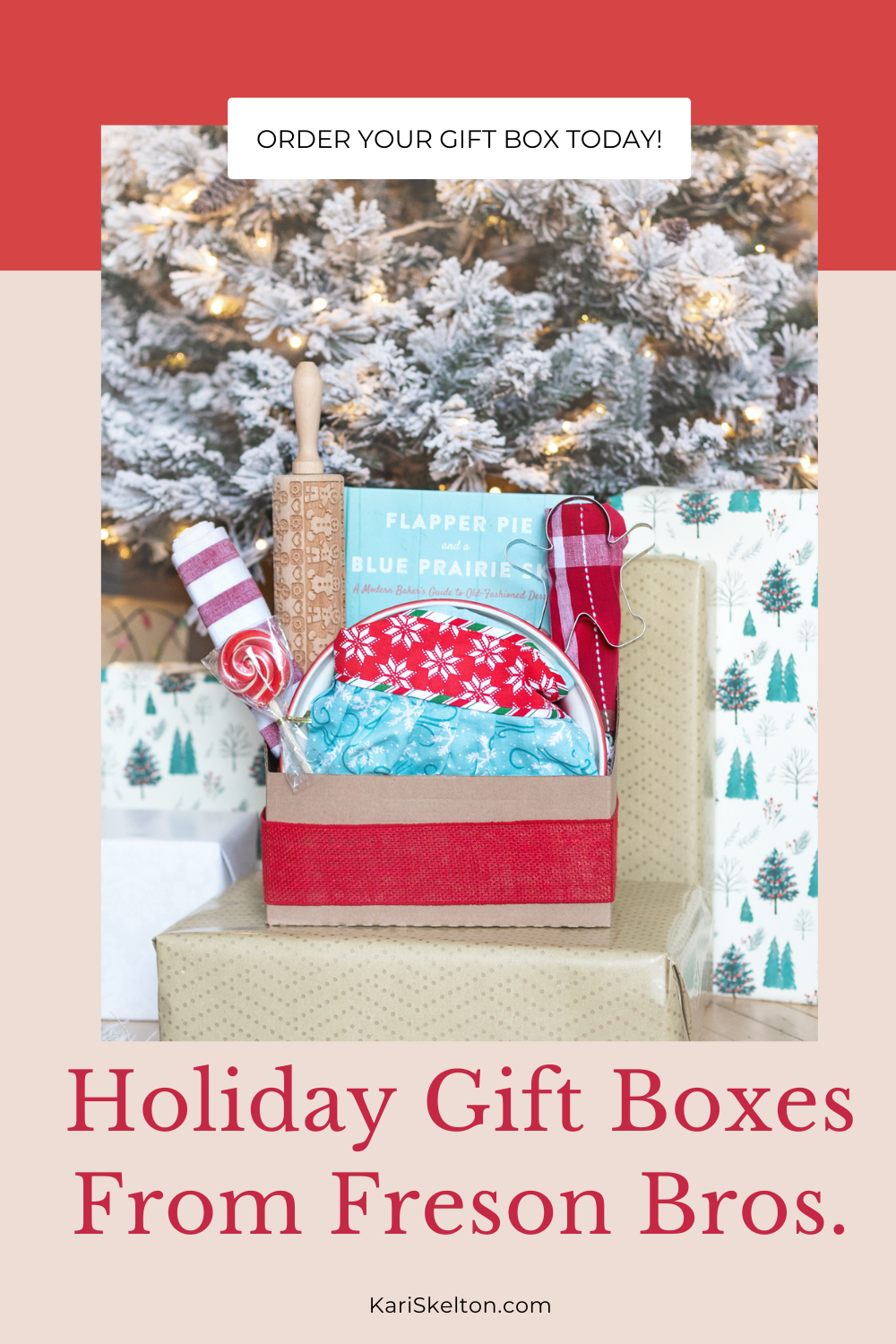 This post is sponsored by our friends at Freson Bros. As always, thoughts and opinions are my own.
Other Posts You'll Love
Meet Charlie: Freson Bros. Famous Sourdough Starter
Coconut Christmas Orange Smoothie
xx