You can still look professional and be incredibly cozy at the same time. Here are a few tips on how to be comfy in business wear.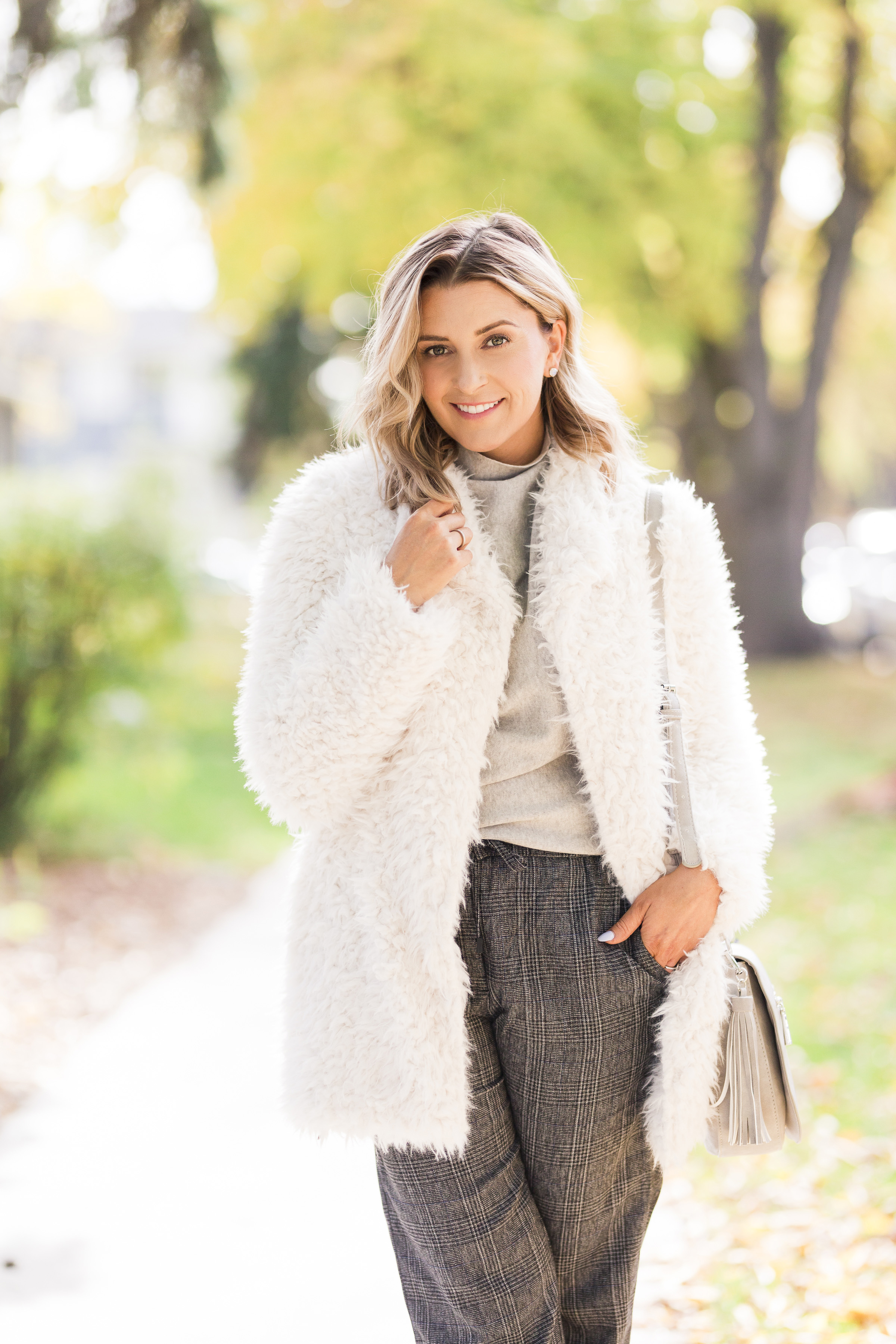 These days, I just want to be cozy and warm. Can you relate? As I get older, this is definitely top of mind when I put outfits together. Basically, when I'm not in pyjamas I want to feel like I'm still in pyjamas! 🙂
However, just because I'm going for comfort, it doesn't mean I'm out in public looking dishevelled (unless you run into me while I'm walking the dogs)!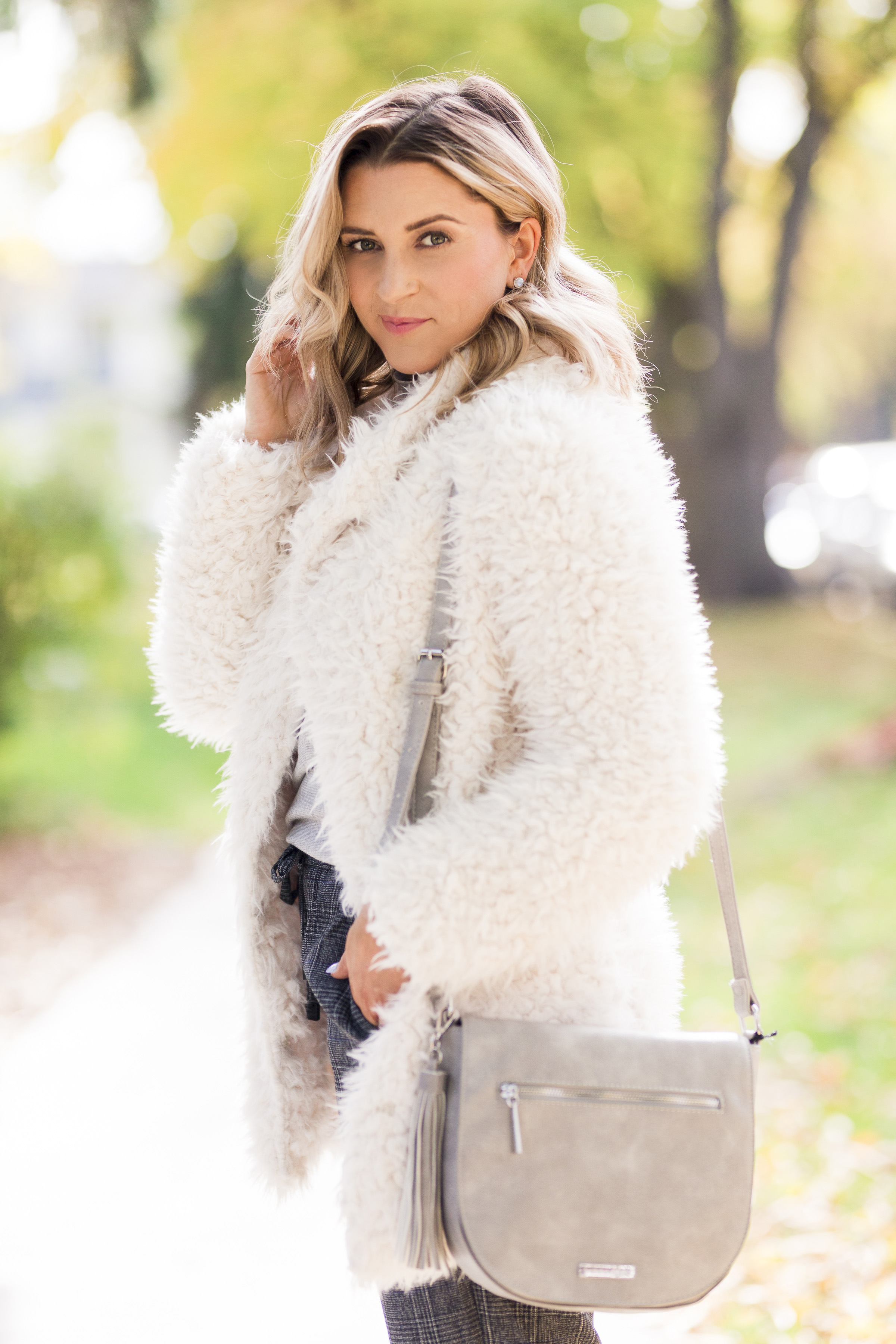 How To Be Comfy In Business Wear
1: Opt for softer fabrics. These incredible plaid pants are so comfortable but still completely professional. With a blend of polyester, viscose and a bit of spandex, they're very breathable with just the right amount of stretch for moving around in comfort. The tie-front drawstring waistband is great if (like me) your weight fluctuates from time to time. So, if you go for it during the work lunch potluck, you'll still feel totally comfy without having to undo the top button with hopes no one notices.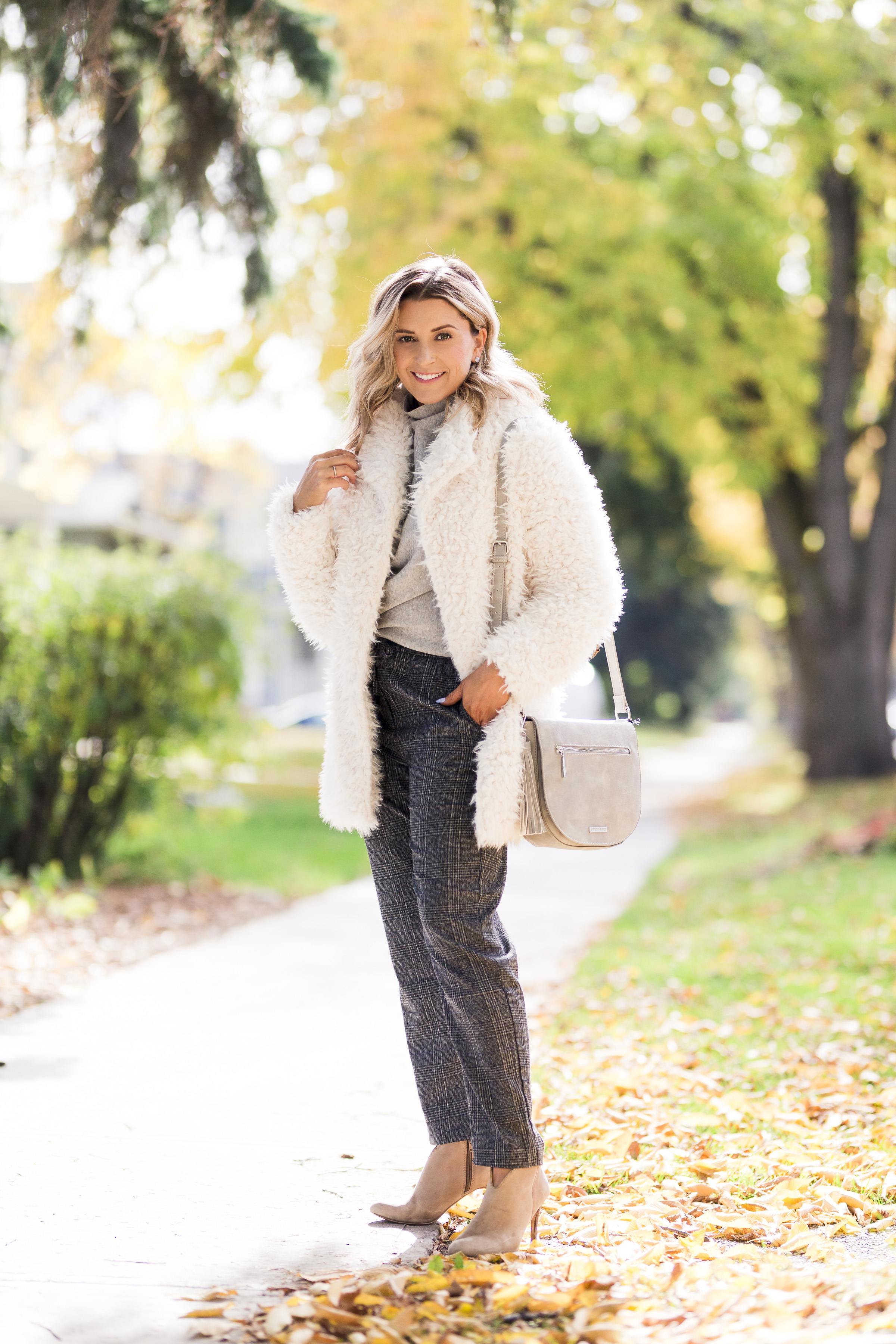 2: Go for oversized but not too "oversized". This amazing full neck balloon sleeve top is part blouse, part sweater, and slightly roomy so you don't feel at all constricted. A quick side-tuck into those plaid pants and you're set! This one sold out fast but you can shop one very similar right here. 
3: When it comes to outerwear, you don't have to buy structured to look professional. This White Crow Cruz Jacket is pretty much a blanket with sleeves. It's on-trend, completely work appropriate and most importantly deliciously soft!
Shop White Jacket | Vegan Leather Crossbody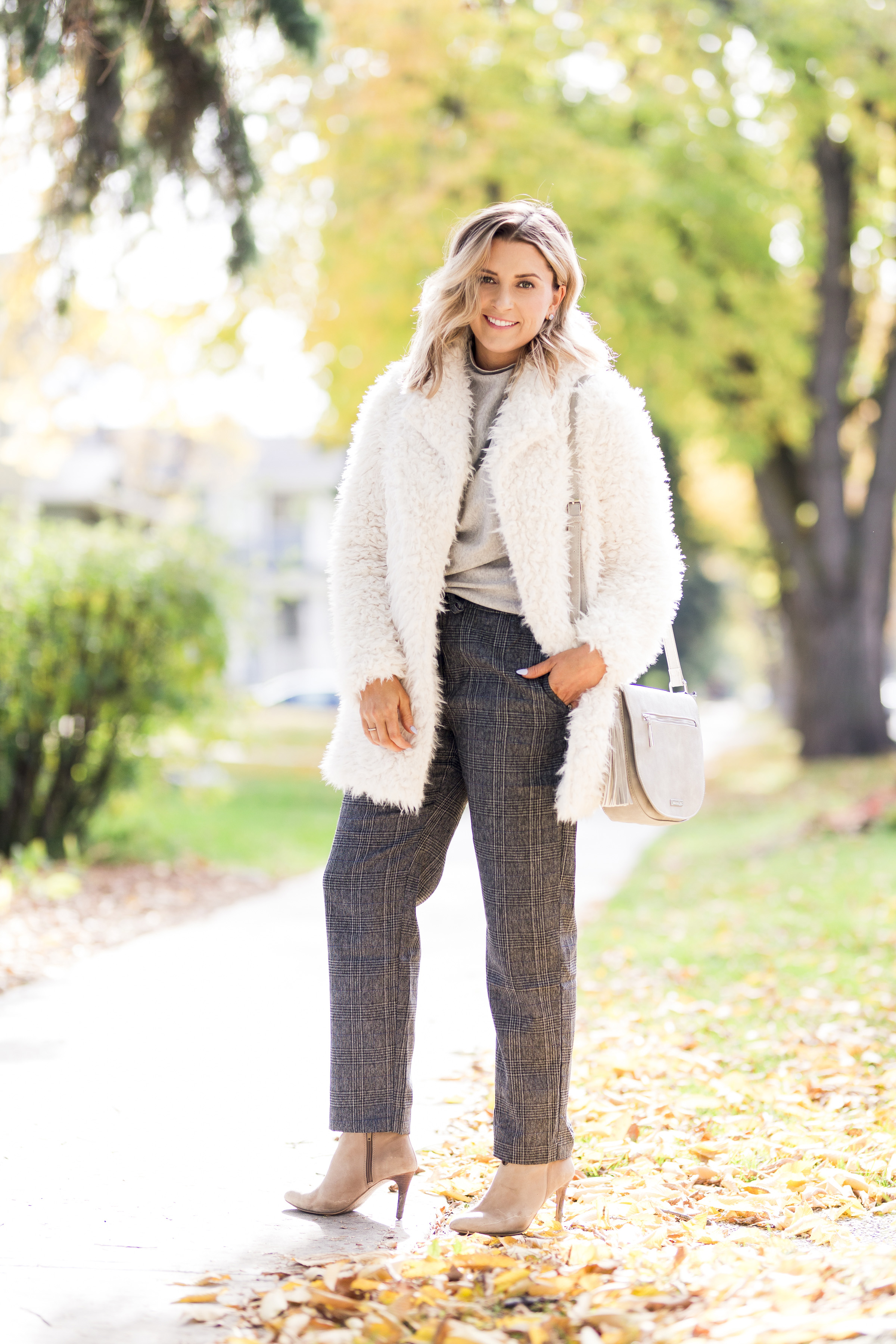 A Few More Tips
Aim for outfits that are quick and easy to put on. Forget finicky buttons and snaps that will dig in or take forever to do up. Find pieces that you can throw on and take off easily.
When in doubt, do leggings. These are my absolute favourite faux leather leggings because they're high-waisted and the fabric is gorgeous. Pair them with an oversized sweater and feminine jewelry.
Go for block heels (or thicker ones). I'm all about these nude ones and these black ones are stunning. Block heels provide more support for your foot and distributes weight more evenly while you're standing.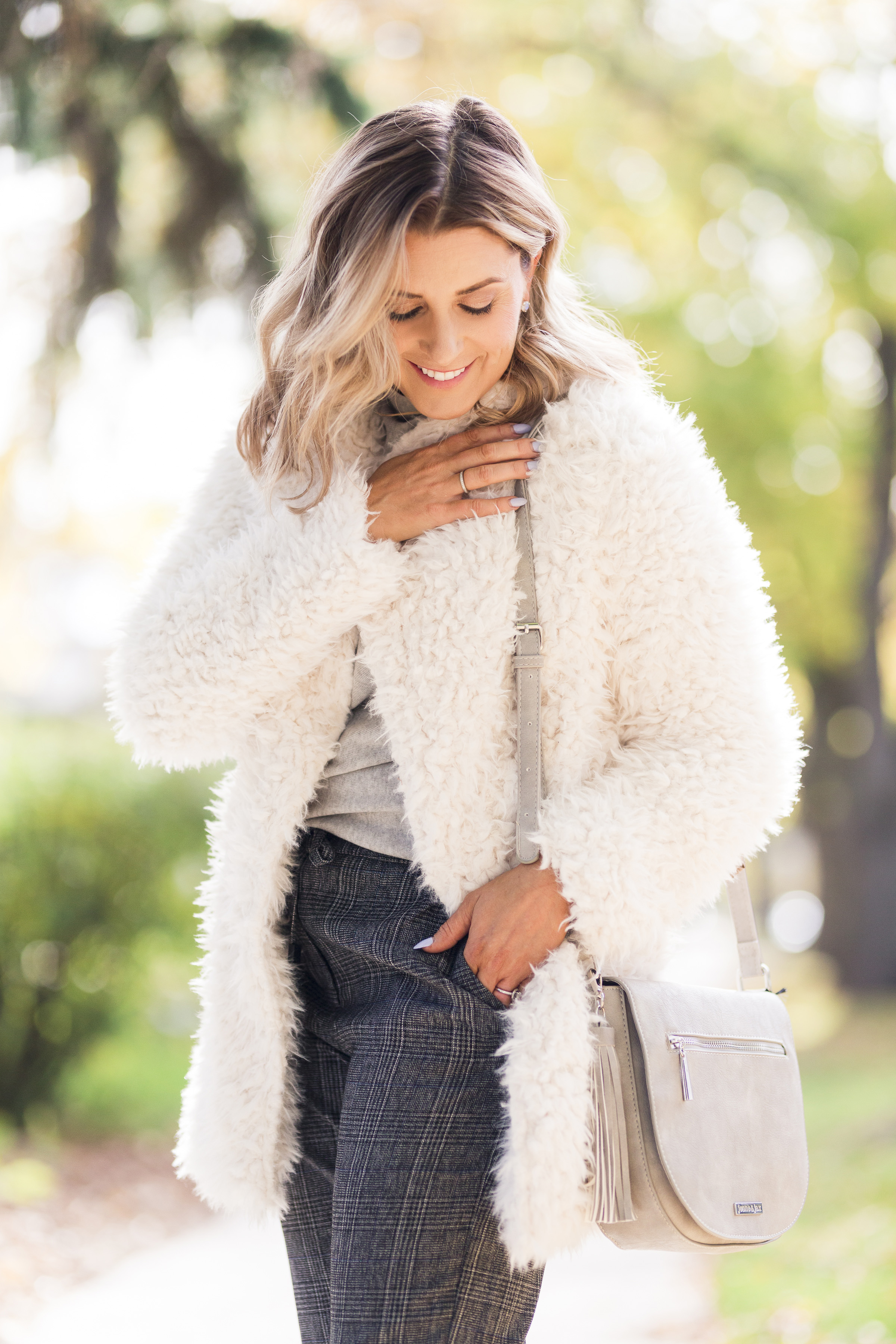 Photos: Dallas Curow Photography
Don't forget to Pin this to your Winter 2019 Style and Comfy Business Attire boards! Follow me on Pinterest here.

Other Posts You'll Like
How We're Prepping For Halloween
How To Style Spanx Faux Leather Leggings
xx