Macrame art, trailing vines, the best leather mat, and more! Here's how to bring beachy boho vibes to your patio.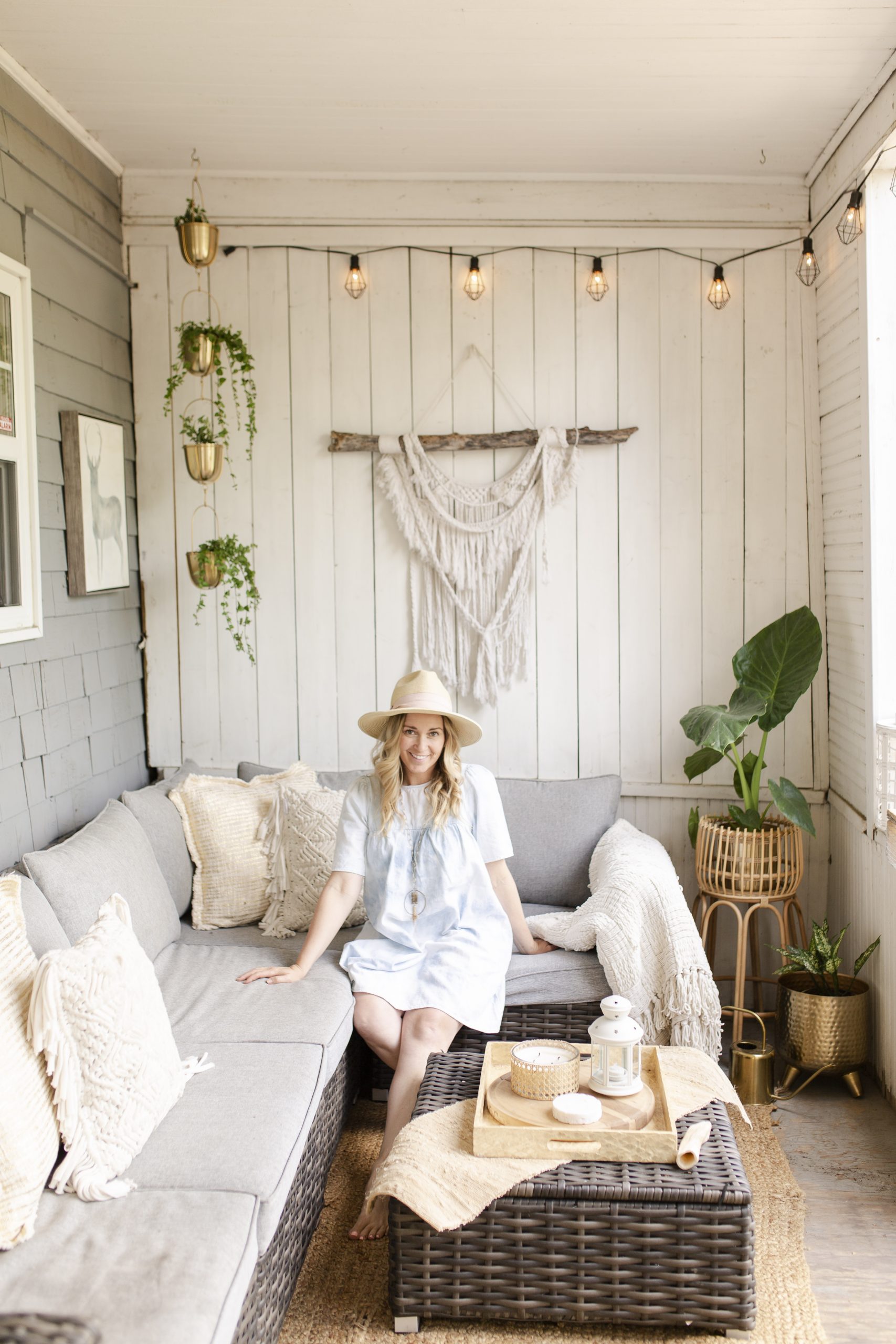 You can absolutely bring a fresh look to your outdoor space each season without having to start from scratch! A few new purchases or maybe a small DIY here and there can do the trick and save you cash.
I wanted to bring a lighter and brighter beachy boho vibe to our patio this year. So, I took to my Instagram Story poll to get some help deciding whether or not to paint our outdoor sectional from dark brown to tan or light beige. There was an overwhelming 'Heck No' response, many of you citing your own personal experiences and challenges with this DIY (the paint tends to crack and you're pretty much committed to repainting each year). In the end, I was happy to keep ours as-is. Instead, I added in lighter pieces to freshen things up and now the dark sectional actually provides a really nice contrast.
Here's how to bring beachy boho vibes to your patio!
#1: Hanging Pots
Is it your goal to be surrounded by plants? Mine too! Your patio is the place to really go to town with hanging pots. If you don't have a covered spot to hang them, try several Shepard Hooks at different heights around your space
In keeping with the earthy boho theme, I like to use lots of vine plants and trailers for that gorgeous cascading look. You could use trailing mint, ivy, fuschias, lobelia, sweet potato vine, and/or strawberries.
As for the pots, look for ones that are brown, tan, or white. You could also do mini macrame hangers as I worked in below. If you can find a layered, multi-pot piece similar to the one in the corner by our sectional, you've hit the jackpot! I found ours at Homesense. All of our hanging pots are secured with S Hooks.
#3: Macrame Art
This beautiful knotting technique used to create fine textiles and fibre art is perfect for your boho-inspired space. Both of our pieces were created by our friend Kyla Lindholm of Wren Works. She's currently based in Costa Rica but can ship worldwide. Our stunning Wren Works art was from very early in her career. See how her talent has taken off here!
#3: Gold, White + Rattan Pots
These styles of planters and pots can work into several different decor styles but I particularly love them for beachy boho. Aim to use different heights of plants and I suggest loosely following the 'The Rule of Three'.
I love using indoor plants on our back patio because I can just bring them in for winter (less waste)! For the others, aim to have fragrant annuals inside. It's a beautiful thing to not only have a space that is visually appealing but also takes you on a sensory experience. My new favourite deliciously-scented annual is Heliotrope which blooms light purple and white flowers and smells like vanilla! Definitely have potted herbs in your space to add more beautiful scent.


#4: Woven and Linen Textiles
Typical Boho decor fabric seems to centre around hand-woven, rattan, wicker, fringe, and worn leather. Our natural base is a handwoven jute area rug and we've also used a rattan table runner, white fringe pillows, and a leather mat by Gathre. These mats are amazing and so versatile! Can be used as a beach towel, picnic blanket, play mat for your kids, or even a tablecloth! Shop them here.
#5: White Lanterns
To really bring home the "beachy" part of this, definitely work in some white lanterns. Also – using different sources of light – string lanterns, fire tables, and larger stand-alone lanterns is super romantic and provides that added interest.
#6: Hanging Chairs
Although we don't currently have one, a hanging rattan or macrame chair would be a perfect addition to your beachy boho patio! I love this one, this one, and this one.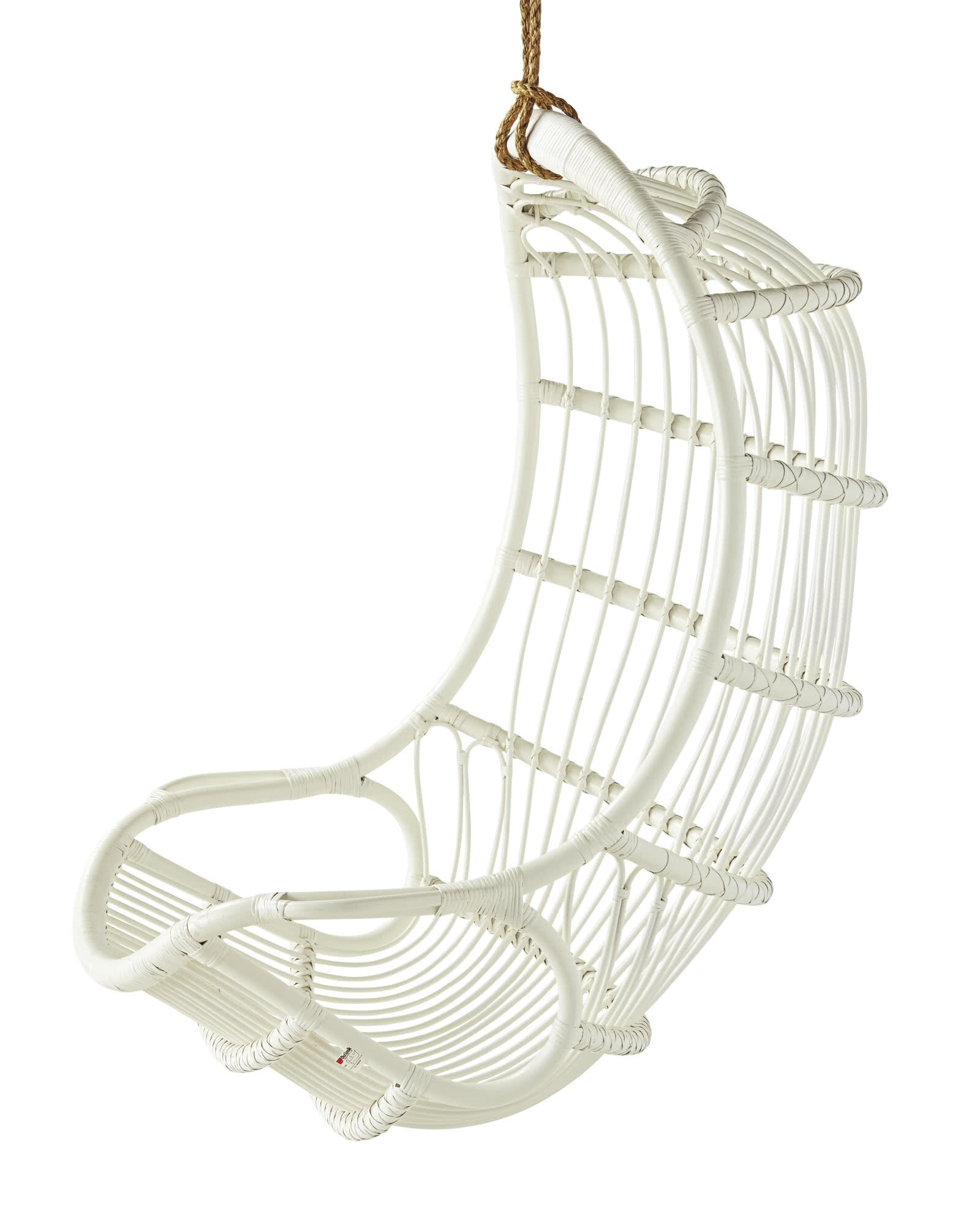 I'm happy to answer any questions in the comment section near the bottom of this post!
Check Out More of our Home Projects!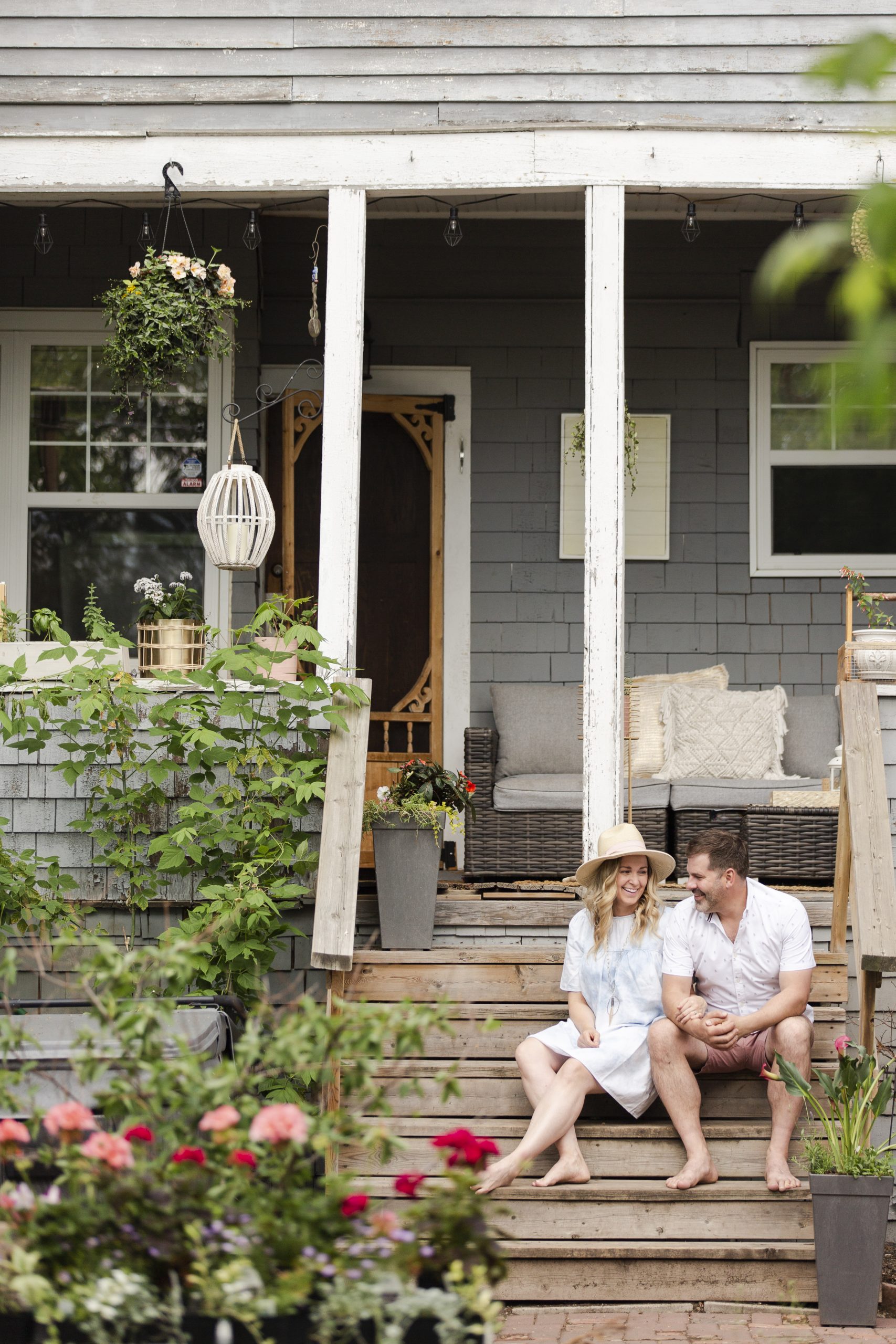 Photos: Dallas Curow
Pin this to your Boho Patio Inspo boards and follow me on Pinterest here!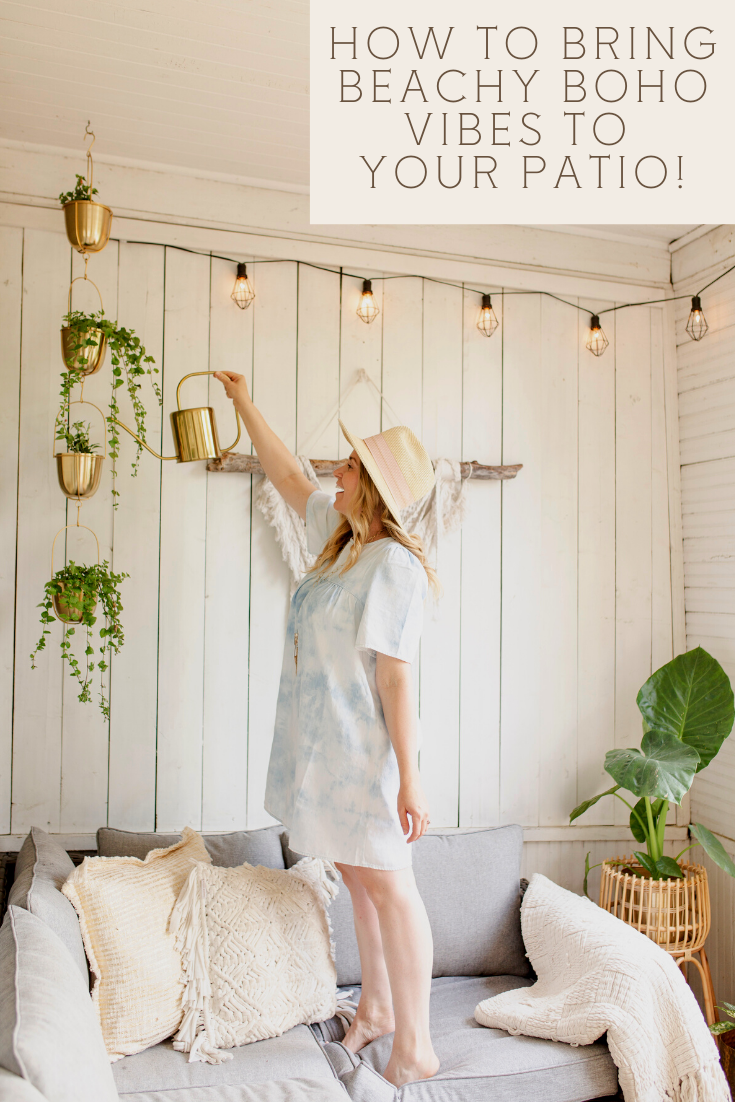 Other Posts You'll Love:
Create An Outdoor Movie Night at Home
The Most Stylish Gardening Gear
xx