It can be tough to find the perfect jeans, but it doesn't have to be! Below are a few tips on how to buy the right denim for your body type, tests you can do right in the change room to ensure your jeans fit properly,
several different ways to style denim, and a list of my favourite places to shop for jeans!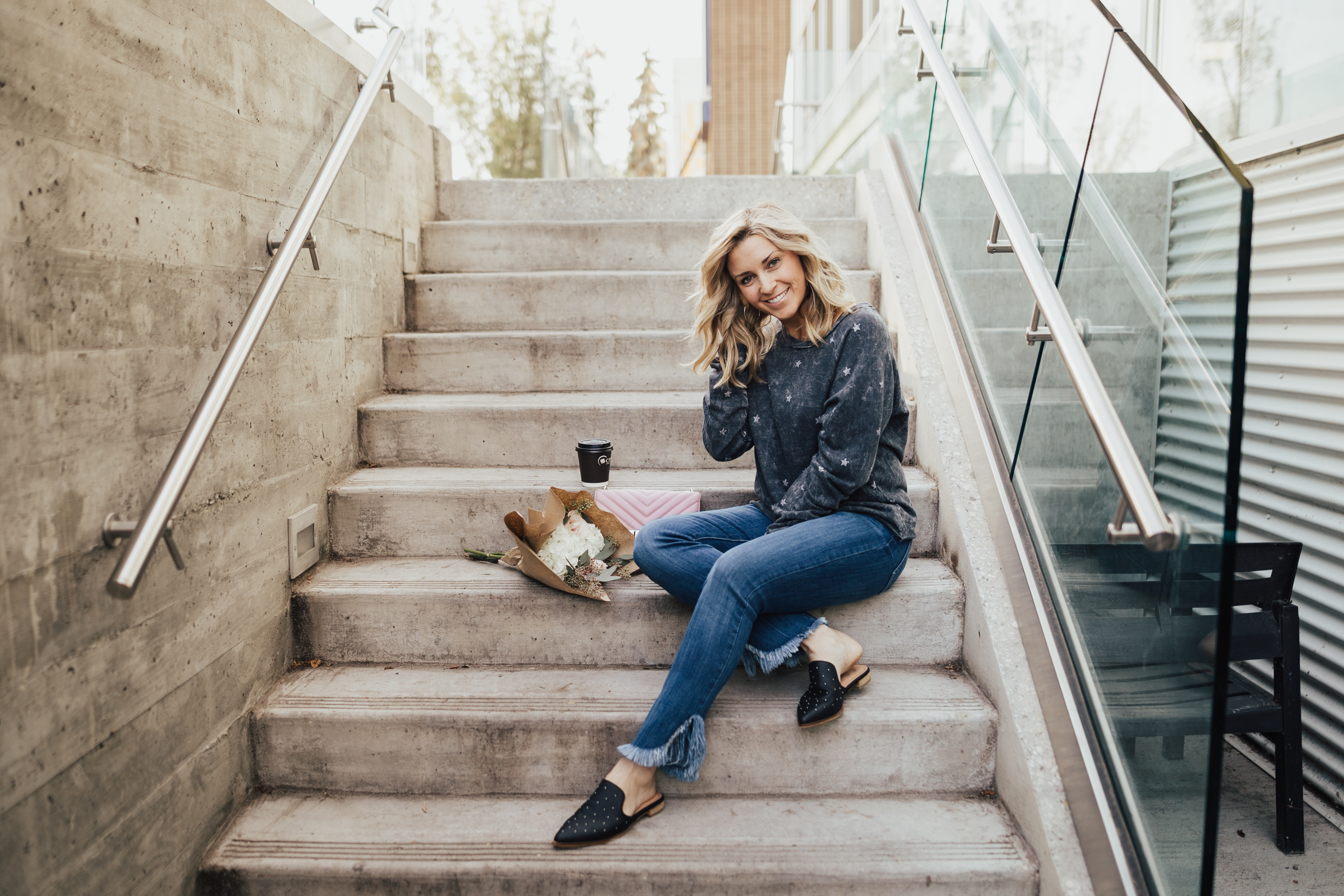 How To Find the Perfect Jeans
Shopping for jeans can be a daunting task. So many styles, so many fits. Should you follow the latest trend, or stick with what you know looks good? If you take only one thing away from this post, let it be this: you have to feel freakin' fabulous in jeans before agreeing to buy them! Not, "Yeah, they'll do." I'm talking, "I can't wait to wear them every second," freakin' fabulous! This rule should apply to everything in your closet. Stealing a quote from my Closet Detox post, "You should feel happy and fabulous in the clothes you're wearing!" Don't buy anything just to follow a trend, or simply because it's a designer label. Buy jeans that make you feel like a goddess when you wear them. So, how do you find THE jeans? Keep reading!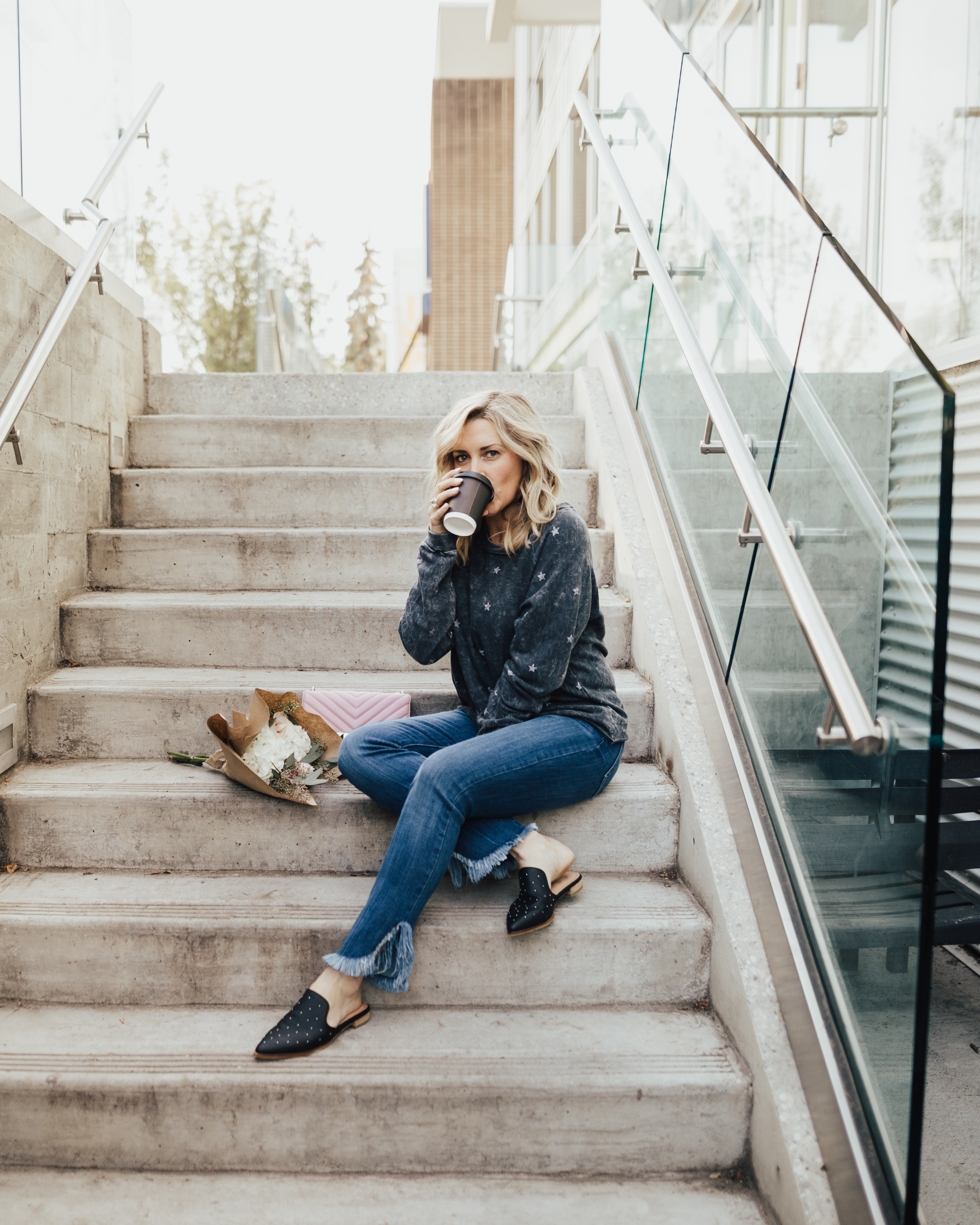 Try Them On!
"I could never wear (insert style of jeans)."I hear this with many of my styling clients and friends. Assuming a certain style isn't going to work for you is going to get you nowhere. I'm not saying a skinny jean is going to work for everyone, but just like the dating world, you may need to try a few bad apples before you find the right fit!
Jeans not only need to fit in the waist, but you need to make sure they fit in the hips, butt, and thighs too. Below are a few tests you can do in the changeroom to ensure the fit is right.
Jeans | Star Gazer Sweater | Purse | Mule
Jeans Fit Test
Waist + Hips:
Do the sit-down test. Essentially, when you sit down there should be no gape in the back of your jeans. If there's a gape, the jeans are too big in the waist. The fabric should fit a bit snug in the hips for support and in the waist, but not so tight you'll bust a zipper if you eat a piece of cake. I always buy my jeans a little more snug because most of the time, they give a little (unless you're buying classic Levis – those rarely stretch).
Thighs:
Do a few squats. You're going to want to make sure you don't have horizontal ripple lines across your legs. If you have the ripple, it means your jeans are too tight in the thigh.
Butt:
No test needed. If the jeans are too tight, you'll feel it right up your keester and your hoo-ha.
Making sure the jeans fit in the butt and thighs is essential, but if you find a pair that fits everywhere but the waist (too big), buy those ones and have them altered.
Jeans | Plaid Blazer | Rose Gold Travel Mug | Purse | Shoes (similar)
Buy For Your Body Type
I think it's dangerous to be telling women (especially younger girls), or anyone for that matter, that they should be wearing something because they have a certain "body type". Screw that! Always go back to, "Does it make me feel fabulous?" Of course you want your clothing to fit properly, but if you love a certain style that someone has told you isn't "right for your body type" don't listen to them. There are a few styles that, generally speaking, work best with an athletic build, or someone who is taller, etc. So take the next few pieces of advice with a grain of salt. These are merely suggestions.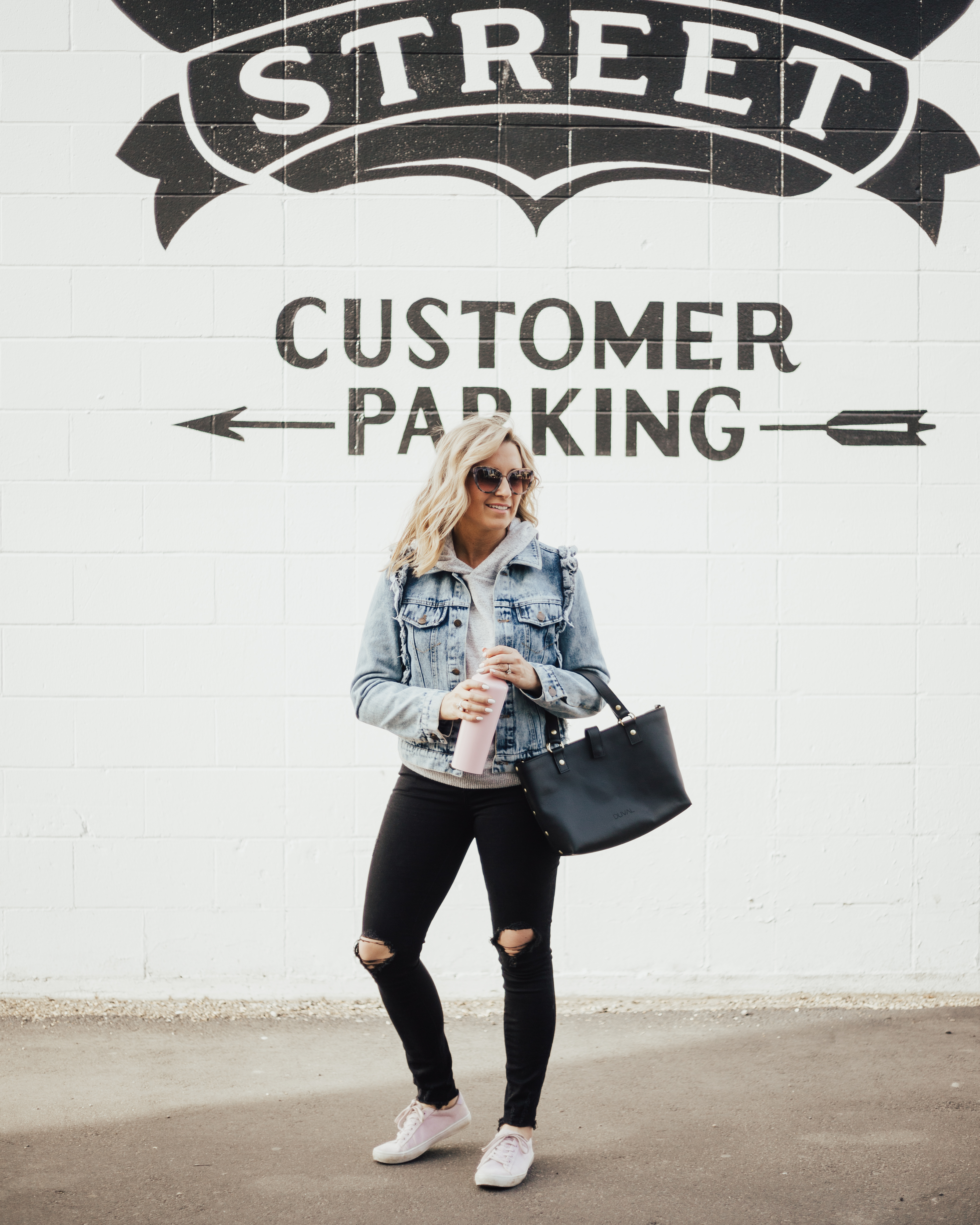 Pear-shaped (carries weight in the lower portion of the body): Mid-rise looks great. Try to stay away from high-rise because they have the potential to make your legs looks shorter.
Apple-shaped (carries weight in the mid-section): Show off your assets! Accentencute your legs with a straight leg or skinny jean, but not super skinny. Look for a stretchier, more relaxed fabric which allows for give in the waistline. Avoid high-waisted jeans which will draw attention to the mid-section.
Athletic build (toned muscles everywhere): Create curves with wide leg or bootcut jean. Look for jeans that are more fitted around the butt and thighs and more relaxed around the calves.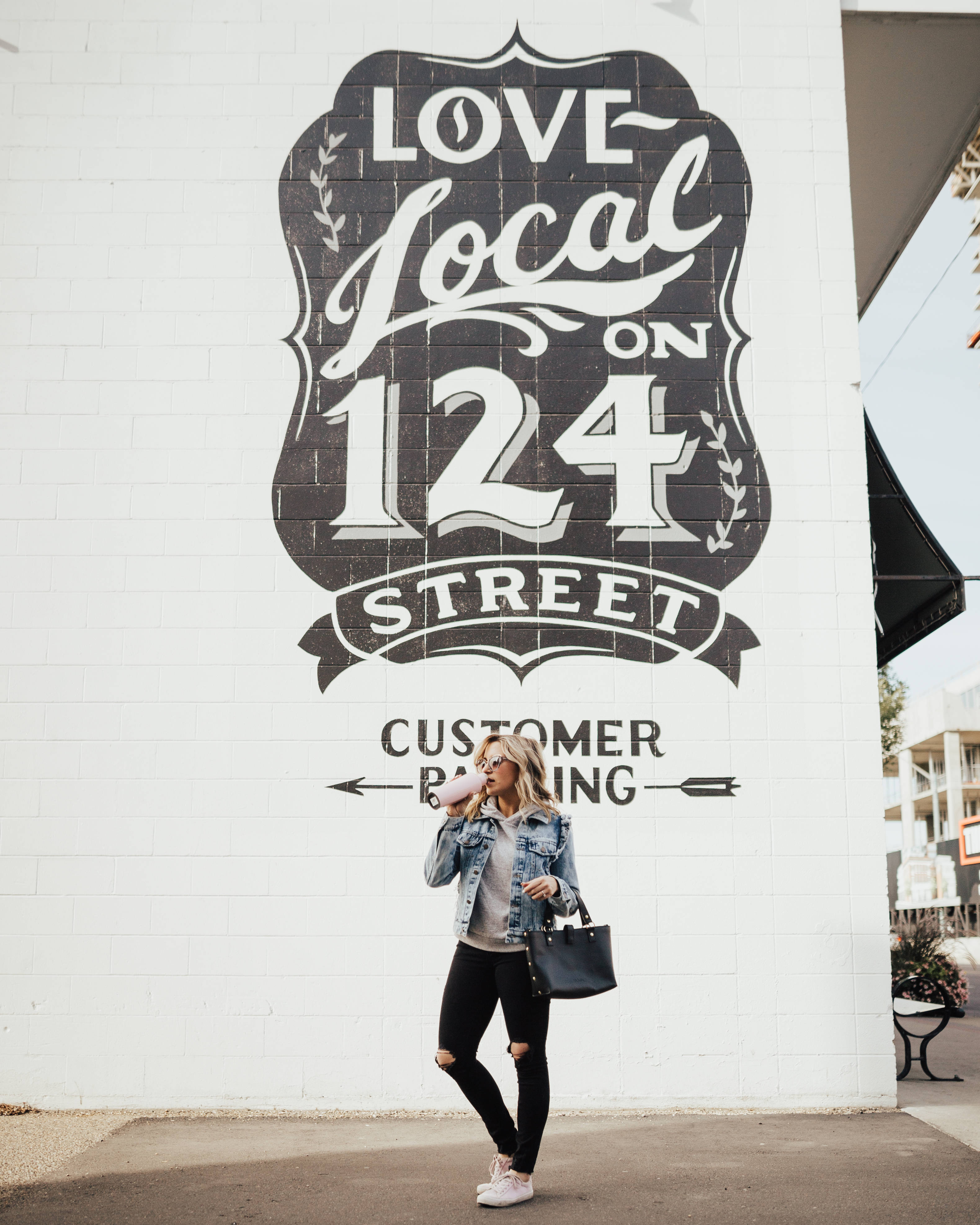 Curvy (narrow waist, fuller bottom and boobs): if you're wanting to create a slimming effect try a dark wash denim and go for high-rise jeans to accentuate your waistline!
Petite: Elongate legs with a super-skinny cut, high-waisted.
Tall: Totally depends on what you're going for. A low-rise will give your shape proportion and a high-rise will make your legs look even longer.
Black Distressed Jeans | Ruffle Denim Jacket | Lavender Sneakers | Crop Pullover Hoodie | Gloss Rose Tumbler
My Favourite Places to Shop for Denim
Pin this to your Denim Style and Style Tips boards and don't forget to follow me on Pinterest!
Photos: Des Iles Photography
Other Posts You'll Like:
Mom + Me Style: How To Rock Bomber Jackets
Yee Haw! How To Dress Western Stylish
Style File: Dressing Boho Stylish for a Physical Job
xx