A few tips and inexpensive finds to set up an awesome mini art centre in a toddler room!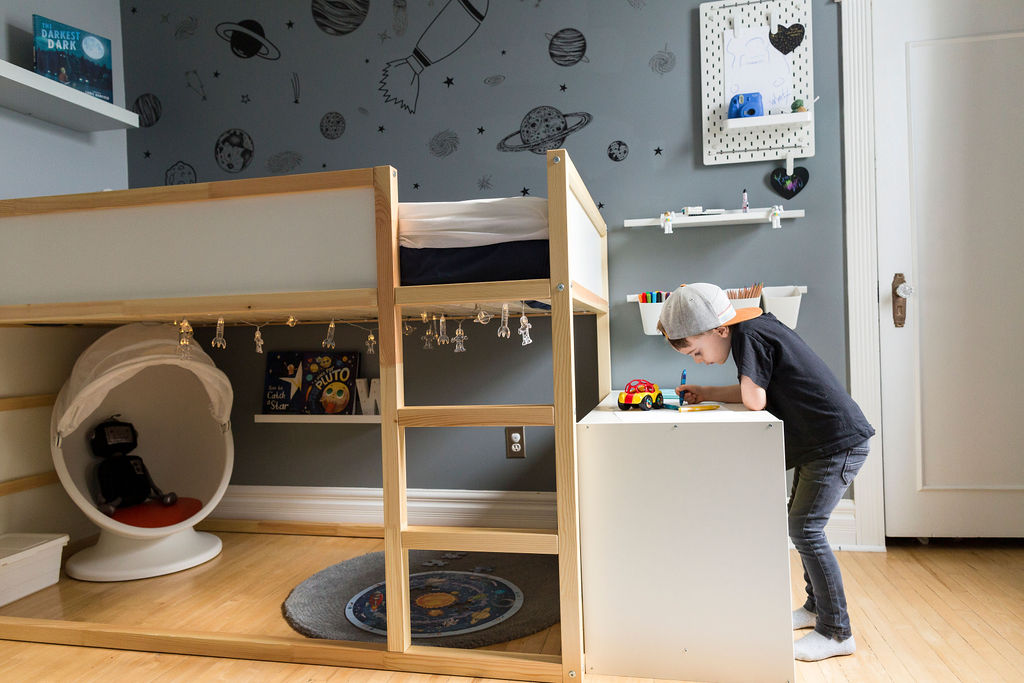 Don't you love it when you discover efficient uses of space in your home? The set-up of our two-storey home, built in 1913, doesn't allow for playroom or arts and crafts space, so we've had to get creative to make that possible. We often do projects at the dining room table but it is nice to have a spot where our little guy can go when we need that space cleared.
In designing our little guy Wyatt's Space Room (full reveal coming this Thursday at KariSkelton.com), I came up with a way to sneak in an art centre tucked around the back of his bed. Here's how I set it up!
How To Set Up An Art Centre in a Toddler Room
My first stop was Ikea where I got pretty much everything for this little space. I picked up the Trofast Storage combination with a mix of yellow and white buckets to hold art supplies, colouring books, stickers, glue, etc. Total cost, including the buckets, is around $130. It's tucked at the end of his bed so when you're looking into the room from his door the area which – let's be honest- is going to get messy – is mostly out of sight. I love that everything has its place making for a quick tidy-up if need be.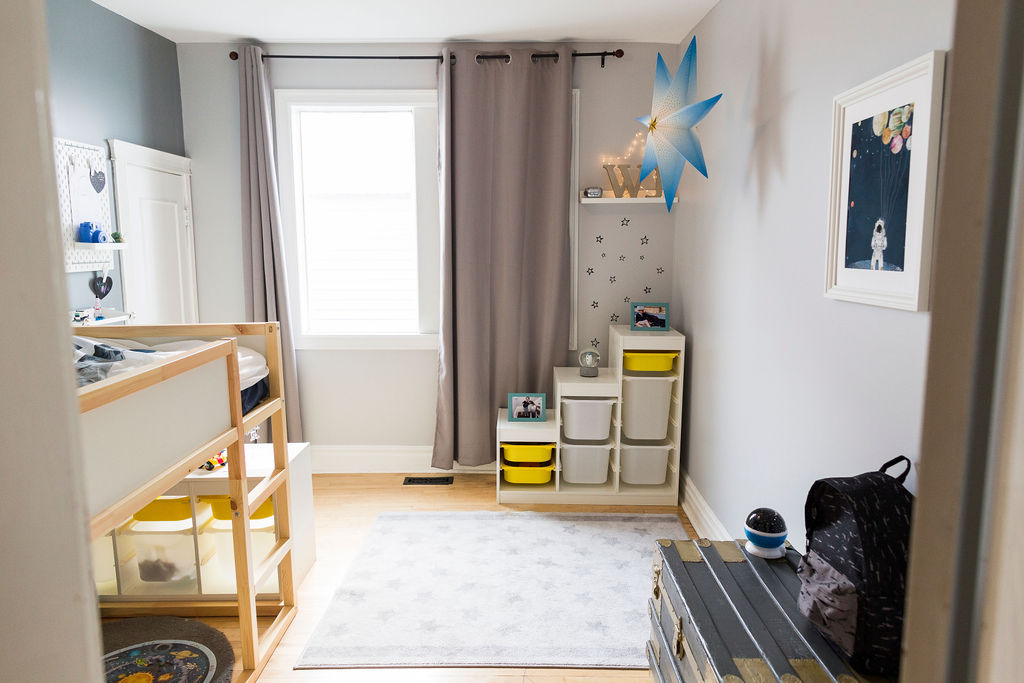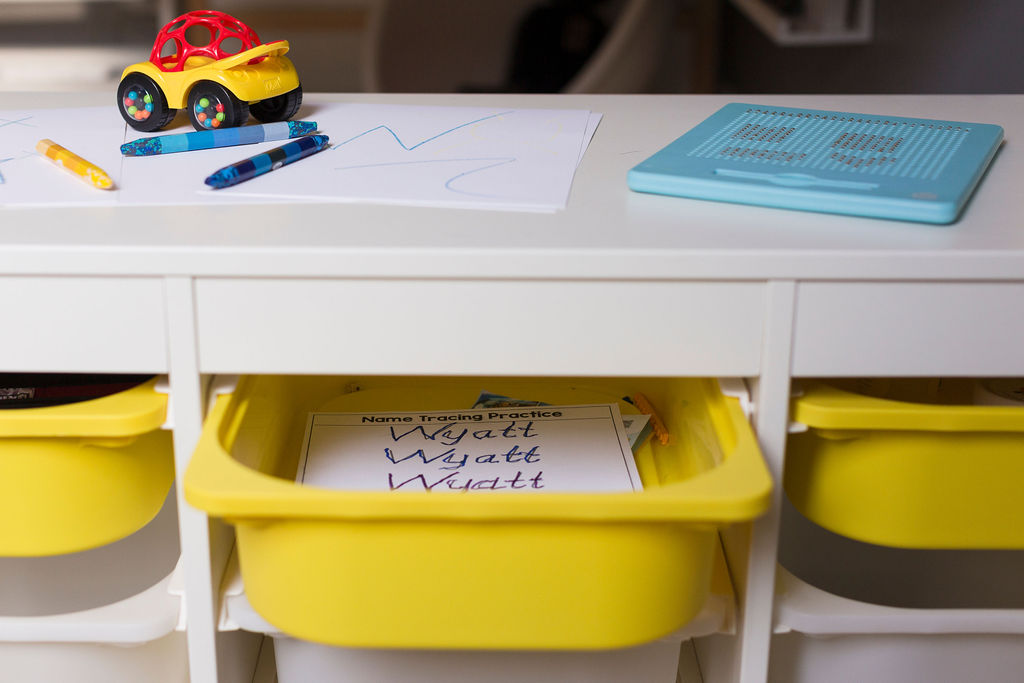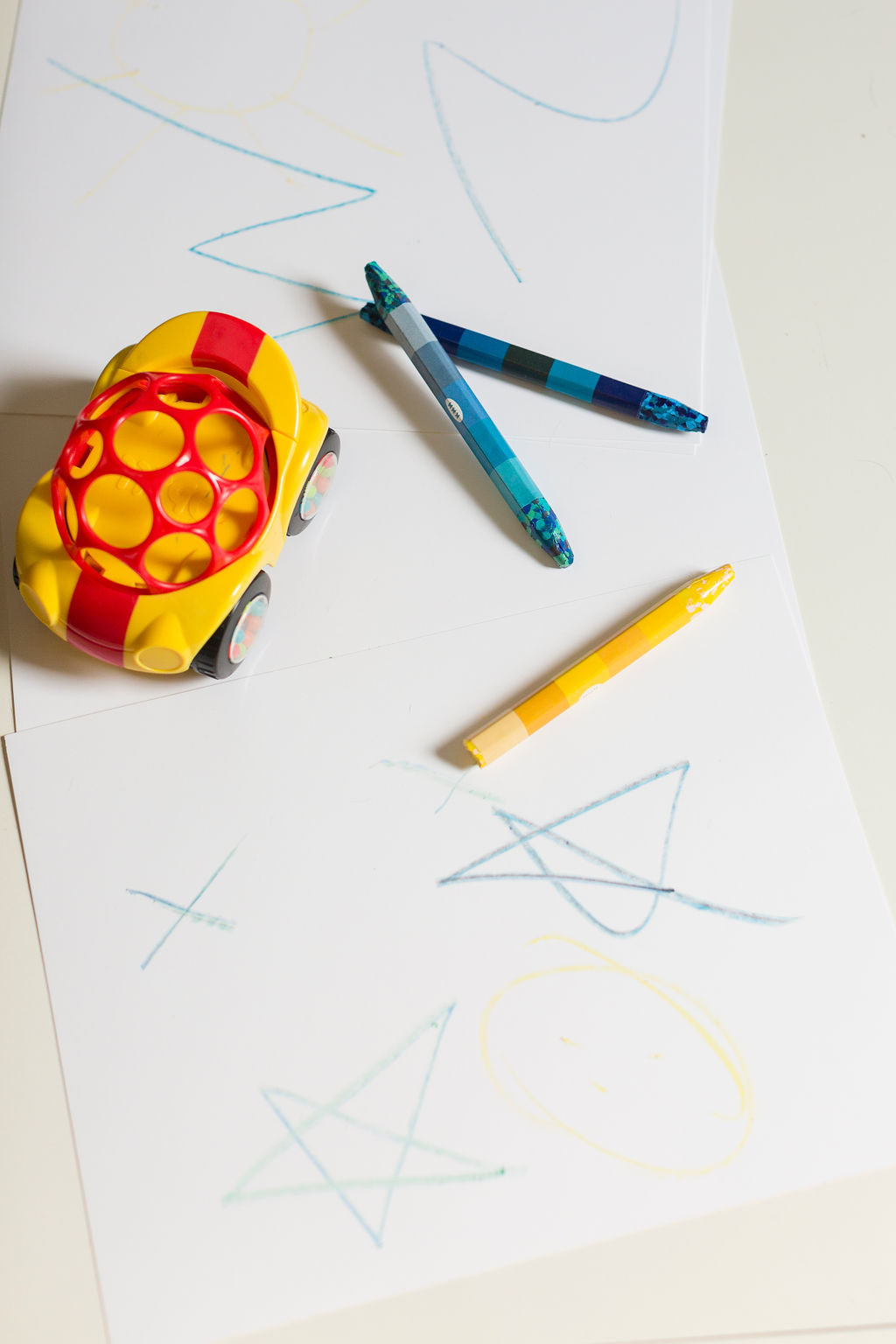 At $1 apiece, these white storage buckets are perfect for the markers, crayons, and pencil crayons. Over time these will get scuffed up but at least the replacement cost is next to nothing. You could even buy extras during your initial purchase so you're set to go. Total cost for the buckets and rod was $7! Start the car!! I used a second rod right above with a mini shelf that clips in. This is a great spot to display craft items or lego built. All of the colouring materials are from Indigo. They carry the Kid Made Modern line which is such great quality.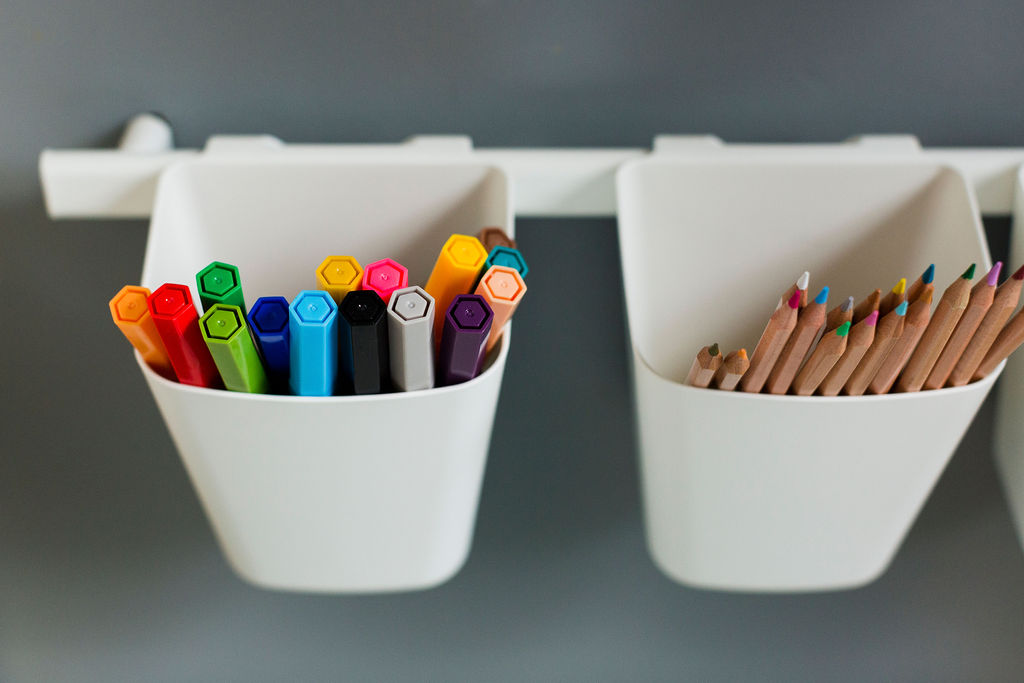 This white pegboard from Ikea is the perfect spot to showcase Wyatt's creations from preschool and the art studio. The great thing about these pegboards is you can mix and match the tools to latch on. I opted for the tray, bungee cords, and clips. Total cost here was around $50.
A Few Tips
Make sure everything has its place. There's already enough going on in a toddler's room. Set yourself up with the proper storage so everything can be tucked away.
Aim for an area near a window so they get as much beautiful natural light as possible. Plus, they can peak outside for inspiration.
Save the splurge for somewhere else! This area will likely see quite a bit of wear and tear so aim to keep it inexpensive. Purchase items that are cheap to replace (like those storage buckets) so refreshing the area later down the road doesn't cost a fortune.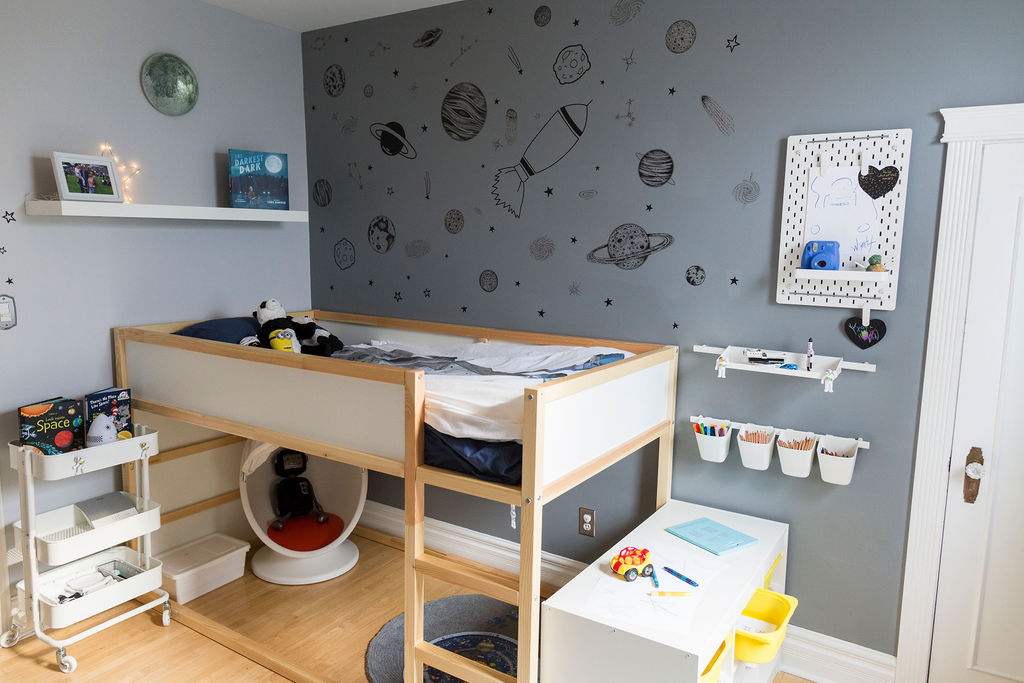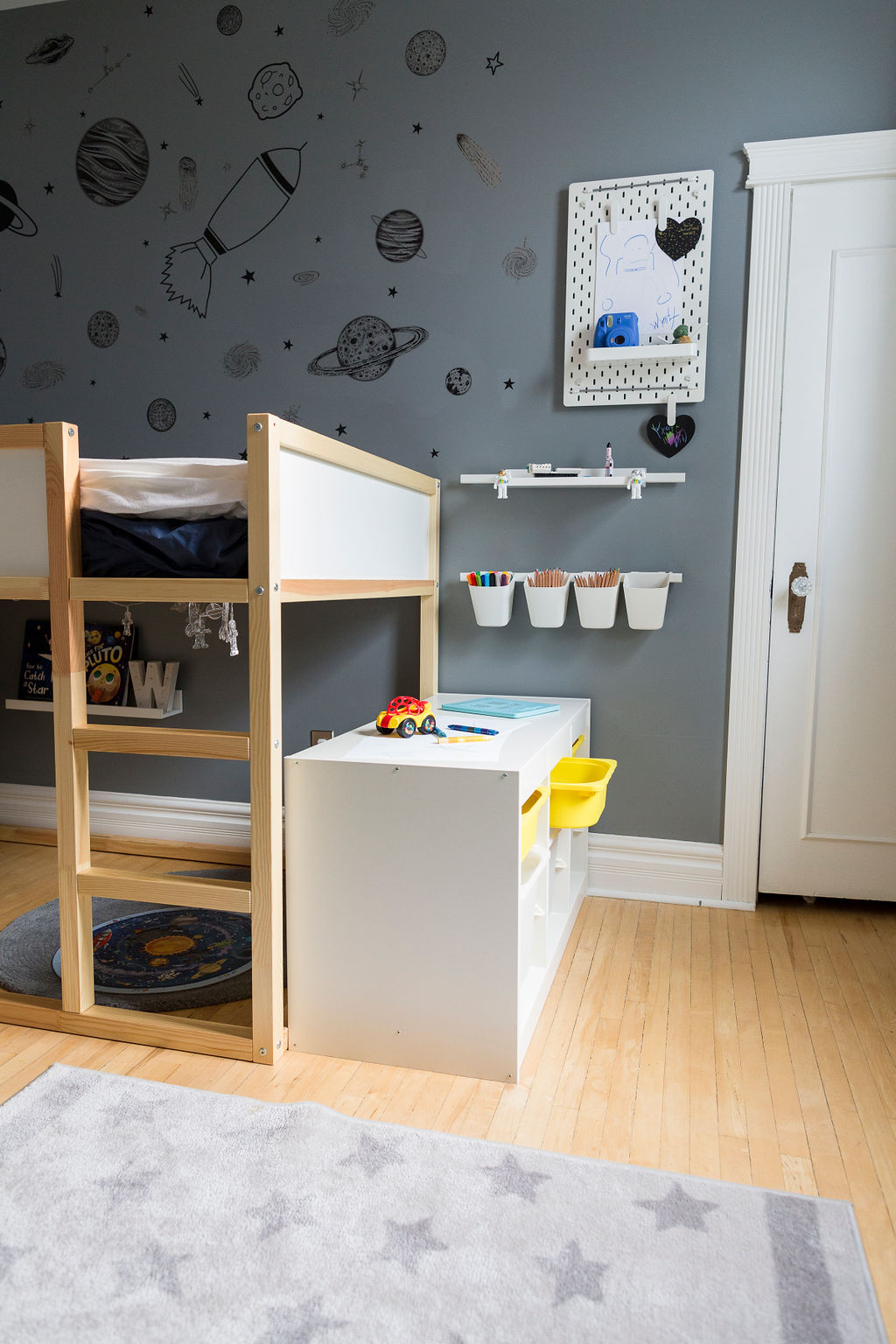 photos: Dallas Curow Photography
Don't forget to Pin this to your Home Decor + Kid's Room board and follow me on Pinterest here.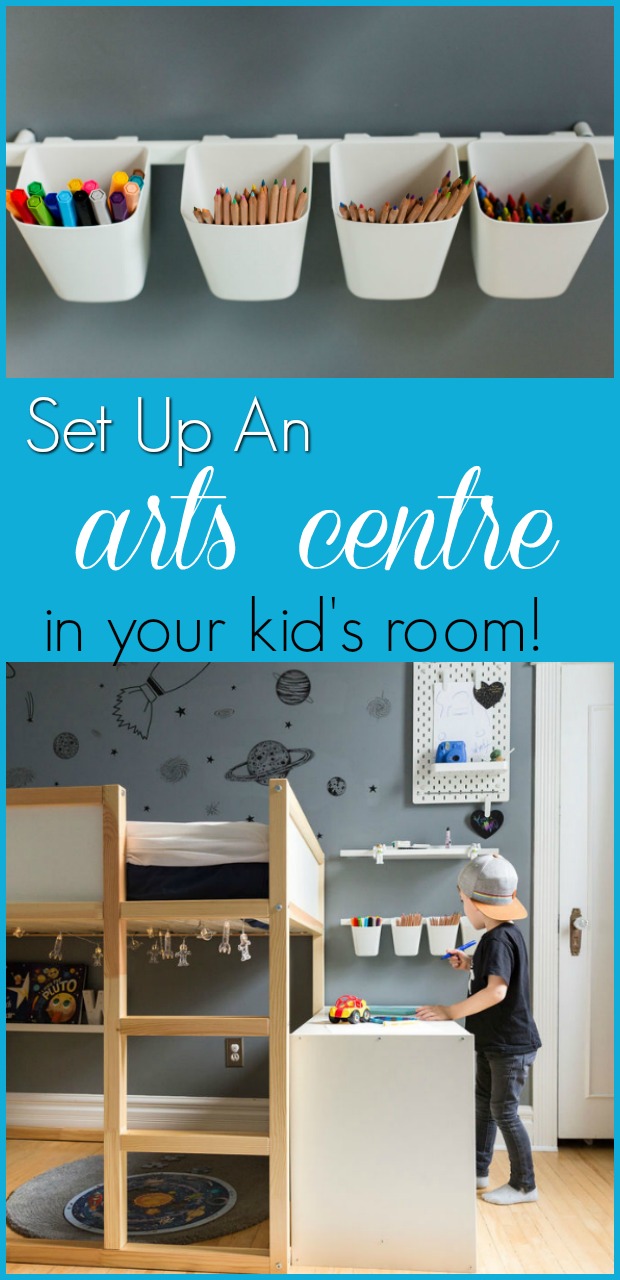 Other Posts You'll Love:
How To Pull Off The Modern Farmhouse Trend
xx