I've teamed up with a few of my Canadian Insta Mom friends to show you how to style your Lululemon Mom Uniform. Find links to shop and details on a Lululemon and Starbucks giveaway further down in the post!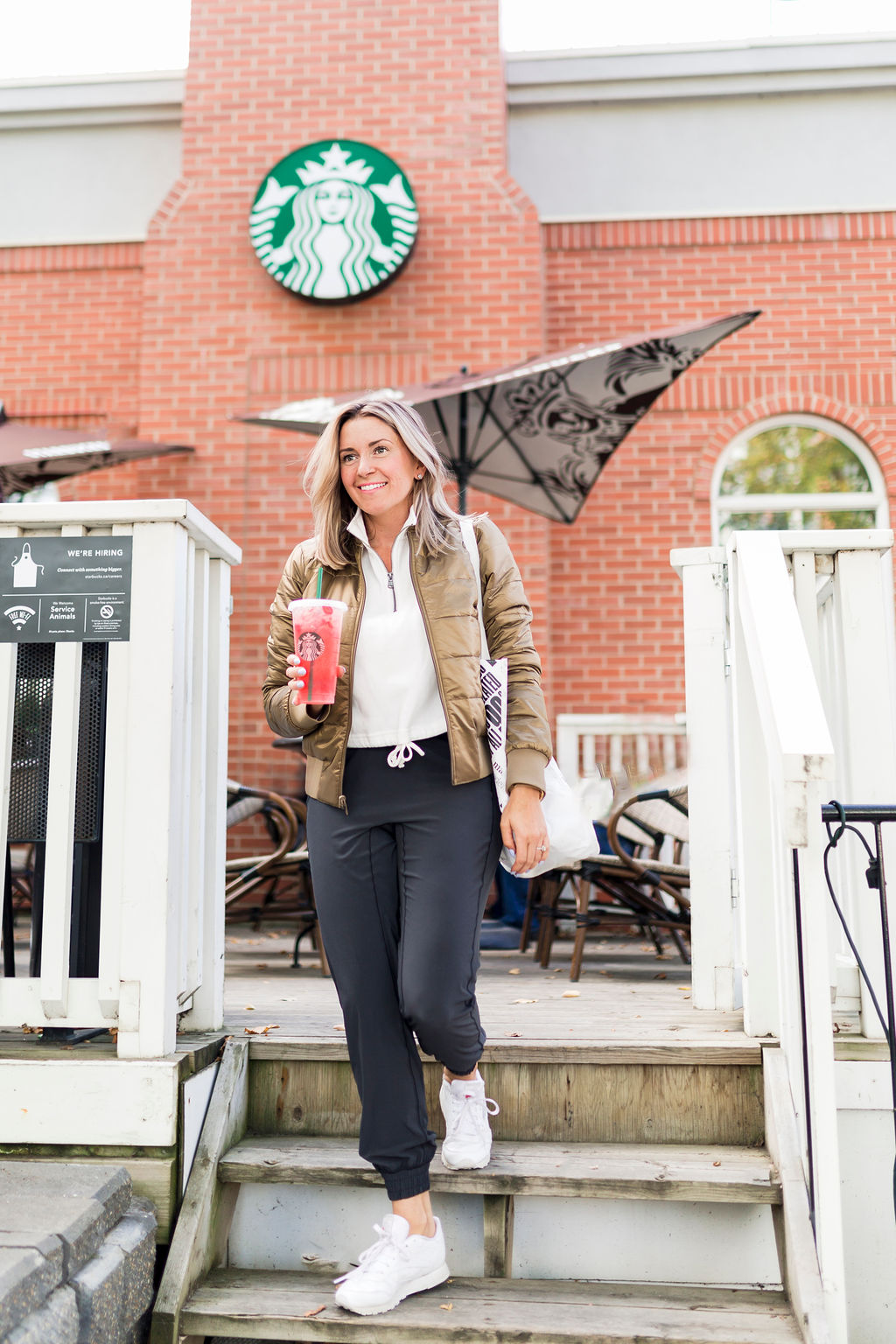 'I live in Lulus!' A common phrase heard among my mama friends. It's just so easy and comfy! 🙂 These are pieces designed and intended for working out (and parenting definitely qualifies)! Here are a few different ways to rock your Lululemon staples, and look completely pulled together: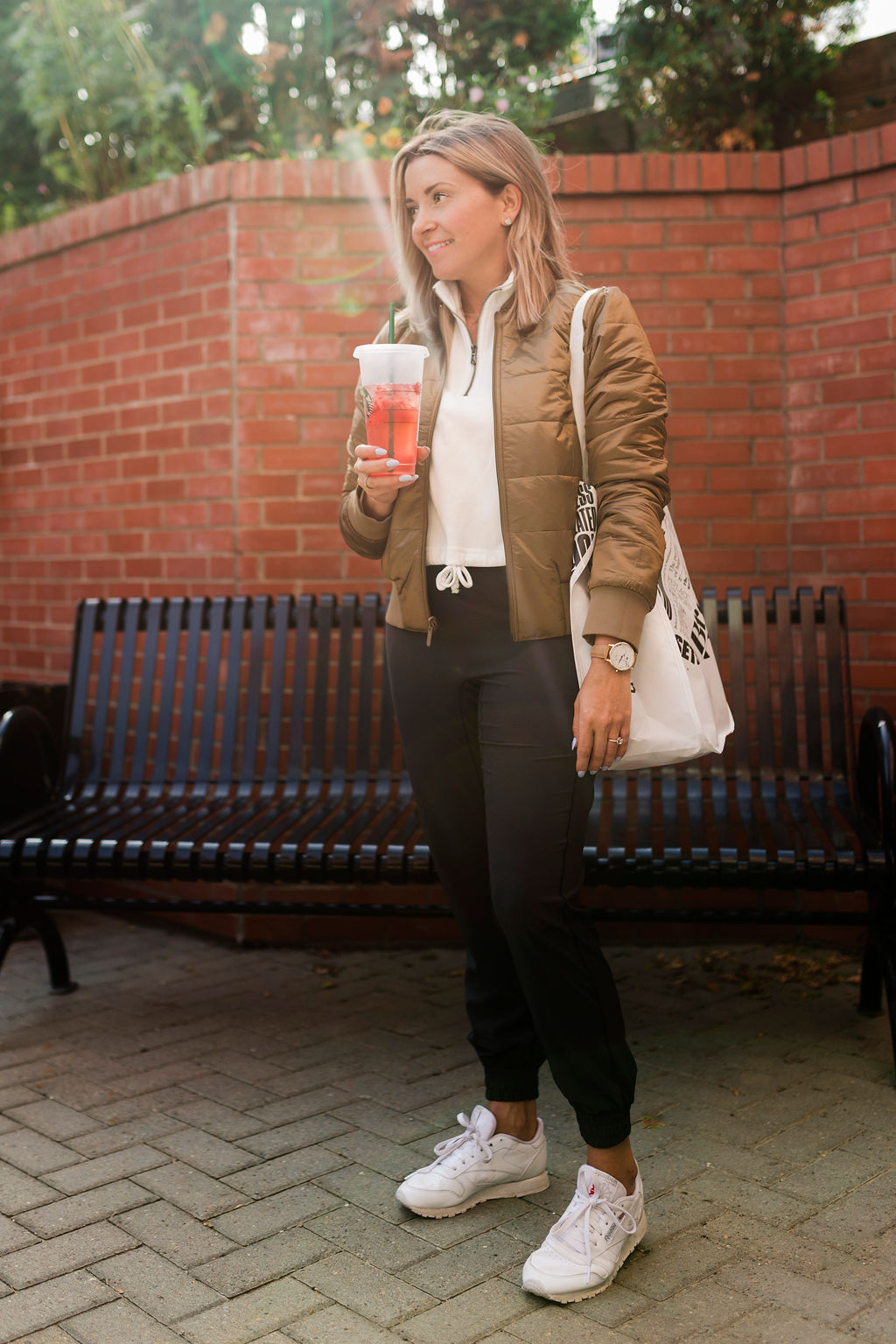 I'm all about a piece with versatility, and this lightweight bomber jacket offers exactly that. It's reversible, giving you two looks to rock this season (or simply to be able to hide the yogurt paw prints from your toddler). I'm in love with these Sunset Joggers, which come in black and blue, and are meant for yoga (but I'll be wearing them for the grocery run, too!).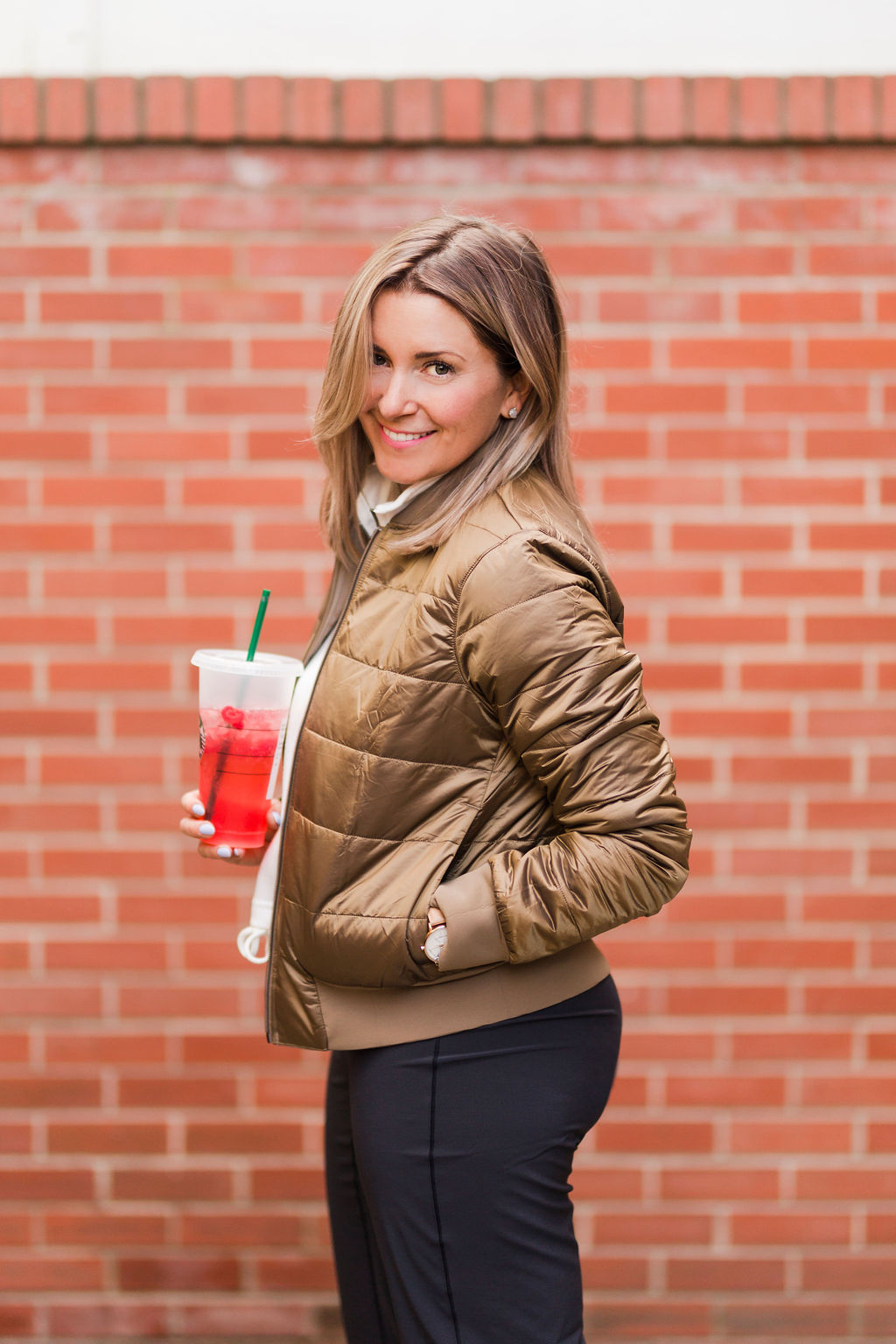 Reversible Bomber Jacket | Reusable Starbucks Ice Cold Drink Cup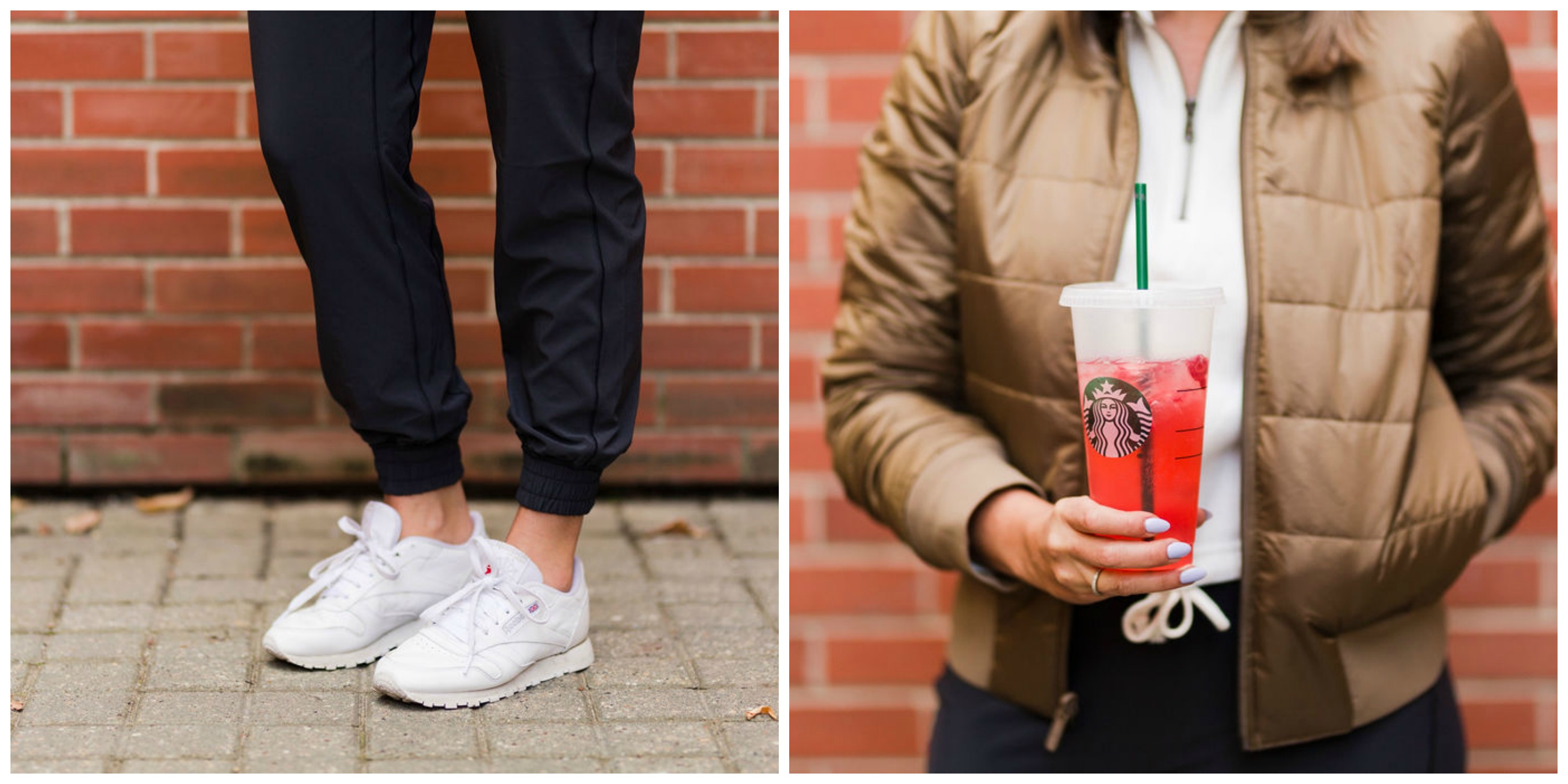 Sun Setter Jogger | Classic Reeboks | Cinched Quarter-Zip Sweatshirt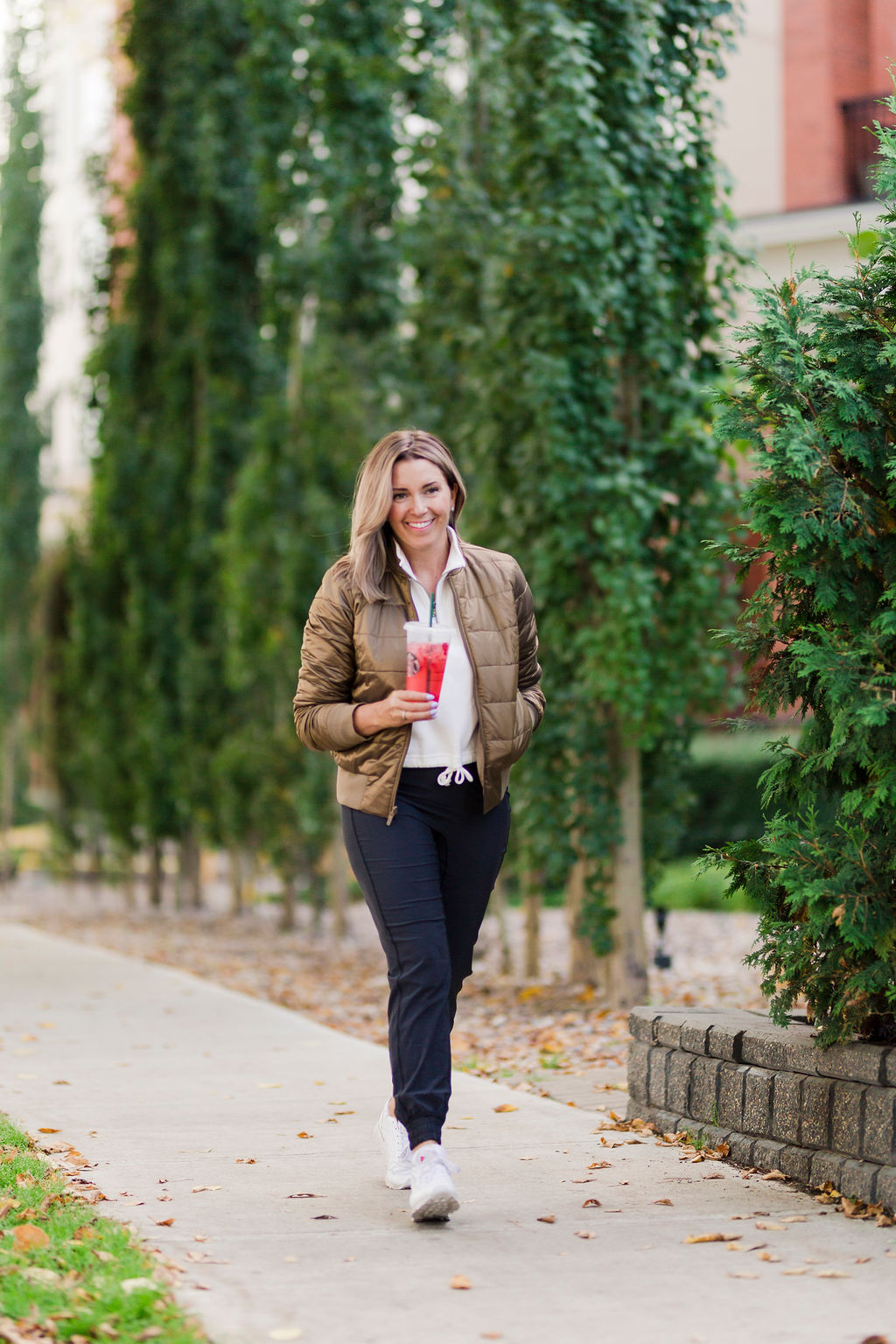 Other Ways To Style Your Lululemon Mom Uniform
Kelsi Kendel, Saskatoon. Mama, Wife, Blogger, Speech Therapist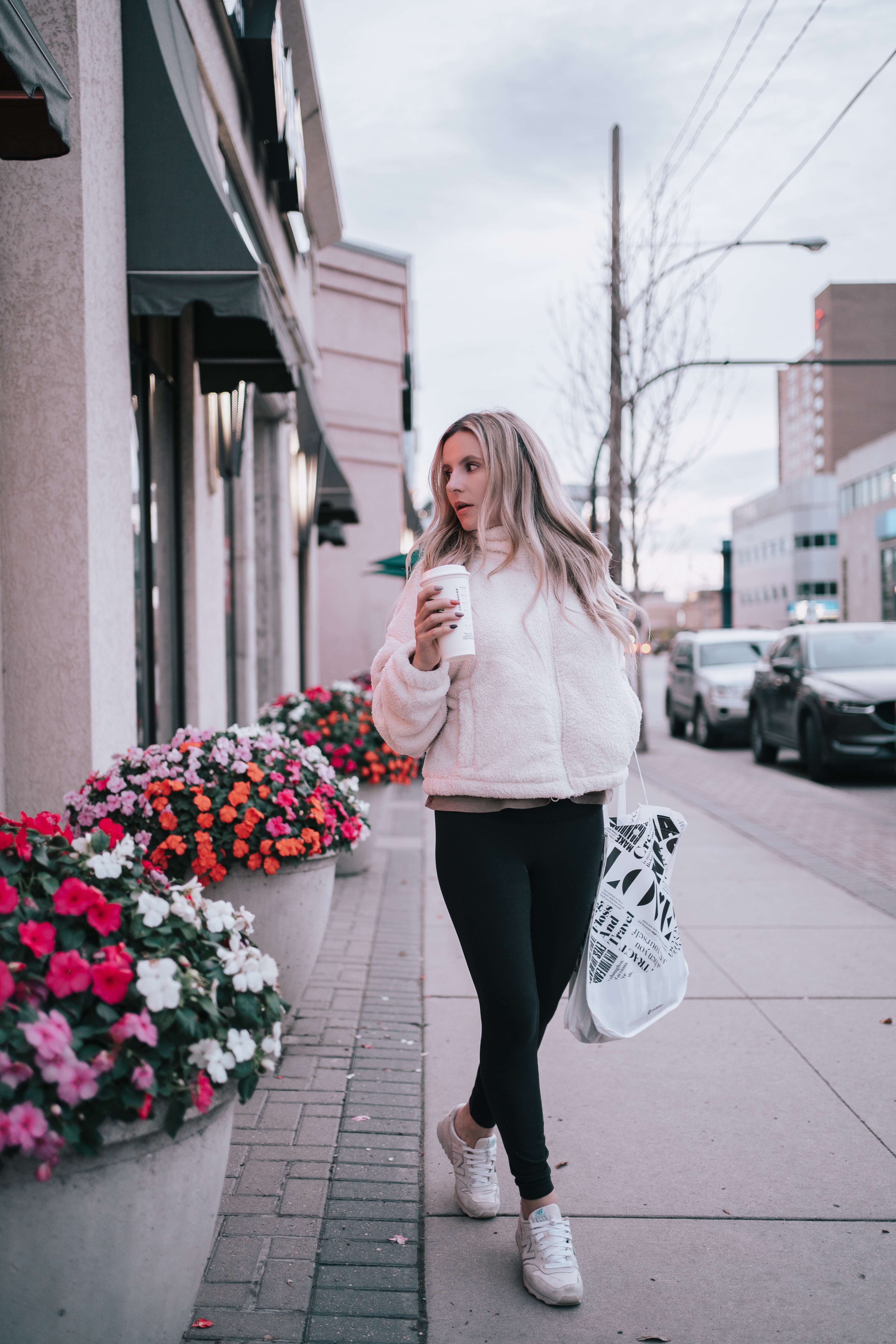 Align Pants | Aritzia Kalissa Jacket
"Being a mom of two and currently on mat leave, my style is ultra casual. Most days I dress for comfort and function, while also trying to stay stylish. Lululemon is, of course, a staple in my wardrobe. My Align pants get worn several times a week. In fact, I think I need another pair! I love the high waist to pair with crop tops in the summer, as well as cozy jackets in the fall. "
Follow Kelsi: Instagram | kelsikendal.com
Whitney Japuncic, Vancouver. Mama, Wife, Blogger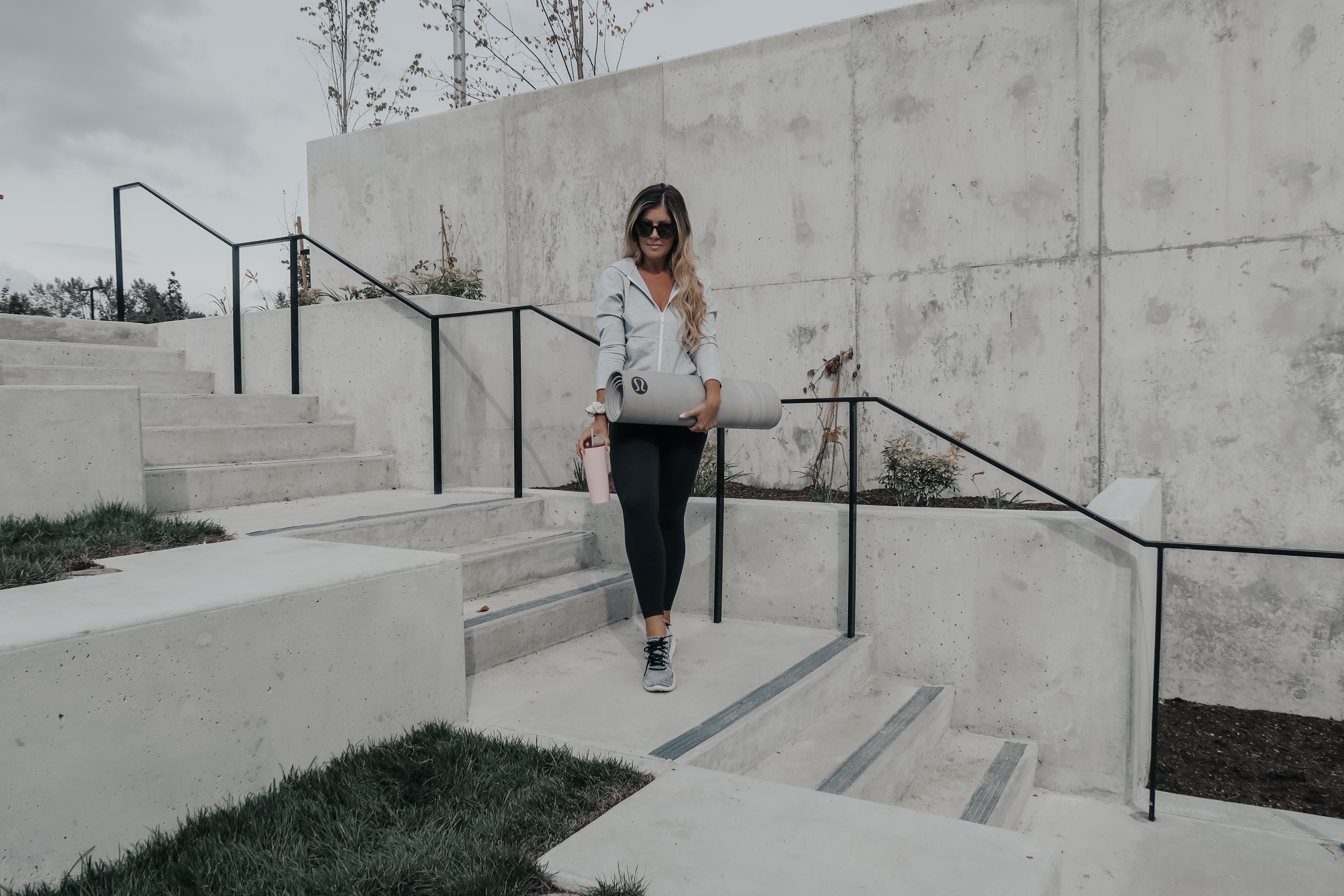 Follow Whitney: Instagram, whitneyjapuncic.com
Lauren Hahn, Alberta. Mama, Blogger, and Co-Owner of Blush and Navy Boutique
Wunder Unders Pants | Festival Bag | Gym Hoodie
All black leggings with an oversized hoodie and kicks are so comfy and stylish at the same time. Perfect for school drop off on your way to the gym.
Follow Lauren: Instagram
Kiteen, Saskatchewan. Mama + Blogger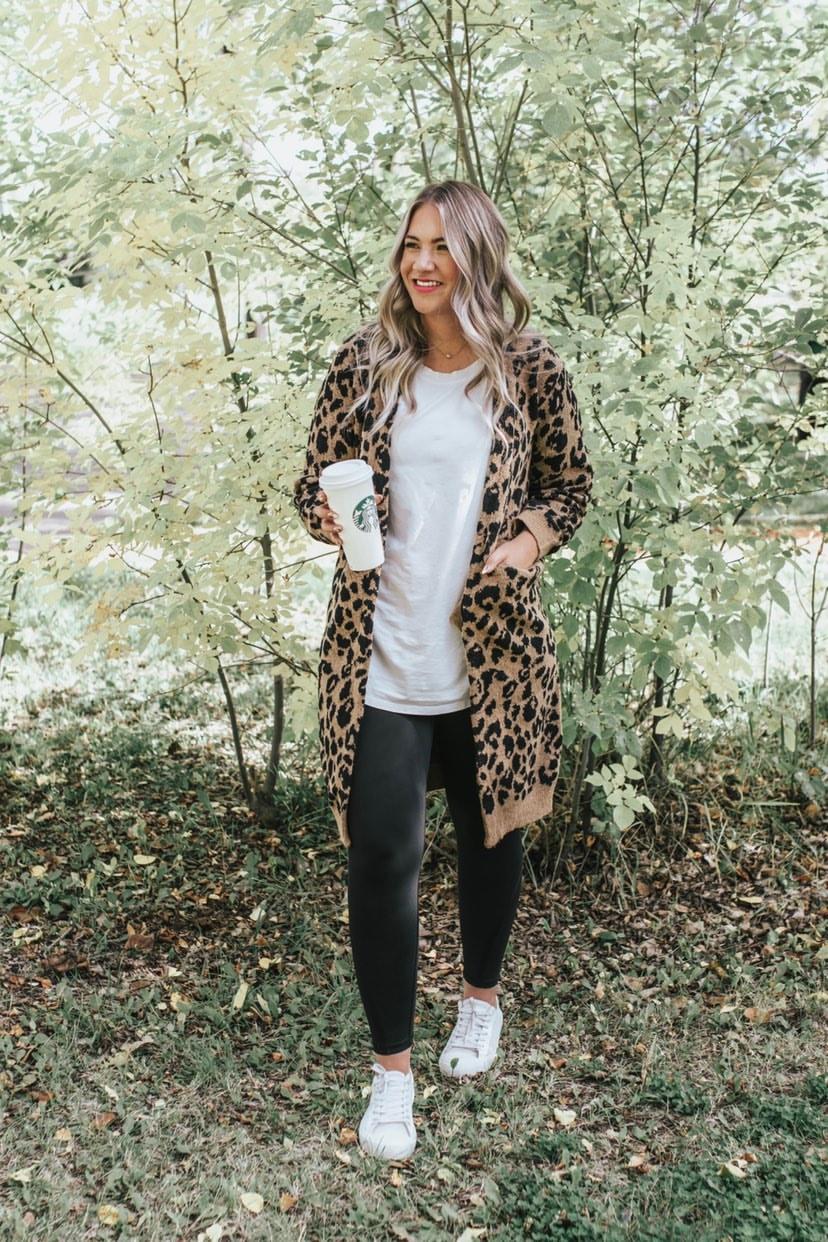 Always On The High Rise Tights | Muscle Tank
You can literally throw this leopard cardy over your gym outfit and run errands looking totally pulled together. I love this leopard cardigan and this one too. 
Follow Kiteen: Instagram, kiteenscloset.com
Lynda McKeen, Toronto. Mom + Blogger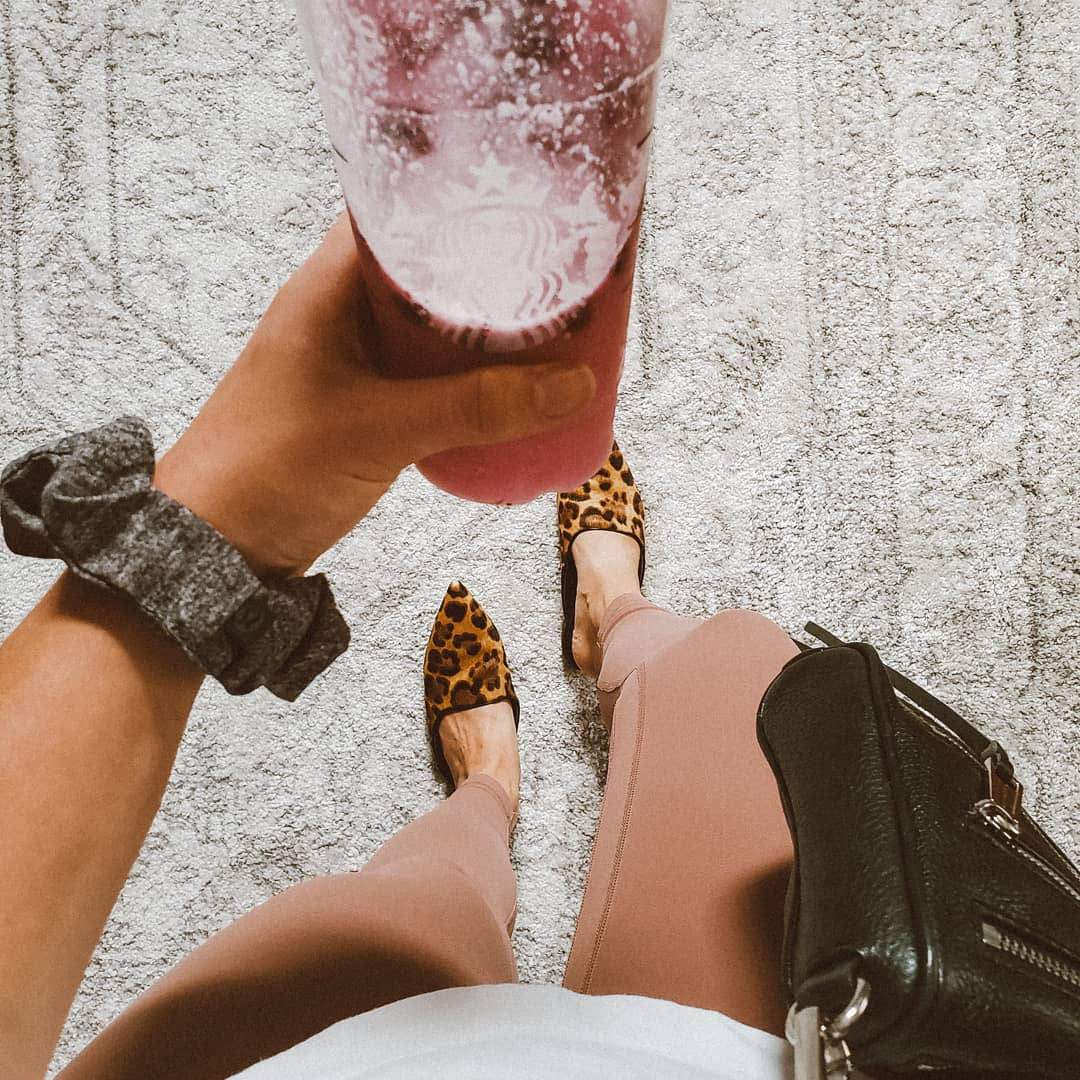 Align Blush Leggings | Lulu Scrunchie
Insta-outfit! Pair your blush-coloured Lulu leggings with sexy leopard print flats (Marc Fisher), your favourite handbag (this one is Rebecca Minkoff), a plain white tee or tank, and cute coat. You're set for that coffee meeting!
Follow Lynda: Instagram
Paige Manning. Mom, Blogger, and found of Little Beans + Co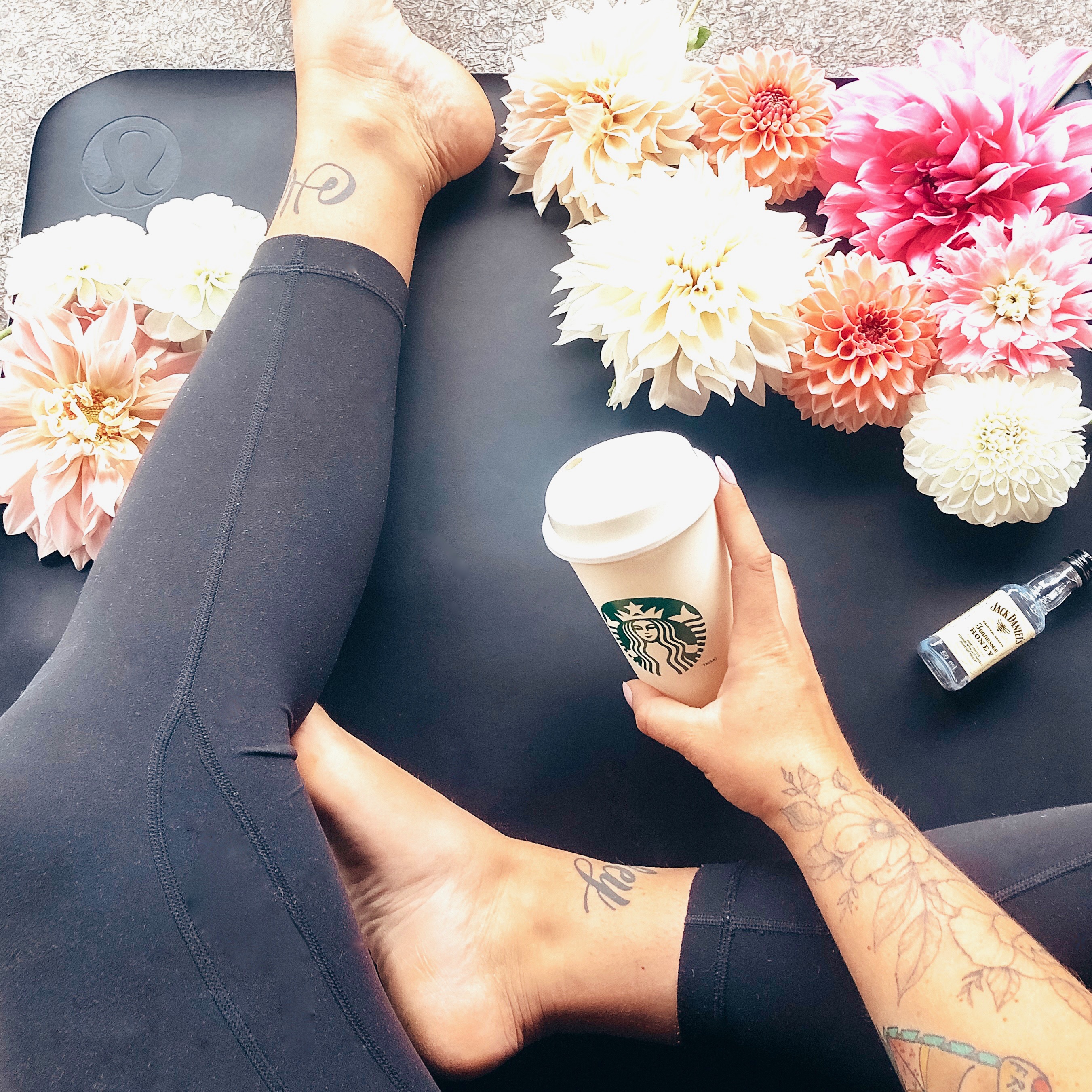 Rockin' all black is the way to go sometimes, especially as a mom! Pair any sweater or tee and a jean jacket with black leggings, and you're set!
Follow Paige: Instagram, basicbadmom.ca

Giveaway!!
We want you to add to your mom wardrobe! Head over to Instagram to enter to win two gift cards: $150 Lululemon  + $50 Starbucks! Go here to enter!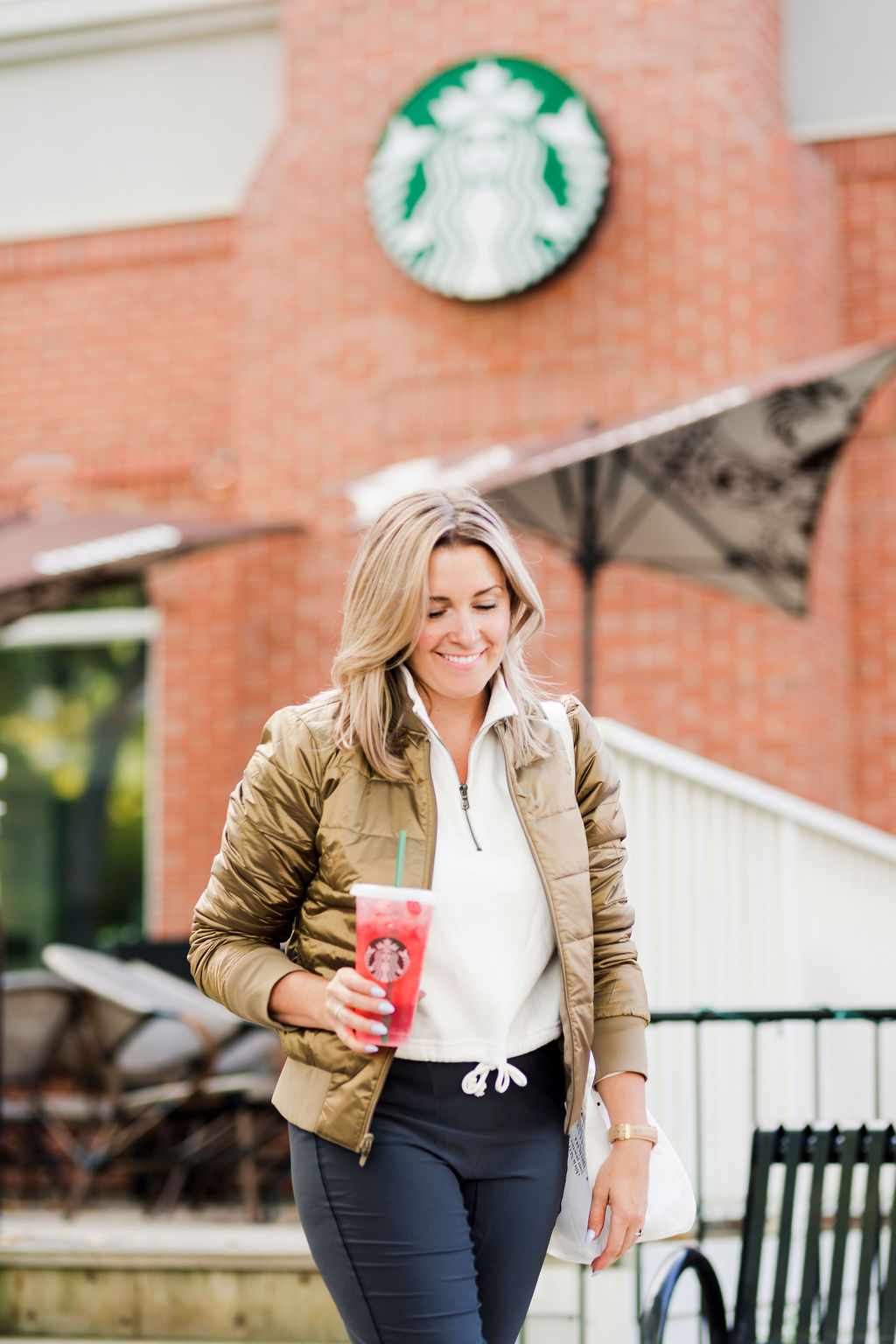 Don't forget to Pin this to your Mom Style and Casual Chic Style boards and follow me on Pinterest here!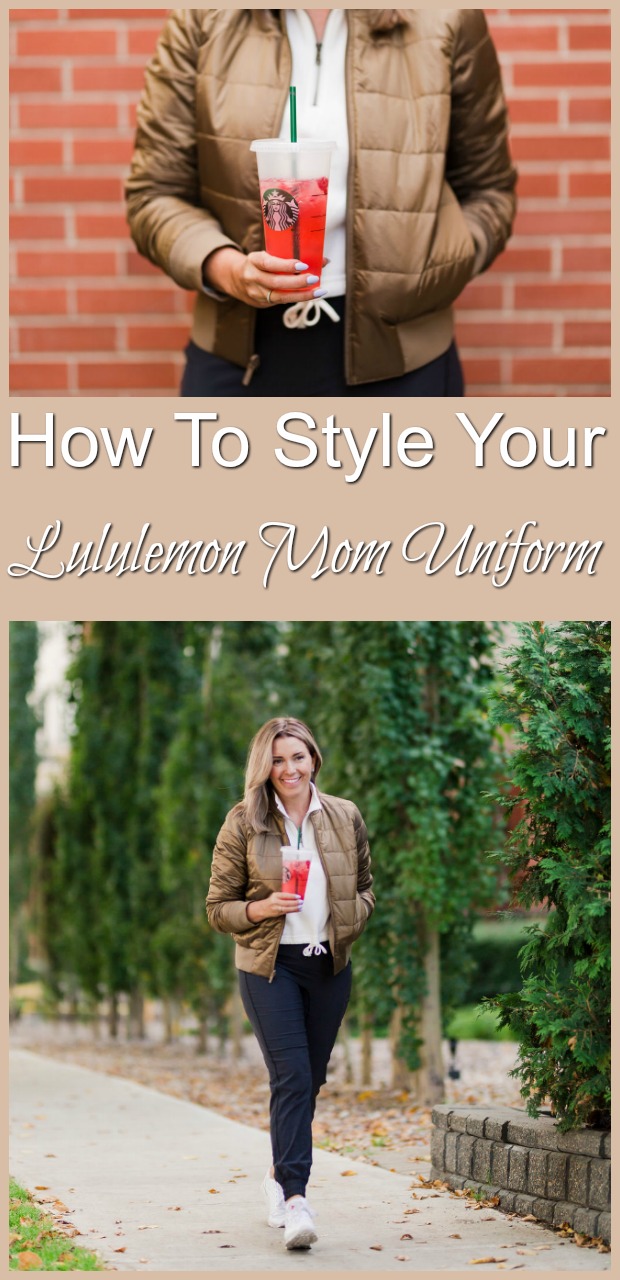 Other Posts You'll Love
The Mom Wardrobe: Five Foolproof Looks
xx