Budgets tend to get a little tight around the holidays.
Here's how you can create an inexpensive Christmas tablescape using items from Dollarama!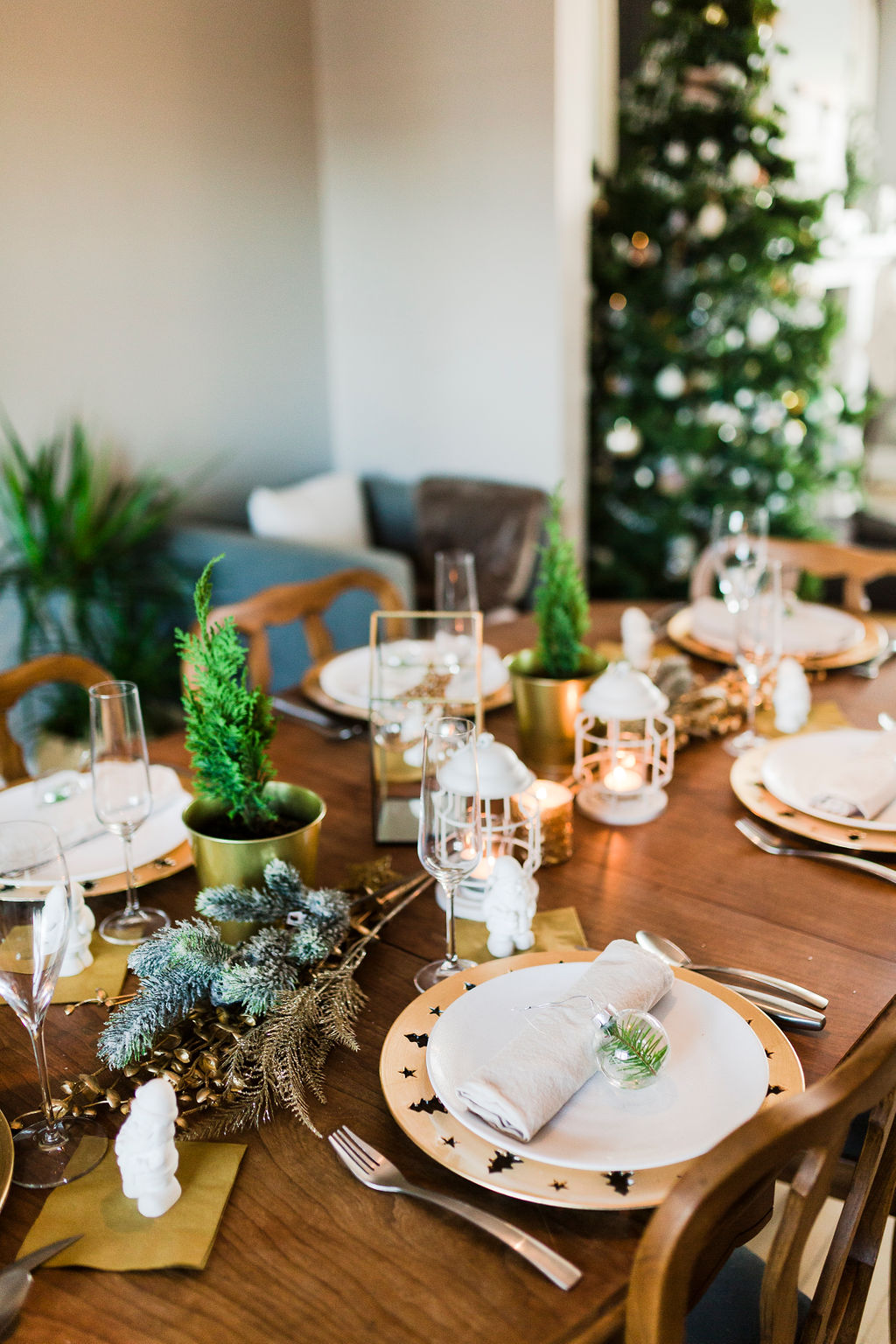 It's so easy to go overboard at Christmas. We want to make things as special and beautiful as possible! If you're anything like me, when it comes to a project, you'll dip into credit to perfectly pull it off. That's why I thought it would be fun to challenge myself to create a beautiful, inexpensive Christmas tablescape using as many items as possible from Dollarama.
Tableware
Our entire home is decorated with green, white and gold for the holidays, so naturally, I stuck with that vibe when putting this all together. Would you believe these plates are plastic? Your guests may not even notice, because they're so thick and actually really nice! I used these decorative gold plates with Christmas tree and star punch-outs as chargers. The champagne flutes are ours, and this is our regular rotation flatware. You could, of course, do something a bit fancier with your cutlery. This black set is really cool and I love these gold ones.
Favours + Placecards
I popped down the dollar store's ornament aisle, and grabbed a few packages of clear plastic ornaments. Once I got home, I added a small amount of water and a sprig of evergreen from the tree in our backyard. Your guests can take these home and hang them in their own house as a memory or the beautiful evening. You could also add a small name tag to each to make it a place card.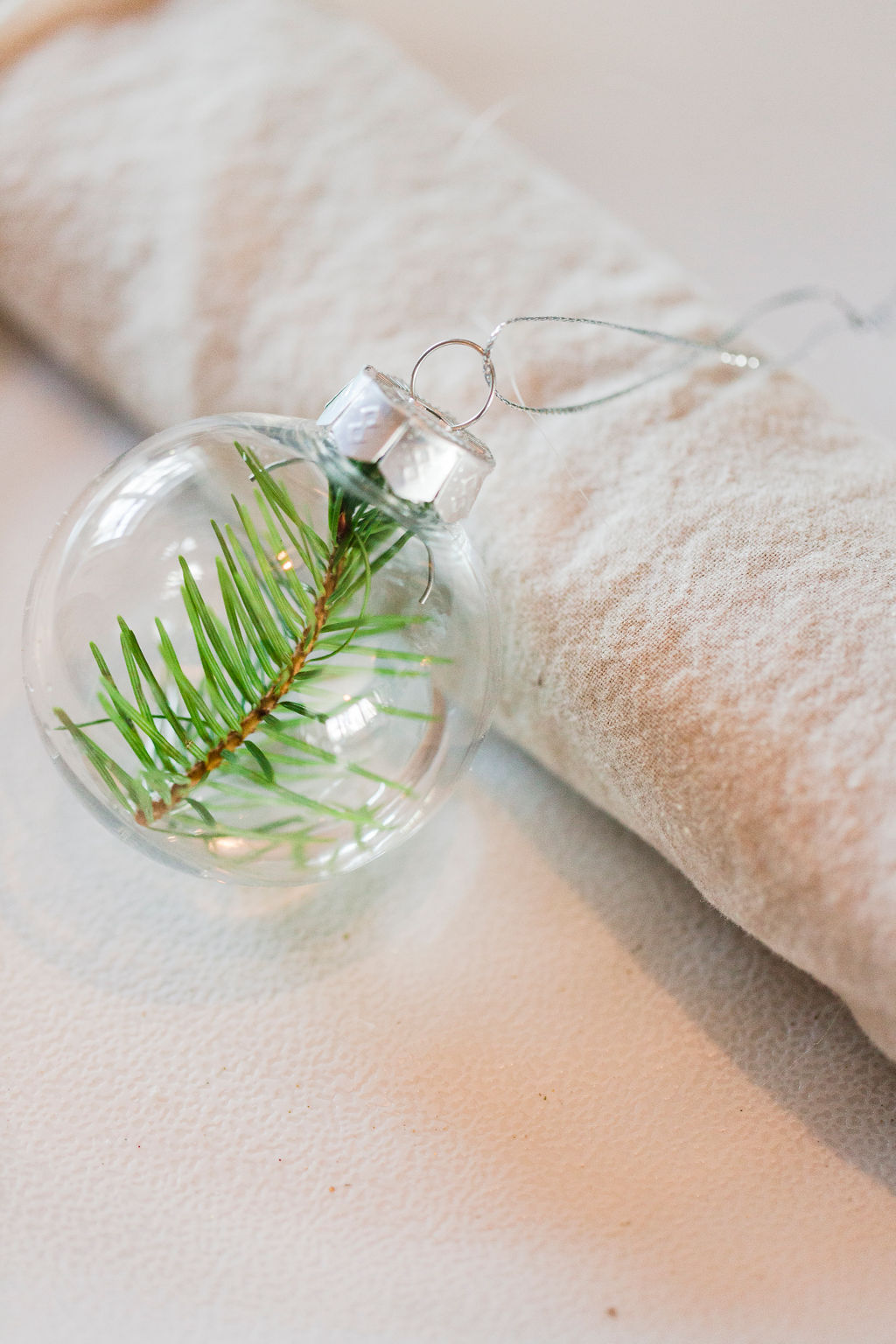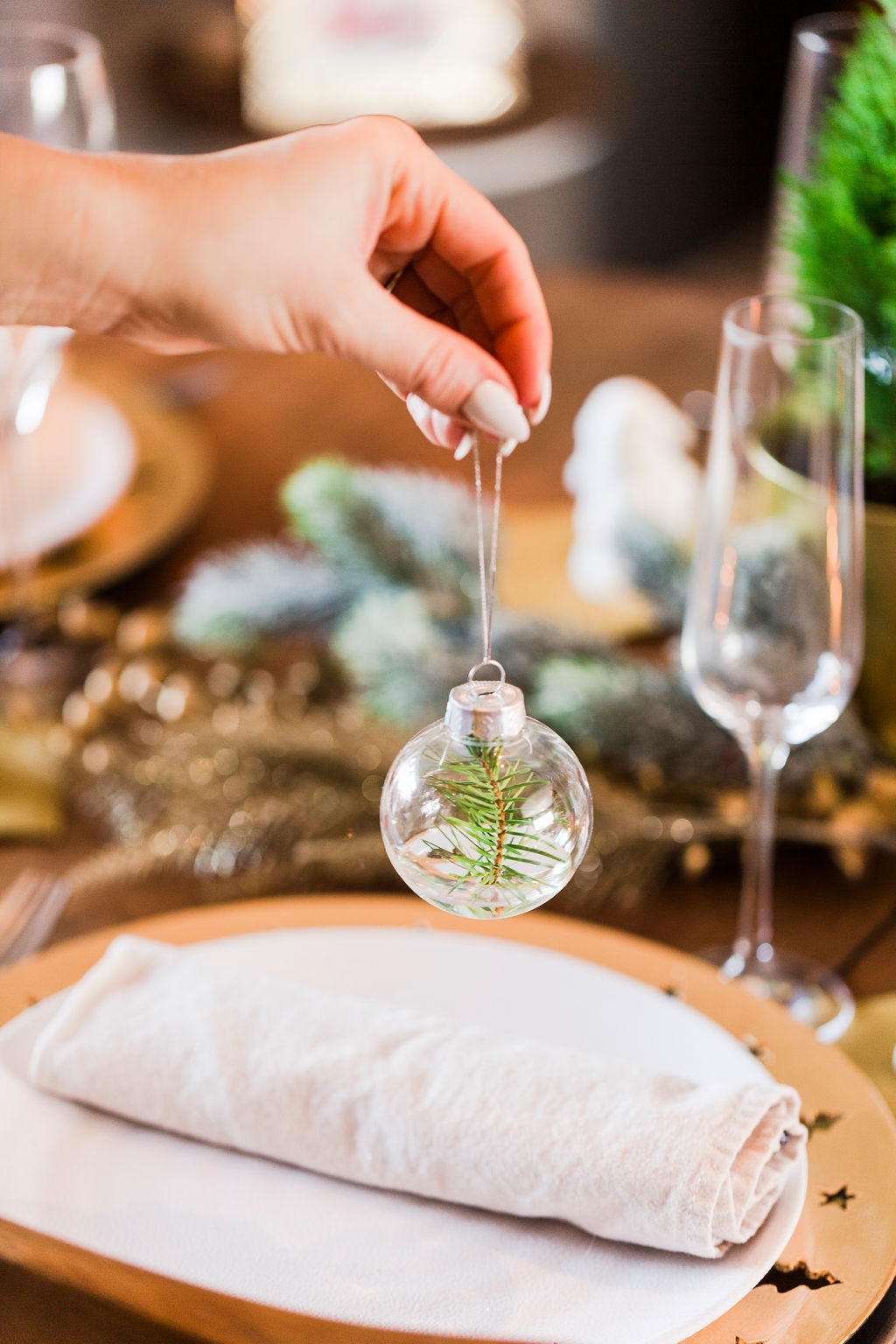 I found these cute ceramic Santas (below) down the kids' craft aisle. I snagged them purely for decor purposes, but you could also send your guests home with one each. You could also save them for a kids' playdate craft following your dinner. The final idea (depending on what kind of party you're throwing) is to have each guest paint one to take home. With so many options, and at only $1.50 each, I was pretty thrilled with this find!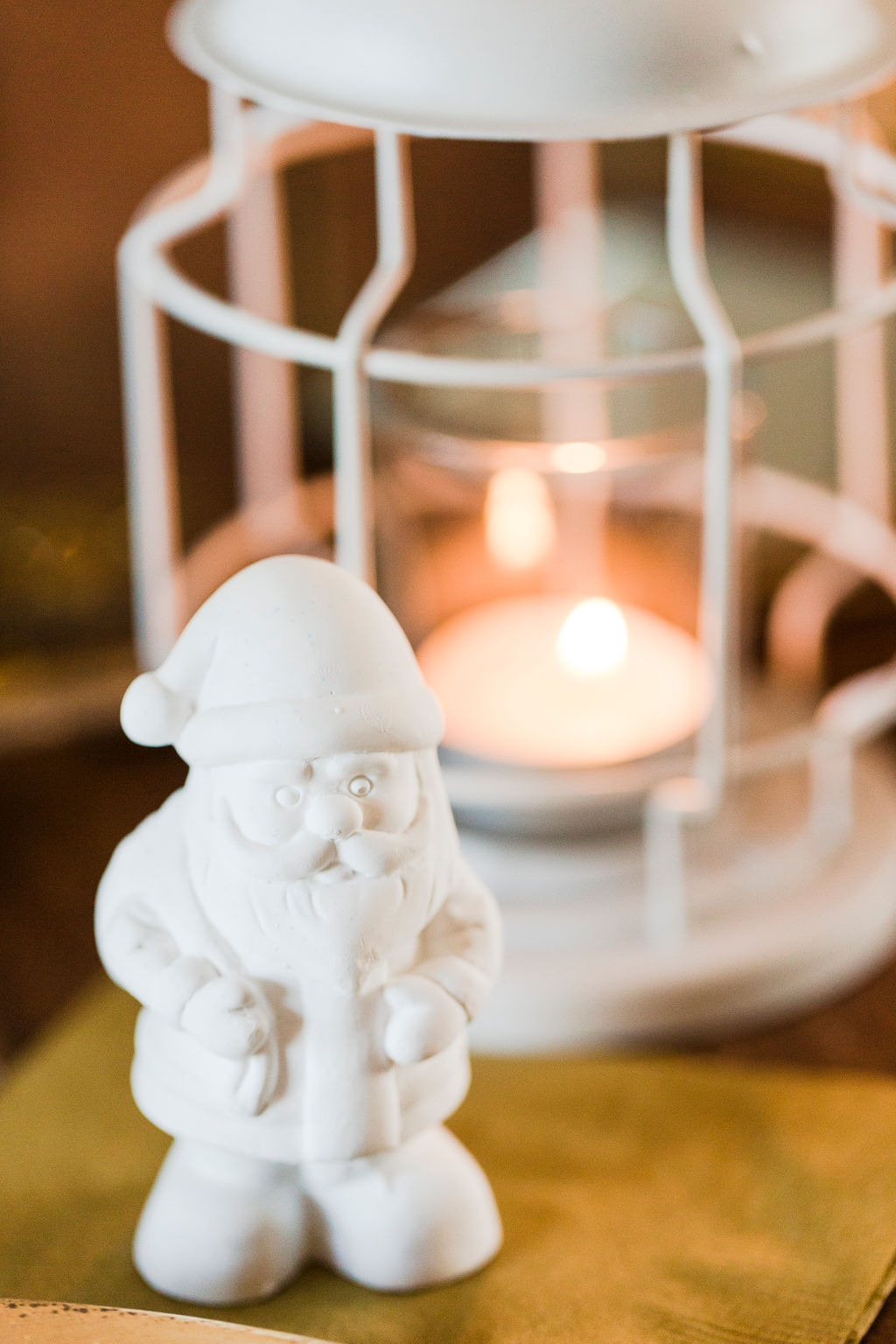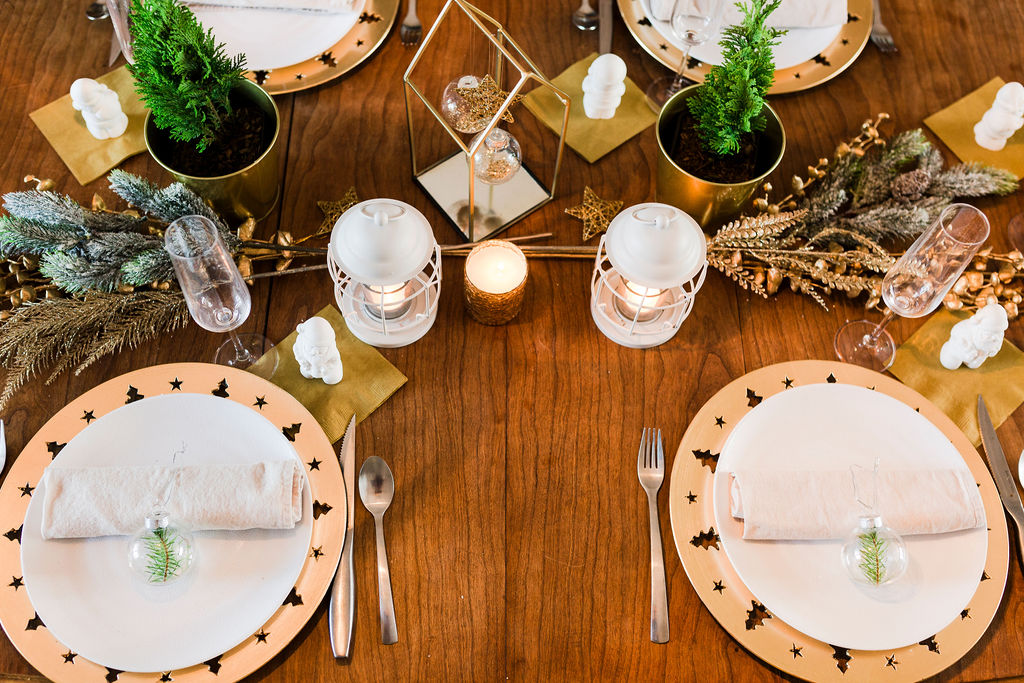 The Centrepiece
The faux floral down the middle is six pieces total (two matching sets of three), at $1.50 each. I made sure each of the pieces were complimenting tones, but presented different textures, to add interest to the overall look of the table.
The white lanterns were a total steal at $4 each…and such great quality! I plan on using these year-round. Maybe I'll transfer them outside to our outdoor oasis next summer.  The gold mirror-based piece in the centre was originally black, but I spray painted it gold and used fishing line to hang a gold star ornament with the two leftover plastic balls. This time, I filled each ball with gold glitter chunks I found in the craft aisle.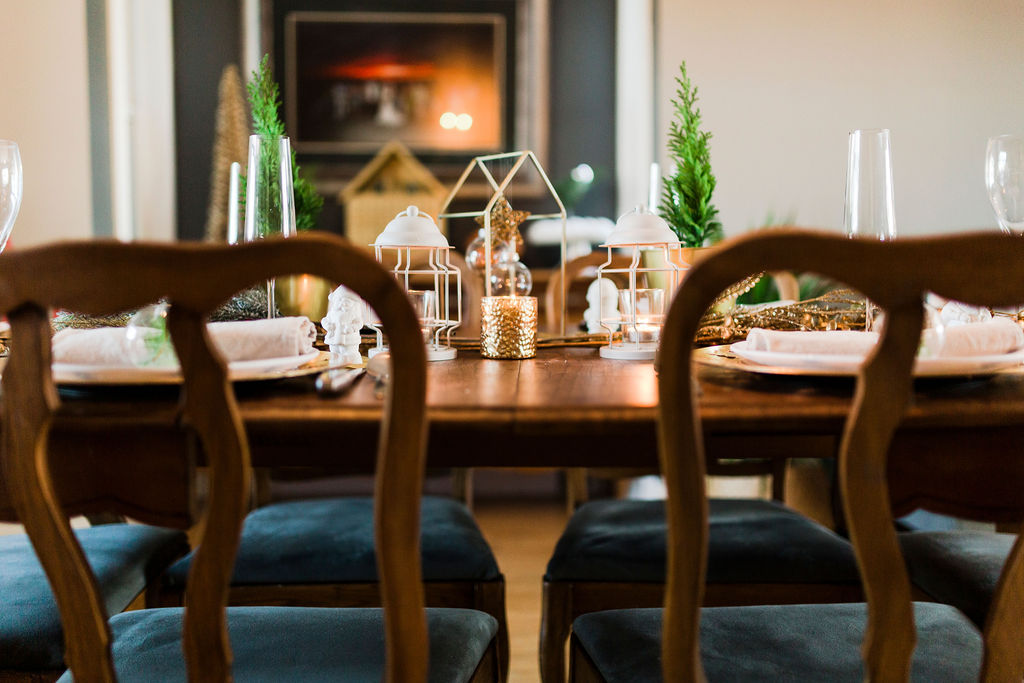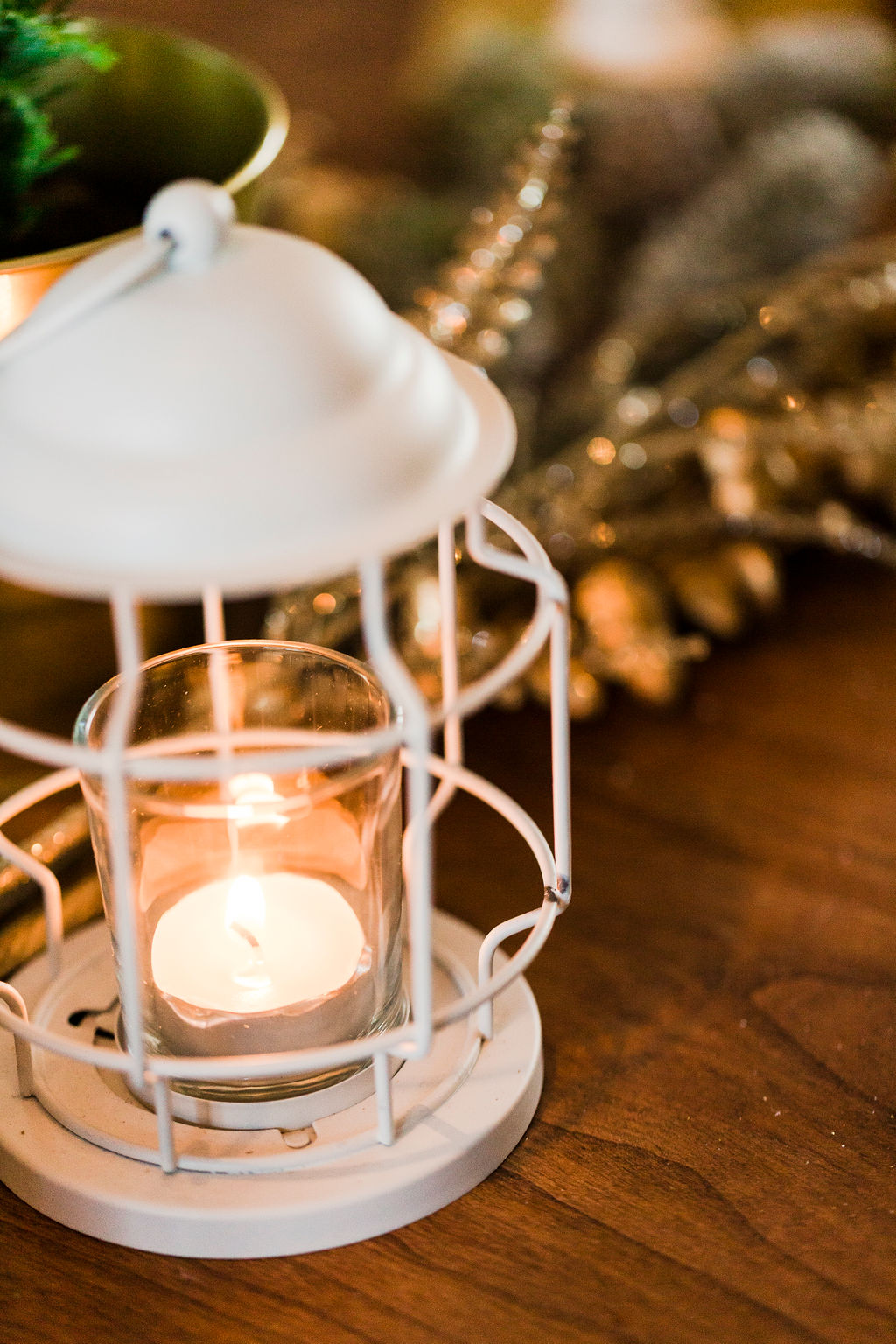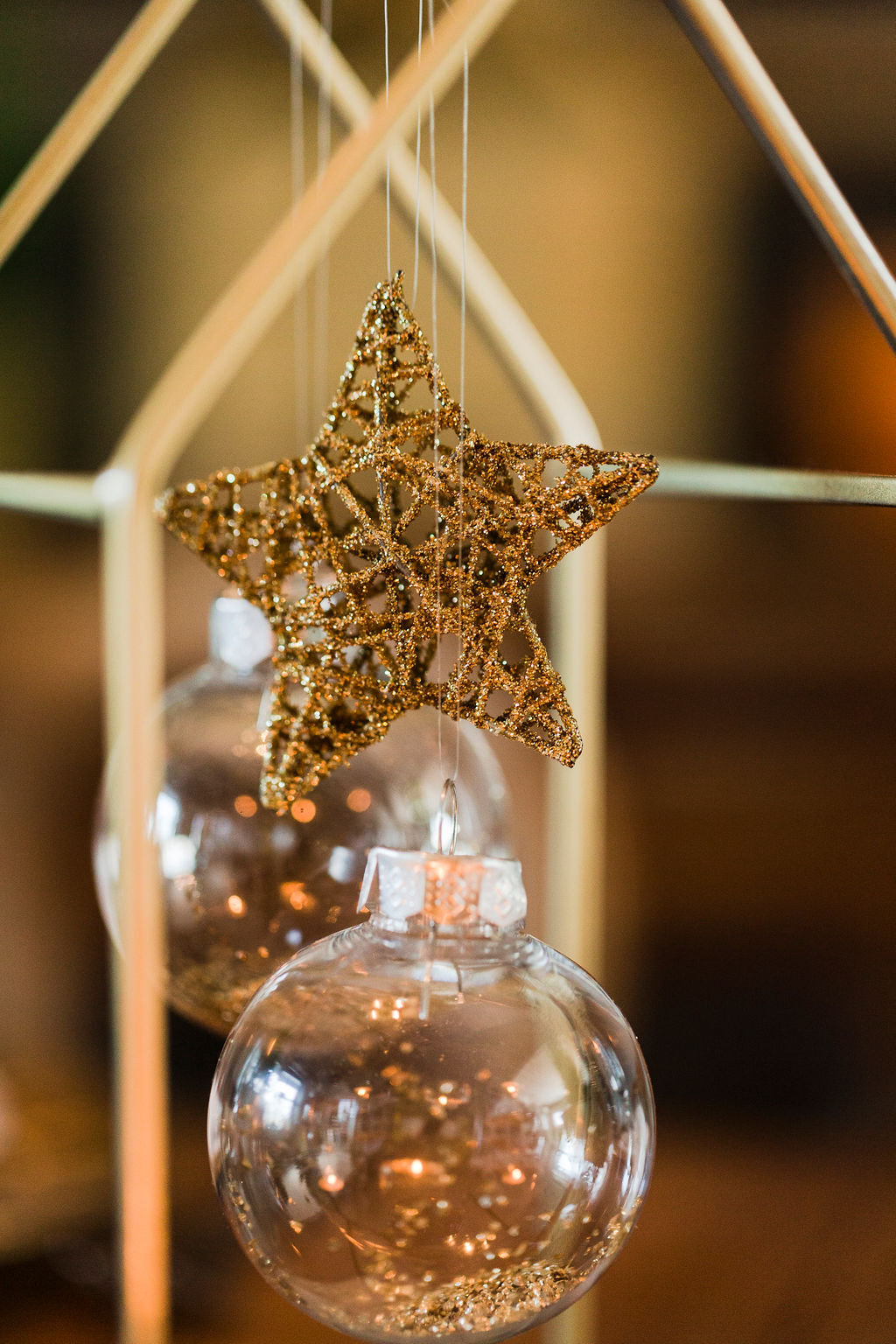 The gold pots are actually from Ikea, but are still super inexpensive. Ikea also sells similar little evergreen trees, but I found these ones for about $10 cheaper per tree at the grocery store.
Tips For Creating An Inexpensive Tablescape
Rework items you already own! Take a look at the pieces you already have, and get creative with different uses for them.
Explore other aisles! Venture into the rest of the store (not just the Christmas aisles) to find pieces you can integrate. This is typically where the creativity really comes to life, and it's where I found most of the pieces for this tablescape.
Spray paint! A $10 can of spray paint can be the ticket if you're struggling to find less expensive items in the colours you're working with.
Head to the backyard! Before going to spend a whole bunch on greens and decorative branches, pop out and see what may already be available on your property.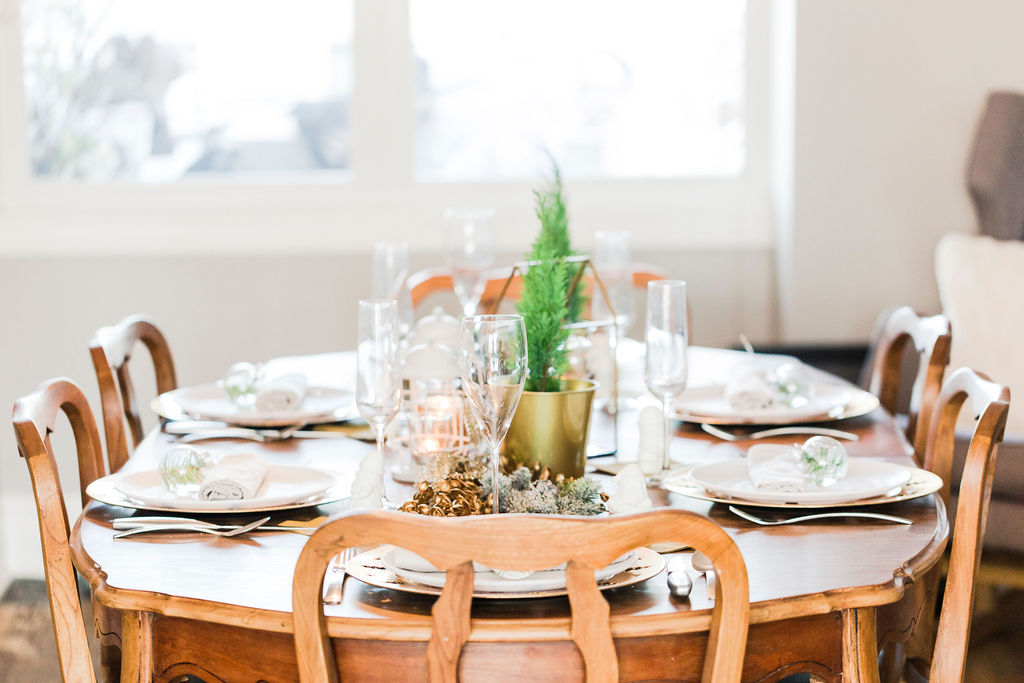 I hope you found this useful! I would love to hear your questions and comments below!
Photos: Dallas Curow Photography
Pin this to your Christmas Tablescape an Inexpensive Table Settings and follow me on Pinterest here.

Other Posts You'll Love:
Mom + Me Date Ideas For The Holidays 
Gift Guide: Create Memories With Christmas Gifts
xx