The coolest stuff to create a kids space room! An amazing astronaut print, rotating stars, spaceship chair and more.
All the details below, with links to shop everything!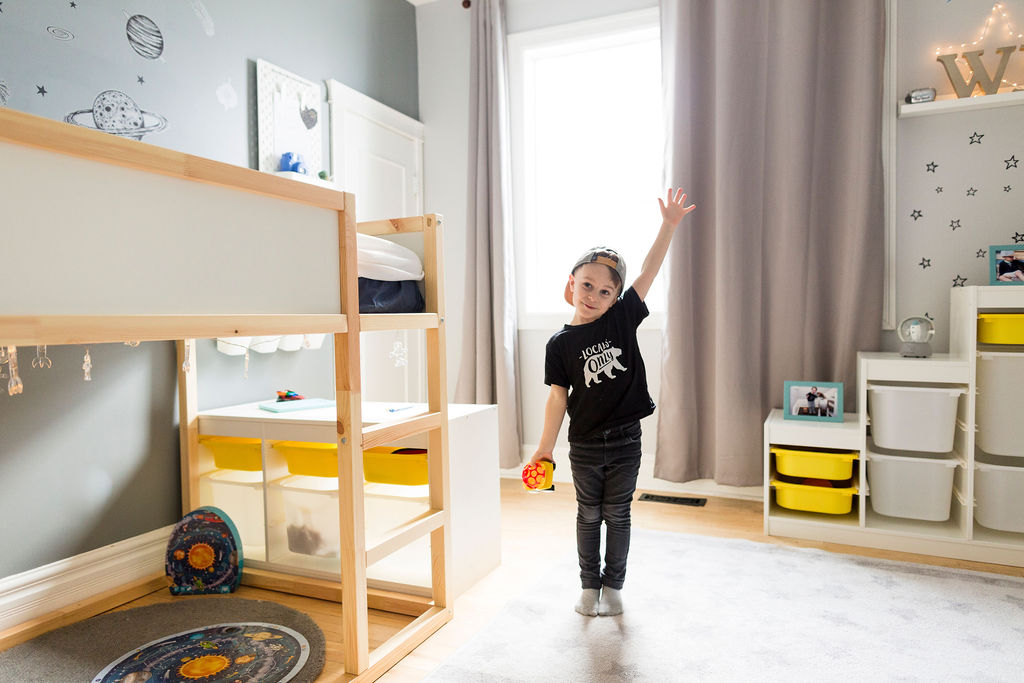 We were pretty pumped when our little guy Wyatt finally decided on a Space-themed big boy room. (He went back and forth on different ideas for months!) There are so many cool pieces out there that make creating this theme so much fun. As far as the transition goes, I started purchasing and collecting everything long before we did the actual flip of the space. Then, once everything was ordered and in-house, Wyatt went for a weekend sleepover at Grandma and Grandpa's, which allowed us the time to properly set it up.
Here's everything we included to create a really cool kids' Space room!
The Bed
The Kura Reversible Bed is a perfect option for a toddler room (*please note – the age recommendation for this bed is six years old). You can set this up as the lower bed option for younger kids, and then flip it to a bunk as they get older. It's still relatively low to the ground in the bunk style, despite leaving plenty of space underneath for what we like to call 'the hangout area'.
The Bedding
How cool is it for your little one to snuggle underneath the sheets as an astronaut?! Shop this duvet cover set from Tiny Trendsetter.
The Hangout Area
Every inch of this room has a purpose. The design of our house isn't conducive to a playroom or craft room, so we have to get creative with our use of space. Having the bed bunk-style leaves a big space underneath for Wyatt to do puzzles, read, and it's the BEST spot for a sleepover!
I wove these astronaut and planet string lights through the bottom of the bed. This pod-style swivel chair has all the Outerspace vibes. Your little one can pull down the hood for a cozy little hideaway.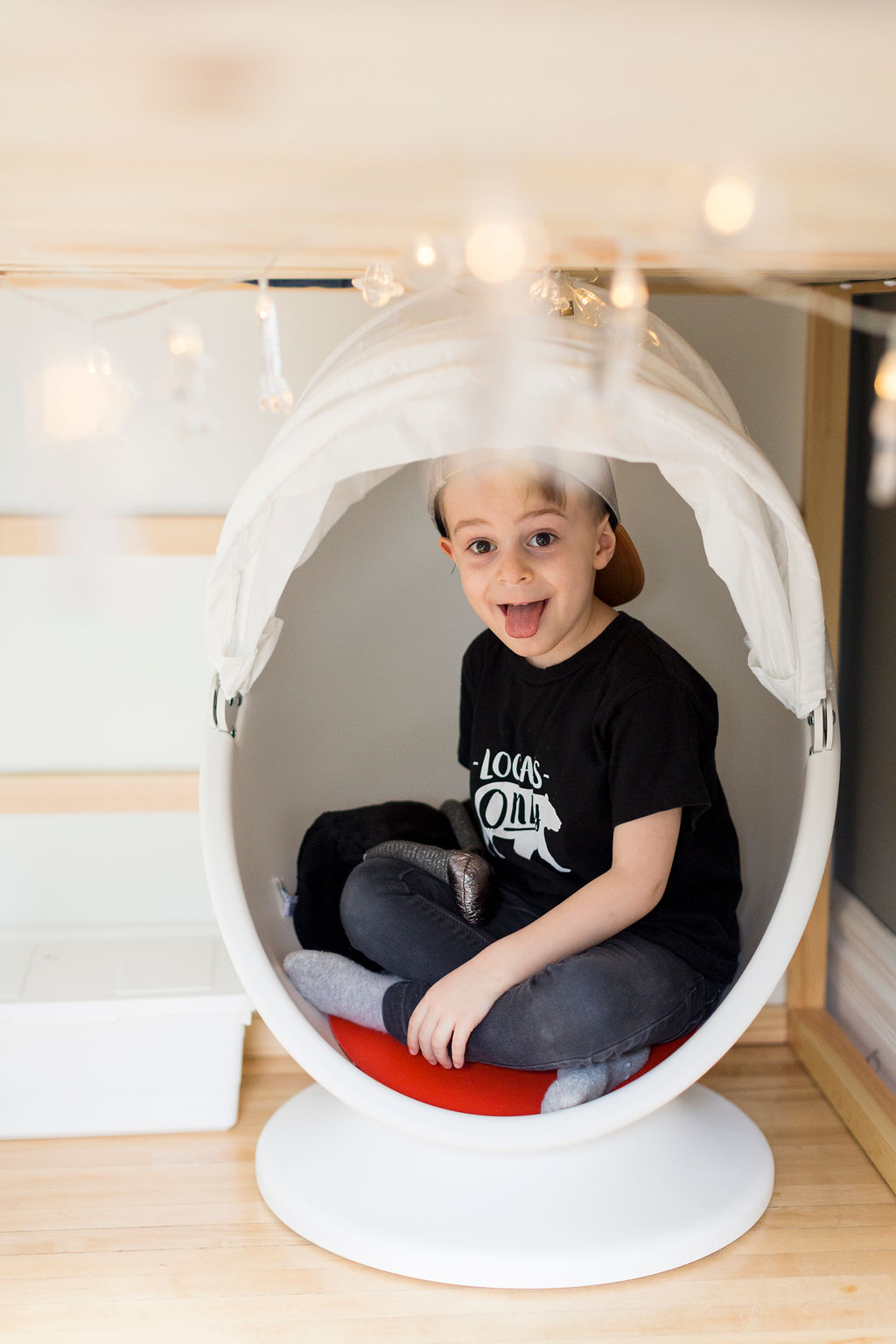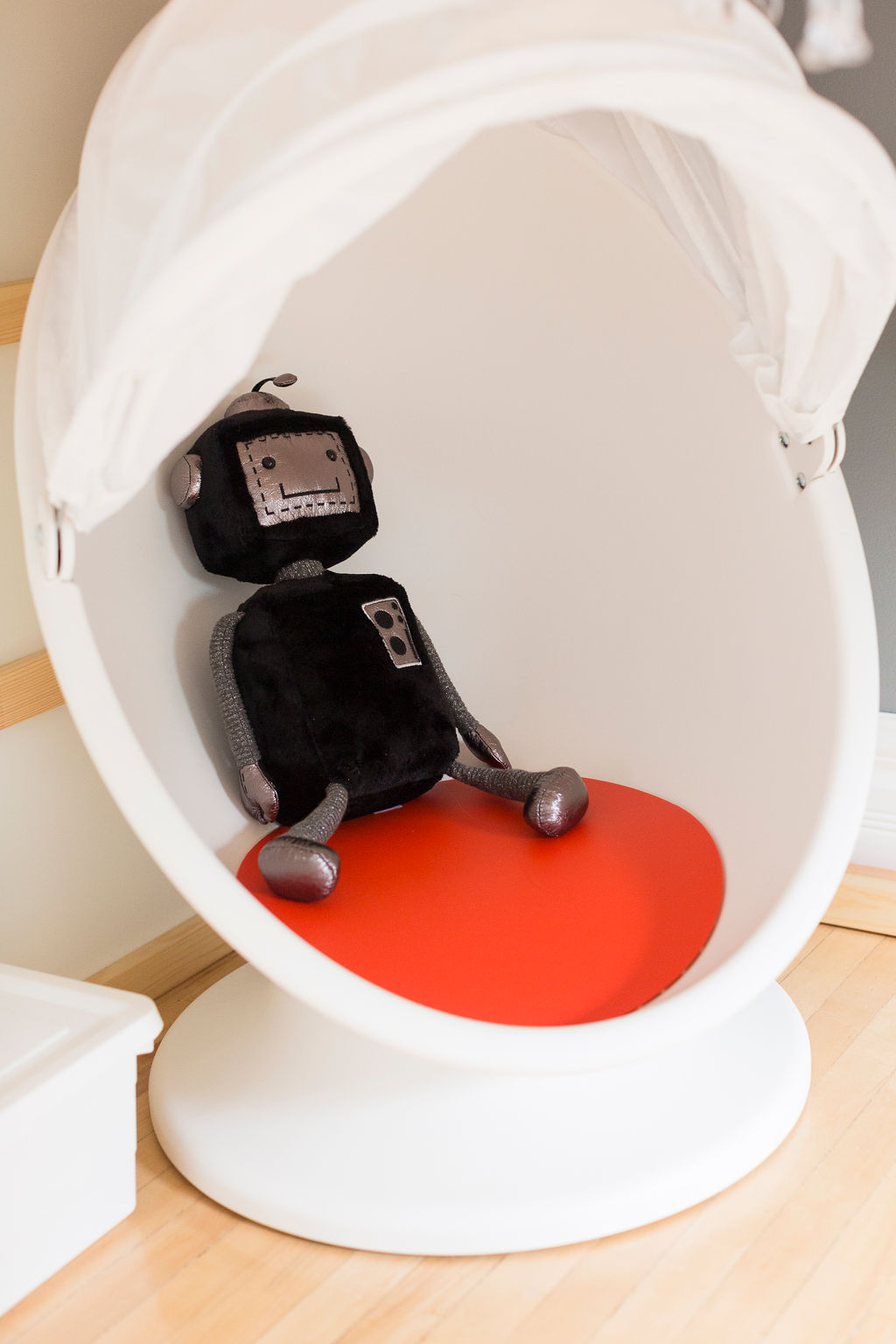 A circular grey throw carpet (which resembles a planet) makes the hangout area a little more cozy. I added in a small white display shelf for books. Links to shop:
Kids Space Room Play Area
We love the entire area designed to haul out the toys, with the perfect options to tuck everything away. This Trofast organization unit was originally going to be used as stairs to Wyatt's bed, but once we got everything in, that idea didn't really fly. Now it's set up against the wall by the window, and is perfect for storing so many of his toys! (I have a whole post coming on amazing toy storage hacks, so be sure to watch for that). I mixed and matched yellow and white bins to keep with the theme of the room. Bonus: if the bins start looking gnarly over time, after constant use, they're relatively affordable to replace.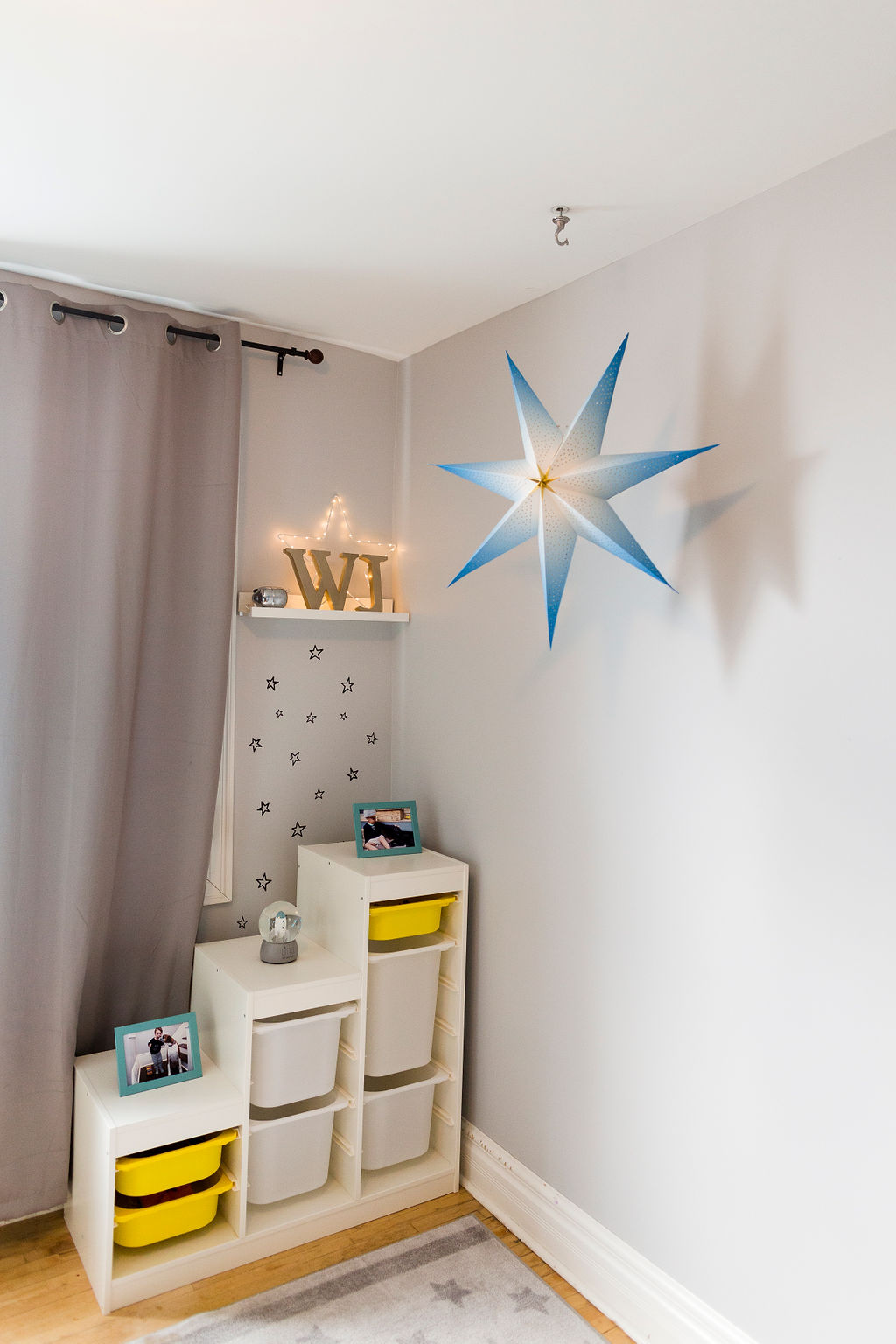 Shop the star carpet at $40 here. Find similar ones here and here.
I used star decals left over from the main wall to trail from the display shelf to the toy storage. The blue frames are an inexpensive score from Ikea.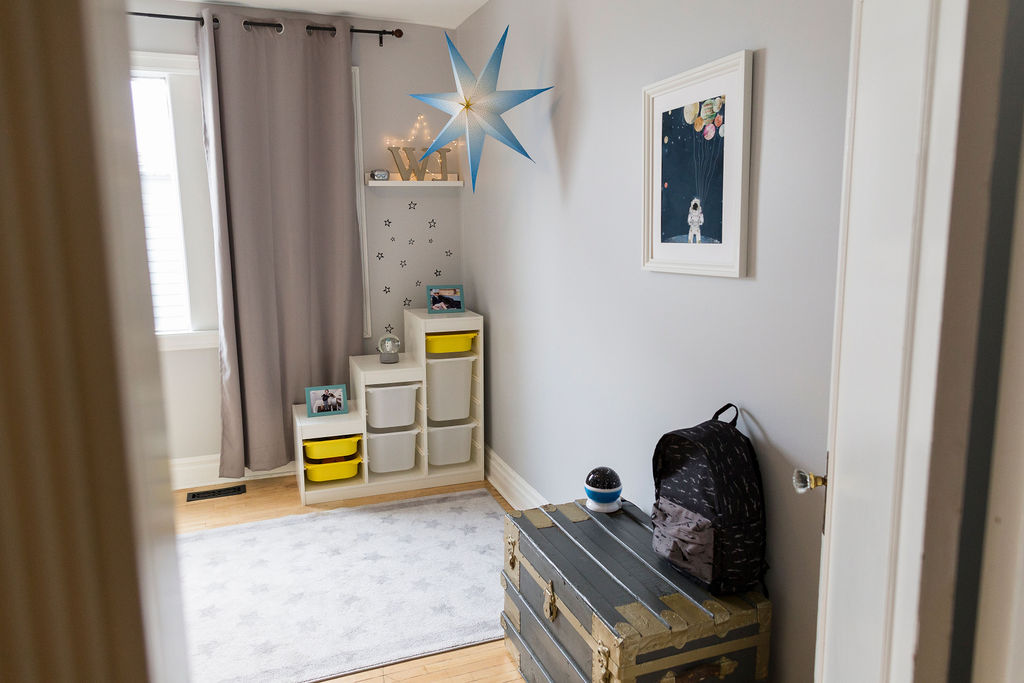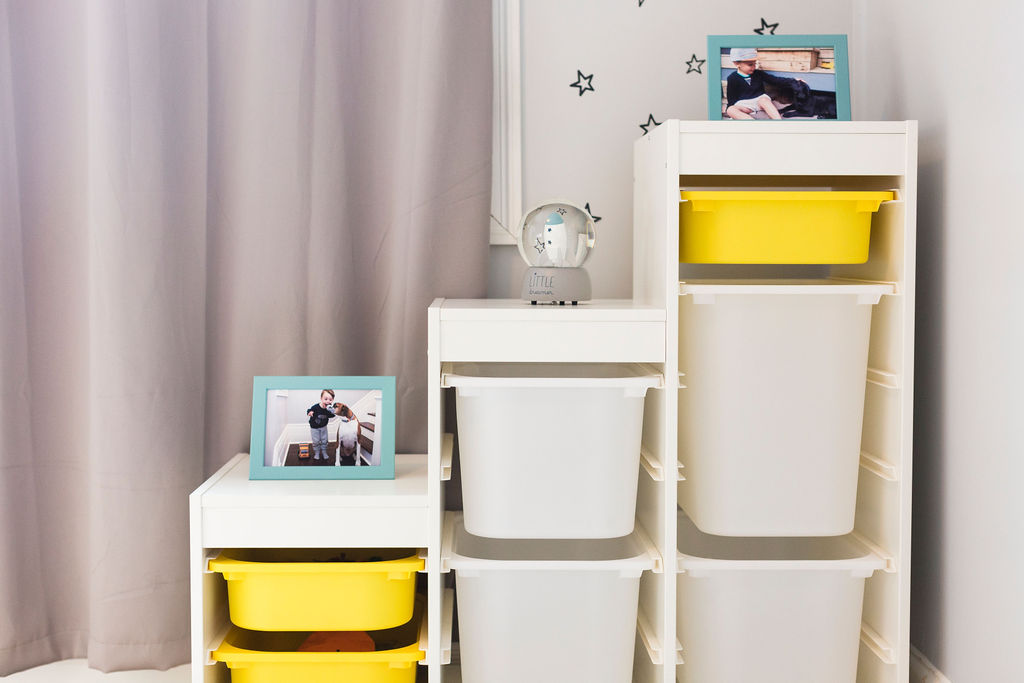 Wyatt's toy chest is pretty much the only piece we transferred over from his "baby room". My dad originally found this as someone else was throwing it out, and restored it to hold Wyatt's toys and books.

The moment I laid eyes on this print, I knew it had to be part of Wyatt's special space. Any chance we get to support small shops, we take it. Shop it here!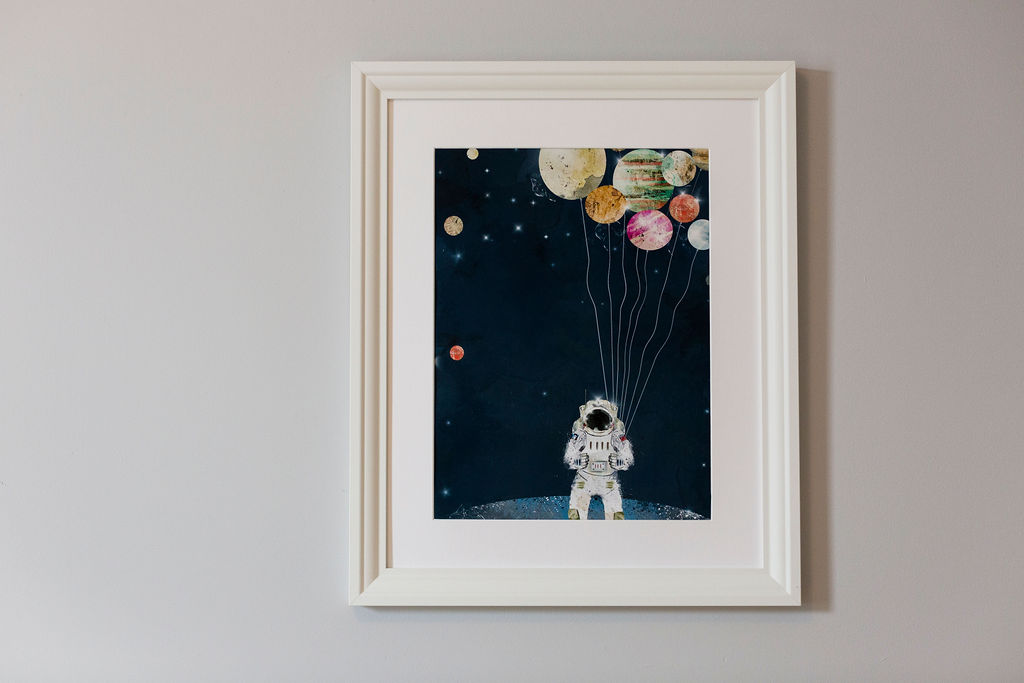 The hanging blue star is intended to be a light. You can avoid the hassle (and the hanging cord), and hang it from an 'S' hook without connecting it to a power source. However, I think it still looks cool! It's from Ikea, but it appears to be discontinued. Here's a similar one.
Art Centre
I snuck in a mini art centre at the end of the bed for very little cost. Here's the how-to with all the links to shop: How To Set Up An Art Centre in a Toddler Room. 
The Rest of The Details
Star Lights – these are from Ikea's Christmas collection and no longer available, but you can shop other options here.
Chris Hadfield's The Darkest Dark
Wall Decals
The wall decals are a combination of two separate packages mixed together. Shop them here: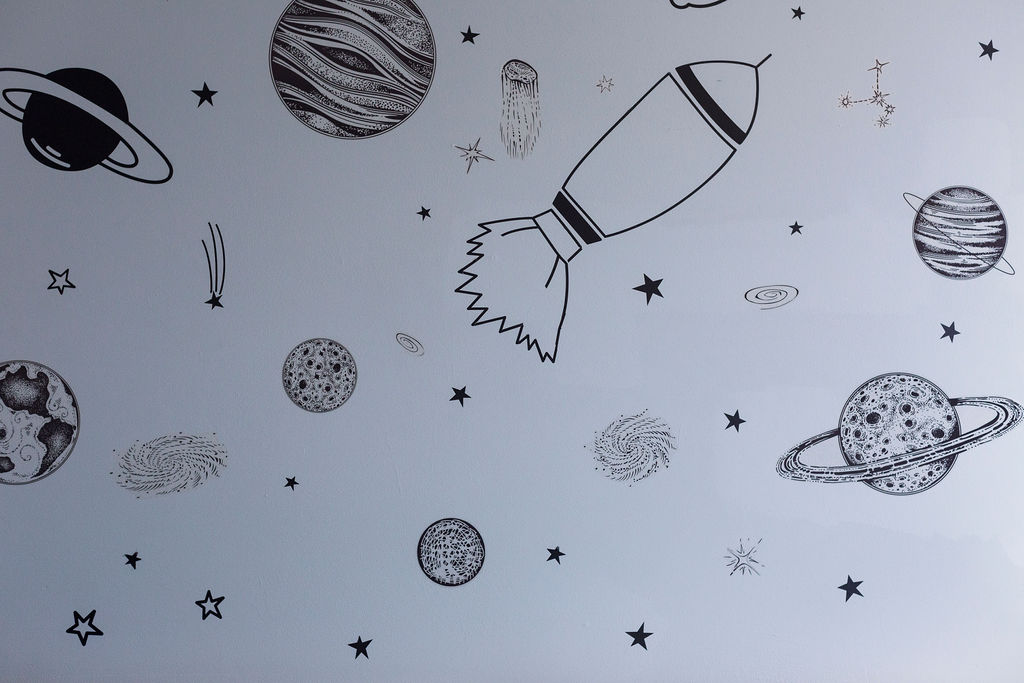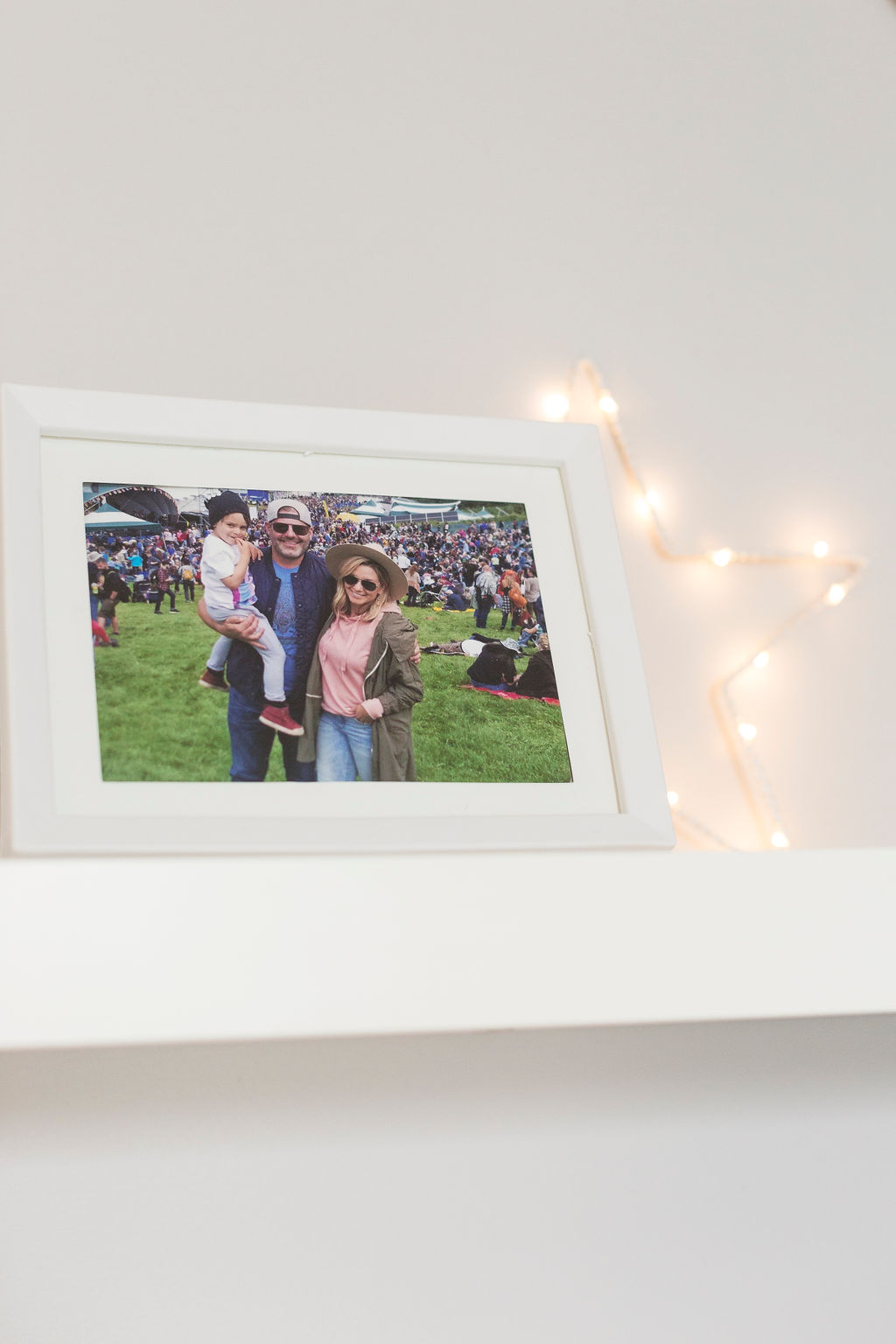 This moon light from Urban Outfitters can change from 1/4 to 1/2 to full moon, and comes with a remote control. Shop it here. This one is also really cool, and a great price!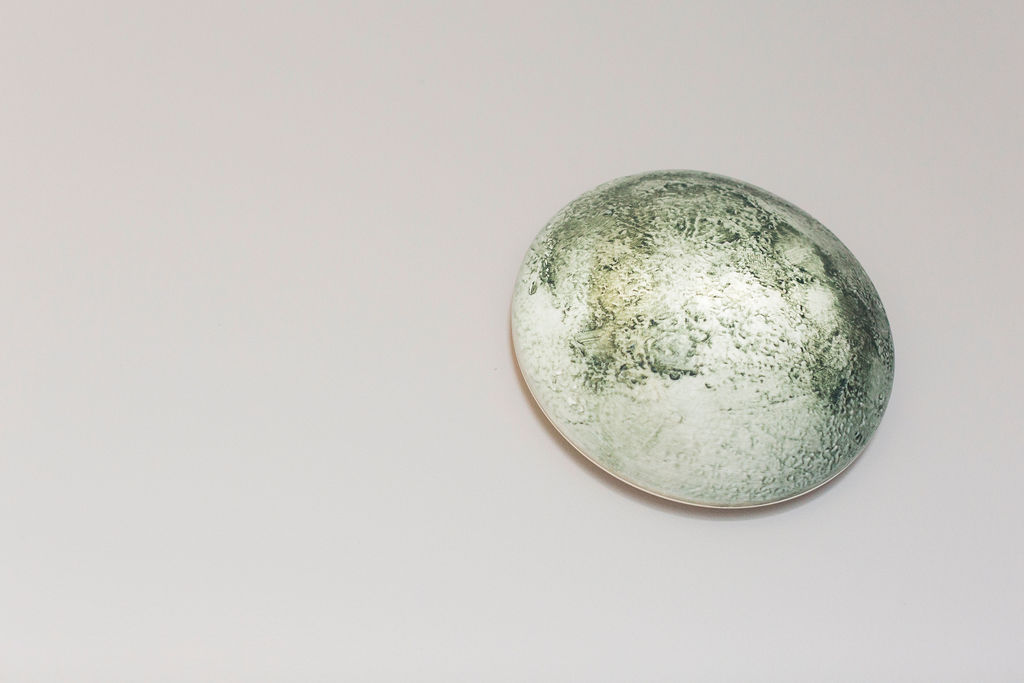 Every single night, we turn on Wyatt's rotating moons and stars lights which have turned out to be the star of the show (pun absolutely intended!) in his big boy space. Shop it here.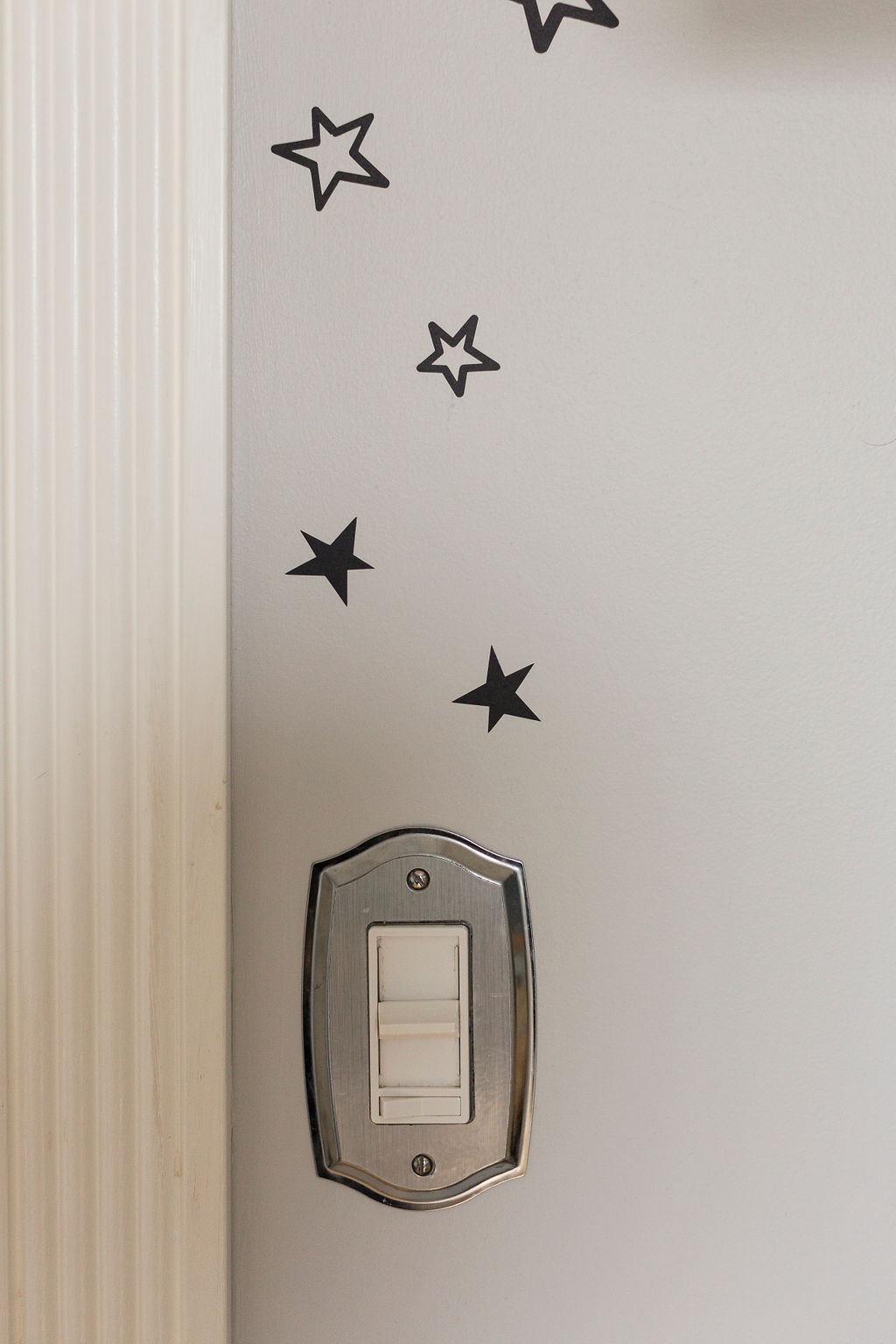 There's No Place Like Space Book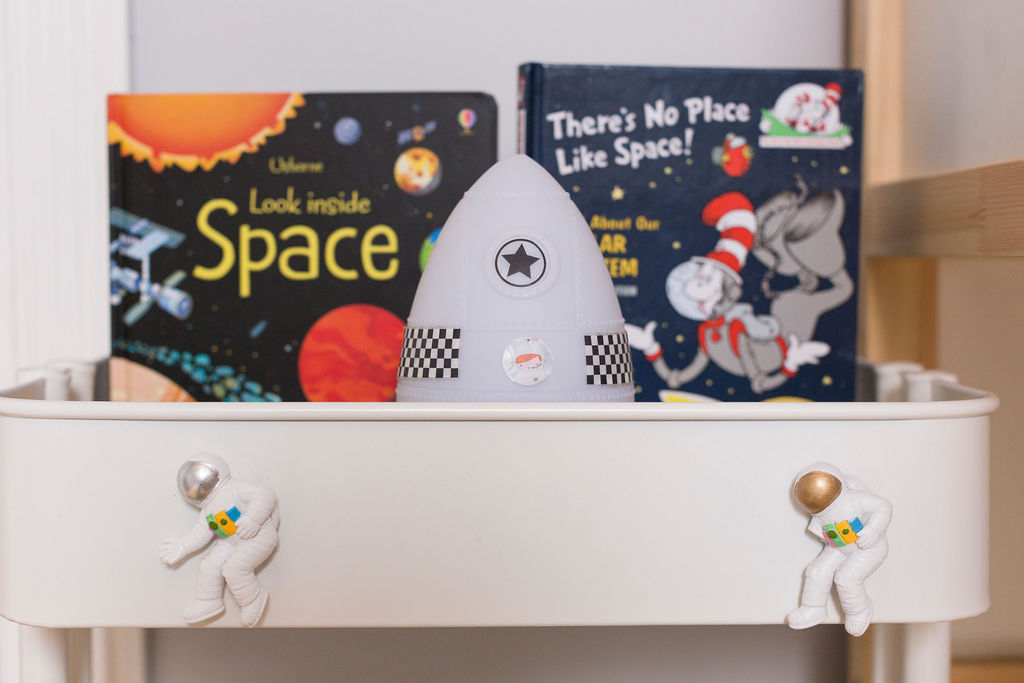 Little Dreamer rocket snow globe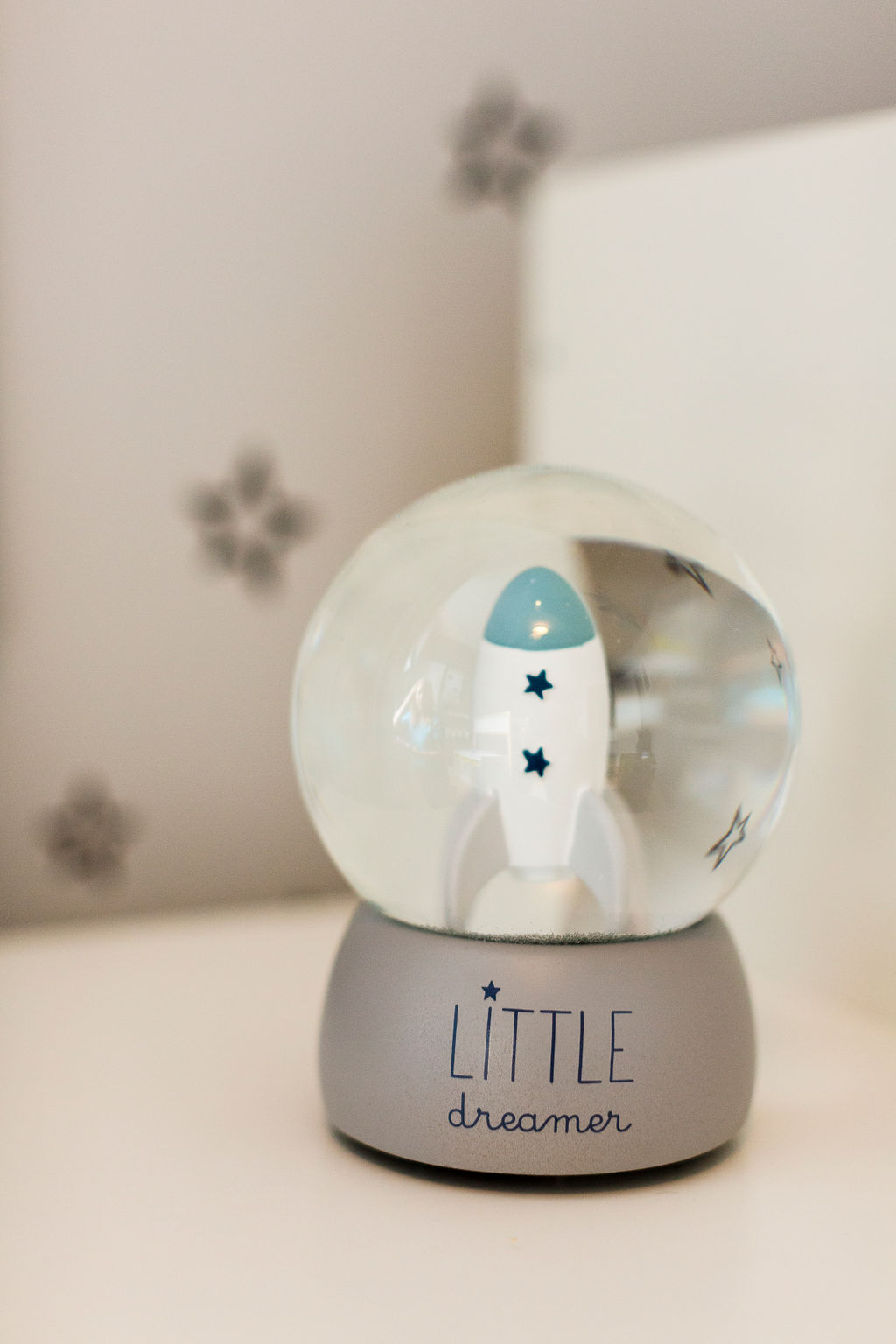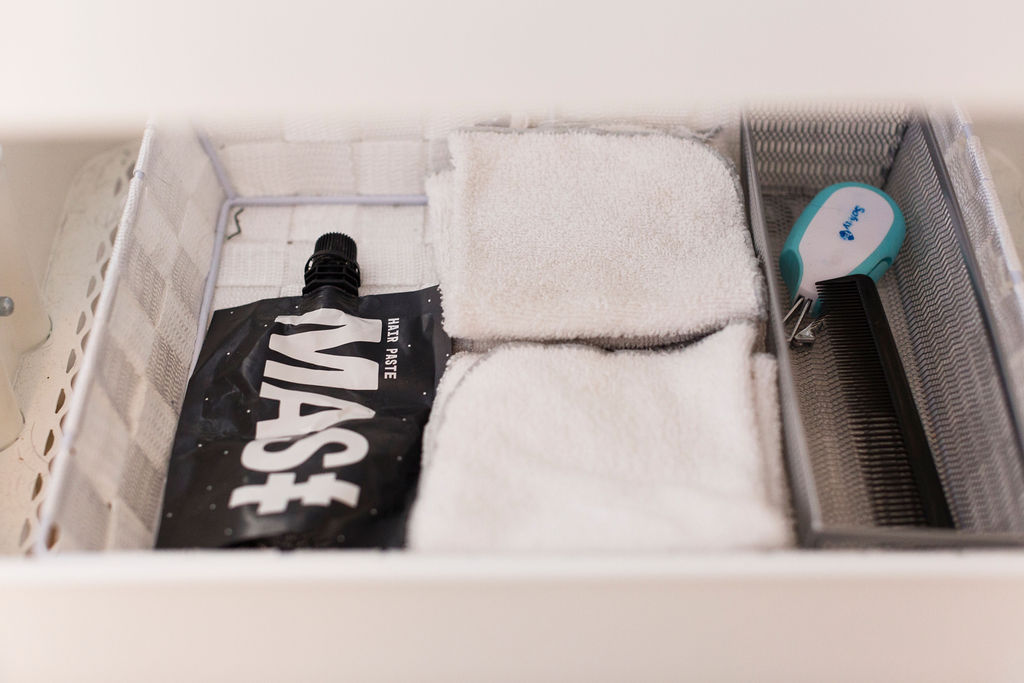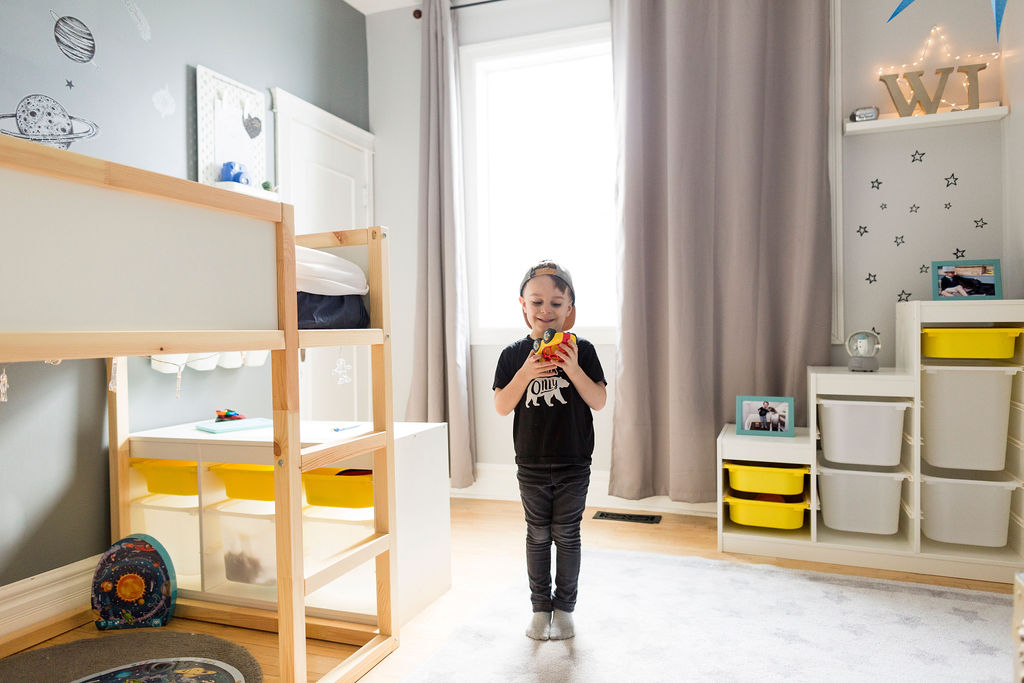 photos: Dallas Curow Photography
Don't forget to Pin this to your Toddler Room Ideas and Kid's Space Room boards. Follow me on Pinterest here!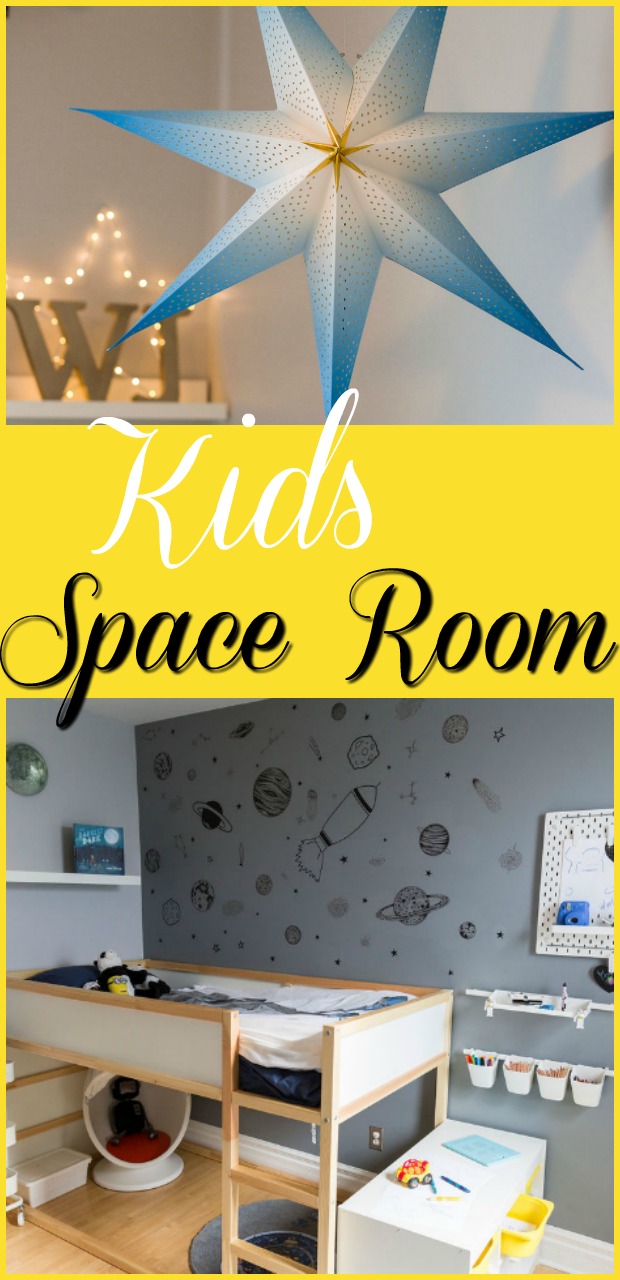 Other Posts You'll Love:
Healthy Family Time Management During Isolation
xx