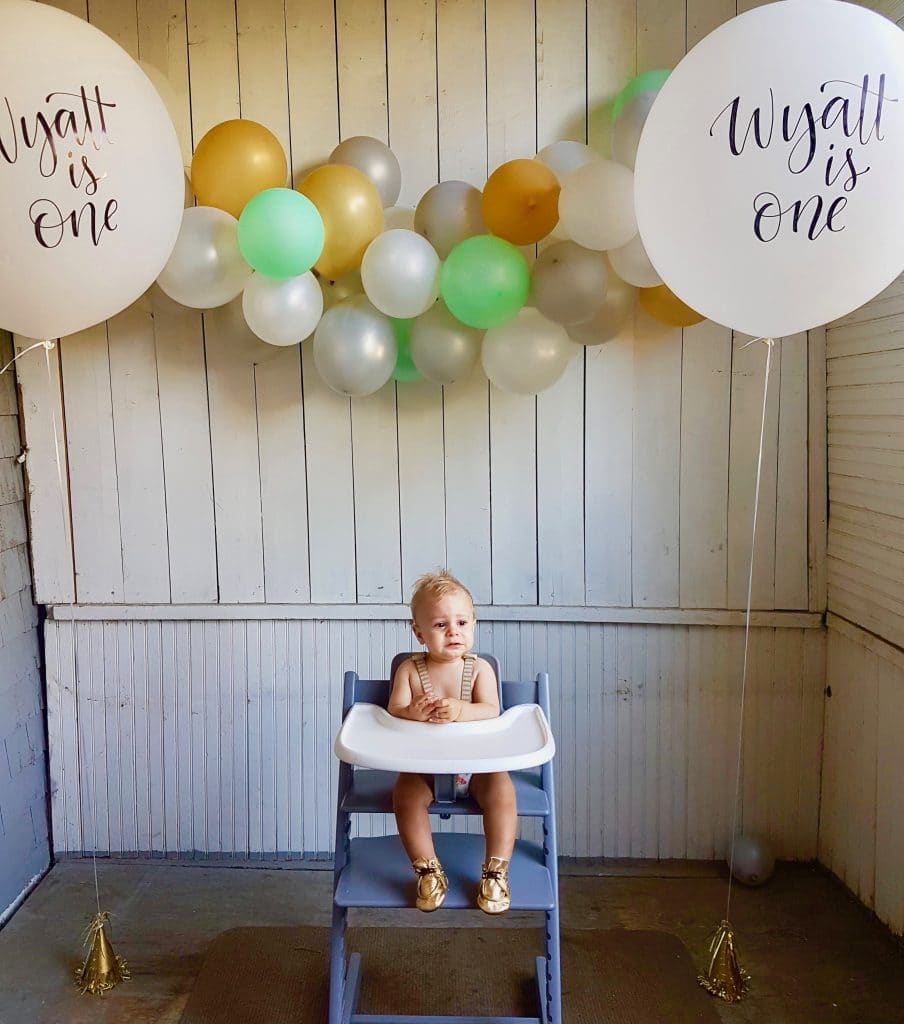 Your little one's first birthday is a big one. You pull out all the stops to create a memorable party, but what about the birthdays after the first? Surely we should celebrate our sons and daughters, but to what extent? We're starting to plan Wyatt's second birthday party and I'm feeling caught between wanting to shower him with gifts and treats, and wanting to keep it chill and small. I assume at this age, our kids don't really know what's going on anyway, and can't fully appreciate the meaning behind gifts just yet.
I can't believe how much 'stuff' we accumulate as a family. I went into parenthood trying to keep a minimalist perspective with toys and other 'stuff'. Despite that, we're bursting at the seams. The toy box(es) are overflowing, and I'm stashing books in all sorts of places in Wyatt's room, because we just have so much. The last thing we need is more 'stuff'.
Don't get me wrong: I love gifts. I love giving them and I love receiving them. It makes me feel good, both the excitement around opening a present, and the anticipation of watching someone you care about open what you carefully selected for them. It's an expression of love, of your feelings for that person. My issue is when gift giving becomes an obligation (such a feeling like you have to buy for someone just because they bought for you). I feel like the heart of gifting has been somewhat lost, and to be honest, I don't want my kids growing up entitled and expectant. So, we're considering ditching the present idea. I've chatted about this topic with my close friends, there was a great discussion about it on my Instagram too. I wanted to share a few ideas on how to work around this while still making our birthday boy feel special. These are a few of my ideas, along with a few shared by others via my social media.
If you're foregoing gift giving:
Set up a photo booth for fun keepsakes. $1 per photo with the money going to charity.
A Toonie party. Each partygoer gives one Toonie to the birthday boy/girl and one Toonie to charity. Another idea is to encourage every kid to bring $2-5 for the birthday kid to save for something later. This way, we encourage our little ones to think about their piggy banks, and time at the party is spent playing and having fun, not opening presents.
Make birthday yearbooks instead of gifts, featuring photos of all of their special moments throughout the year.
Collect book donations for the less fortunate from people attending, then have your kid deliver them to the charity to truly experience the gift of giving.
Everyone brings a dish for a potluck instead of a gift.
Have each kid make the birthday kid a card instead of buying a gift.
If gifting is still your thing:
Make it an activity theme. For example, do a movie-themed gift with iTunes gift cards or DVDs, some popcorn and candy in a basket. Or do a 'Summer Fun Bag' with sidewalk chalk, bubbles, sand toys, etc. Make the gift more of an experience than a toy. My in-laws pay for Wyatt's swimming lessons, and my parents bought us a wagon that came with ski attachments to use in the winter. This year, my parents are getting us an annual family pass to the Science Centre. I love this type of gift giving! We're always sure to take a photo of us enjoying the gift, and send it to the gift giver.
Each partygoer brings a gift, then the group participates in a fun gift exchange. There are several games you can play. This way, the birthday girl or boy still gets to open something, and everyone feels special. (This is a great way to ditch goodie bags too!)
Consider asking your little one to share gift opening duties. It's a neat idea to let each kid at the party open one gift, then let them all play with the toys together at the party.
Give books, puzzles or attractions passes to explore your city.
Make it a craft theme. Ask for crafts you can do with your kids.
There's nothing wrong with doing or saying nothing, essentially encouraging partygoers to do what they want on the gift front. There's also nothing wrong with letting your friends and family know gifts are not expected.
What ideas would you add to the list?
xx