Snag some of these ideas from our favourite family Halloween costumes in years past – pets included!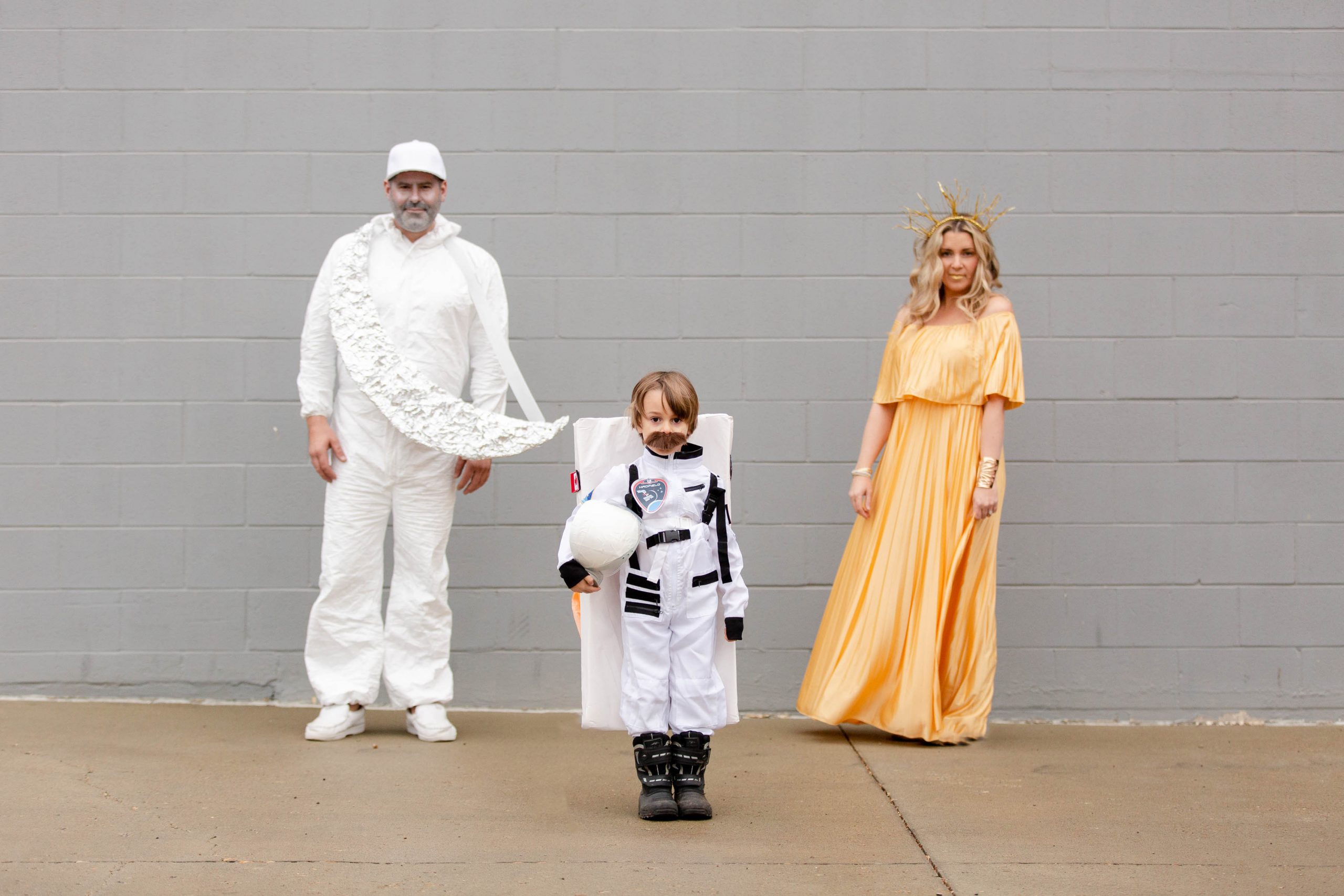 If you're anything like me, it brings me immense amounts of joy planning and putting together our family Halloween costumes each year. We draw inspiration from events and conversations that happen throughout the year. For instance, our costumes for this year were sparked by a silly chat our little guy Wyatt and I had driving to school one day. You can check back here or on my Instagram on October 31 to see the big reveal!
Below you'll find inspiration from some of our favourite family Halloween costumes from years past, including some dog and baby ideas! When you're all done here be sure to check out some more Halloween inspiration below:
Sun, Moon, Stars, and Chris Hadfield
This was such a fun one to put together! Your kid can dress up as Chris Hadfield and the rest of the family the sun, moon, and stars! I DIY'd the dog's costumes and mine and Ryan's were super easy to put together. Can you guess what Wyatt's big white pack (technically called the Primary Life Support Subsystem) is made out of? Find all the DIY and shop details here.
Kari Skeleton
This one was handed to me on a silver platter. LOL! Quite frankly, I'm surprised it took me that many years into my life to come up with it! (So many times my name – Kari Skelton – was mispronounced growing up).
I got the skeleton full body suit at Party City (similar here), used my own coat, purse, and shoes and had Makeup Artist Nicola Gavins create magic on my face and neck. I truly didn't want to wash it off. Favourite costume ever!
Toy Story
If your kiddo is Toy Story crazy – this is perfect for you! There are so many characters from the movies to choose from, so options are endless to keep everyone happy. Find all the details on our Toy Story Halloween costumes: Woody and Buzz, alien dog costumes, how I whipped up some cow print chaps for Jessie, and custom Toy Story pumpkins – here!
Colonel Sanders + A Bucket of Chicken
If your man is rocking a stellar stache this one is for you! We put this couples costume together for the Movember gala many years ago. Each wrap-up was a costume party build around the moustache. For Colonel Sanders all you need to do is spray-dye the 'stache and hair, find a white suit and black-framed glasses. My 'Bucket of Chicken' costume was constructed by Theatre Garage in our home city of Edmonton but here's what you'll need to make it happen:
poofy skirt
a whole bunch of white feather boas pinned or glued to the skirt
yellow tights
white bodysuit
duck feet (these slippers would work perfectly)
DIY: KFC container with bits of white boa glued to a hairband
Jason + Kari
This one fits if you have the same name as a horror movie character. Back in my radio days, I co-hosted a weekday morning show called 'The Wake Up Show With Jason and Kari'. Jason Roberts (my co-host) dressed as Jason from Friday the 13th and I went as Carrie from the 1976 film 'Carrie'. A white dress, fake blood, and a crown…done! Super easy and I think, a pretty creative route to go for Halloween.
Kid & Pet Costumes – #1: Fox & The Hound
Here are a few more ideas for kid and pet costumes from Wyatt's first four Halloweens!
Etsy has a ton of cute newborn fox costumes for Halloween or just adorable photo shoots. Here's the exact one we got.Your dog can go as himself!
#2: Trading Places
The dog is a baby, the baby is a dog. LOL! Shop the Puppy Costume here.
#3: Dinosaurs
This can work as a very last-minute costume! No dinosaurs left in the kid section? Look for something similar (Wyatt's is a lizard costume), and cut in half and hot glue on square gold scrub pads down the back.
Shop the Dog Stegosaurus Costume here.
#4: Monsters
Make a regular Snow Monster costume a little more Monsters Inc. by using spray fabric paint to create coloured dots. To keep your little one warm from trick-or-treating, dress them in cozy PJs and use fluffy winter gloves.
Shop the Dog Monster Costume here.
Boxer as a Boxer
Finally, how could I not share this one?! This one is very specific to families with boxers. 🙂 For his first Halloween, we dressed our pup Moses up as a boxer complete with a head guard and gloves from the Sports section at Walmart and a toddler robe. He lasted in it long enough to snap one of our favourite photos ever! 🙂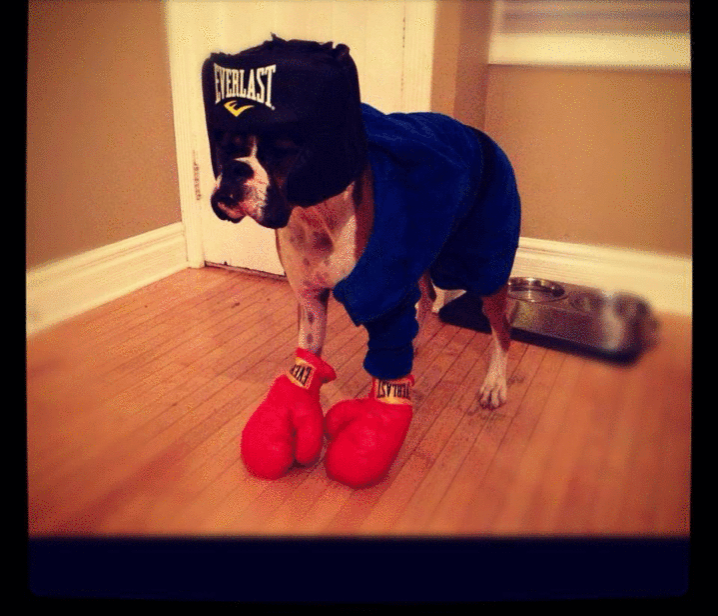 I've set up a Pinterest board for family Halloween costume inspiration with a whole bunch of other ideas! Check it out and Pin to it here!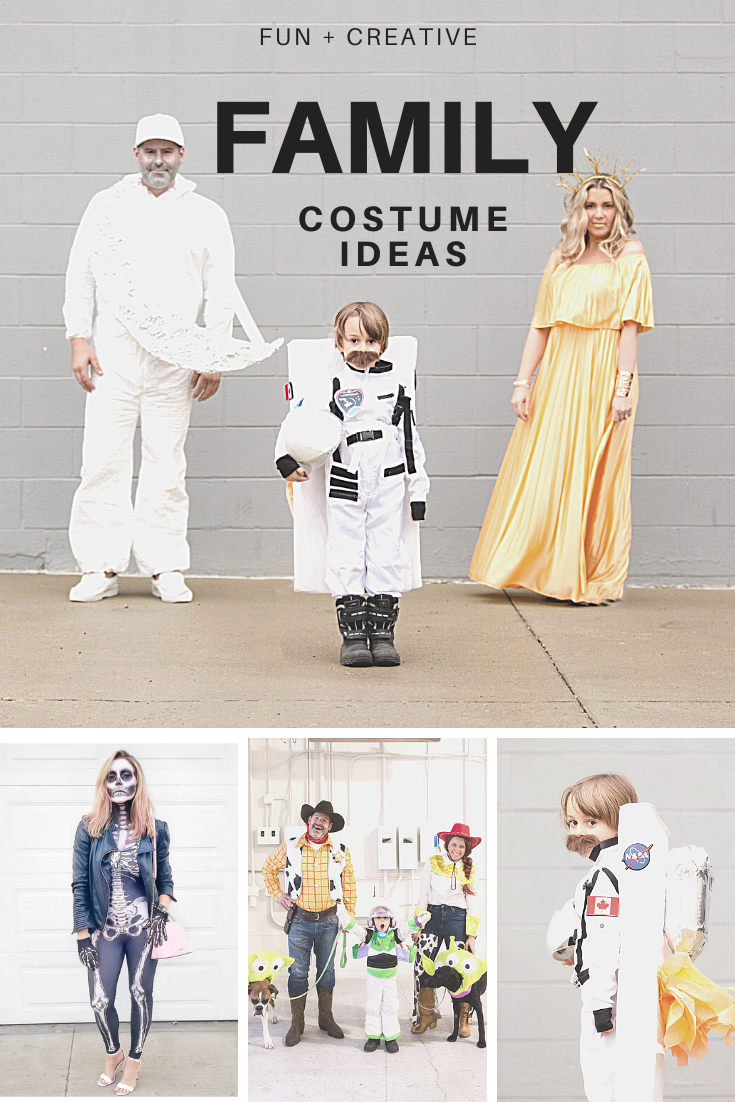 Other Posts You'll Love:
Create The Cutest Halloween Hut
Kids Halloween Charcuterie Board
xx