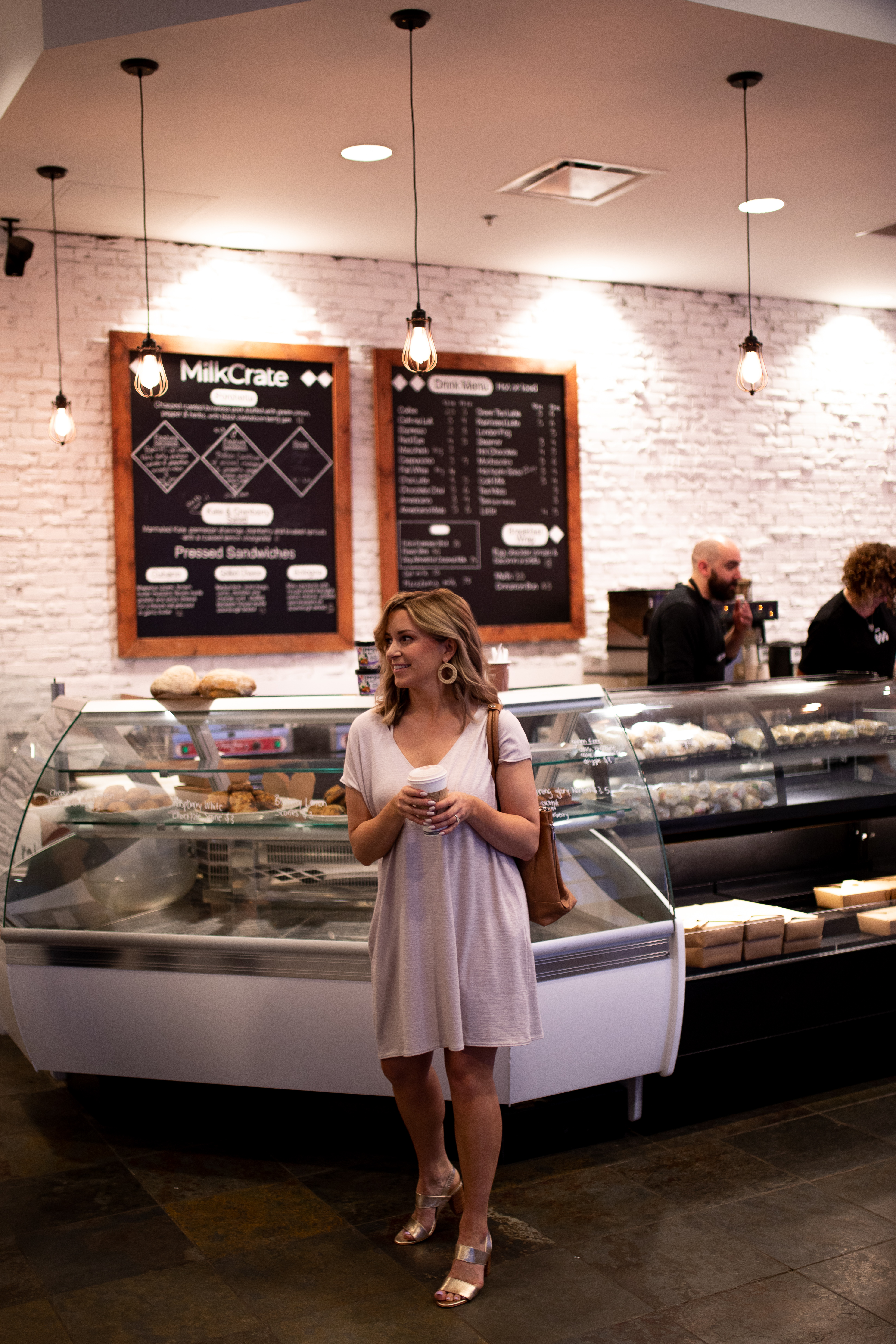 I always feel like a whole new mom when I get a few hours to myself. It's an added bonus if I'm able to explore a new coffee shop, boutique, or restaurant in my city. Having a couple of hours to "check out" while somebody else watches our little man Wyatt is pure gold for me. I love to swap out my mom uniform for an outfit in which I feel fabulous, and head to a coffee shop solo, sipping on a beautifully-crafted latte, with no interruptions. After an hour or two of that, I can't wait to get back home and hang with my family! I know I'm a better mom when I'm taking care of myself.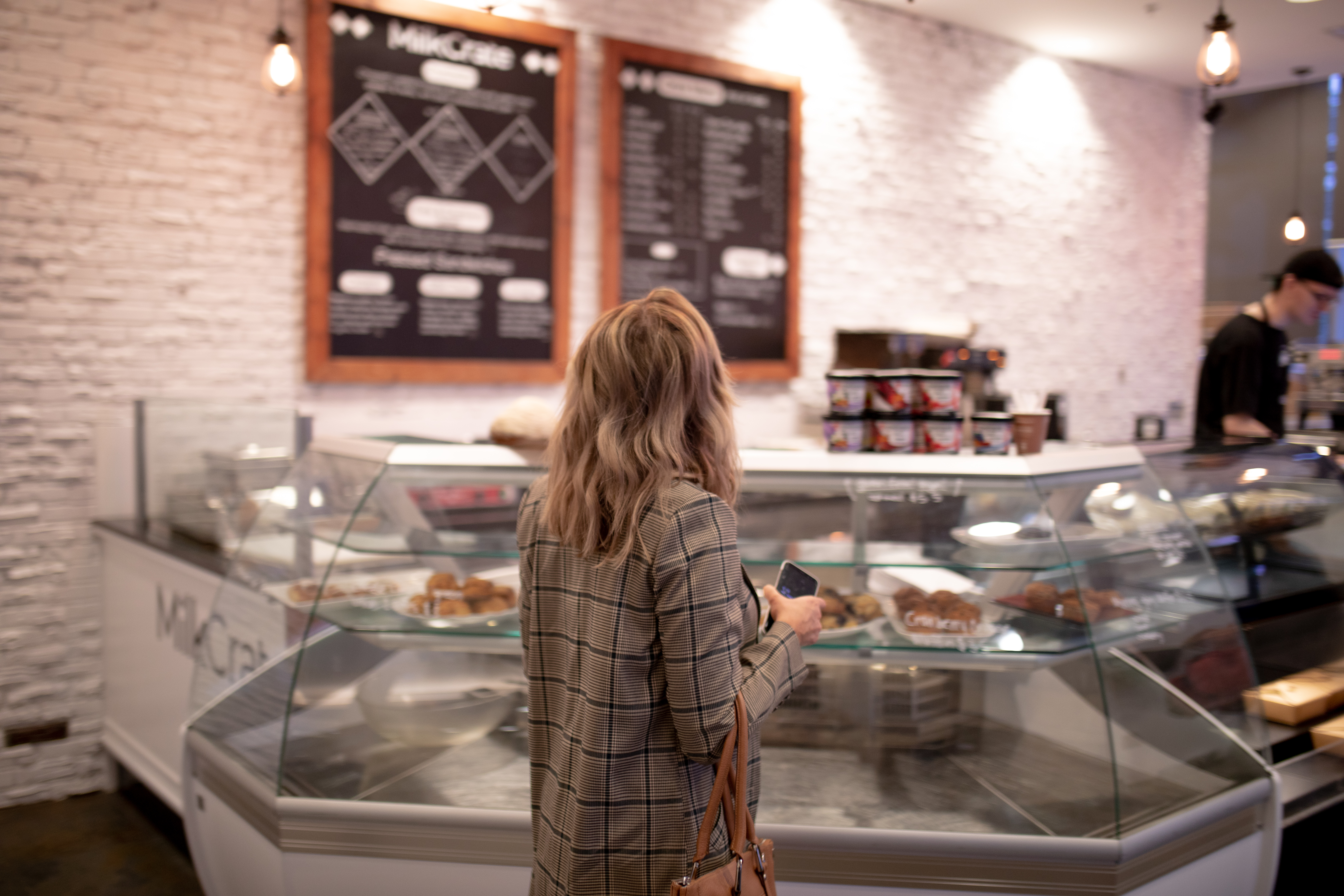 My most recent "Me time" was at Milk Crate – a new cafe in Epcor Tower opened by Steve Brochu, formerly of Chartier. I indulged in one of the best almond milk lattes I've ever had (and I've had a ton), and a delicious, freshly-baked scone. Milk Crate offers coffee, baked goods, breakfast and lunch sandwiches, and (most recently) homemade ice cream sandwiches! As an added bonus for every visitor, you can't help but enjoy the aroma of made-in-house Sourdough bread when you walk in.

What I Wore
The Perfect Handbag
It's sure nice to sport something other than my Mom Bag every once in a while. I'm in love with The Perfect Handbag from Poppy Barley – one of my favourite brands – designed in Canada and ethically made. This 100% leather bag comes with the perfect amount of pockets to store your laptop, phone, and headphones. The centre console (as I like to call it) is a zippered pocket in the middle for those personal items you may not want to flash when you open your purse (y'know, loose receipts, kid snacks, etc…just like that one room of the house with the door closed every time company comes over)! The Perfect Handbag comes in black and sand pebble. Shop it here.

Gold Shoes
You'll probably wear gold shoes more than you think you will. The colour really does go with everything! Poppy Barley's Summerland Sandal is stylish and comfy with a 3″ natural stacked heel. You can rock these at the office, with a cute dress to a patio date, or to a summer wedding. The shoes are super versatile and come in three different colours. Shop here.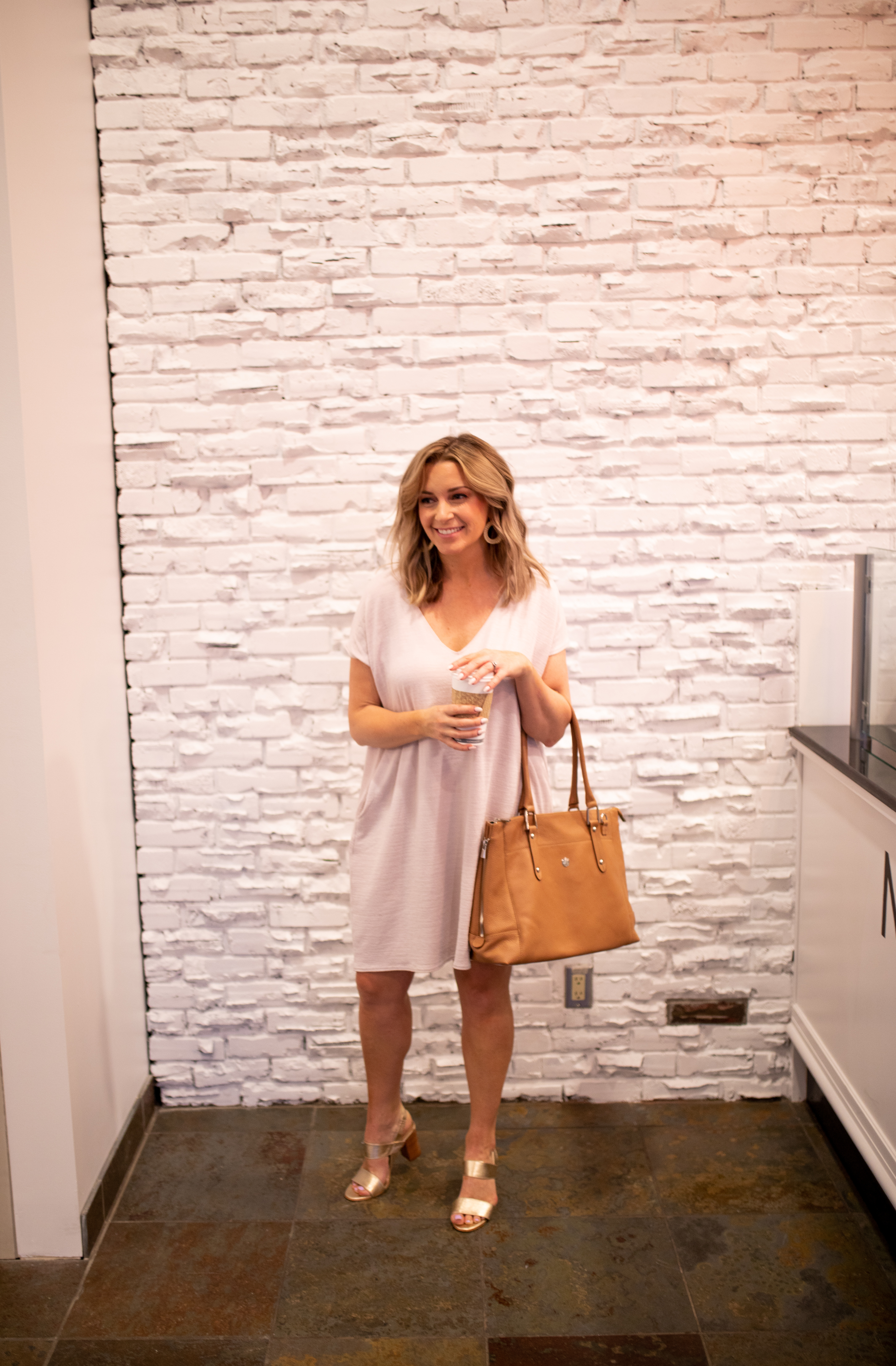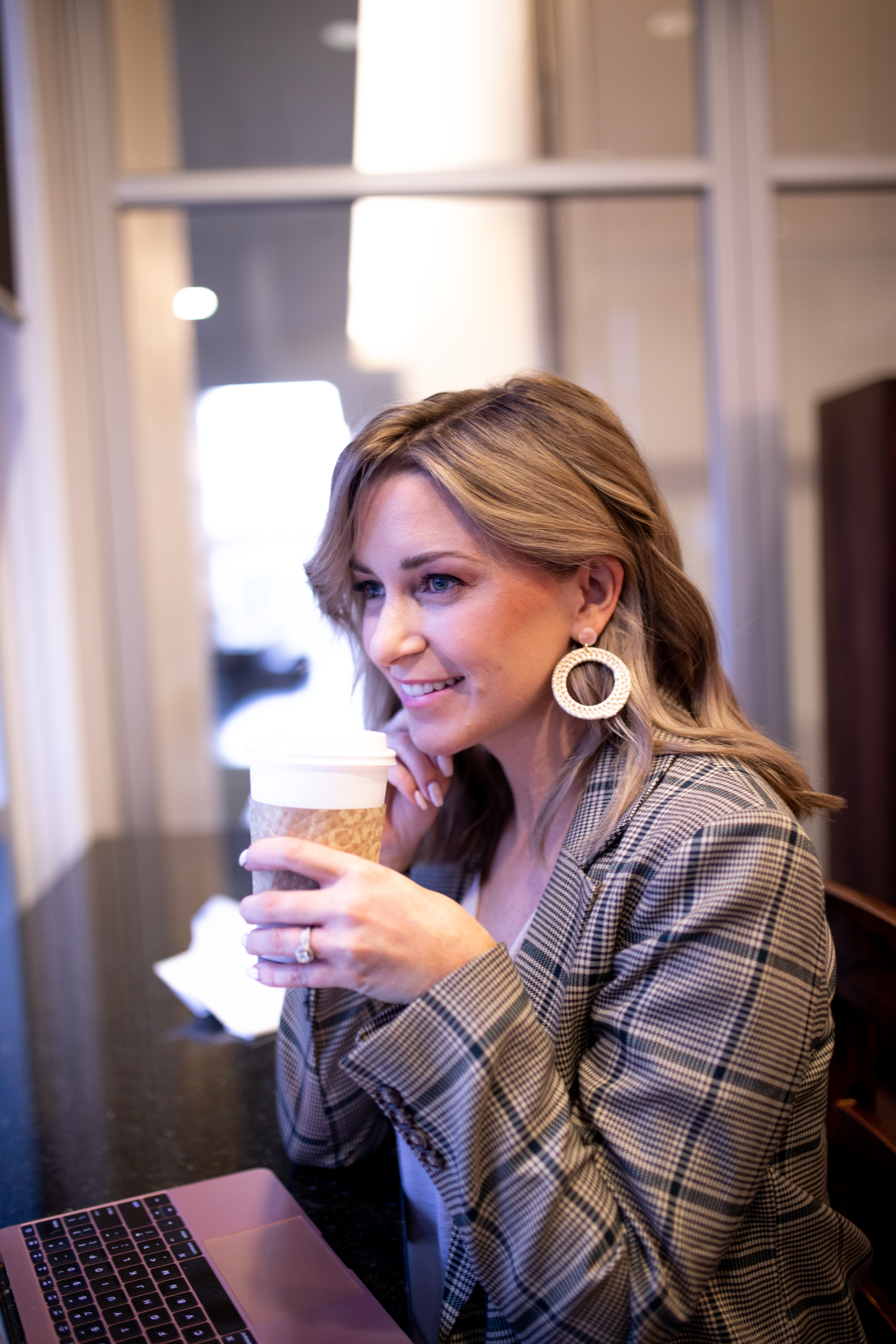 Dress | Minimum Blazer From Bamboo Ballroom (sold out) Check out a similar jacket here | Earrings
Photography + Makeup: Elizabeth Segura
Pin this to your Explore Canada and Canadian fashion boards and follow me on Pinterest here.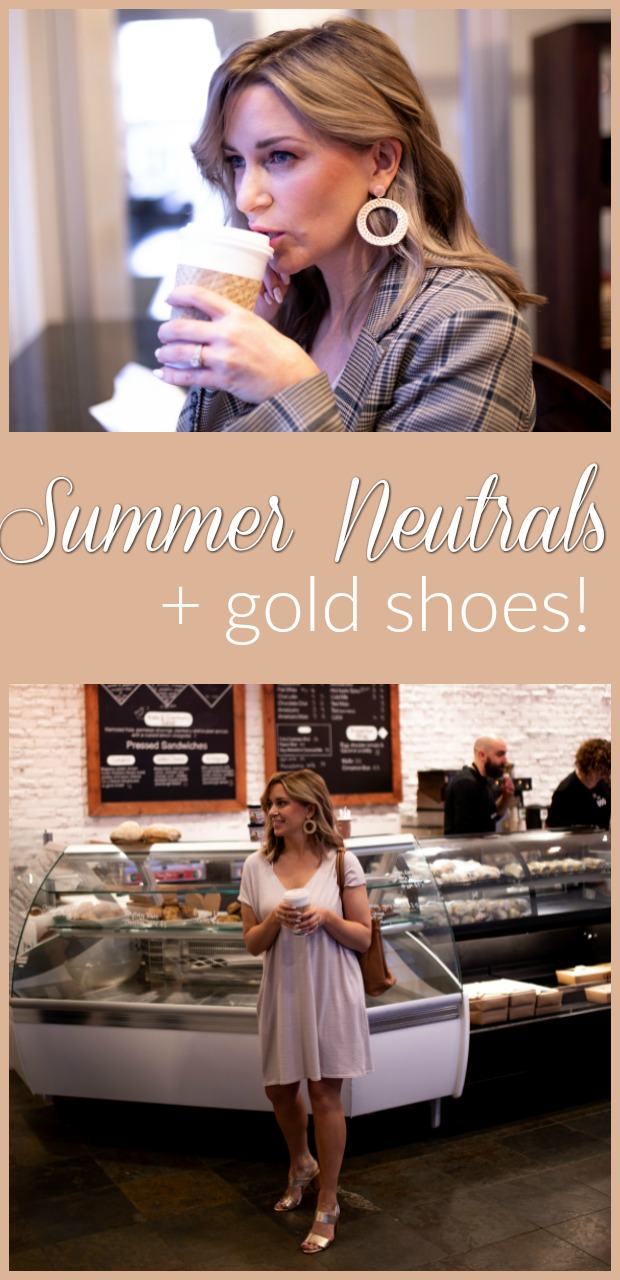 Thank you to Poppy Barley for teaming up in this product for post partnership.
As always, thoughts and opinions are mine. 
Other Posts You'll Like:
Rock Gingham Style With Your Mini
The Mom Wardrobe: Five Foolproof Looks
xx