Set up this pretty gold and white Christmas coffee cart for your seasonal entertaining:
It's the perfect way to 'wow' your guests over the holidays!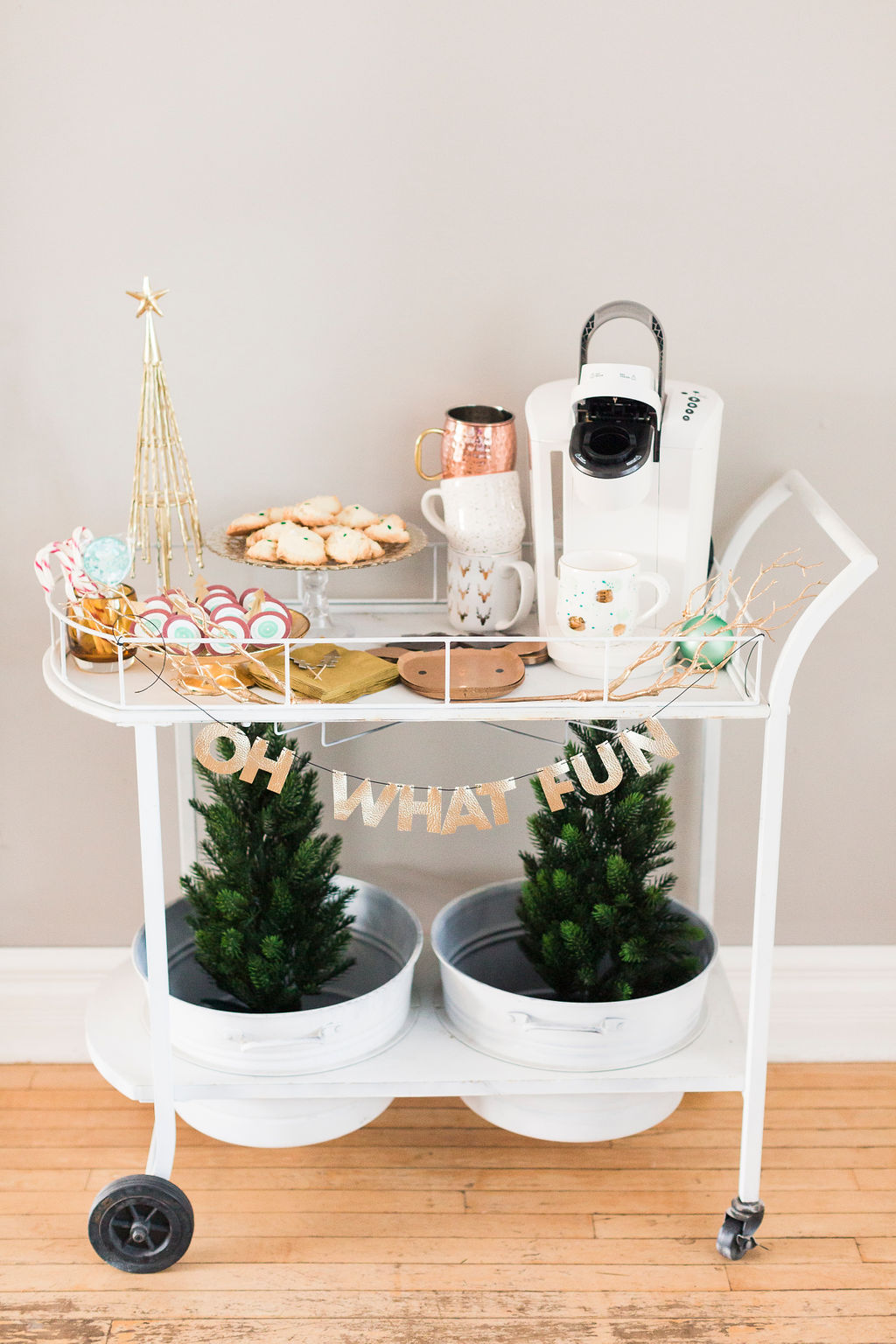 I've really enjoyed styling this coffee cart through the seasons. You can check out my Spooky Chic Halloween Coffee Cart here, and the series will continue into the New Year with a special Valentine's Day version.
With all of the entertaining that happens over the holidays, I love to have a little self-serve area, away from the chaos of the kitchen, where guests can grab some goodies and fill up their mugs.
The Cart
I picked up this cool drink cart from Home Outfitters over a decade ago, and revamped it for our Outdoor Oasis last year. It used to be brown, but I spray painted it white. Some of the paint wore off, creating an awesome shabby chic vibe! We now rotate it throughout our place, depending on what's going on and who we're entertaining.
The Details
As soon as my friends at Made Social posted this adorable sparkly banner in their shop, I knew I needed to snag one. Shop it here. It's perfect to hang across a mantle or a kitchen window.
The tray, two faux potted evergreens, plates, and gold tree are from HomeSense, while the gold branches are from Dollarama.
The Mugs
I may have a bit of a mug problem. As in, I can't stop buying new ones! I love pretty much all the mugs at Anthropologie. That's where I found the gold and green porcelain ones, which are sold out, BUT this one is beautiful, I love this inexpensive one, and this pink one is fun!
The Coffee
I was so happy to discover OneCoffee organic, fair trade, and 100% compostable single-serve coffee pods! The Canadian owned and operated company created the pods as a response to the growing concern around how much garbage is generated by single-serve coffee. Read more about its sustainability program here. Plus, the coffee is really good! You can shop the pods on Amazon Prime here, and find my Keurig Coffee Maker here.
The Treats
I always like to have a small treat on my coffee station. There's nothing quite like pairing a perfectly brewed cup of joe with a delicious Christmas cookie. Check out my Magical Whipped Shortbread recipe here.
Giveaway
I've teamed up with my friends at OneCoffee to gift one Keurig Coffee Maker and a big box filled with OneCoffee pods! We'd love for this to land in the hands of a deserving local business, non-profit, or local charity that could use a great coffee maker! We want you to nominate your favourite on this Instagram post.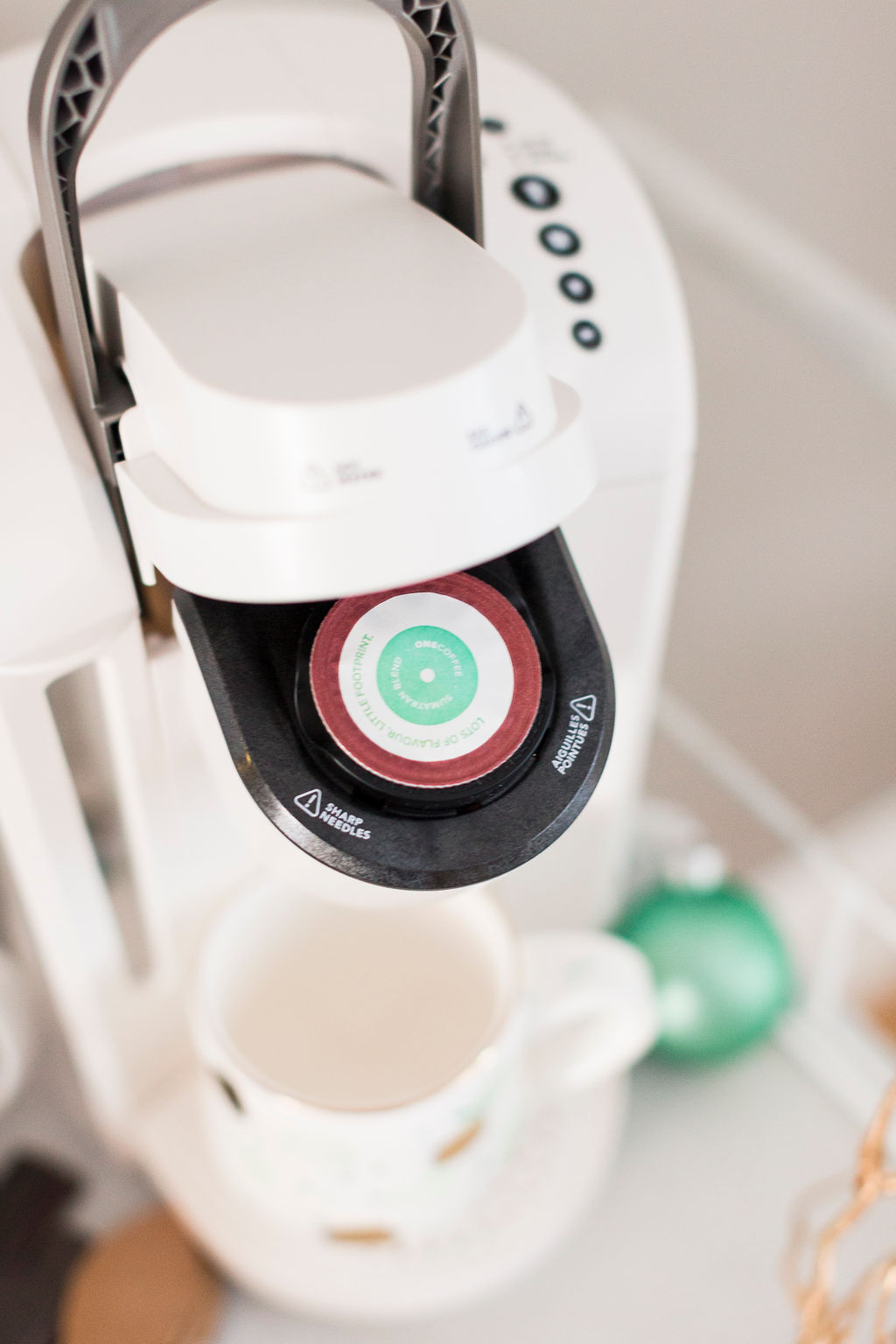 How do you like the Pretty Gold + White Christmas Coffee Cart? Let me know in the comment section below. I would love to see your coffee cart style! Share your photos with me on Instagram or Facebook.
Post this to your Christmas Home Decor and Go Green boards and don't forget to follow me on Pinterest here!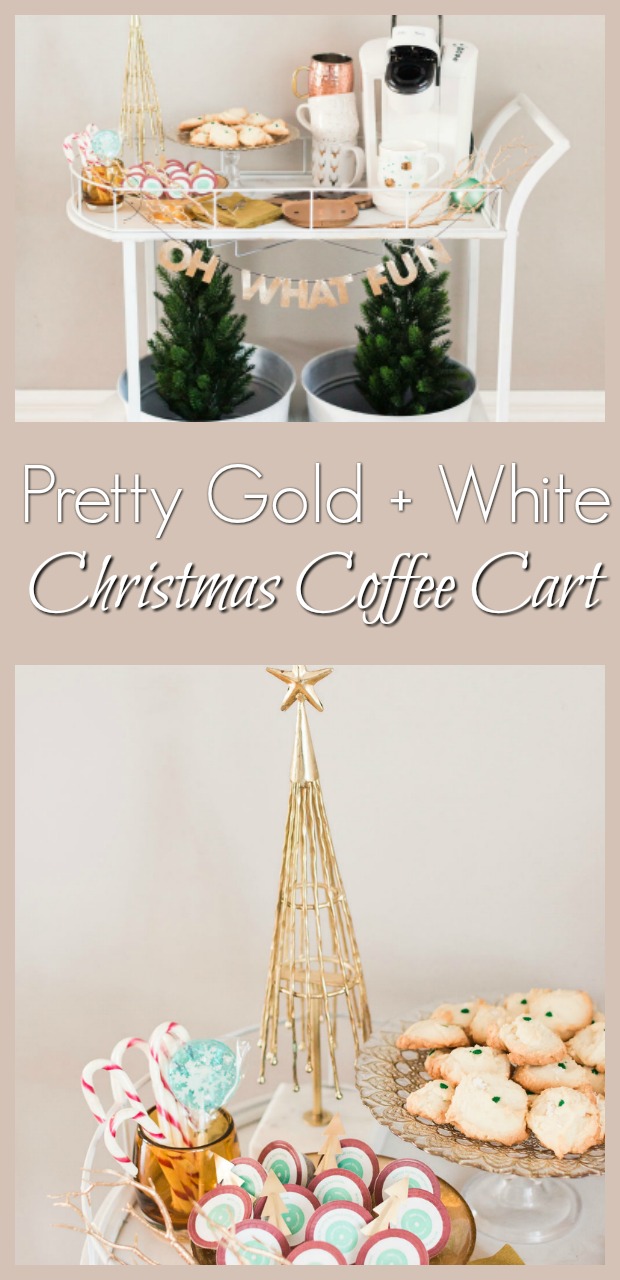 Other Posts You'll Love:
Spooky Chic Halloween Coffee Cart
Five Days Of Unique At-Home Christmas Activities
Enjoy The Holiday Season At Home
xx