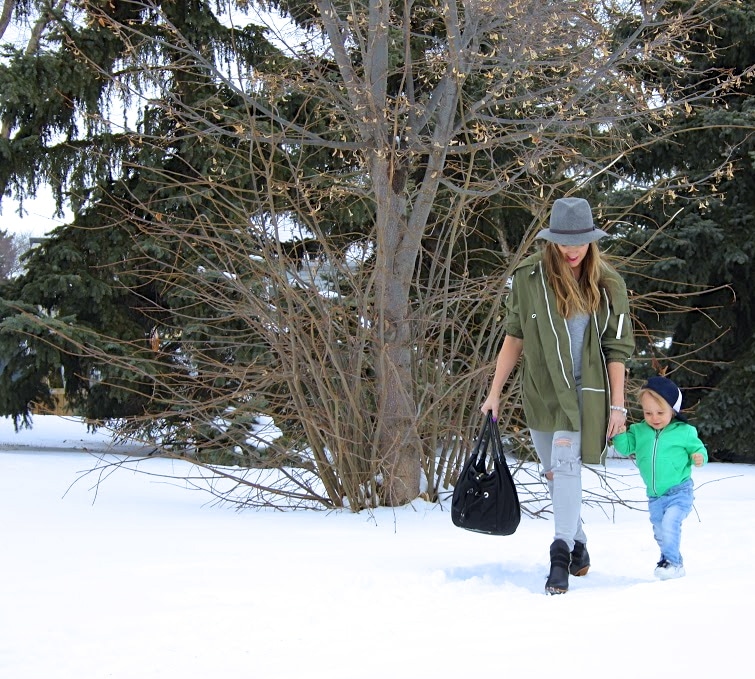 The colour green is a constant in our family life. Not only is it one of my favourite colours to wear, but green is the main colour of Wyatt's room, and was the feature colour at our wedding. You get it: we love green!
So, in honour of St. Patrick's Day, I thought it might be fitting to feature some of our new favourite green pieces.  (We love to represent the holidays, as you may have noticed last month.)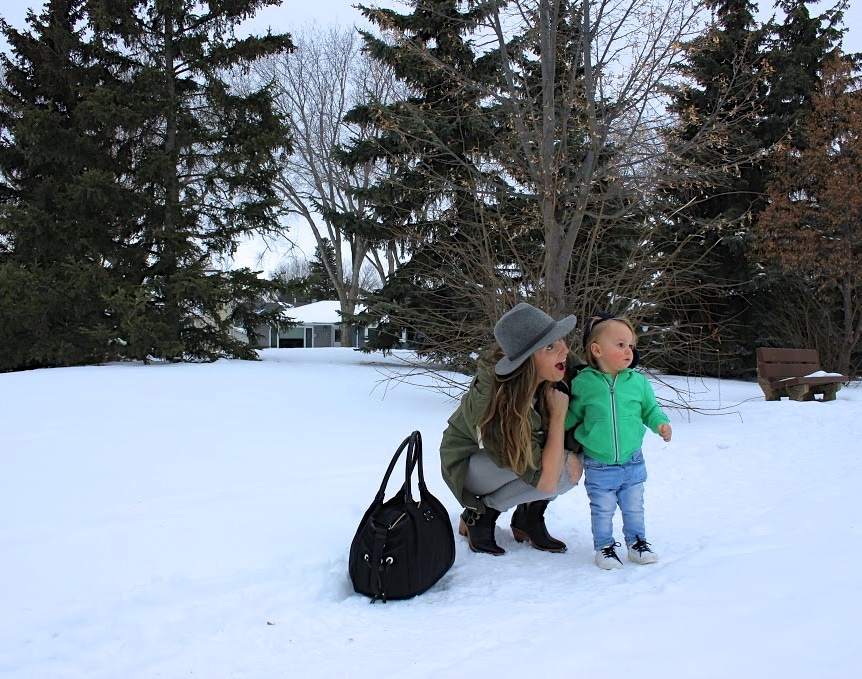 I found this military-inspired coat at Zara for $70. It's incredibly light-weight and ideal for layering, which is key for springtime in Alberta when you never know what you're going to get weather-wise.
The coat has a subtle slit up the back, three-quarter length sleeves, and pockets set a bit higher up the torso than what you might usually see. (I just can't bring myself  to buy a coat without pockets. It's like cake without icing. Why would you even?)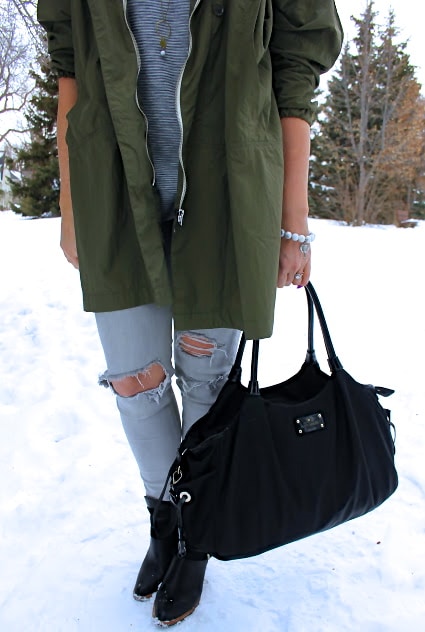 I paired the coat with my favourite grey Rag and Bone distressed skinny jeans (find similar ones here), and a grey Babaton sweater from Aritzia. I also love this one from Lovestitch and this one from Nordstrom.
The outfit called for my brand new Three Buckle Ankle boots from Poppy Barley. I'm a HUGE fan of this line designed in Edmonton. They're the perfect parenting boot – comfortable and stylish with incredible staying power.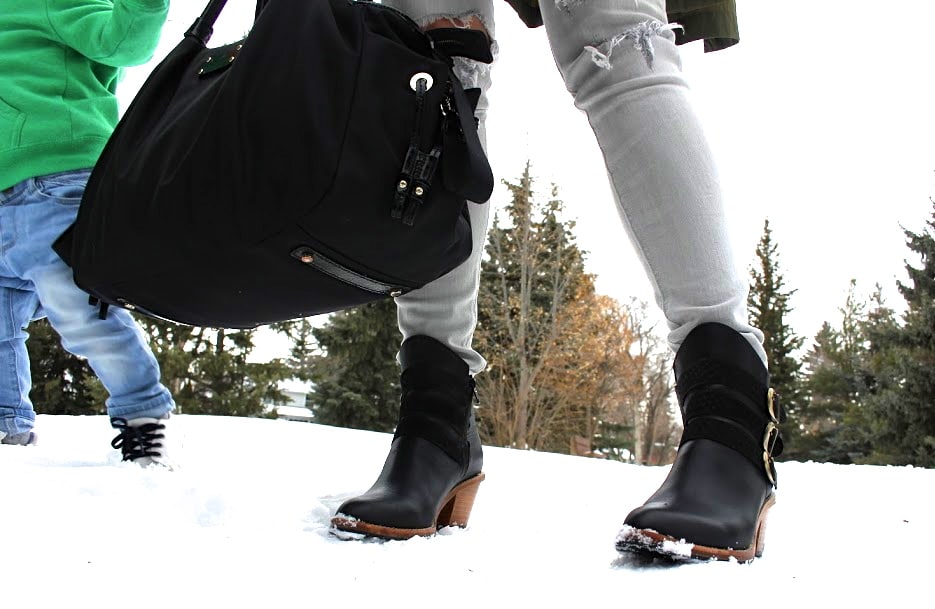 I picked up my hat at Saks on a trip to Phoenix last year, but you can find a similar option here. This hat would also look great paired with white Chucks for a totally different vibe. My durable Kate Spade diaper bag was a gift at my baby shower. Here's the latest version I love! If you're rockin' the ball cap and Chucks, consider going for a diaper bag like this.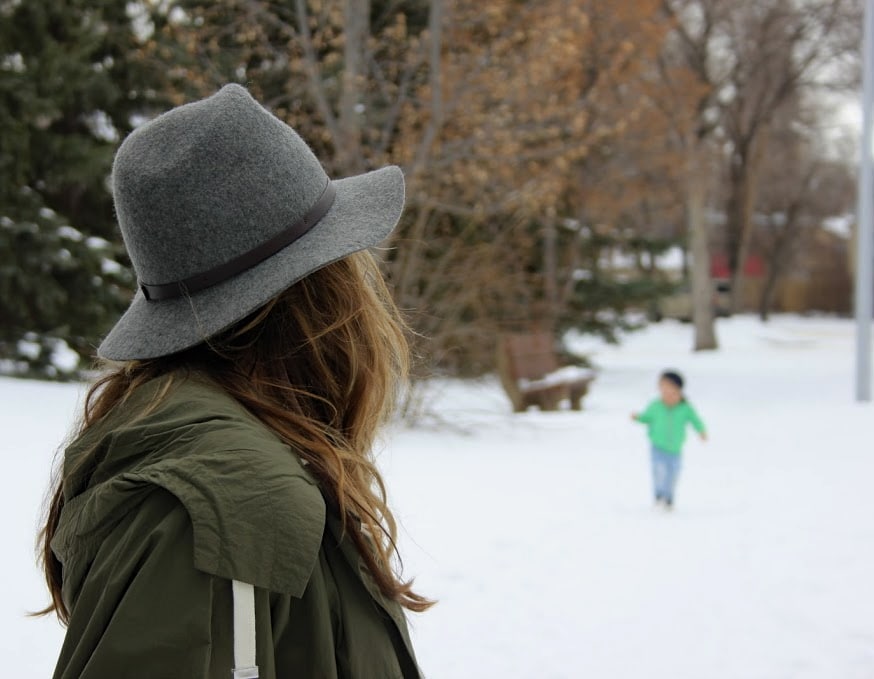 My necklace is from Cloud & Lolly – a gift included in the swag bag from the last Made Social event. My white beaded bracelet is from Eliasz & Ella. Both are Edmonton-based jewellery designers, but they sell online so check them out!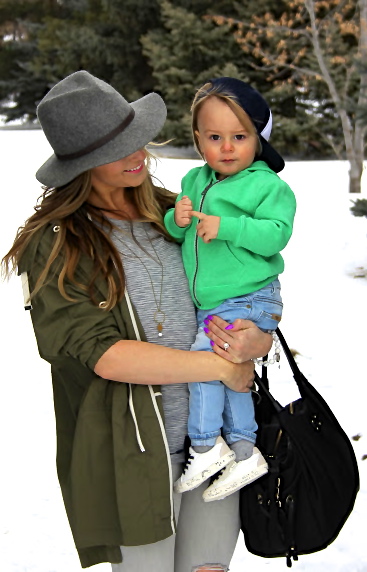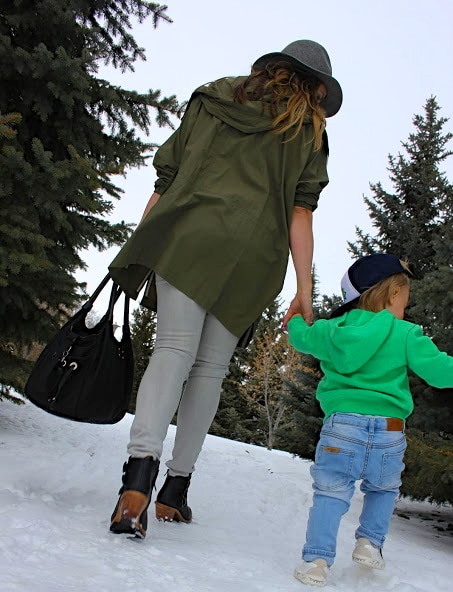 I can't handle how much I love my son!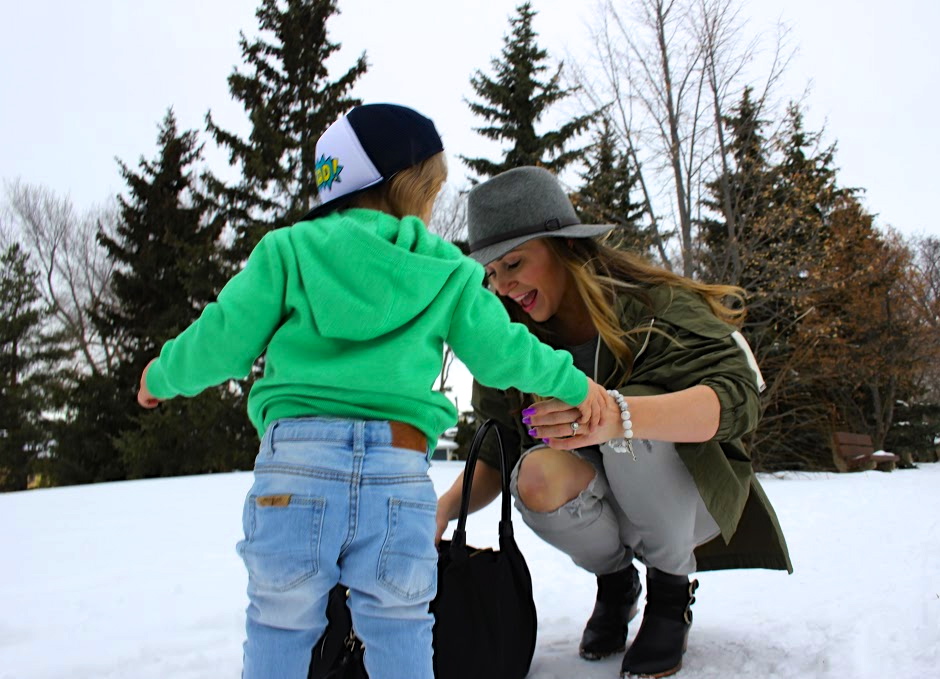 Now to Wyatt's outfit!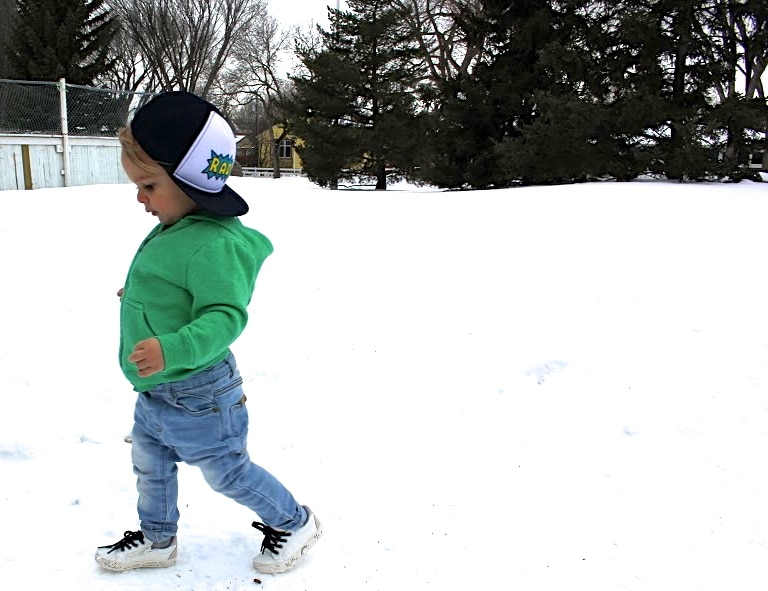 I wish they made this zip-up hoodie in my size. I love anything Kelly green. This one is from Old Navy and unfortunately, sold out now BUT I know they'll bring it back. I'll keep watch for you and update this page when that happens.
Meantime, this is one of my new favourite kid's clothing sites with several coloured sweatshirt and hoodie options. Super cute!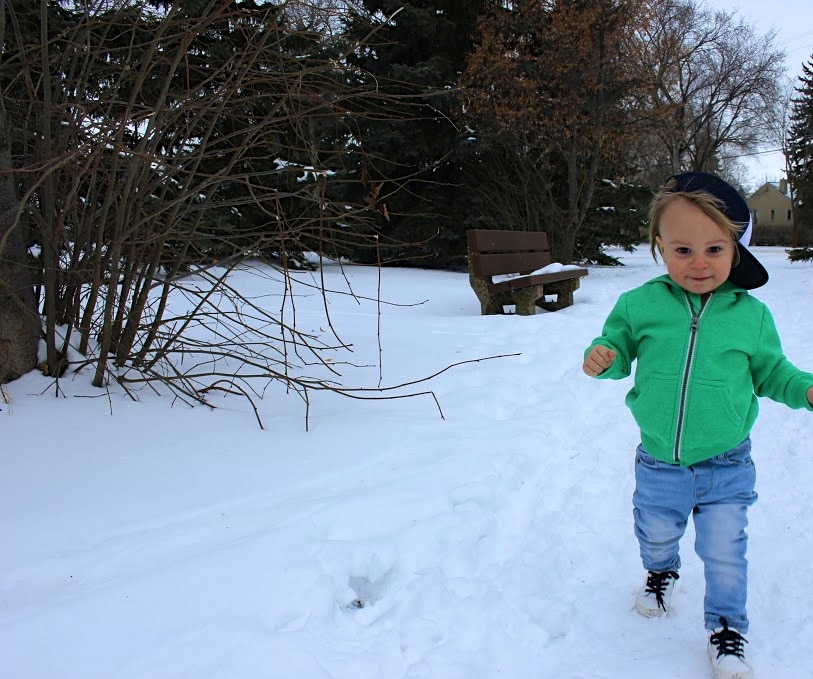 Wyatt's jeans come in several different colours from Zara and the price is great!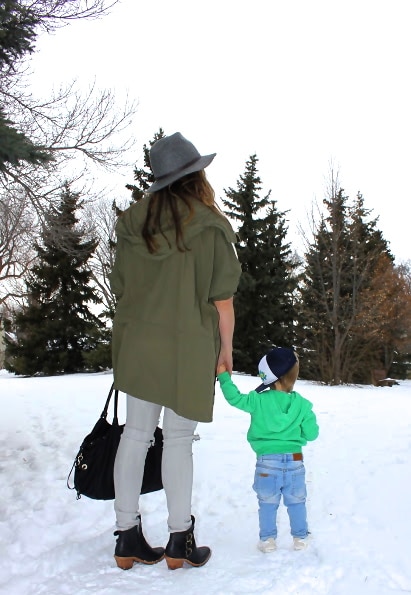 His hat is from Old Navy but they no longer carry it. I love this one from H&M and these from Whistle & Flute.
He always rips his hats off but I keep putting them back on. I very well may be training him to love hats as much as I do. 😉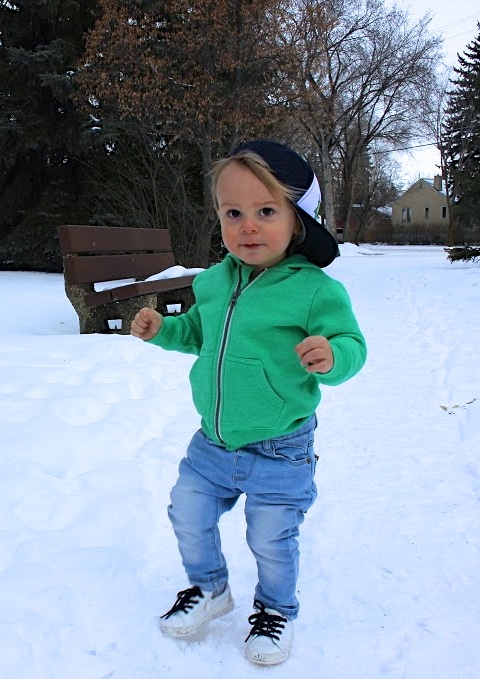 Wyatt's shoes are also from Zara. I know shoes at this store are a bit of an investment, but I promise you I haven't seen kids' kicks this adorable anywhere else. We usually invest in one or two pairs per season.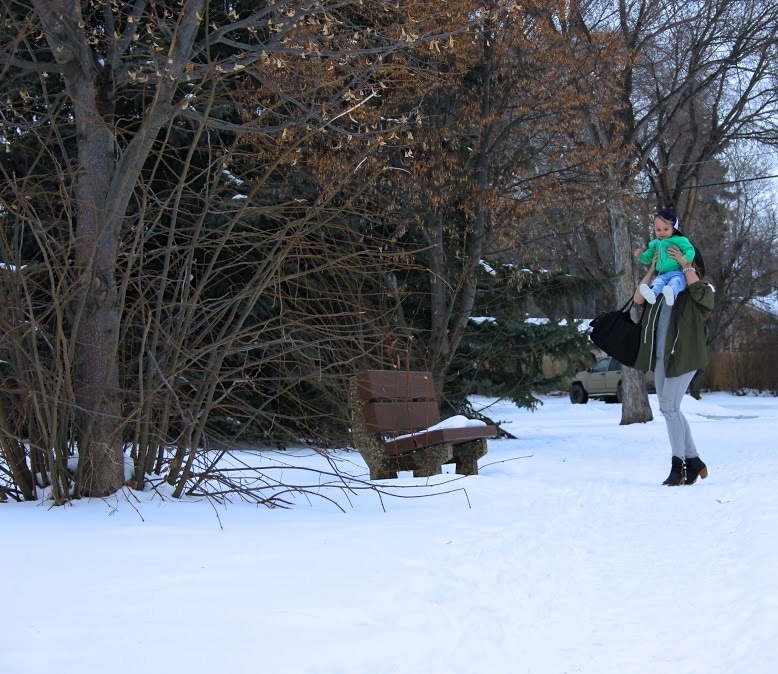 Happy St. Patrick's Day!!
xx