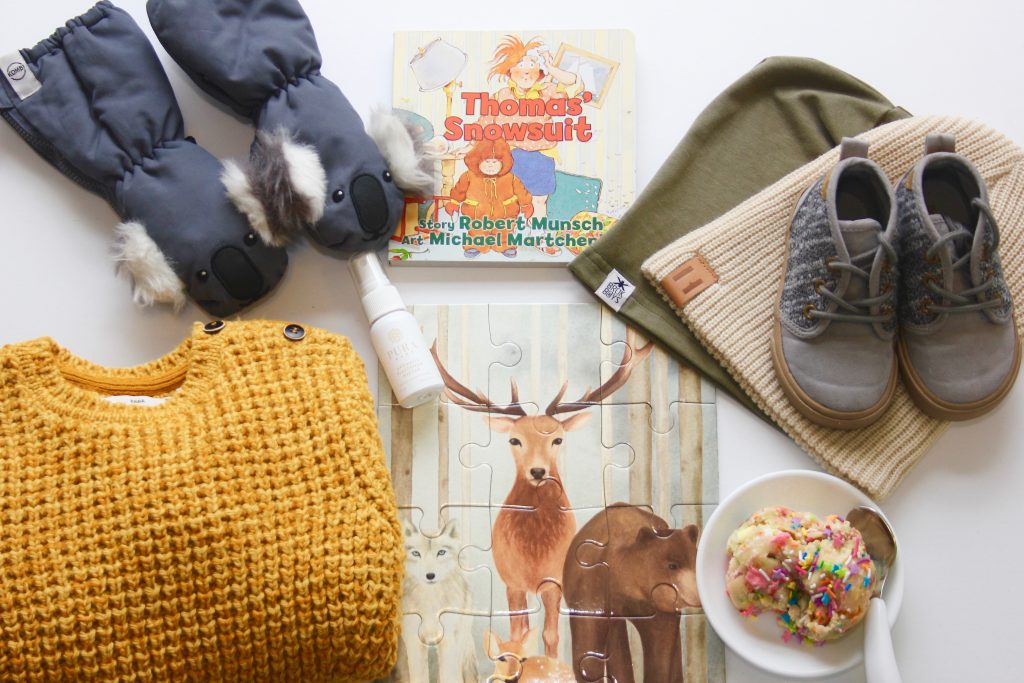 It's full-blown winter where we live. Snow storms and frigid temperatures have us snuggled up inside sipping hot chocolate, watching movies, with very few forays outside (only when the occasional errand must be run). It's so chilly I'm practically pushing our dog Moses out the door just to go pee! However, I don't mind these times at all. The cold weather can force us to slow down and chill out, which I believe we all need.
Here are a few Snow Day favourites we love. (Some items are sold out, but I've linked to similar options.)
#1: Kombi Animal Family Mitts. I picked these up for Wyatt last year and they still fit. I love that they have a long zippered cuff to keep out the snow. Choose from 14 different animals here. The koala ones are only available here.
#2: Cute Headwear. The green one from Brok Boys is made of bamboo and perfect for indoor play. The beige knit beanie from Beau Hudson is on sale right now! They have several different colours to choose from.
#3: Call of the Wild Puzzle from Jo Collier Design. Wyatt's really into puzzles right now, so I'm always on the hunt for unique ones. I discovered this artist on Instagram and immediately fell in love with her work. The puzzle pieces are thicker and such great quality. Shop it here.
#4: Pura Botanicals Aromatic Playdough Nectar: Making your own playdough is a great activity to do with your kiddo when it's cold outside. With essentials oils in this product infusing joy and happiness, why wouldn't you add some into your recipe?! Shop it here. 
#5: Cozy Sweaters. Pretty much all the kid's sweaters at Zara are on sale right now, and they're fabulous quality. The one pictured above is unfortunately sold out, but there are several beautiful options (with decent size selection) still available. Check them out here.
#6: Winter-Themed Books. Our Christmas books are packed away, but it's still nice to read something that reflects the season. Thomas' Snowsuit is one of our favourite stories. We also love: 50 Below Zero and The Missing Mitten Mystery.
#7: Cute Boots: Old Navy has a few adorable options (all on sale).  These Timberland ones are also a great price right now.
#8: Cookie Dough Treat: The Cookie Dough Stand creates oh-so-good edible cookie dough! You can pick some up at Kingsway Mall. For those of you living outside Edmonton, mark this down for the next time you visit. (More locations and info here.)
You'll find more of our favourite things here.
What's getting your family through your Snow Days? I'd love to hear from you!
xx