You may think I'm vain after reading this post. I promise, I'm a mostly-down-to-earth girl,
but I do have a few little things that could potentially categorize me as high-maintenance. 🙂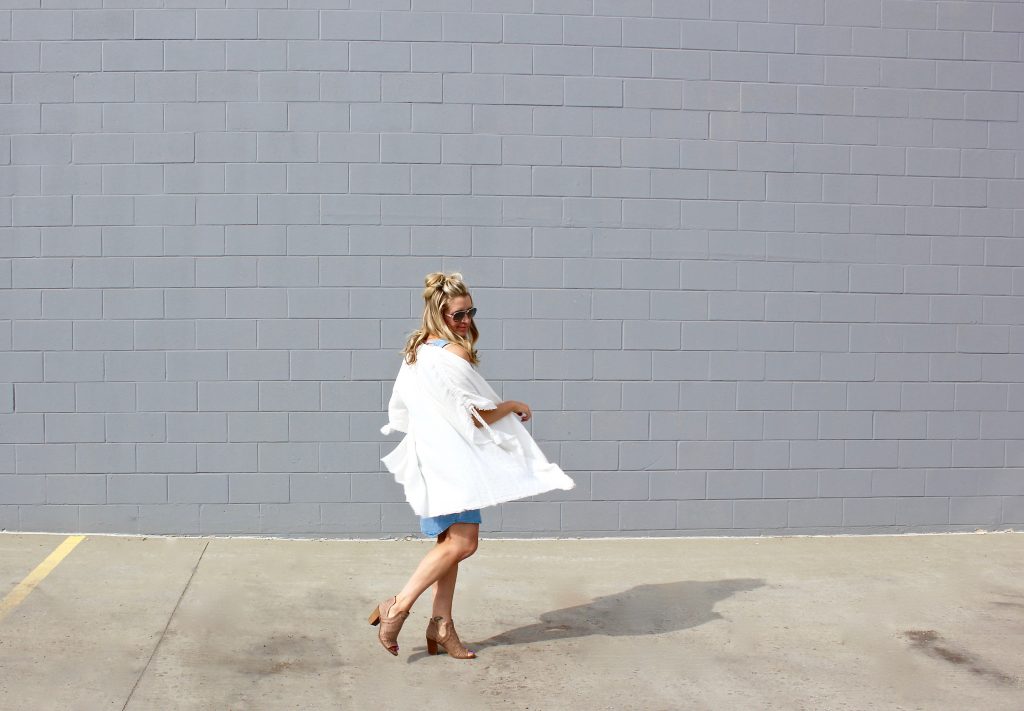 I used to fake 'n bake a lot. When I was 18, I would hit up a tanning booth three to five times a week. It honestly makes me cringe now. I still love the look of being tanned, but I've changed the method I use to get there. I began going for spray tans here and there a few years ago, and now I get them regularly. My decision is mostly health-based (read up on the dangers of too much fake tanning here), but I also love how even a spray tan is. It provides nice, even coverage, and gives me that little extra boost when wearing shorts or a skirt.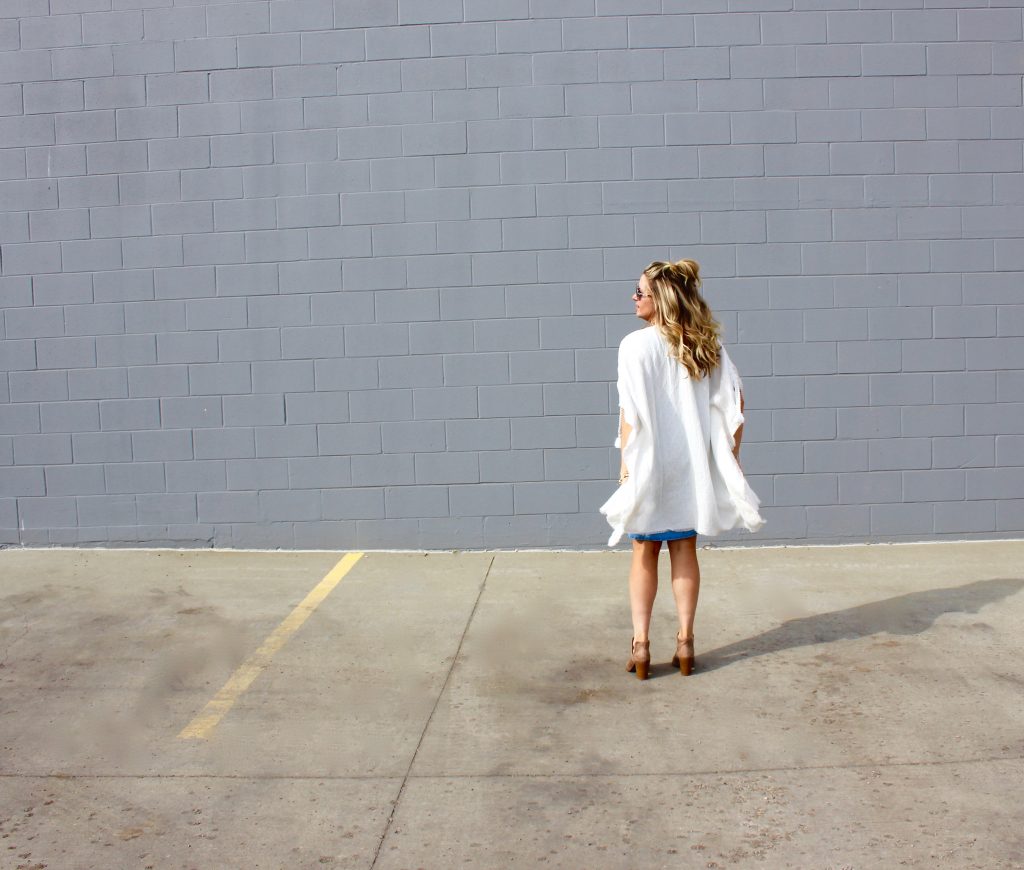 Dress (on sale)| Shoes | Aerie Kimono (sold out) I love this white one and this embroidered one
I've tried many at-home sunless tanning products, and most are absolutely terrible. I was often left with orange legs, streaks, and a messy bathroom. My go-to place for spray tans is Organic Tan Edmonton (for you out-of-towners, they have locations across Canada), and I use (and love) their take-home products too. This stuff is the best!
Many people who reach out, interested about spray tans, seem to be a bit hesitant about getting one. I totally get it. You're (mostly) naked in front of a complete stranger. There seem to be recurring themes with the questions many would-be first-timers have, so I reached out to my girl Alitta Tait, owner of Organic Tan Edmonton, to help put your mind at ease about getting that first spray tan…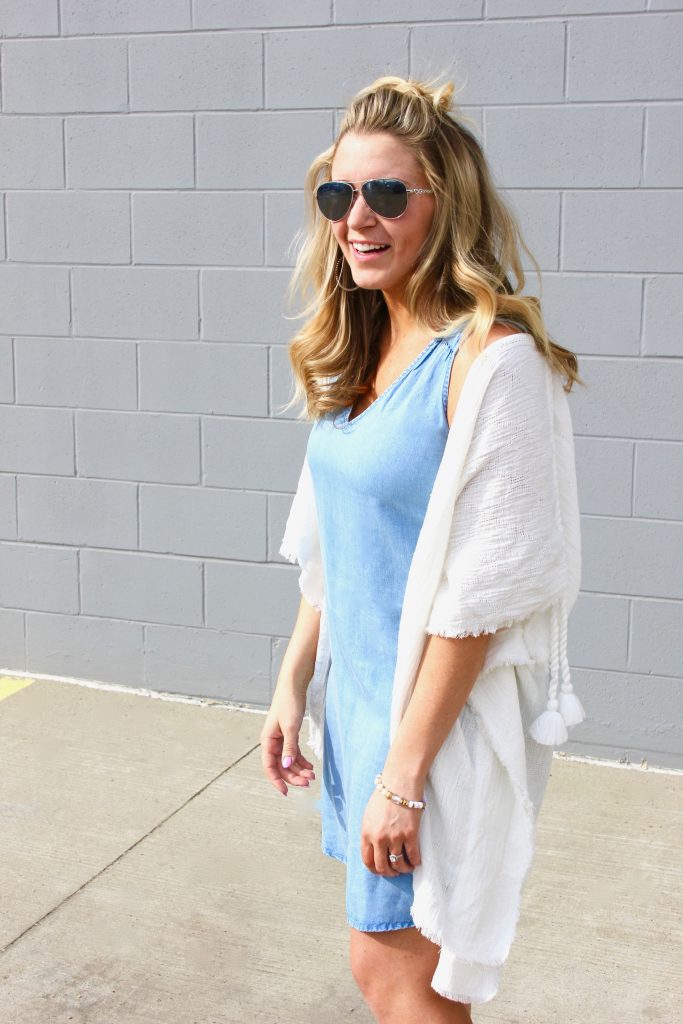 What's your advice to those who are nervous?
 "When you're considering getting a spray tan it is completely understandable that you might feel uneasy. We've all had the disastrous self-tanner experience, or seen a friend with a streaky spray tan that left them more Oompa Loompa then beach glowing, however, the industry has come a long way and there are many spray tans out there now that have been perfected to come out flawlessly and naturally."
What do you wear?
"Well, my darling that is completely up to you. If you want to keep a bikini or undies on, go for it. If you would like to tan in the buff, hey that's your call! Ultimately it's, however, you feel the most comfortable but remember that these are precise lines so if you're wearing a strapless dress, be prepared to tan topless. We are proud to say that we have tanned teens to great grandmas and everyone in between so please feel at ease knowing that we truly believe that every client we get the pleasure of working with is a beautiful person to us!"
How do you prep for a tan?
"First of all, you can book online or by giving us a ring (780-905-8267). If you're nervous, call us so that we can talk you through the prep and post tan practices. Once your tan is booked, I encourage you to exfoliate and moisturize as often as possible in the time leading up to your appointment. Healthy skin takes the tan more evenly thus resulting in a longer lasting, more evenly fading tan. We recommend NOT using exfoliators with oils such as sugar or coffee scrubs in the days before. While lovely, they leave a moisturizing film on the skin which stops the tanning solution from absorbing. Instead, opt for an exfoliating glove or sponge.

Remember to get all of your primping done prior to the tan. This includes nails, hair, massages, waxing etc. Your tan should be the last thing on the checklist."

What happens when you get there?
"Once you arrive at the salon we will go through an intake to determine your skin type, desired results and any specifics that could impact the final results. This will determine the solution that we use based on the level of tan you would like to achieve. Once we've stepped through this consult, we you get undressed and get into the tent.

Once we've stepped through the prepping we are ready to tan. We will talk you through a range of poses to make sure that we can spray each area evenly and then its all over. This entire appointment is only about 20 minutes long so before you know it, you're golden and ready to go. Remember to put on loose, darker coloured clothes post tan as the solution can transfer to your clothes right after the tan but not to worry, it washes out."
What can you do to extend the life of your spray tan?
"After your tan you want to stay away from water or sweating for at least 12 hours but we recommend trying to leave it as long as 24. Many people tan right before leaving for a long drive or flight, that's perfect!

In order to help your tan last, we recommend leaving it on as long as possible as well as using 'tan friendly' products post tan. It is important to stay away from shower gels and lotions that contain perfumes, alcohol and parabens. These are known to dry the skin and eat away at the tan resulting in premature fading and uneven fading. We have a full line of SunnaTan lotions and tan extending products that help to prolong the life of your tan but if you're in a pinch, coconut oil can do wonders as well!"
How long should a spray tan last?
"A well maintained tan should last about 7-10 days and some people can get up to two weeks out of the tan. It really depends on your regular skincare routine and your post tan practices. Living in the pool or hot tub after your tan is also going to fade it a bit more quickly but again, these issues can be remedied with some SunnaTan aftercare tan extenders."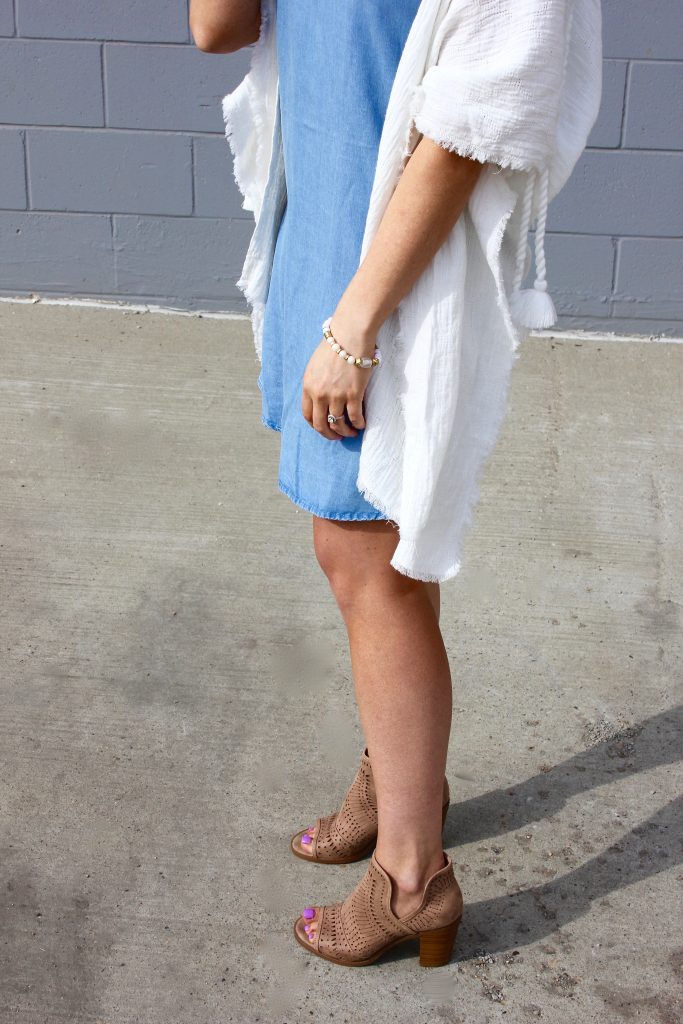 Any specific advice for brides tanning before the wedding?
"It's very important for anyone who will be wearing a light or white dress to tan at least 2 days prior to the wedding. If the event is on Saturday, tan on Wednesday or Thursday. This gives the tan time to set and then you can have a least 1-2 showers before wearing that white dress. We tan brides all year round and with our solution, I can say that it does not transfer onto your dress, as long as you've had that one-two showers!"
What's the difference between airbrush and an automated spray tan booth?
"Let's first look at the airbrush approach. When you opt for an airbrush tan instead of an automated booth application, you're getting a hand applied, personal approach. This application process is more flawless and catered to your different curves and needs. At OrganicTan we take pride in the before and after care that is applied as well as our airbrushing technique. When you're looking into a tanning company, find out what kind of training and techniques the airbrush artists use as this will make a huge difference in the outcome of your tan.

Now onto solutions. There is currently a huge variety of solutions out there and we urge you to look into the ingredients and philosophy behind the solution to find the one that matches what you're looking for. At OrganicTan we use our own SunnaTan solution which is a natural formula created in Canada, which takes our Alberta winters into mind when designing the shades to match our skin tones. That's very important because we can be VERY fare here and need a solution that will compliment that tone instead of painting over it with a dark solution designed for skin tones that see more regular sunlight and have a base tan shade already."
*Contest Closed*
(congrats to our winner, Leah Doyle!)
Giveaway!!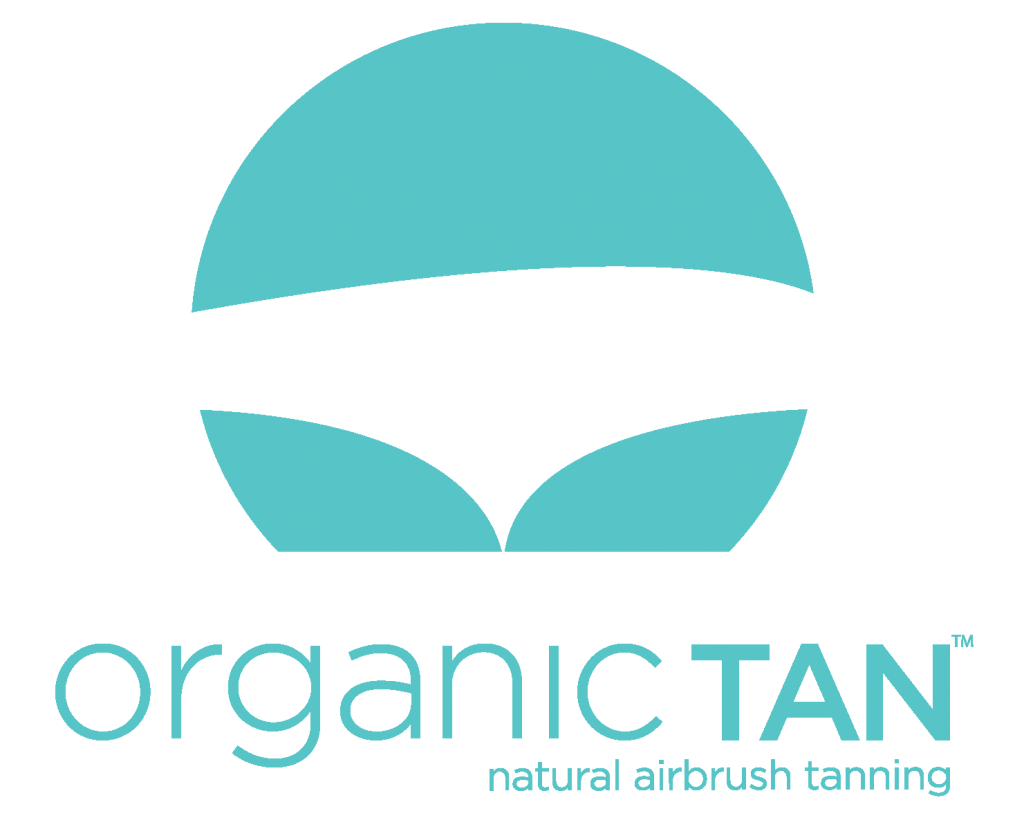 I've teamed up with Organic Tan Edmonton for an awesome $150 spray tan package! It includes:
one in-studio spray tan at Organic Tan Edmonton (10830 124 Street)
exfoliating mitt
Grapefruit Mint Body Wash
Sunna Tan Coconut Mango Lotion
tax extender
application glove
It's super easy to enter! Head to my latest Instagram post here and follow the simple steps. For an additional entry comment on this post, sharing what you're most looking forward to this summer! Contest closes Tuesday, May 22 at 11:59 pm MST. Good luck!
xx