Here's your detailed plan for the best way to do a toy purge! I've also included toy storage hacks, details on
where I love to shop for the best stuff, and thoughts on whether or not you should involve your kids in the process.
Isn't getting organized one of the greatest feelings? For sure, it's a lot of work up front, but the benefits for your day-to-day quality of life make it all worth it!
Earlier this year, we decided to tackle a toy purge and organization project once and for all. We found it best that our little guy Wyatt (who is now five) wasn't there, and for the most part wasn't involved. I did explain to him I was cleaning his room and organizing his toys. We also touched base before hand on a few key items, but for the most part, we kept him out of it. I felt like it would create too much unnecessary stress and potentially pave the way for a meltdown. Nobody needs that!
Months later, he hasn't asked once about all of the stuff we got rid of. In my opinion, kids do better with fewer things, anyway.
Purge
The first thing you need to do is lay everything out. We don't have a designated "toy room" in our house, so I used our living room space as Central Command! I found it really helped to have a nice big space where you can see everything as a whole. As I was pulling everything out, I used our dining room table to create general piles. My piles were:
Blocks
Lego
Stuffies
Sports
Cars and Trucks
"Guys" (action figures, characters, etc.)
Puppets
Random items
Once everything is in piles (keep in mind you haven't tossed anything yet), set up a few garbage and recycling bags near the table. Pick up each toy and decide whether it stays or goes. Use one bag for garbage or recycling, and another bag for donations. I also created a separate pile for toys that Wyatt had outgrown, which I later washed and separated into Baby Toys and Toddler Toys bins, which are now in our basement storage. After the toys were purged, I washed each one, then cleaned all the bins and storage areas. It's nice to have a fresh start!
*Keep the 'random items' pile in bag stored away for a bit, and don't chuck anything until you've completed the project. You may look at a piece and have no idea what it is or where it came from, but as you go through things you realize it's part of a game or activity. After a few months, if the piece still has no home – toss it!

Puzzles + Games
Go through all games and puzzles, and make sure all the pieces are there. If you discover some are missing, put a sticky note label on each box detailing the missing parts, just in case they turn up later (maybe in that random items bag!). If they don't, then you can decide if the game or activity is still worth keeping, even with missing parts.
As you're organizing, order things you need. For instance: most of our Hungry Hippos balls were gone, so I immediately went online and ordered more. You can also keep a running list, and purchase everything at the end.

Built-Ins
Having our California Closets built-ins installed a couple of years ago was a game-changer for our living space, and has proven to be so helpful with toy organization. Most toys are in Wyatt's room, but we do keep some activity-based items in the drawers of the built-ins. Things like games, puzzles, playdough, quiet-time activities, and tech stuff. Be sure to check out how we styled our California Closets for Christmas a few years back, and scroll through the photos of My Dream Closet Reveal.

Make A Plan
Now that the bins are empty, the shelves are clear, and the toys are clean, you can now see how much space you actually have to house the toys. Make up a categorized list of all your items, and use sticky notes to assign each category to an area or bin. This way, you can rearrange as you need to without physically putting the items in that spot. Things to keep in mind:
Accessibility. Can my little one reach and open this without assistance? Also, do you want them to be able to?
How often is the toy or activity used? Place the 'once-in-while' stuff higher up, away from "everyday" areas.
Test Out Storage
Next, you're going to test out your bins and storage areas to make sure everything fits. This allows you to see if your products are going to work, or maybe need upgrading or replacing. Keep a separate list going of what bins and other storage solutions you may need to invest in.
Tip: Don't buy storage pieces until the end! I put everything away in zip locks, and then went through each space making notes of what sized boxes I needed, etc. Had I guessed, it likely would've meant a lot of unnecessary purchasing. You really don't know until you get in there!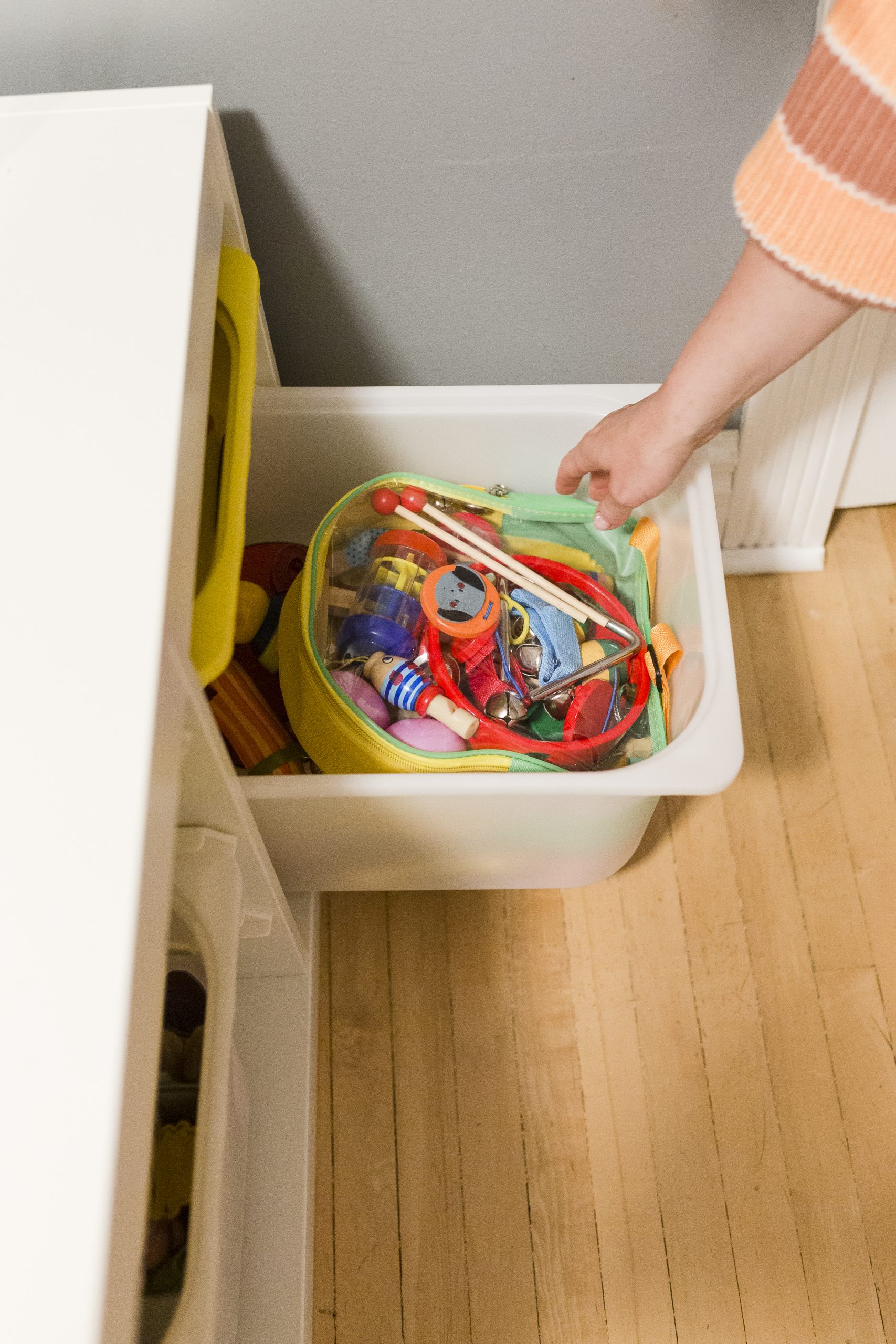 Designated Bins
To ensure this organization sticks and all of your hard work pays off, it's super important that everything has a designated spot. This also makes it way easier for kiddos to clean up their stuff on their own. Here's our categozied list:
musical instruments
puzzles
games
playdough
tech and quiet time activities
make-believe
"guys" (action figures, characters, etc.)
stuff with wheels
stamps
colouring
stickers and tattoos
puppets
magnets and blocks
lego
* You can also fill a bin or two with toys to store in the basement and swap out every now and then. The kids get so pumped, because it's like getting the toys for the first time every time! 
Storage Hacks
We invested in these Ikea units for Wyatt's room. As mentioned, we don't have a toy room, and we're really trying to avoid having our whole house overrun with kids' stuff. So, Wyatt's room doubles as his playroom. For more on his special space, check out Wyatt's Space Room Reveal and How To Set Up An Arts Centre in A Toddler Room.
Games Boxes
I find the boxes of puzzles and games can start to look nasty very easily. Some, like Monopoly, are classics, so I'll keep taping the box until the end of time (!), but when others start to look ratty, I pop them into new storage boxes that match our decor. I typically pick these up at Dollarama or HomeSense.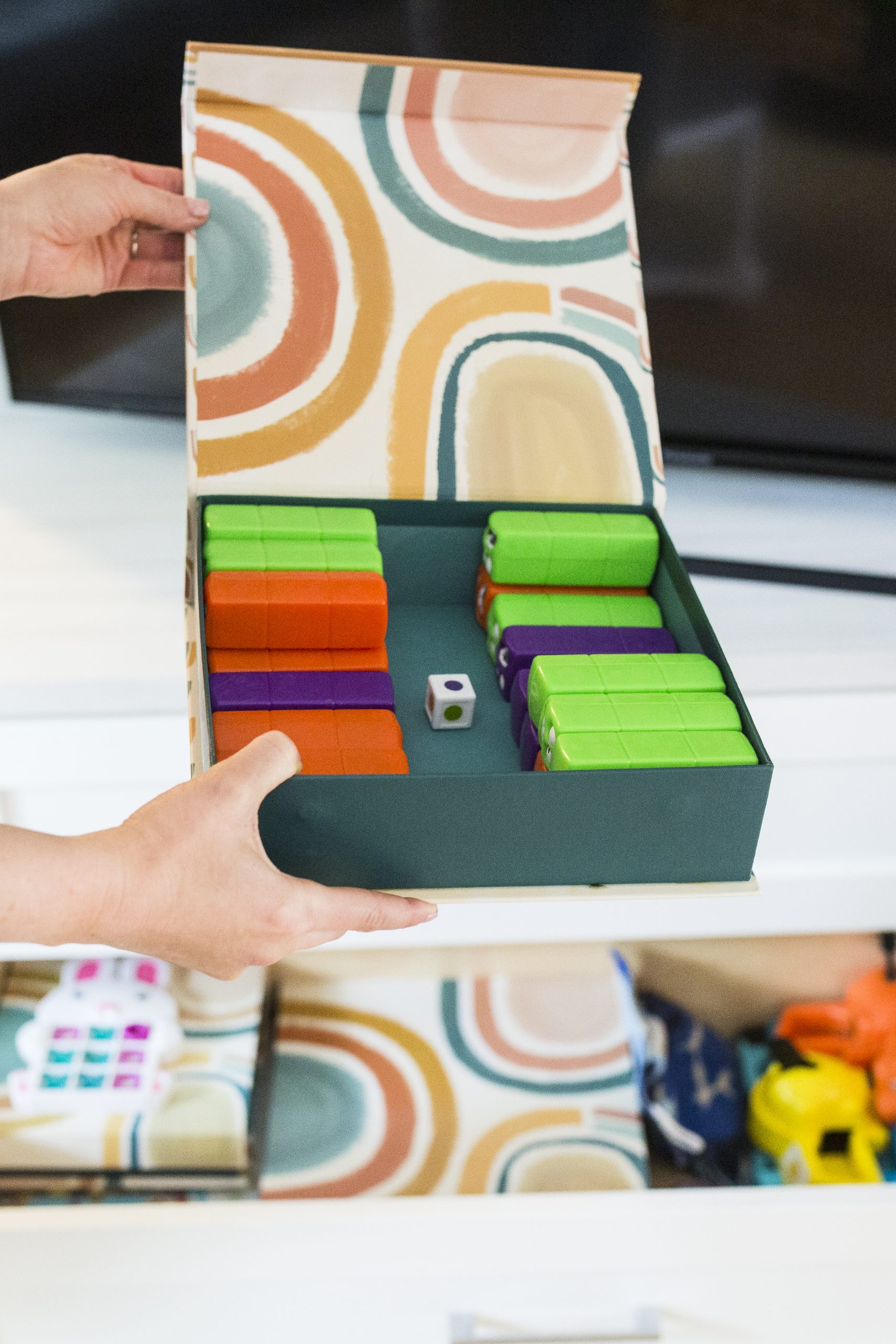 Puzzle Pouches
I LOVE using zipper pouches for puzzles, especially for the extra-thick wooden puzzles. It saves us so much space! You'll be able to fit way more puzzles into a drawer or bin if you take them out of the box and use the pouches. These are the best ones I've found.
Shoe bags
Sincere thanks to companies like (one of my faves) Poppy Barley for including beautiful cloth shoe bags with each footwear purchase! I probably should be putting my shoes in them, but instead, I take blocks and magnets out of clunky boxes, and pop them in the shoe bags to reduce storage space.
Book Storage
Unless you have a magnificent library in your home, I prefer to pack most books away. I find it way too overwhelming and messy to have a ton of books out at once. I use these storage bags to tuck away themed books, and then I rotate them in when necessary. The additional benefit here is that your kids will be way more excited to read the ones they haven't seen in months! I separate the packed-away books this way:
Christmas
Easter
Valentine's Day
Nature
Summer
Thanksgiving/Fall
We've previously displayed Wyatt's books in his room with DIY pallete bookshelves but now use this three-tier cart from Ikea. I've also seen these at HomeSense.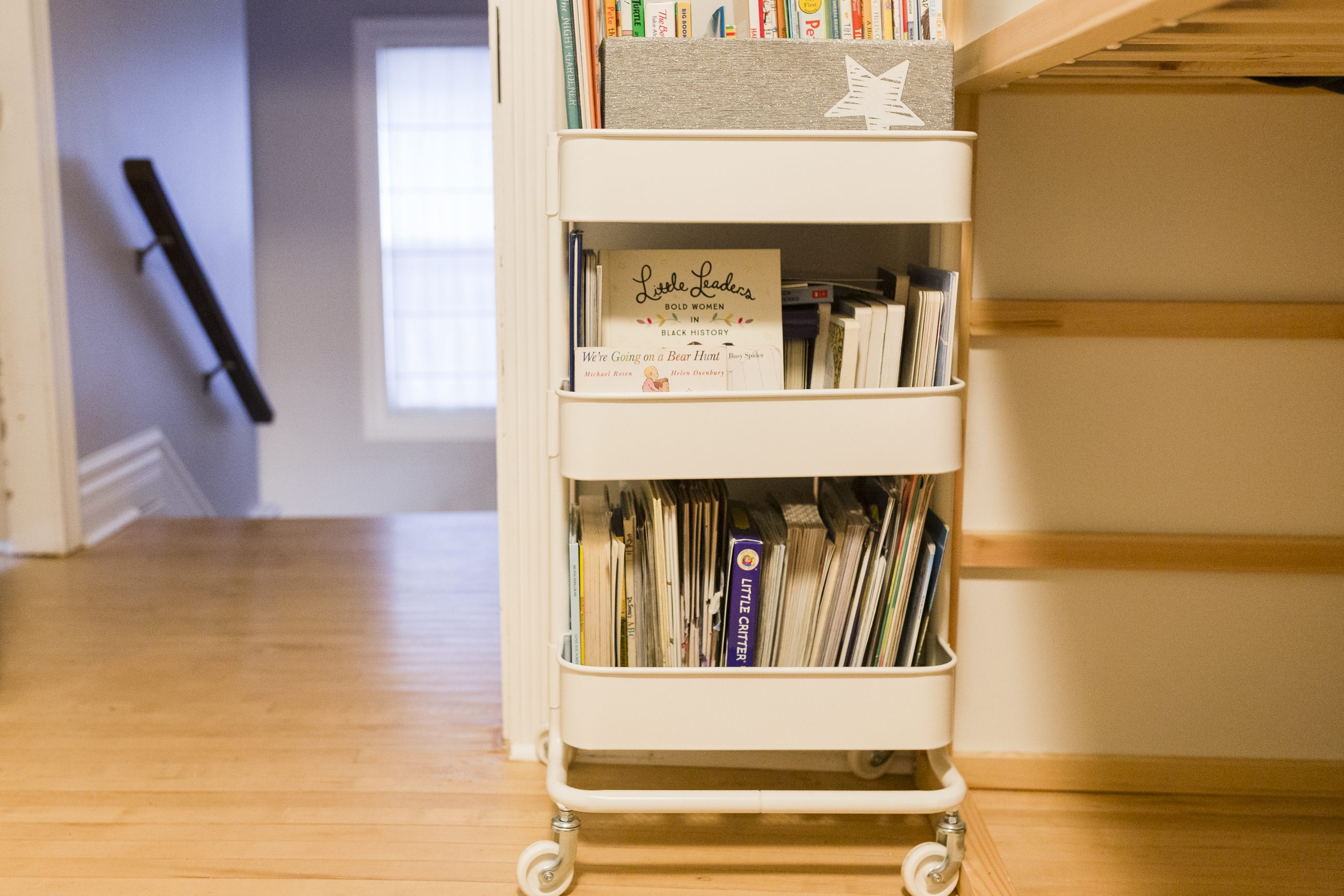 Where We Shop For Kids' Stuff
Kid Monet (exclusively Canadian brands)
Mastermind Toys
Chapters (The Kid Made Modern art stuff is fantastic)
The Disney Store
The Lego Store
West Coast Kids
Please pass along any toy purge and organization tips in the comment section below!
photos: Dallas Curow
Pin this to your Toy Organization and Home Organization board. Follow me on Pinterest here!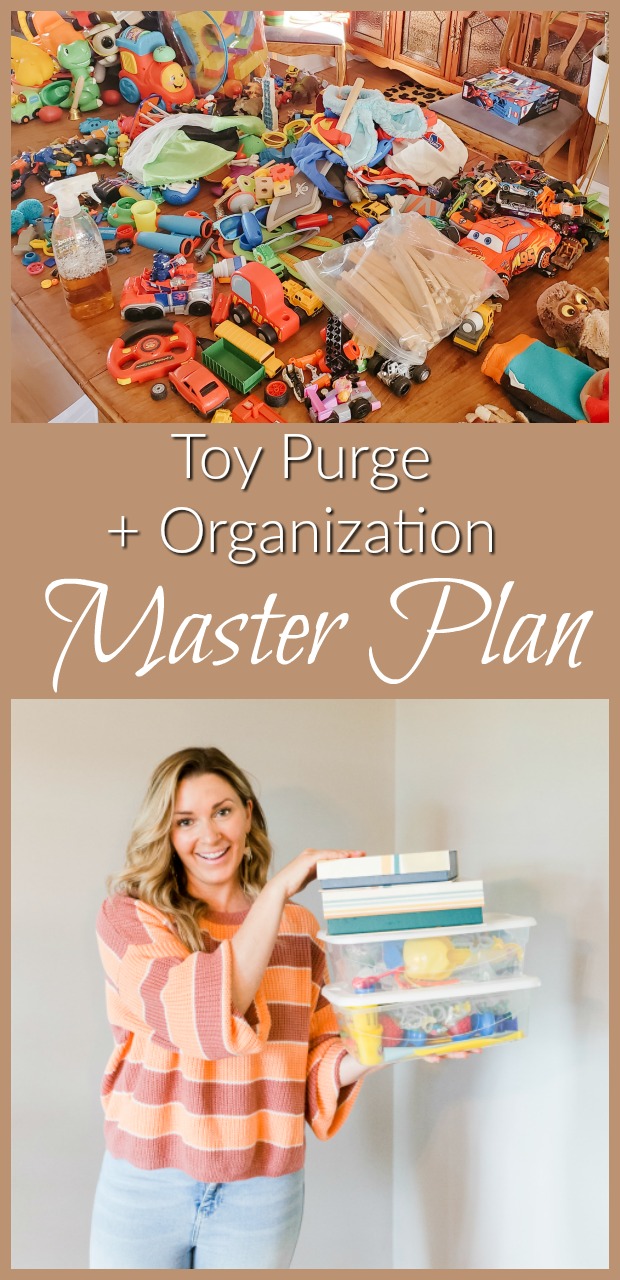 Other Posts You'll Love:
How To Throw A Super Cool Buzz Lightyear Birthday Party
How To Set Up An Arts Centre in a Toddler Room
xx