Here's how to create the cutest Halloween Hut for your kids – perfect for reading books or watching movies this season. I've included two fun (and inexpensive) decor DIYs and a list of our favourite Halloween books and movies!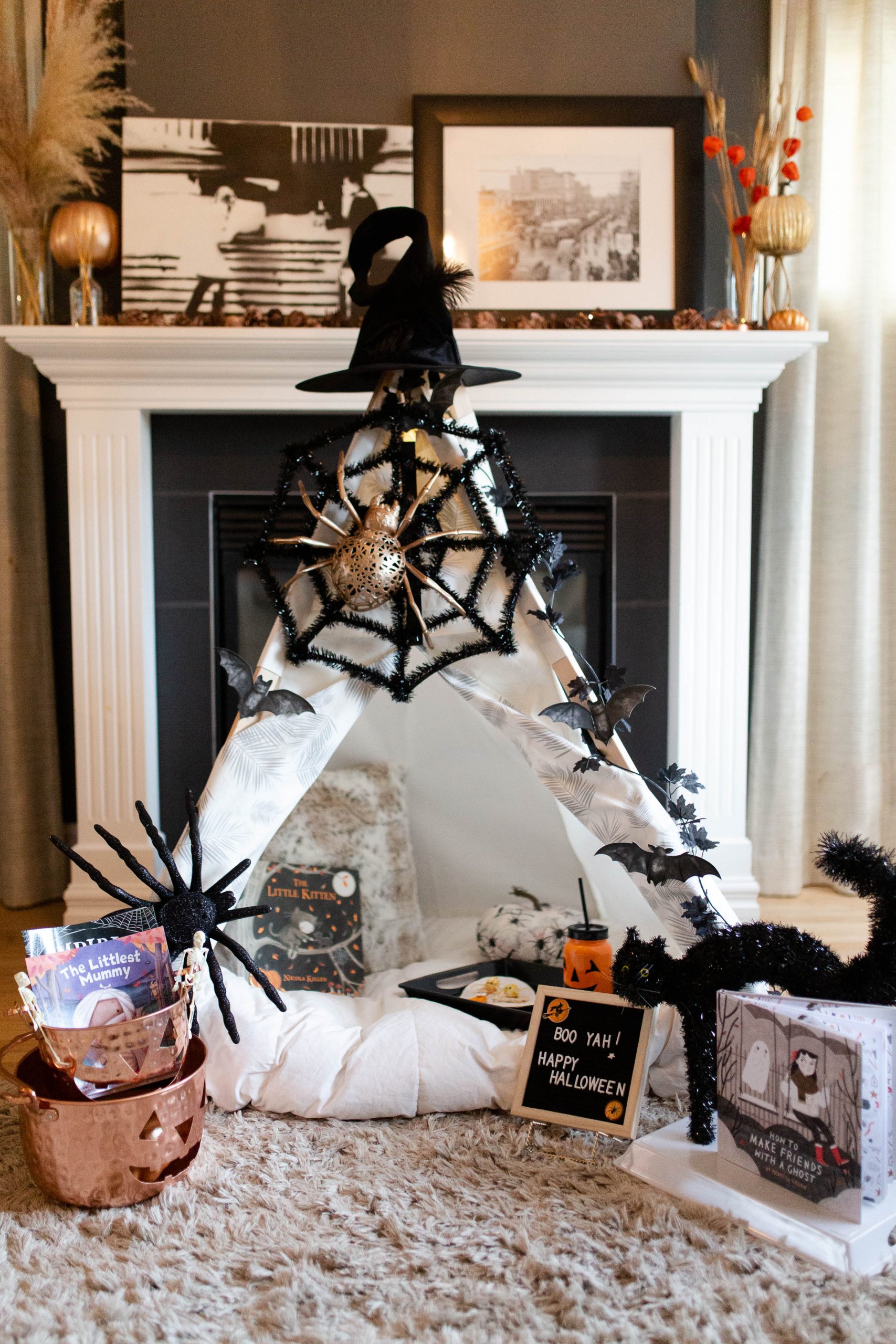 We didn't go nuts on Halloween decor this year through our entire house, but I did thoroughly enjoy setting up this little Halloween Homebase for our little guy Wyatt. He snuggles up inside to watch his shows in the morning, and we crawl in there to read stories before bed. Our play tent is custom-made from House of Hale and you can find more great options on Etsy. I especially love the simplicity of this one. However you plan to use yours, it will certainly add to the magic of the season! You can (of course) make this your own, but here are all the details on our festive fort!
Spiderweb DIY
Give that Dollar Store decor a little spruce up! Pick up an inexpensive decorative spider web and paint the spider in the colour of your theme. (I was inspired by this Instagram post from Blogger Sierra Miller). To match ours exactly, use Martha Stewart's Rose Gold Craft Paint. Use a black zip tie to fasten the spider to the web and hang on a wreath hanger from the outside of the front of the tent. This would always look great on your kid's bedroom door! Total cost: around $9.
Modge Podge Pumpkin DIY
I love buying themed napkins, but there are always leftovers. Use those spares for this easy Modge Podge Pumpkin DIY from Lifestyle Blogger Kristin Sellentin. If you're up for it, invite your kiddos do the napkin cutting. Might be a nice little project to do together.
Lights Trick
Always include lights! That's pretty much my motto with everything. 🙂 Instead of winding your lights on the outside, you can create a more spooky effect by hanging your twinkle or fairy lights in a bunch from inside the tent. I used one of our Ikea produce bags to hold the lights. This allows for enough light to still shine through in a safe way.
Rest of the Details
Top off your tent with a Witch's hat from your Halloween costume supply. Cozy up the flooring in the tent with a snuggly blanket or duvet and a pretty toss cushion. I snagged two trays – one black and one white – from Dollarama, but these ones are awesome for kids too!
You can add on these bats up the side and sneak in a sparkly cat and spider, mini skeletons, and copper pumpkin buckets to hold books (mine are from HomeSense but here's a splurge option from Wayfair).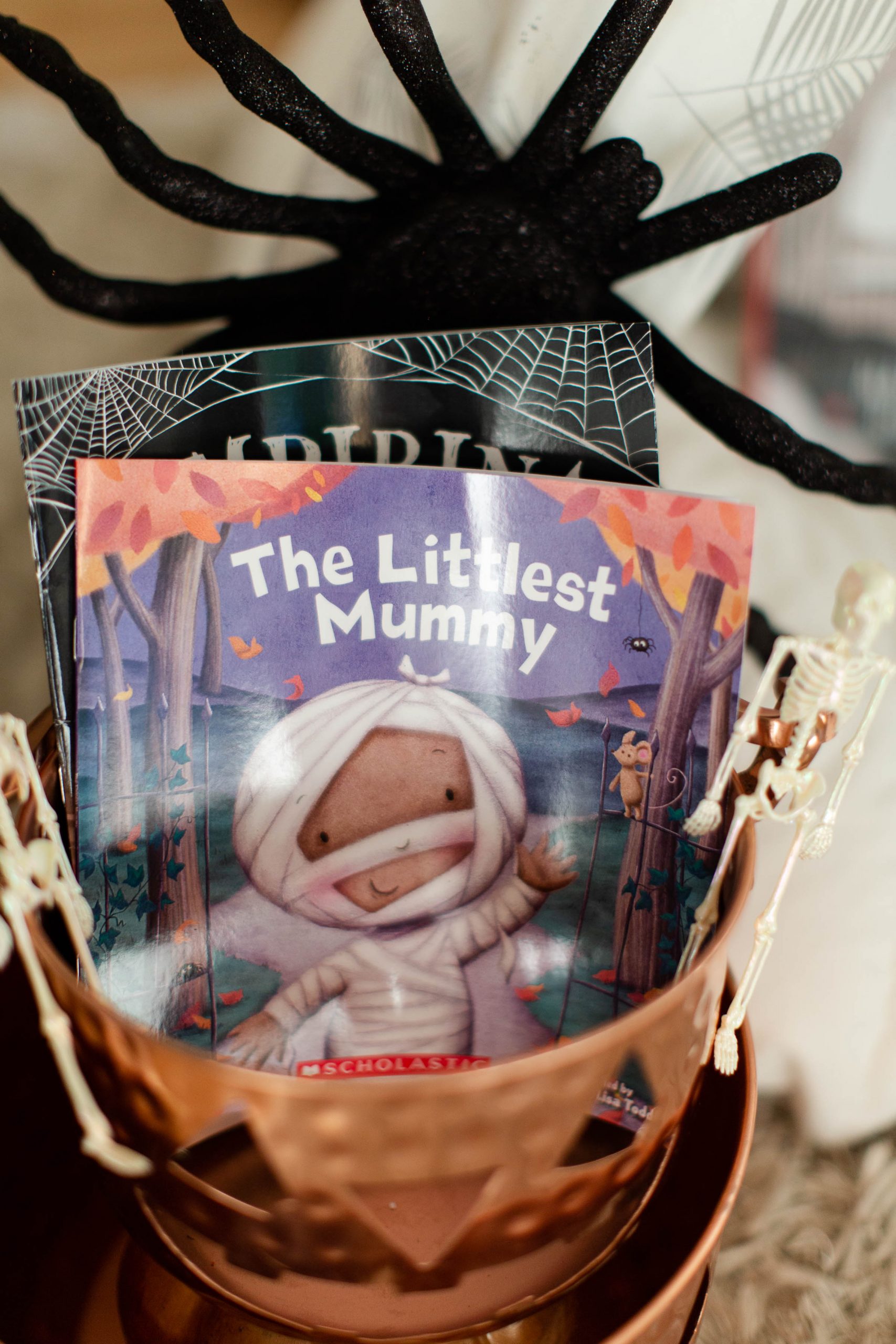 Halloween Books We Love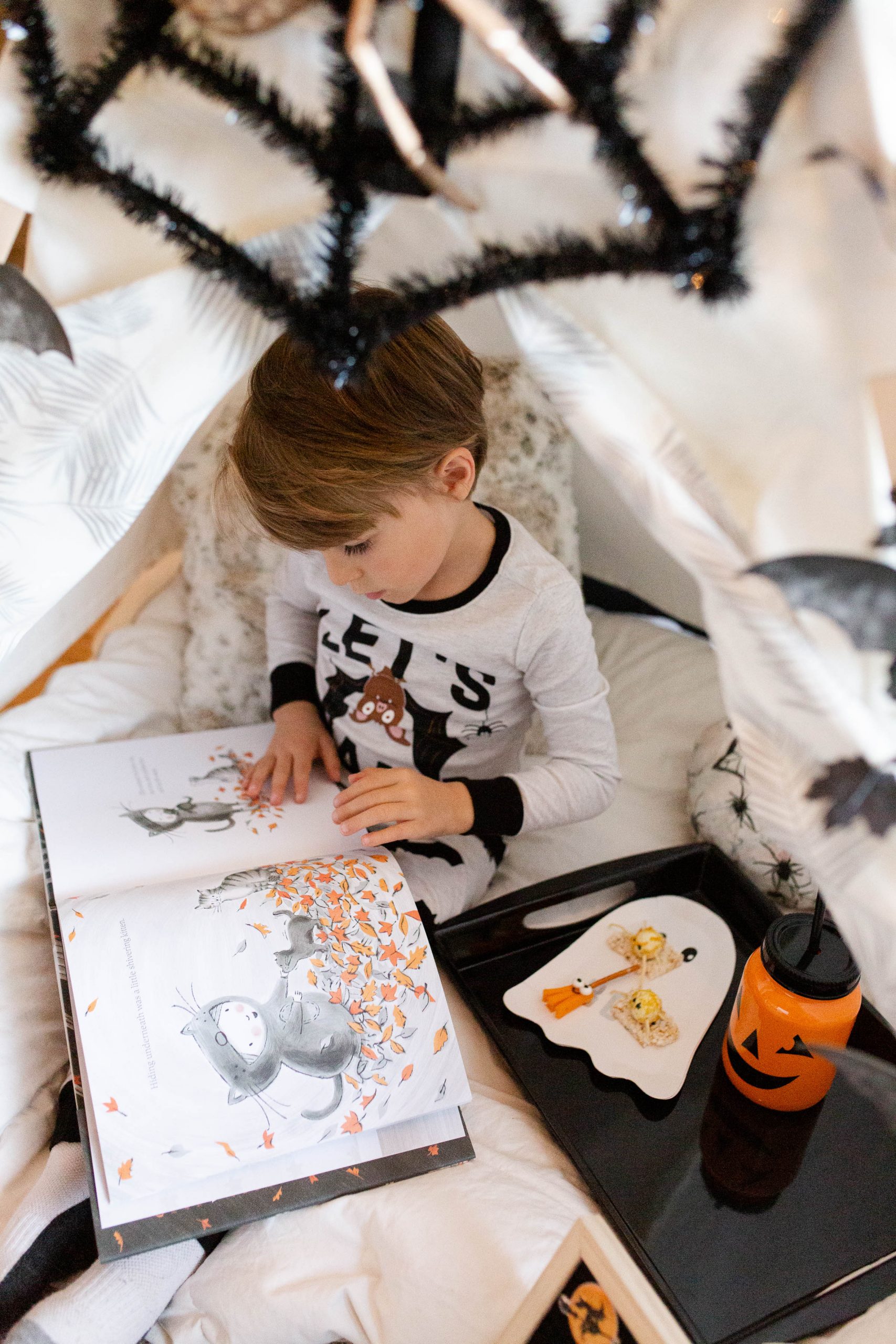 Family-Friendly Halloween Movies We'll Be Watching

What are some fun ways you've decorate your kid's space for Halloween? I would love to see it!
Share your photos with me on this Pinterest post, or on Instagram, Facebook, and Twitter.

photos: Dallas Curow
Post this to your Halloween Decor boards and be sure to follow me on Pinterest here! 
Other Posts You'll Love:
Kids Halloween Charcuterie Board
The Best Way To Do A Toy Purge
Our Toy Story Halloween Costumes
xx