It IS possible to be comfortable and stylish while parenting! Shop five foolproof looks
to enhance your mom wardrobe, and learn a few basic tips for pulling yourself together in a pinch!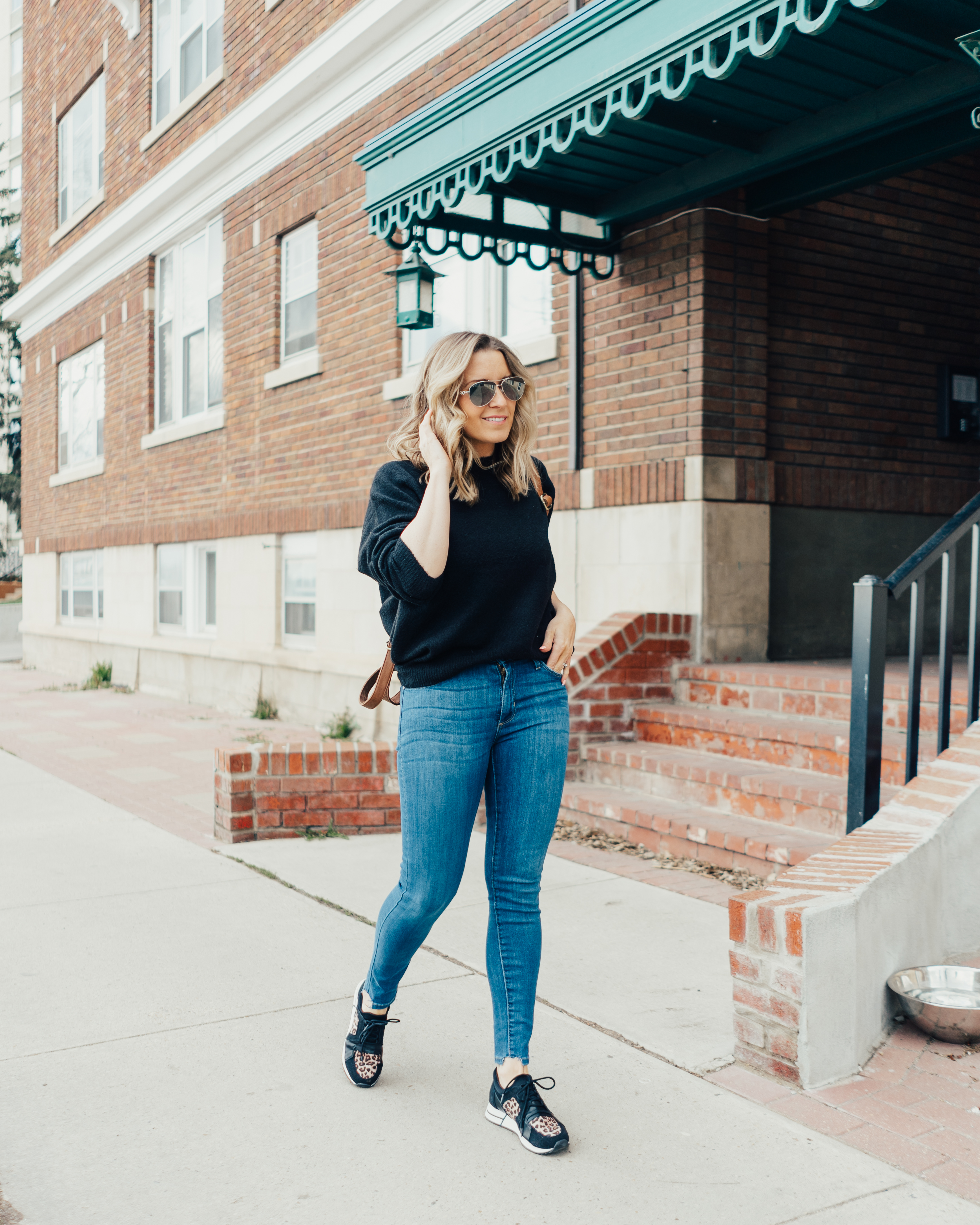 As a mom, I would prefer to be in PJs all day. However, I can't ignore the way I feel when I take the time to put myself together. Now, I'm not talking hours in front of the mirror here, friend! I'm talking several go-to options in your closet that are comfy and look great. Outfits you can throw on and dash out the door.
Our kids aren't the only ones who get to look good, ok? We know how it goes: our kid looks like he's in a Baby Gap ad and we look, well…like we haven't showered in days ('cause we probably haven't)! I invite you to invest some time into putting a few outfits together that are not only comfortable and allow for lots of movement (loading car seats, climbing the playground, etc), but that fit properly, too. There's nothing worse than knowing something is hanging out when we're bent down tying shoelaces or cleaning up a mess under the table at a restaurant. Here are five foolproof looks I've styled for you to enhance your mom wardrobe:
Look #1 – Tee and Jeans
Have a little fun while keeping it simple! There's absolutely nothing wrong with the classic tee and jeans, but pick a tee with some personality and/or jeans with an interesting detail (like the bottom of these ankle cuts). Pair it with comfy slip-on sneakers (ease of use is key). Also, take time to find the right fit of jeans! For me, it's a mid or high rise waist and ankle cut is my favourite for showing off cute shoes. Here are some tips on how to find the perfect jeans.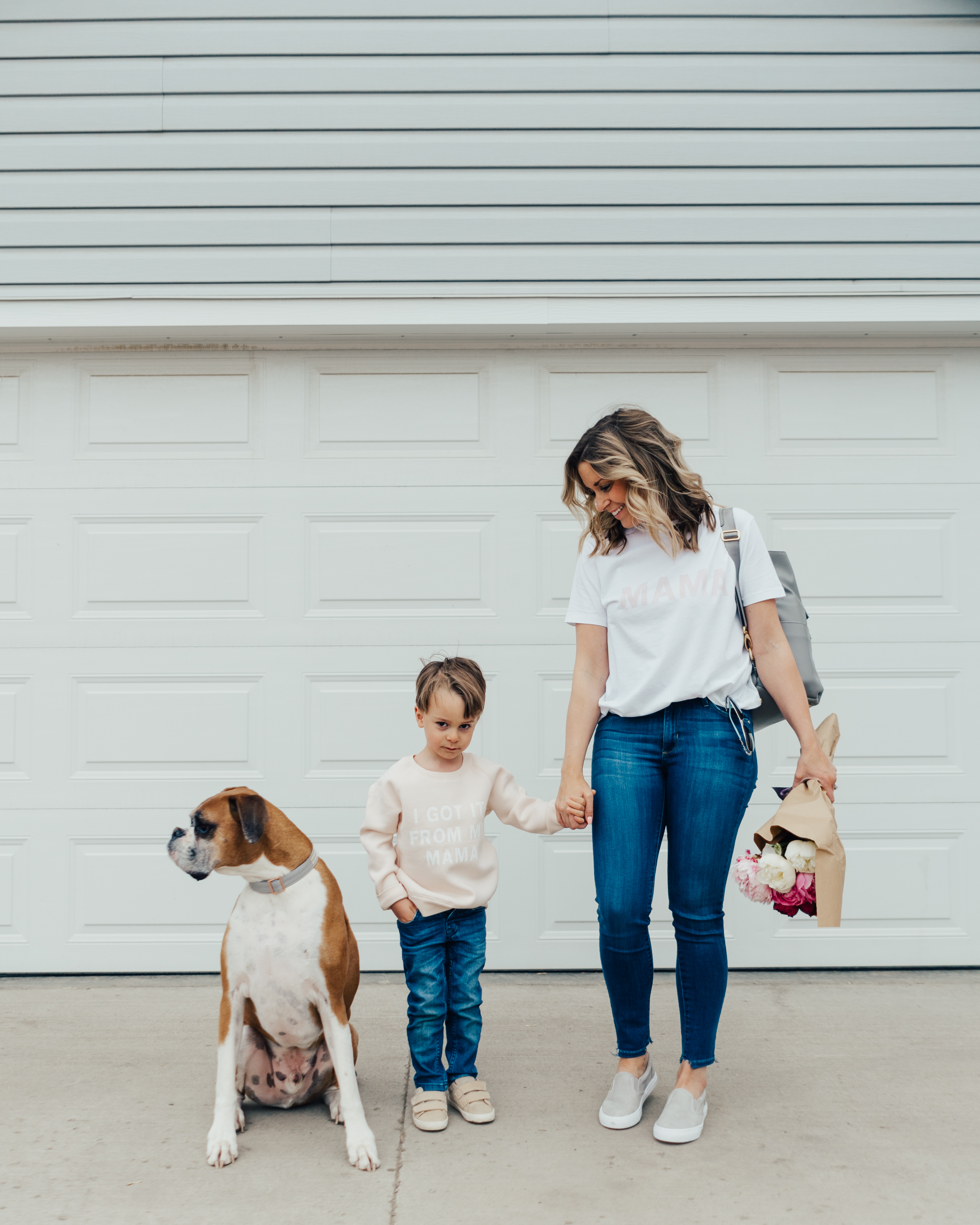 On Me: Jeans | Grey Sneakers | Mama Tee
On Wyatt: I Got It From My Mama Sweatshirt | Jeans (similar) | Sneakers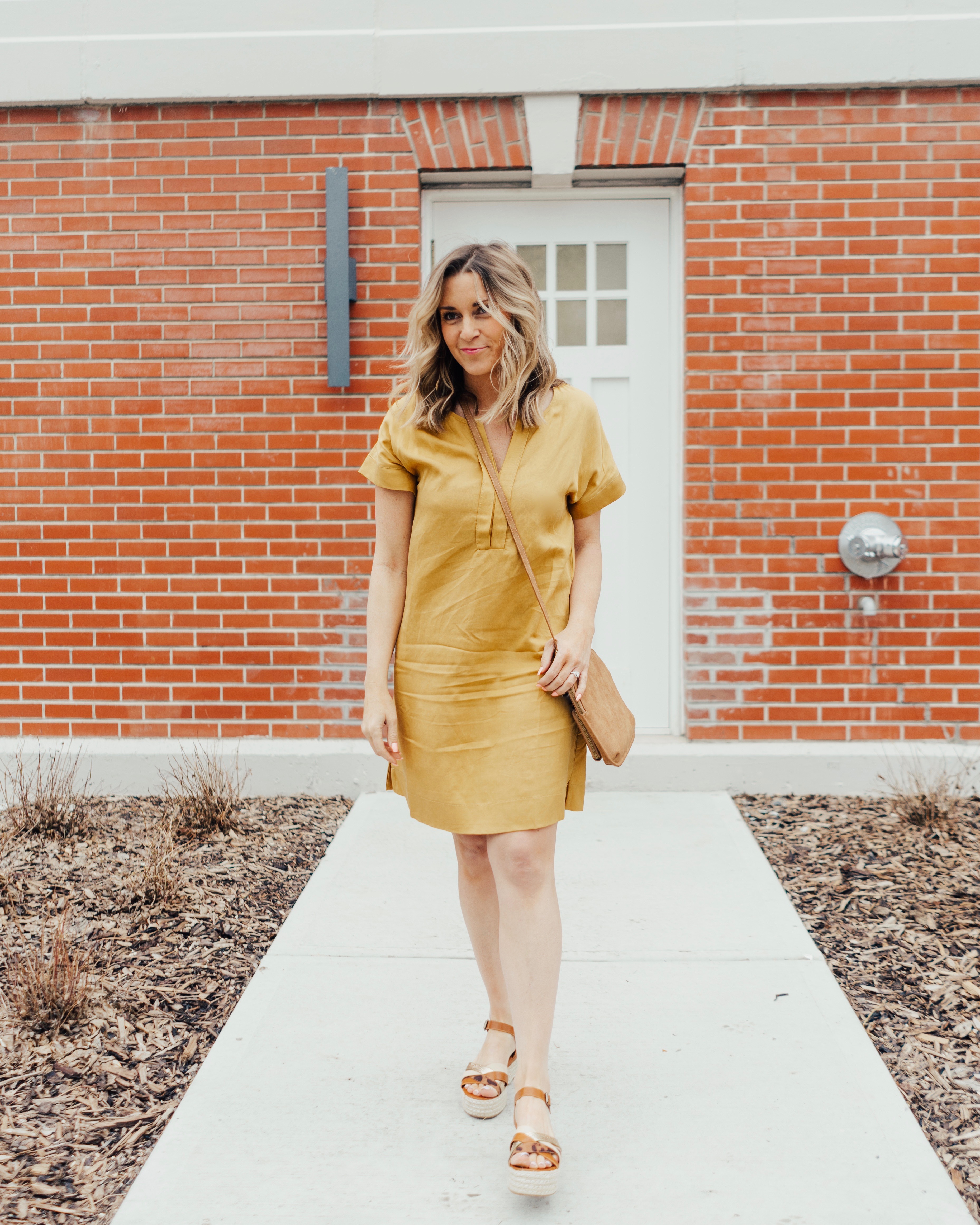 Look #2: Simple Dress With Pockets
I'm going to say it: dresses without pockets should be banned! With this look, you're only dealing with one piece of clothing, which is nice and easy. Find a dress (like this one) that fits but has a bit of room, so you don't feel constricted and uncomfortable. A look like this is also super versatile and transitions well from season to season. Throw on a longer cardigan sweater and closed-toe booties for the fall!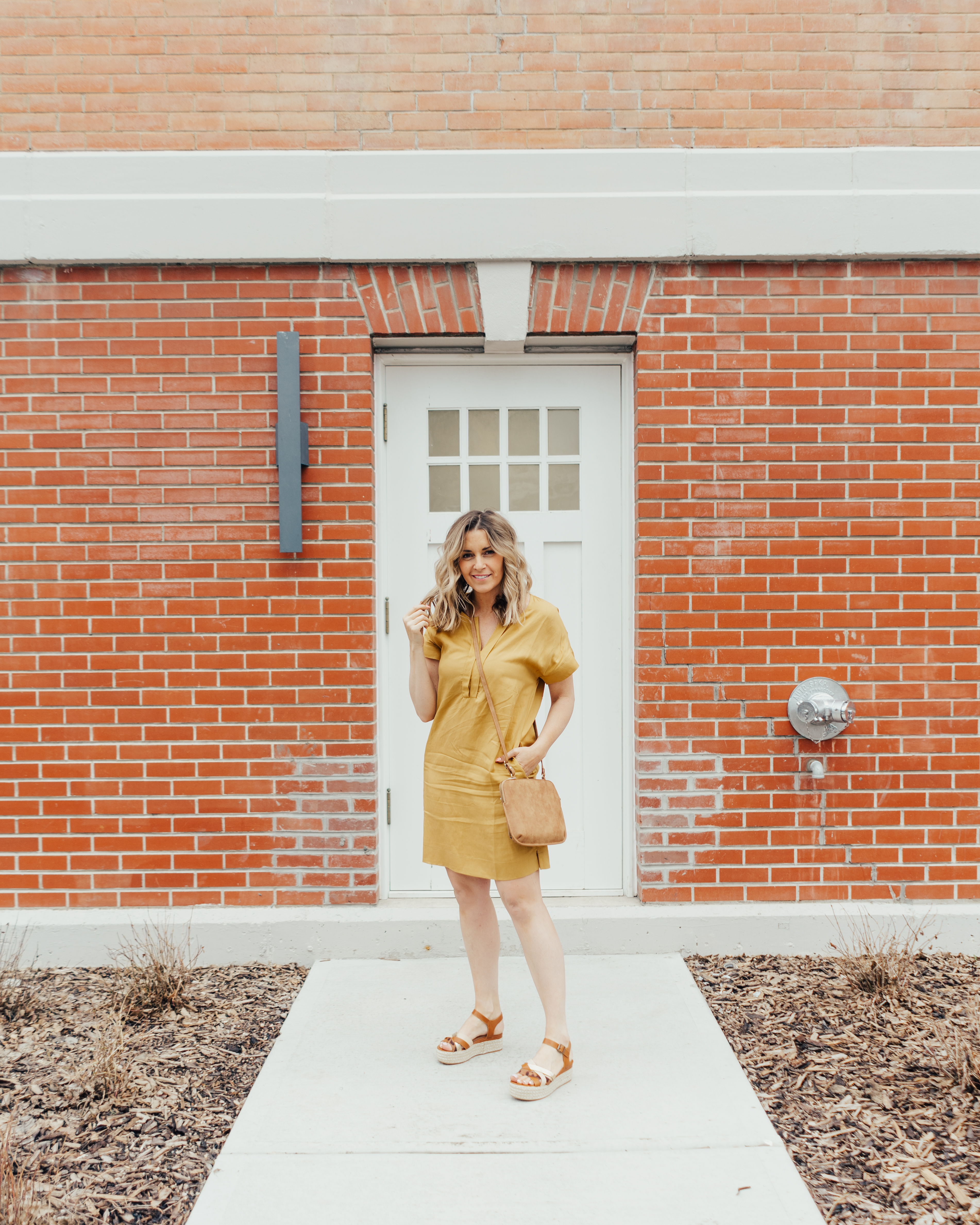 Dress | Shoes | Bag (sold out) Similar Here
Look #3: Casual Pants With Edge
Branch out of the jeans zone! I'm guilty of making denim my go-to, but find some pants that appear to be on the dressier side, but still feel comfortable (back to feeling like you're in your PJs!). Pair them with a simple slide, basic tank, and a classic denim jacket. Of course, a cute hat is a staple in the mom wardrobe – saves you from having to do your hair!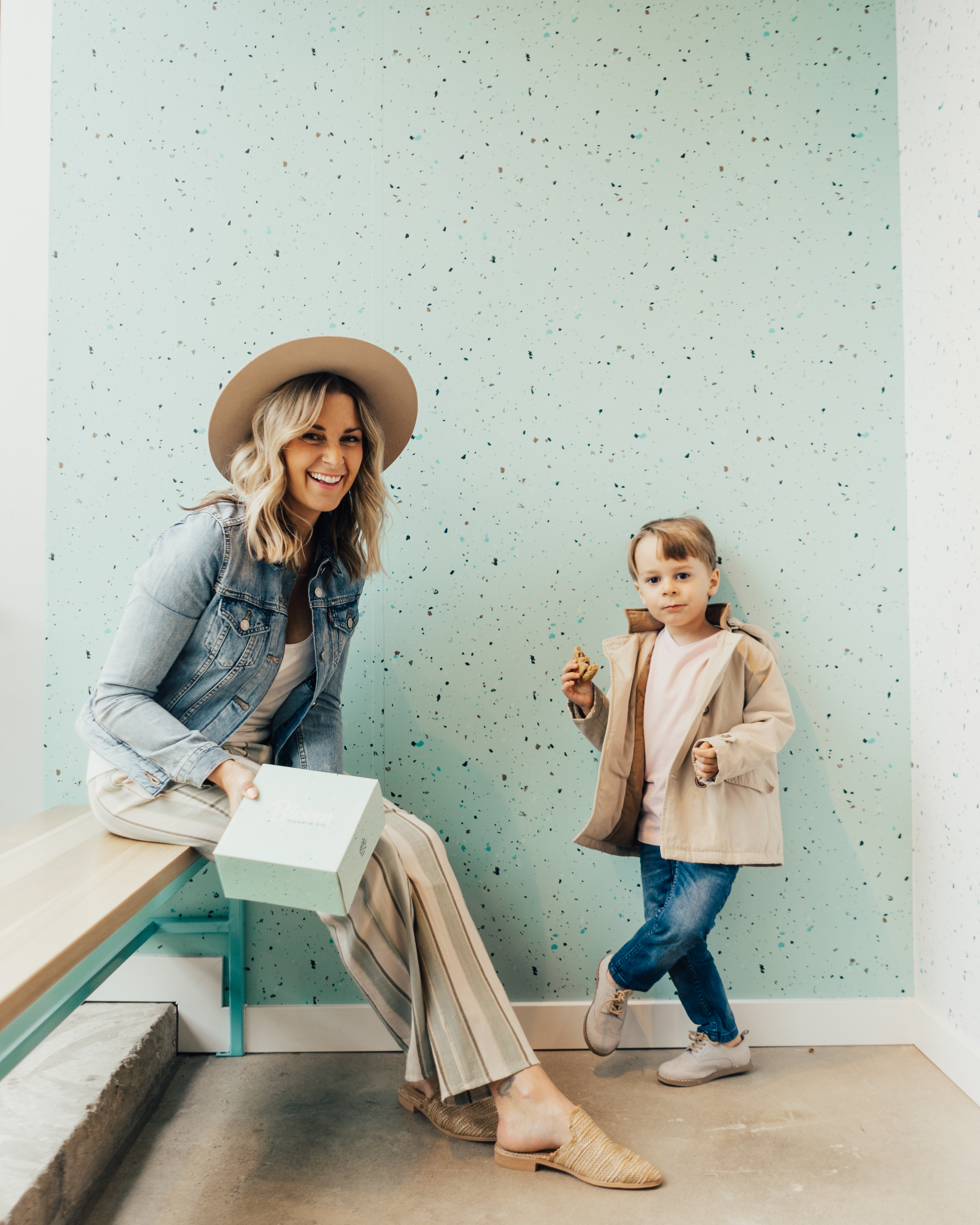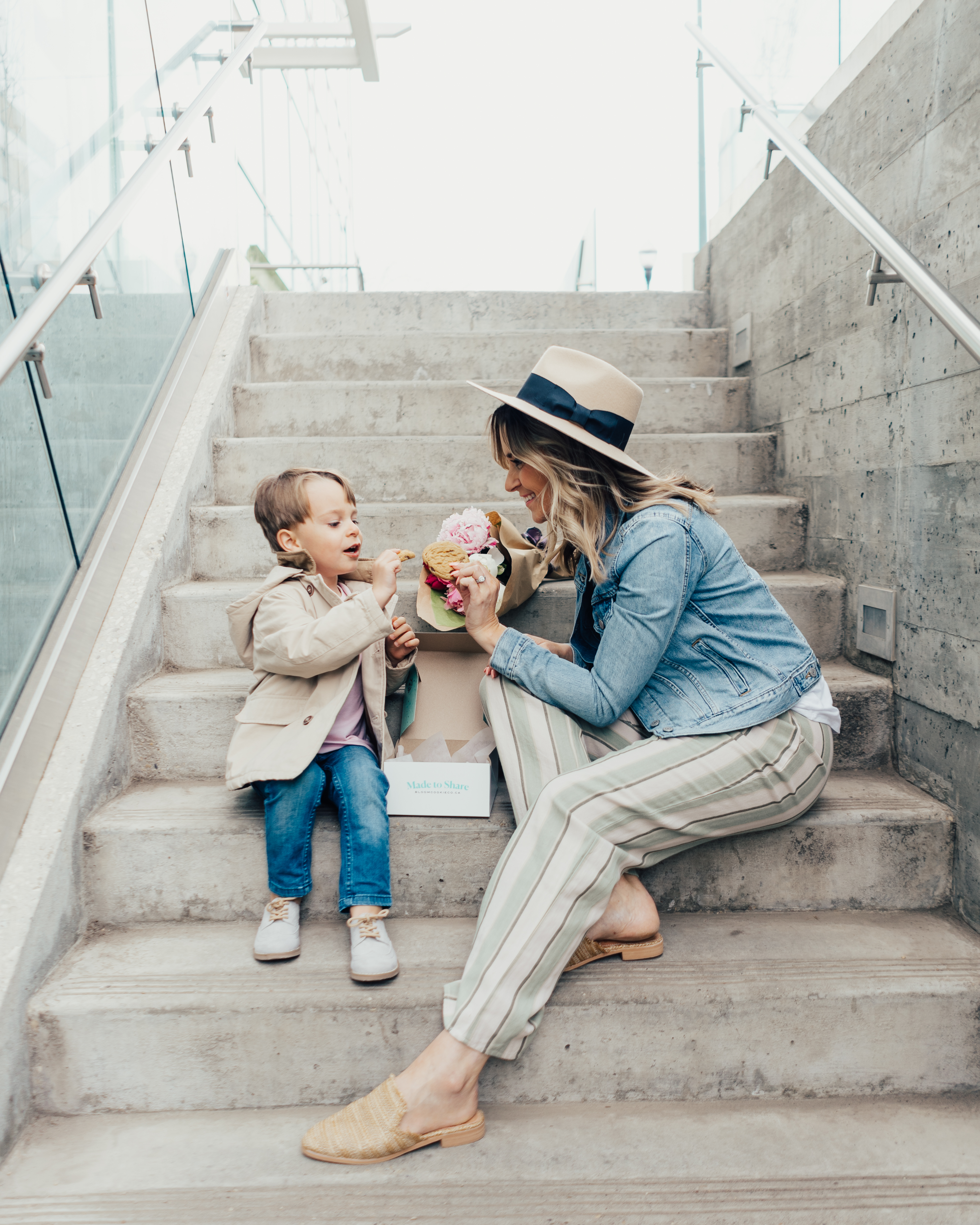 On Me: Striped Pants | Canvas Mules | White Tank | Denim Jacket | Hat
On Wyatt: Shoes | Jeans (similar) | Coat (similar) | Tee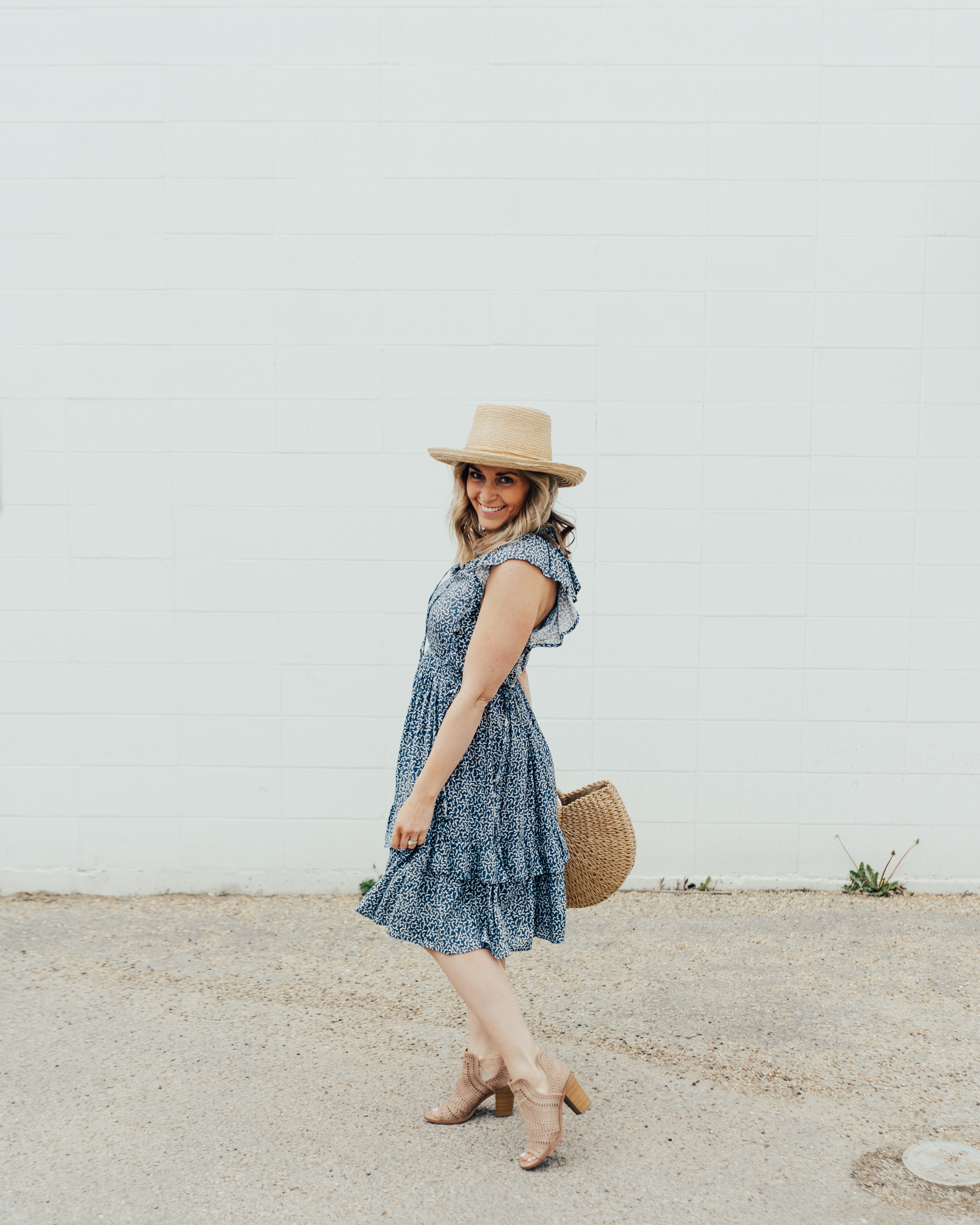 Look #4: Flowy Sundress With Defined Waist
Besides the obvious cuteness and on-trend factors, the best parenting element of a flowy sundress is its breathability. We all know being a mom can be overwhelming and stressful at times, thus raising our body temperatures. Having a pretty piece that allows for the proper amount of air flow is key! Another bonus: this works as a transitional piece from season to season.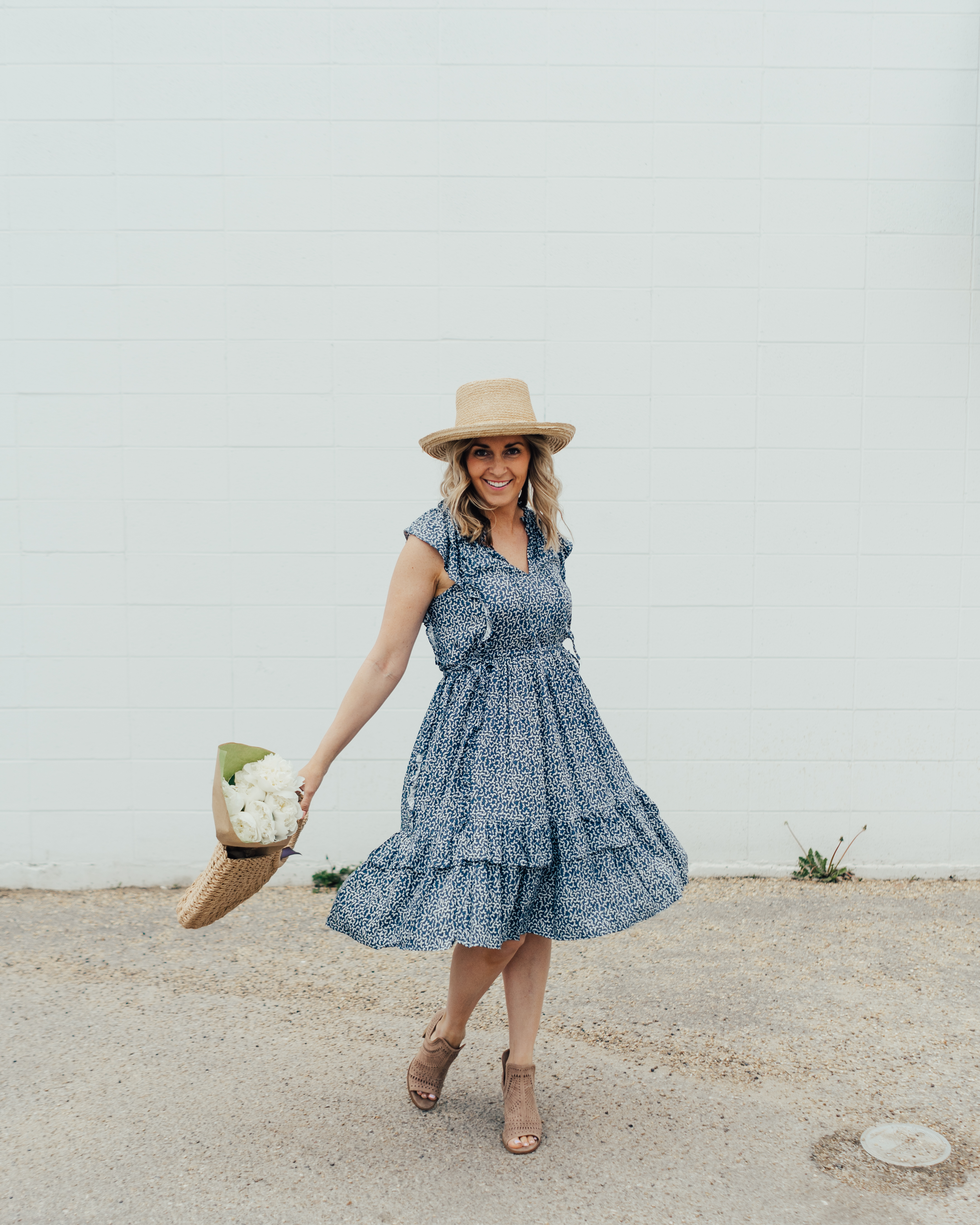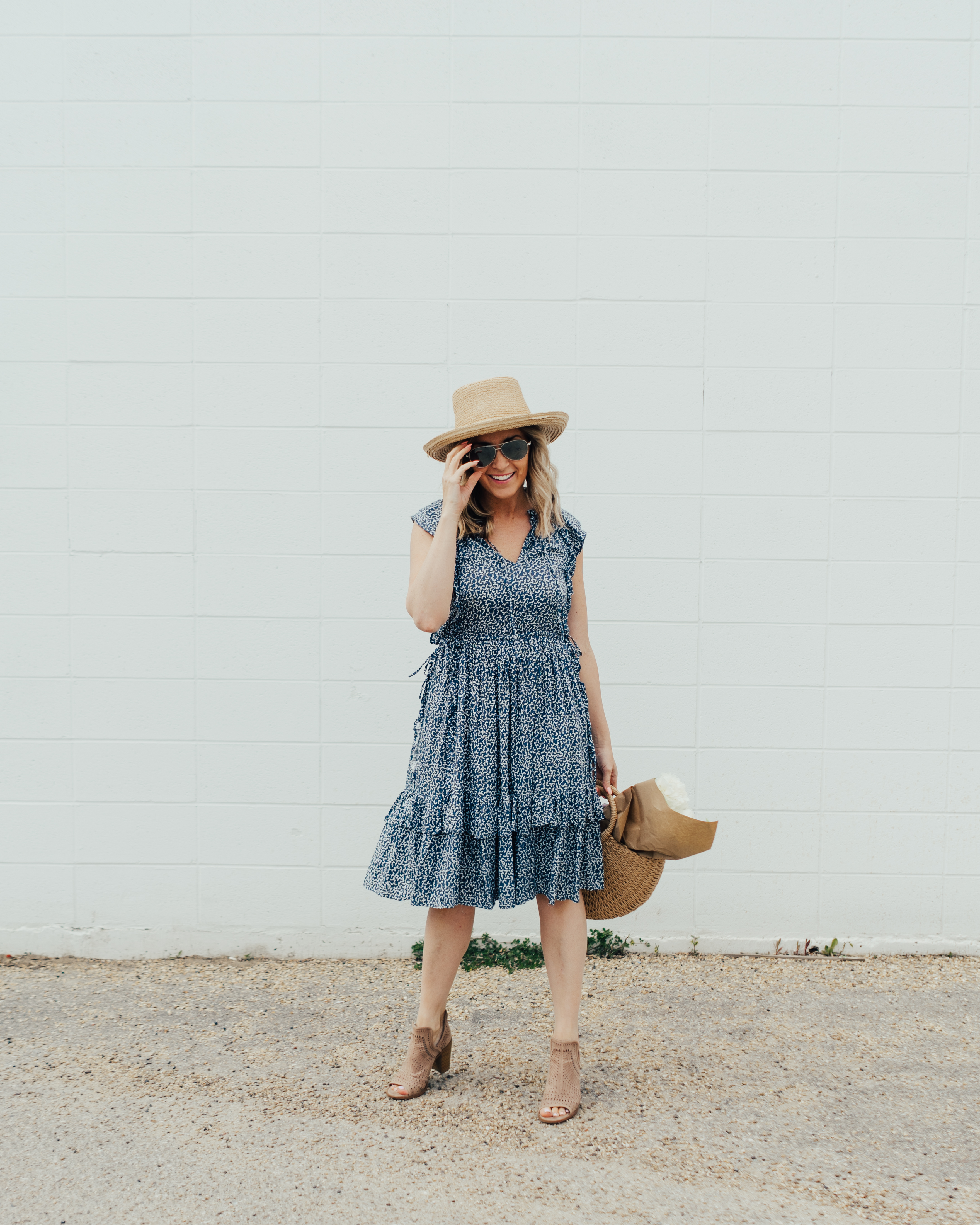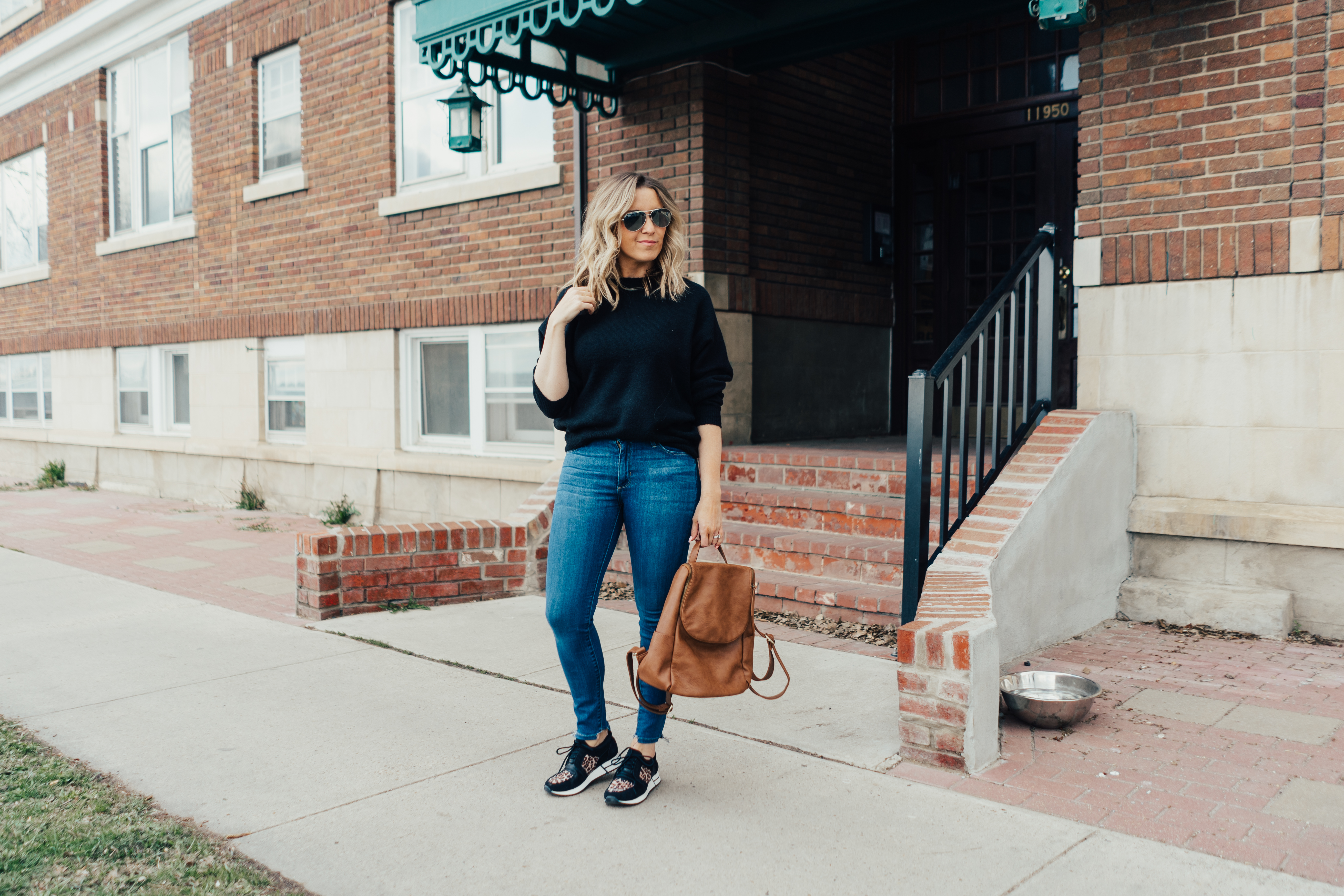 Look #5: Statement Sneakers
Showcase some fun on your feet! Make your kicks the star of the show, and keep everything else comfy and basic. You can transition this into a date night look simply by swapping out your sneakers for heels, and your backpack for a clutch.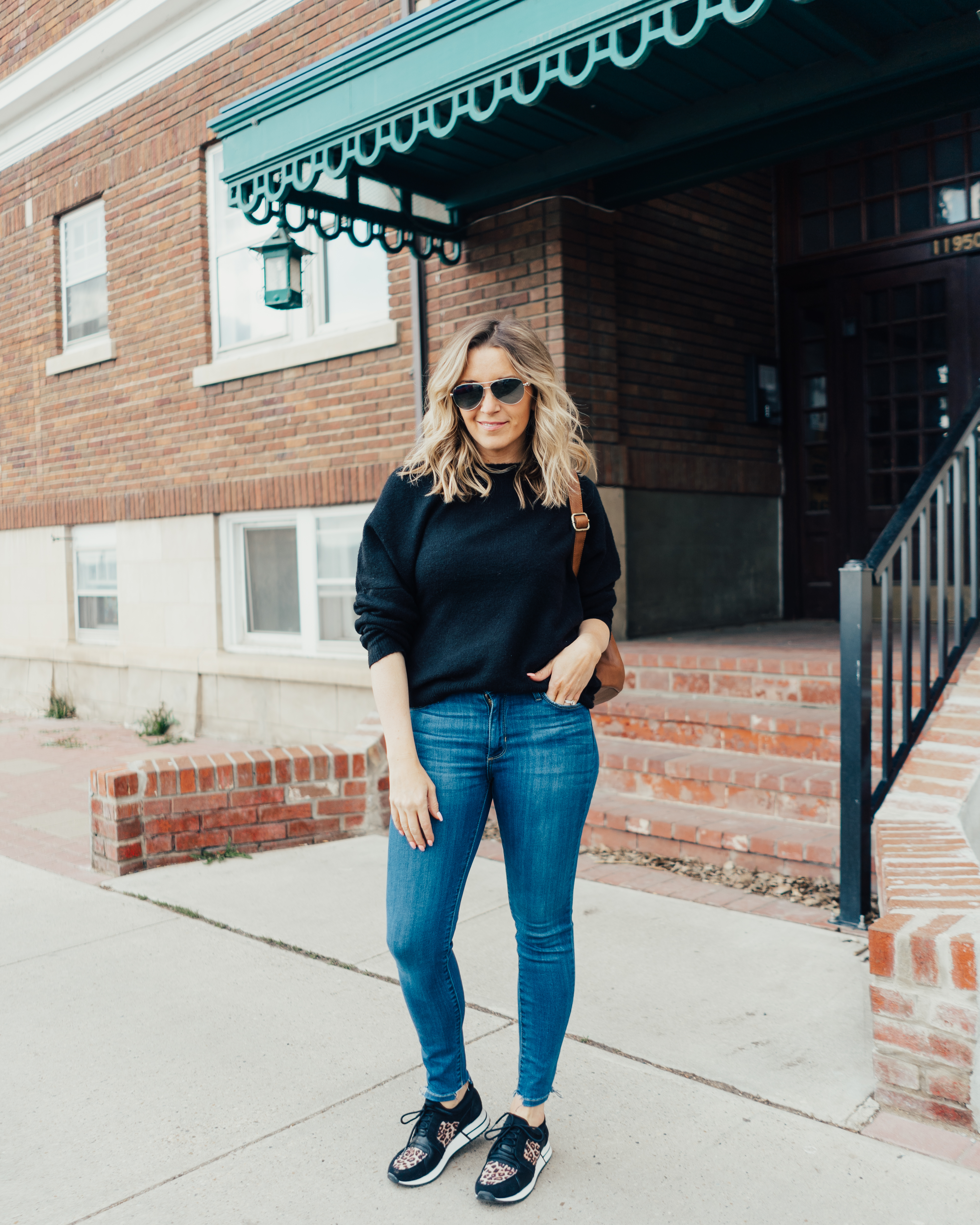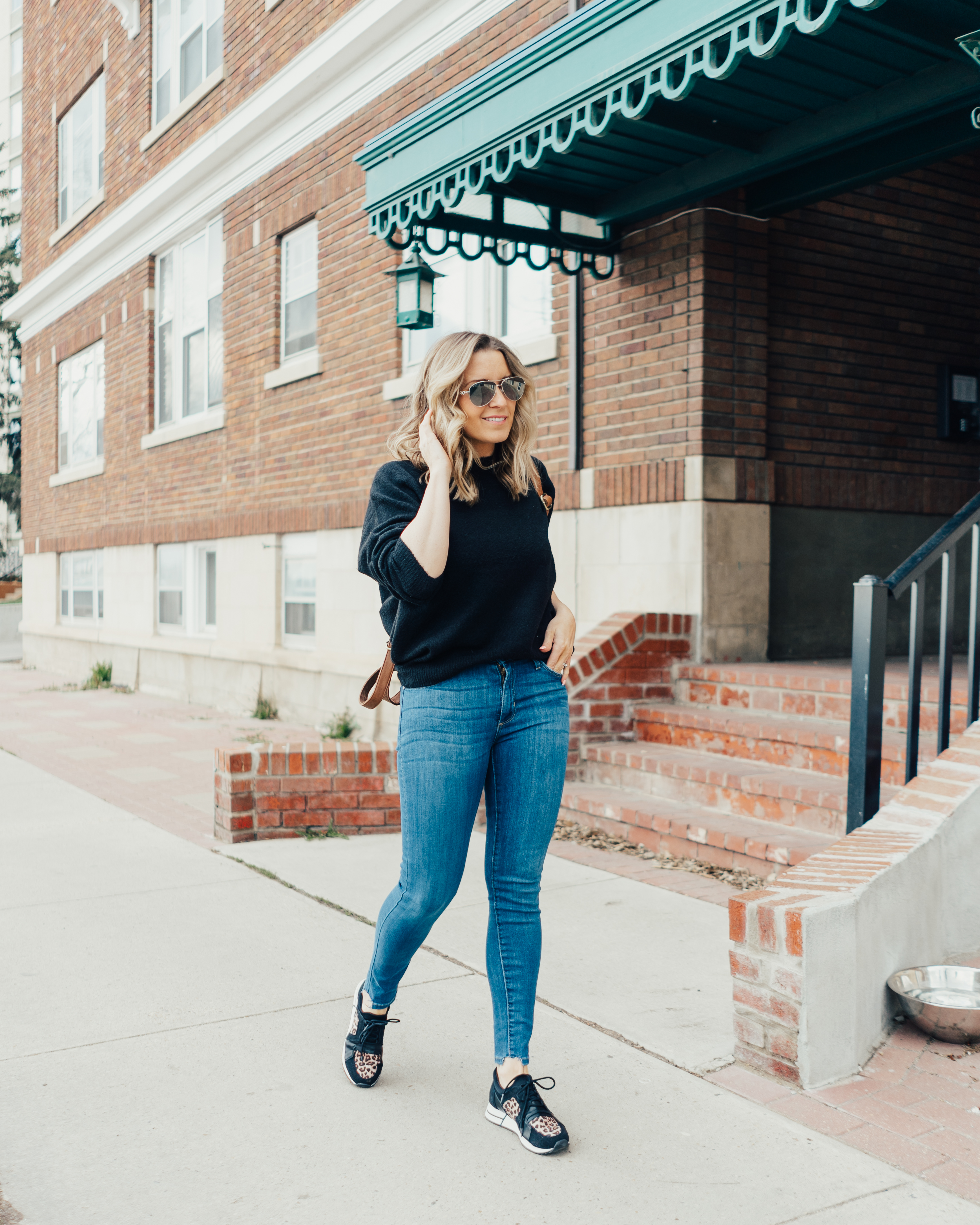 Jeans | Cheetah Kicks | Sweater | Backpack (sold out)
Pin this to your Mom Style and Outfit Ideas Boards and follow me on Pinterest here!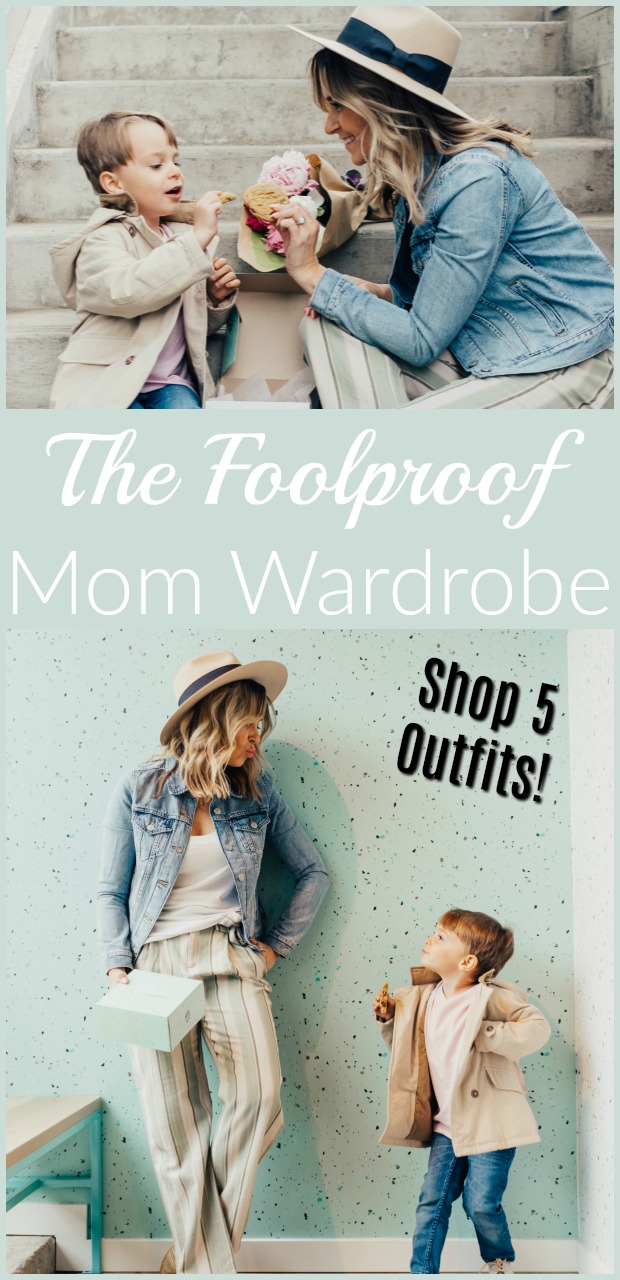 This post was sponsored by Red Ribbon Boutique. As always, thoughts and opinions are mine. 
Other Posts You'll Like:
How To Become A Resilient Parent
Yee-Haw: How To Dress Western Stylish
xx