You know you want to spruce up those rough-looking hardwood floors but are you up for the DIY? Here's some advice to help you weigh the pros and cons of DIY vs. hiring a professional for refinishing hardwood floors.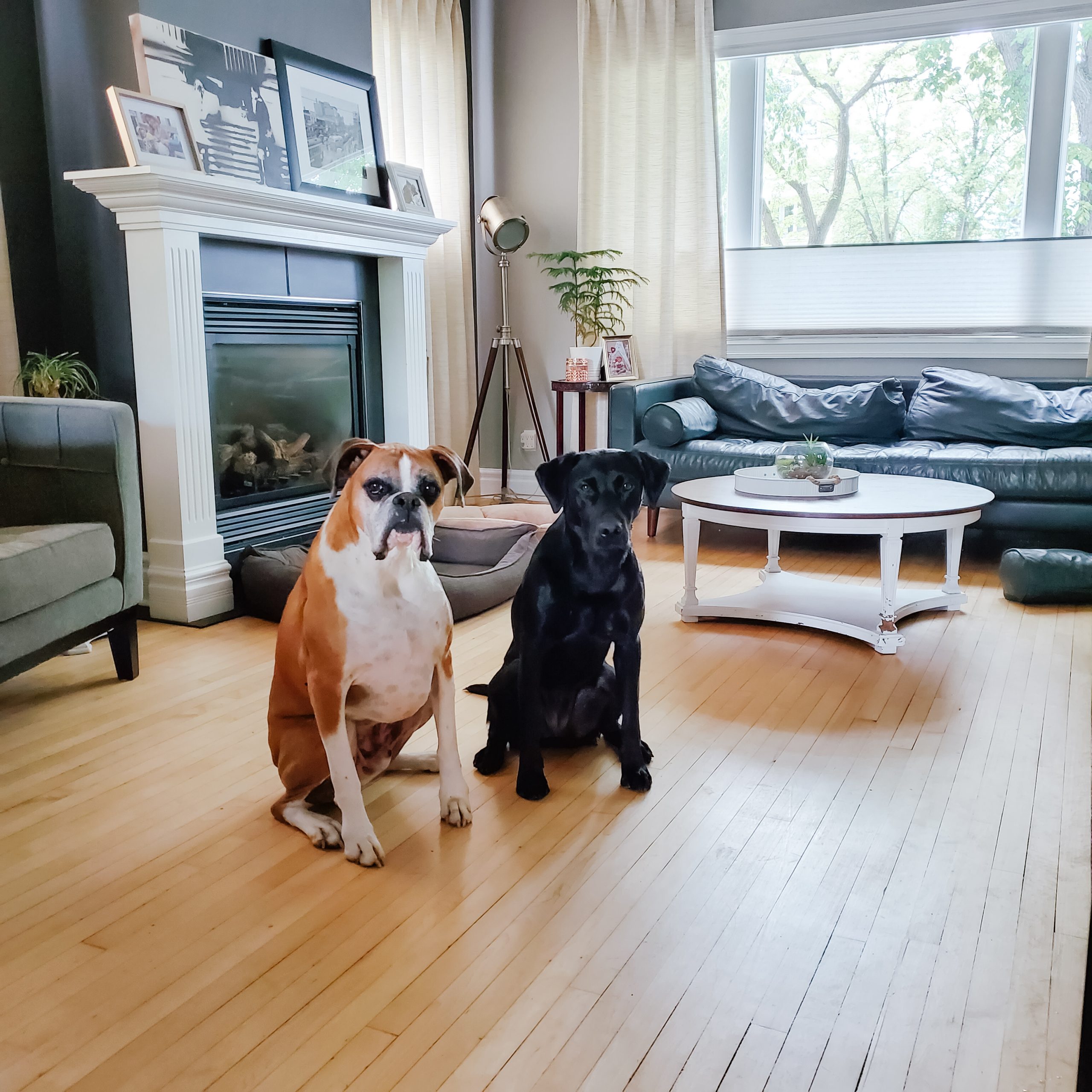 Refinishing Hardwood Floors
I had a great conversation on Instagram with many of you offering advice about refinishing the main level original hardwood in our 1913 home. Now, I want to pass along the tips passed along to me! Ultimately, we decided to hire a professional but I'm including all the details of doing it DIY-style if that's the route you choose to go. We're so happy with how our floors turned out (we should have totally done this years ago)!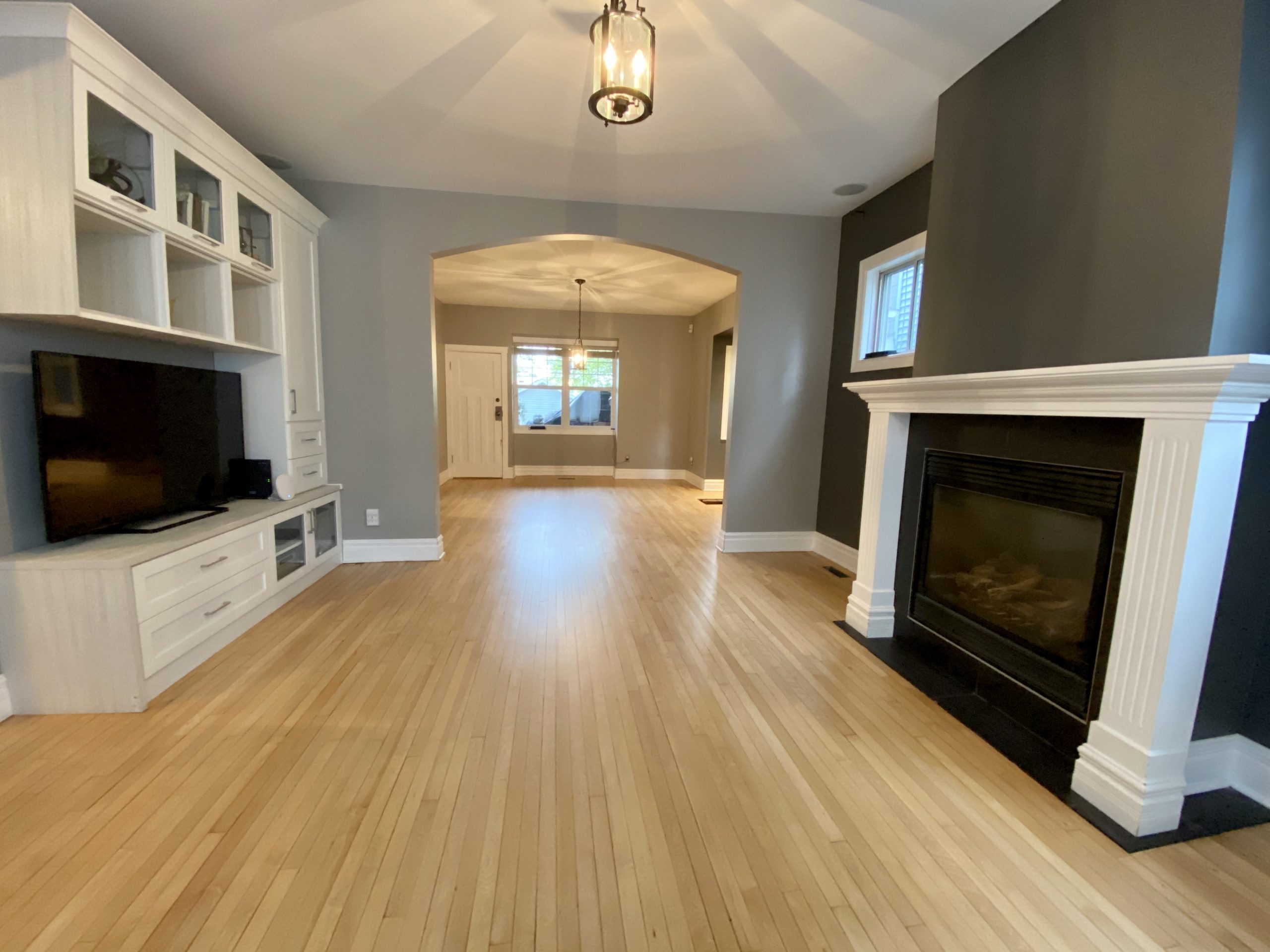 After receiving many recommendations of local flooring companies, we went with Edmonton Hardwood Design and Carpentry. Bruce and his crew were friendly, fast, and respectful in our home. They charge between $3.50 and $4 a square foot but contact them directly for a precise quote.
Ryan and I cleared all the furniture out and put it under tarps on our back deck. The guys came in on a Wednesday and, including a front porch tiling project, and were all finished by Friday. They did a fabulous job! We're so happy with the turnout. Here are a few before and after pictures.
Before
After
After-Care
The floors had to sit with nothing on them for 24-48 hours. After that, it's recommended to take it easy on them for a couple of weeks. So, our two pups Moses and Monroe had to take all of their intense play sessions to the backyard. They were thrilled. LOL!
DIY
With some elbow grease, extra time, and rented equipment you can absolutely tackle this project on your own for roughly about half the cost. Local designer, Holly Baker chimed in on the Instagram chat with some awesome DIY advice.
There are two kinds of sanders you can rent. One is a belt sander that takes off ALL THE FINISH and about 1/16 of an inch of the wood, or a screen sander which is basically just a giant palm sander that roughs up the top coat so you can re-seal the finish. Because our floors were so old and actually had cigarette burns from previous owners and lots of scratches from a dog, I did the belt sander. You have to rent the sander and buy all the sand paper and I think I spent about $200 for renting it 2 days. It took me 3 passes, one at 25 grit, one at 80 and one at 100.
More From Holly
Then I palm sanded all around the baseboards since it can only get about 5 inches from the wall (we didn't want to remove the old baseboards which would make sanding easier but are a pain to reinstall). The most important thing with old floors are that if they've been refinished before you may not have enough thickness left to use the belt sander since it's so aggressive. If you went too deep you'd end up exposing the nails and the floor would probably deteriorate pretty fast. To check the depth left take off a heat vent cover and you should see how much thickness is there

Once I was all sanded down I chose to stain the floor, but that's totally optional. It was honestly the hardest step since I was attempting to match other wood in the house and it was labour-intensive to brush it on and wipe it off quickly to get just the right coat. Once the stain was dry we sealed it up with 3 coats of clear coat.

There is oil-based or water-based sealer and oil-based is best for more durability BUT it yellows quickly and gets more yellow over time so it's best for dark wood floors. We have small dogs and our large dog has very very short, raised nails so we felt comfortable with doing the waterbased. There are some great YouTube videos on the technique for getting the clear coat bubble-free and smooth, it does require some light sanding between coats to get everything nice and smooth.
Thanks, Holly! You can check out her website here and follow her on Instagram here.
Pin this to your New Floors and Home Projects boards. For more home decor ideas, follow me on Pinterest here.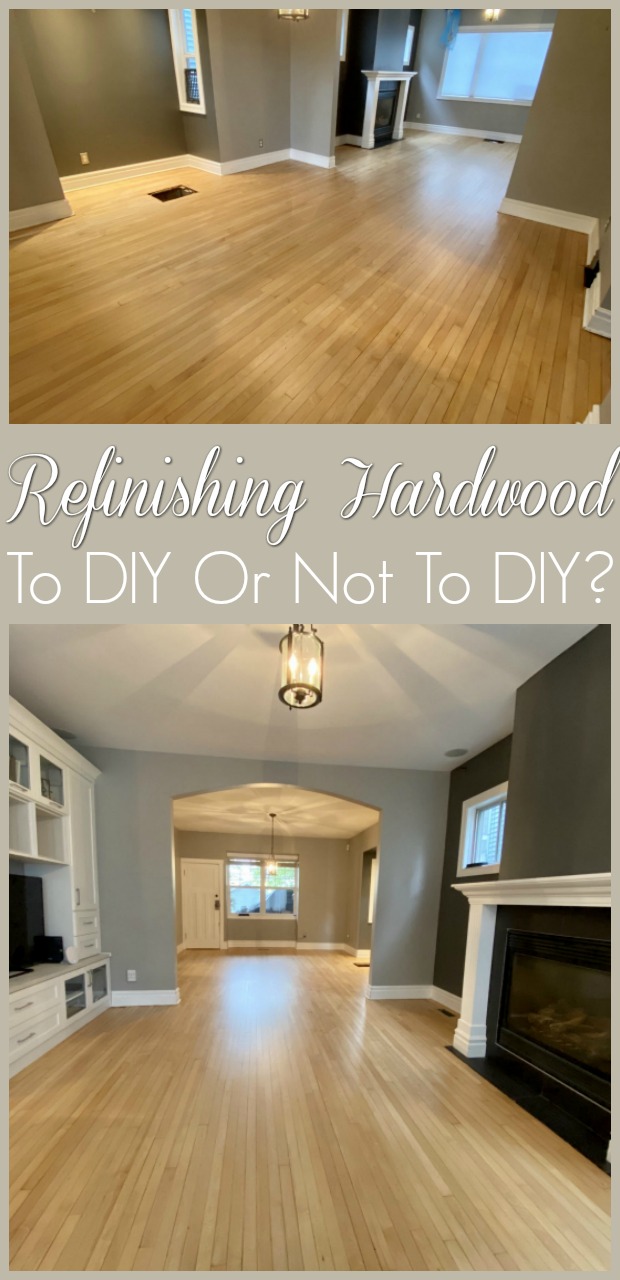 Other Posts You'll Love:
xx