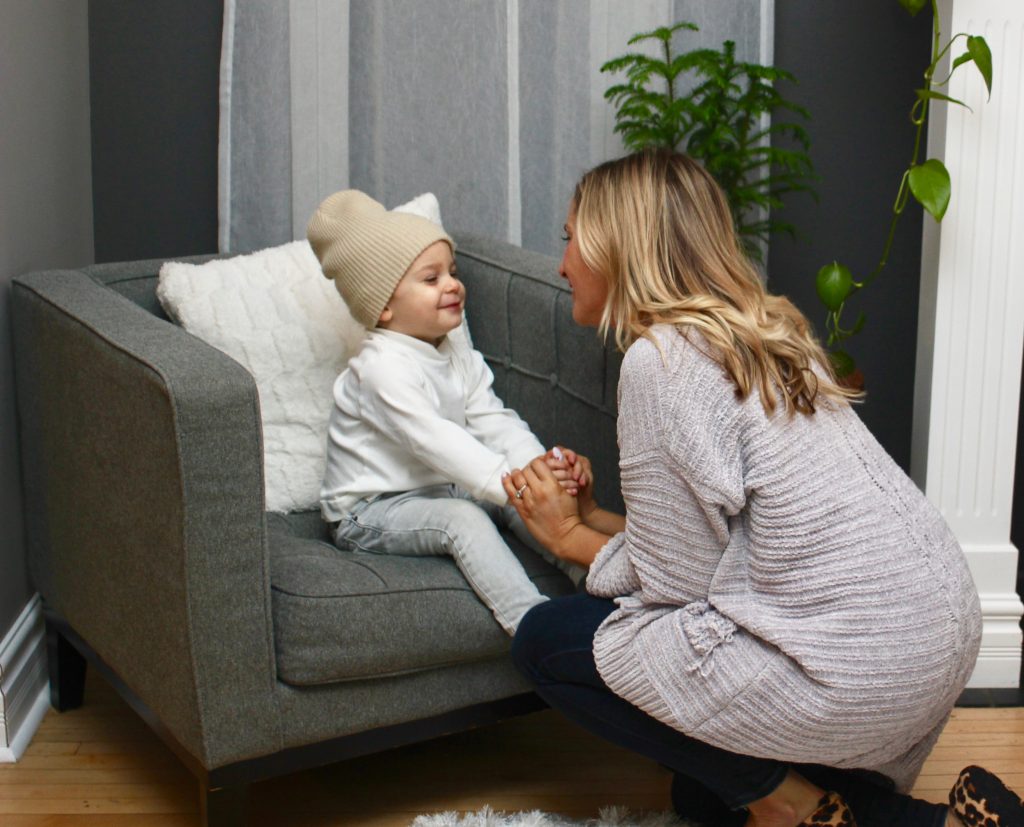 Ok, don't hate me. We went 2.5 years without any major tantrums from our son Wyatt. I'm talking not even one. However, I feel like we're now making up for that time. About two weeks ago, he hit a new phase. What started out as pushing the boundaries here and there has turned into full-blown tantrums, leaving my husband Ryan and I looking at each other with "I-can't-believe-he-just-did-that" eyes.
There are moments I find it hard not to laugh. Like the other day when I was trying to get him to brush his teeth and he threw his toothbrush at me and started giggling. I bent down and spoke in a soft tone, and before I could say, "Wyatt, that isn't very nice to throw things at Mommy," he smirked and I burst into laughter. One point for Wyatt.
I'm constantly having an internal conversation, telling myself to stay cool and speak in a gentle tone. It's difficult! I keep reminding myself he's 2.5 years old, this is just a phase, and he's just learning how to deal with his emotions for the first time in his life (which, if you think about it, is actually a pretty special thing we get to be part of).
As we navigate through this challenging time, I wanted to pass along a few things that are working for us. I also had a great discussion on the same topic with many of you on Instagram Story the other day. I've summarized a few of your tips a little further down, along with some great resources to help us all out. Of course, we know when it comes to parenting, what works for one kid may not work for the next. Adopt a few tips and see what sticks. Hopefully, you can find something below that works for you!
Tactics Helping Me Now:
Breaks. Forget the timeout for him; I need a timeout! I find it really helpful to step away for a minute. I plop Wyatt into his crib, go into our room, and just breathe. I allow myself the time to think about how I want to handle the situation instead of just reacting to it, and then I'm able to come back with a calm vibe. This really helps me be a better parent.
Pick your battles. Not everything needs to be a lesson. It's great for my mental health and energy levels just to let some of the little things go. If Wyatt isn't keen on getting his diaper changed, I try to lighten the mood just to get through the task. I tickle him and make him laugh or I sing a happy song even if he's still being a bum. I just try to get through it and move on. Can you imagine if we picked apart every little thing they did all day?
Bribery and Distraction: I'm all about it. Not as the solution but as a method to get me through a tough situation. If Wyatt is having a meltdown, I will remind him of a funny or memorable time we shared. I'll ask him questions through the story about what he recalls, to kill more time. I often say, "Can we make a deal? If you calm down and stop whining, we'll ____ (have a cookie, go outside, play with a certain toy).
Get down to his level. I'm finding some success in making sure I'm kneeling down right in front of him, eye to eye, and speaking softly. For us, this almost immediately brings things down a notch.
Tips From You:
There are four main components of challenging behaviour: Escape, Attention, Tangible (wanting an item) and Sensory. Once you figure out the reason behind the challenging behaviour, it makes it easier to apply strategies. ~Mimi
Look for what's driving the behaviour and try to meet the need before discipline. Lots of positive reinforcement. Time-ins (sit down with your kid and allow them to express their feelings and eventually cool down). Giving choices where they are allowed helps to diffuse a lot of situations. For example, if you need to get them into the car seat, "Do you want me to fly you into your car seat like a helicopter or like a rocket ship?" Make a big deal out of the fact that they get to choose. ~Ashley
I don't do a timeout unless I need the break. Give a consequence and follow through. ~Sarah
Definitely timeouts and counting to three. ~Leah
Let the little things go and focus on teaching them core values. ~Amanda
We never count to three. We feel that teaches them to obey on the third time. ~Amanda
We talk things through. We have a cuddling and coaching sessions talking about what they did and why it wasn't good and how we can do better in the future. ~Wild Ginger Made
Books to try:
(I've heard good things about these ones)
Other Websites to Check Out:
(Whether your goal is to gain knowledge, have a few laughs, to normalize what you're dealing with, or all of the above…)
Keep going! Keep doing what you're doing, surround yourself with support from those who have gone before you, and find time to get what you need to be the best parent you can. Whether it's tea in the tub, binge-watching your favourite show while they nap (instead of cleaning up), working out, or meeting a friend for a glass of wine. Finally, relish those moments where they're being lovely. When Wyatt runs over to me and says something like, "We forgot to kiss!" I let the rest of the crap go. There's a kind little heart in there!
Let me know what I've missed! What tactics are you using to deal with toddler misbehaving? What resources (besides KariSkelton.com!) are you finding helpful?
Don't forget to 'Pin' this for later!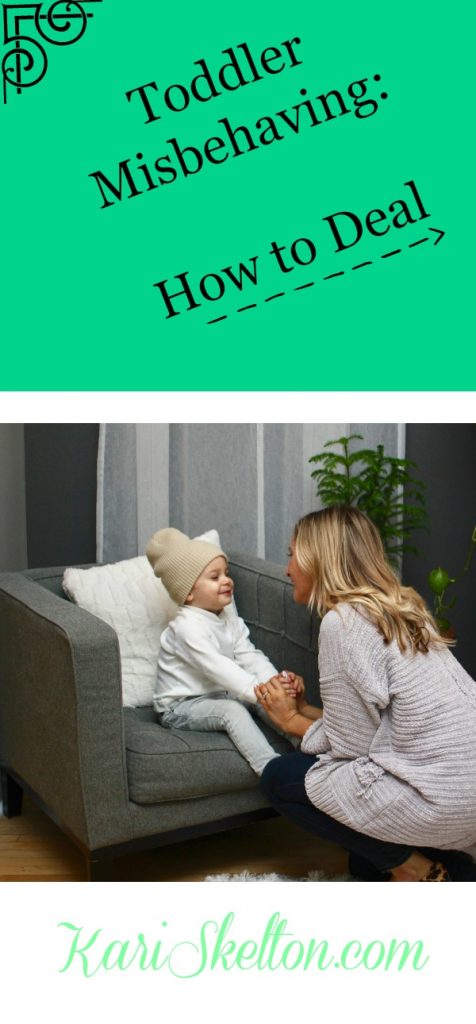 Check out my other parenting-related discussions here. 
xx