Below, you'll find everything you'll need for your kids' truck birthday party:
Custom cookies, a digger cake, goody buckets, a dump truck photo booth and more!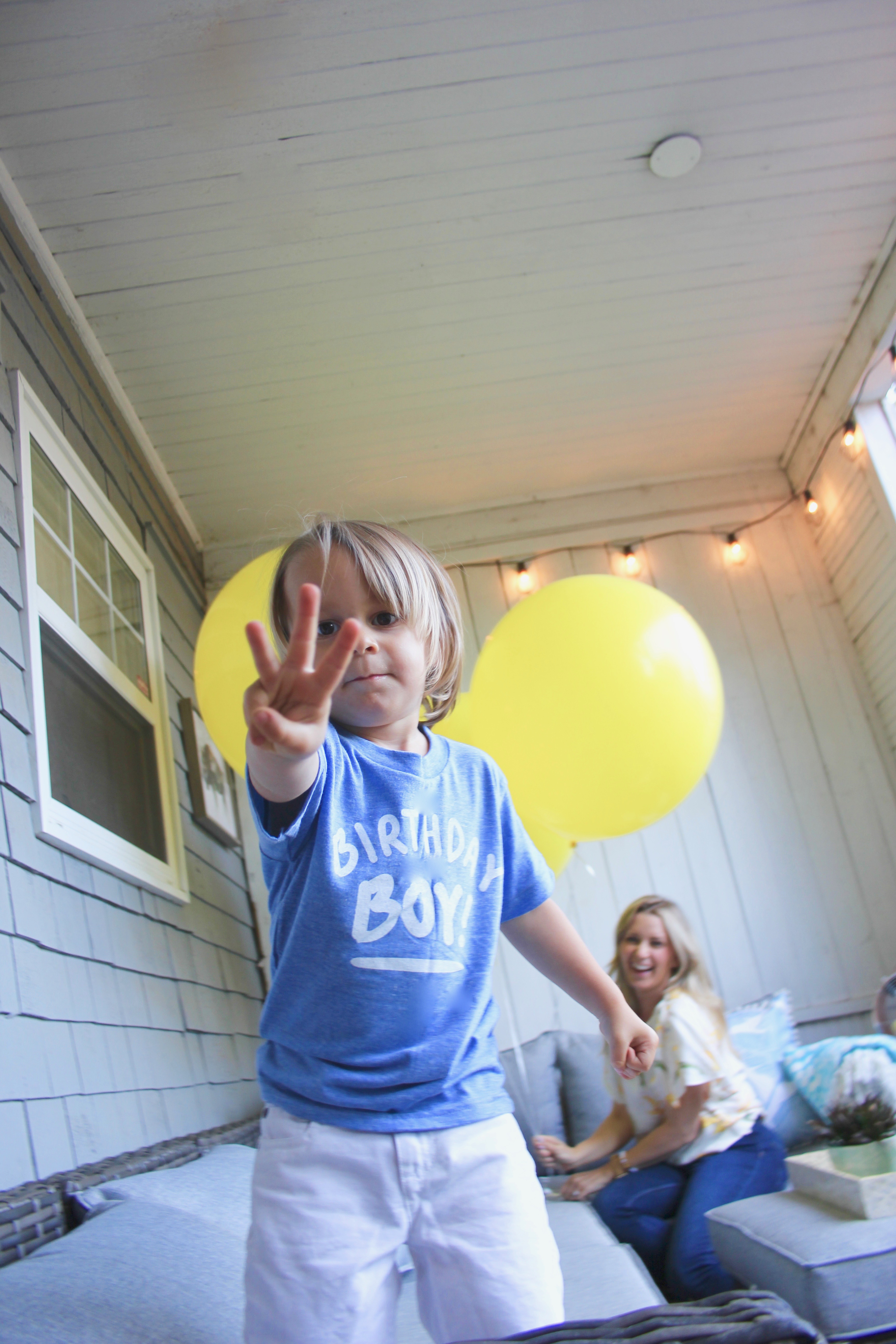 I absolutely LOVE everything that comes along with throwing a birthday party. Perhaps it's a result of all the amazing birthday parties I had growing up and wanting to do the same for our kids. Whatever it is, I truly enjoy putting everything together, and the best part was watching Wyatt have a ball with his friends. Our little man is obsessed with anything with wheels, so it came as no surprise when he requested a truck birthday party!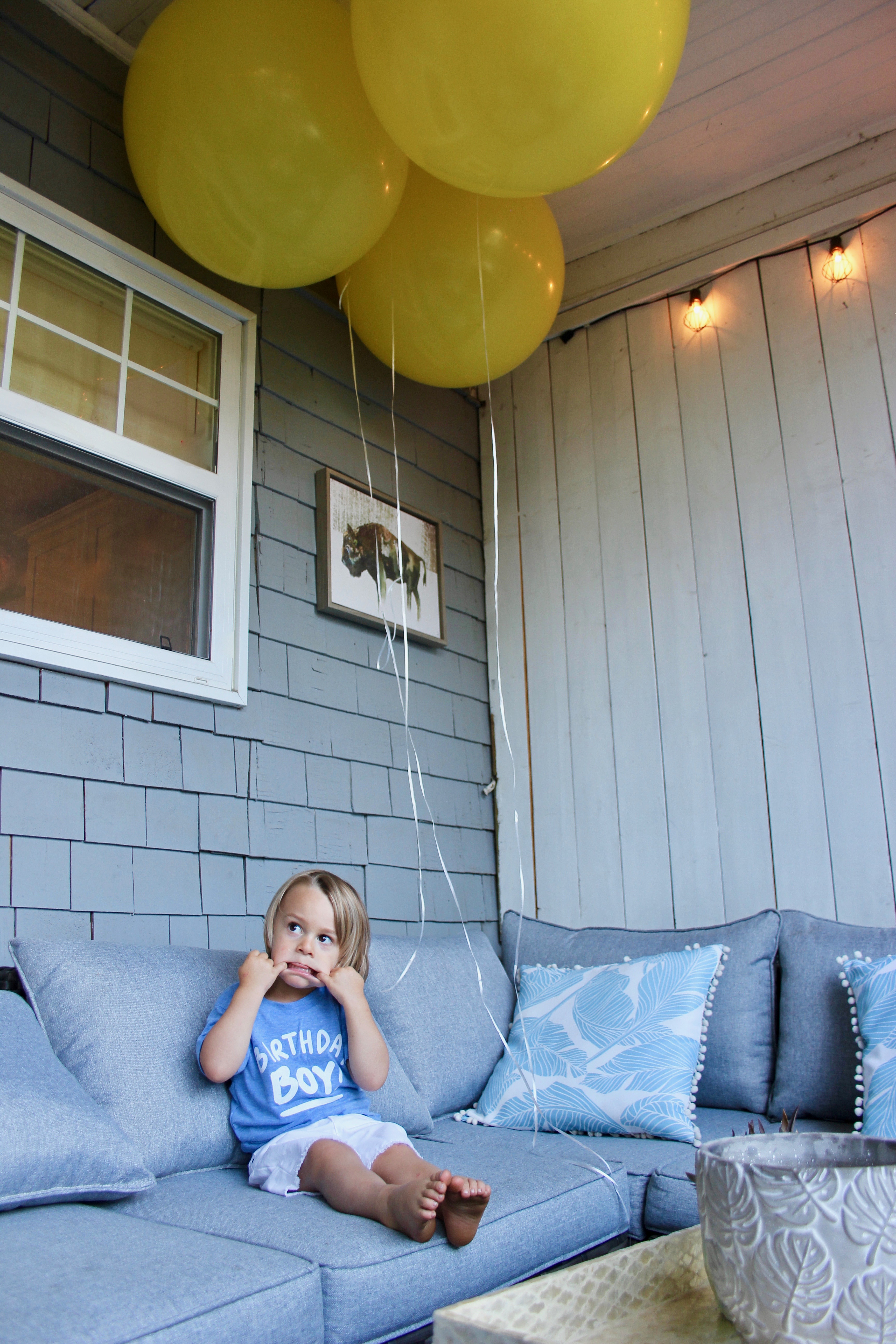 Birthday Boy Tee: 15% off your entire order with the code 'Family15' at HelloFashion.com | Big Yellow Balloons
Guest List
We kept the guest list small, wanting a more intimate gathering. To be totally honest, I get overwhelmed at huge parties (especially if I'm hosting them). I find a smaller gathering gives you to chance to really connect with everyone there. We threw the party on his actual birthday (which turned out to be a Sunday). We didn't want to kick things off too early or keep people too late into the evening, so we skipped Wyatt's nap (he usually naps from 1-3pm) and started the party at noon.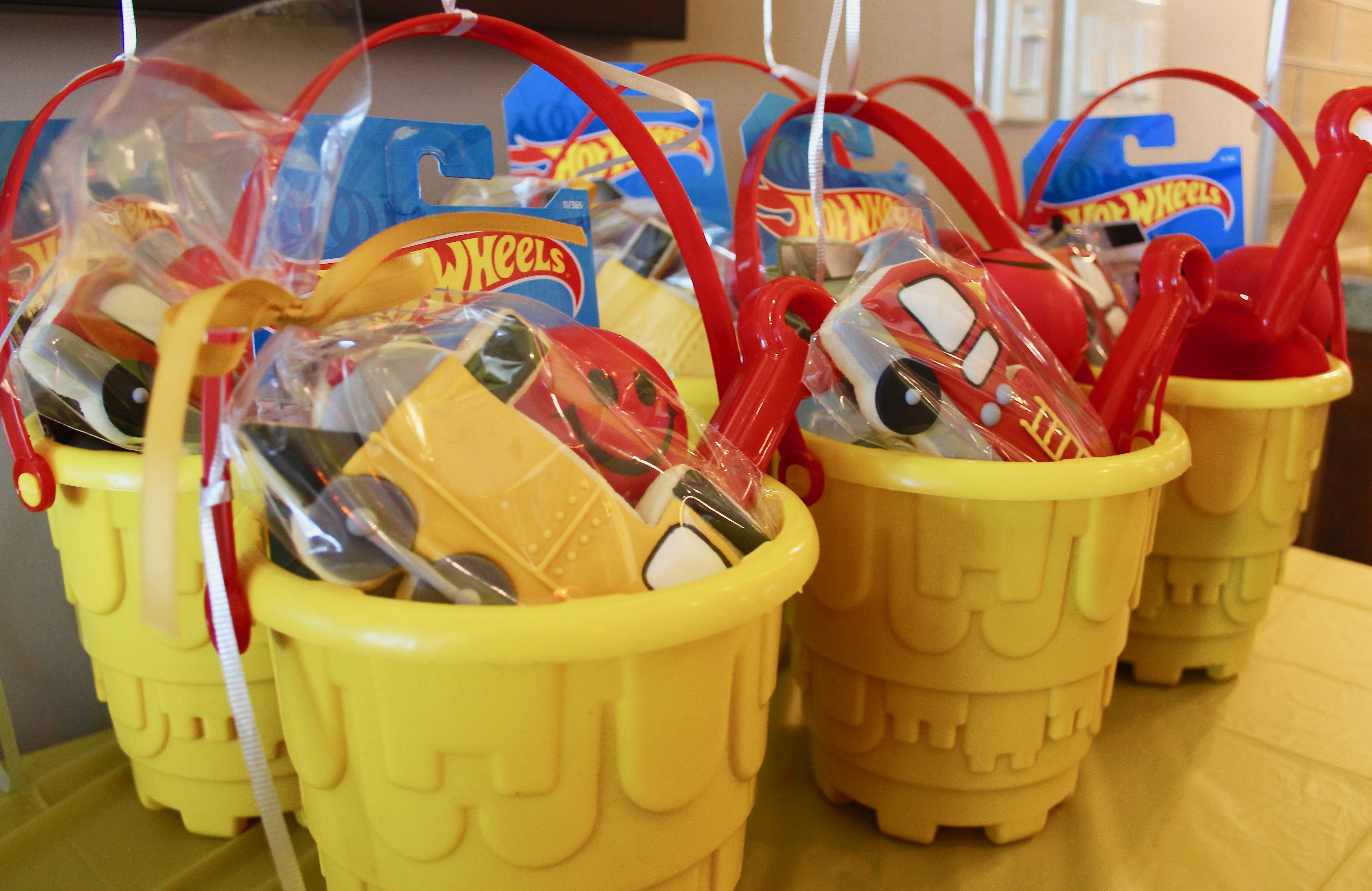 Goody Buckets
In keeping with the "digging" theme, we went with sand buckets and pails for the goodie bags. I like whatever's holding the contents of a goodie bag to be usable as well. As far as cost goes, I spent about $10 per bucket.
In the goodie buckets:
Sandpail with a shovel (The Dollar Store)
Hot Wheels truck (Toys"R"Us)
Balloon from Party City
Truck cookie
Smiley face ball (The Dollar Store)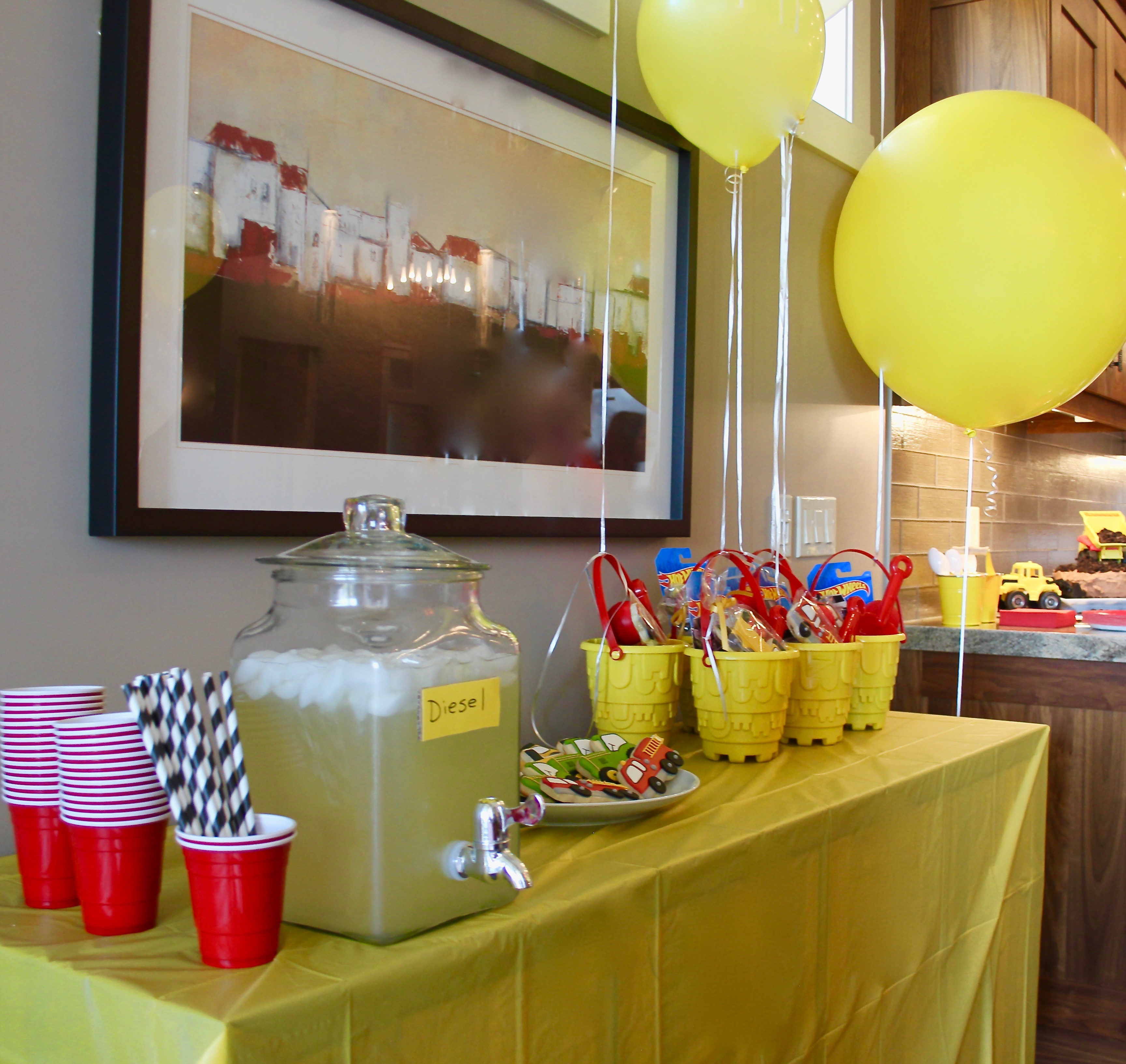 *Parenting tip: Be sure to make one for the birthday kid too, so they don't feel left out. Make each bucket as similar as possible so there's no fighting over wanting each other's buckets. These all had different Hot Wheels trucks and different cookies, but two of the kids swapped trucks, which turned into a great teachable moment.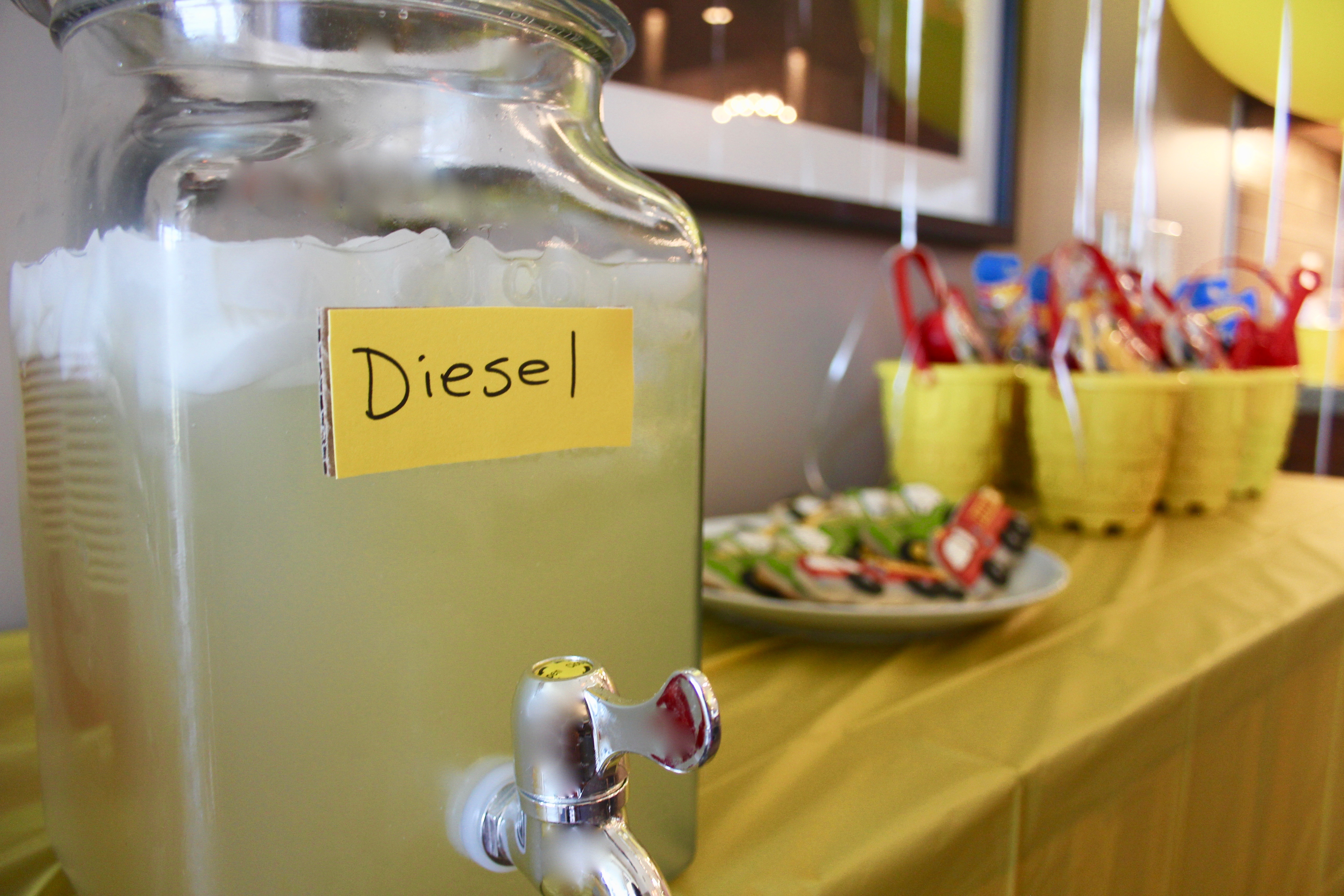 Food + Drink
The meal was custom burgers, salads, and chips. There were mini slider burgers done up for the kids, which turned out really cute! We used our glass drink dispenser from Home Outfitters for 'diesel' lemonade, to stick with the truck birthday party theme (I also love this double drink dispenser). We did red Solo cups (little ones for the kids), and disposable plates and cutlery for our guests. I picked everything tableware-wise at The Dollar Store.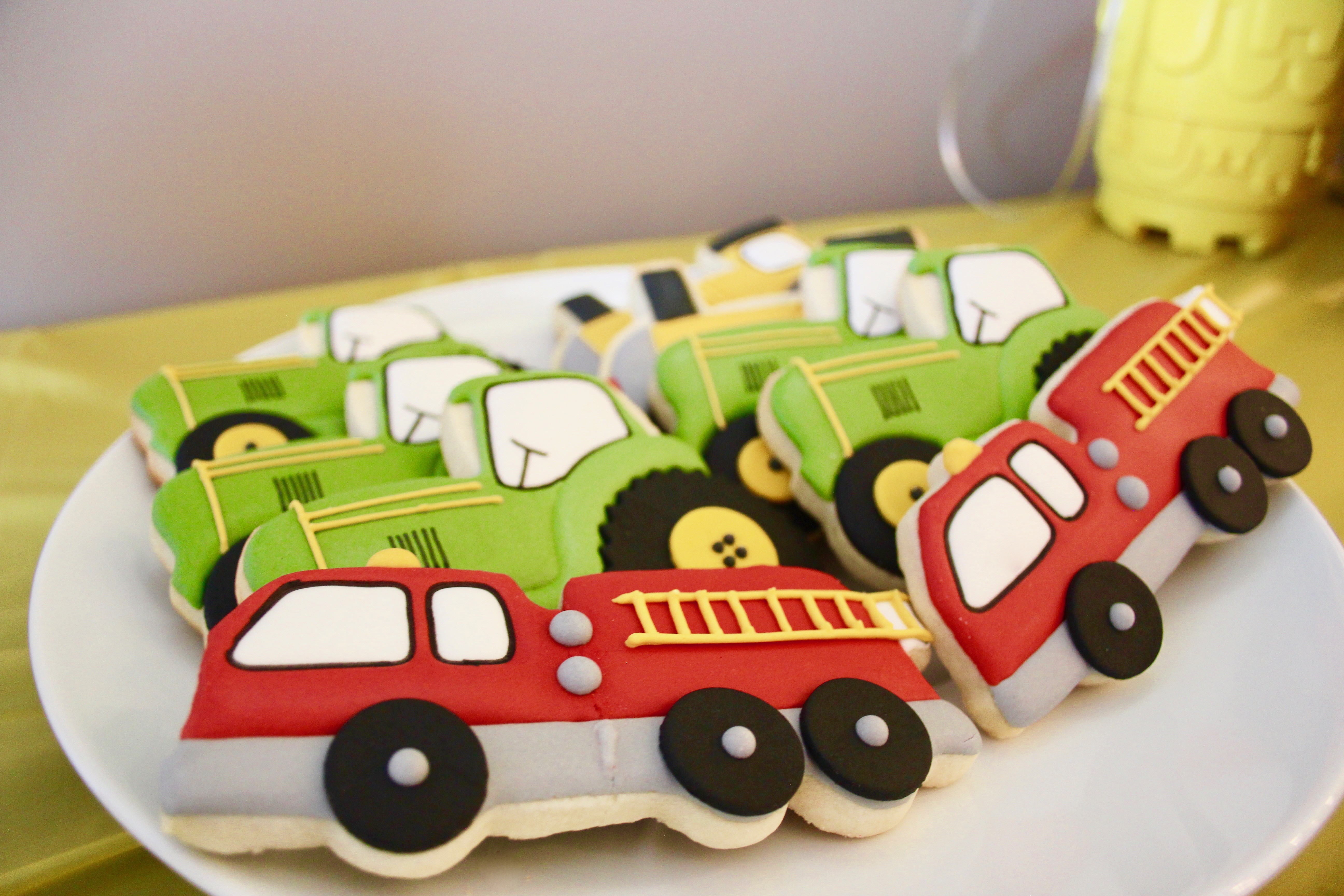 Next to the cake, these cookies were the star of the show. We wanted custom cookies for the goodie buckets and for people to enjoy at the party but I knew these were out of my league to create. I found an amazing local cookie decorator on Instagram (doing a search on Instagram is a great way to source out items for your party). Check out her work here. Sometimes, it's best to leave things to the professionals. It's money well spent for adorable cookies and a stress relief for me not having to make them!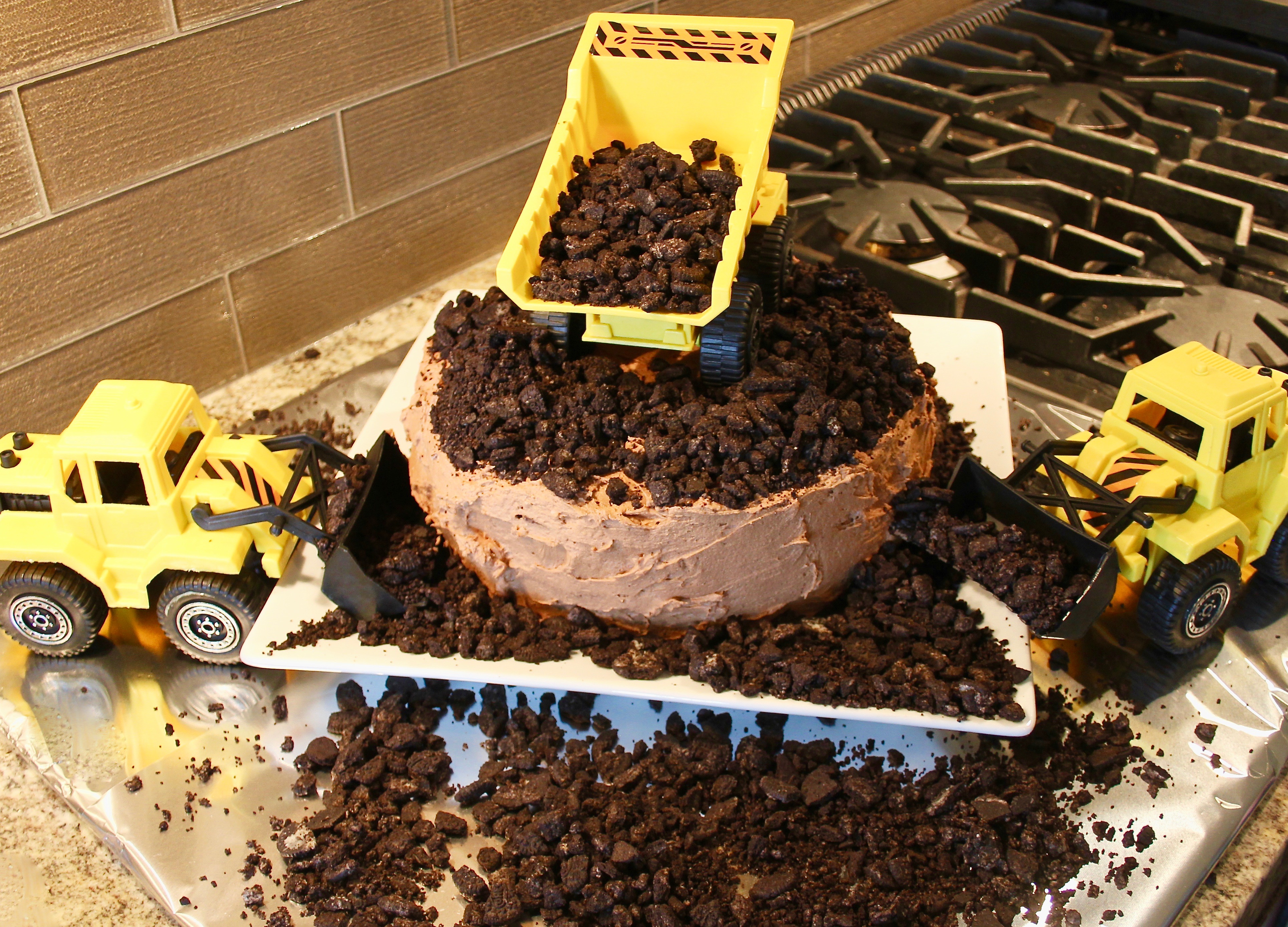 I was eager to make Wyatt's birthday cake this year. We had custom cakes for his first and second birthdays, but for 'three' I really wanted to do it. Inspired by Pinterest, I picked up the digger and dump trucks at The Dollar Store, and went to my friend The Kitchen Magpie for the cake recipe (the only alteration we made was using decaf coffee instead of regular).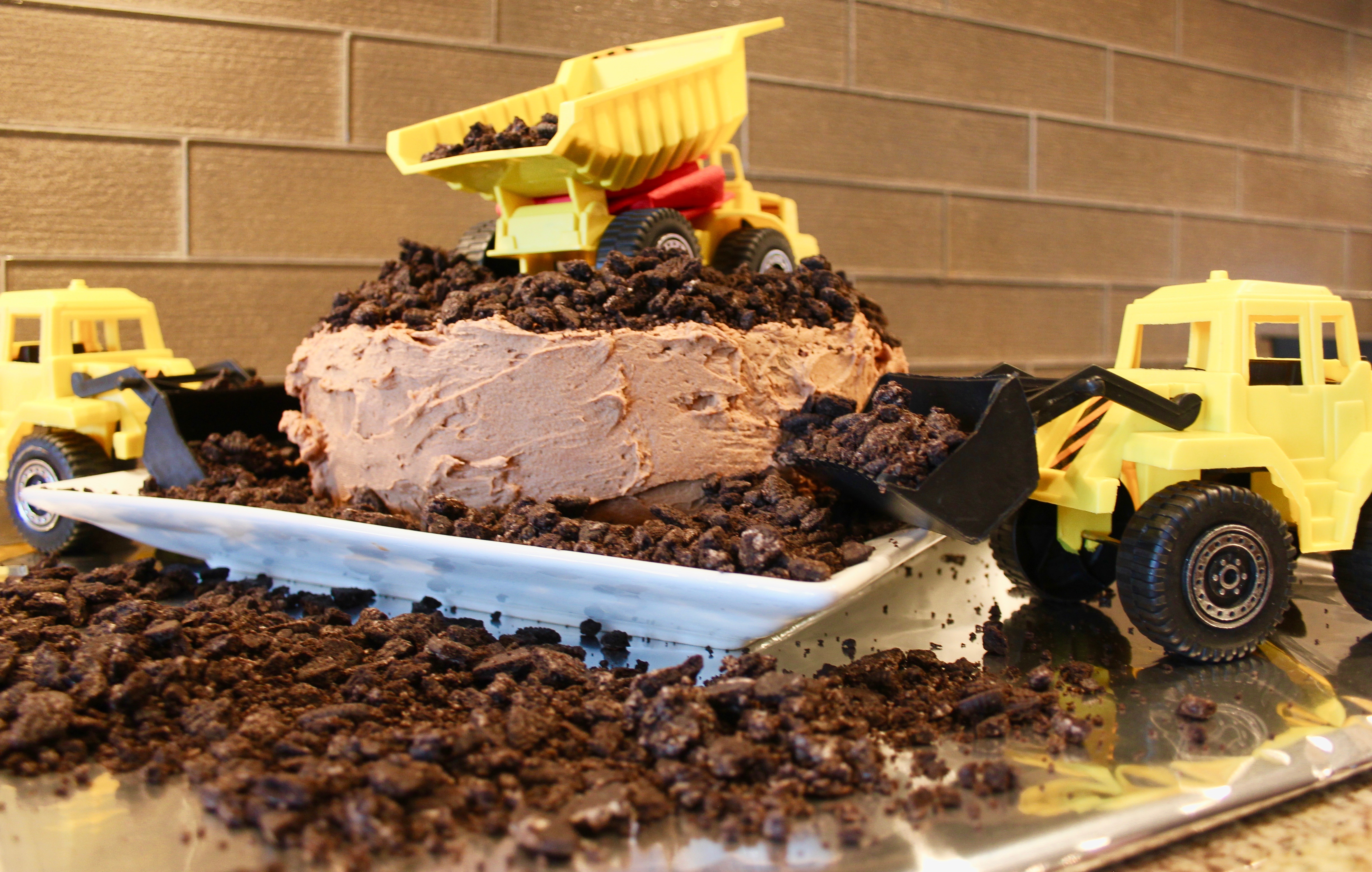 We used this chocolate buttercream icing recipe. For the chocolate 'dirt' we sprinkled smashed Oreo cookies all over. We used a piece of cardboard wrapped in heavy tin foil for the cake and chocolate 'dirt' to sit on. Truthfully, my mother-in-law ended up making the cake because we ran out of time with so much going on. Ha! Ha! (After all that.) She did an amazing job. The cake turned out SO awesome and tasted amazing!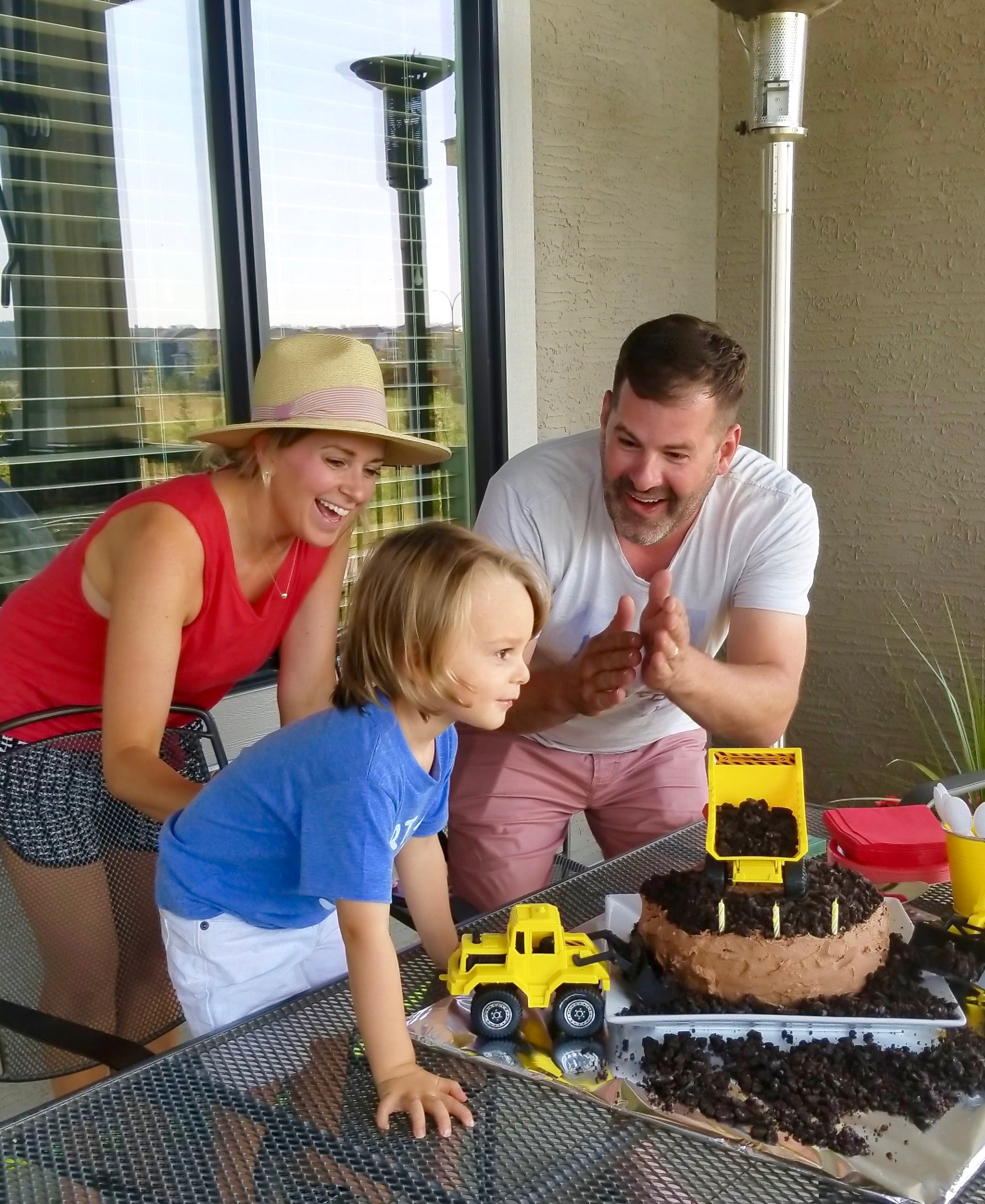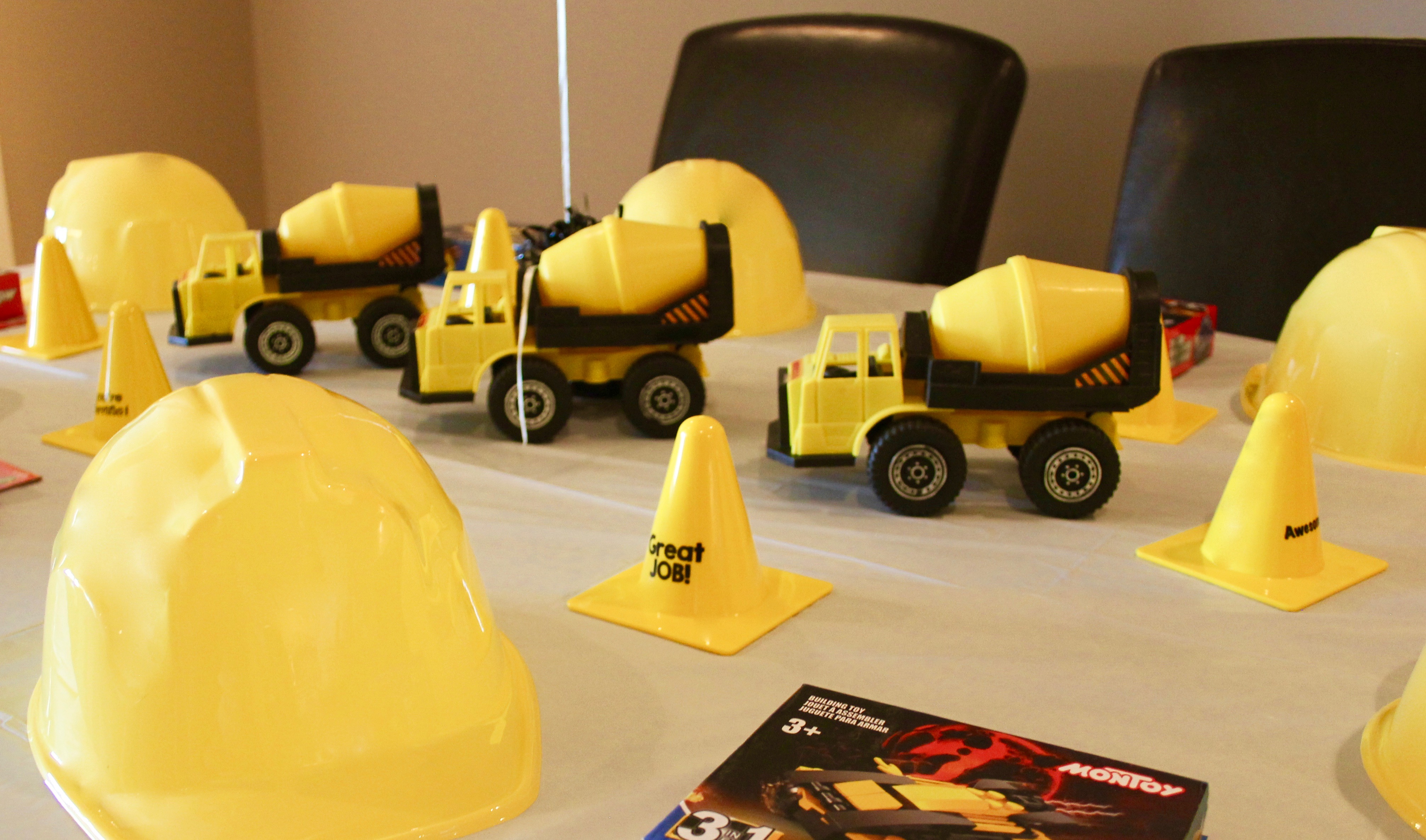 Truck Birthday Party Activity
We featured a toy truck building activity, and it turned out to be great for the older kids, but was way too intricate with too many little pieces – choking hazards, which I didn't even realize when I bought them – for the little guys. I think it's great to have an activity for the kid guests at a birthday party but make it simple (lesson learned on my part). Also, make sure it's something that if they don't get to it, they can take home with them so you're not left with a bunch of stuff.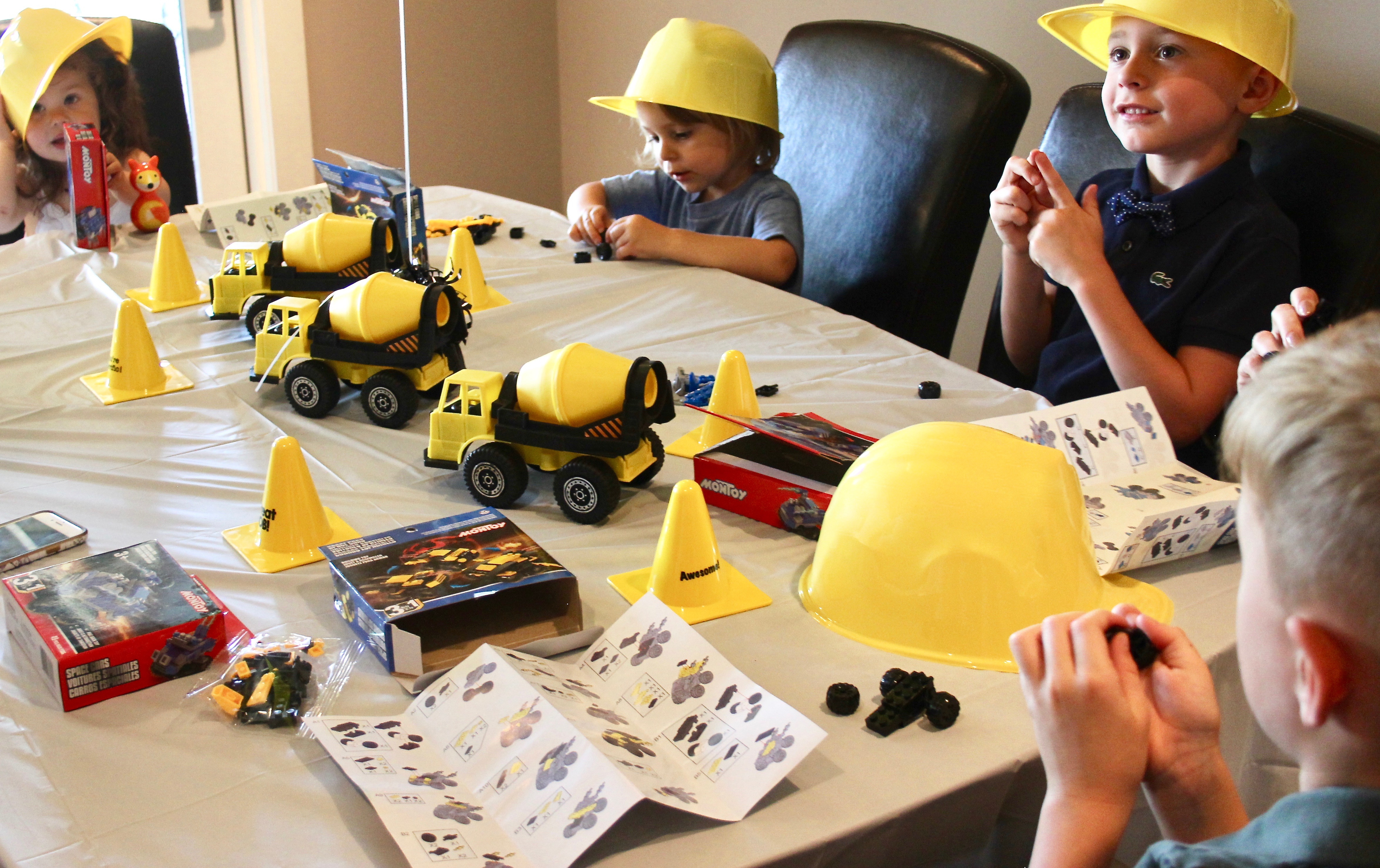 Activity Station: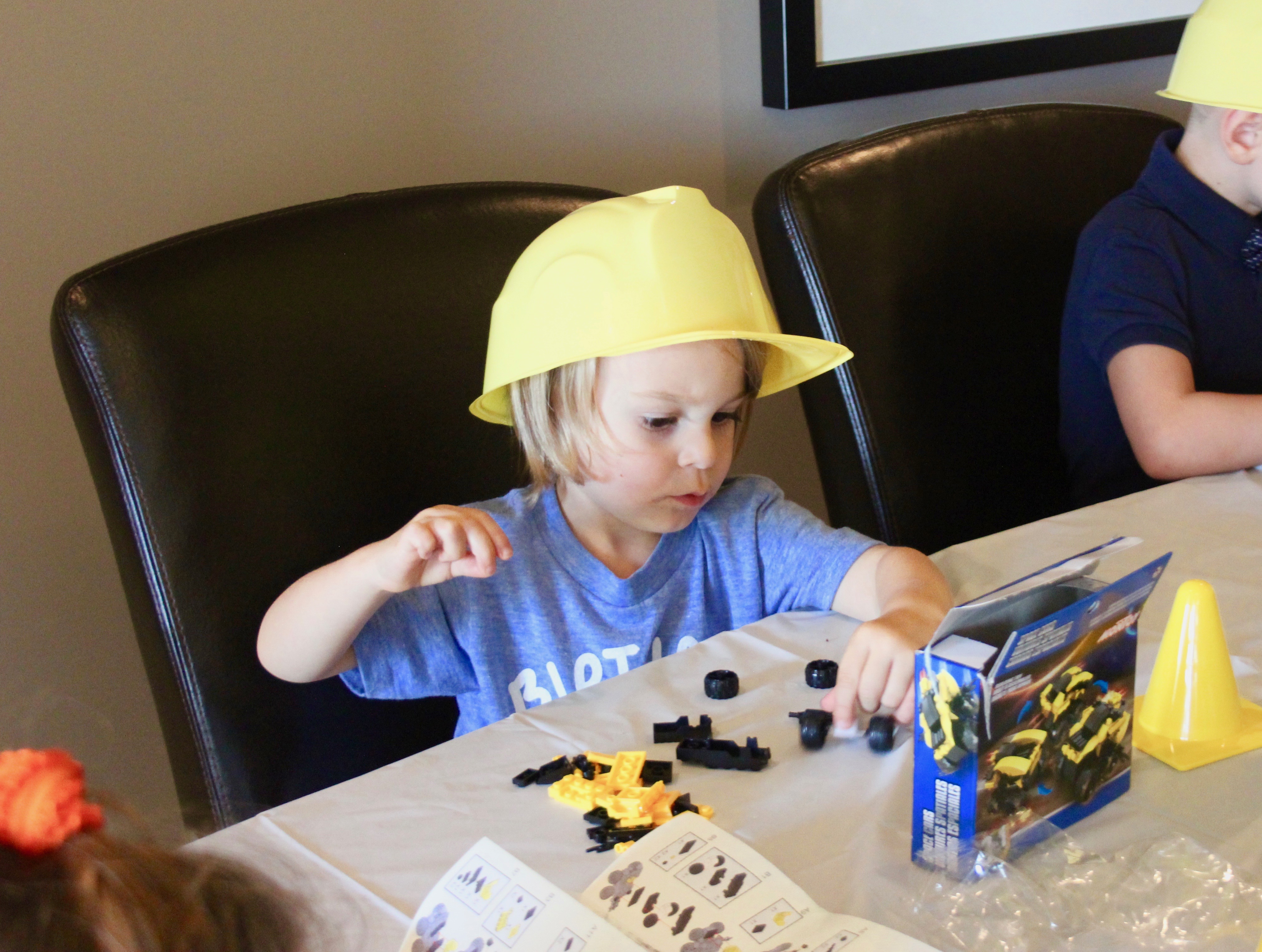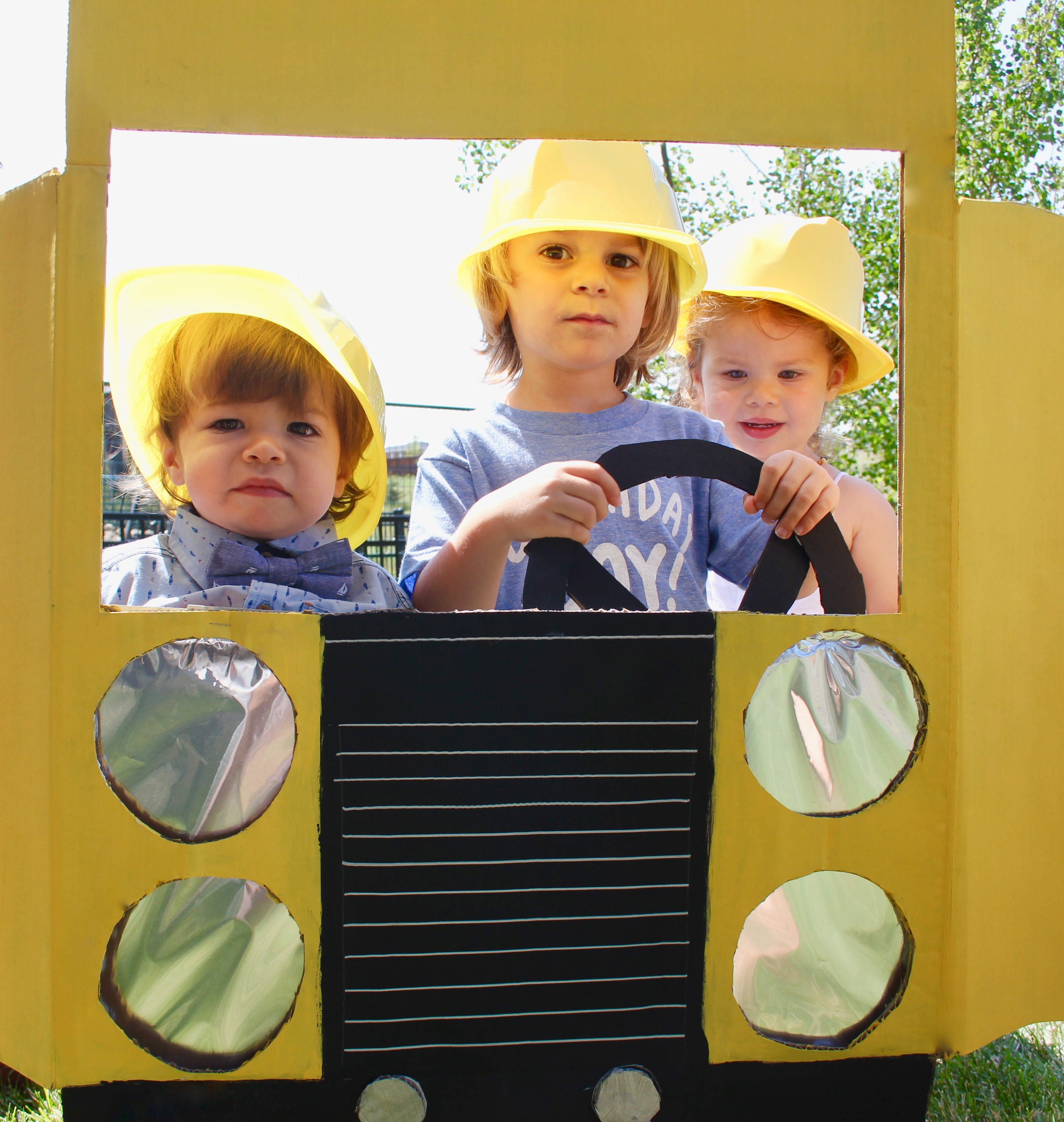 DIY Dump Truck Photo Booth
Our DIY dump truck photo booth was awesome for aesthetics, and to snap a few pics, but the kids only played for a couple minutes here. So, as long as you treat this like part of the decor and not an activity, it's totally worth the time it takes to make it! I had so much fun constructing this for Wyatt. Get the tutorial here.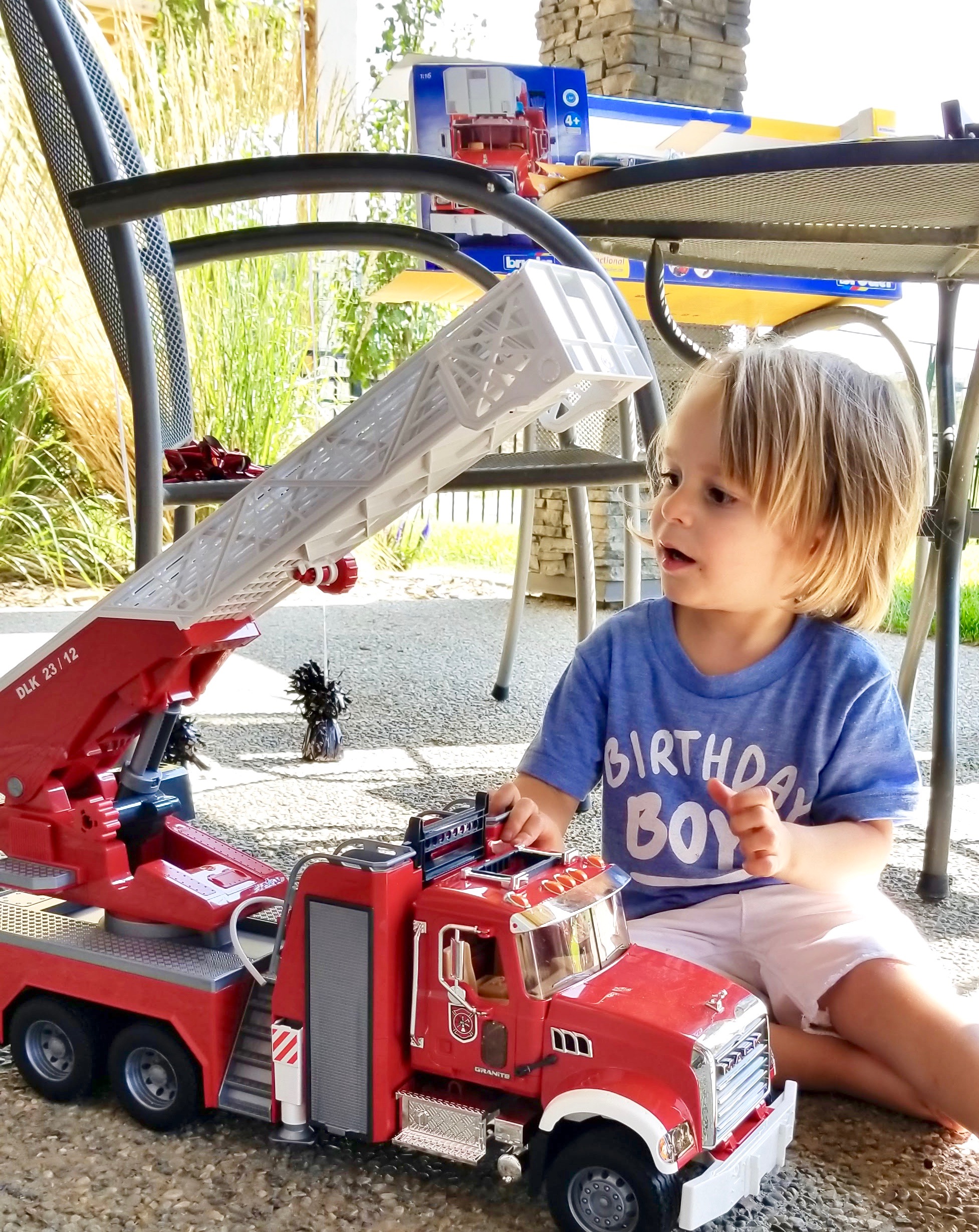 Party Gift
In keeping with Wyatt's love for wheels (and the truck birthday party theme), we picked up this amazing Bruder firetruck from Mastermind Toys. It's pricey, but the quality is incredible (and the truck actually sprays water)!
Pin this to your Kids Birthday Party and Dump Truck Party boards and follow me on Pinterest here.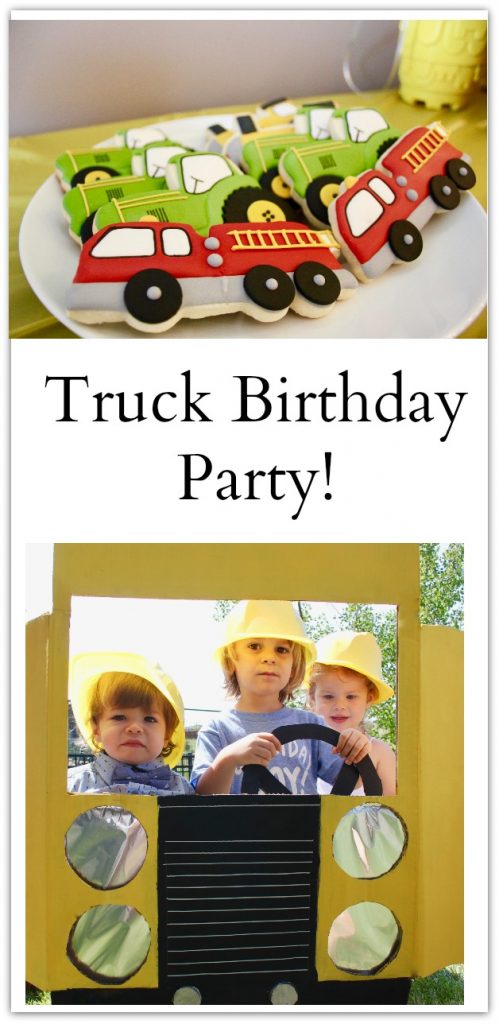 Other Posts You'll Love:
Bison + Bacon Birthday Cake For Dogs
xx