Here are seven Christmas Cocktail Cart Styling tips along with links to shop
mini holiday banners, the best twinkle lights, and the coolest cocktail shaker! 
Christmas Cocktail Cart Styling 101
Let's be honest – the pressure is off when it comes to entertaining over the holidays this year. Depending on where you are in the world, pandemic protocols likely mean no indoor socializing. However, if ever there was a time to add a little more joy to your surroundings, it's now. Whatever makes you happy or excited, it's time to make it happen! It's time to decorate your space for YOU this season.
We've set up our cocktail cart for the holidays, and every time I walk around the corner and take a peek, I'm happy! Here are my tips for styling your Christmas Cocktail Cart:
#1: One Booze Feature Only
Some like to set up their carts loaded with many different types of booze and glasses to match. I get that idea of wanting to make sure you have every item for every cocktail request under the sun, but I prefer to pick a feature cocktail and have your cart reflect that. Instead of packing your cart with random (tacky) booze bottles, decide on a feature cocktail, and stock to support it. This applies to serving just you or a group, when we can actually welcome friends into our home again!
If the liquor bottle for your feature cocktail lacks a certain aesthetic, consider transferring it to a pitcher or clear glass bottle with a lid.
#2: Twinkle Lights
It's the holidays: you receive instant bonus points by simply adding twinkle lights. These ones are my favourite for cart styling. I used them on our fall bar cart too.
#3: Make Your Cart Interchangeable
There's no need to drop a bunch of cash on drastic seasonal styling changes. Our cart has the same palette for each holiday – golds, wood, cream, with pops of floral. The only thing that changes is the sprinkle of seasonal – potted mums for the fall, faux trees for Christmas, etc. I've added in this stunning star garland from Simone + Ivy and these mini brushed gold cake toppers from Love Plus Design as a classy way to make it look more Christmassy.
#4: Add Treats
Speak for yourself, but if I'm calling the shots, there'd better be snacks! I always include some sort of munchie on my cart. This time, simply some fun candy canes; last year's coffee cart had shortbread cookies.
#5: Cocktail Shaker Splurge
This is the star of the show! If you're into cocktails, invest in (or ask Santa for) a sweet cocktail shaker. Shop my gold one here. 
#6: Layer Your Base
Use chargers and stands to add interest and height. Mix in different textures and colours for that added appeal. The gold tree chargers here are from Dollarama, the wicker one and plain gold from HomeSense, and the wood tray is by Lyle Zutz Wood Artistry. Look around your house at what you already have to add in!
#7: Feature Words
A mini banner or letterboard can be fun if it fits the vibe. This "Oh What Fun" mini banner from the Made Social Shop is sold out, but check out this Fa La La La La one and this Merry Christmas one. You could also find a holiday prinatable on Pinterest – print and frame it!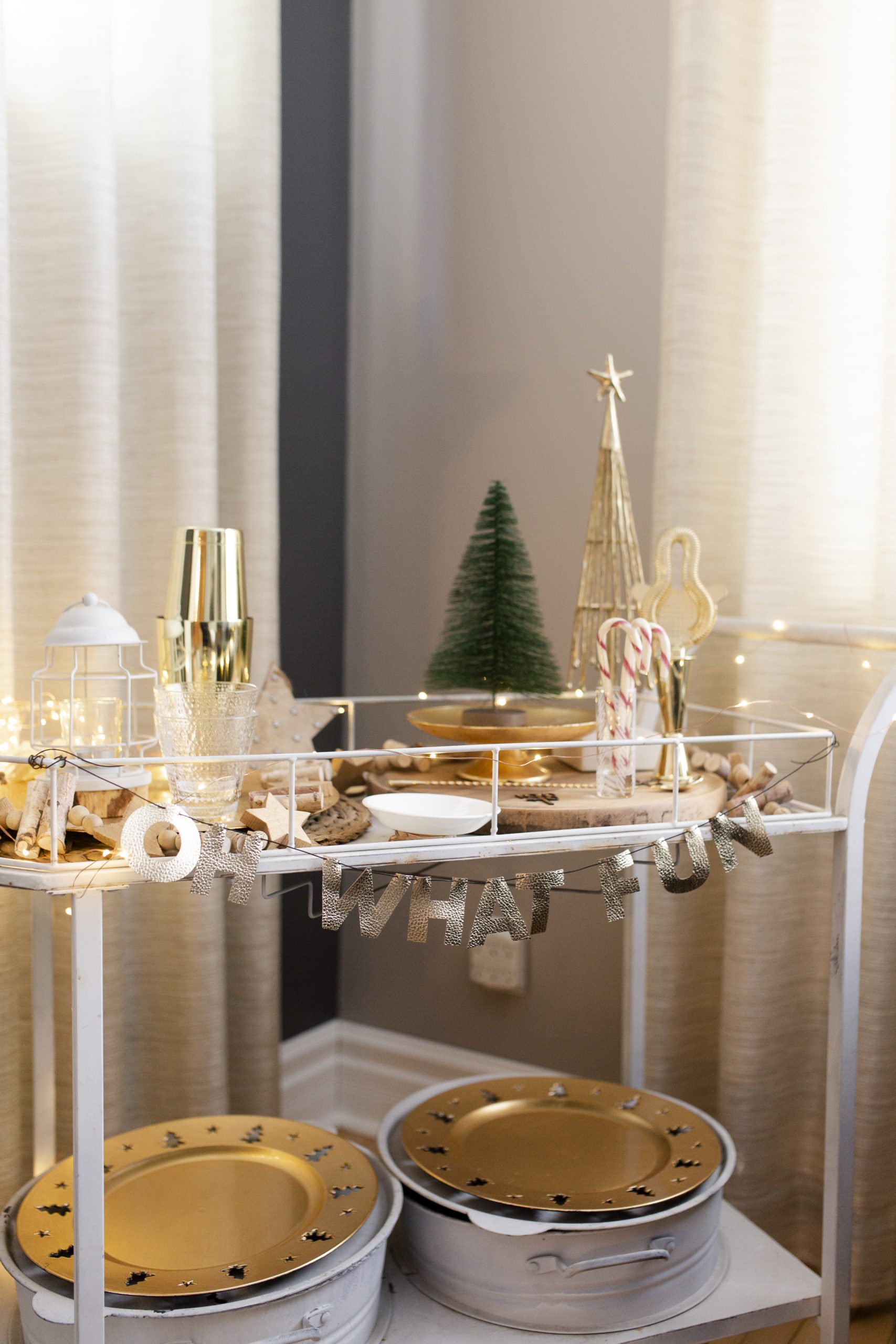 photos: Dallas Curow
I would love to see how your cart turns out! Be sure to tag me on Facebook, Twitter, and Instagram.
Pin this to your Cocktail Cart Style and Cocktails boards and follow me on Pinterest!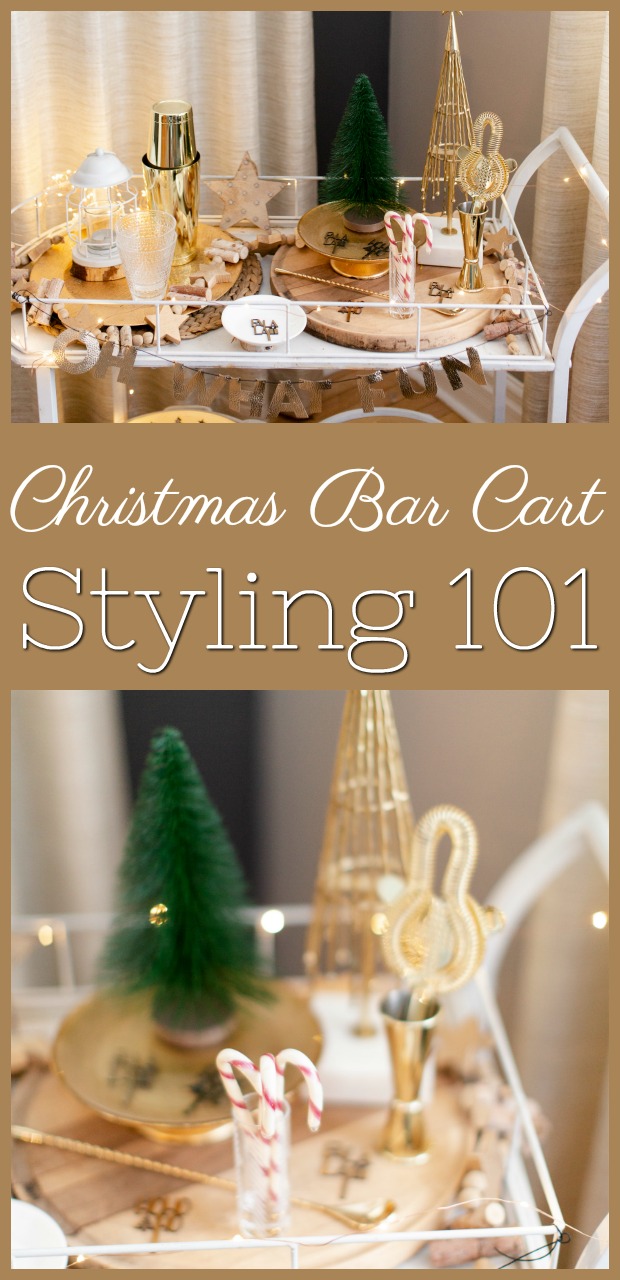 Other Posts You'll Love:
The Best Damn Chicken Noodle Soup
xx