Check out Freson Bros. Valentine's Charcuterie Boxes – the most delicious time-saver for your love day!
Freson Bros. Valentine's Charcuterie Boxes
Our friends at Freson Bros. are at it again with another seasonal celebration timesaver! You can now order Valentine's Charcuterie Boxes online at Freson.com or in-store at the deli counter!
Honestly…these days I'm here for any way to make life easier and take the pressure off. I don't know about you but I just don't have the time anymore. LOL! In this season of busyness – kids, activities, work, etc. it's nice to have someone else tick a few boxes off your list. What could be better than a delicious Valentine's spread curated by Freson Bros.' Red Seal Chefs?
Freson Bros. Valentine's Charcuterie Boxes are a great gift for a friend, the perfect starter for your romantic dinner, or a nice treat to share with your family. (We'll be doing a little family Valentine's celebration after school before putting the kiddos to bed and celebrating just the two of us). Not to mention, this plan is cost-saving too. Think of the money you'll save not having to buy all the items separately!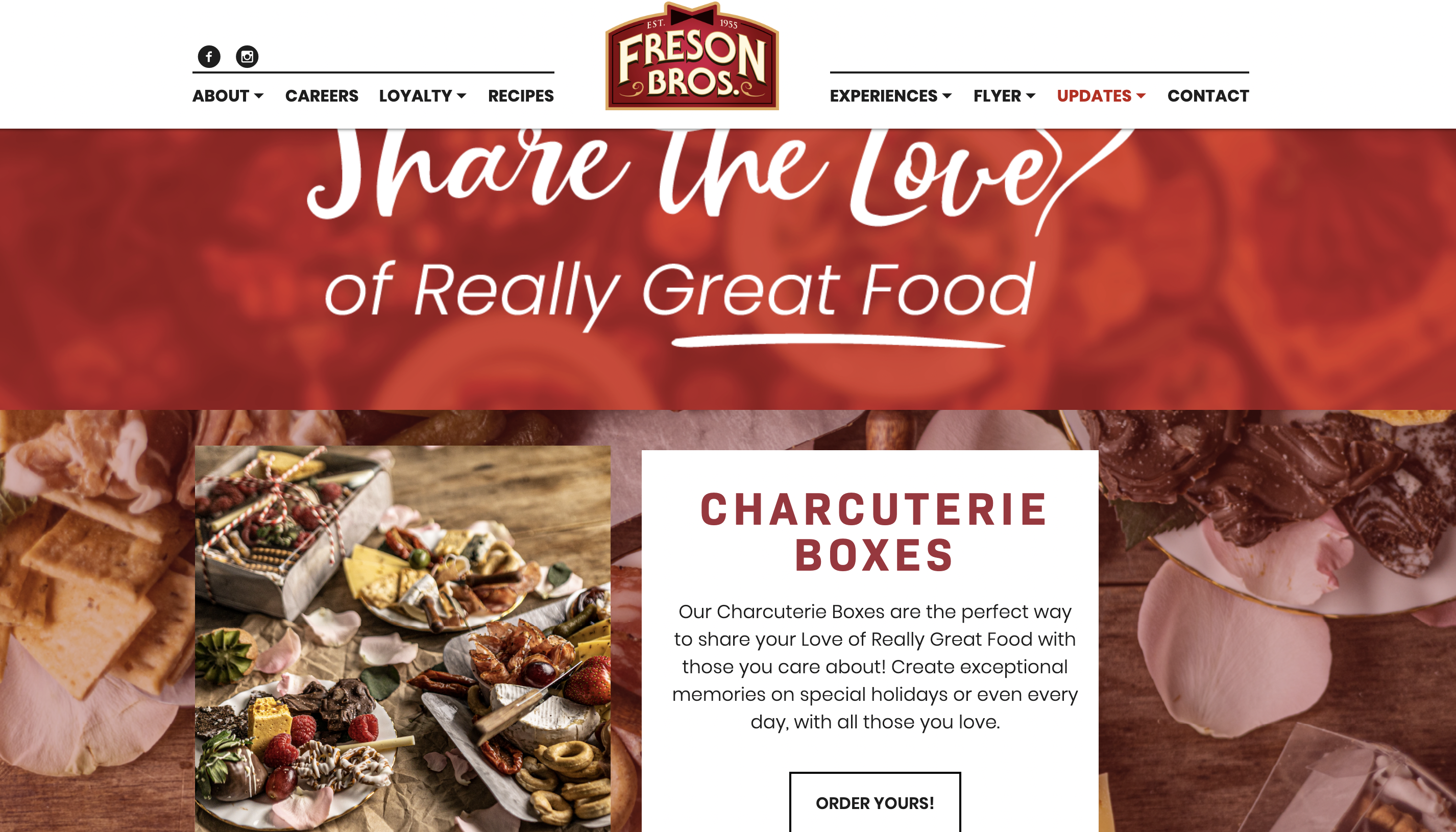 How It Works
You'll remember Freson Bros.' Thanksgiving dinner boxes and Christmas dinner boxes and the process here is pretty much the same.
Go to Freson.com, select how many boxes you want, your preferred Freson Bros. location, and the date and time you would like to pick up your order. Then, show up on the day, grab your boxes and that's it! You can order until February 20th (just in case you're celebrating a little later this year).
Of course, you can enjoy the boxes as they come or style everything on your own board once you get home.
Sweet, Savoury…or Both!
You have two options: Sweet ($40)- filled with sweet treats, cookies and chocolate. Or, Savoury ($50)- Alberta-made, farm-to-table charcuterie meat using protein from local free-range farms in Alberta. Find all the details of each box below.
The Savoury Box ($50)
Prosciutto
Parmesan Salami
Pepper Salami
Blue Cheese Wedge
Alexis De Portneuf Brie
Spiced Gouda Wedge
Illios Crackers
Illios Spiral Crackers
Green Olives
Gherkins
Decorative Kiwi Half
Mint Leaf
Sun Dried Tomato
Red Grapes
Strawberries
Divina Fig Spread
Divina Sour Cherry Spread
The Sweet Box ($40)
Dark Chocolate Butter Cookies
White Chocolate Pretzels
Sponge Toffee
Chocolate-Dipped Strawberries
Raspberries
Oreo Bark
Salted Caramel Bark
Dark Chocolate Decotubes
White Chocolate Decotubes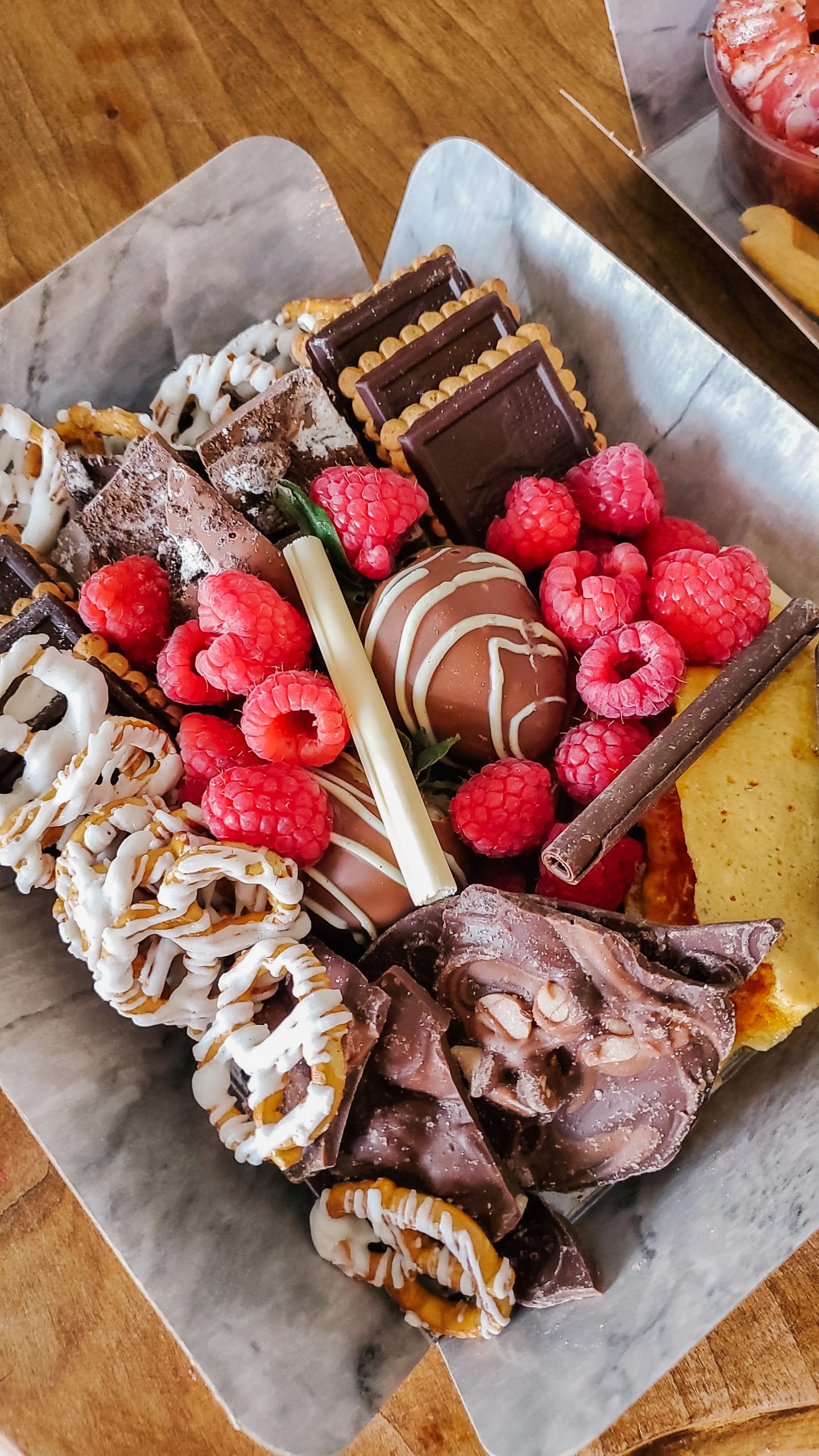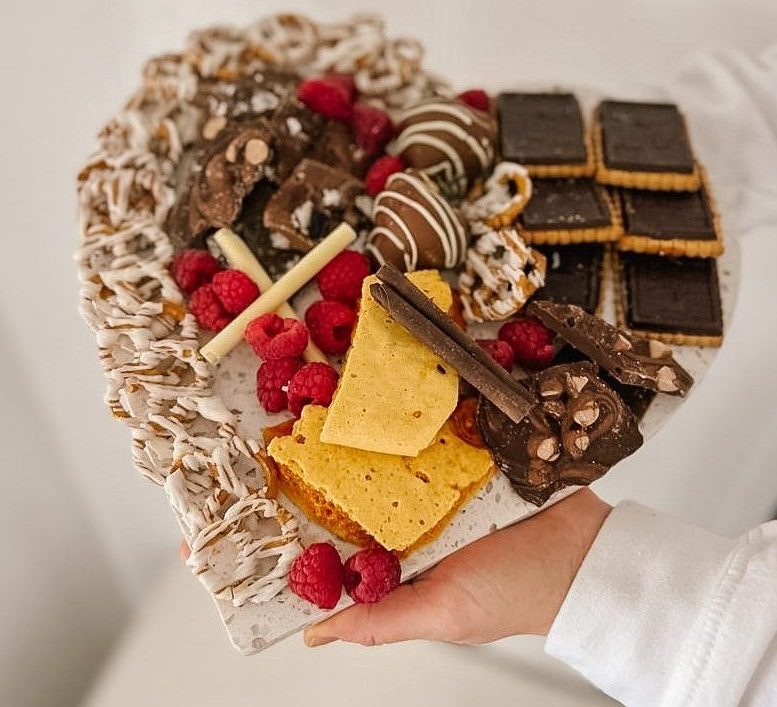 I hope you have the best Valentine's celebrating with those you love! Be sure to tag me @kariskelton and @fresonbros when sharing your Valentine's Day Charcuterie Boxes on social.
Other Posts You'll Love
Super Awesome Superhero Valentines
xx