Watch the Before + After behind-the-scenes reveal video down further in the post! 
Our friends at Simone + Ivy revamped our guest room…and it's gorgeous!
See the before and afters, find links to shop all the pretty stuff, and check out my DIY contribution to the space!

Guest Room Refresh!
We can't wait to welcome guests to our home! Like you, I'm sure, we're more eager than ever before to connect with our friends and family, once we're allowed and it's safe to do so. It's safe to say this pandemic year has made us appreciate our friendships and family time so much more.
We've been wanting to get our guest room in tip-top shape, so we set a goal to make it happen before we get the green light to start socializing in person again. Our goal was to really make this space a retreat; a getaway of sorts for our visitors who've had their travel limited for over a year.
When Leanne and Heather from Simone + Ivy toured our home last year, we talked about projects we wanted to tackle together. We were all pretty excited to give this guest room space in particular a refresh! We thought it would be fun for the two of them to take the reins for a room reveal. So, outside of a DIY contribution from me (further down in the post), this room – the design, the colours, the everything – is all them!
I'm sure you can relate to that one room in your house where you just dump things. Over this past year, our guest room became our 'Stash Room' because, I think subconsciously, we knew nobody would be staying there for a while. It got totally out of control. Put it this way – my husband is so appalled at how bad it got, he won't even allow my 'Before' photos to be included in this post! LOL!
Before
So, it goes without saying, step number one was several weeks of clearing out the clutter and detoxing the space. As soon as that (enormous) task was complete, I felt like actual weight was lifted from my shoulders! Here's what it looked like post-detox.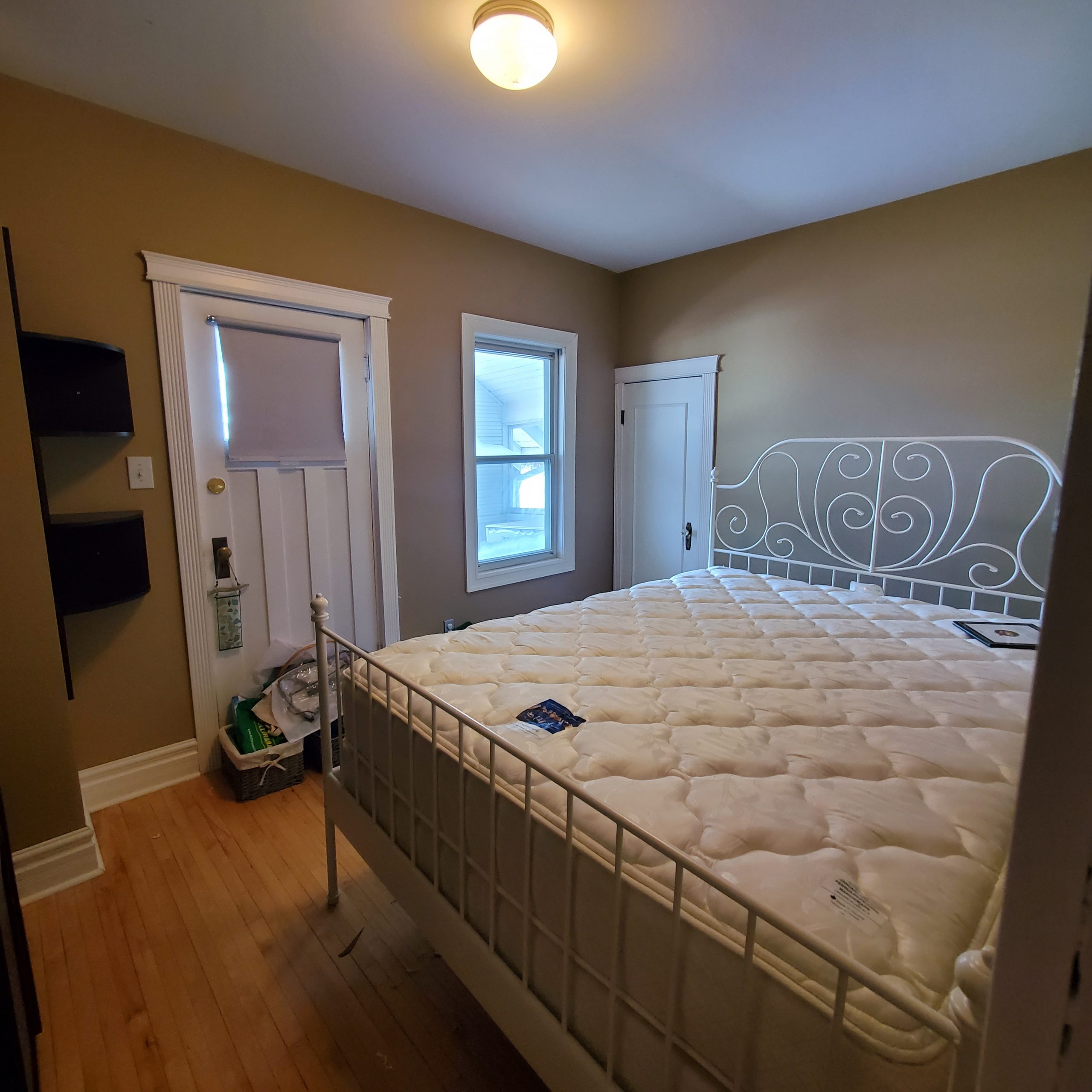 After
..and here she is right after Leanne and Heather worked their magic! SO, so stunning! We cannot thank these two enough! They describe the decor as "Traditional with a vintage twist."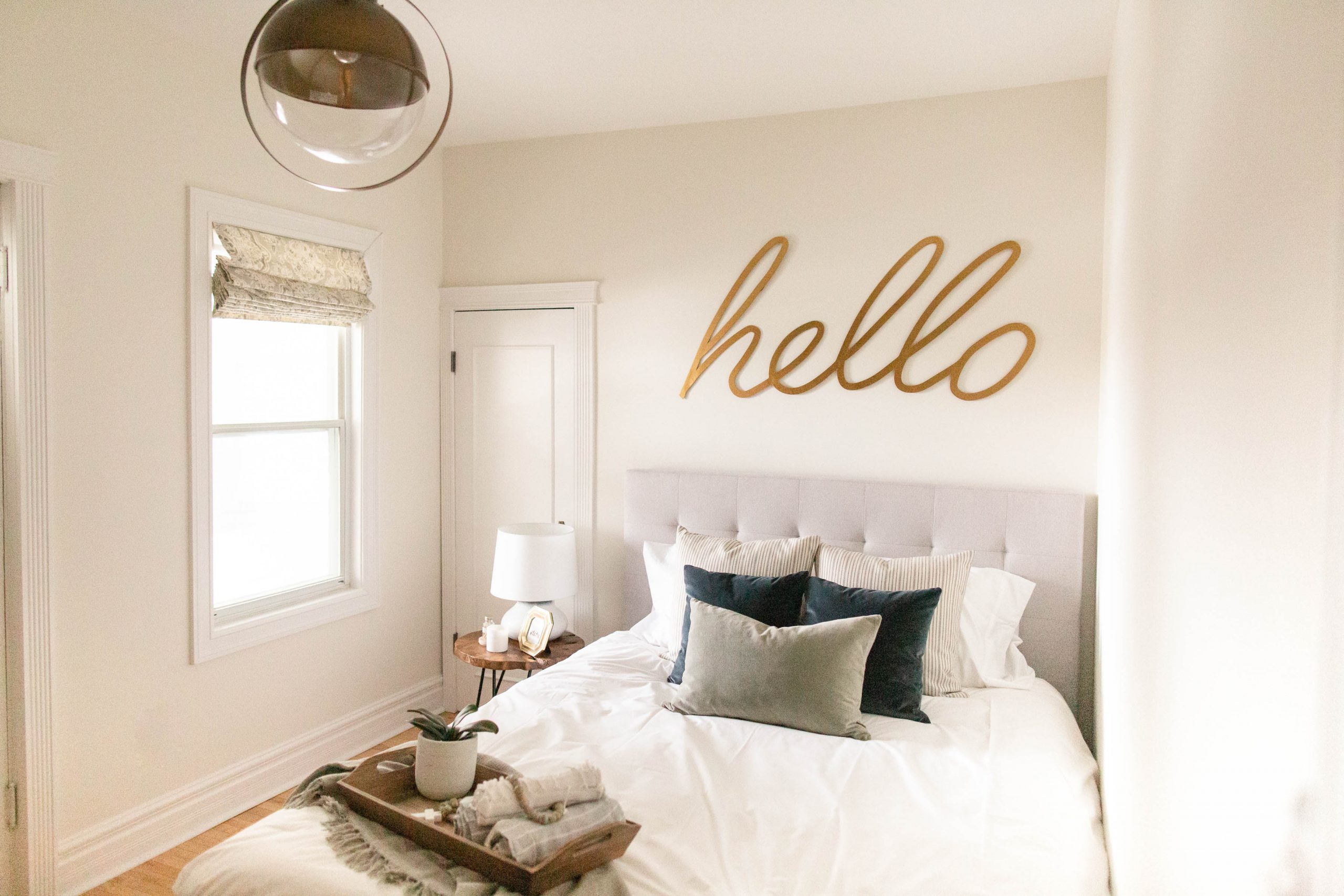 We are passionate that a home is not only a place, but a feeling. Your home should not feel like a show home. In Kari's case, she spoke about wanting their guests to feel welcomed, loved, and cared for by her family. We wanted to be mindful of the little details that would help bring this feeling to life. The room had to look lovely, but also be multi-purpose – functioning both as a guest room and offering storage solutions. Ryan & Kari live in a beautiful heritage home, but with the character also comes some challenges, such as lack of storage! Repurposing the existing cabinet to use a linen closet and adding a storage bed helped check off all the boxes. ~Leanne + Heather

The Bed
We needed this room to be functional for us on a daily basis. The June Queen Storage Bed was the ticket! The Horizon Grey colour is a perfect match for the space (it also comes in cream).
I feel like everybody needs this bed! I mean, look at the extra storage space! The hydraulic lift system, which you access with a fabric handle at the end, provides ample storage for seasonal decor, extra bedding, or whatever your heart desires. We're using ours for all of our linens (more on our linen closet in this room, further down in this post).
Unlike the bed we had before, this one is lower to the ground, which instantly makes the room feel so much bigger.
Before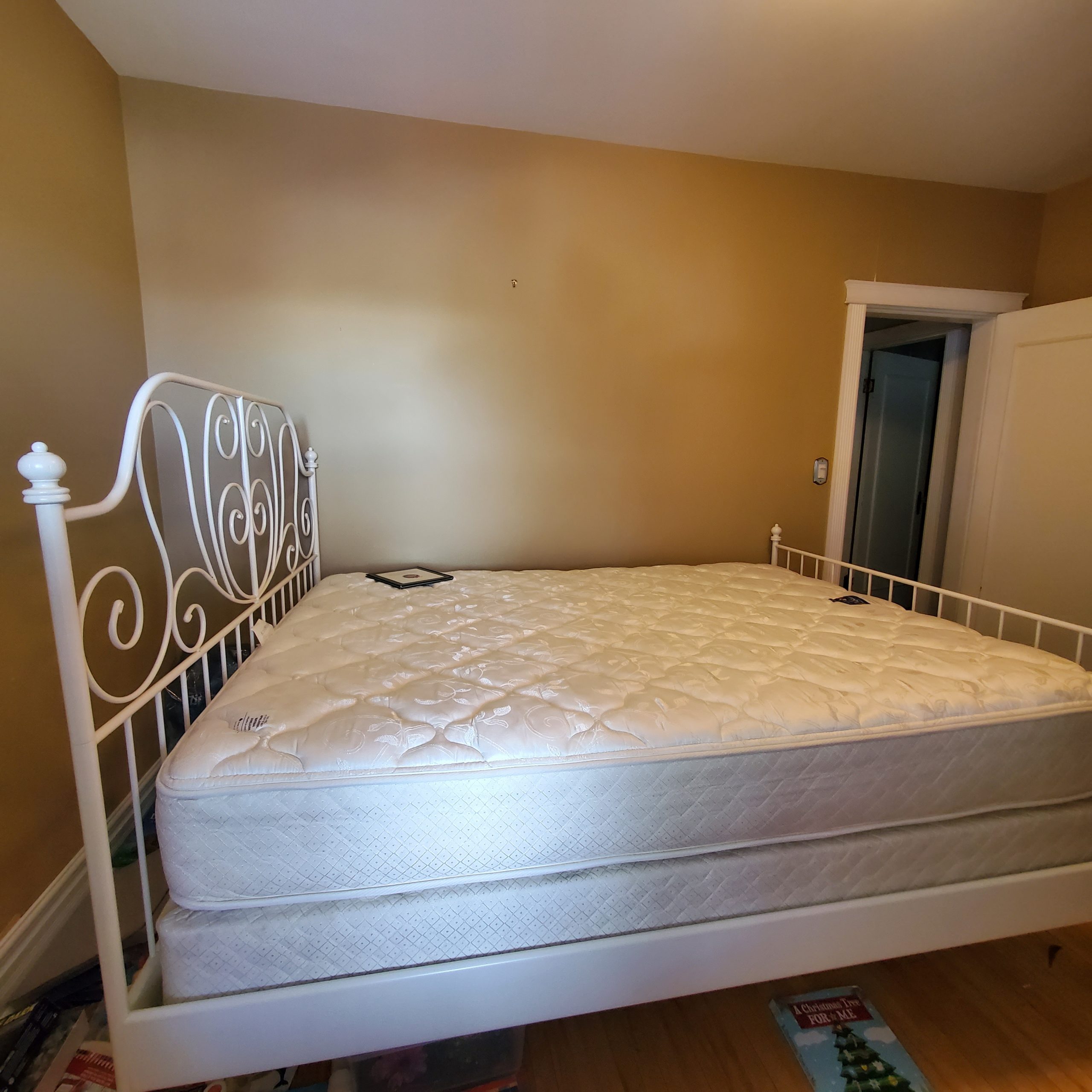 After

Watch The Room Refresh Webisode!
The Cushions
I love the mix of textures and colours of the cushions the Simone + Ivy team picked out! The pretty green tea coloured Vera Velvet Pillow is machine washable (bonus points!), the two teal velvet cushions add a nice punch, and the linen cream striped ones are durable but bring in that softness we all love.
Hello Sign
Could this not be more perfect for a guest room?! "Hello! Welcome to your home away from home. We hope you enjoy your stay."
These are selling fast. Get yours here!
The Lighting
Funny story. The night before the install of this room, I broke our upstairs hallway light while moving furniture. I messaged Heather to bring the Leif Light to replace it. Turns out the Leif light was actually a better fit for the guest room: a meant-to-be moment!
The Leif Light is contemporary, but the antique gold colour incorporates that vintage vibe, making it the perfect piece for this room.
The Paint Colour
I'm obsessed with this room colour! Here's why Leanne and Heather picked it:
In this situation, Kari already had white trim colour, and we did not want to change the trim colour in this one room. We wanted to keep consistency throughout the house, but also wanted a creamier white on the walls. Benjamin Moore Swiss Coffee was the perfect fit – creamy white, and still went with the already white trim!
You'll notice the subtle, yet impactful difference when you look at the white closet door. Swiss Coffee brings such warmth to the space, but still keeps it light and bright. Leann from Walls Revived came to paint the room the day before the install and reveal, and she did a beautiful job! She was so fast and everything turned out perfectly. Thanks, Leann!


The Window Coverings
These shades were made for these windows – quite literally! Simone & Ivy also offers custom window coverings. From the Simone + Ivy team:
Roman shades were the window covering of choice for so many reasons. First of all, let's start with the timeless warmth and elegance that they brought to this traditional space. We wanted to bring in the softness of drapery fabric, but aware of the limitations of space, chose a roman shade to bring in pattern, colour and functionality. These cordless shades are a beautiful, safe and practical covering when you want to "wow" your guests for their next visit!
The Bedside Table
I always thought we would have to either get a smaller bed or forgo any sort of bedside table for our guest room, as there just didn't appear to be enough room. However, this placement works so well! Behind that door is our soon-to-be-revamped craft closet (watch for a post in the coming months). When we need access, we'll just slide the table out of the way. It'll be a great way to maintain functionality, but keep the room looking pretty all the time.
Each of these solid Indonesian teak tables with coated metal hairpin legs are unique. Not only are they truly one-of-a-kind, but the wood is harvested from sustainably-managed forests and plantations. Shop it here.

The Mattress and Bedding
If you've been following me for a while now, you know we're an Endy family. We have an Endy mattress and sheets, Endy mattress protectors and pillows in our master bedroom and in Wyatt's room. We love this Canadian company for so many reasons (more on that here)!
Our guests will also sleep on an Endy mattress, with Endy sheets and pillows. Allow me for a second to talk about the amazingness of these pillows! This is honestly the most comfortable pillow ever. Just like their mattresses, the foam in the Endy pillows is CertiPUR-US Certified, meaning it's safe from VOCs, formaldehyde, and phthalates. Shop the pillows here.
*Thank you to Endy for gifting us the aforementioned products for our guest room.


The Extras
These little personal touches give the room so much love and character. What a great idea to frame our wifi information! This cute jar of matches with white tips is so much better than a tacky lighter, and really adds to the experience of staying in this little haven.
Adding personal touches – things you love, things that make you smile, and things that add comfort and function – all brings warmth and connection to your home. Adding a framed wifi password is a simple gesture, but it helps guests feel comfortable, and removes the need for them to have to ask for something. The family pictures add personality and remind us all of what is important in life – family, friends and moments. ~Leanne + Heather, Simone + Ivy
The Simone + Ivy team chose beautiful Turkish towels, rolled up on a tray with wooden beads, for the foot of the bed. I love that everything is laid out so our guests don't have to go searching for things. The bamboo and cotton fabric of these gorgeous towels adds an extra dose of luxury.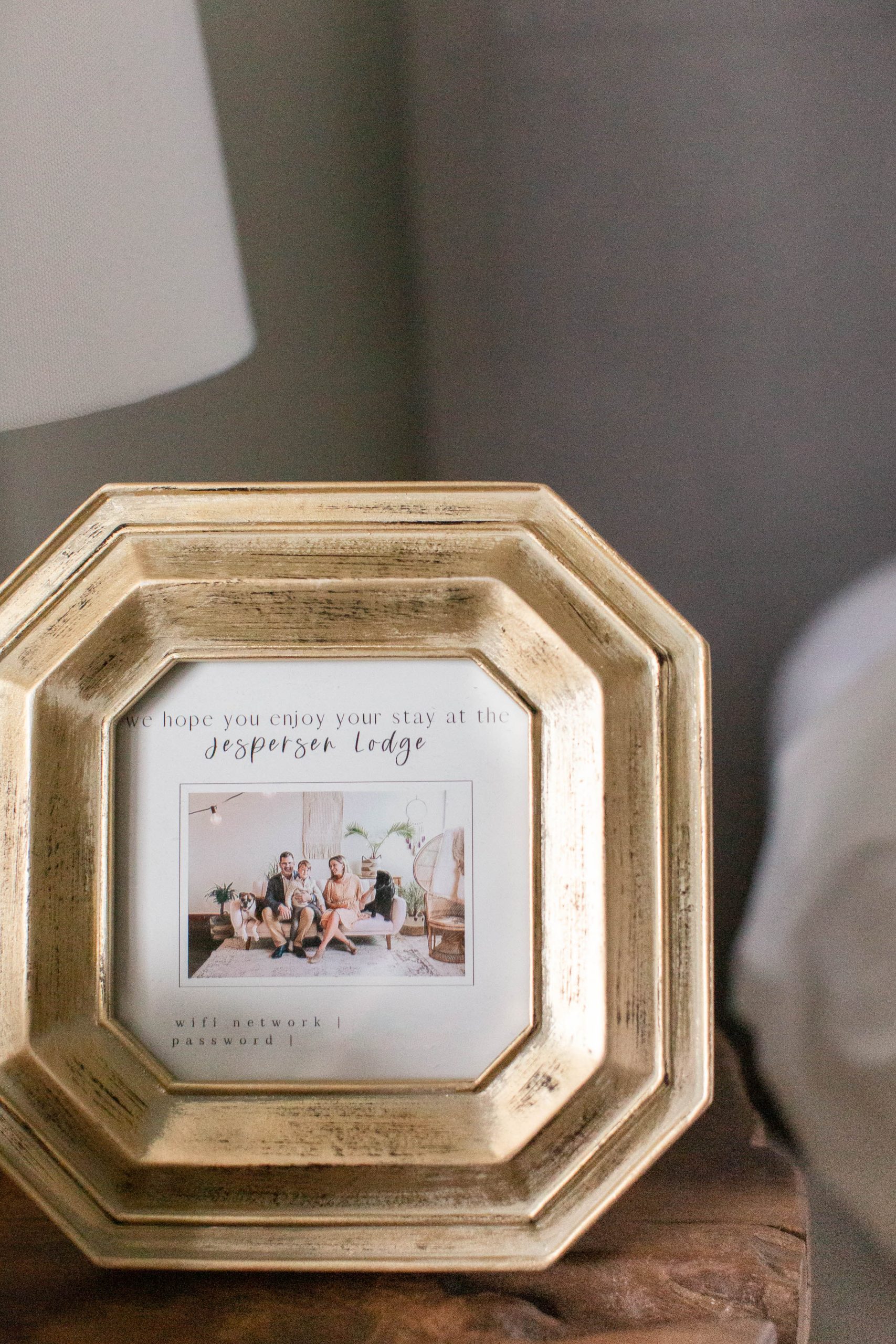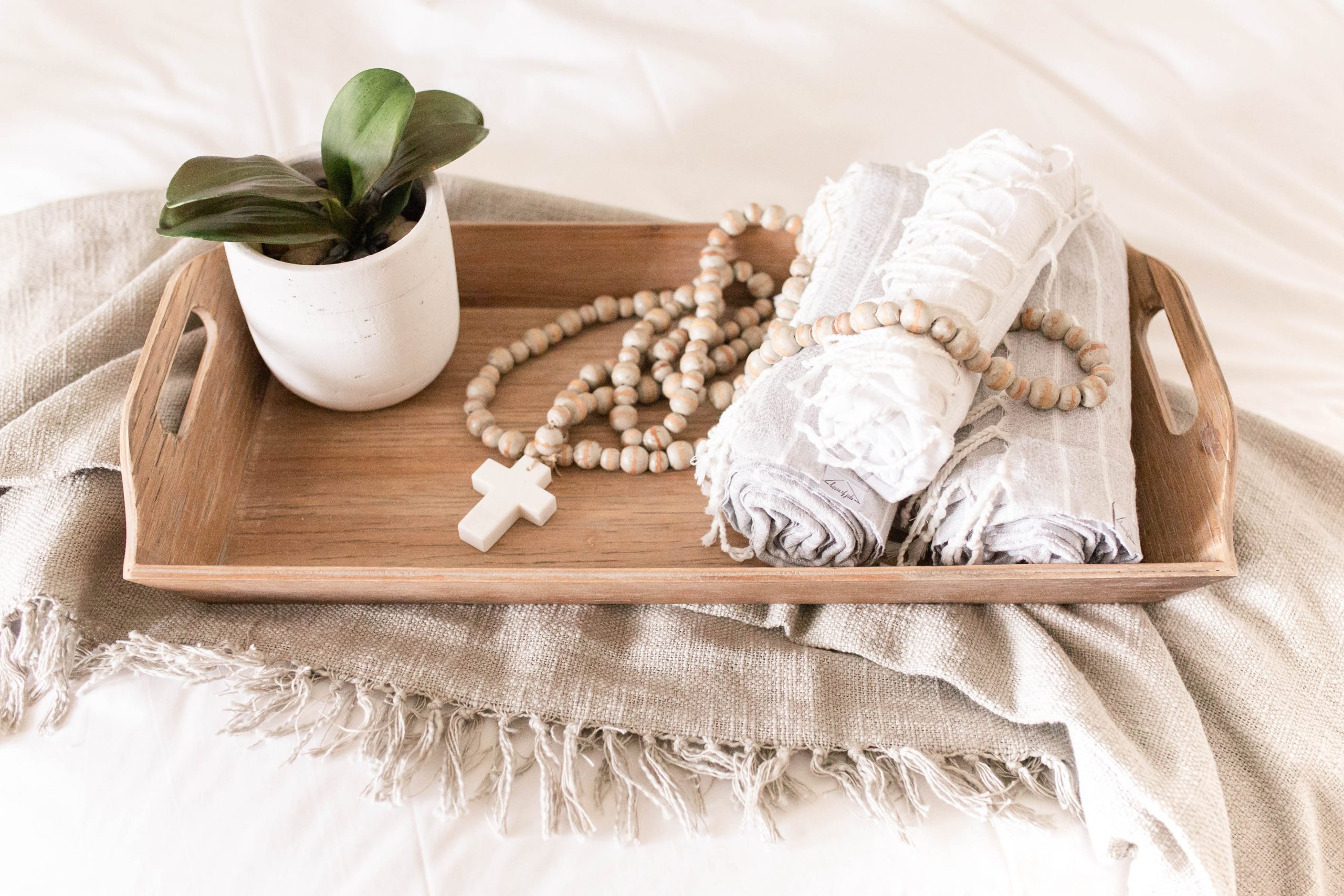 The zig-zag shelf previously in this spot was dark and clunky. Photos in complimenting yet different frames look so much cleaner and add a nice personalization to the room.
Before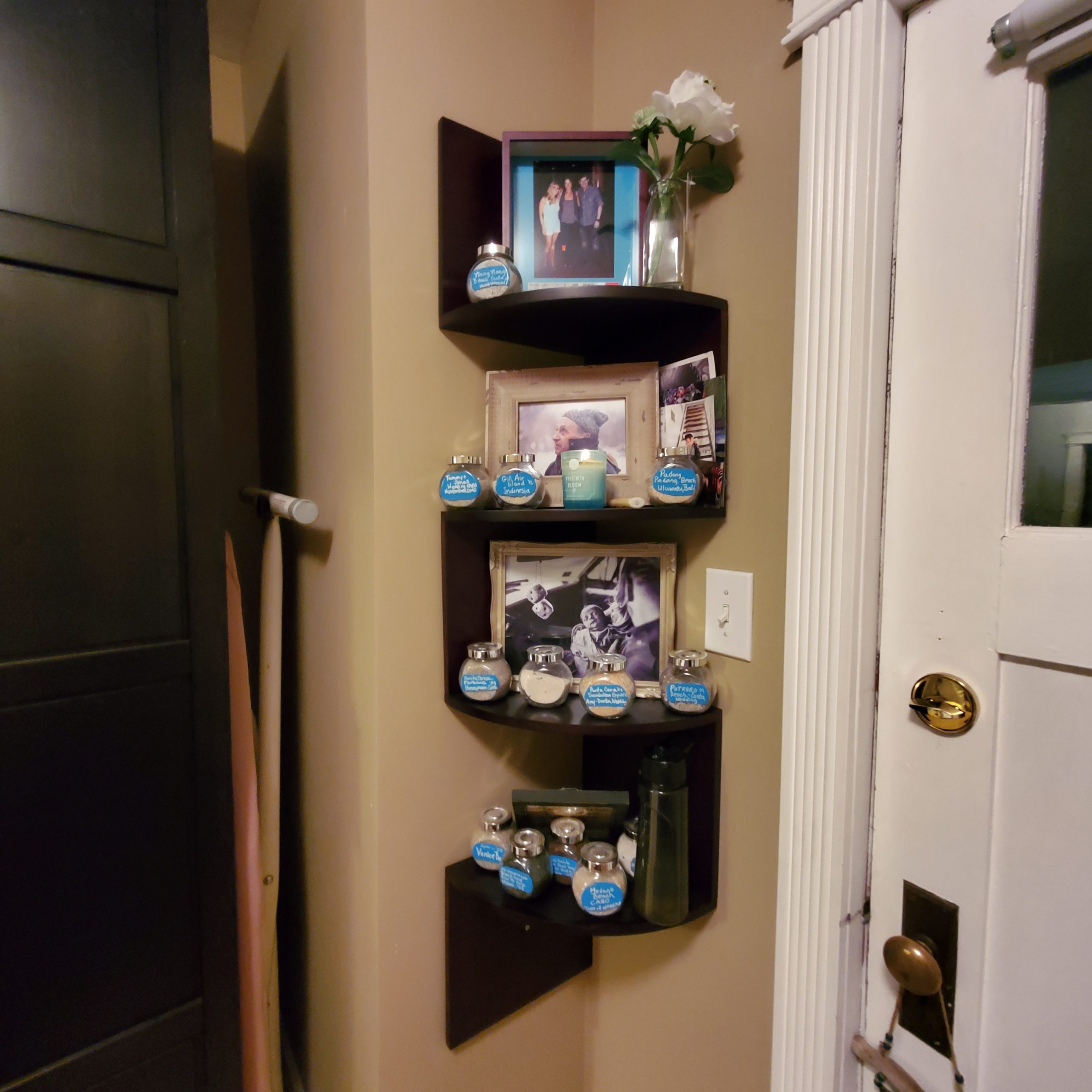 After
The DIY Linen Closet
I'm so excited about this next piece! I converted our old brown-black Ikea wardrobe into our linen closet (ours is a 1913 home, so we don't really have one). Leanne and Heather picked the paint colour for the outside so it would vibe with their beautiful design and I did the painting and organization. The paint colour is Tate Olive by Benjamin Moore. See the full project reveal here!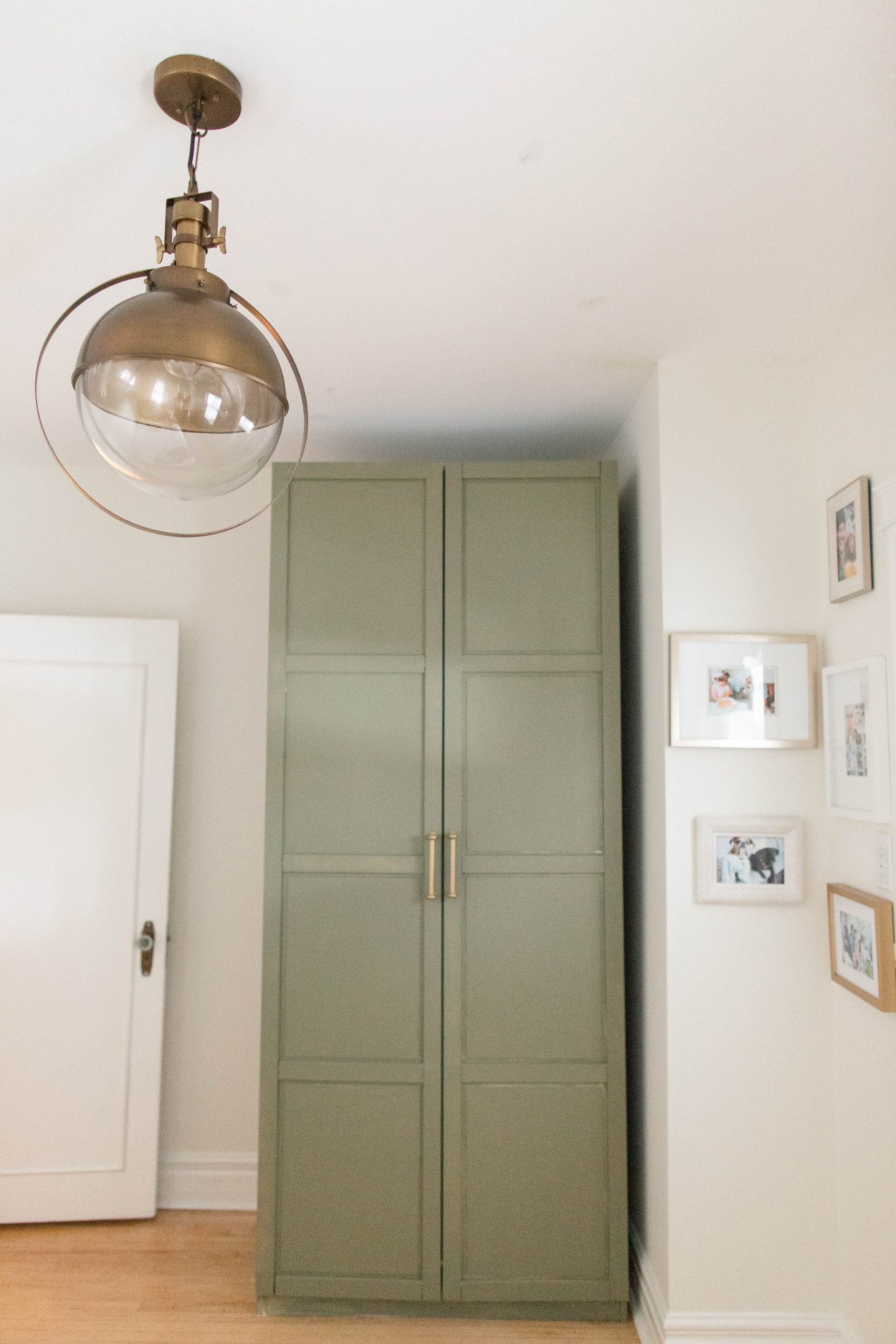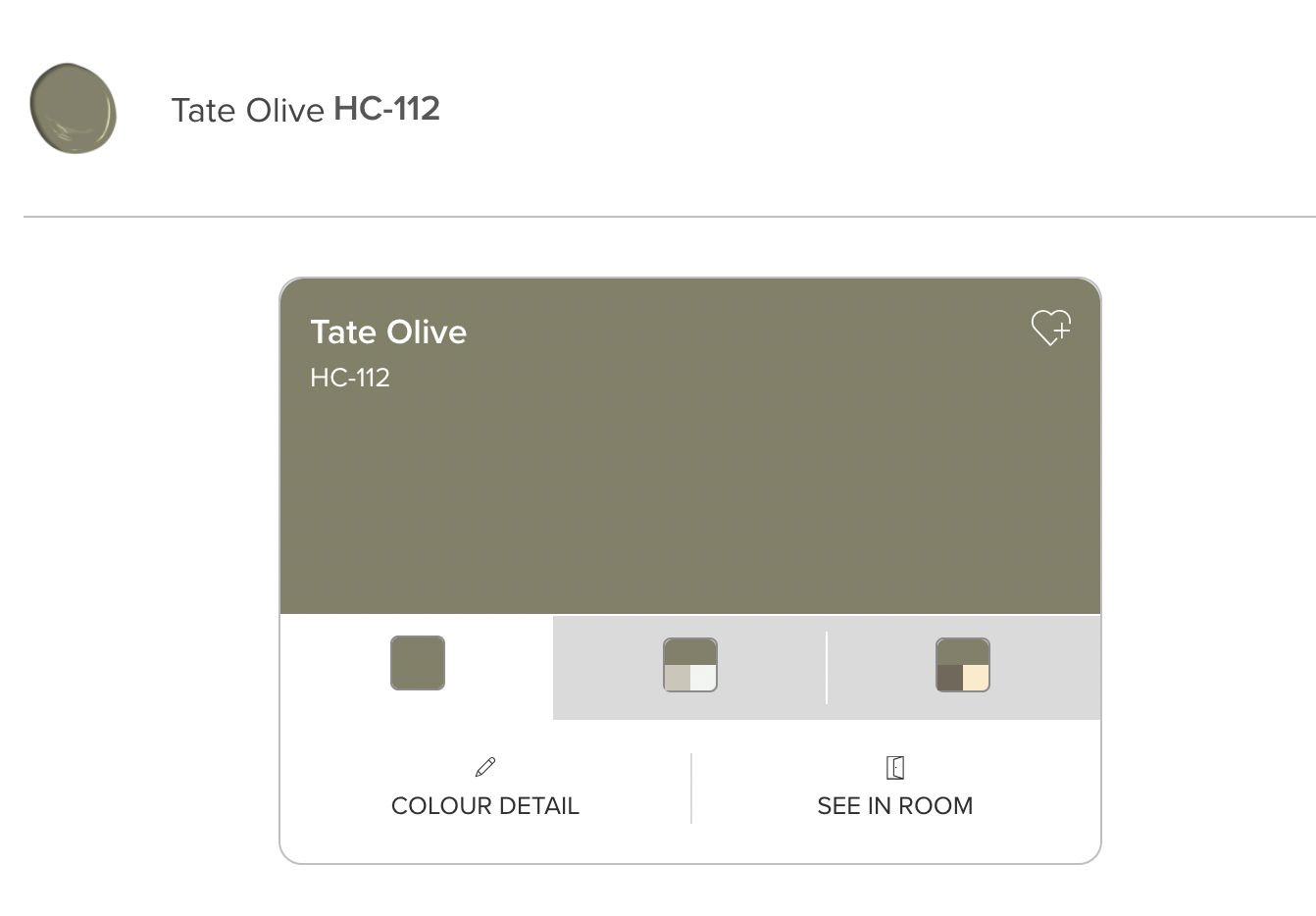 Links to Shop Our Guest Room
Photos: DallasCurow
Ask any questions or share your favourite part of the new room in the comment section below!
Pin this to your Guest Room Inspo boards. Follow me on Pinterest here!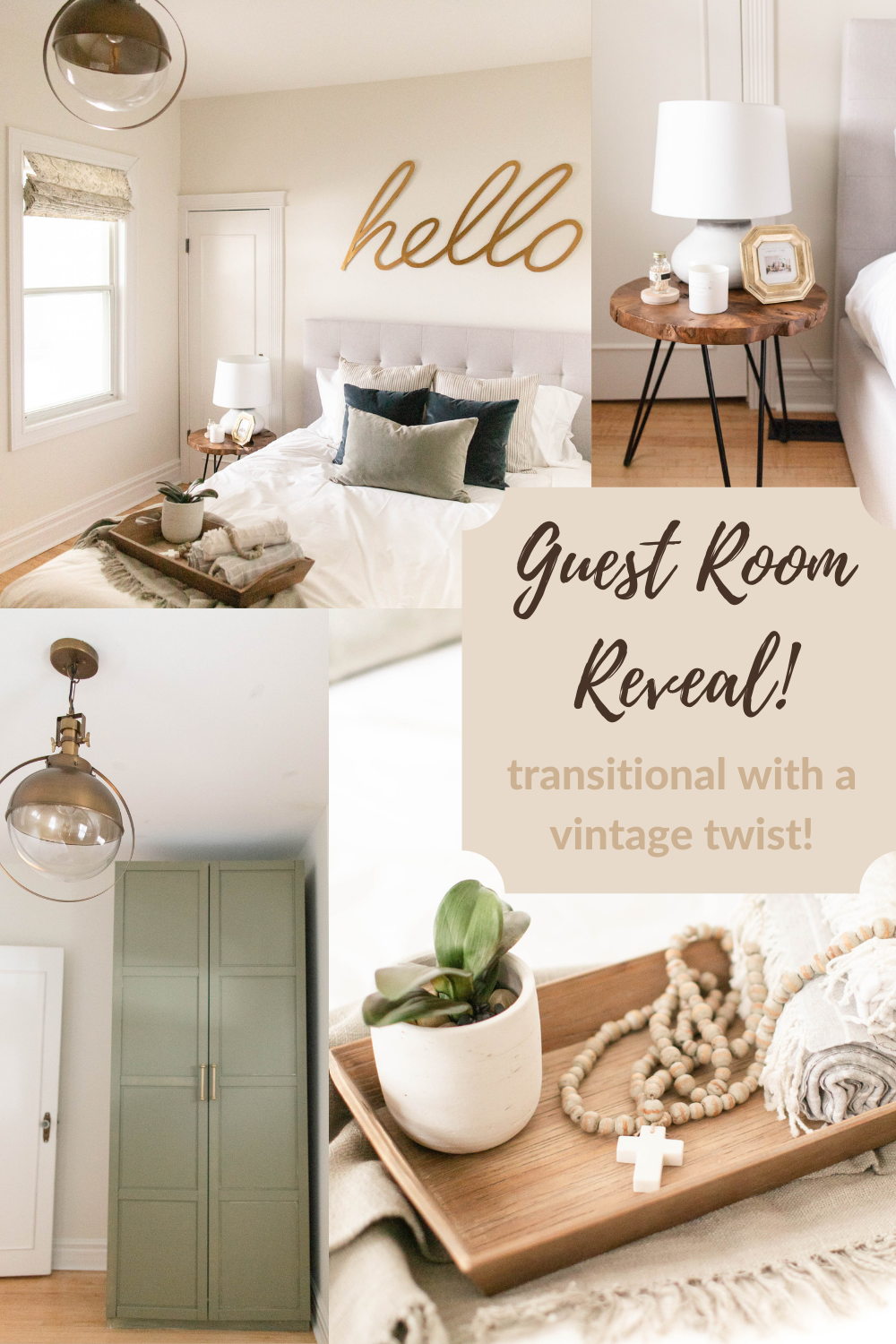 Thank you to Simone + Ivy for sponsoring this post. As always, thoughts and opinions are mine.
Other Posts You'll Love:
How To Organize Under Your Kitchen Sink
Five Unique Features of Our Master Bedroom
xx