A whole bunch of ideas for throwing a cool Kids Camping Themed Party! Activities, food, campfire cupcakes, and an awesome take-home gift!
Kids Camping Themed Party
If you're anything like us, picking out the theme for the birthday party is a big deal! 🙂 We usually narrow it down to a few options as a family and then our little guy makes the call. This year I was thrilled with his camping theme decision (there's so much you can do with this one)!
In this blog post, I've detailed everything from Wyatt's camping themed sixth birthday party. If you're looking for other ideas can also check out How To Throw An Awesome Truck Birthday Party and How To Throw A Super Cool Buzz Lightyear Birthday Party!
If you have any questions, please ask in the comment section at the bottom of this post. Just a heads up, there are a few affiliate links here meaning if you click on the link and end up buying the item, I get a small commission (at no extra cost to you).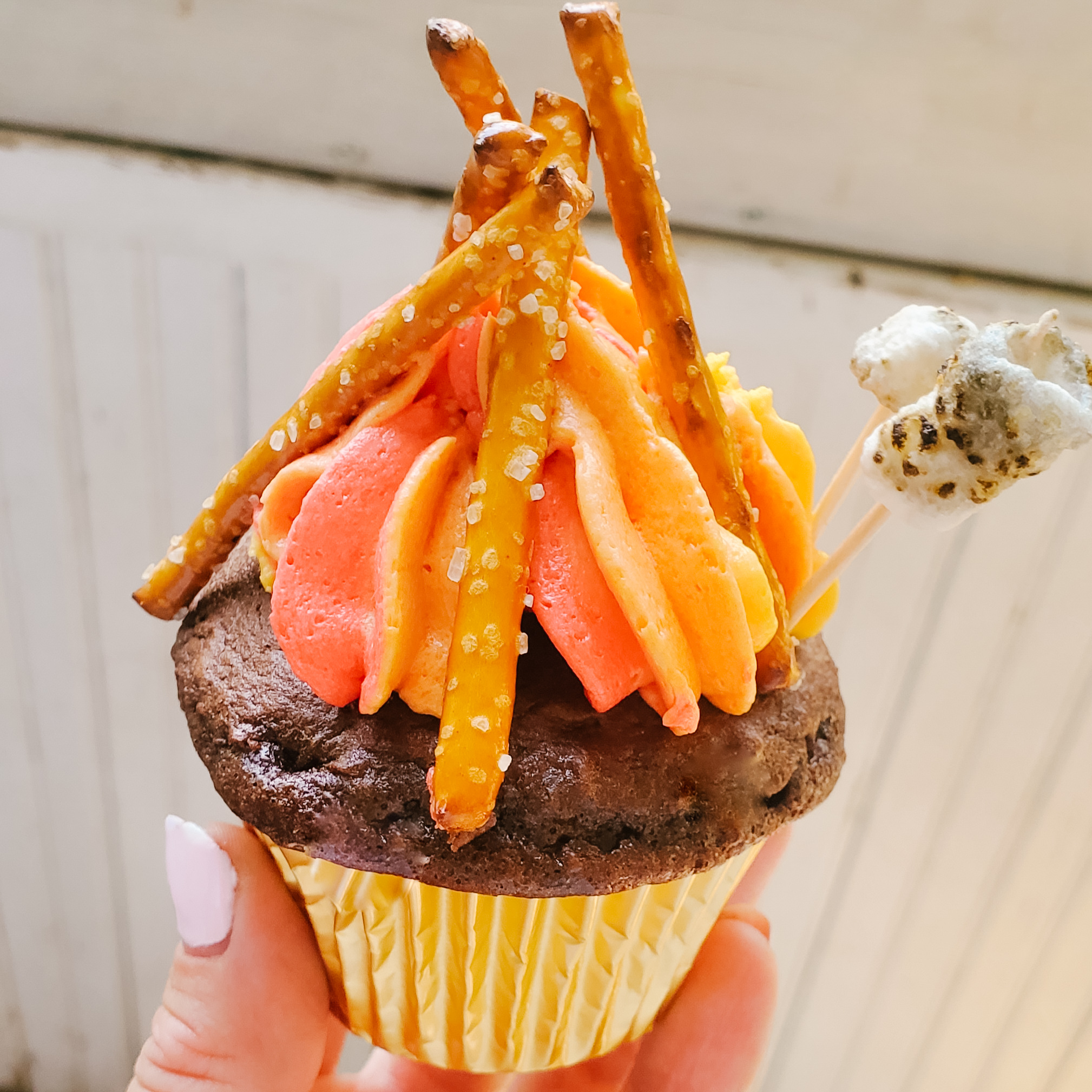 Campfire Cupcakes
Use a simple chocolate cupcake recipe and whip up some buttercream icing. Separate the icing into two bowls and dye one orange and the other red. Alternate mixing the colours into a piping bag. Pipe onto the cupcake and top with pretzel sticks.
Use a lighter to roast mini marshmallows on a toothpick and stick them into the side of the cupcake.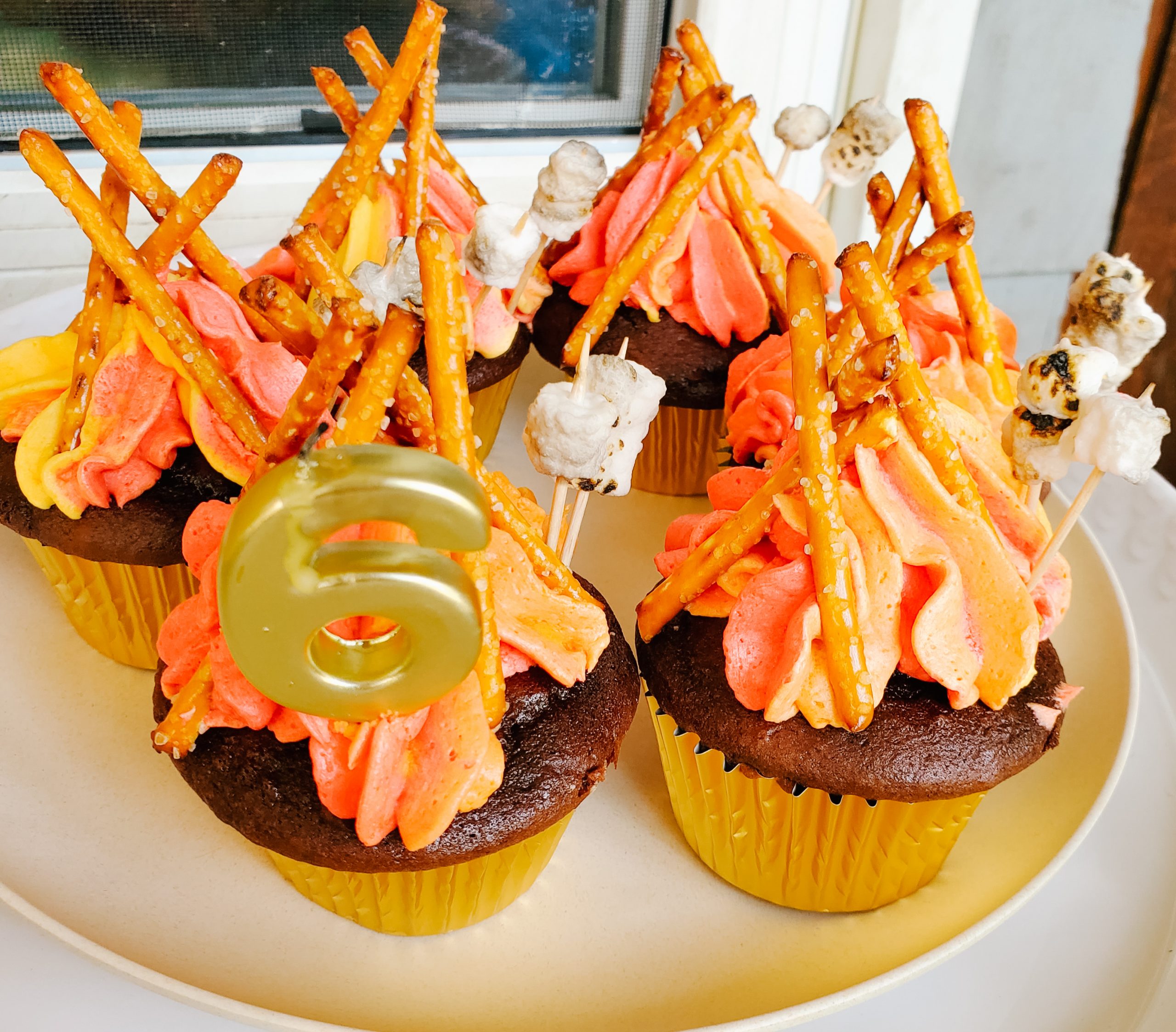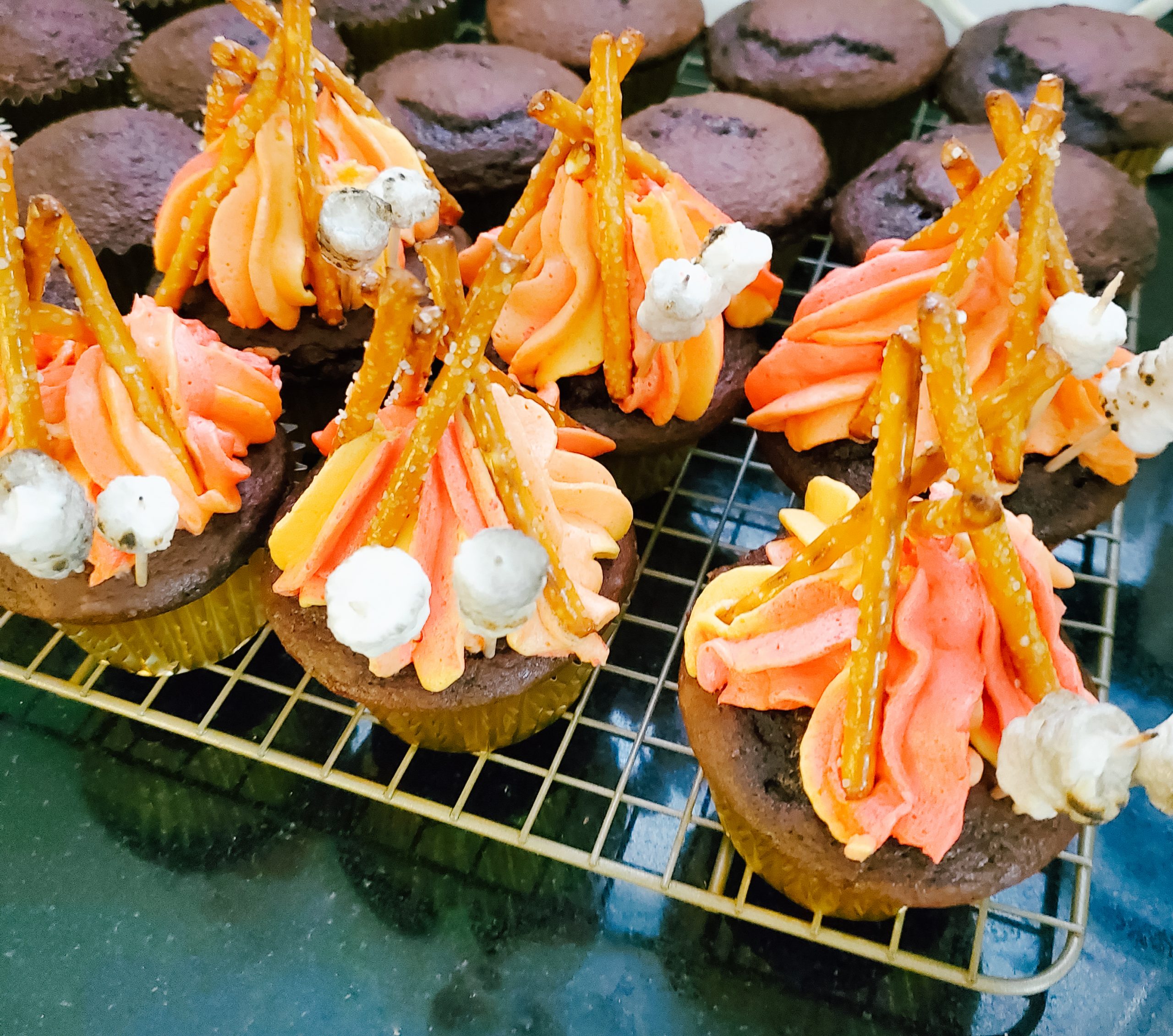 Party Food
Keep it simple and go with quintessential kid-approved camping eats! Hot dogs, mac'n'cheese, Hickory Sticks, and a variety of chips. Fresh watermelon is always a nice touch and can be used as a centrepiece for the table.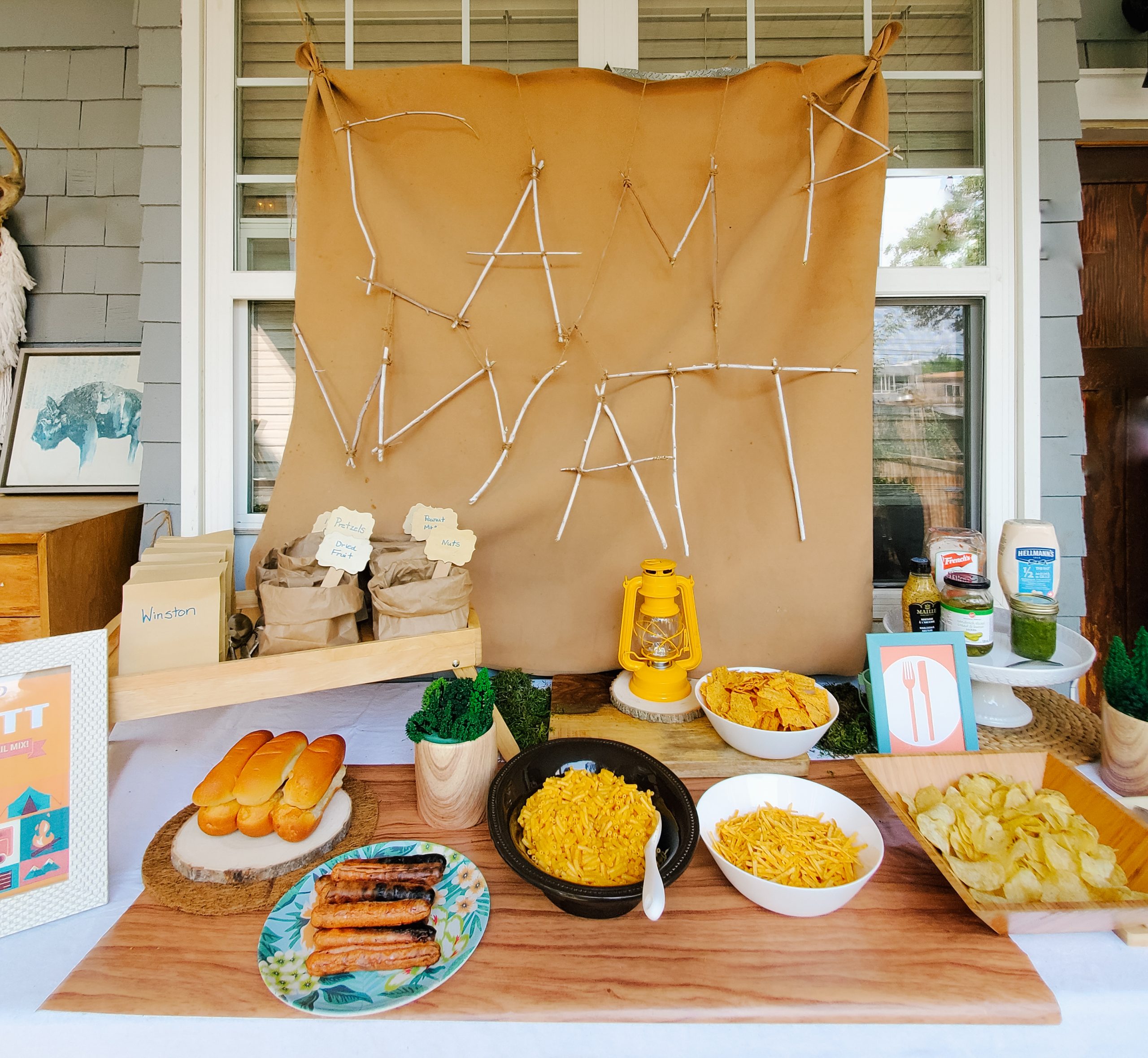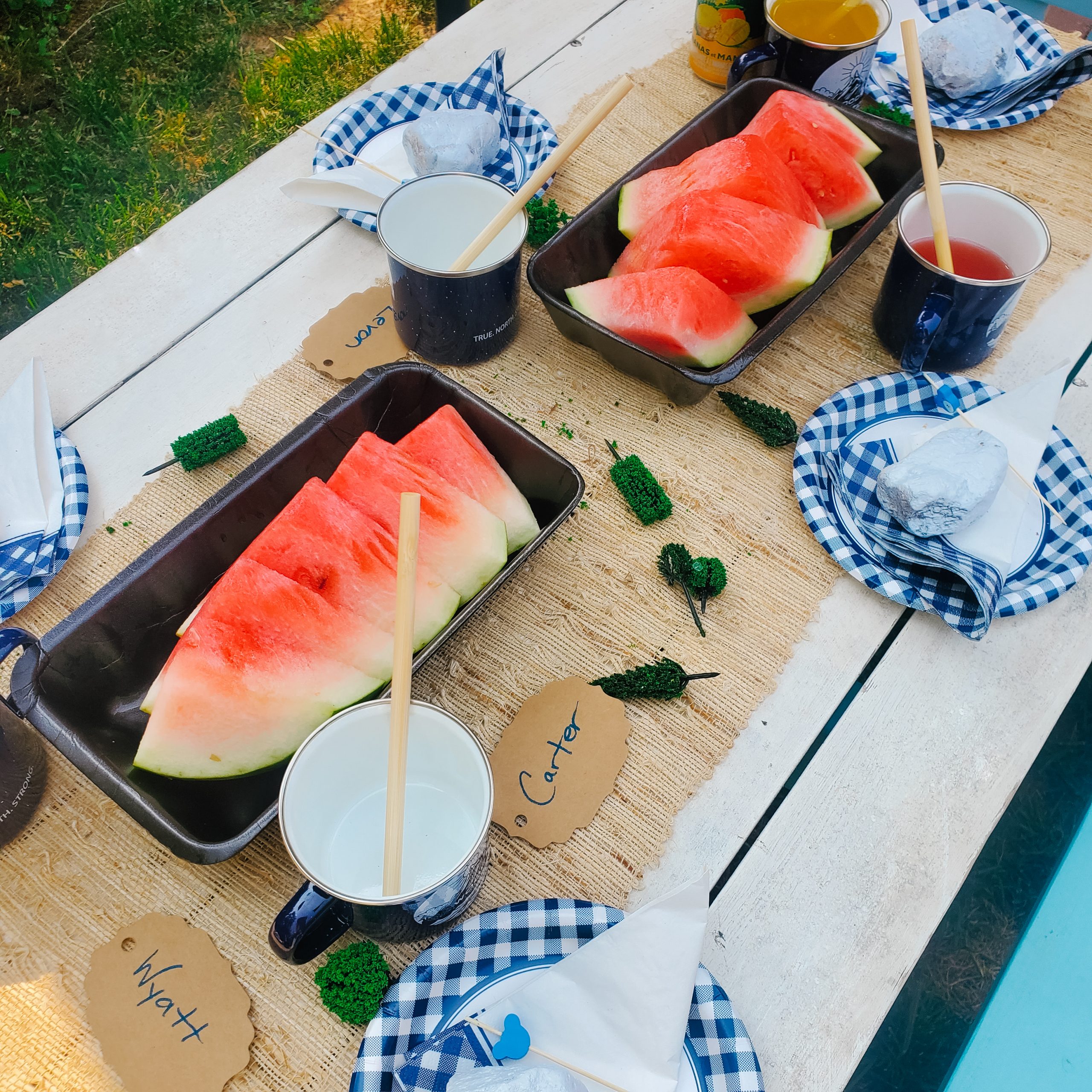 Decor + Table Setup
Look for natural fabrics, wooden chargers and risers, and checkered tableware. Add in a few camping lanterns and potted evergreens. These mini faux evergreens are a nice filler too. I used sticks tied with jute and a Midi Square leather playmat from Gathre to make the "Camp Wyatt" backdrop for the food table. You could just as easily use an old bedsheet cut into a square.
Mini camping mugs are a cute addition for the kiddos drinks. Plus, you can include them as part of the take-home gift! Go here to shop the mugs.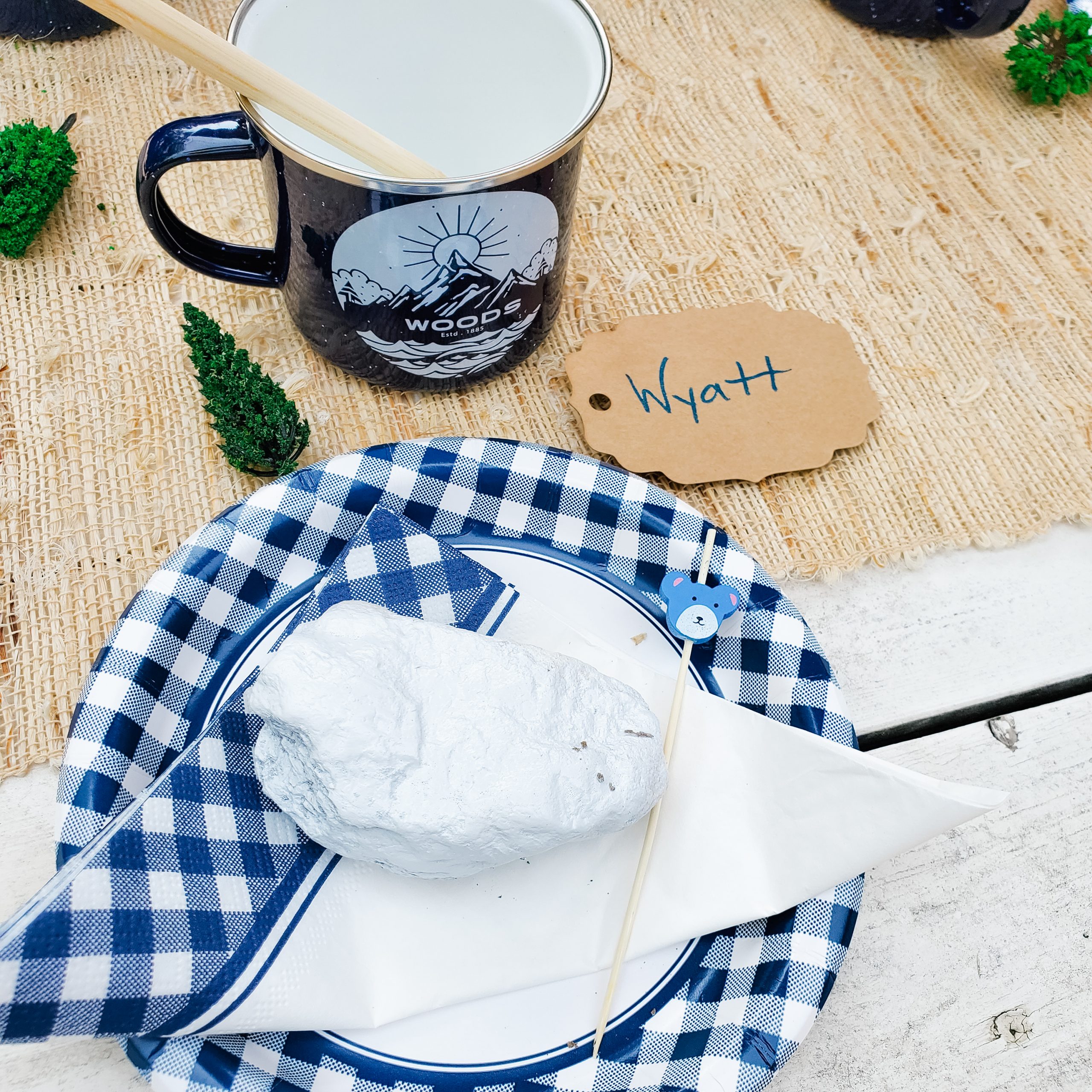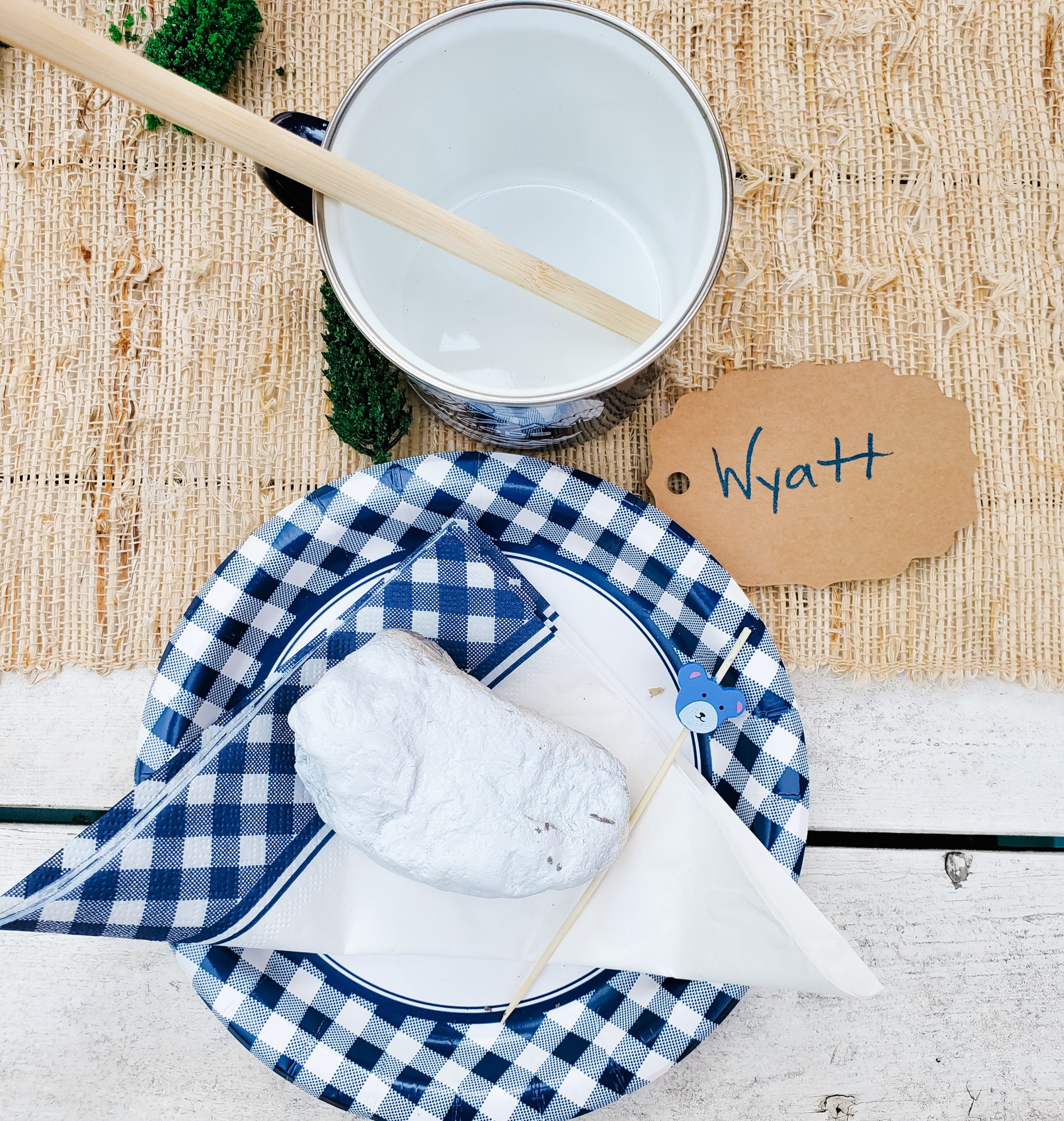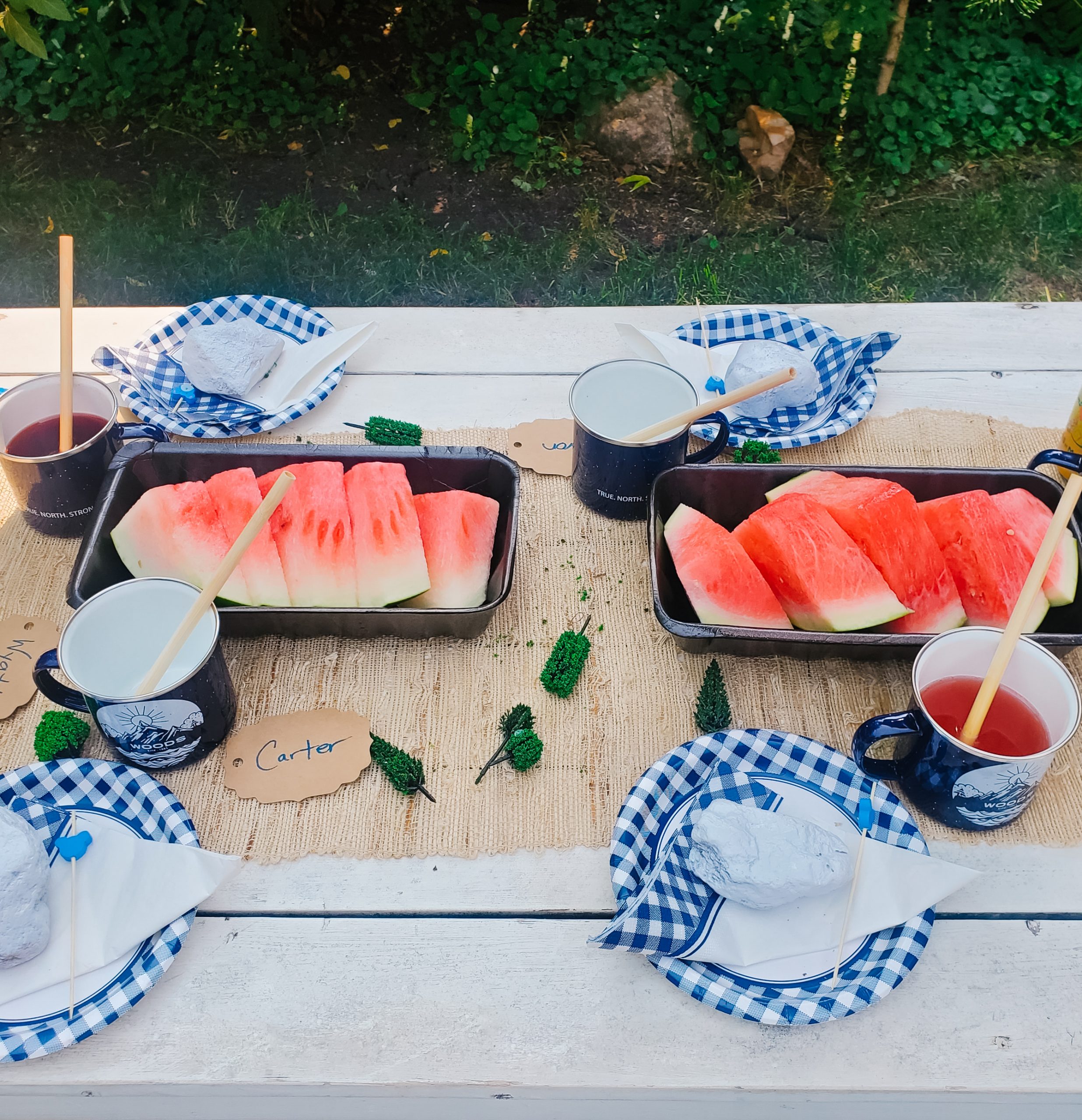 Free Printables
It's a fun idea to add in a few camping signs at the party! Some of the ones we used are included here. Click on the images below to open these up in a new browser tab as a PDF file. Print out using regular printer paper or cardstock.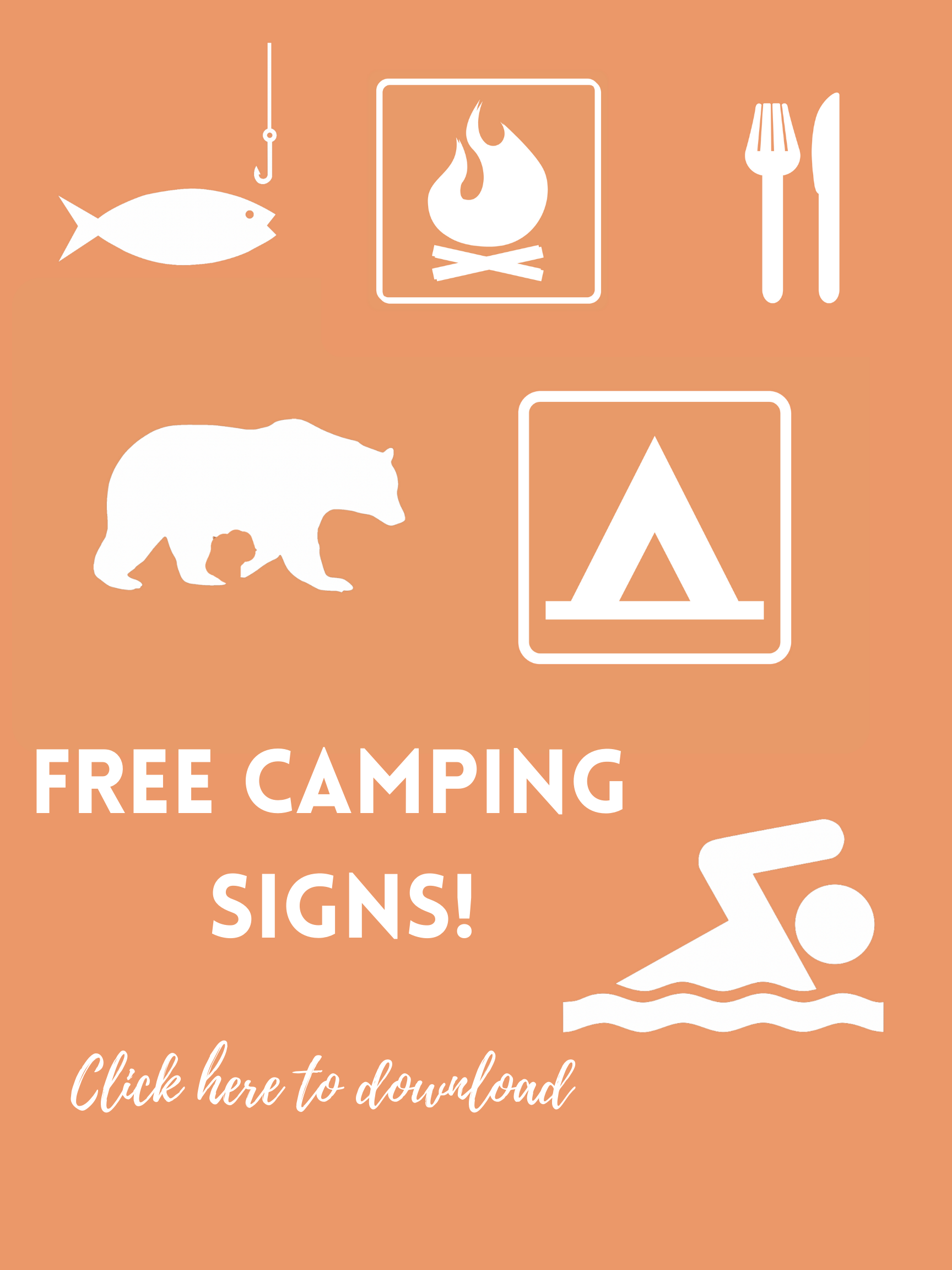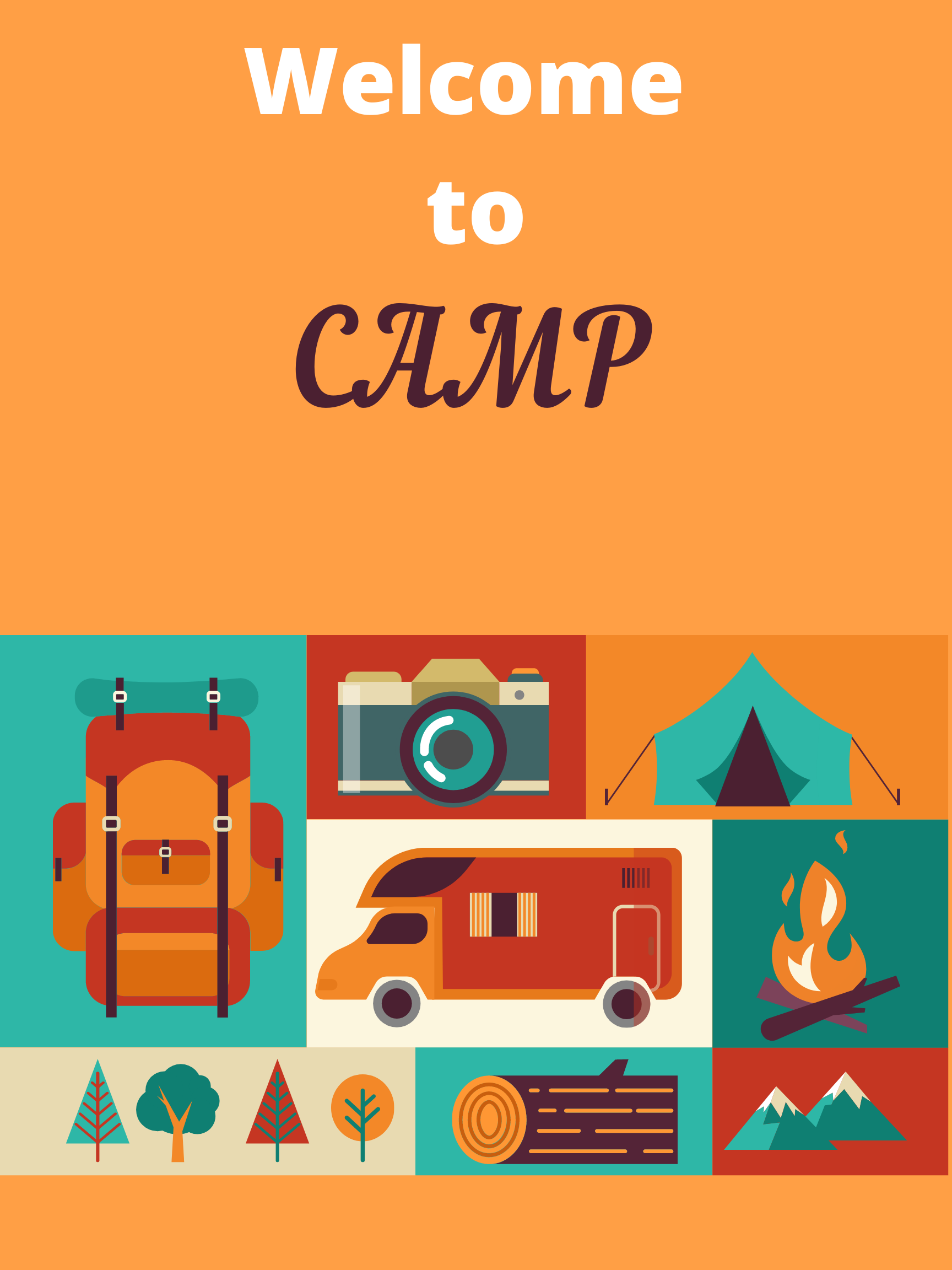 You can cut and frame the printables to place in different areas around the party. These blue frames are from Ikea.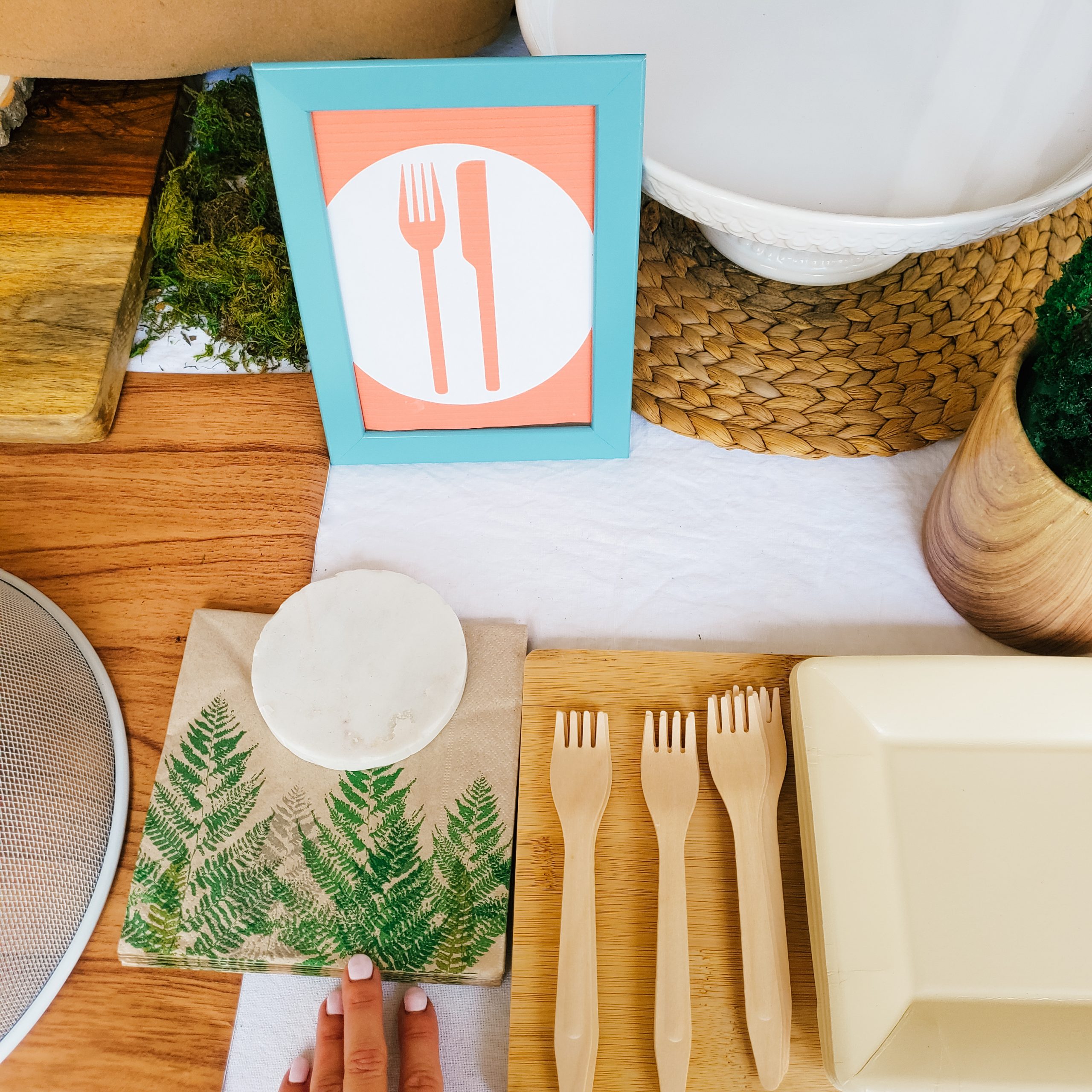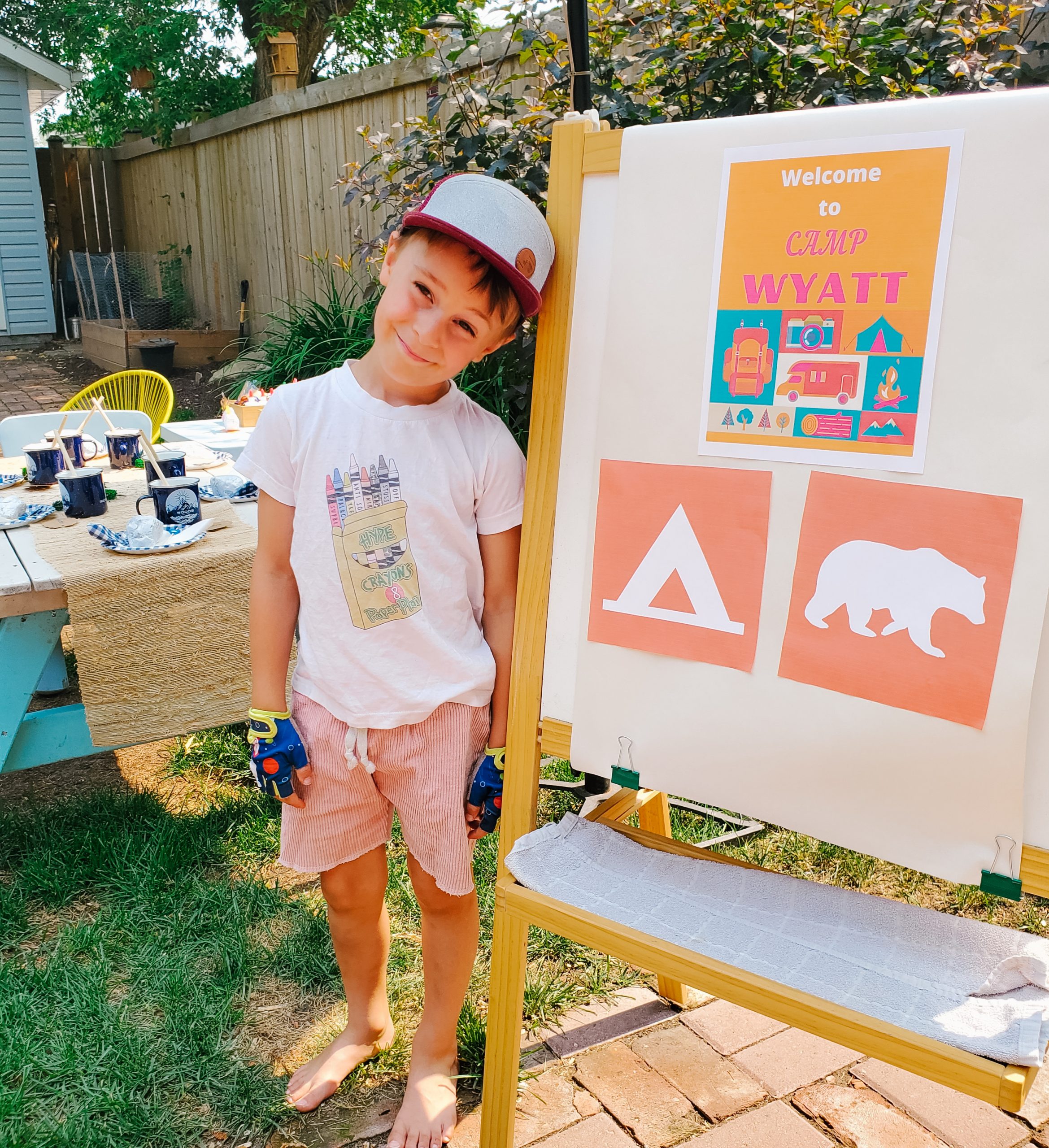 Present Station
Use a kids play tent or even a small regular camping tent to store the presents. If the tent is big enough for all the kids, they could all hop in there for the present opening!
Activity
Keep the activity simple and optional. The fact is, not all kids will be into it! To tie in the wilderness theme, we made silly rock creatures. Paint the rocks ahead of time and have the kids decorate them using pipe cleaners, pom poms, feathers, yarn, googly eyes and adhesive foam sticker sheets. Keep costs low on the one and pick everything up at The Dollar Store.
Some other camping themed activities: outdoor adventure hunt, fishing in the kiddie pool, or DIY rainsticks.
Hot Tip: Whatever craft you're doing, make an example ahead of time for inspiration for the kids. If you have a kid who isn't into it or didn't have time to do the activity, send home some supplies for them to do it on their own time.
Take-Home Gift
If you're doing a take-home gift or goody bag, it's nice to give the kids something of quality they'll actually love and use! It can still be inexpensive and simple but just not a bag filled with stuff that will just get tossed. For example, each of the kids could get one hot wheel or a sheet of stickers. In this case, we did a Trail Mix Bar and a mini camping lantern. They could use the lantern as a night light or take it on their next family camping trip. We picked up our mini lanterns from Canadian Tire. These ones would be pretty cool too!
For the trail mix, use brown paper lunch bags rolled down (do this carefully so the bags don't rip), with wooden stick labels and mini scoops or spoons. Have each of their names written out ahead of time on the treat bags. When the parents come for pickup have them take their kid to the station and fill up a bag and grab a lantern!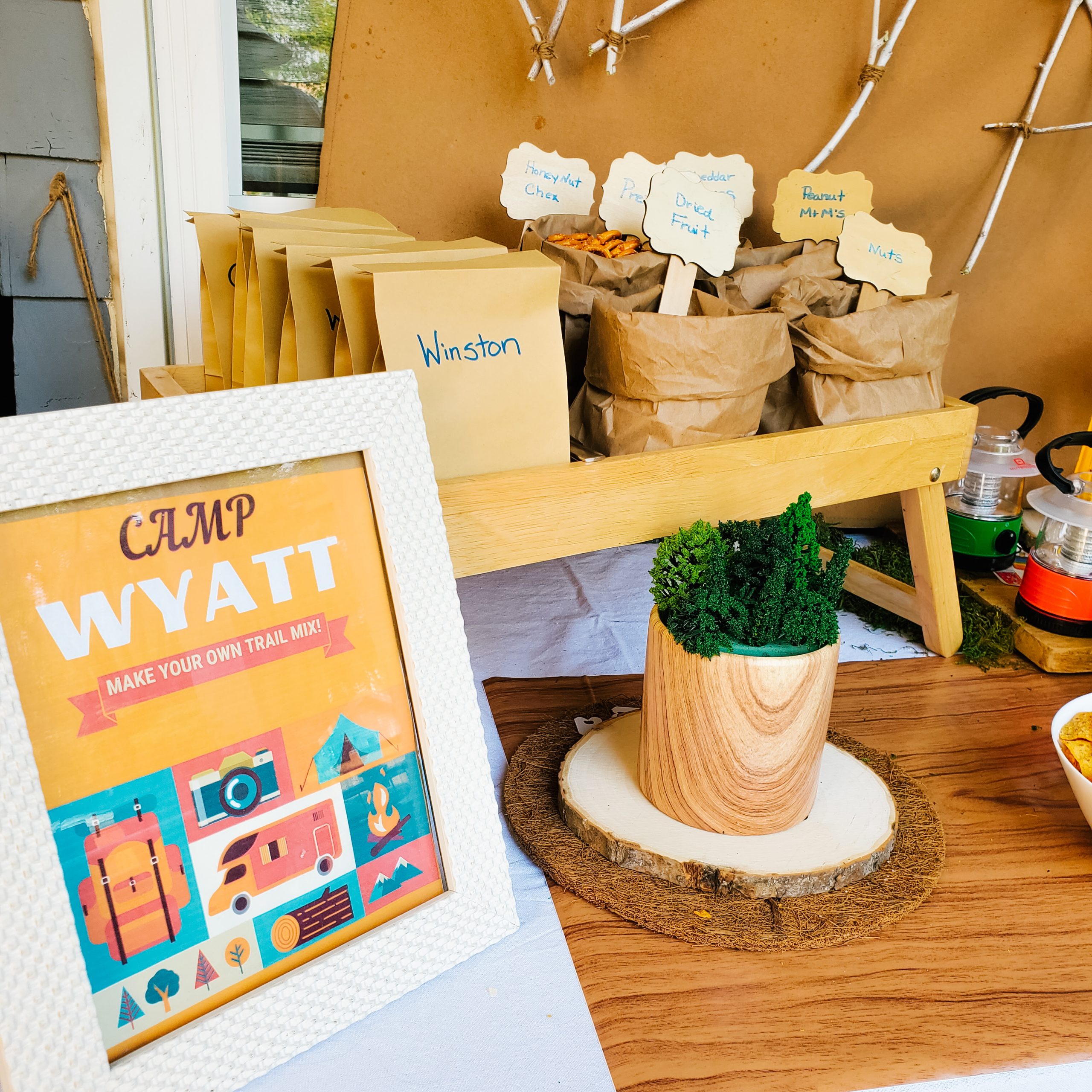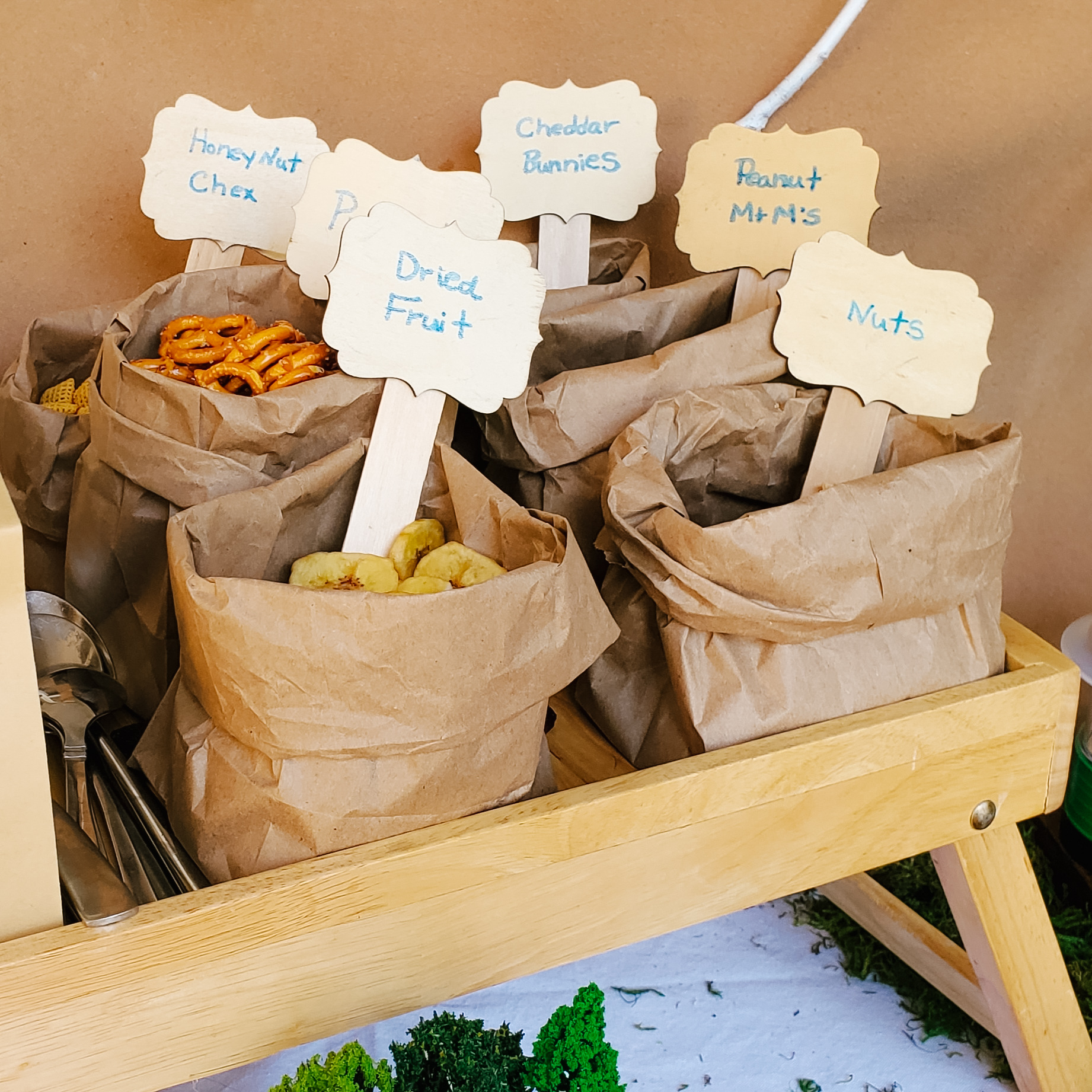 Pin this to your Camping Birthday Party and Kids Party Ideas boards and follow me on Pinterest here!
Other Posts You'll Love:
How To Throw An Awesome Truck Birthday Party
How To Make Labels Like The Home Edit
xx