A curated gathering of adorable Halloween-themed food art! Make this Halloween Charcuterie board for your kid's playdate or school party, or pick a few individual items to make during the days leading up to Oct. 31st!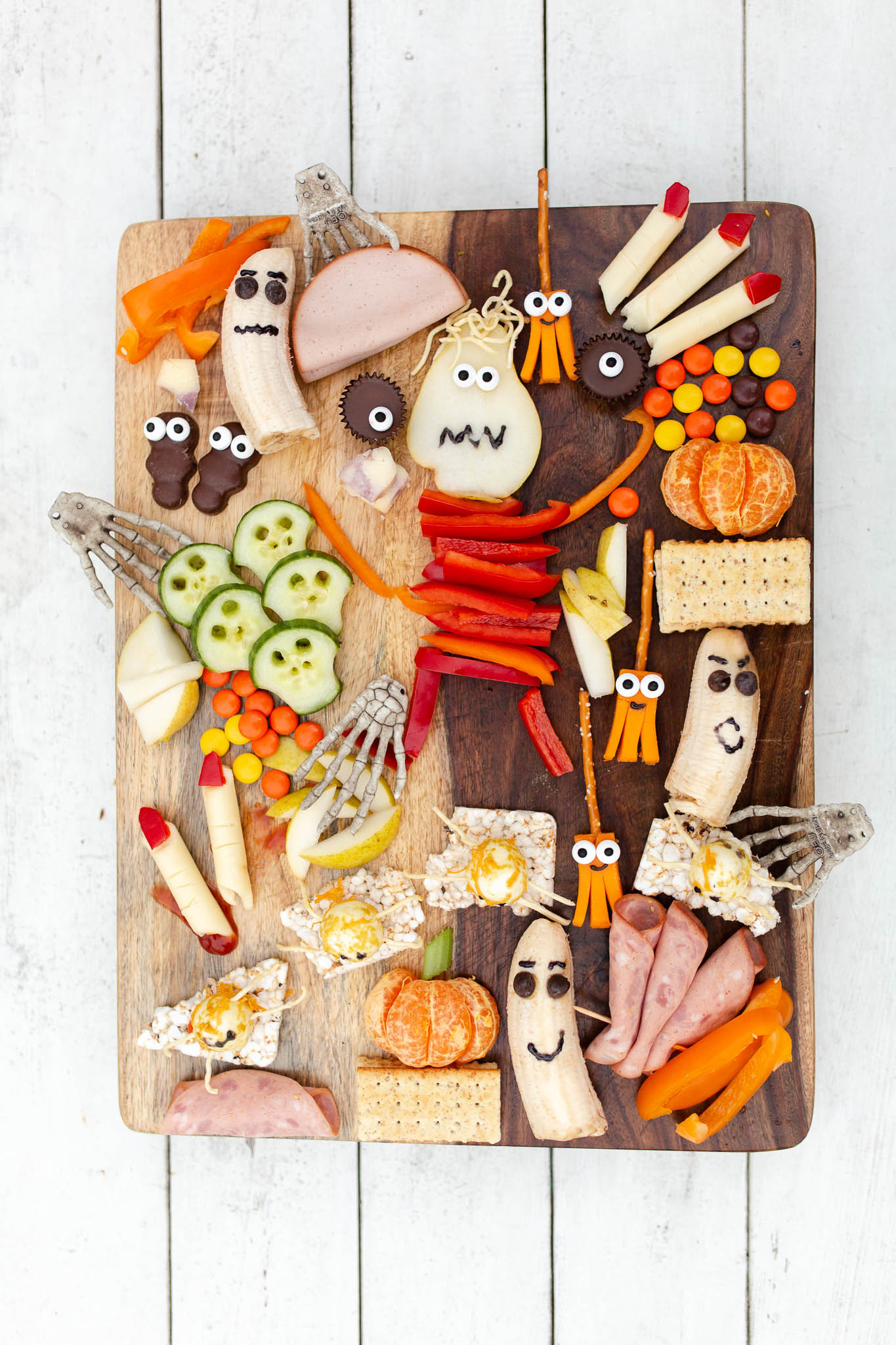 This super fun Halloween spread is really for the kids, but let's be honest: it would also be perfect for any adult Halloween get-together, or even for date night snacks. There are a few key features, along with candy, meat, and veggie fillers. Most need to be made immediately before serving.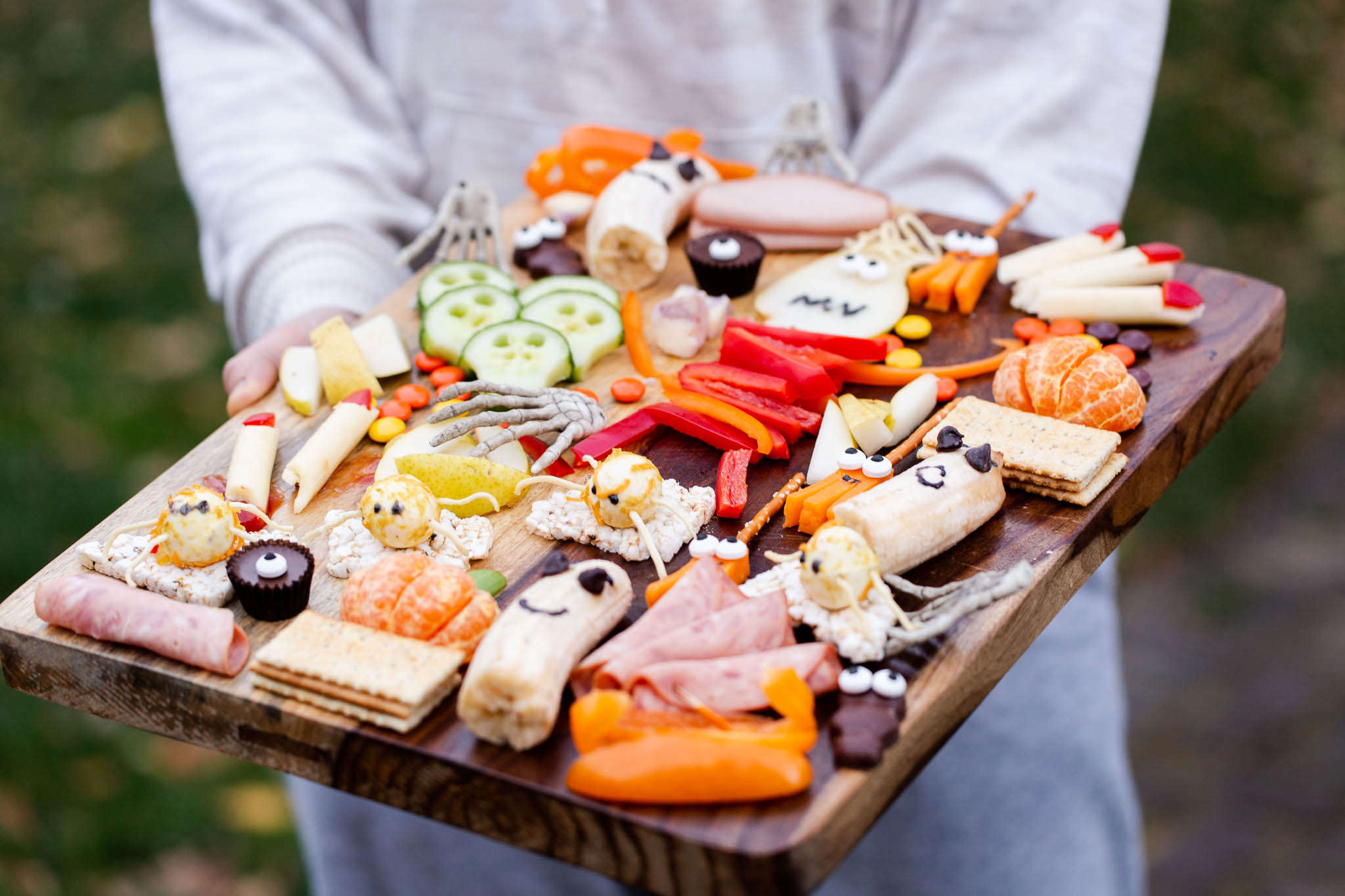 Cucumber Skulls
I borrowed this idea from one of my favourite Instagram accounts, Food Bites. I used a small spoon to make the cuts on the sides (this took some practice), and then I used a chopstick to make the holes (use the thicker square end of the chopstick for the eyes, and the smaller tip for the nostrils).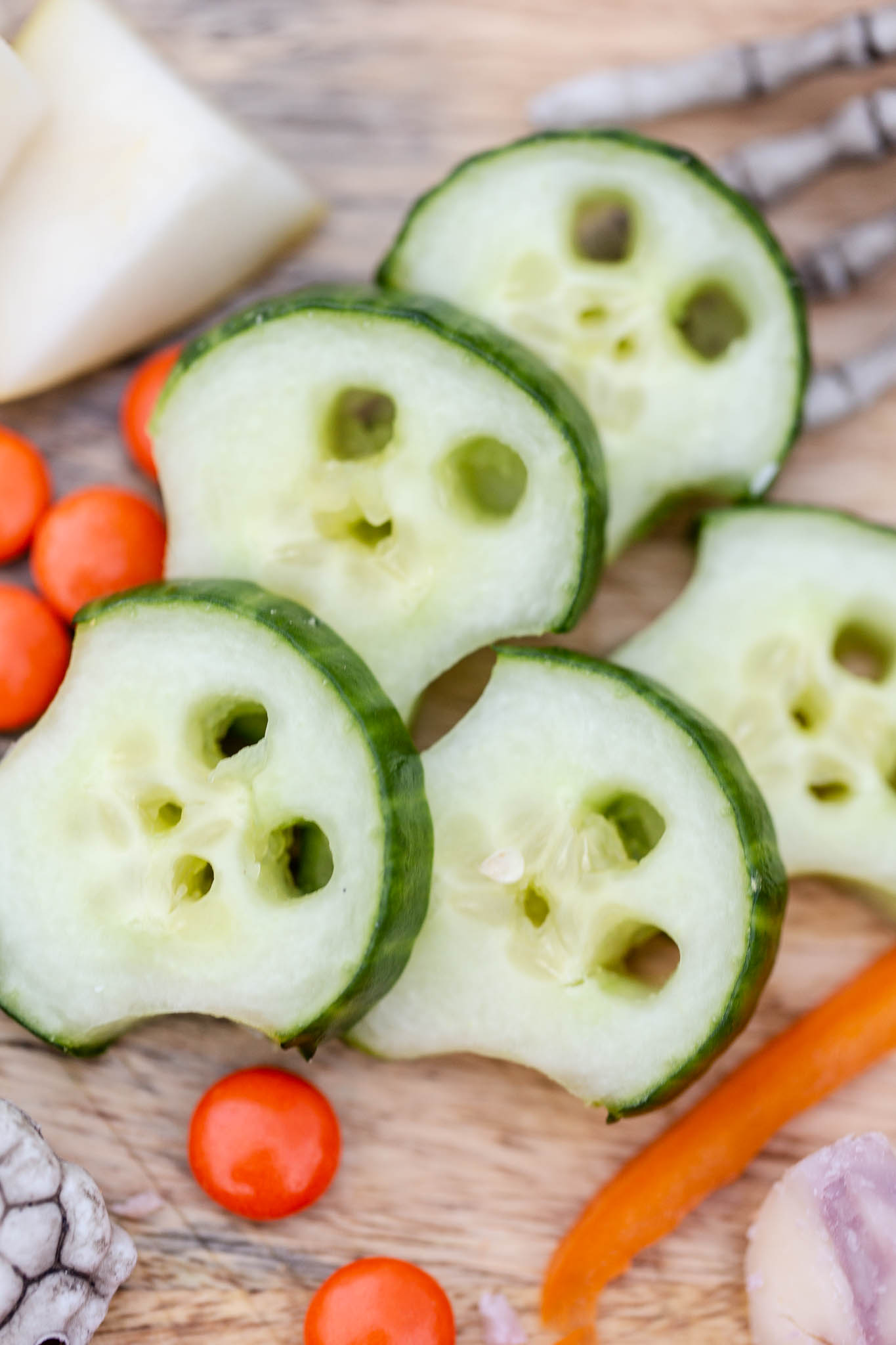 Cheese Spiders
Mix together grated cheese and a bit of nutritional yeast in a bowl. Roll bocconcini balls in the mixture. Stick in (dry) chow mein noodles for legs, and use black Sparkle Gel for the eyes. Place on a piece of rice cake or cracker. Inspired by this original recipe.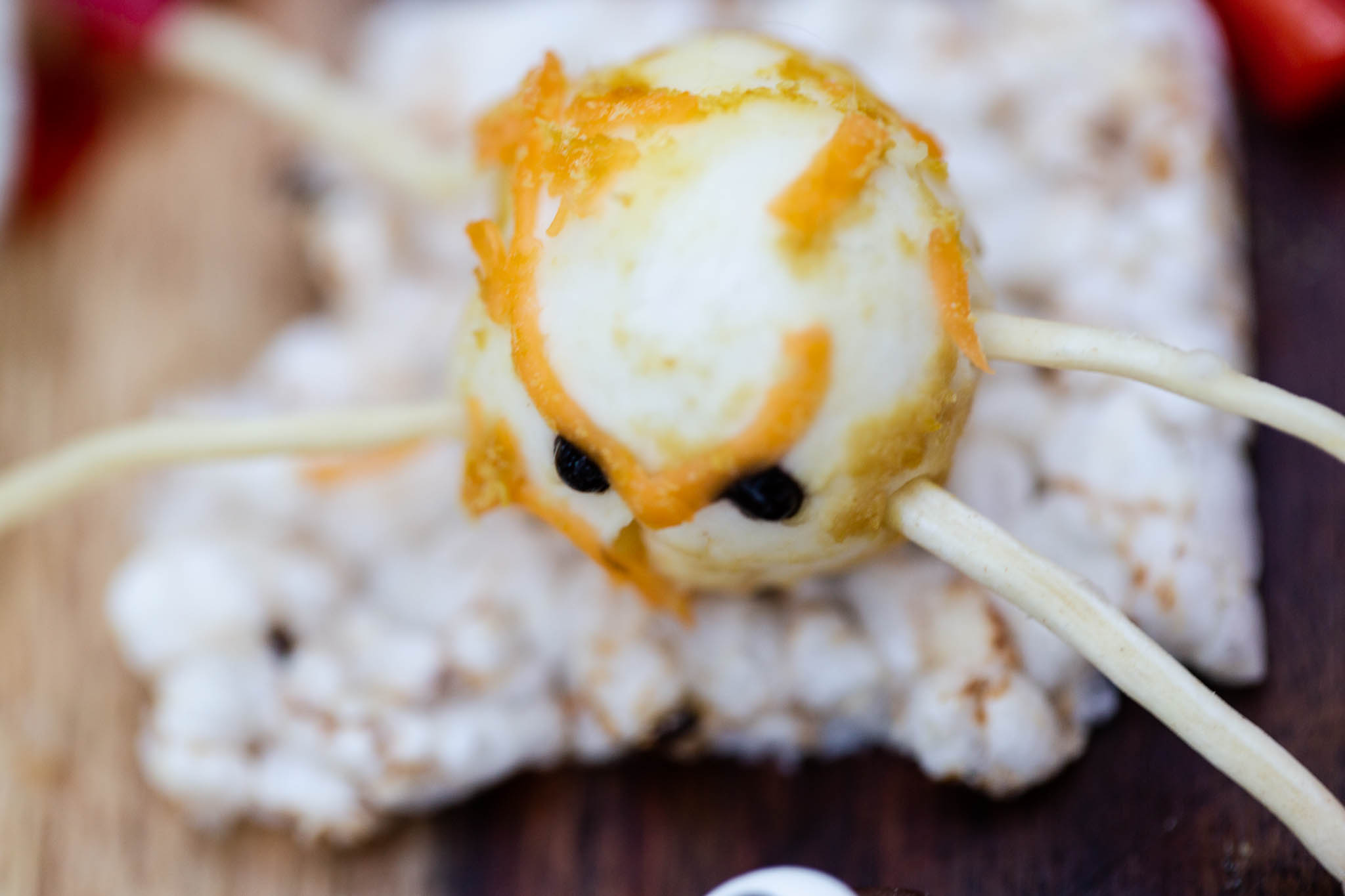 Mandarin Orange Pumpkins
You can simply pop a piece of celery into a peeled mandarin orange, but if you're doing this charcuterie-style, break off a grouping of four to five slices and lay them flat on your board. Place square crackers underneath to resemble a haystack.
Cheese String Fingers
Take a mozzarella cheese string and break it in half. Use a paring knife to make a nail bed for your chopped red pepper. After that, take a serrated knife to make knuckle marks, and add some ketchup on the ends for blood (skip this step if it's too scary for the kiddos). You could also use sliced almonds for fingernails instead. This is a great tutorial.
Witches Broomsticks
This one also came from Foodbites, although I used cheddar cheese instead. Cut off a small block, slice three cuts in the bottom, and stick a pretzel stick in the top. Use edible adhesive to tack on candy eyes and black Sparkle Gel for the smile.
Banana Ghosts
Cut a banana in half and use edible adhesive to tack on chocolate chip eyes. Finish off with Sparkly Gel brows and mouth. Make sure to put this out no more than 20 minutes beforehand to avoid the bananas turning brown!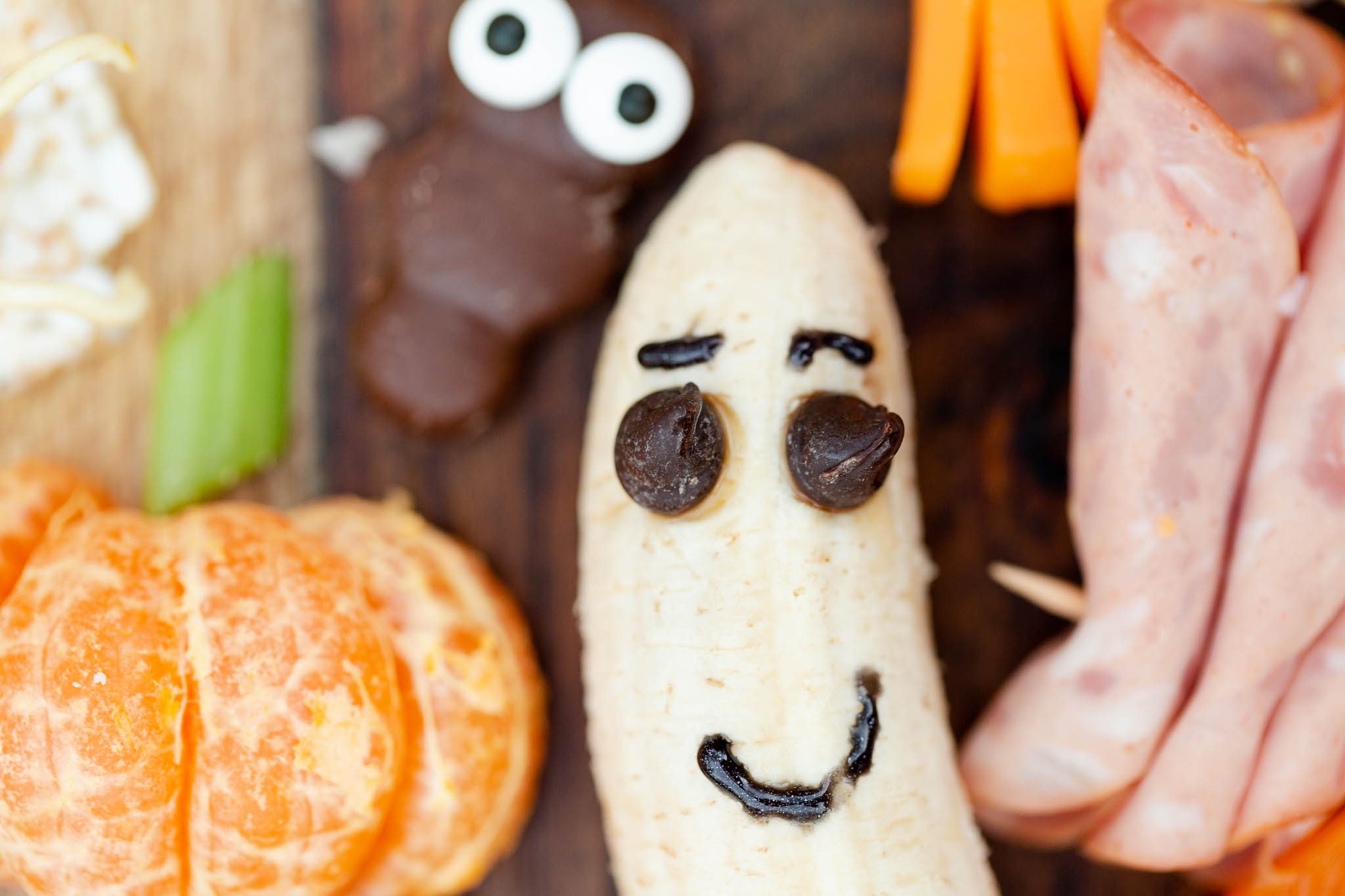 photos: Dallas Curow
I would love to see your finished product! Be sure to tag me on Facebook, Twitter, and Instagram.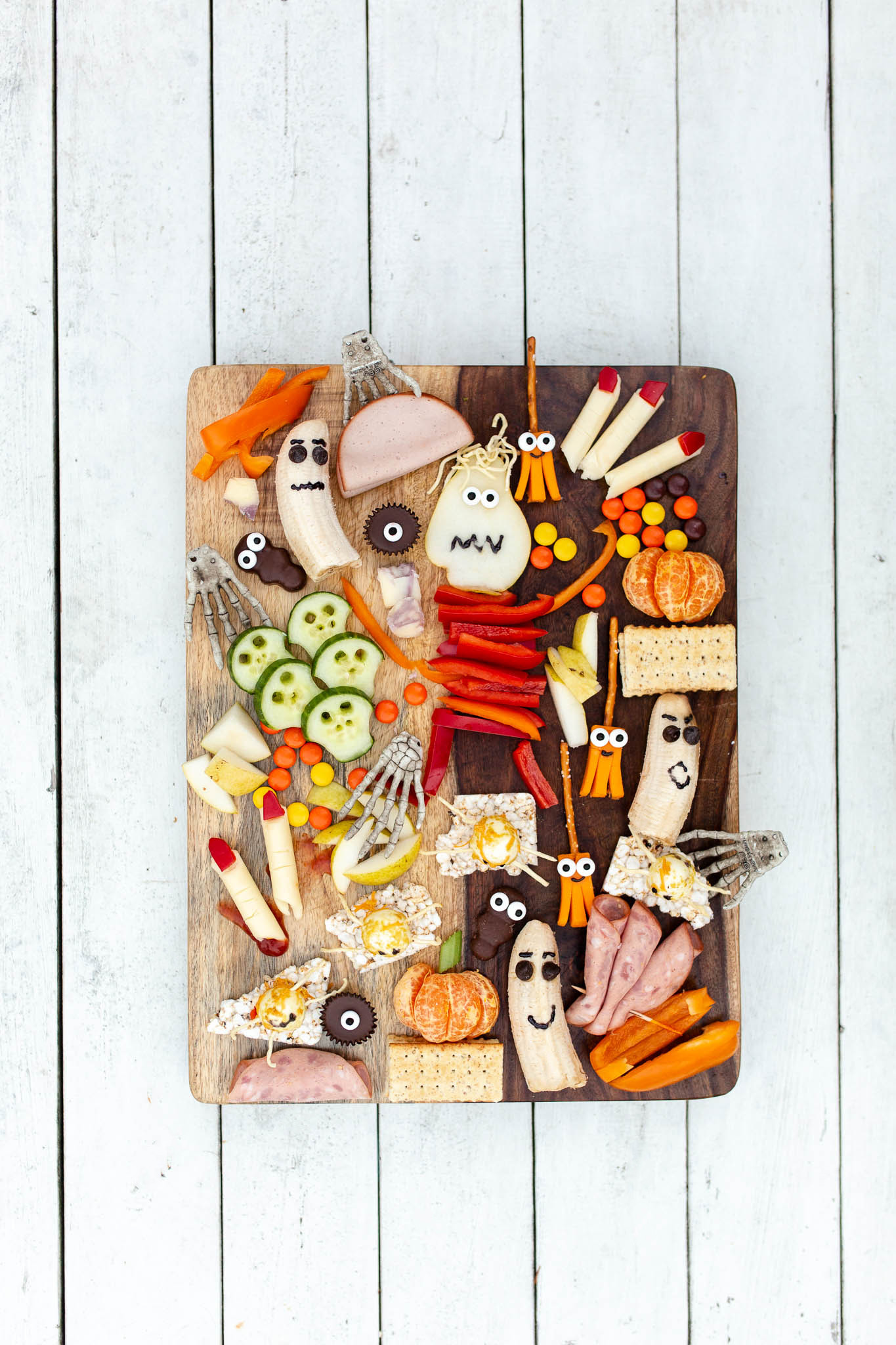 Pin this to your Halloween Snacks board and follow me on Pinterest! When you try the recipe, share your photos with me on Pinterest here!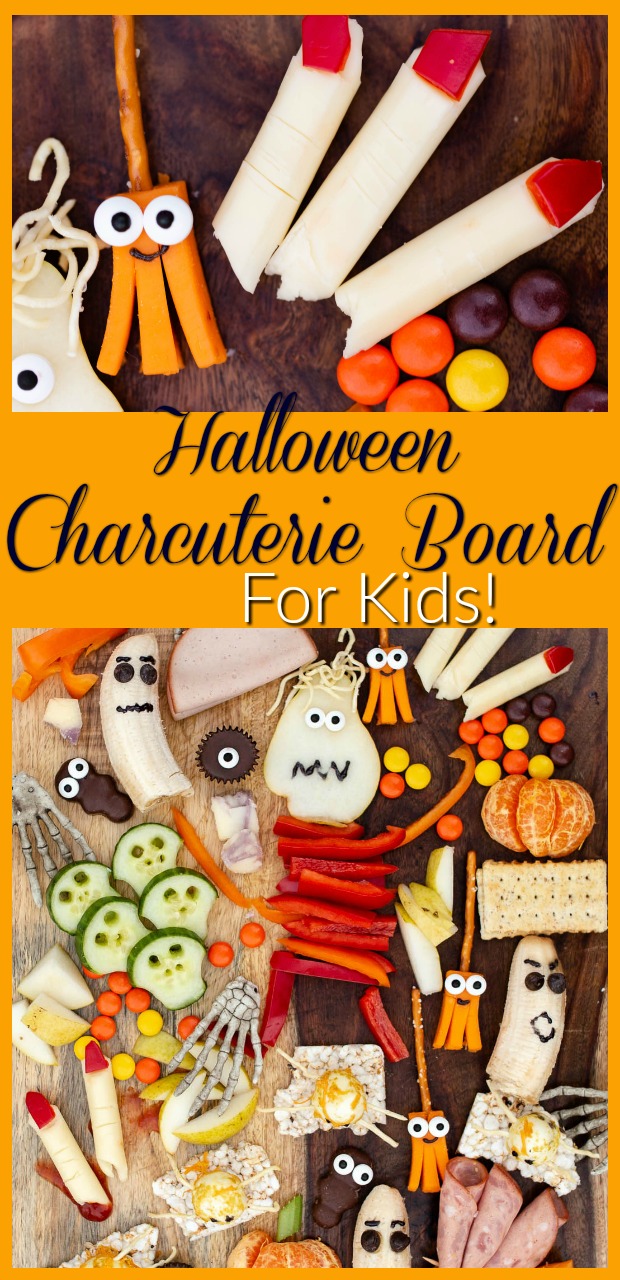 Other Posts You'll Love:
Our Toy Story Halloween Costumes
Spooky Chic Halloween Coffee Cart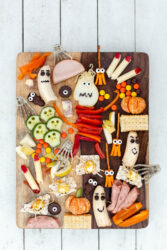 Kids Halloween Charcuterie Board
A gathering of adorable Halloween-themed food art! Make this Halloween Charcuterie board for your kid's playdate, school party, or pick a few to make individually the days leading up to the 31st! 
Ingredients
2

Banana Ghosts

5

Cucumber Skeletons

5

Cheesestring Severed Fingers

2

Manadrin Orange Pumpkins

4

Cheese Spiders

1

Pear & Pepper Skeleton

3

Witches Broomsticks

meat, veggie, and candy filler
Made this recipe?
Please give it a rating in the comments below and tag us when you share the photos on social! We would love to see! @KariSkelton on Instagram or Facebook!
xx