I'm so excited to finally reveal our new outdoor oasis! We've been enjoying it for several weeks now,
and it's been really nice to have an additional "chill" area. It's really created SO much more living space!
Earlier this year I decided I was going to revamp the back deck as a gift to Ryan (let's be honest – a gift to me, too). Before the redesign, we had been somewhat using the space right outside our back door, but not to its full potential. It was fine, but I knew we could really turn it into something special. We had a lounge chair in one corner, and an old Ikea table and chairs where we would occasionally dine during the summer months, but it wasn't really somewhere we spent a ton of time together.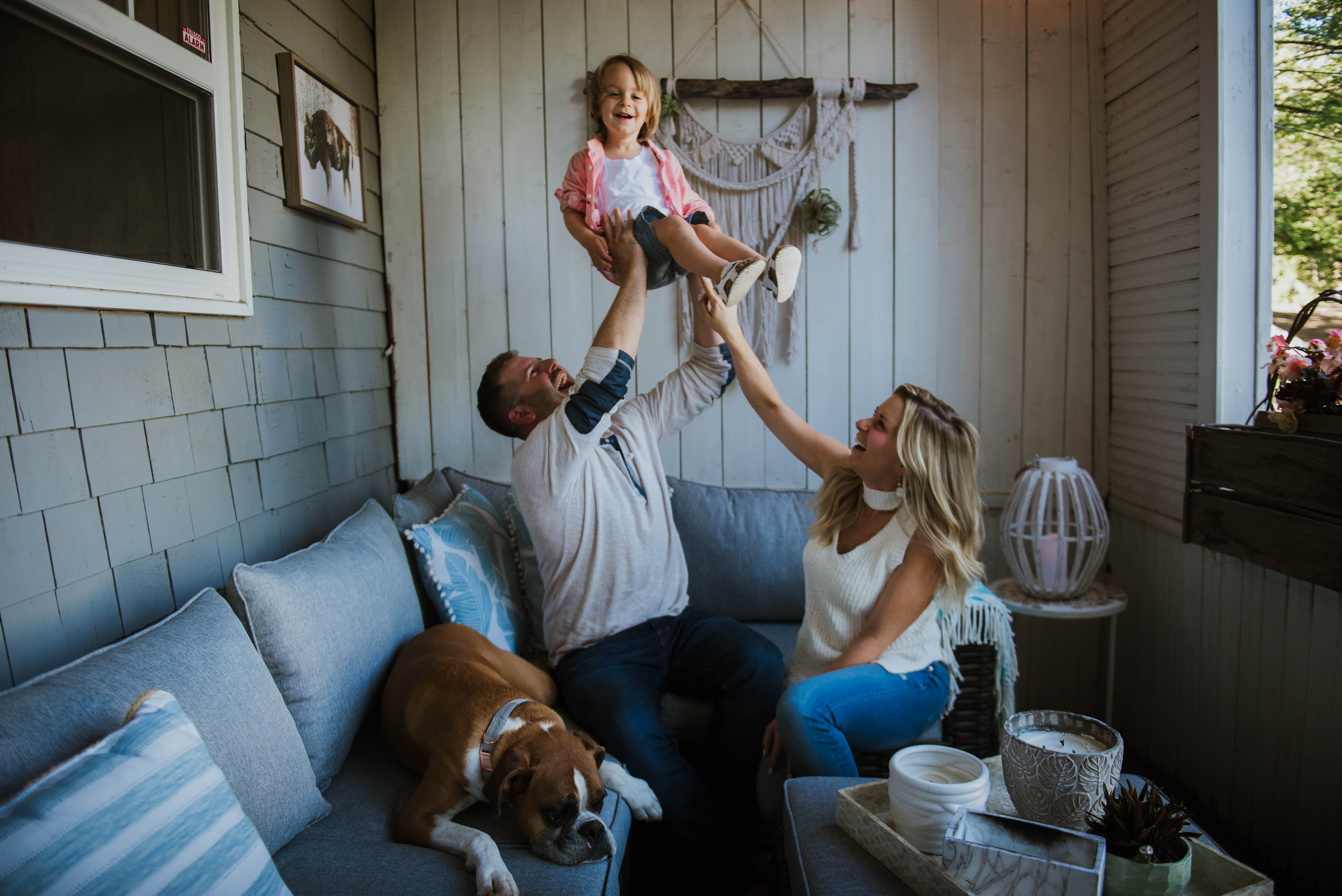 I did months of planning and research and then sent Ryan out for a day of golf so I could move everything in for the surprise. My two girlfriends Kyla and Kerry were generous enough to spend their Friday afternoon and evening helping me pick up furniture, then setting everything up (I provided the wine). We washed, cleaned, painted, hammered, and lifted the day away. Without further ado, I present to you our new outdoor oasis!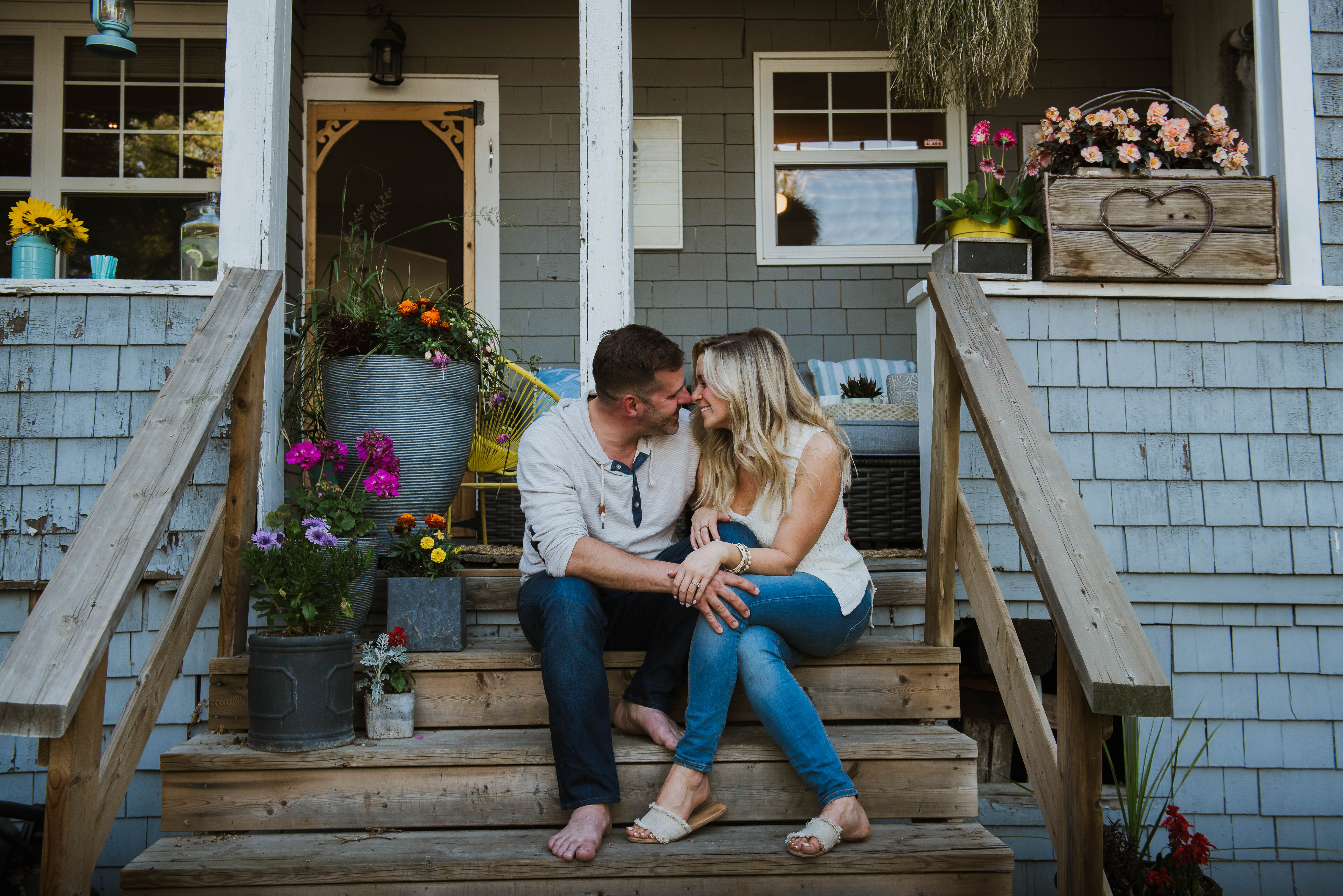 Home History
Our home was built in 1913, and we've decorated the inside (check out my Dream Closet here, with more room reveals to come over the next few months) to be a mix of vintage and modern. I wanted this new outdoor oasis to have a boho-chic vibe, surrounded by flowers and plants, with lots of room to lounge and sip coffee while Wyatt plays. It was also important to add space for Ryan and me to sit in the evening and chat over wine. I searched everywhere for the perfect sectional, and finally found it at Home Outfitters. It's the GlucksteinHome Newport 6-piece Conversation Patio Set. What I love about this piece is, each section is separate so you can really move things around and make it work for any space.
The Sectional
I looked at SO MANY different sets but this one was by far the best quality. We're able to store extra candles and a few snuggly blankets in the table, which opens and doubles as storage. When I purchased this set, it was on sale for $1499. A week later, it dropped to $1099. I received $400 back via Home Outfitters promise if what you buy drops in price within 14 days from your purchase date, you get your money back! The set came with different toss cushions, but I swapped them out for these pretty ones from HomeSense at $20 each.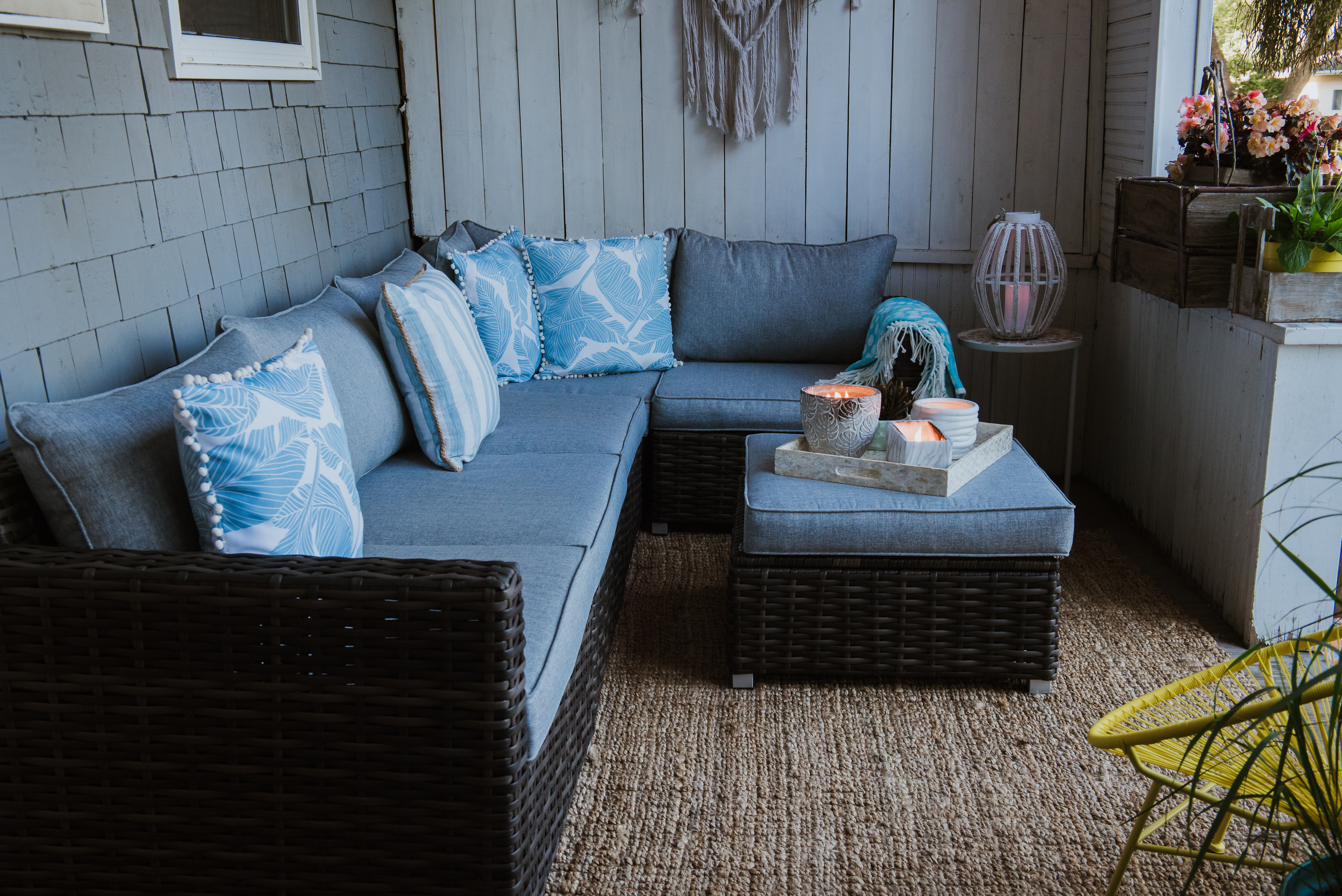 Macrame Art
Our whiteboard wall was calling for a stunning piece of art, and I was excited to hire my dear friend and macrame artist Kyla Lindholm of Wren Works to create something special. I really wanted the space to be filled with flowers and plants, and Kyla suggested adding air plants to the piece. I absolutely love how it turned out! Kyla's based in Edmonton, but her pieces are available for shipping for those of you who live out of town. Contact her here.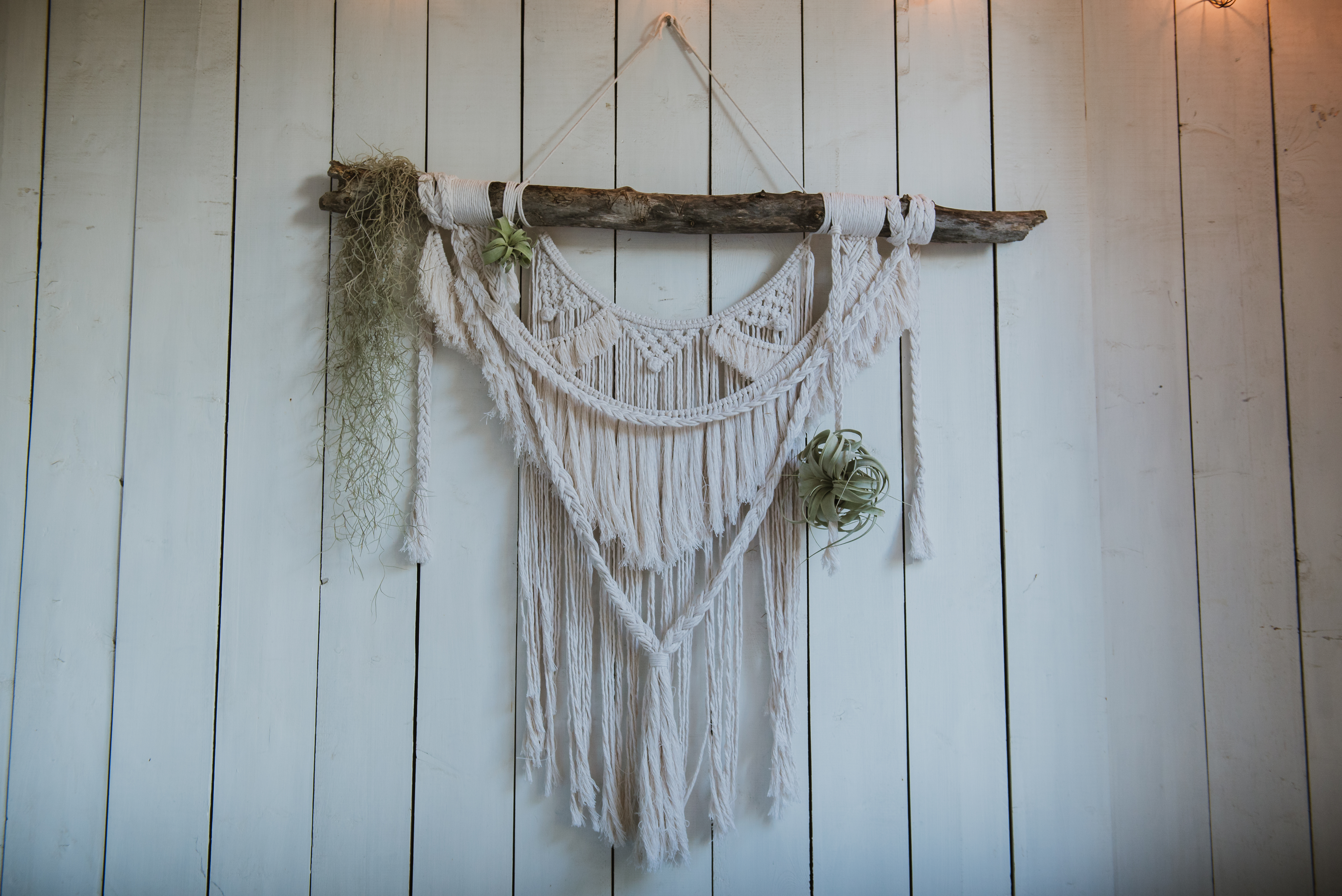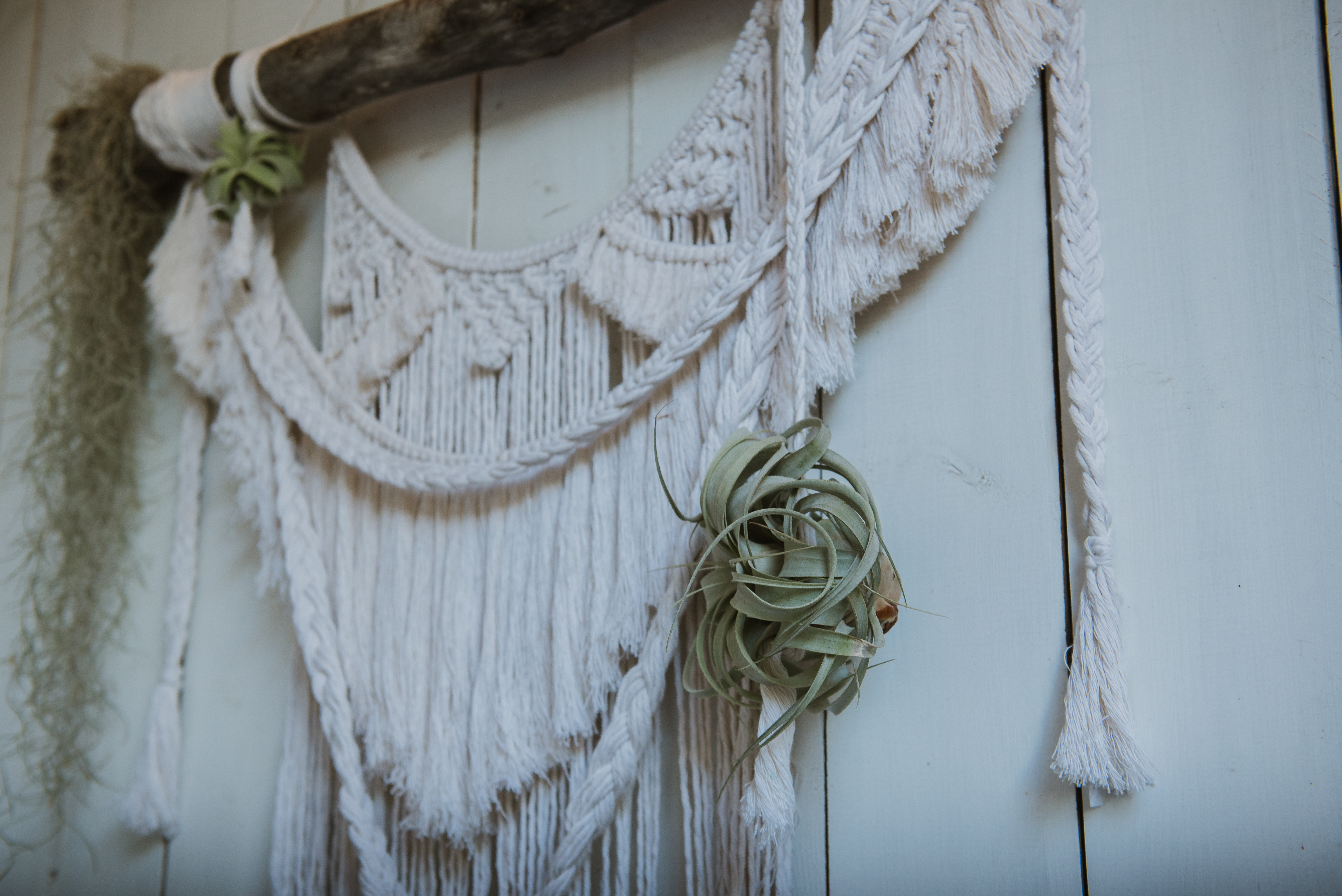 Outdoor Rug + Bar Cart
I really struggled to find an outdoor rug I liked. I scored this one for $80 in the indoor rug section of HomeSense, but it's definitely durable enough for outdoor use. Plus, I can run the vacuum over it, which is really convenient for cleanups. The bar cart was purchased 10 years ago from Home Outfitters, but I decided to give it a freshen-up, so I spray-painted it white. All of the candles, lanterns, string lights, side table, and tray are from HomeSense.
Custom Door Mat
We try to seize any opportunity to bring in local artists. For this project, I hired Creative Press Designs out of Beaumont for a custom doormat. They can pretty much make anything, and I was thrilled with how quickly my order arrived. The mat was much bigger than I thought it would be (3×2), which proved to be perfect for the intended spot on our deck.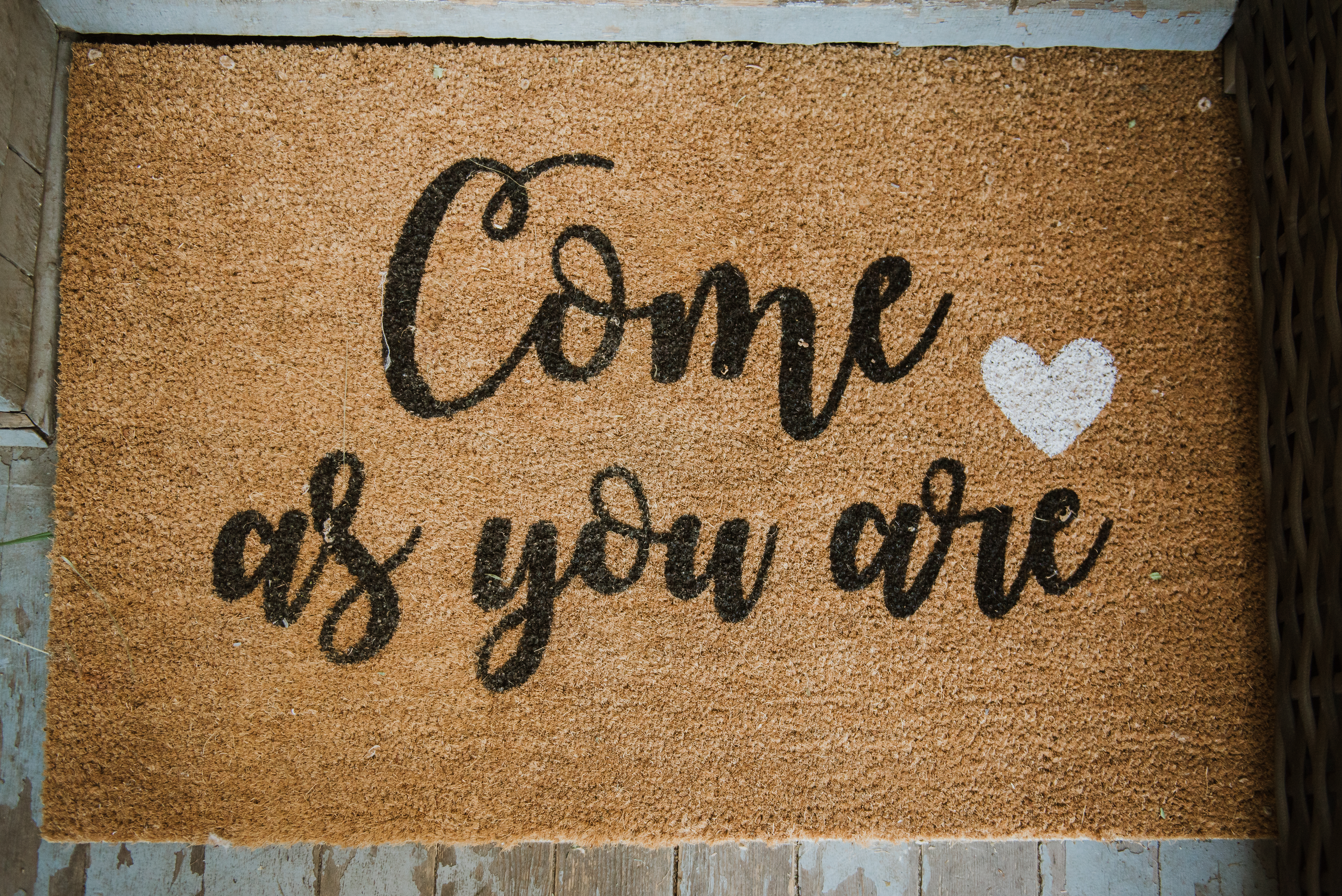 The Flowers
We went with fuchsias for our hanging baskets, but I decided to paint the actual black plastic baskets white (to work with the rest of the space). I originally spray-painted them, but it didn't turn out well, so I used antique white craft paint which made it way easier to avoid spraying any of the flowers. I know it won't last forever, but neither will the baskets, so it works! A few weeks in and several downpours, and the baskets still look great!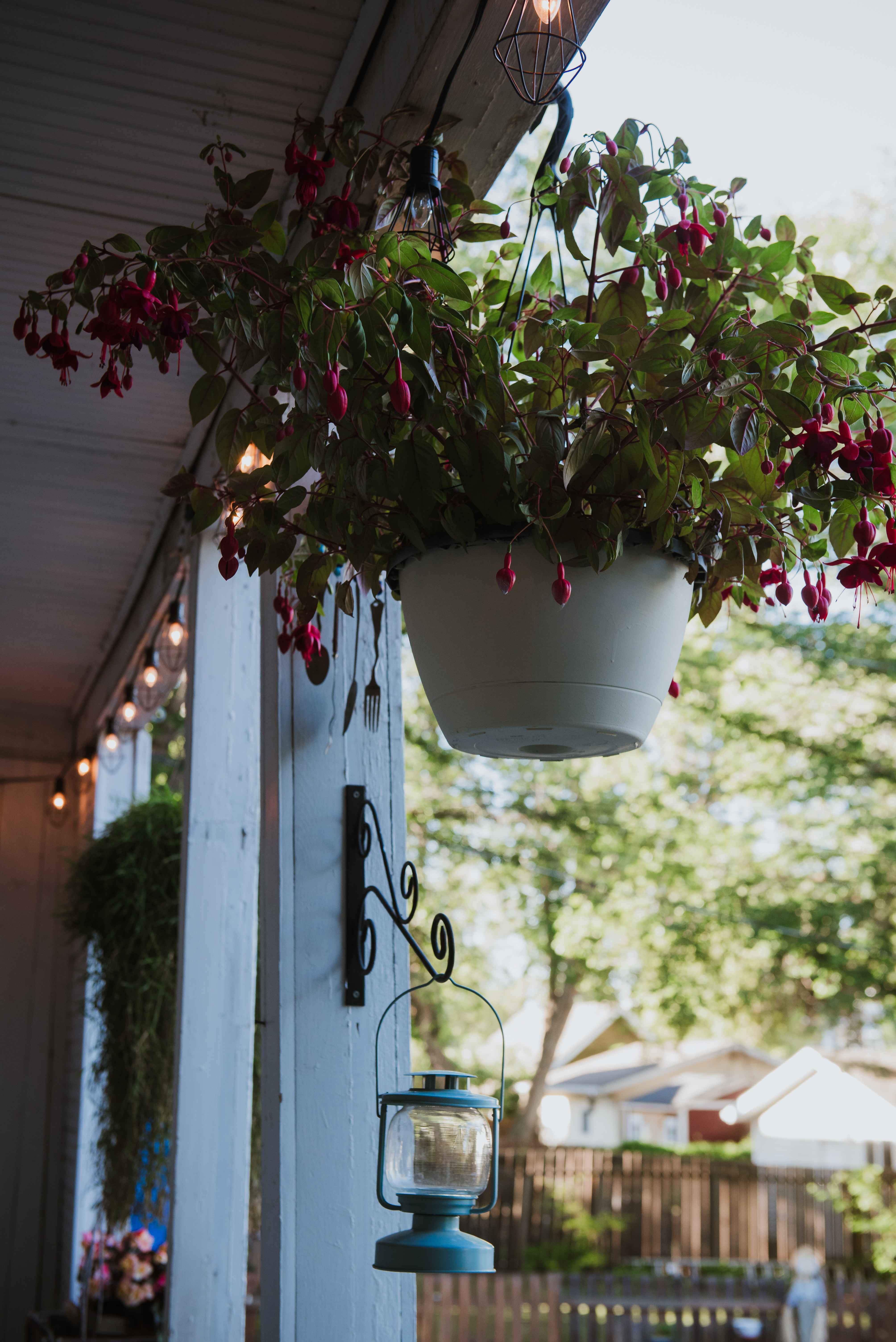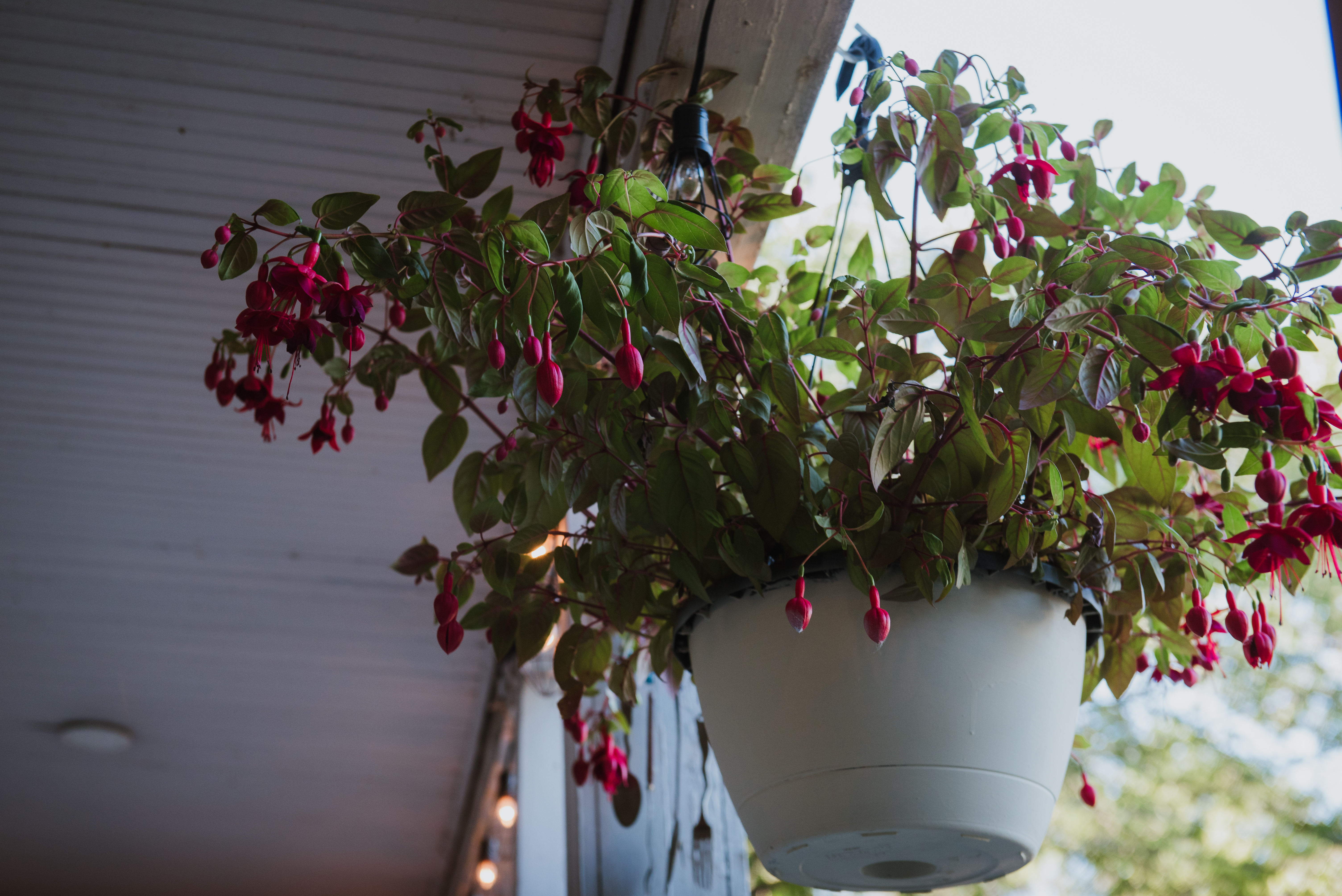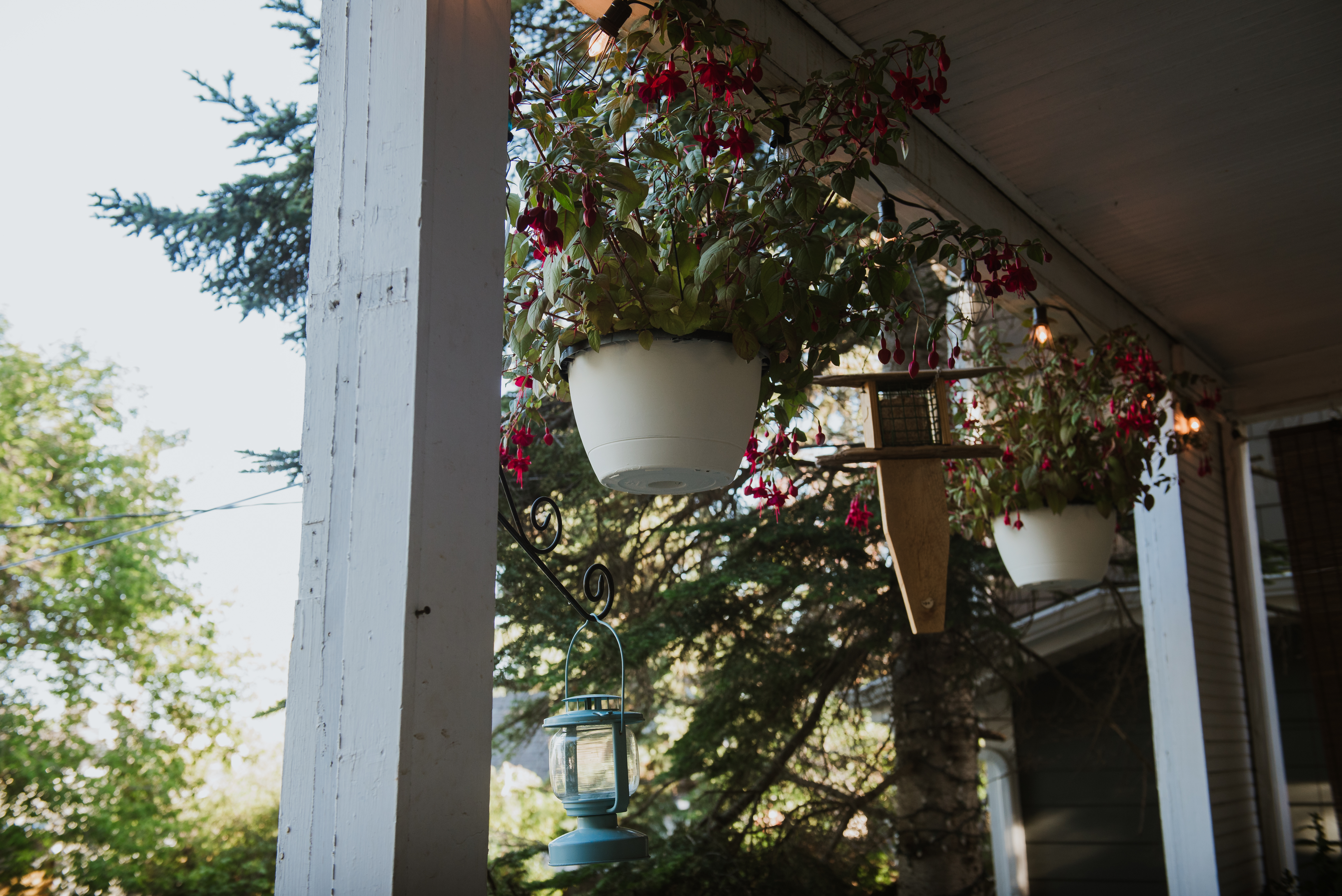 Vintage Piece
Last year, we were moving this dresser (that originally belonged to Ryan's grandparents) out of the basement and into the garage to list for sale. It sat on the deck for a few days until we decided we loved it there, and figured it could actually serve as a functional piece in our new outdoor oasis. It stores all of Moses' stuff (poo bags, toys, towels, etc.), along with sidewalk chalk, bubbles, garden gloves, herb scissors… that sort of thing. The artwork above the dresser and the two above the sectional on the other side of the deck are from Home Outfitters and HomeSense.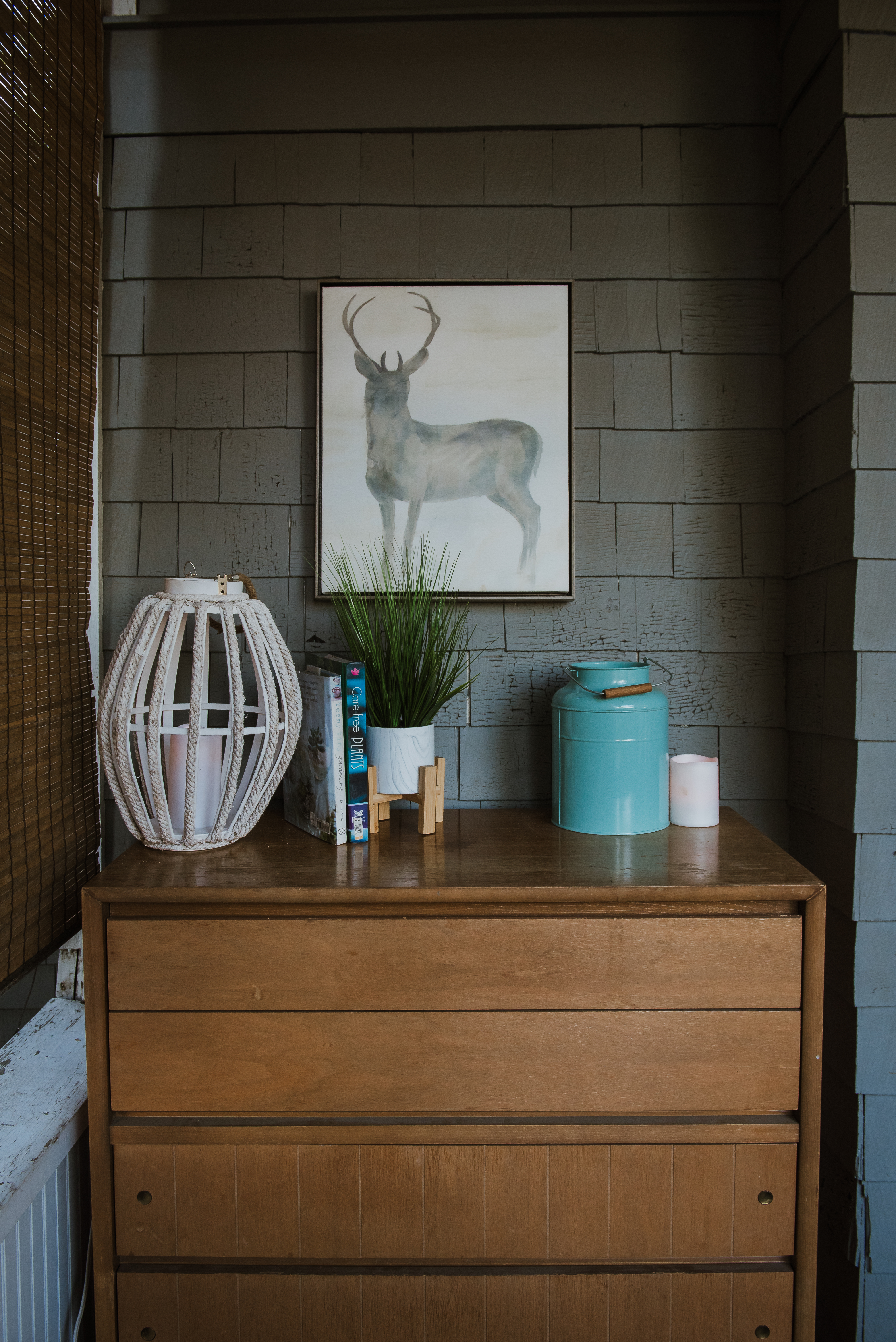 The Extras
To clean things up, we re-screened the patio door (I bought a roll from Home Depot). I was going to go with a bistro set to fill the other side of the deck, but ultimately decided against it. I knew we were never really going to sit there anyway, so why waste money? Other than the storage dresser, that space is open for Wyatt's use. It's basically an outdoor playroom! Birds are chirping, the sun is shining, and he plays toys while I sip coffee nearly every summer morning. It's become a beautiful way to start our day.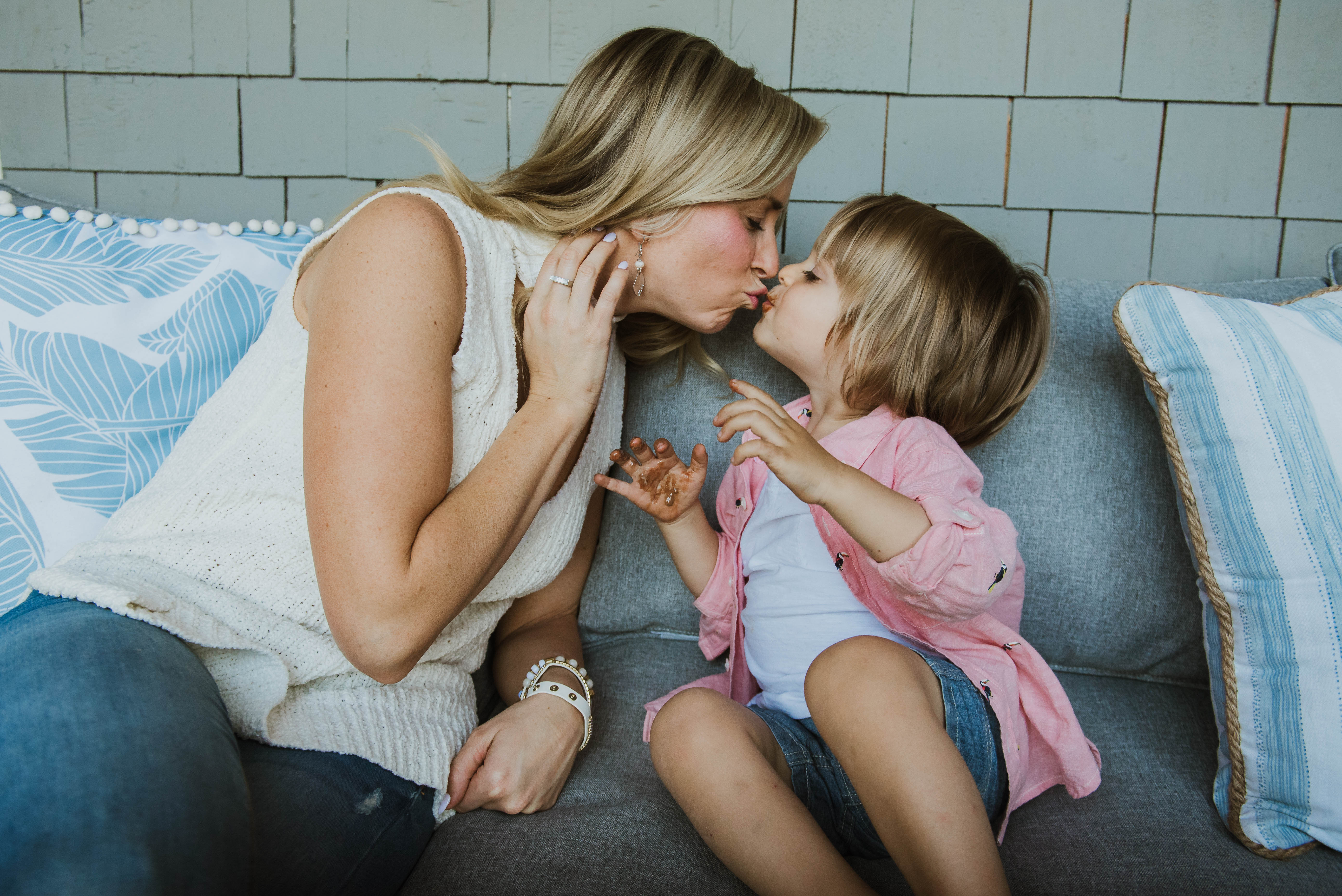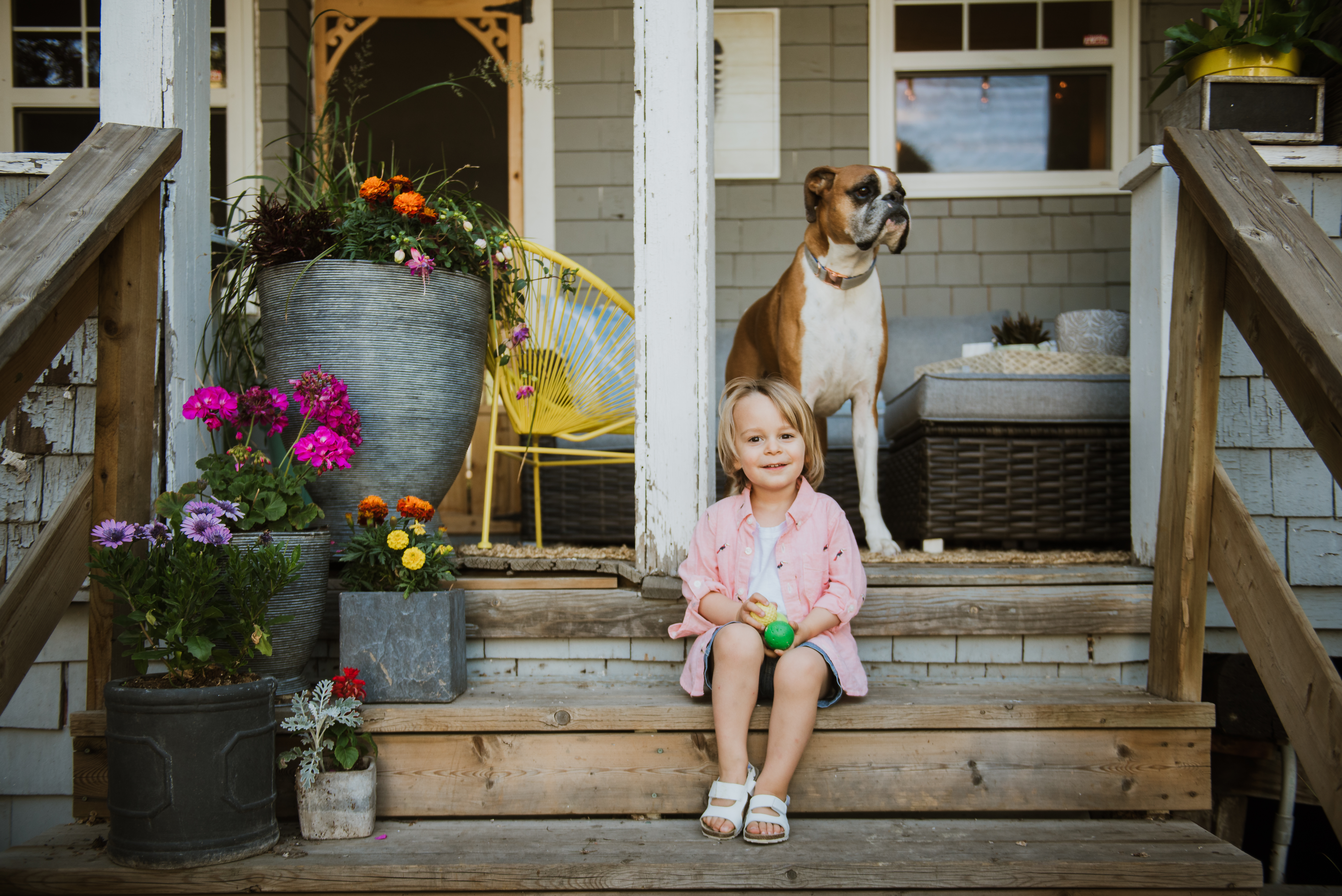 Source List:
Photographed by: Blake Loates
Six-Piece Sectional: Home Outfitters
Macrame Hanging Piece: Kyla Lindholm, Wren Works
'Come As You Are' Door Mat: Creative Press Designs
Wall Art: HomeSense + Home Outfitters
Bar Cart: Home Outfitters
Blue Planters: Superstore
Yellow Kid's Chair: HomeSense
Glass Drink Dispenser: Home Outfitters
Don't forget to 'Pin' this to your New Outdoor Oasis and Outdoor Living boards. Follow me on Pinterest here!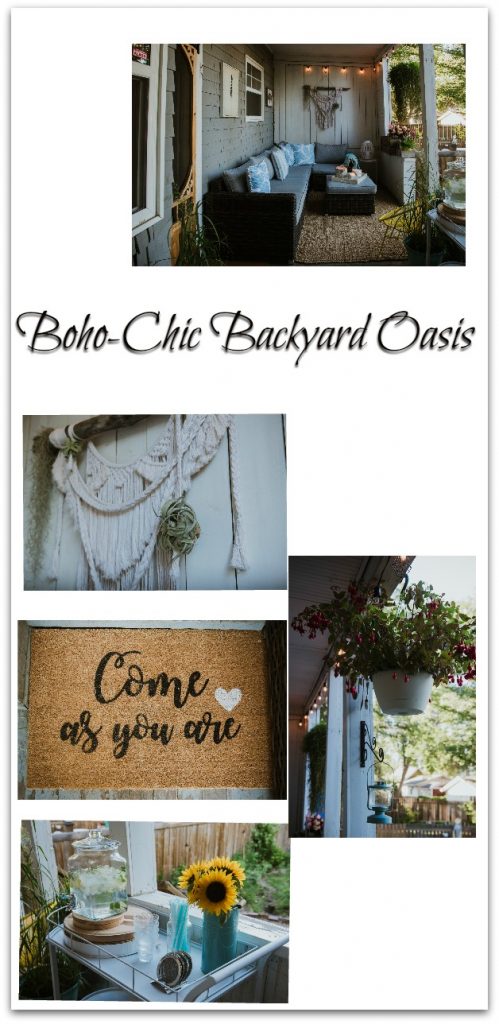 If you have any questions about the items I bought or the design, please message me here!
Other Posts You'll Like:
Make a Hanging Nightstand for Under $20!
Closet Detox: Create a Wardrobe and Space You'll Love
xx