All the photos, the details, and the drama that came with this year's family Halloween costume reveal!
I've also included some quick DIY's for all our costumes!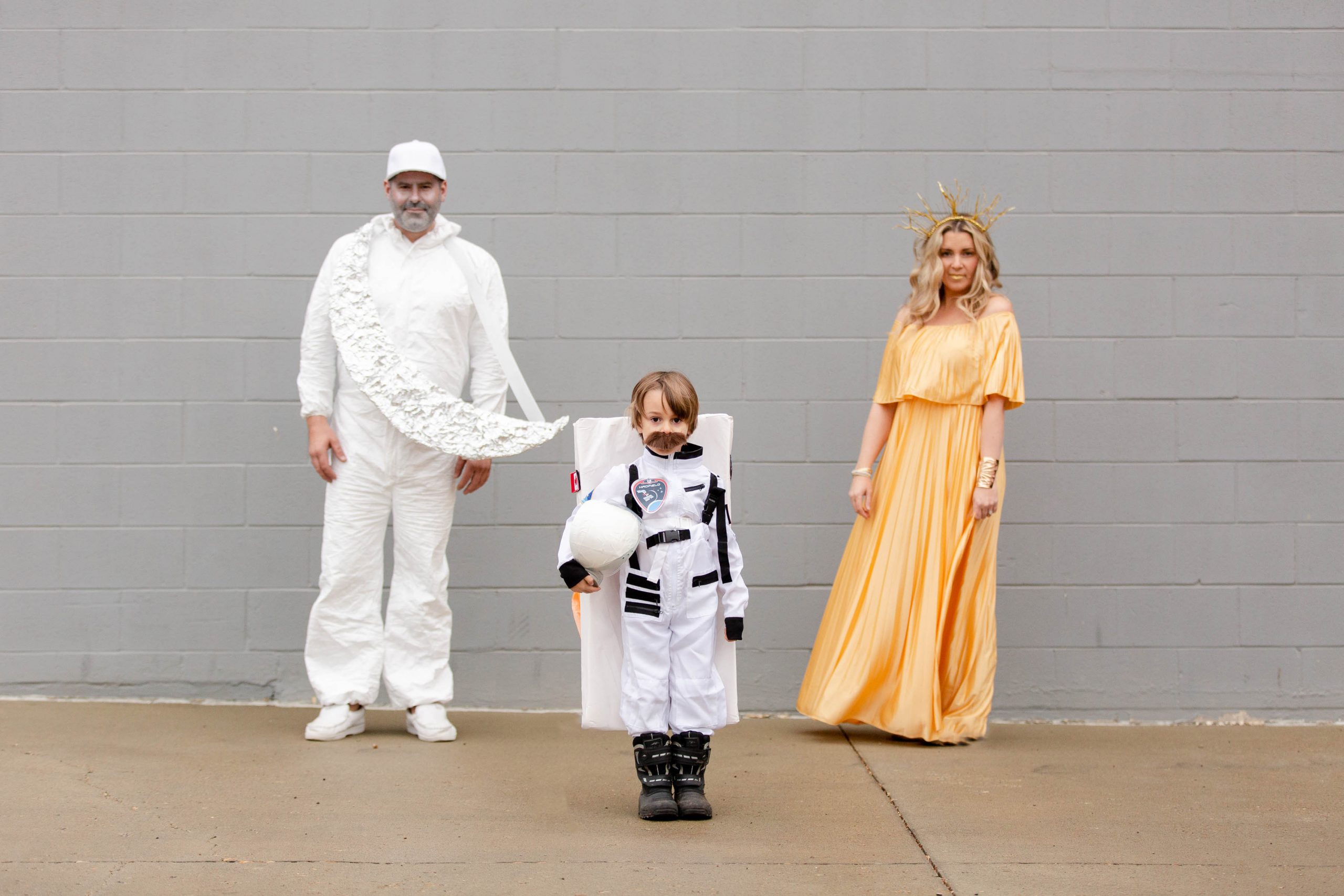 Happy Halloween, friends! I'm SO looking forward to scrolling my feeds today, seeing all of your amazing costumes. If you've been following me for a while, you know how obsessed I am with Halloween and the family costume reveal! We basically decide our costumes a year in advance, but somehow I'm always pulling it together at the last minute. I find the pressure of it all forces us to be even more creative.
As far as the rest of it goes, (in case you missed it), here are a few other ways we've had fun embracing the season:
Let's get to it! Here's our 2020 Family Halloween Costume Reveal!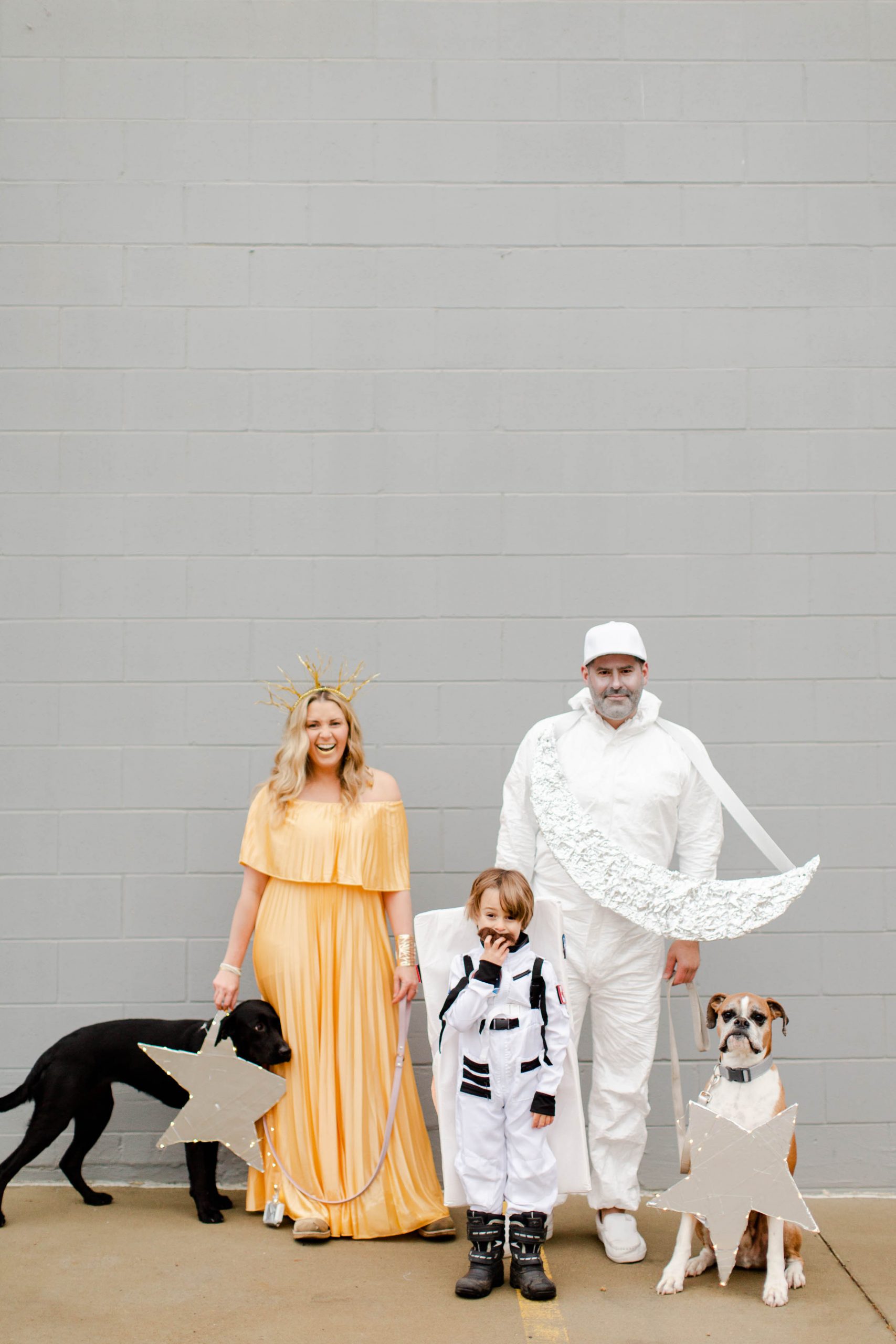 Chris Hadfield, The Sun, The Moon, and The Stars
We like to plan our outfits around whatever Wyatt wants to dress up as. This year, he was very specific – he wanted not only to be an astronaut, but Canada's very own International Space Station Commander, Chris Hadfield. He's very much into space (remember his Space Room Reveal?)!
Our entire universe revolves around Wyatt, so naturally, we're the sun and the moon, and the dogs are the stars! The costumes were finally ready yesterday afternoon, and we snapped the photos about 18 hours ago. Most of the photoshoot was smooth sailing…until we got the dogs involved. Then, it was a bit of a gong show! I DIY'd their costumes, but didn't even think that the stars would make it difficult for them to walk. We essentially had to get our pups into place, and then put the costumes on. Moses was easy and well-behaved. Monroe was all over the map! In fact, she ripped through her star and we had to do an emergency DIY on the fly.
Wyatt as Commander Chris Hadfield
We like to be as authentic as possible with our costumes. It was easy to find an astronaut suit, but not a specific Canadian one. So, I ordered a couple of Canada patches and hot glued them on. Wyatt's space helmet is his Buzz Lightyear helmet from last year's costumes with strips of white duct tape stuck on.
For Commander Hadfield's big white pack (technically called the Primary Life Support Subsystem), we used the base of Wyatt's old change pad from when he was a baby! If you're looking to recreate this costume, you can pick these up for around $20. You can also just use a backpack and cover it with a white sheet. I hot glued on a couple more patches to the subsystem, and added his jet pack which is made from two 2L pop bottles covered in shiny duct tape. For the fire, I used yellow and orange ombre tissue paper.
To finish the look, Wyatt wore his black winter boots and a moustache from the 'Cowboy' section at the costume shop that I just trimmed down a bit.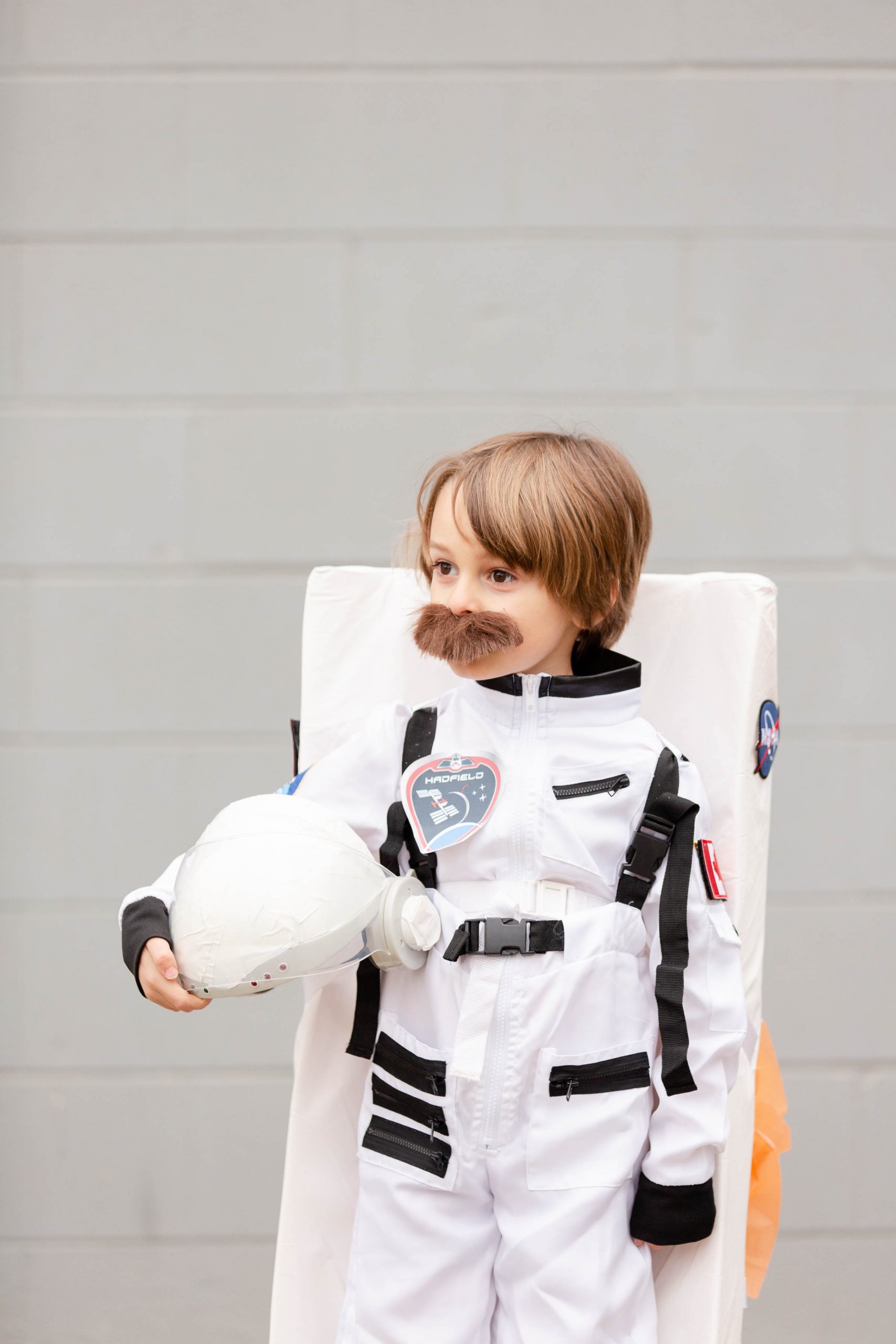 We all know Commander Hadfield's love for music. How cool is it that he recorded several albums while in space?! This one is our fave!
Me As The Sun
I've secretly wanted to dress up as The Sun for years, so when Wyatt announced his costume, I knew this was my time! I found this yellow swing dress from Amazon (which comes in a whole bunch of other colours), and I will absolutely wear it again! It's a tad see-through, but if you have your shapewear or a slip, you're good to go. You can accessorize with some fun gold jewelry and a DIY'd sun crown.
I found this two-piece spiked floral crown at Spirit Halloween, and just removed the floral part. I then added on a strip of gold beads I found at Michaels. The wavy rays are actually from the Christmas decor section at Michaels (see, it pays to be last-minute!). I used three of the gold sticks and separated the pieces. Wrap a few pieces together with gold pipe cleaners and hot glue them to the crown.
I used sparkly gold and yellow costume makeup to complete my look.
Ryan As The Moon
Oh, the drama around Ryan's costume! My husband has been such a good sport over the years in appeasing me with the family Halloween Costume Reveal (thanks hun). We had originally planned for him to wear this mask, but as we crept closer to the big day we realized it wouldn't arrive in time.
So – Plan B! We discussed DIY options, and ultimately Ryan ran with it. I had to abandon my vision and trust he would pull through…and he did! He dressed in an all-white hazmat suit, white hat, painted silver face and a cardboard cutout moon covered in tin foil, attached with a sparkly elastic strip. He totally nailed it!
The Dogs As Stars
If I could do it again, the stars would be on our dogs' backs, not their chests. I was thinking 'photoshoot' and wanted to be able to clearly see the stars, but ultimately the dogs couldn't walk. At least we were able to snap a family pic!
You could use this DIY for humans or pets. All you do is cut out a star shape on foam core board and cover it in shiny duct tape. Hot glue on a twinkle light pack and duct tape the battery pack underneath the star (where you can't see it). Attach the star to elastic striping (pick this up at your local craft store) and voila!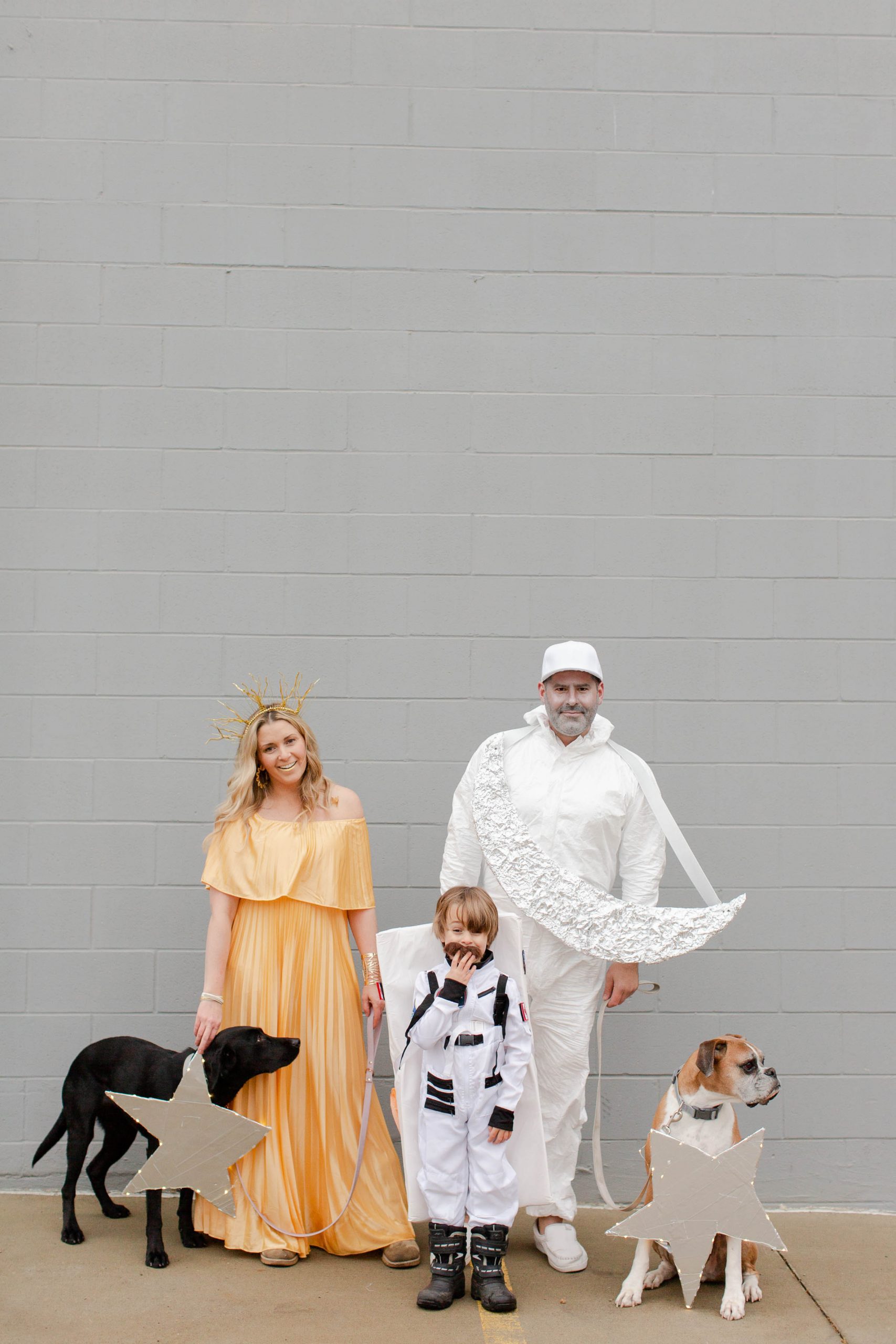 photos: Dallas Curow
I can't wait to scroll The Gram and see all of your costumes! Happy Halloween!
Love,
Commander Chris Hadfield, the sun, the moon, and the stars!
xx