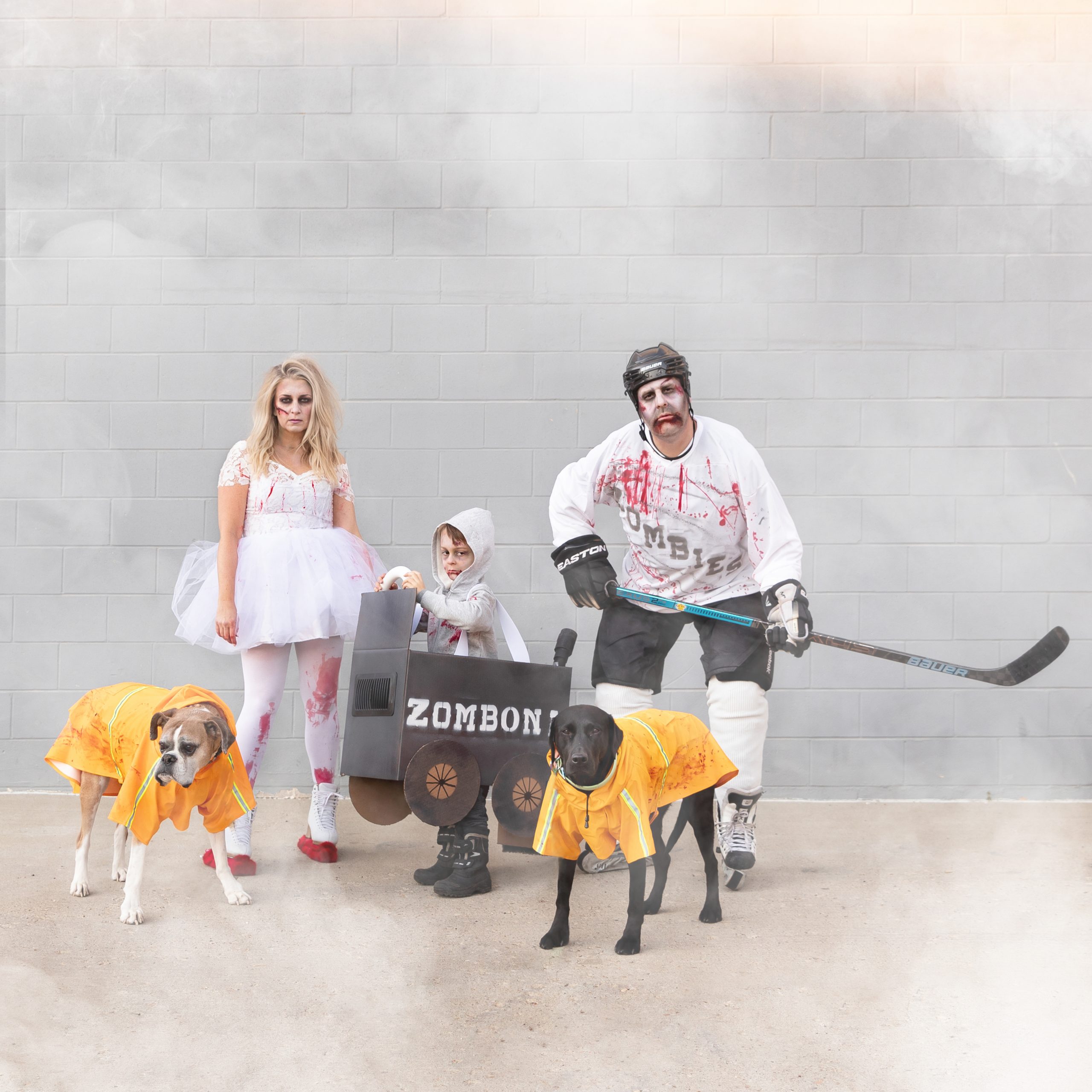 Happy Halloween!!! Cannot wait to see all your costumes on my feed today! As per usual, we were working right until the last minute to put the finishing touches on our costumes but it all came together!
Before we get to all the details, here are a few KariSkelton.com Halloween posts that you may find useful today:
Ok – here we go. Our 2021 Halloween Costume Reveal…
Zombies on Ice
This idea was born during a silly conversation between Wyatt and me while driving one day. For some reason, we were chatting about zambonis and Wyatt was sounding and spelling out the word in the back seat. He replaced the 'a' with an 'o' and said, "Mom! Zomboni!' We decided right there that would be an amazing Halloween costume – a zombie zamboni. We tend to build our costumes around Wyatt so the idea for Zombi Figure Skater, Zombi Hockey Player, and Zombi Pylons came next!
As soon as our costumes were decided I knew we needed makeup artist Nicola Gavins to help bring this to life… (or is it 'bring this to death')? You'll remember she did my Kari Skeleton makeup a few years ago. Go check that out here.
The Zomboni
Nicola nailed the Zombie makeup for all three of us! Wyatt kept asking her to make it 'more scary'. 🙂
For the Zomboni costume I started with a Home Depot box and spray painted it dark grey and then spray painted white ZOMBONI letters on the side using stencils from Michaels. For the air ventilation, I used a black vent cover on the front and a piece of an old vacuum hose for the exhaust pipe coming out the top. Wyatt's steering wheel is a wreath ring from Michaels and the zamboni towel at the back is made from black eavestrough foam. We covered a grey hoodie in fake blood and he was all set!
Zombi Pylons
If we only knew what Mo and Roe were thinking every year when we dress them up. LOL! It is just for the picture and then they're free to go. I was so thrilled to find these heavy-duty orange rain jackets online (they actually arrived a few hours before we snapped photos. – thank goodness!), Threw on some fake blood and there you have it – Zombie Pylons!
Zombie Figure Skater and Hockey Player
It's kind of fitting actually. I figure skated for 12 years and then my career died. Ha!
I wanted to go over-the-top with my skating dress so I used a Blushing Bride costume from Spirit Halloween and paired it with white tights and my skates. Fake blood capsules worked perfectly to drip over the lace of the costume.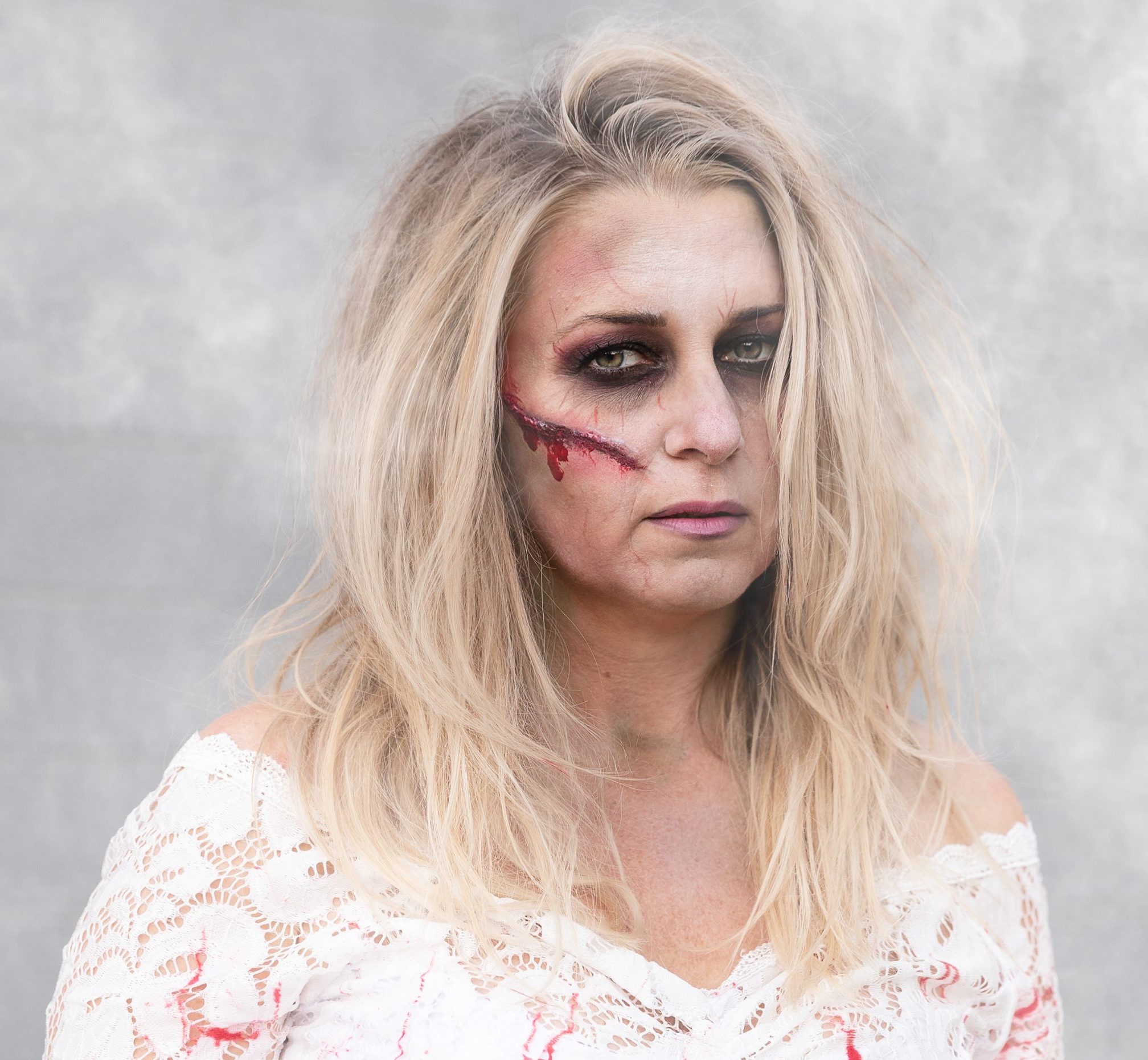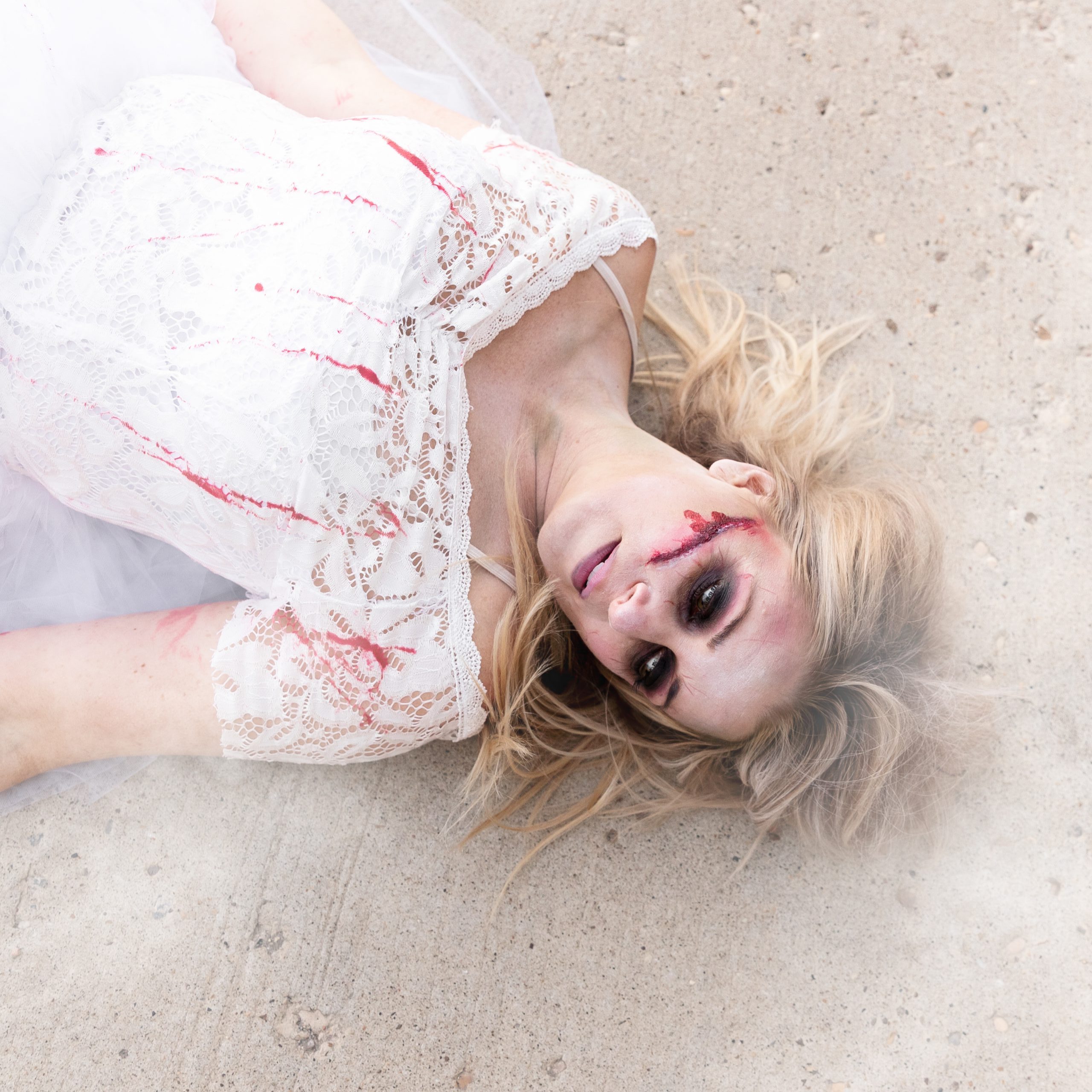 Ryan's Zombie Hockey Player was pretty simple to throw together. He used his hockey gear and we picked up a plain white hockey practice jersey from Canadian Tire and used fabric spray to personalize it. Fake blood capsules and spray for the finishing touch!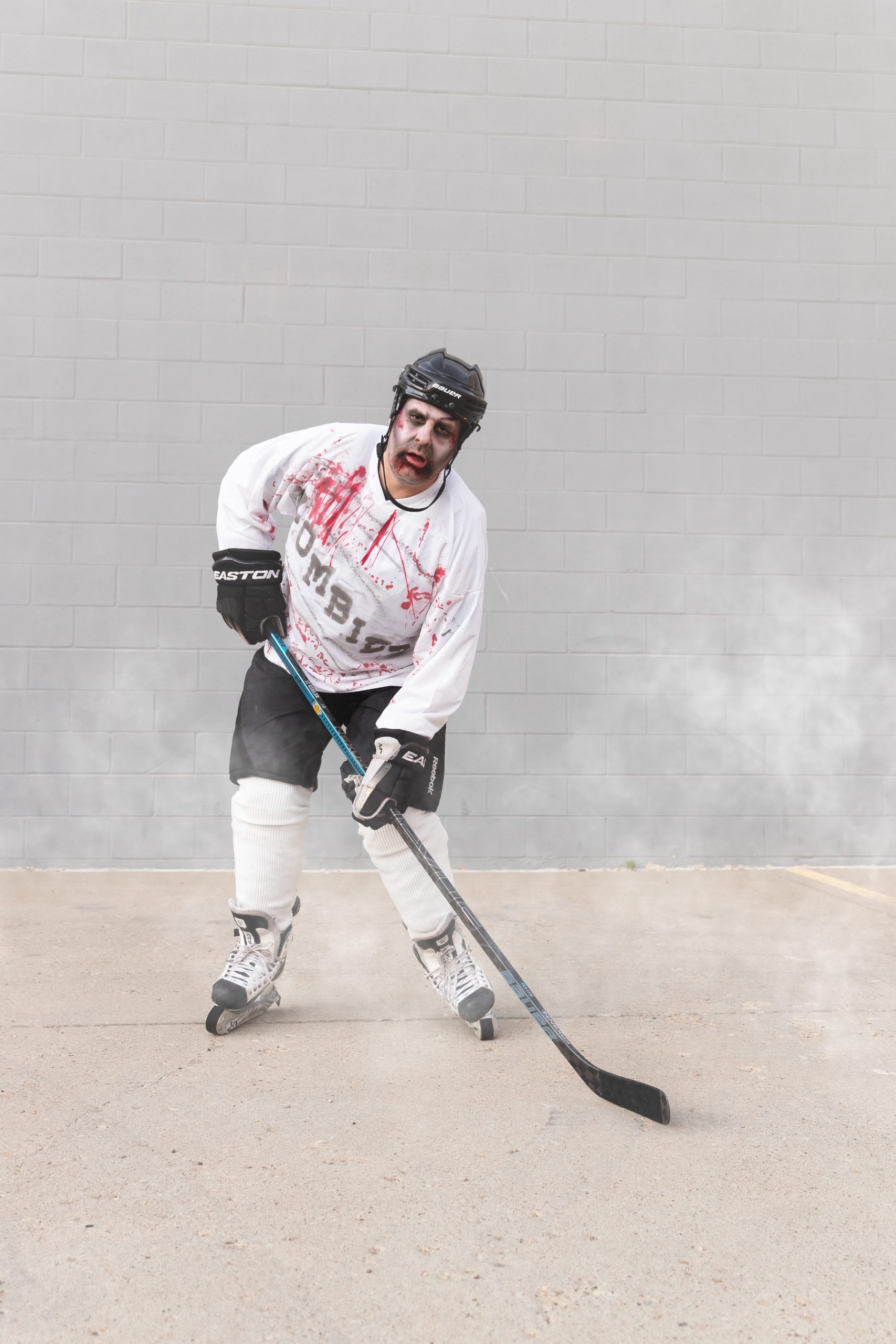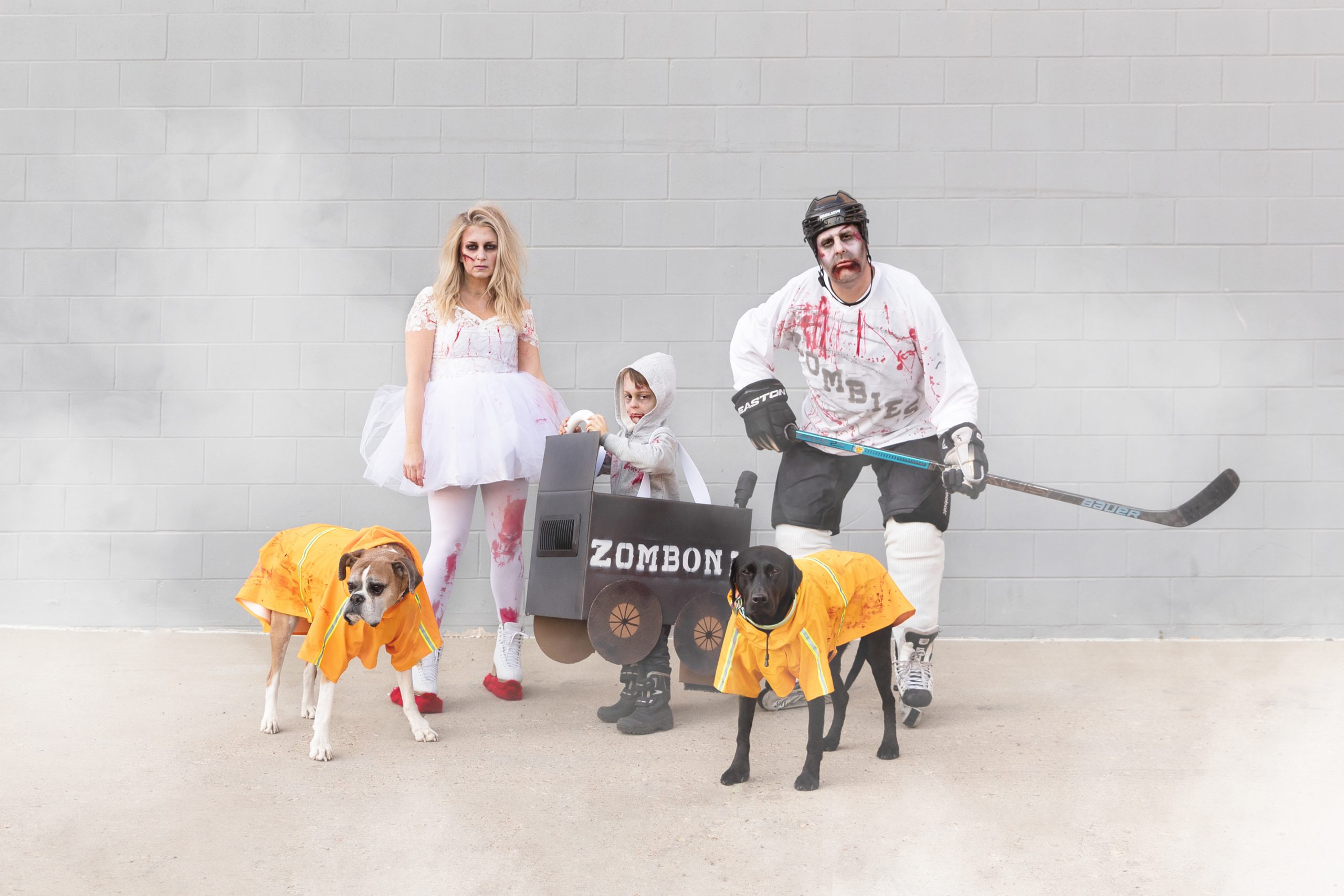 What do you think?!
Thank you to Teresa Bolinski for photographing our 2021 Halloween Costume Reveal!
Happy Halloween! I'll be sharing some videos of the makeup process and more behind the scenes over on my Instagram today. 
Love, Zombies on Ice
xx