All the details on our Toy Story Halloween costumes:
Woody and Buzz, alien dog costumes, and how I whipped up some cow print chaps for Jessie!
Plus, custom Toy Story pumpkins!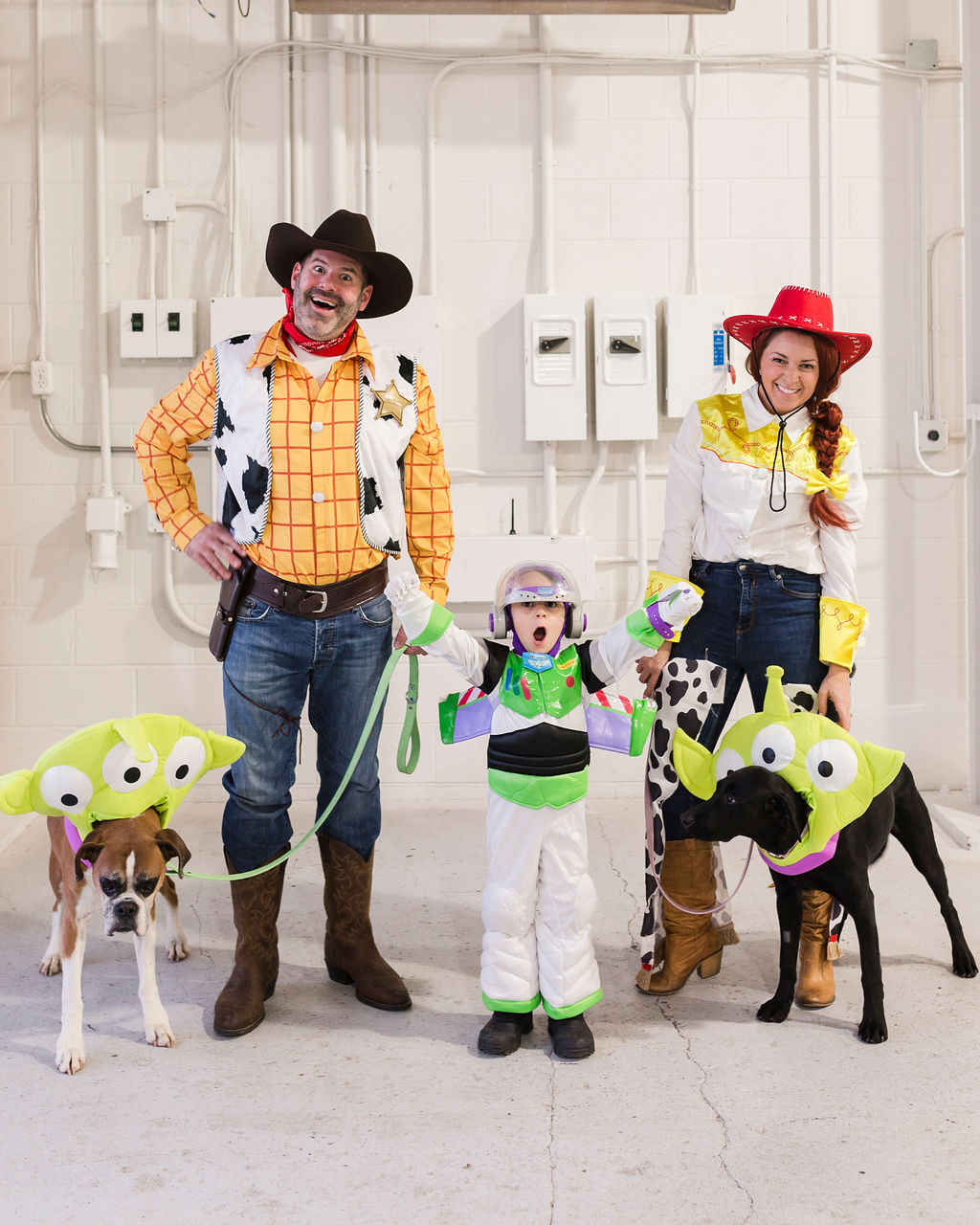 Happy Halloween, friends! I'm loving scrolling my feeds this morning, seeing all of your amazing costumes. Honestly, I just eat this day right up. I love it! We're going to do a bunch of Halloween activities in our jammiess this morning, eat treats all day long, and then get ready for trick-or-treating. Then, after Wyatt goes to bed, we'll raid his candy bucket, drink wine, and watch a scary movie! 🙂
As far as decorating goes, I had some fun this year styling this Spooky Chic Halloween Coffee Cart, complete with organic, fairtrade compostable coffee pods (you have to check out this amazing product)! I'm also doing an IG Story this morning on our copper and black, bat-inspired mantle, so be sure to pop over to my Instagram to check it out.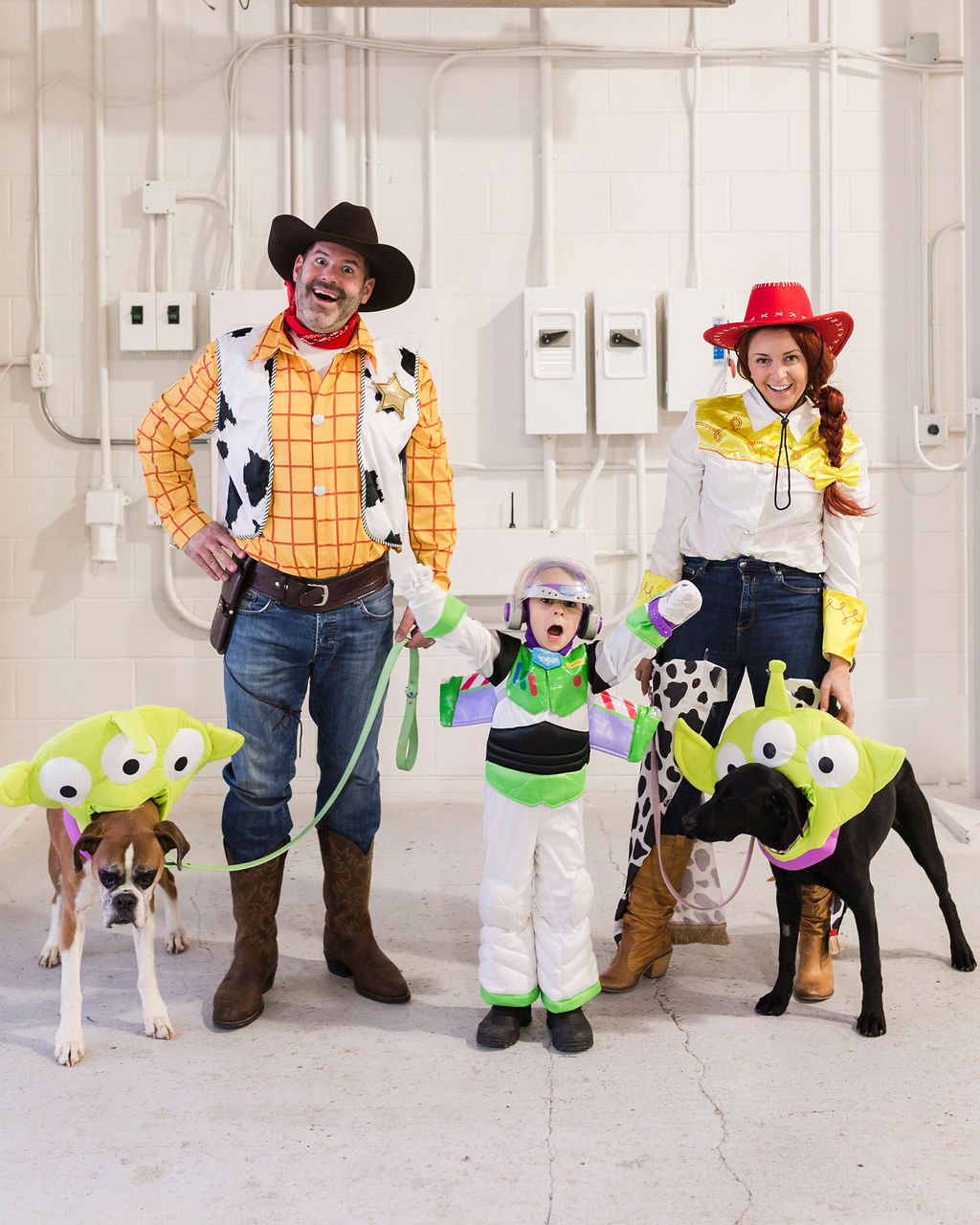 We've been pretty pumped to show you our costumes! Wyatt informed us earlier this year what we were all dressing up as, and I love what he chose! The Toy Story movies are some of our favourites (although, Wyatt didn't really like #4).
We've actually never done a family Halloween costume before. We've always dressed up Wyatt and Moses together, but Ryan and I typically just do our own thing for our costumes. Last year's Kari Skeleton get up was my favourite for sure! I also LOVE when Ryan and I dressed up as Colonel Sanders and a bucket of chicken for a Movember costume party several years ago.
Wyatt's Buzz Lightyear Costume
Wyatt is obsessed with Buzz Lightyear! You may remember he had a Buzz-themed birthday party this year (watch for a blog post on that this weekend).
I truly love making costumes from pieces already around the house, or getting creative with how to put a look together BUT this, my friends, came straight from The Disney Store! LOL! It's really perfect so why would I mess with that? Sometimes it's good to just make things easy on yourself, especially with so much else going on. I spent about $100 total for the onesie, headgear, jet pack and wrist command. The headgear and jet pack both light up which is super cool. It's more than I would normally spend, but I know he's going to play dress up in this year-round so to me it was worth the investment. I did get it for 20% off (The Disney Store often puts costumes on sale one-two months before Halloween, so note that for next year).
Ryan As Woody
Honestly, I cannot stop laughing. Ry nailed the Woody expression, and literally kept it on for the entire photoshoot. In addition to his own jeans, cowboy hat and cowboy boots, I picked up this Woody shirt, holster and cow print vest from Spirit of Halloween, which is the best pop-up Halloween shop for sure! I snagged the red bandana from Party City.
Me As Jessie
I had fun channelling my inner cowgirl to transform into Jessie this year. I already had the boots and jeans, and I picked up the official Jessie shirt at Spirit Halloween. My hat from Party City wasn't meant to be a 'Jessie' hat, but it's perfect! It originally had two blonde pigtail braids, which I cut off.
I had the hardest time finding cow print chaps. When I was checking out at Party City, I double-checked with the cashier to make sure I didn't miss them. She informed me the only cow print in the store were balloons down aisle six. I paid for my stuff and then proceeded to pop down aisle six to check out these balloons. That's when it all came together! There were actually western themed party supplies, including a cow print table runner. I cut the table runner in half to make two chaps. I would've sewed them to my jeans if I had that skill, but instead I secured them with safety pins. Not the most full-proof option, so if you're recreating this – sew them on or get someone who can to do it.
I scouted out a long red wig at Party City. Wig tip: spray with leave-in conditioner and brush it out before you style and wear. It looks so much nicer. The yellow bow was originally a bowtie from the accessories section at Spirit Halloween.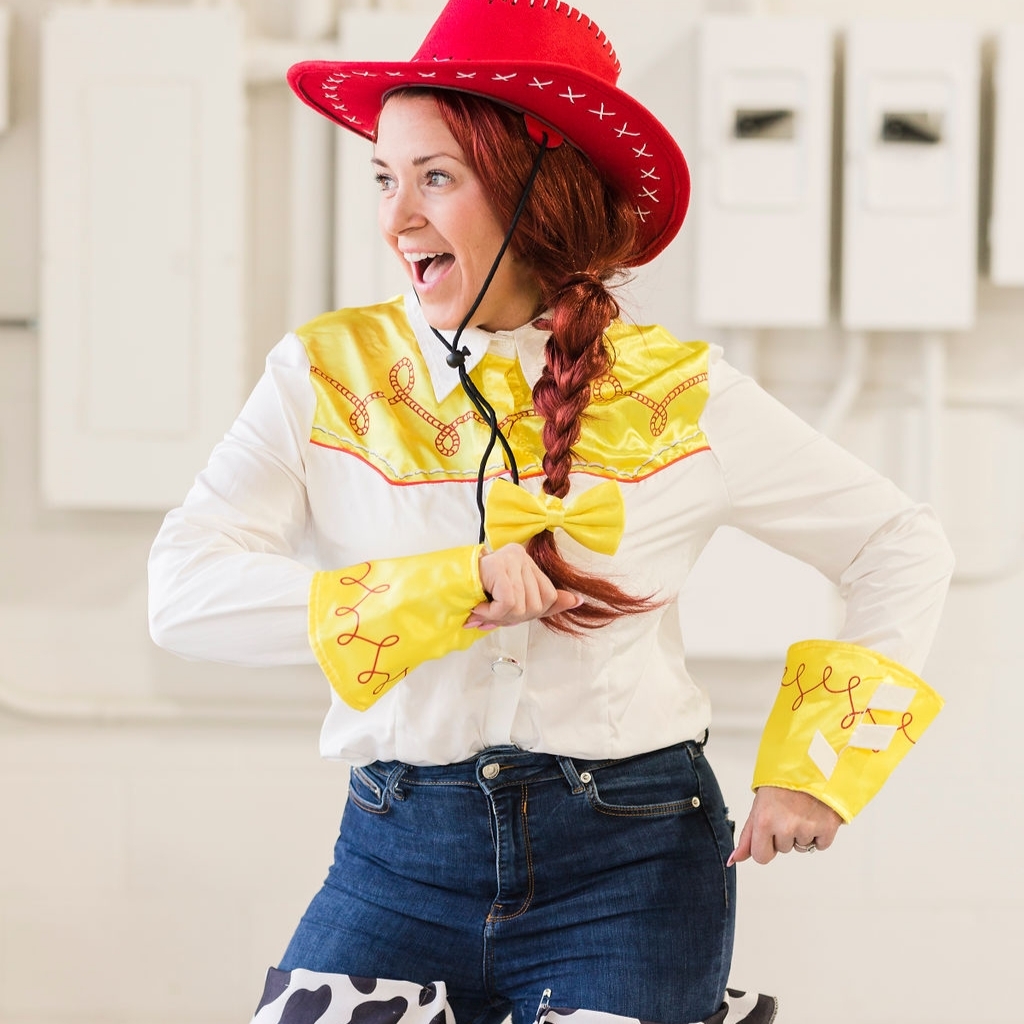 I used chalk markers to write Andy's name on the bottom of both mine and Ryan's boots. It was great for a picture, but came off pretty quickly.
Our Pups As The Aliens
We only dress up our fur babes for a photo, and then the costumes come right off. Clearly, they love being dressed up. 🙂  I searched everywhere for dog alien costumes and couldn't find a single one! Spirit Halloween had these alien headpieces for adults, so I just cut the slit a bit bigger, and filled each top part with a beach towel to make them stand up properly.
Toy Story Custom Pumpkins
Our friend, Expert Pumpkin Carver Natasha Guindon, carves custom designs into synthetic pumpkins that last for years to come. When she heard about our Toy Story plan she whipped up this amazing Buzz and Woody ones, which we'll happily have in our family for a long time. Aren't they amazing?! Be sure to check out her work here. If you missed this year, make sure to make a note to contact her for next year.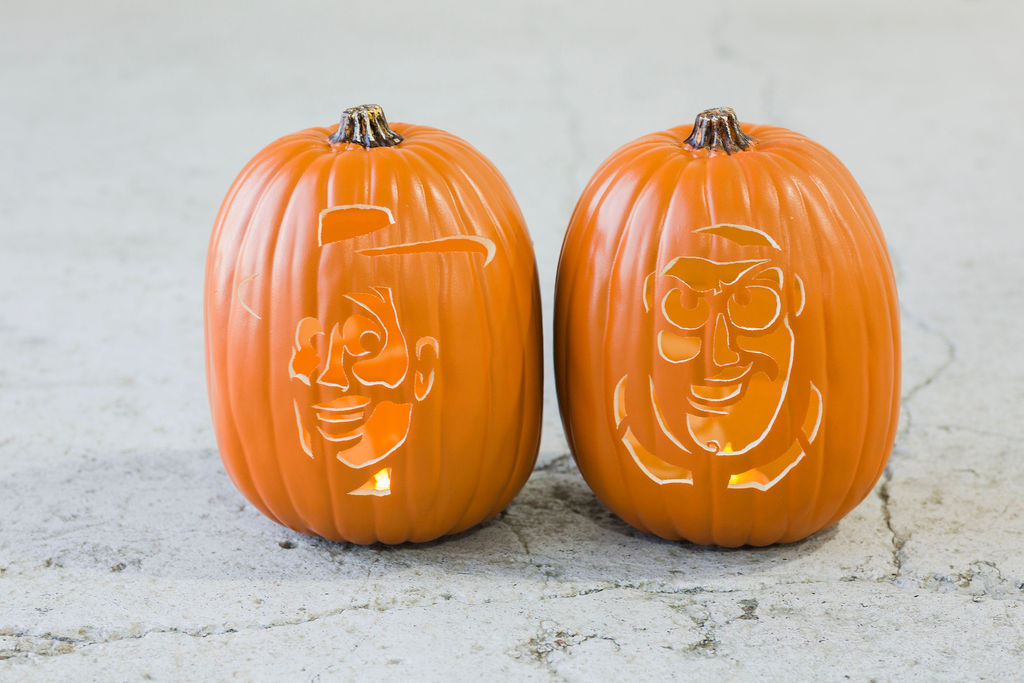 What did you dress up as?! Comment below or find me on Instagram or Facebook and please share your costume photos with me! I would love to see them.
Pin this to your Toy Story Costumes and Family Halloween Costumes boards and follow me on Pinterest here.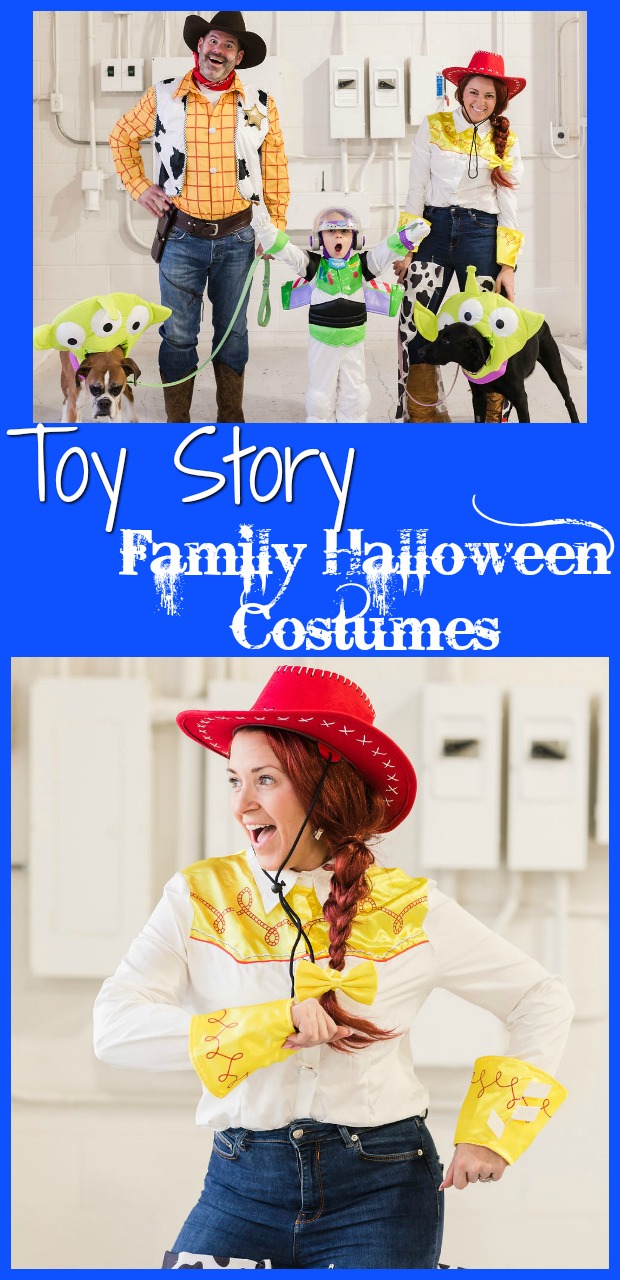 Other Posts You'll Love
Spooky Chic Halloween Coffee Cart
Five Simple Halloween Crafts For The Last-Minute Parent
xx