When a classic breakfast dish marries a delicious poutine: fresh comfort food the whole family will love!
Here's how to make the Ultimate Breakfast Poutine using items you likely already have in your kitchen!
Ultimate Breakfast Poutine
This is comfort food at its finest. We've been enjoying more creative cooking and baking through this isolation time. I developed this recipe for the Ultimate Breakfast Poutine using McCain Superfries Straight Cut, which turned out to be the perfect fries for this delicious dish! They're made from the goodness of 100% specially selected potatoes with a touch of sea salt and canola oil. We baked our fries, but you could also deep fry them (which would taste amazing)!
You'll Need:
Poutine Gravy
Cooked Sausage, chopped up into small chunks
Diced red pepper
Small handful of parsley, chopped
One egg, sunnyside up
Substitutions
To avoid shopping for extra groceries during the pandemic, here are some possible substitutions:
Cheese Curds: any cheese broken up into chunks (instead of cheese curds). It's cheese. It's all delicious!
Sausage: Bacon would taste great, too!
Poutine Gravy: instead of the gravy packets, make your own. Here's a homemade recipe I love.
Chopped red pepper: if you don't have red pepper, chop up and sprinkle of any fresh veggies! Any colour pepper, mushrooms, tomato…just use what you have. The idea is to add some additional freshness.

Directions:
Make your fries and gravy according to the instructions on the packages.
Chop your sausage and veggies.
Transfer fries into a dish and sprinkle cheese curds on top.
Pour the gravy overtop, but be careful not to dump too much and drown your fries.
Sprinkle on chopped sausage and red pepper.
Place your sunnyside egg on top.
Garnish with parsley (or cilantro).
Poutine Bar
Set up a poutine bar for dinner! Everyone can assemble their dishes together, and pick their own desired toppings. It's a great way to make dinner more of an experience, and truly focus on special family time.

McCain Ultimate Poutine Contest
Now it's your turn! I'm challenging you to whip up your Ultimate Poutine using ingredients you already have on hand with your loved ones at home, or virtually with friends. McCain is having weekly contests until the end of the month for a chance to win some awesome prizes. Head to the McCain Facebook page every Monday to see the rules for the weeks contest.
Don't forget to pin this to your Poutine and Comfort Foods boards and follow me on Pinterest here.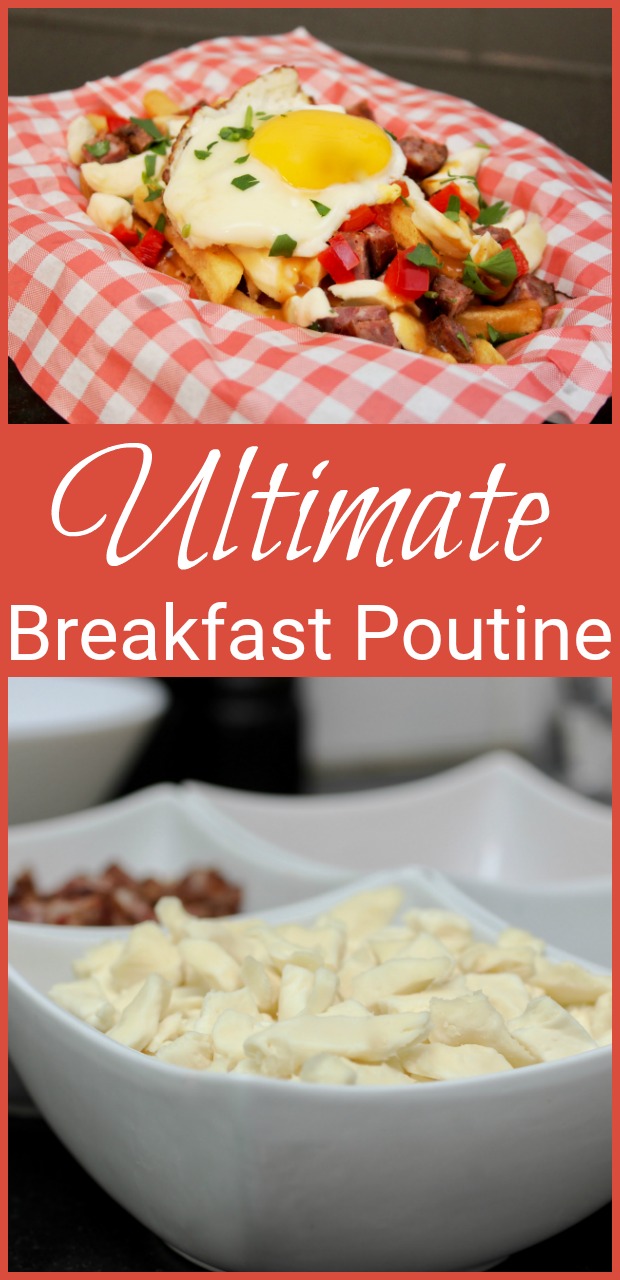 Thank you to McCain for sponsoring this post. As always, thoughts and opinions are mine.
Other Posts You'll Love:
Edmonton Made Hand Sanitizer and Masks
xx