All the details of our winter getaway to Jasper! Where we stayed, what we did, and, of course – what we ate! 
Plus, download our itinerary to use with your family!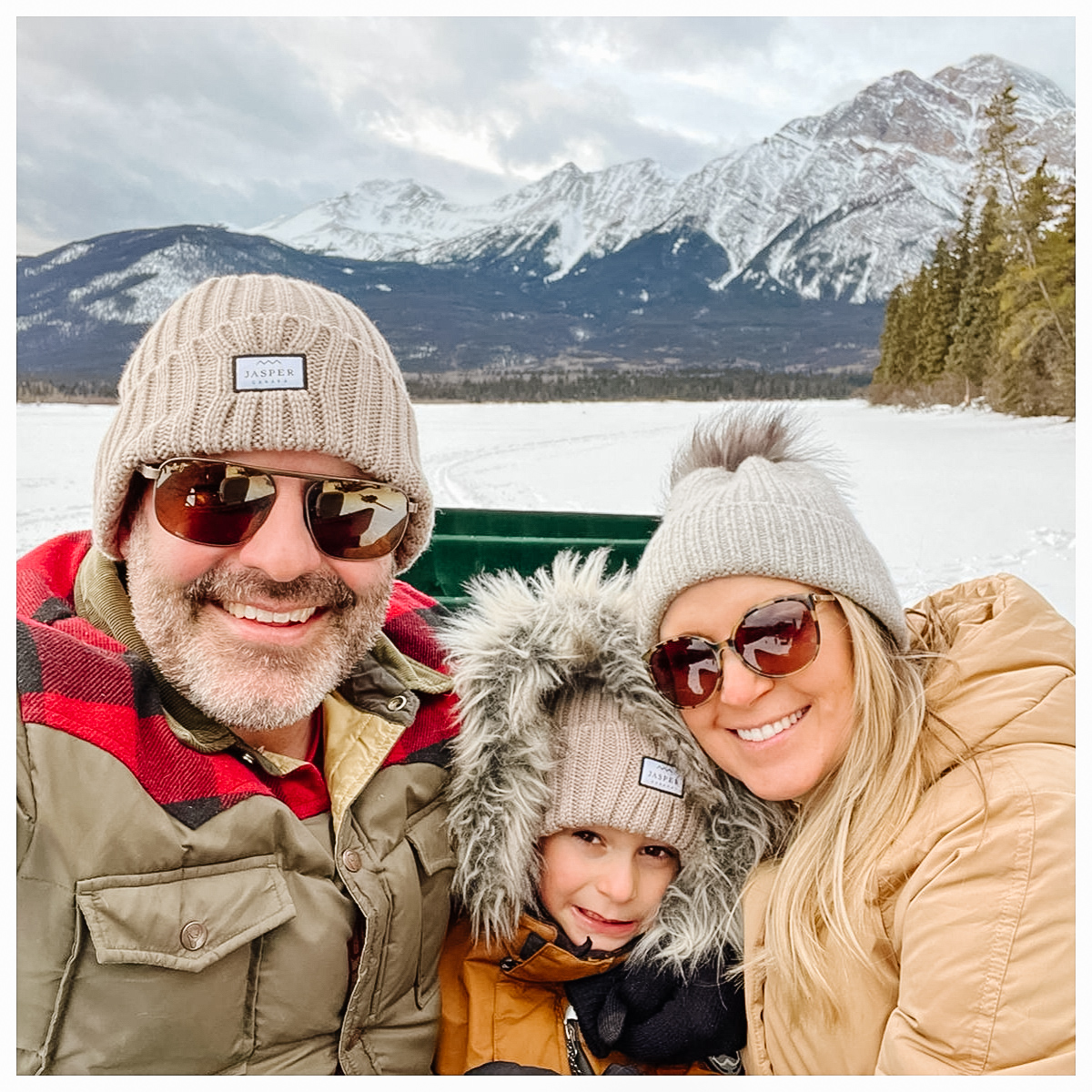 One of our favourite places in the world to go as a family is Jasper, Alberta! We've been visiting here before the kids were around and it's been such a joy to bring the pups and Wyatt out to explore (and chill) with us. We have so many amazing memories from our visits, so it definitely holds a special place in our hearts. Ryan and I have both been out on solo trips hosting different events, and have done a few trips out with friends and family. So…you get it- we love it! 🙂
When you're done here, make sure to check out my 'Explore Jasper' highlight on Instagram, featuring this trip and our last visit in the summer. You can score some great ideas as you make your plans for summer holidays!
Where We Stayed
Truly breathtaking views at The Pyramid Lake Resort which is about a ten-minute (or so) drive from downtown Jasper. 62 guest rooms all with a fireplace and views of Pyramid Lake.
We stayed in the Tekarra Suite with a loft bedroom and a private room on the main level. There was a small kitchen to make meals and it's pet-friendly!
What We Did
We typically like to mix a bit of adventure with some relaxation. We spent a few lazy mornings in our room having coffee by the fire and some mornings we were up at at 'em doing something fun! No matter what time of year you visit Jasper, there's so much to take in and explore. Here's a bit of what we did and one adventure we missed that we can't wait to take Wyatt on next time!
Sleigh Ride
We kicked off our trip surprising Wyatt with a sleigh ride around Pyramid Lake with Jasper Riding Stables! It was a beautiful way to get a lay of the land and soak in all the beauty of Pyramid Mountain. The full tour is about 30 minutes, which I think is the perfect amount of time to keep kids engaged.
Snowboarding at Marmot
Marmot is definitely our favourite hill to ride in Alberta. I was bummed I couldn't join the boys this time but I spent the day at the spa, so no complaints from this pregnant mama! (More on the spa further down). The boys rode the chair together for the first time, which was pretty special, and Wyatt had a private lesson with Bjorn, one of the instructors. Make sure to check out the kids camps if you're wanting to sneak in some solo ride time.
The Spa at Fairmont Jasper Park Lodge
The mountains are definitely a de-stressor but if you're needing to go a step further, book in some time at the Fairmont Jasper Park Lodge Spa! I was treated to a pregnancy massage and facial. I had a little nap through part of it and basically felt like I was floating on clouds when I left. 🙂 If you're going with your love, I recommend the couple's massage (it's in a nice big room with a fireplace).
Whatever treatment you get, make sure to spend some time in the spa lounge overlooking the gorgeous mountains and beautiful Lac Beauvert. You can also enjoy the outdoor heated pool, hot tub, sauna, and steam room while you're there. A relaxing way to spend an afternoon!
Maligne Canyon Ice Walk
We've been wanting to try the Maligne Canyon Ice Walk with Sundog Tours for a while now and it did not disappoint! The walk is 3.5 kms and mostly downhill to the bottom of Maligne Canyon. You'll learn about the history of the area, explore waterfalls, ice caves, and cool ice formations.
When I shared this on Instagram, I had a few questions about bringing kids. Wyatt is six, almost seven and he did great! My advice would be to wear the little ones in a carrier or do the walk with your partner so your toddler or young kids are in between you both.
Skating At Pyramid Lake
There's nothing quite like playing hockey surrounded by beautiful mountains. Skating on Pyramid Lake is truly a magical experience. You can also rent snowshoes or fat tire bikes to tour around the area.
Note: Snowshoe, fat bike and skate rentals are included in your stay. Pick up a complimentary hot chocolate or coffee and a s'mores kit at the front desk and relax by the fire!
For Next Time
On the list for next time is definitely dog sledding. We had to opt out this time because I'm pregnant but we're all eager to try and have heard great things! Be sure to check out Cold Fire Creek Dog Sledding when making your plans.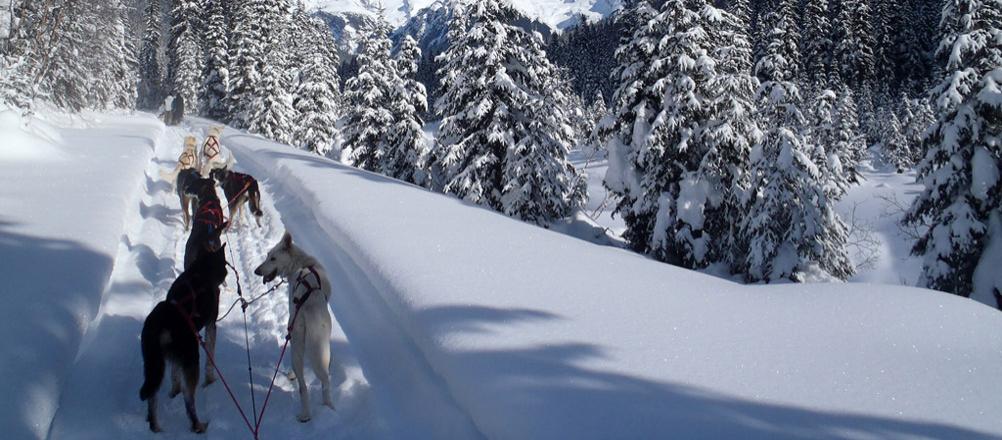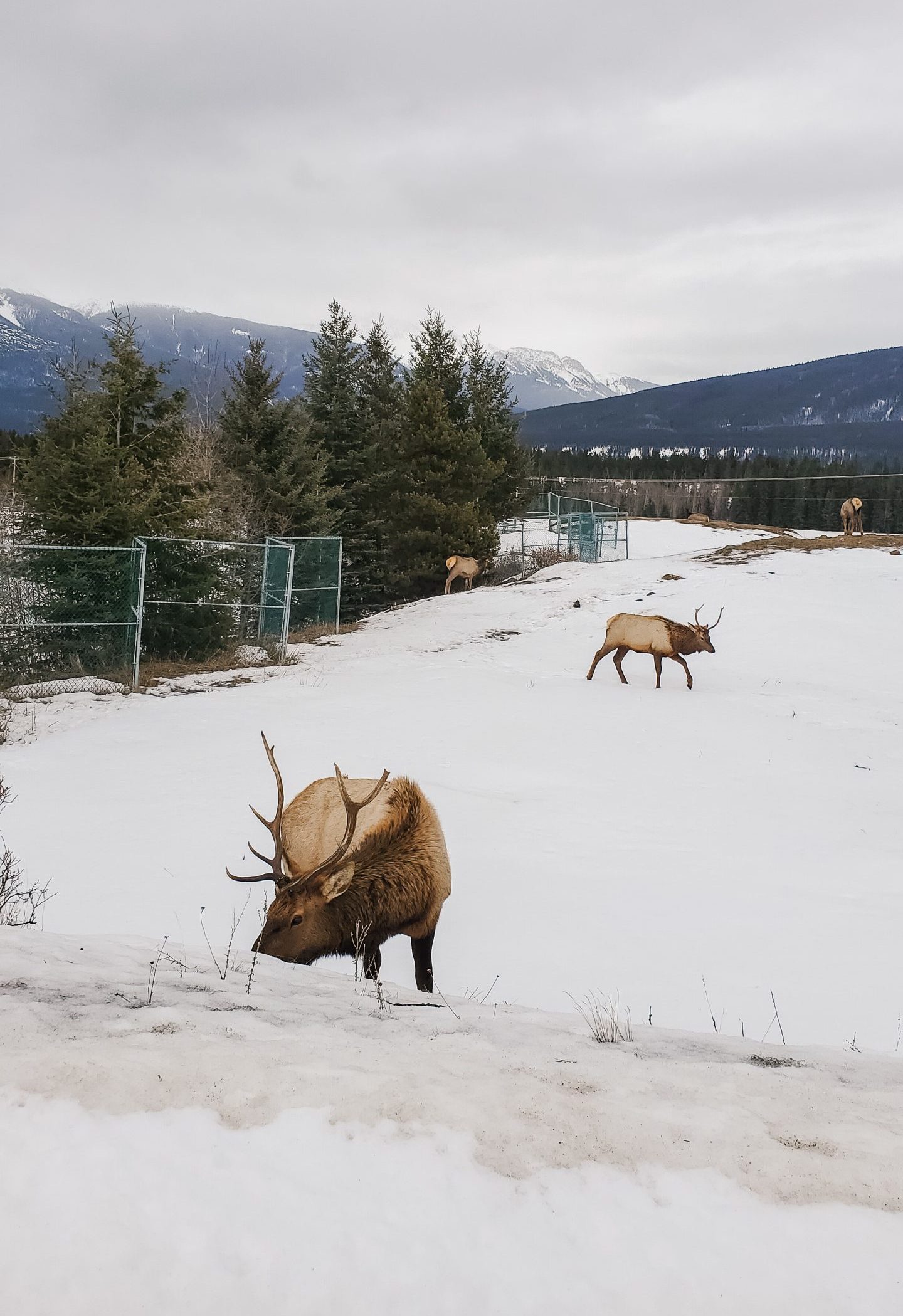 Other Places To Explore
Athabasca Falls: fed by the Athabasca River this 23-metre falls is a must-see while driving along the Icefields Parkway.
Sunwapta Falls: after viewing the upper Sunwapta Falls take a short hike down to the lower fall to see three waterfalls spread over the Sunwapta River.
Pyramid & Patricia Lake: found along Pyramid Lake Road, Pyramid and Patricia Lake are popular spots for site-seeing and stargazing.
Maligne Lake: ringed by snow-and-ice-capped mountains, this 22 km long lake is the largest natural lake in the Canadian Rockies.
Medicine Lake: famous for its disappearing water. In summer it looks like a normal lake but in the fall and winter, the water disappears.
Food (and Drink) To Try
I had some pretty fun mocktails on this trip, including the 'Mulling it Over' (pictured above) from The Pines Restaurant. Jasper has a whole bunch of amazing spots to dine. These were our favourites dishes and drinks from this trip out!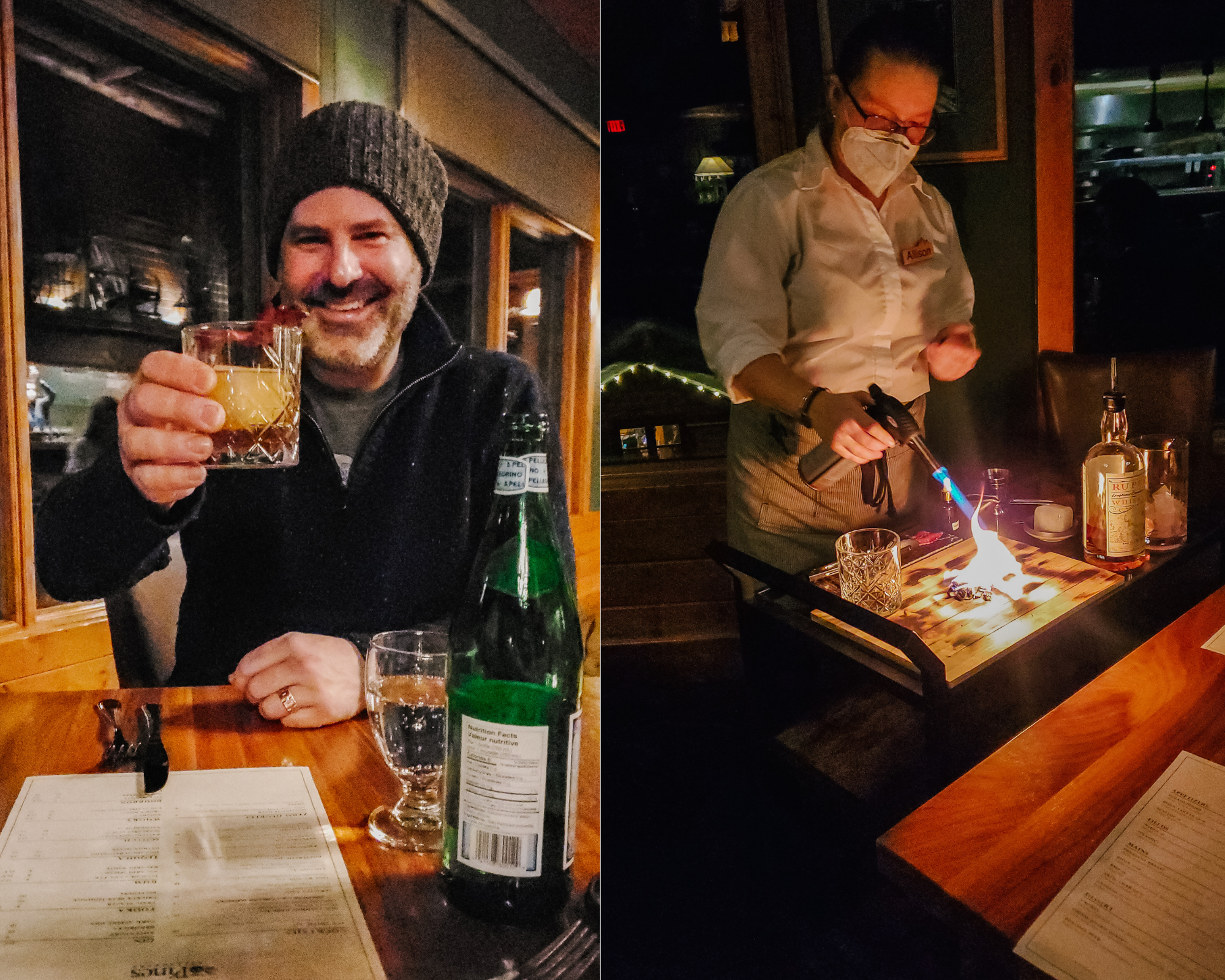 The Old Fashion Babe
Where: The Pines Restaurant, North Pyramid Lake Road
If you consider yourself to be an Old Fashioned connoisseur, definitely experience the Old Fashion Babe in The Pines Restuarant at The Pyramid Lake Resort. Ry loved this one made with Rupert's Whisky, house-made bacon syrup, chocolate bitters, and maple candied bacon. Treat yourself to the 'smoke fora' tableside experience.
Harvest Bowl
Where: Great Hall, Fairmont Jasper Park Lodge, 1 Old Lodge Rd
You know those dishes that are so good you have to stop mid-meal and remind yourself to take your time and enjoy it? For me, that was my experience with The Harvest Bowl I enjoyed in The Great Hall at the Fairmont Jasper Park Lodge. Shredded Napa cabbage and carrots, spring onions and edamame tossed in a ginger sesame dressing.
Rustic Elk Meatloaf
Where: Jasper Brewing Co., 624 Connaught Dr
Ry gets this dish every single time we're in Jasper so I decided to go for it. It was SO delicious! Tomato glazed with bacon, seasonal vegetables, mashed potato, gaufrettes, and mushroom gravy. Perfect comfort food after a day of winter adventure.
Bella Montanga Pizza
Where: Jasper Pizza Place, 402 Connaught Dr
Honestly, you can't go wrong with any of the pizza from Jasper Pizza Place, especially because it's made in this stunning traditional wood-burning pizza oven. Equally as impressive – the staff. Everyone was super friendly and in good spirits. Good vibes going on at Jasper Pizza Place!
Holy Cow
Where: Evil Daves, 86 Connaught Dr
Everything at Evil Daves was amazing but I have to focus on the Holy Cow. A fried green onion cake with bulgogi beef on top, garnished with julienned carrots (pictured below). My mouth is watering just thinking about it. The bartender also whipped me up a traditional lime margarita mocktail that was totally yum!
Your Itinerary
This was pretty much our exact itinerary for this trip to Jasper. If you want to keep it simple and explore exactly how we did, click on the image below for your free, downloadable PDF!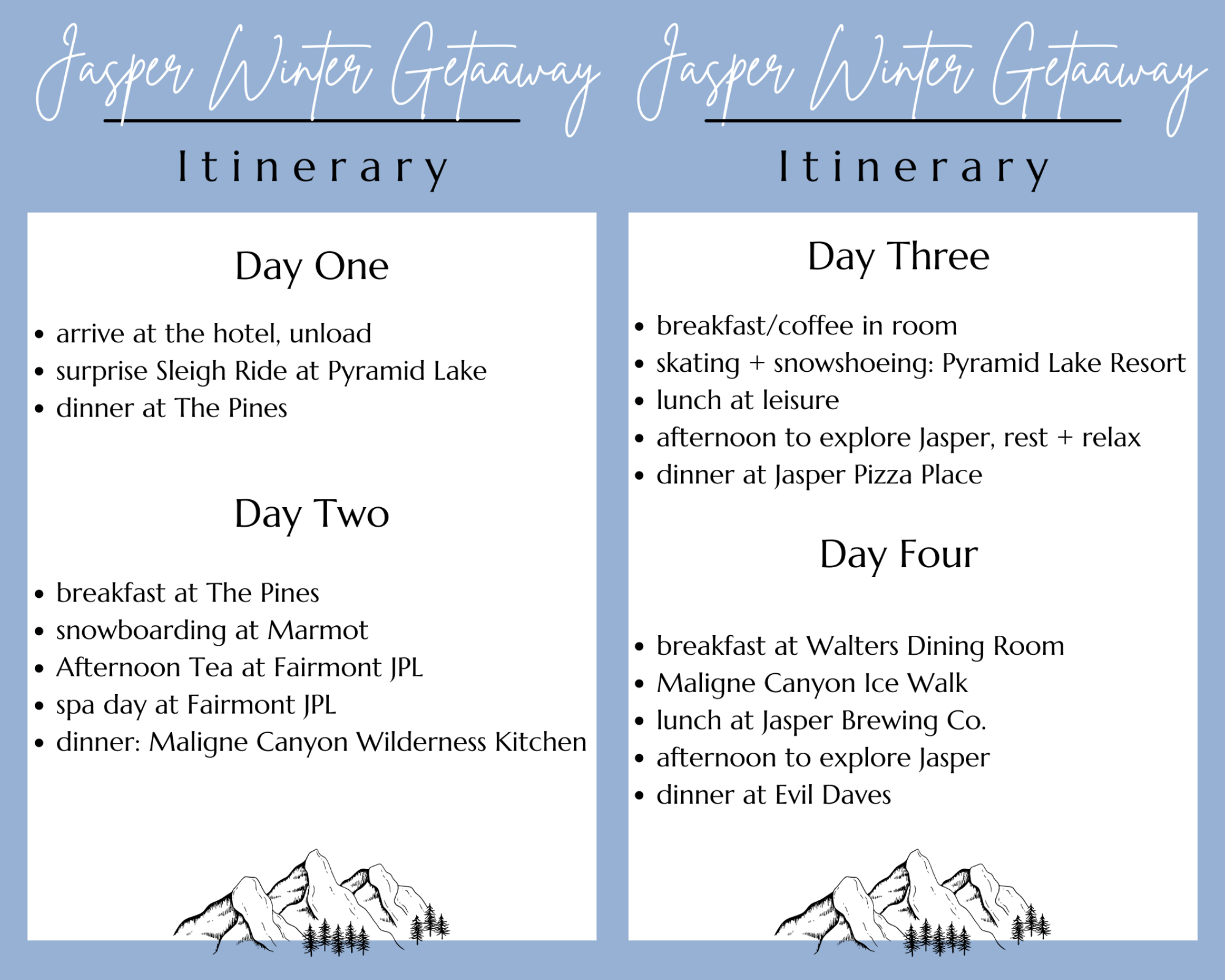 Thank you to our friends at Tourism Jasper for hosting us on this amazing trip! 
Make sure to 'Pin' the image below to your Alberta Adventure board!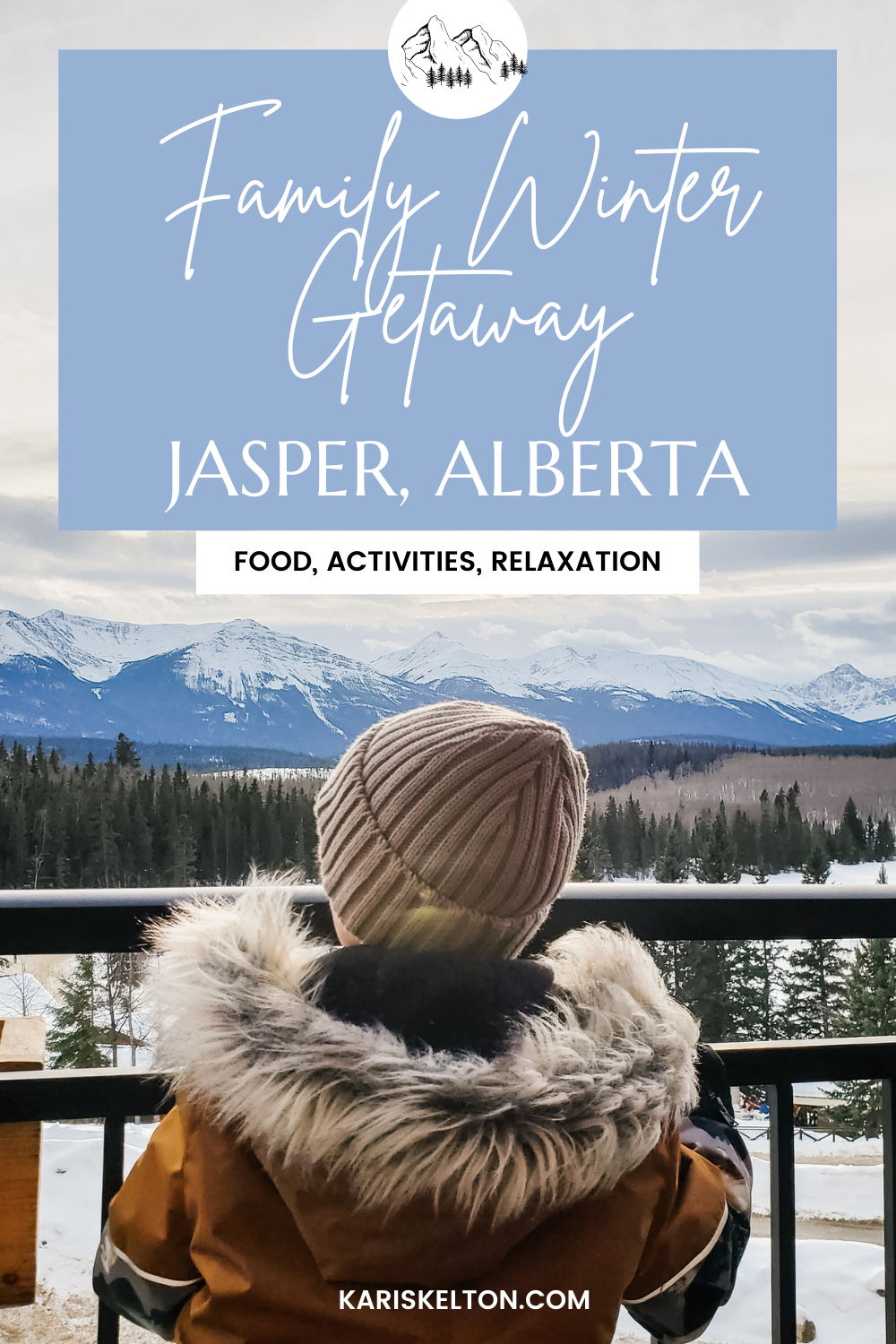 Other Posts You'll Love
Tips For Flying Solo with a Toddler
xx