You're pregnant with Covid. Now what? Dr. Verena Kerut answers all of our questions on the potential risks, outcomes, breastfeeding, the vaccine, and more! Plus, hear from a panel on fertility and the vaccine.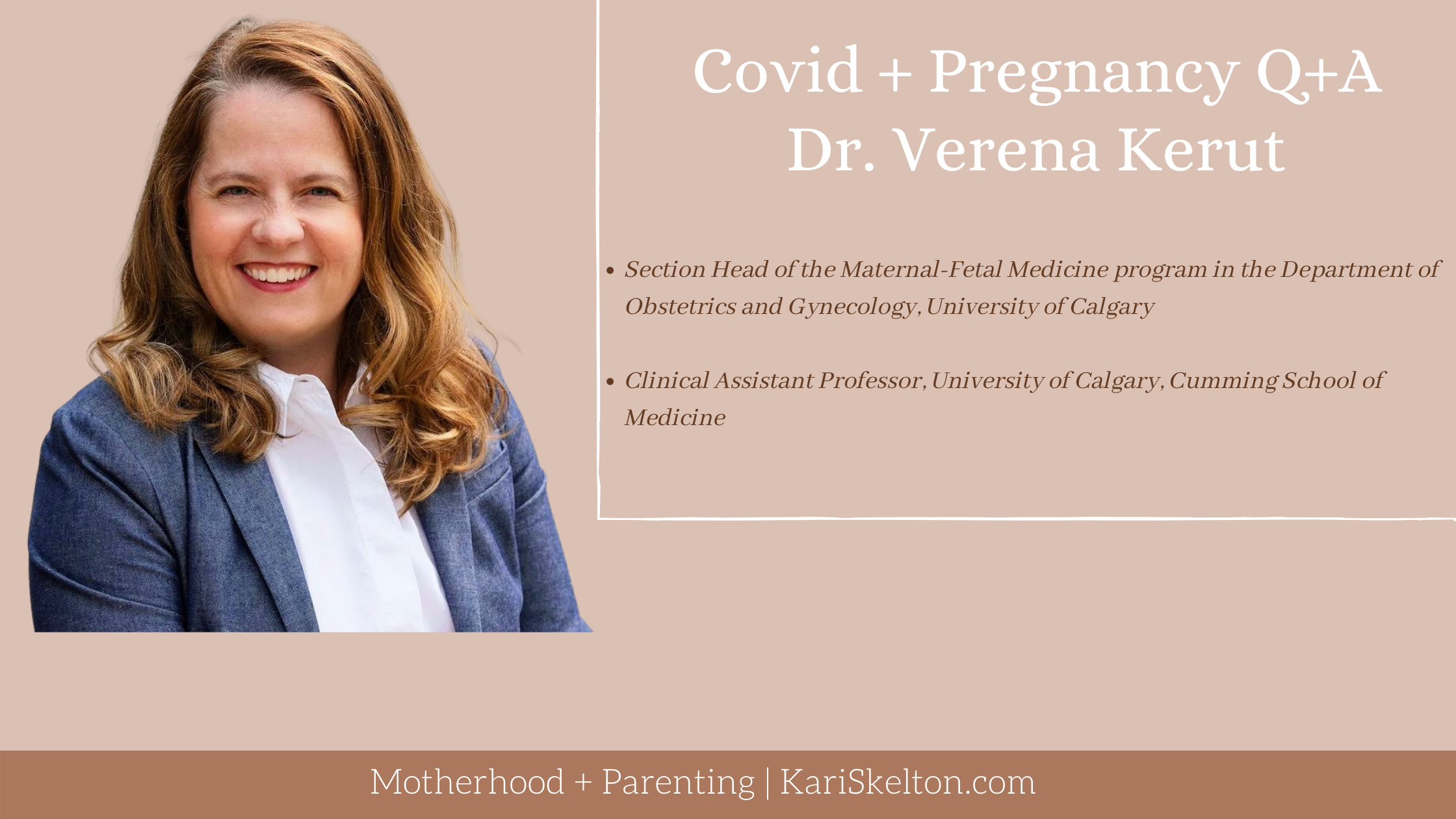 Well, it got me. After doing everything possible to be safe during the pandemic, I contracted Covid earlier this month at 19 weeks pregnant. Like many of you, I had tons of questions after getting that positive result. Would this affect the rest of my pregnancy, and if so, how? Is my baby going to be ok? Is there even anything I can do to ensure the best possible outcome?
There seems to be so little information out there on Covid and pregnancy. After many of you reached out, I decided to make a list of questions to find answers to. I had calls with my GP, OB, and Wyatt's Pediatrician. Following those discussions, I felt much more reassured that with vaccination, everything would most likely be ok. (Of course, please touch base with your own doctor to discuss your personal concerns). 
I decided to reach out to Dr. Verena Kerut to get her take. She is the Section Head of the Maternal-Fetal Medicine program in the Department of Obstetrics and Gynaecology, University of Calgary. This is what she had to say.

Yes, absolutely! Pregnant individuals who are fully vaccinated (2 doses, or 2 doses + booster) are far less likely to have severe COVID-19 infection. We are seeing "breakthrough infections" (infection after full vaccination). However, these pregnancy individuals usually can manage their mild symptoms at home. Our ICU data from the previous waves, particularly the Delta wave, show that all pregnant COVID-infected individuals admitted to the ICU were not vaccinated.
Every so often we touch on women's health topics here at KariSkelton, including How To Use Your Period as a Productivity Tool, Robots For Surgeries in Women, and Fertility, Pregnancy, and the Vaccine (check out further down in this post).

Yes, Canadian, US and European data have consistently shown an increased risk of preterm birth of 12 – 15% with a history of COVID infection in pregnancy. The baseline rate of preterm delivery in Alberta is 8%. The data is still being analyzed, regarding what the most significant risk factors are for preterm delivery with COVID infection. Preliminary data suggests the more severe the infection (e.g. ICU admission) coupled with other co-morbidities, such as elevated BMI, pre-existing hypertension / diabetes or immunocompromised status, may be additional risk factors. All of this data is currently being looked at by the CANCOVID-preg National Surveillance Program. We should have more information in the coming months.

Regarding stillbirth, there was a recent study in the US suggesting an increase in stillbirth related to COVID infection in pregnancy. However, given how rare stillbirth is (thankfully), this has been interpreted with caution. We have not seen an increase in stillbirth rates in Canada, but again this is very preliminary and based on very few cases.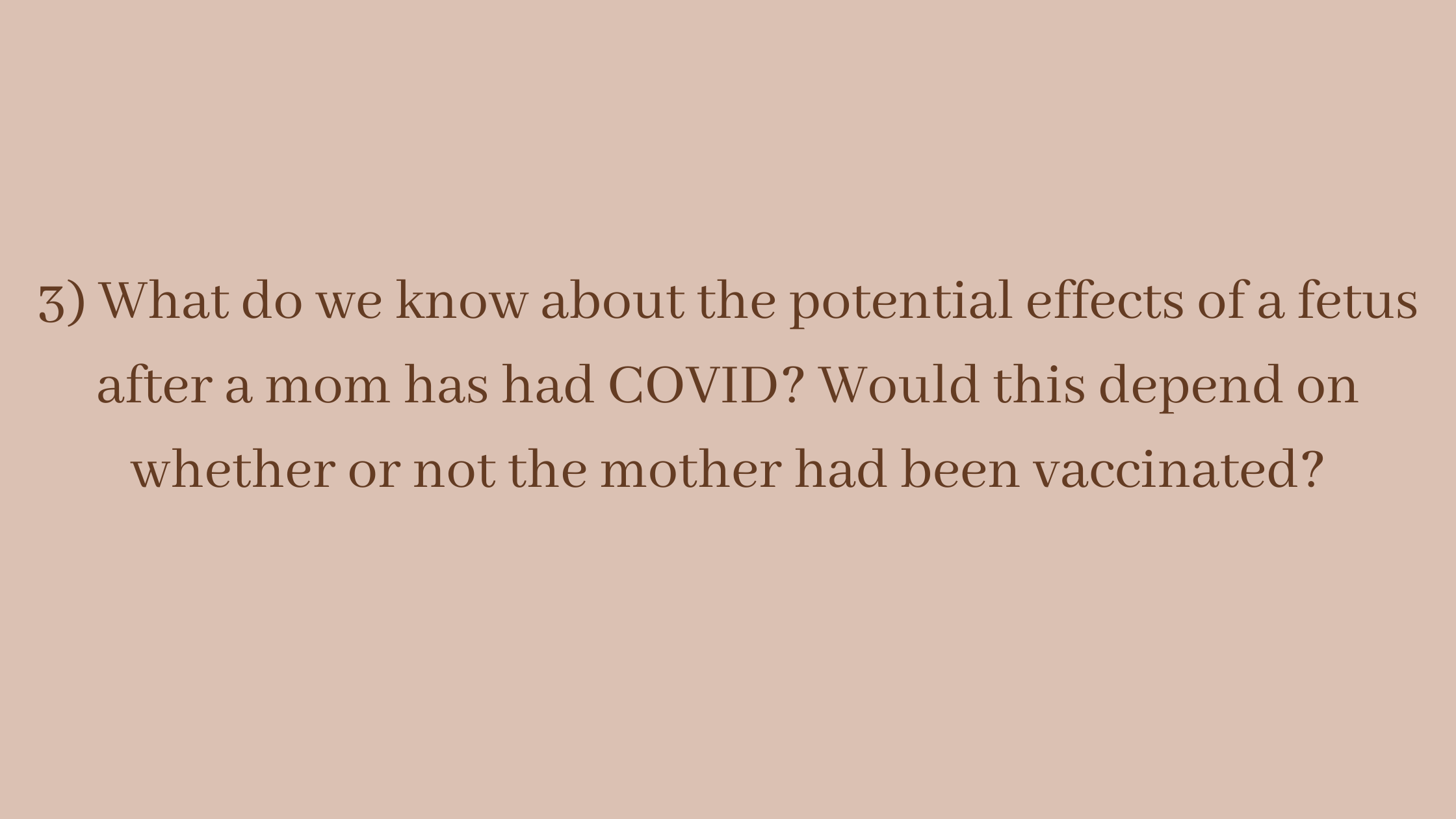 Thankfully, rates of vertical transmission (trans-placental transmission of COVID infection from mom to baby) are very rare. And unlike other infections (e.g. Zika virus), COVID-19 infection in pregnancy does not appear to cause any fetal abnormalities. The potential for long-term childhood effects is still unknown, but I feel so grateful that at least so far, the fetus seems to be protected by the maternal system when there is a COVID infection in pregnancy.

We don't have a good understanding yet if severity of infection or timing of infection (eg first, second or third trimester) are related in any way to vertical transmission or other infant outcomes. There are several studies looking at this right now. The challenges we always have in obstetrics, is we have to wait 9 months to see the outcomes! But with the number of COVID infections in pregnancy across Canada (> 10, 000), we are now able to study the data in order to better answer some of these excellent questions.

We do know that pregnant individuals are more at risk of hospitalization, ICU admission and ventilation if they do get a COVID infection, compared to non-pregnant individuals of the same age. During wave 4 (Delta), this was especially concerning in those who were not vaccinated.

Yes, yes, yes! Vaccination is the key to preventing severe illness with COVID-19 infection in pregnancy. Immunization is not 100% protective of any infection – i.e. you can still have a breakthrough infection. But, after full vaccination, most pregnant individuals will only have mild symptoms that they can manage at home.

Also, there are now good studies showing the quality and quantity of the antibodies produced following vaccination are far superior vs natural infection alone. So, we still strongly encourage individuals to have their vaccines or booster after COVID-19 infection. Usually, waiting ~ 4 weeks after infection is a good option. This allows the immune system to fully recover after natural infection and then be able to mount a robust immune response to the immunization.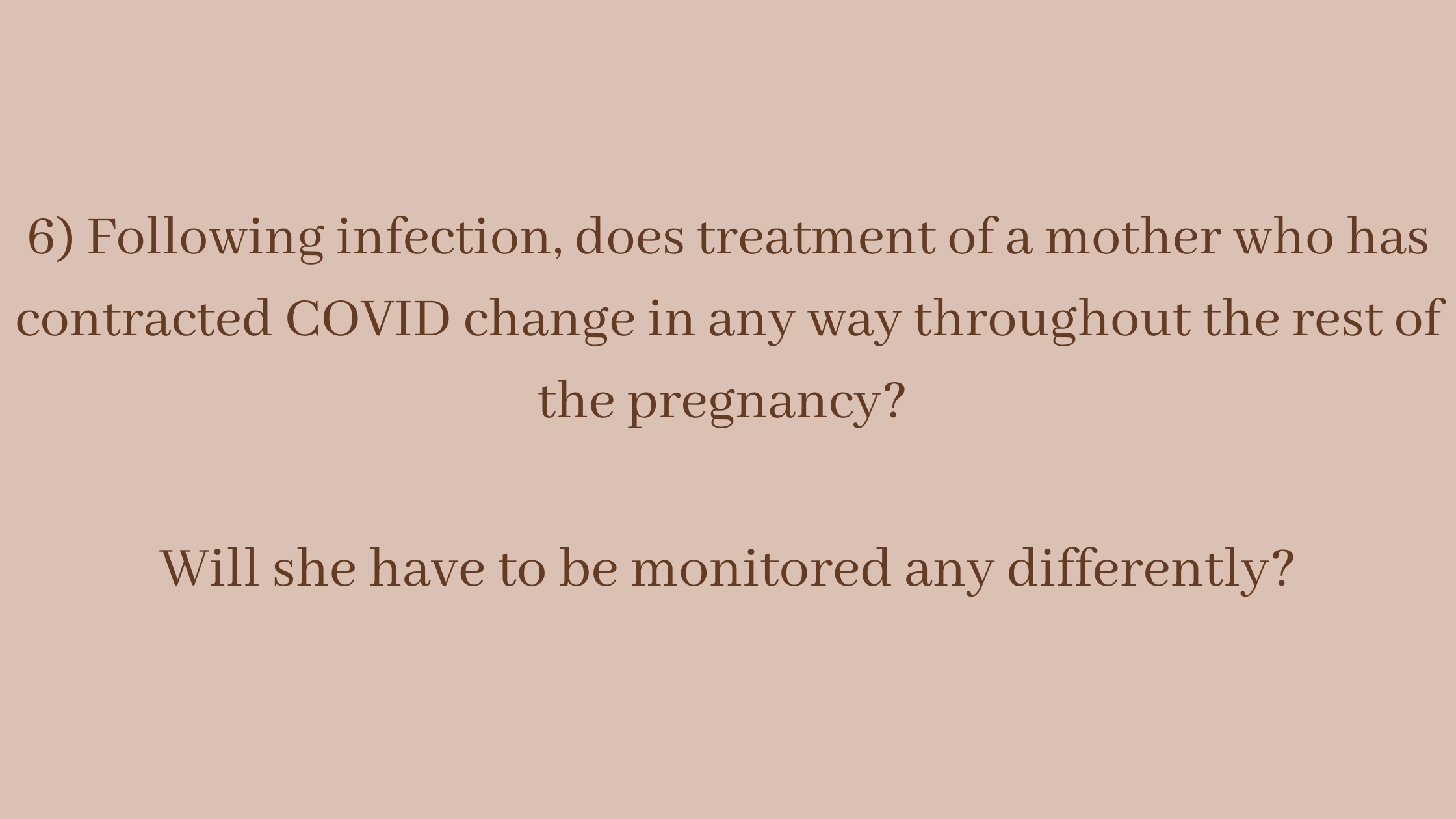 Although so far, infant outcomes are very reassuring after a mild COVID infection, we don't have a lot of infant outcome data yet. So, for anyone with a history of COVID infection in pregnancy, we currently recommend additional obstetrical ultrasounds to assess the fetal growth and well-being. There are several groups around the world starting to look at infant outcomes, including the Canadian Surveillance group. Hopefully we will have even more information in the coming months.

Breastfeeding after vaccination is safe and also provides some protection to the infant, as the antibodies can be transferred to baby through the breastmilk.

There isn't a lot else we can do other than get vaccinated, minimize exposure in high-risk settings, and follow the public health recommendations. But we can still get lots of sleep, eat healthy and keep doing gentle exercise…and never forget to take good care of your mental health as well. This pandemic is tough on everyone!
Covid + Pregnancy Roundtable on Real Talk
Dr. Kuret and Dr. Eliana Castillo outlined the dire health implications for pregnant people who contract COVID-19, and how effective vaccines are.  New mom María Castrellón explained the source of her vaccine hesitancy, and why she ultimately decided to get the shot.
Please share your thoughts in the comment section below.
Other Posts You'll Love
How To Use Your Period As A Productivity Tool
Fertility, Pregnancy, and The Vaccine
xx