These Chocolate Marshmallow Reindeer Pops are perfect for a Christmas treats exchange, or to send to school with your kids for their class party.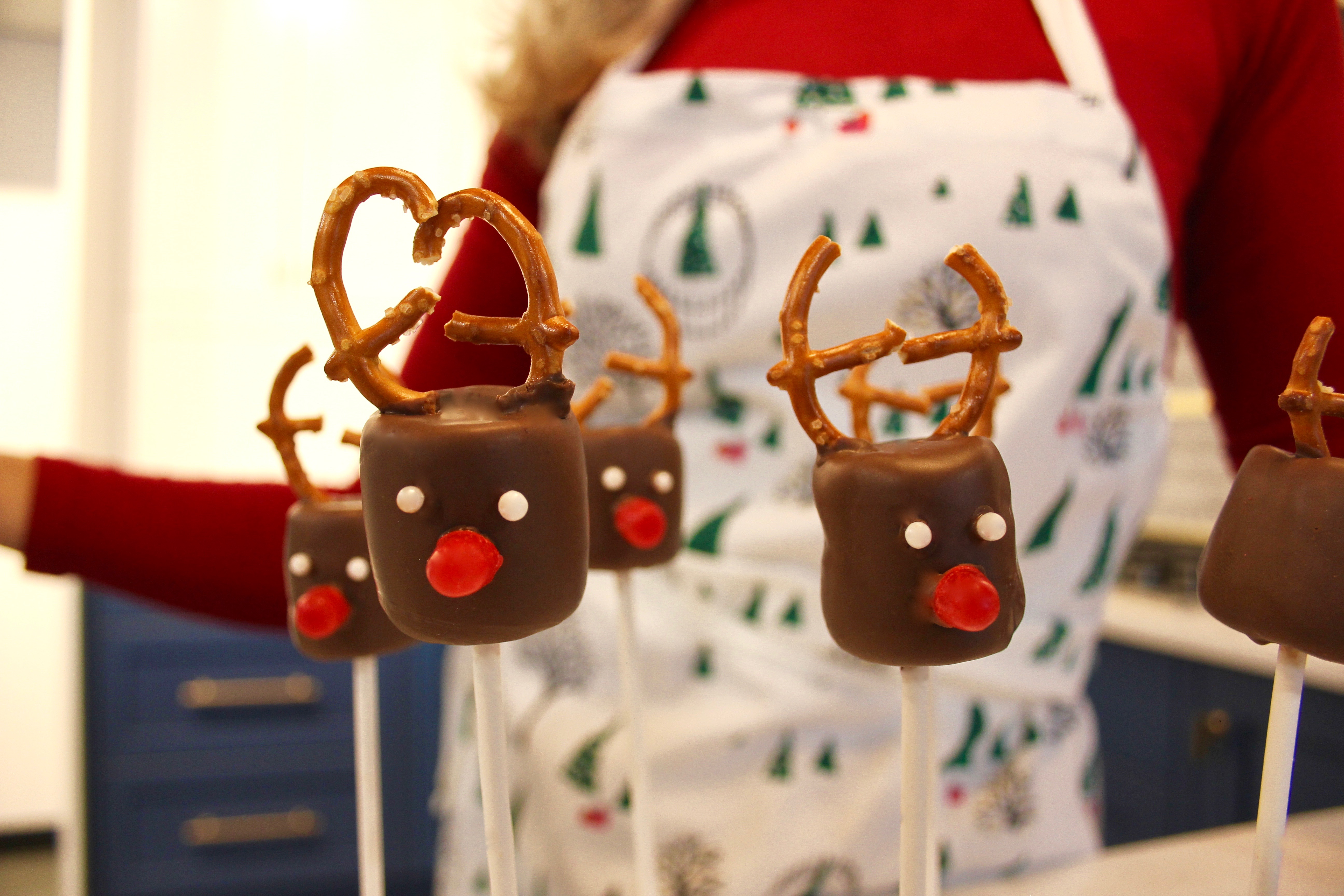 Chocolate Marshmallow Reindeer Pops
Makes: 24 Reindeer
Time Investment: One Hour
You'll Need:
Lollipop Sticks
Mike & Ikes (I got mine at The Dollar Store)
Bag of round pretzels
Large marshmallows
Light Cocoa Melting Chocolate
White Sugar Pearls
Christmas Ribbon
Styrofoam block or oasis floral foam
One tbsp vegetable shortening
Toothpicks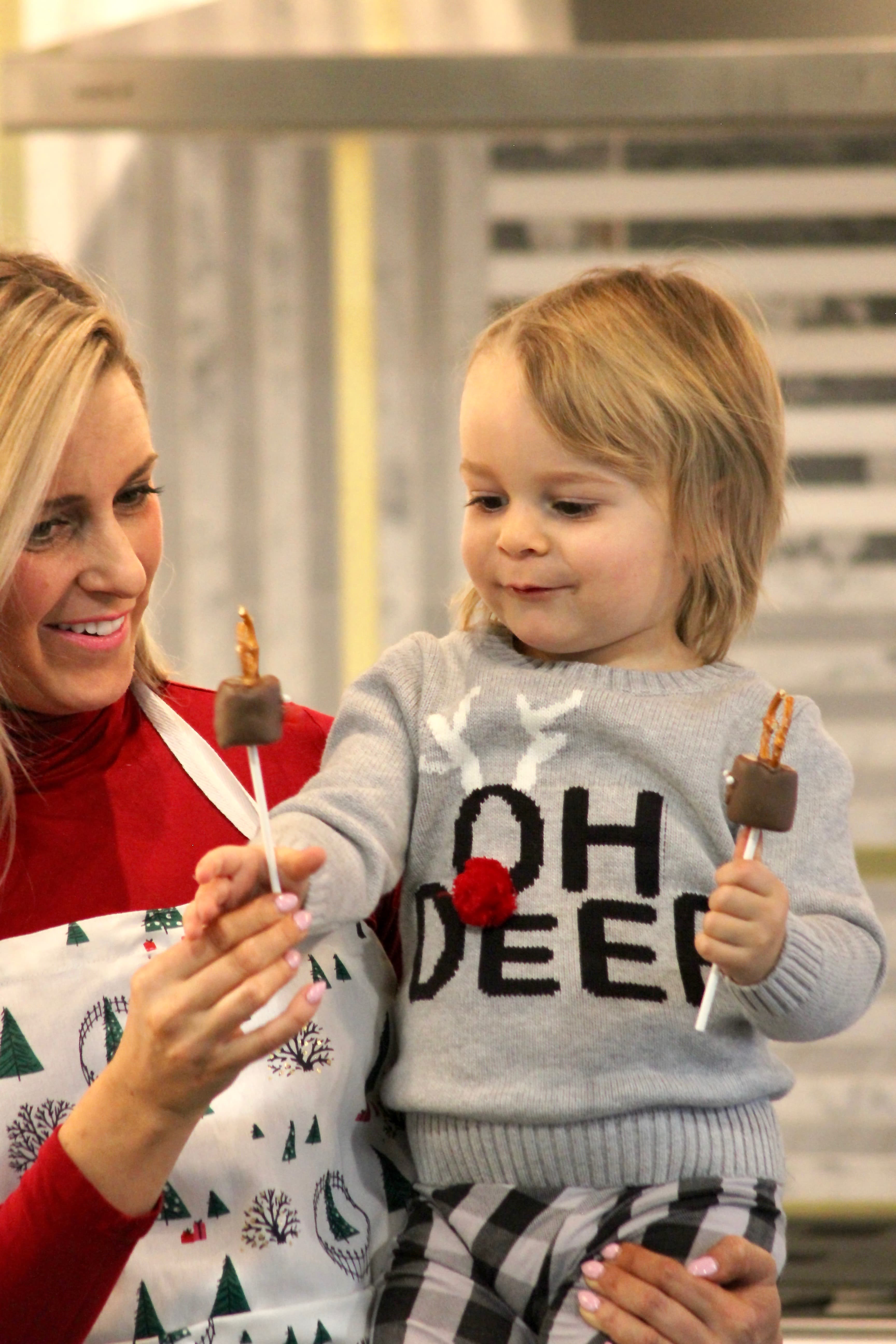 Directions:
Put half of the bag of melting chocolate into a double boiler with a tbsp of vegetable shortening and stir. You can add more later if you run out, but I only used about half the bag.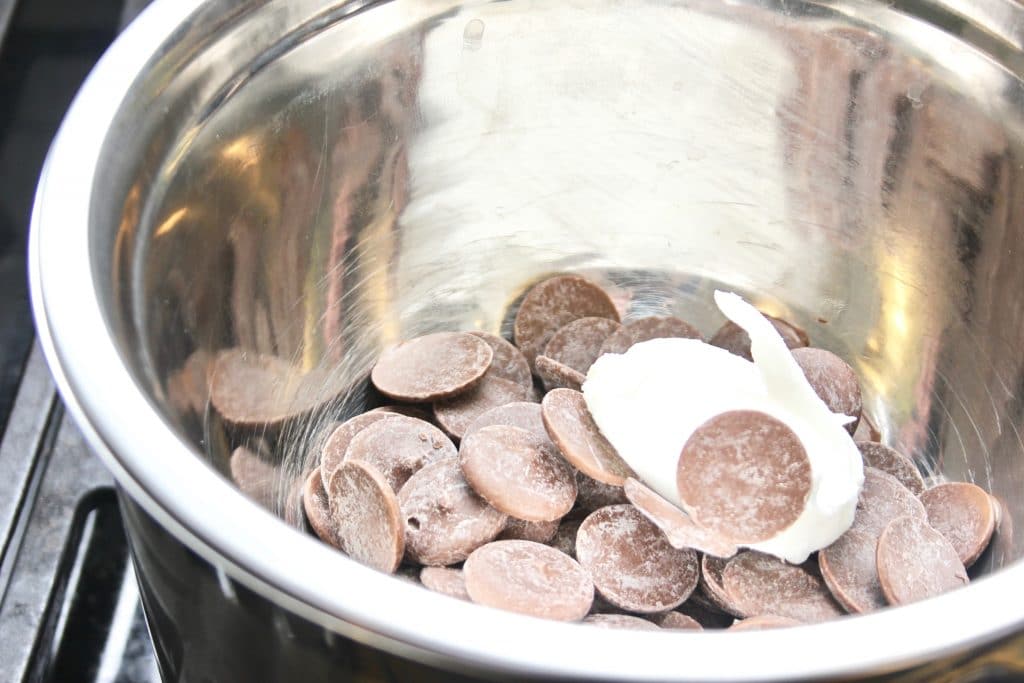 The consistency should be smooth, but not too runny. Transfer your melted chocolate to a two-cup liquid measuring cup for easier marshmallow dipping.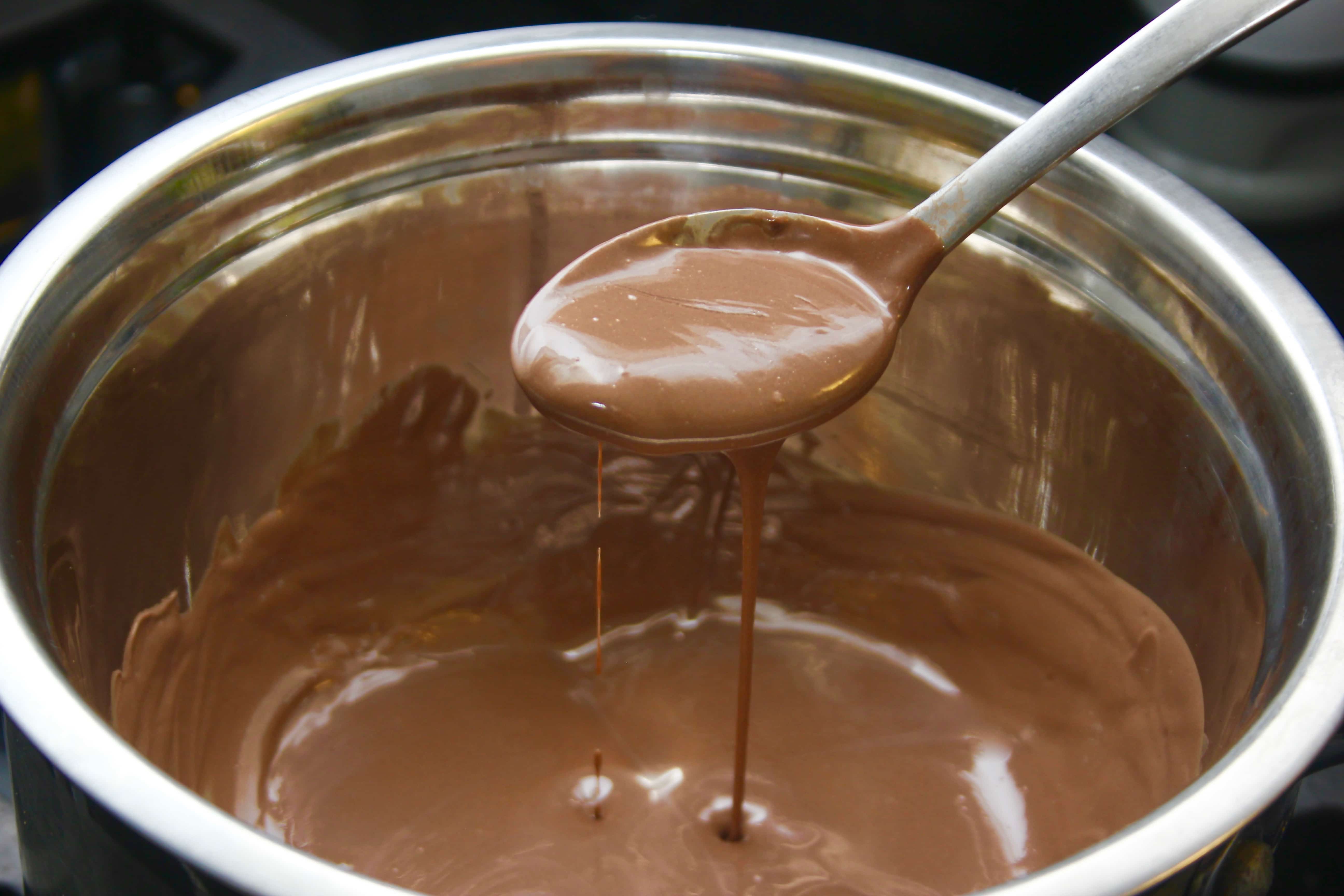 Before you dip, take the end of one of your lollipop sticks and poke indents in the top of your marshmallow. This will make it easier to stick on your pretzel antlers later. Then, poke the stick through the middle of the marshmallow on the opposite end of the indents.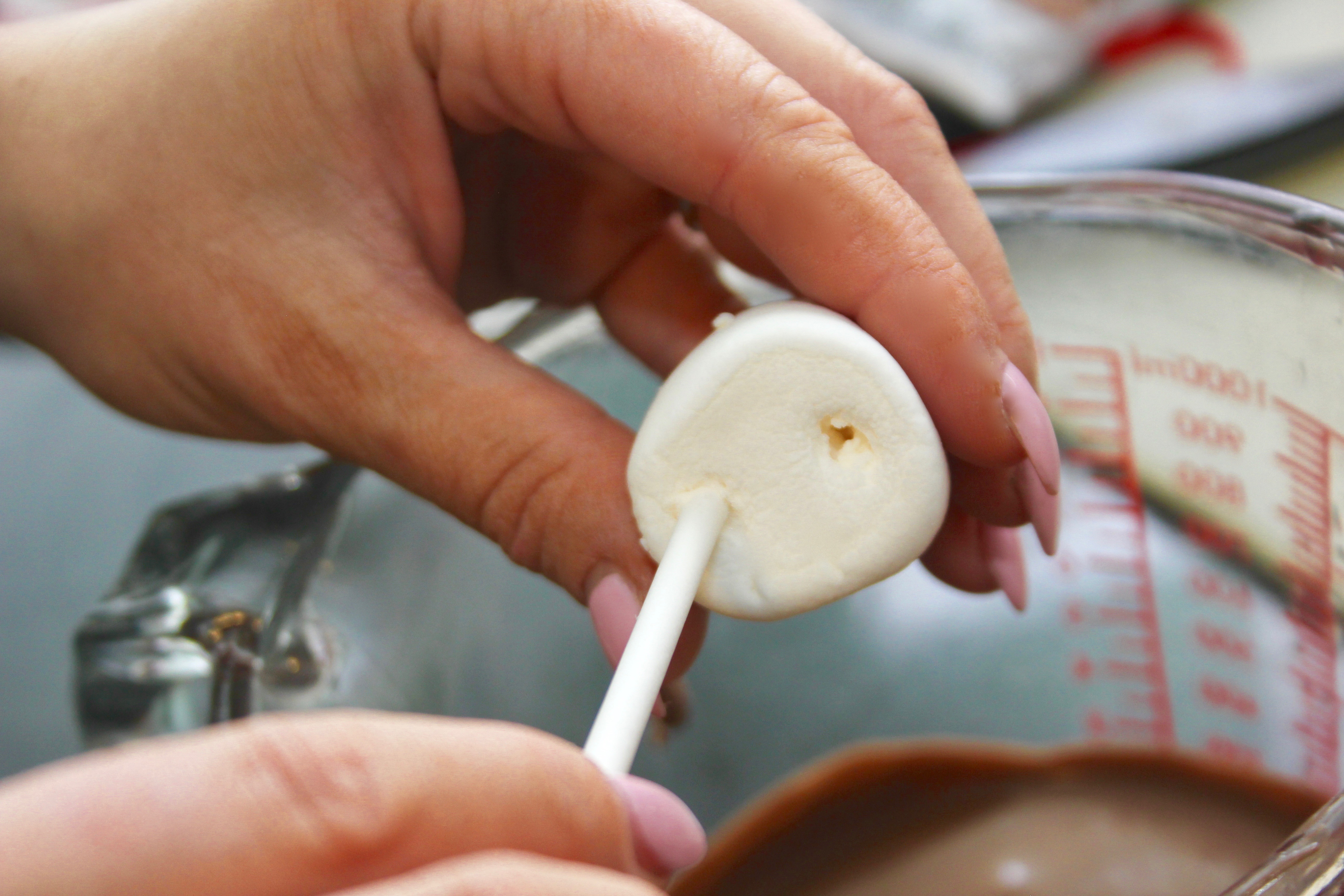 Next, dip your marshmallows into the melted chocolate. Tap off any excess to avoid a big mess. Stick the chocolate-covered marshmallow into your styrofoam block and let the chocolate set for about 30 minutes.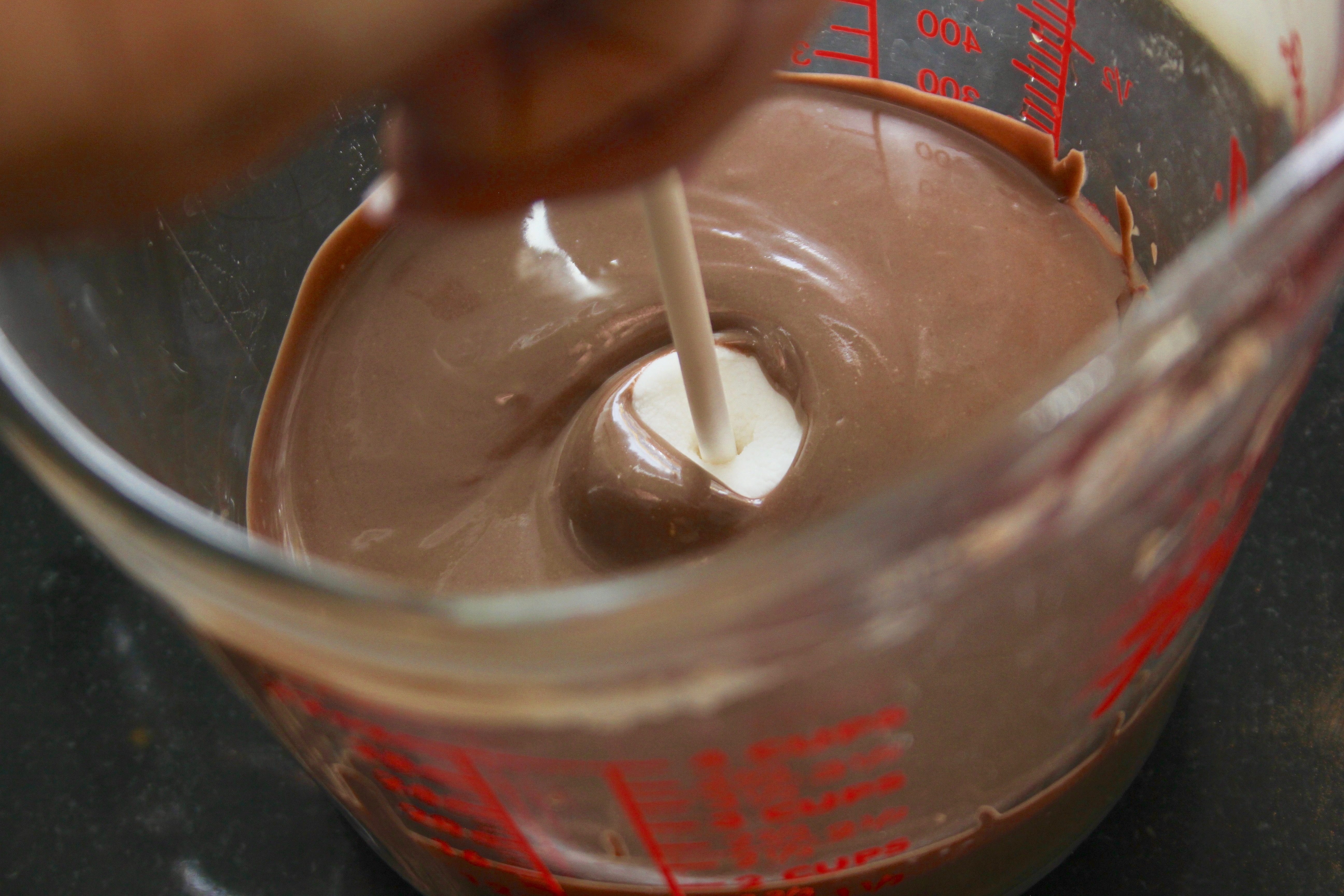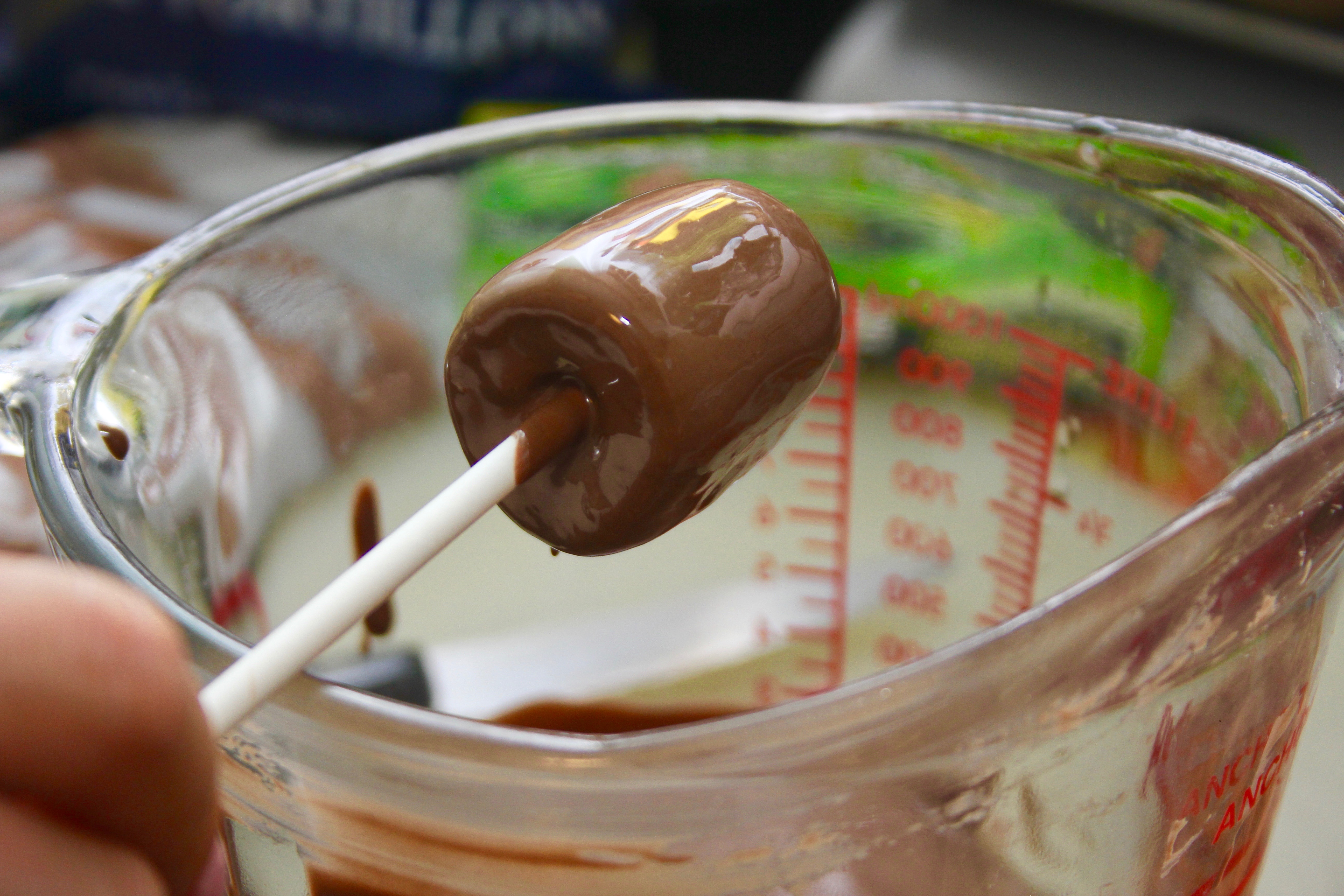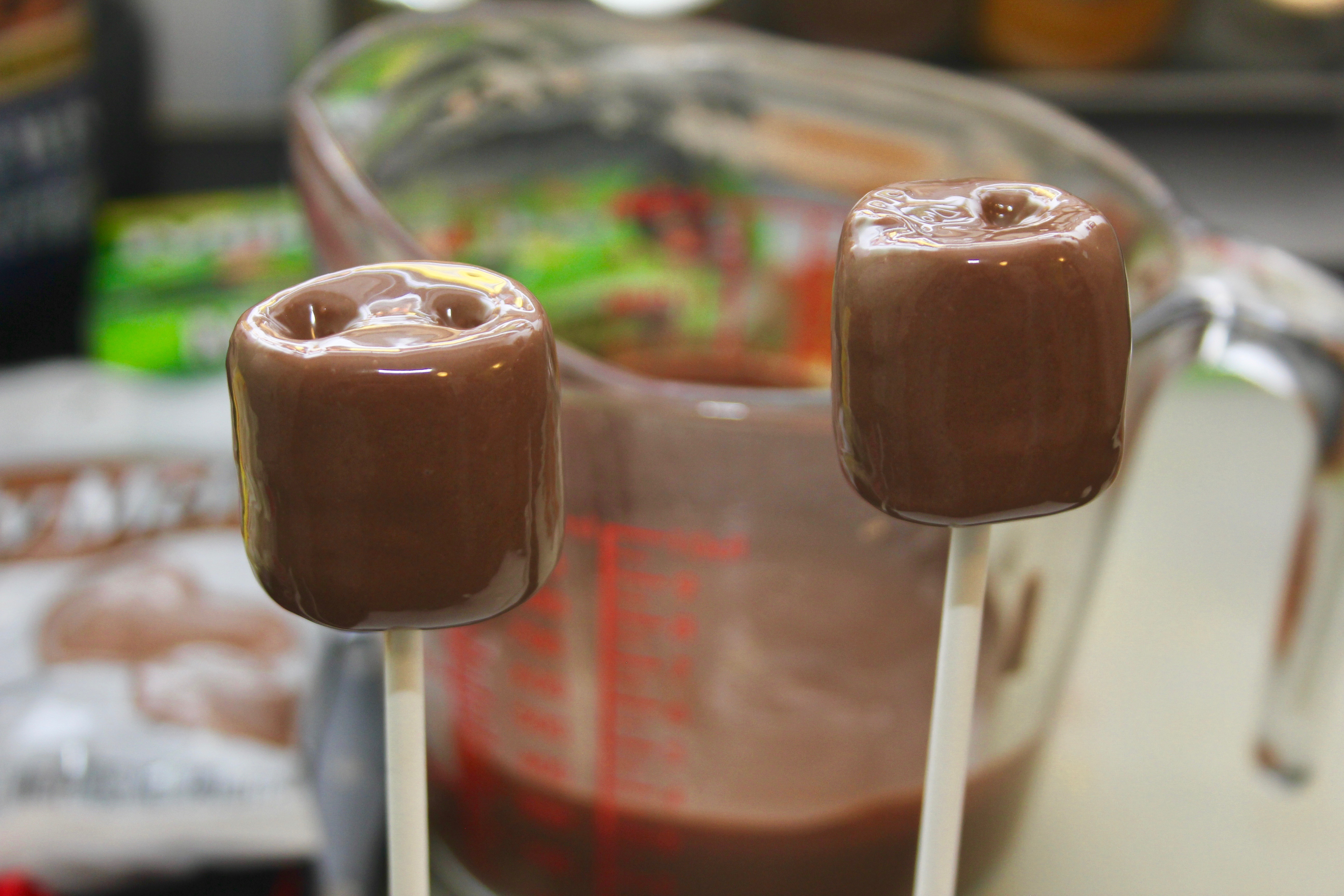 While the chocolate is setting, you can prep your reindeer antlers and noses. Use a sharp knife to cut your pretzels right down the middle, then trim the sides to your liking. (Warning: this takes a lot of patience and a ton of pretzels to get it right. Sip your wine. Everything will be alright.)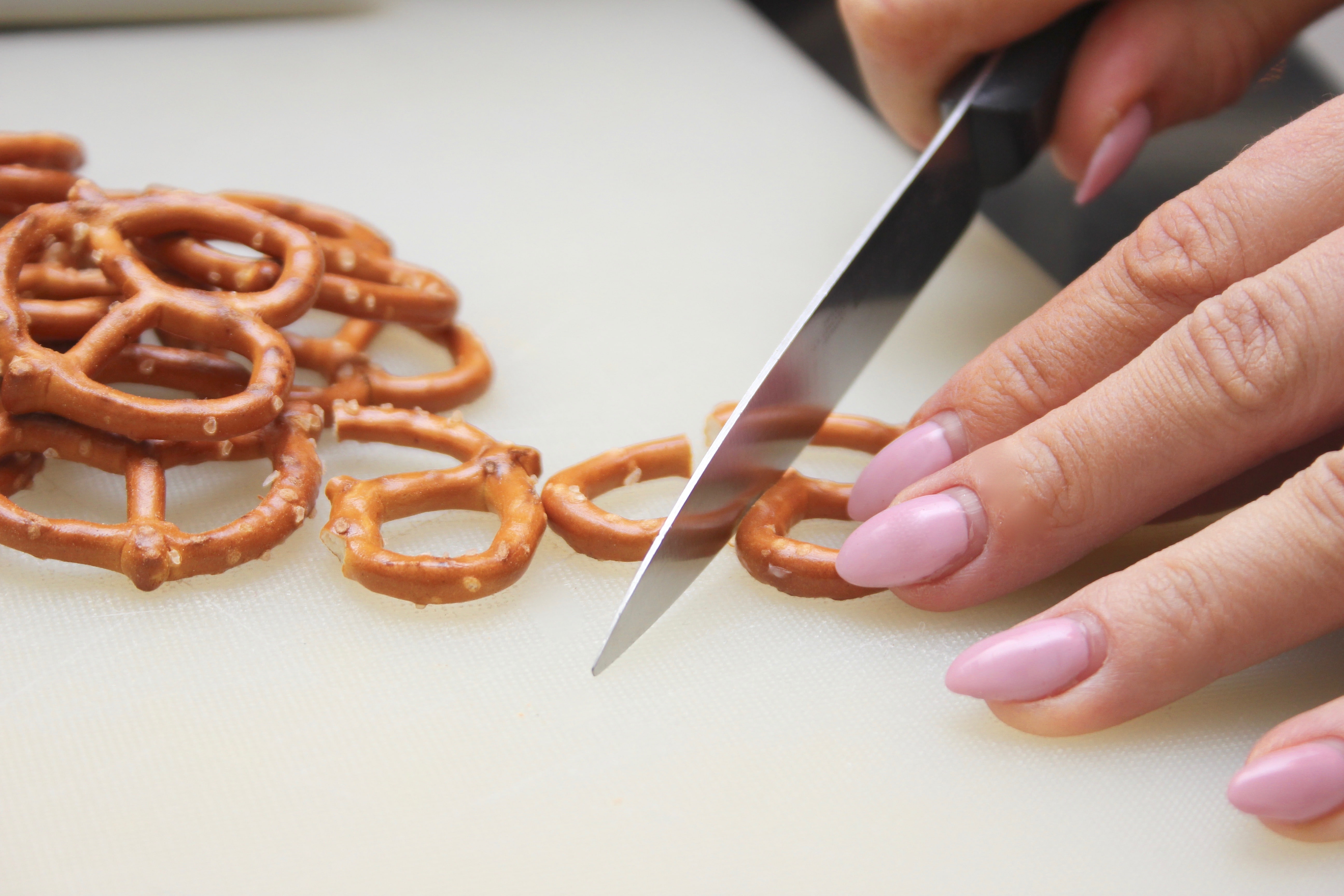 Next, cut your Mike & Ike's in half to make your reindeer noses. (Eat a few extra.)
Final Steps:
Once your chocolate marshmallows have set, dip the ends of your pretzels into a little bit of chocolate and gently push them into the spots where you made the indents.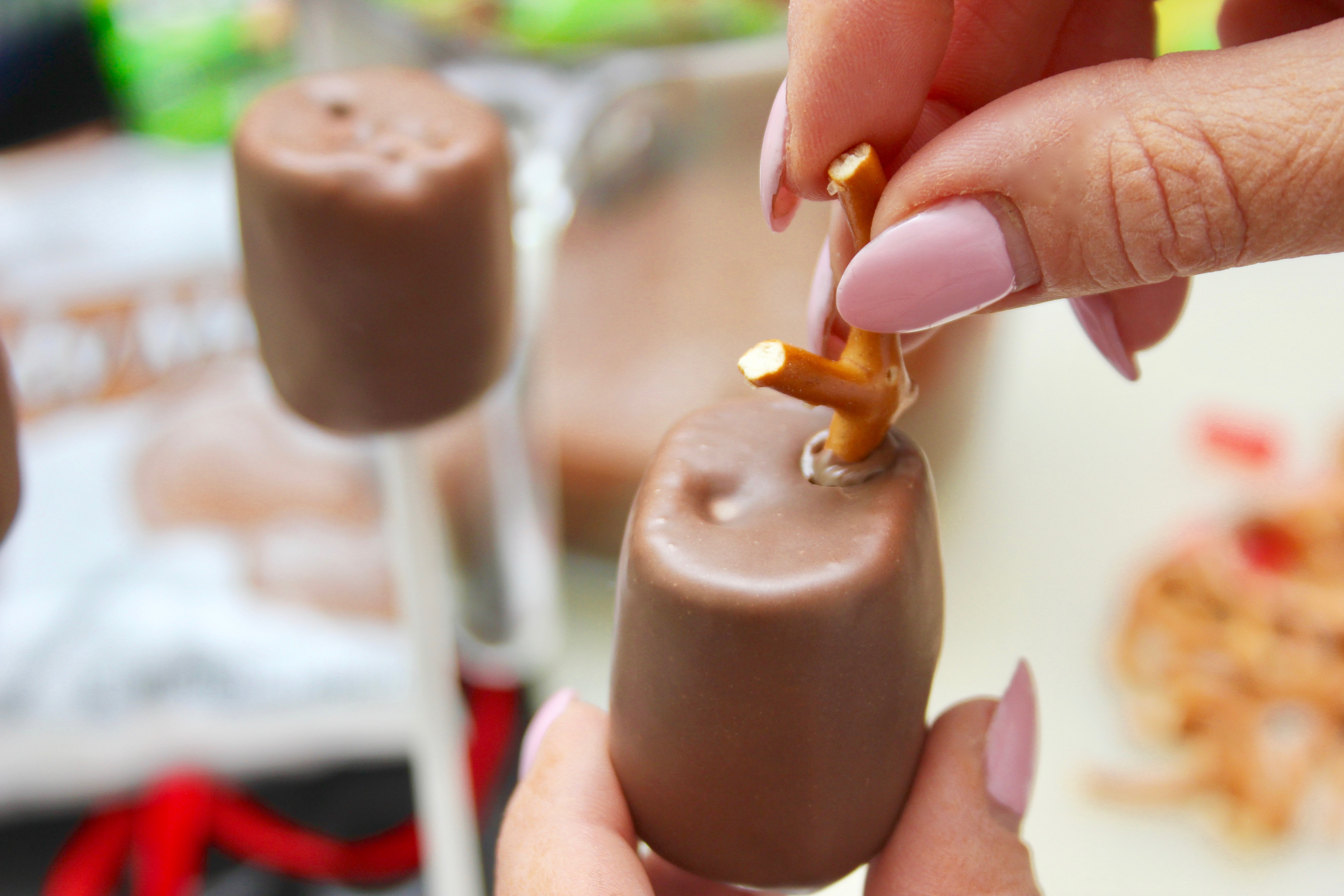 One at a time, use a toothpick to add melted chocolate dots where the eyes will go, then place your white sugar pearls on for the eyes. You may find it easier to use tweezers for this part.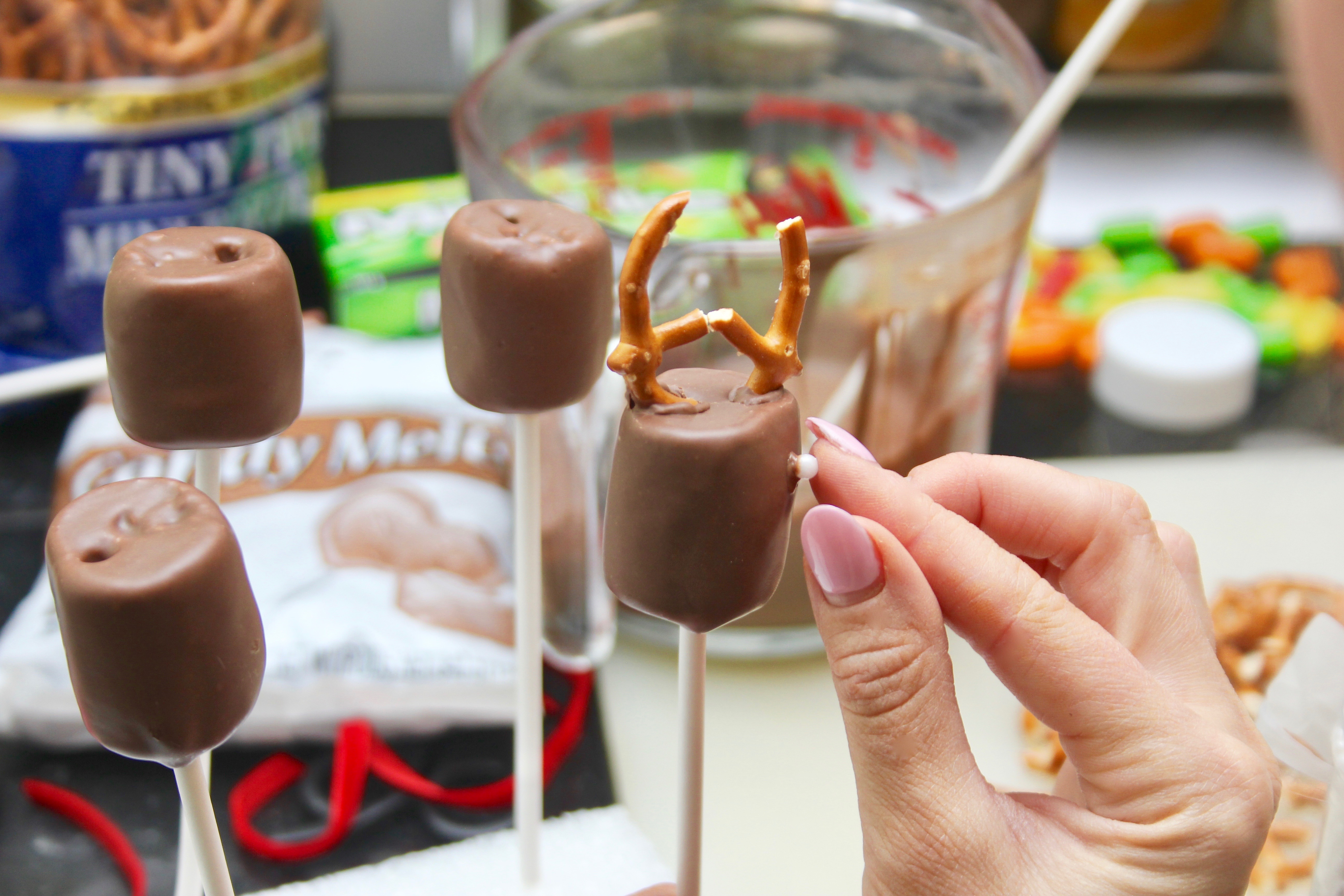 Then, dip the halved Mike & Ike's into chocolate and place on for the nose. Hold for 15-20 seconds to ensure it sets properly.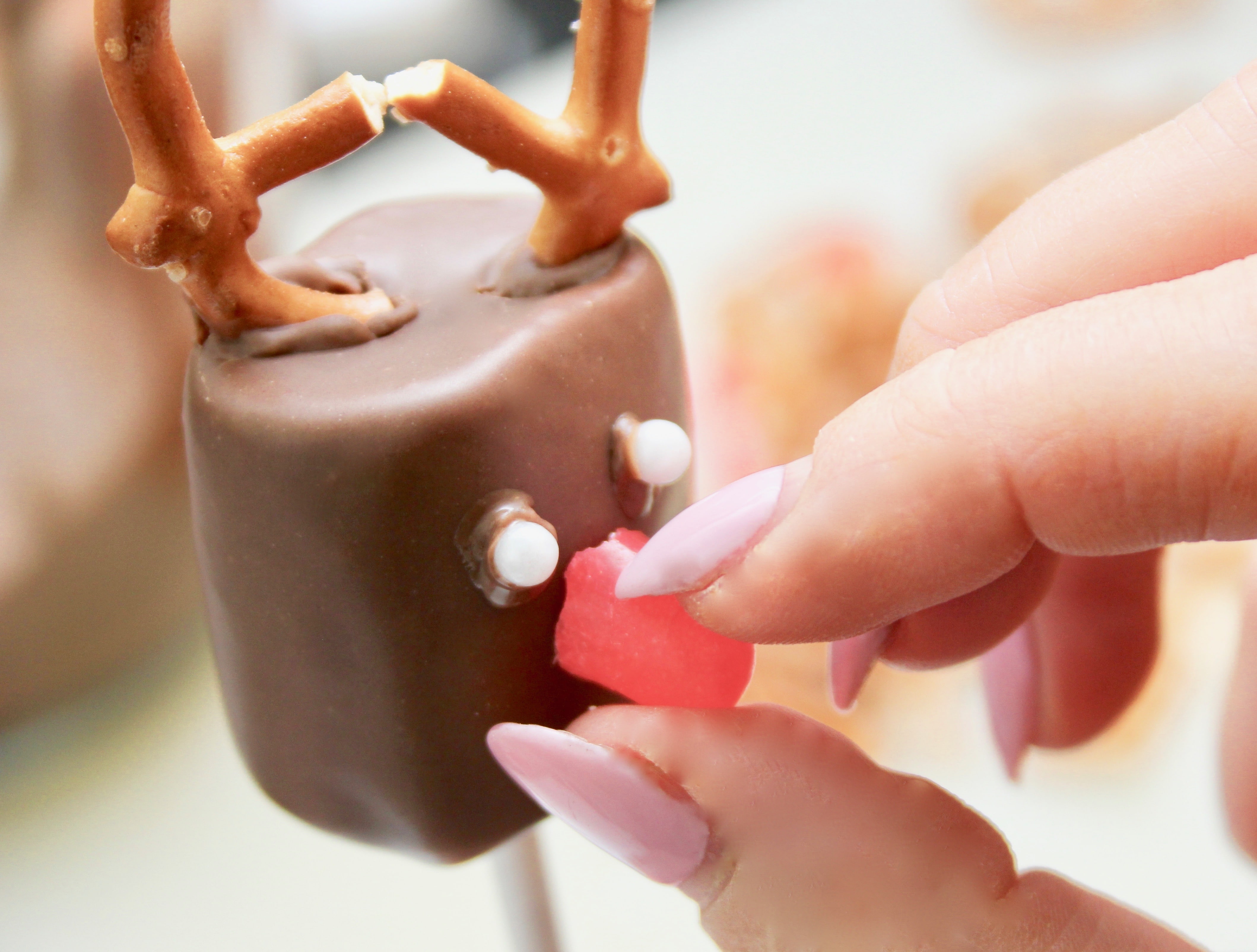 Finally, tie your ribbon to the lollipop sticks and trim to whatever length you like! You can place your reindeer in plastic treat bags to take to school or display them in the styrofoam block at your home or office Christmas party.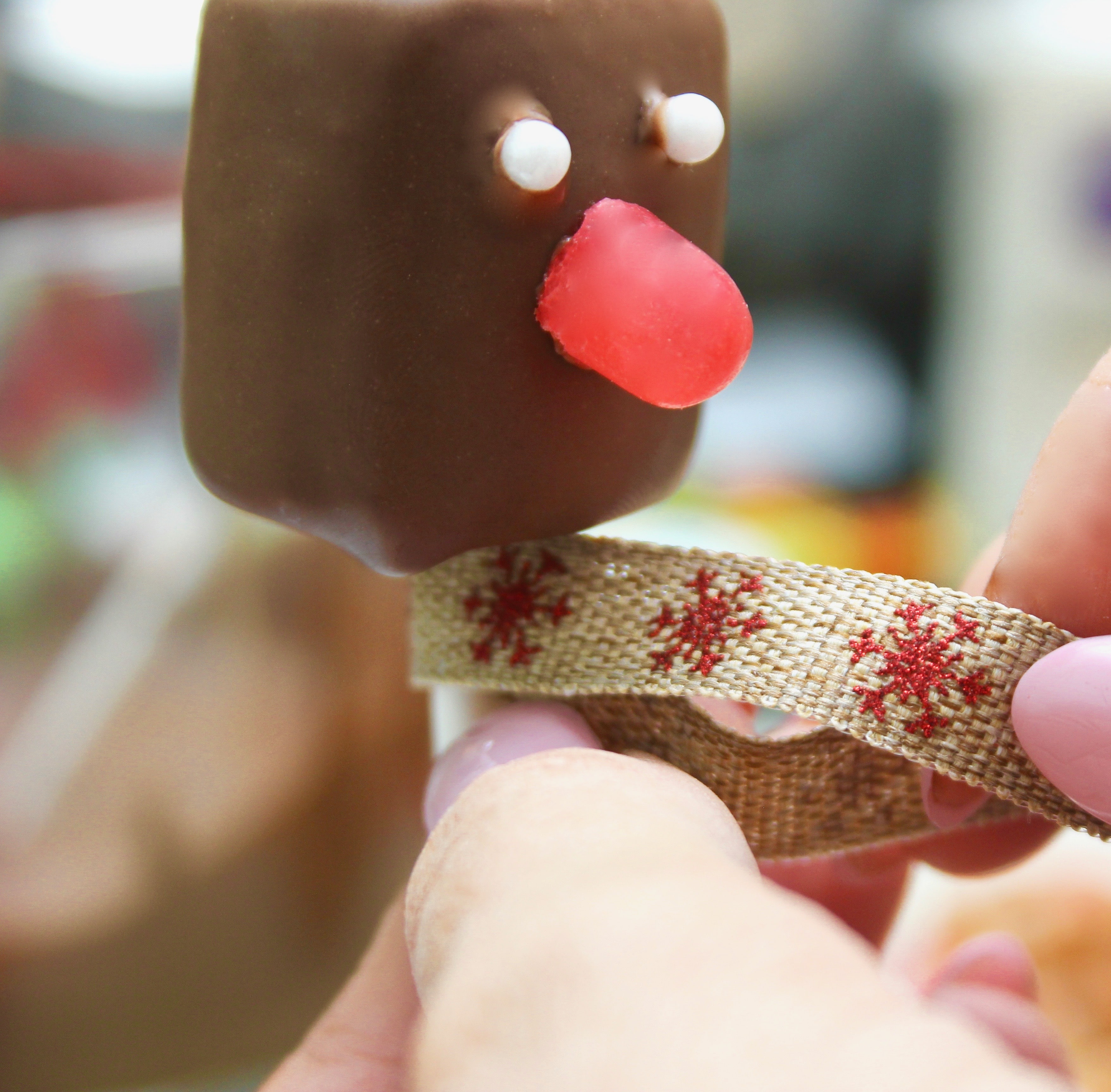 Share to your Christmas Treats and Christmas Baking boards and follow me on Pinterest!

Other Posts You'll Love:
How To Throw An Awesome Truck Birthday
xx