Here's my simple how-to-make the best damn chicken stock. This stuff is pure gold!
There is nothing quite like the aroma that fills your home when a pot of soup is simmering on the stove. Not only does it smell divine, but for me, it's also nostalgic. Soup was such a huge part of our household growing up. This one is a family favourite, and it comes from the kitchen of my Uncle Lor. He perfected chicken stock and chicken noodle soup recipes and graciously allowed me to pass along the details to you. I now make a batch of this almost every other week, because it's SO good (and super easy to make).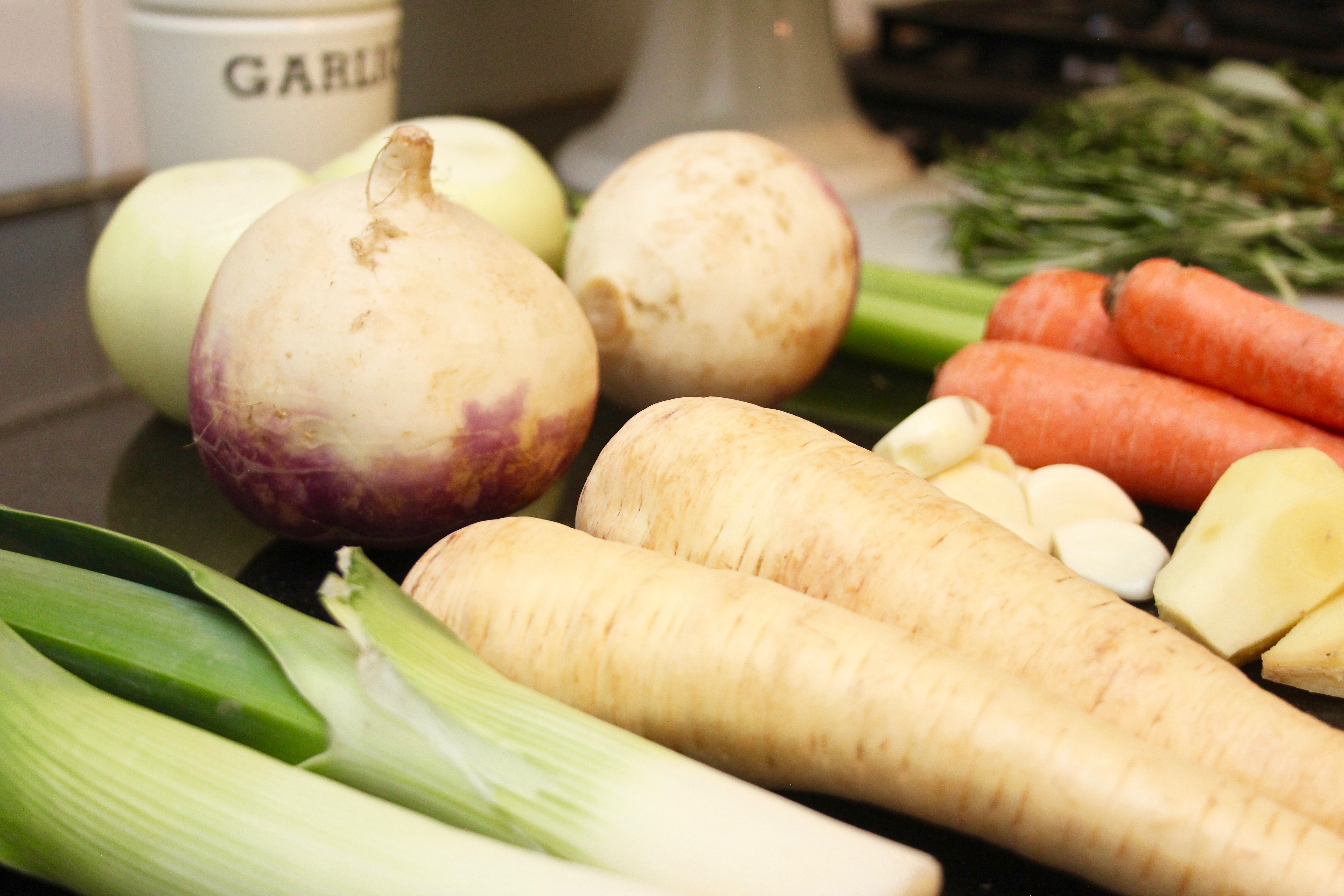 Time Investment
30 minutes prep
Up to six hours for cooking
You'll Need:
One or two chicken carcasses
Fresh herb poultry mix (rosemary, thyme, sage)
Savoury (optional)
one or two small leeks
one large yellow onion
two or three carrots
two turnips
two or three parsnips
three or our celery stalks
one bulb of garlic
fresh ginger
salt
water
12-quart stock pot (or at least on the bigger side)
Directions:
First, put the chicken carcasses in your stock pot. I like to use two carcasses to really pack a punch with the overall flavour. If you like more of a subtle taste, go for one. Wash your fresh herbs, pat dry, and toss them into the pot.
Easy Chopping
Next, chop up your veggies. Don't worry too much about peeling and cutting off roots. Just really wash them well. Take the outer skin off the onion and garlic. Then, cut the leeks into three or four pieces. Chop your carrots into large chunks. Cut the turnips in half. Chop your parsnip into large chunks. Finally, cut three or four celery sticks into half, then toss all your chopped veggies into the pot.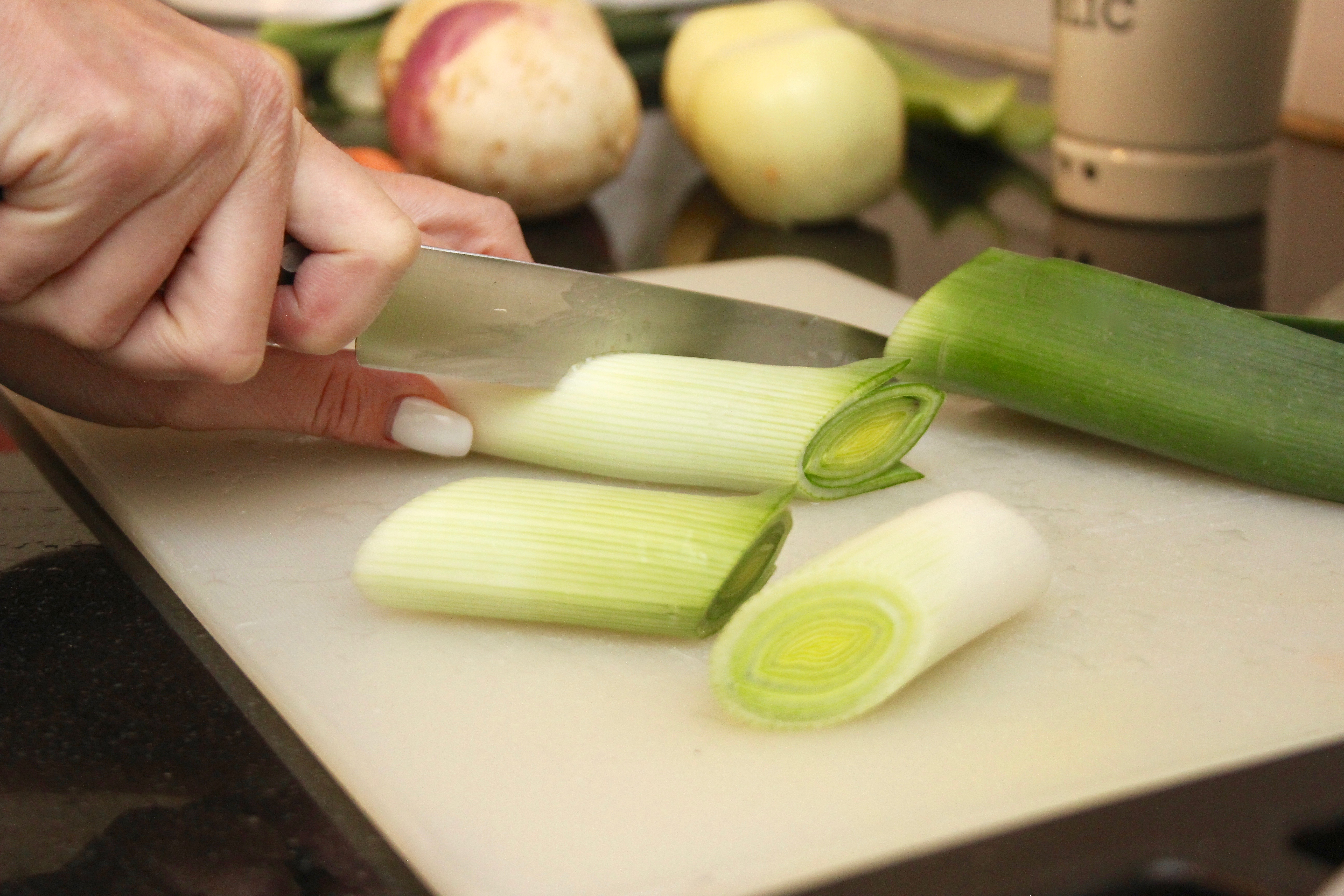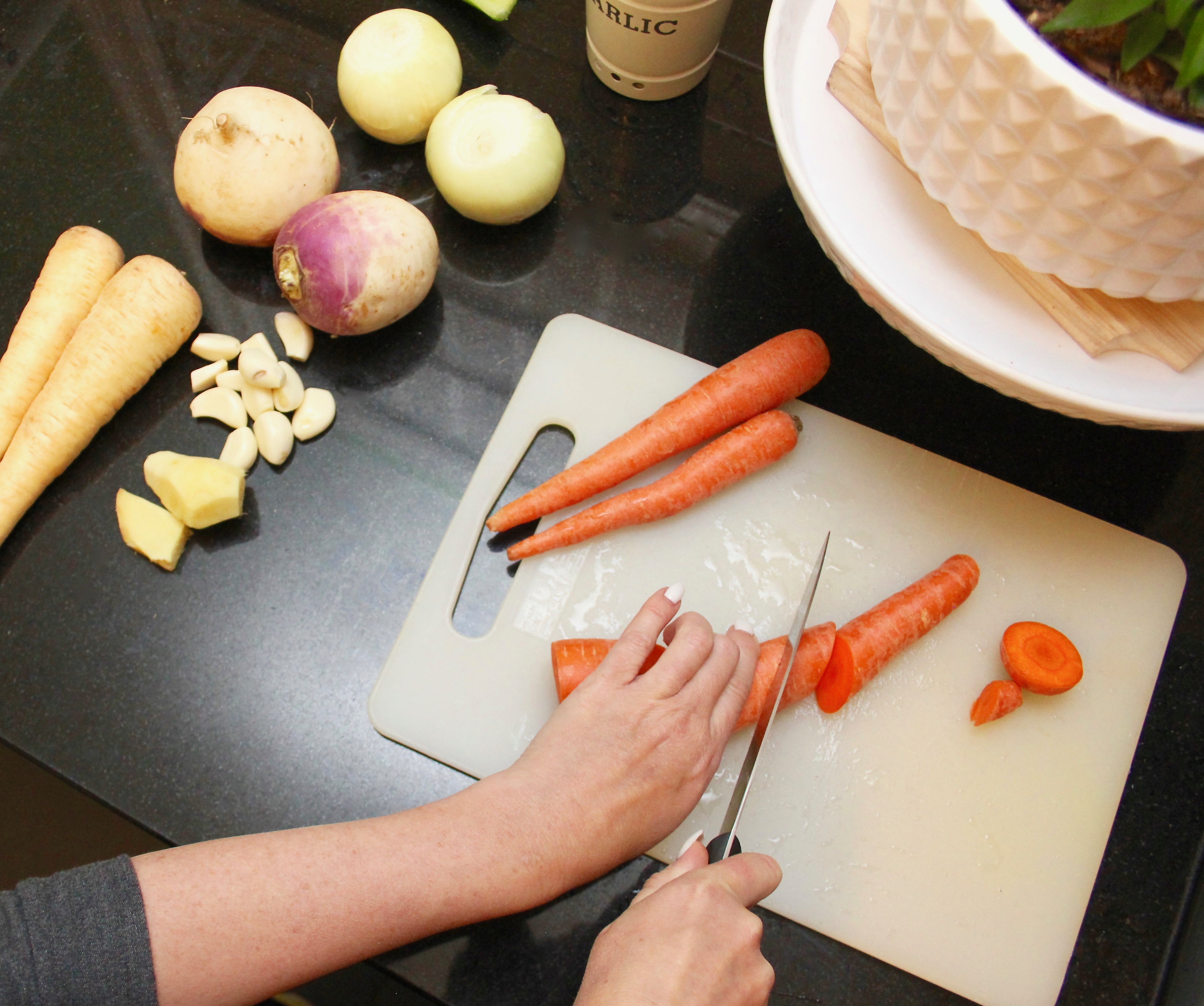 Next up, cut your onion into quarters, but only about 2/3 of the way down to the root. This allows for the release of more flavour while they're simmering. Toss them into the pot.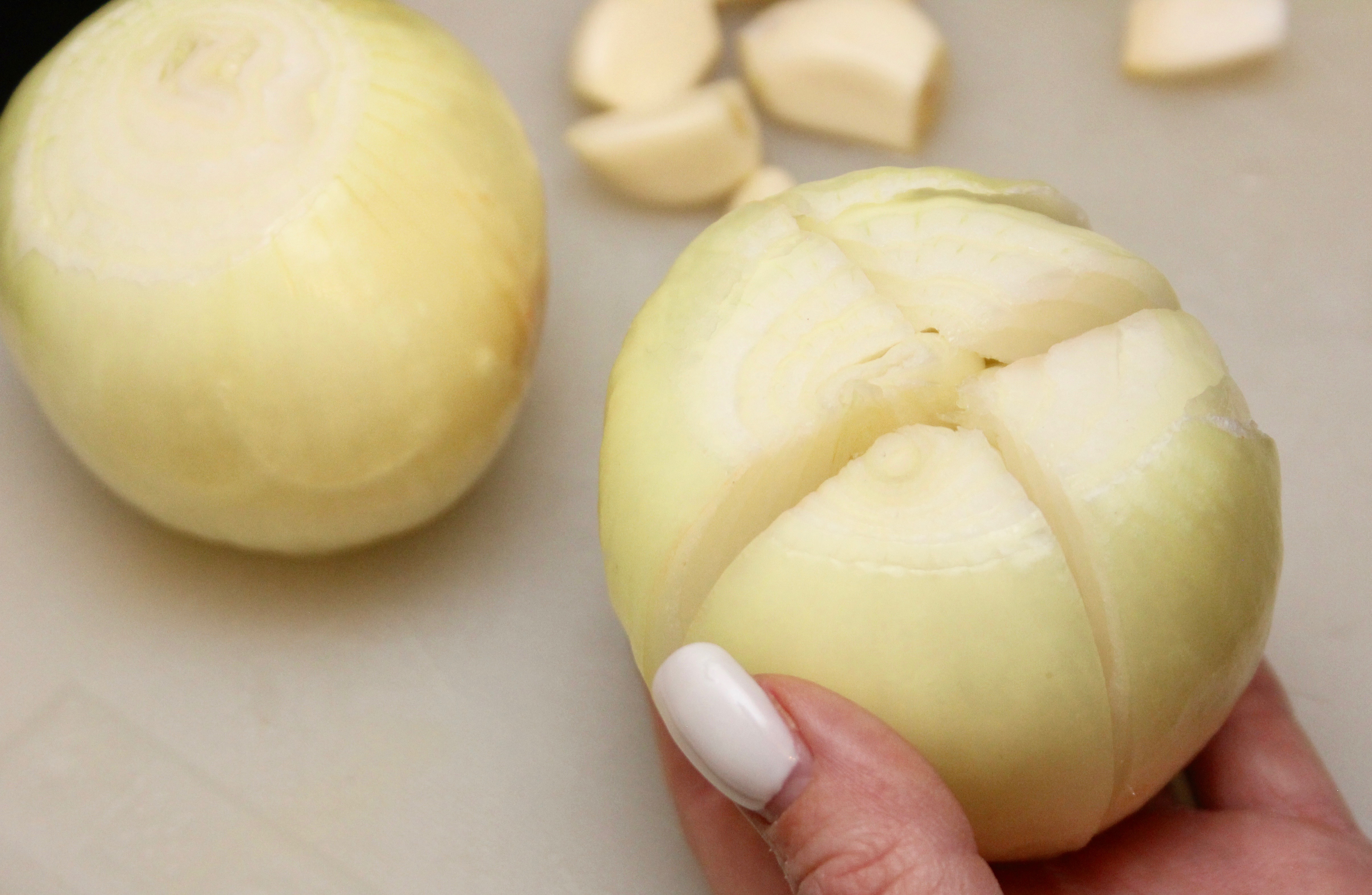 Next, peel your garlic bulb, and smash the cloves with the side of a knife to release the flavour . Add the garlic to your pot. Peel the ginger root, cut into large chunks, smash with the side of a knife, and add to the pot. Then, add about two tablespoons of salt (less is better than too much, as you can salt to taste at the table).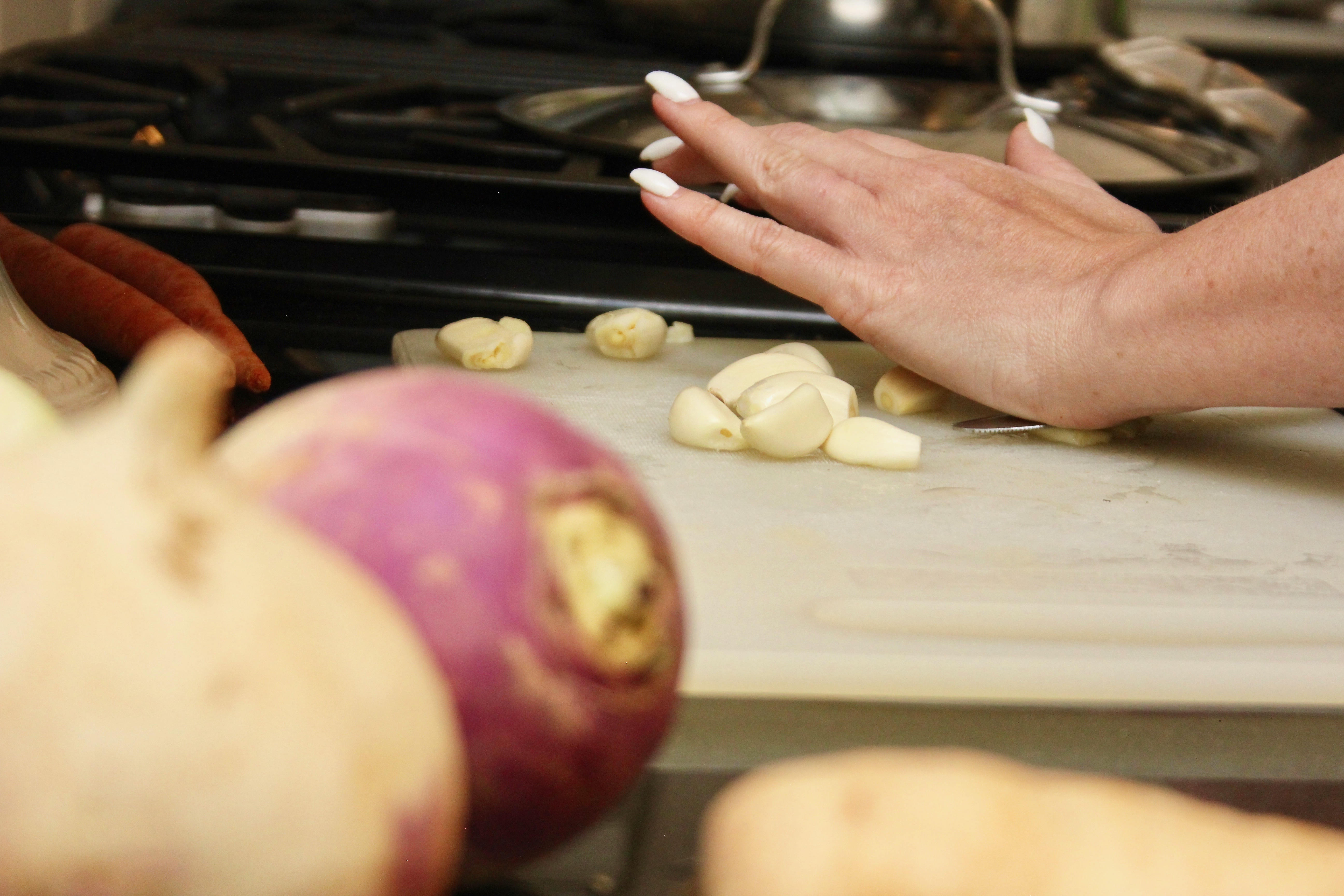 Finally, fill the pot with water, a few inches from the top. Cover and bring to a boil. Watch close because as soon as you reach a boil you want to reduce the heat to a point where there is a slow boil/simmer with the lid on, without it boiling over. Simmer for a minimum of three hours, ideally 5 or 6 hours.
Last, turn the heat off and let your stock cool. If you have the time, let it cool for a few hours. That will allow the fat to rise to the top and congeal. Scoop out all solids with a slotted spoon or strainer, and throw into compost. Strain the remaining liquid into a soup pot and/or containers for the freezer. The recipes makes approximately 6.5 litres of the best damn chicken stock!
Pin this to your Homemade Soup and Meal Planning boards and don't forget to follow me on Pinterest!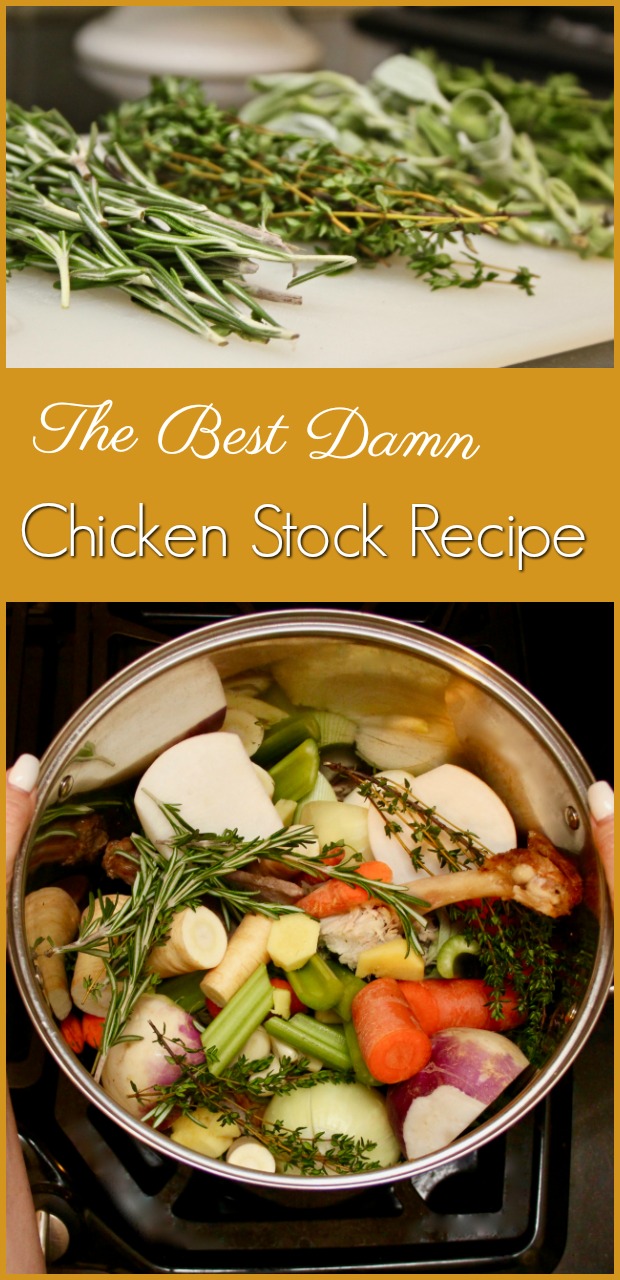 Other Posts You'll Like
The Best Damn Chicken Noodle Soup
Heart-Shaped Biscuits and Borscht
xx