Here's how to style Spanx faux leather leggings! Outfit inspiration for daytime momin' looks, office attire, and a night out! Plus, a few affordable alternatives.
(This post contains affiliate links which means I get a small commission if you purchase the item from my link).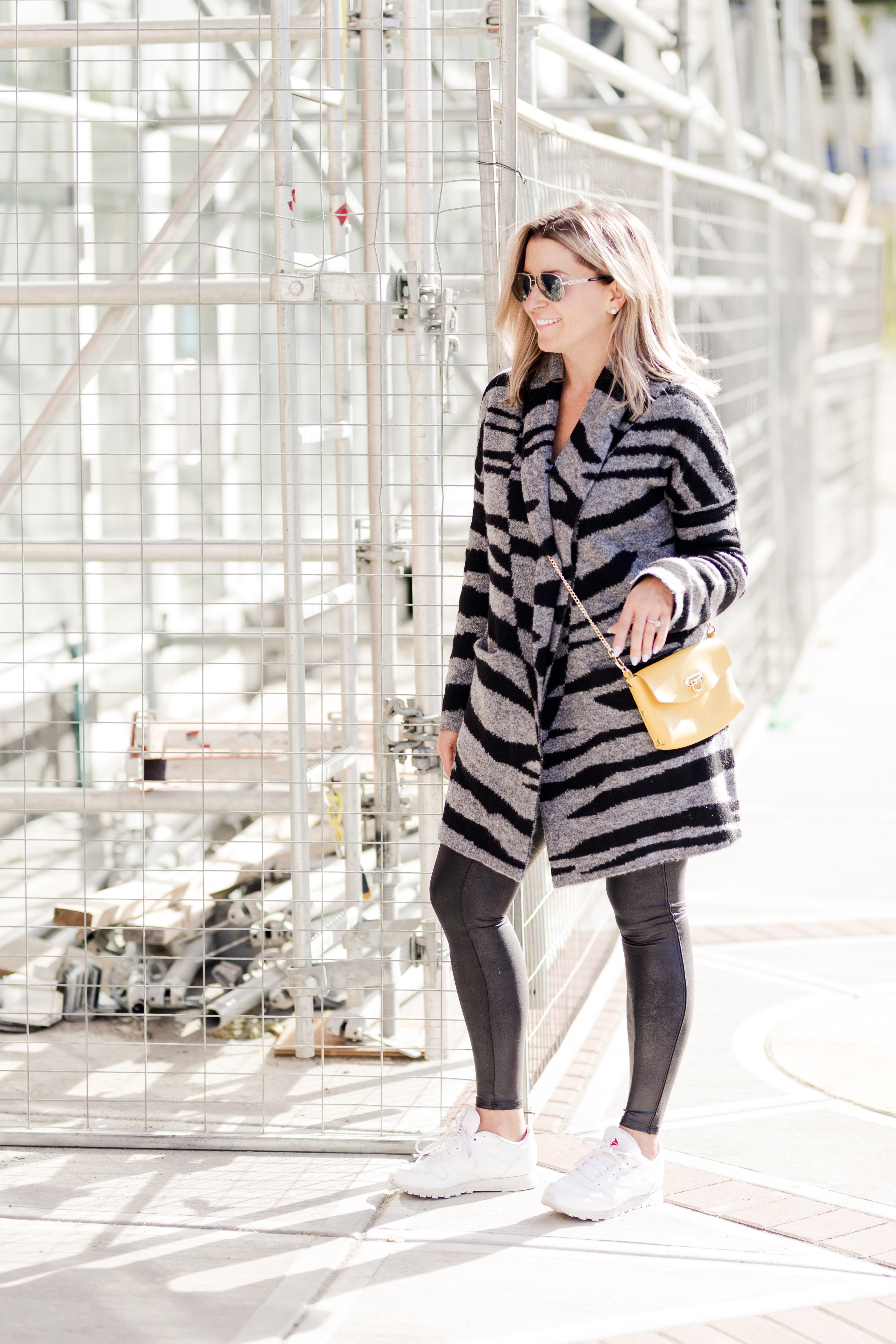 These faux leggings are the bomb! Versatile, comfy, and stylish. They're a staple in my wardrobe so I wanted to pass along a few outfit ideas for how to style Spanx faux leather leggings. I've included some inspo from my closet and from some style bloggers I admire. Be sure to give them a follow along the way!
For another cute leggings look in winter, this long puffer is perfect. It's my must-have mom coat of the year! Pair it with your winter boots and some cozy socks and a toque.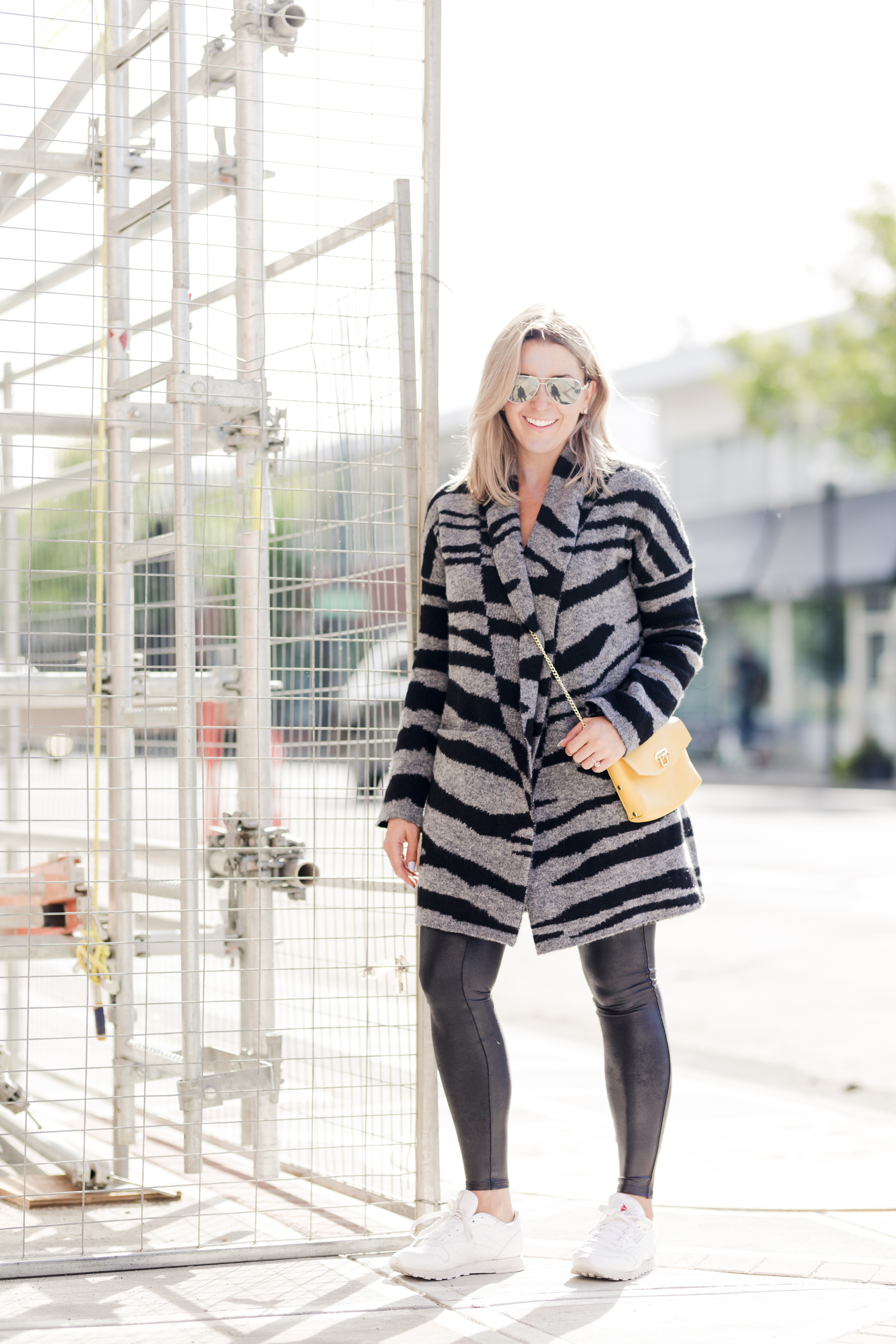 Momin' Look
I love this outfit for a full-blown day of parenting. It checks all the boxes – comfy, high-waisted, easy to haul kids around AND stylish. Any of these fun white sneakers would look great. White sneaks go with SO much (another wardrobe staple to consider). Here's another momin' outfit I love and live in.
You can easily transition this one to a date-night outfit by adding some ankle boots or pumps (depending on your climate).
Shop: leggings | high-neck bodysuit | leather crossbody | animal print cardigan | white sneaks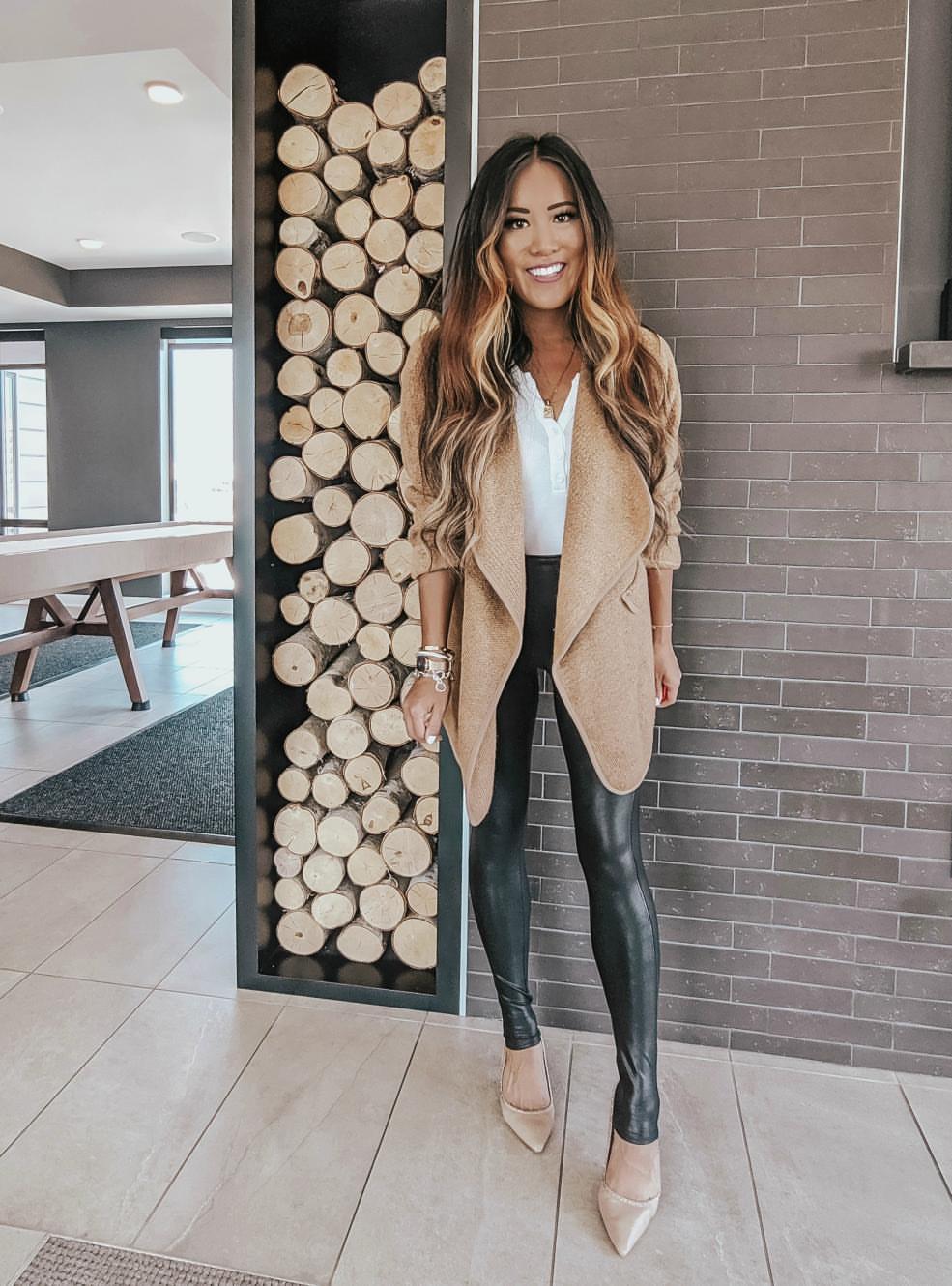 Date Night
Here's a great example of dressing up those leggings for a date night or girl's night out! This one comes from Marianne who is the creator behind I Love Your Outfit and she's a Kindergarten teacher based in Minneapolis. Follow her here!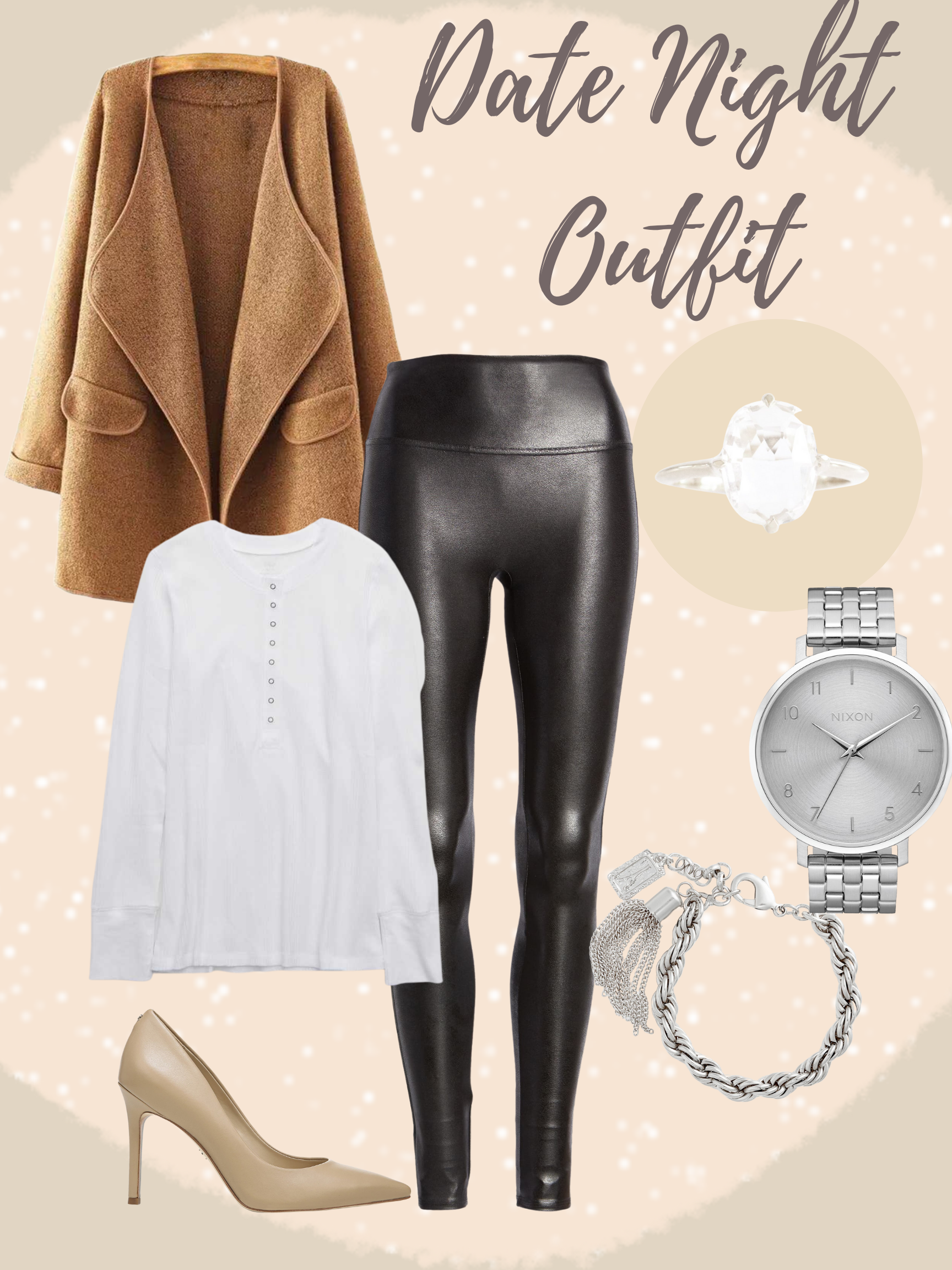 Shop: coatigan | leggings | waffle long sleeve | pumps | watch | ring | bracelet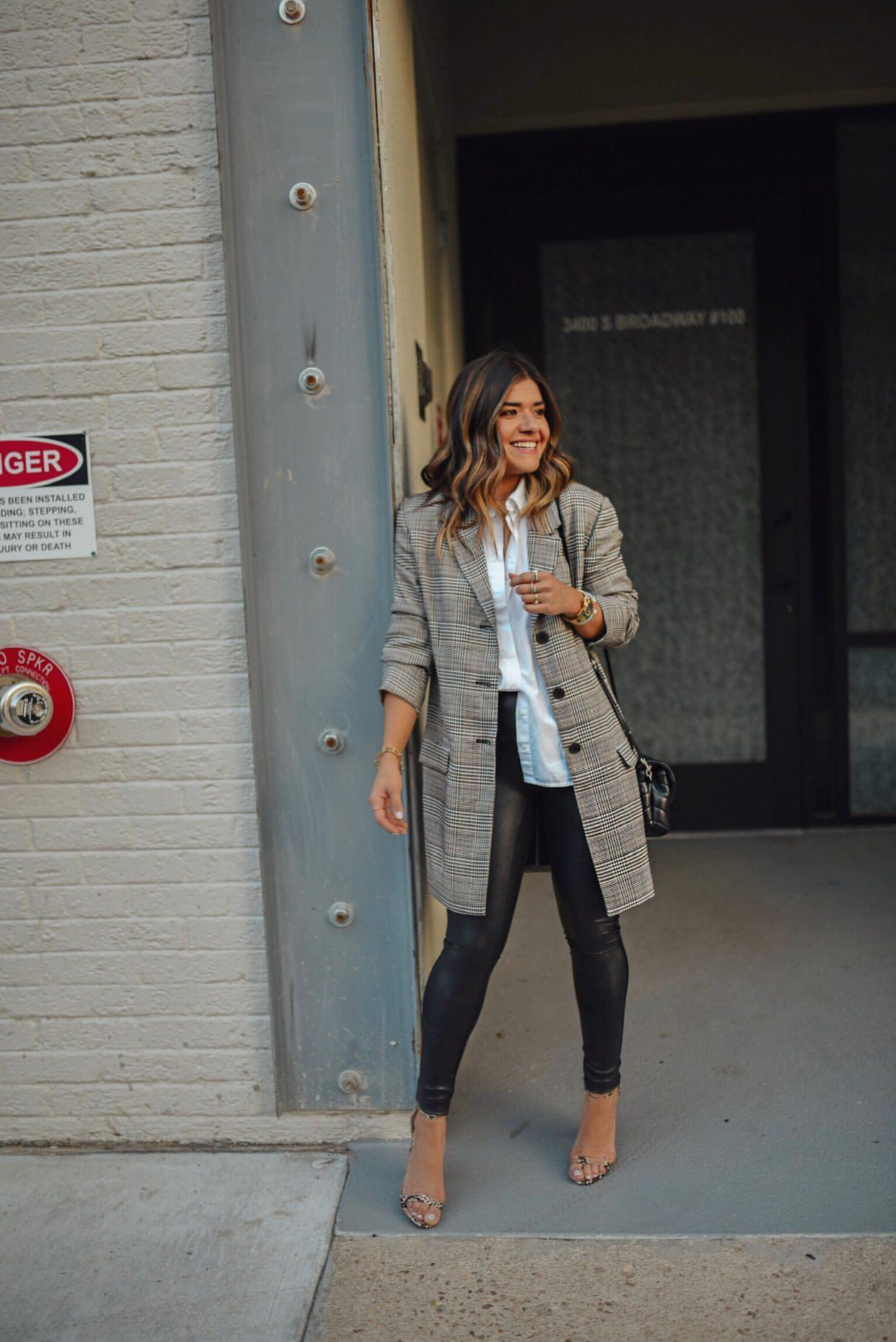 Office Attire
This outfit is pulled together and professional with a bit of edge! Styled by Carolina Hellal, the Creator and Editor of Chic Talk in Denver. Follow her here!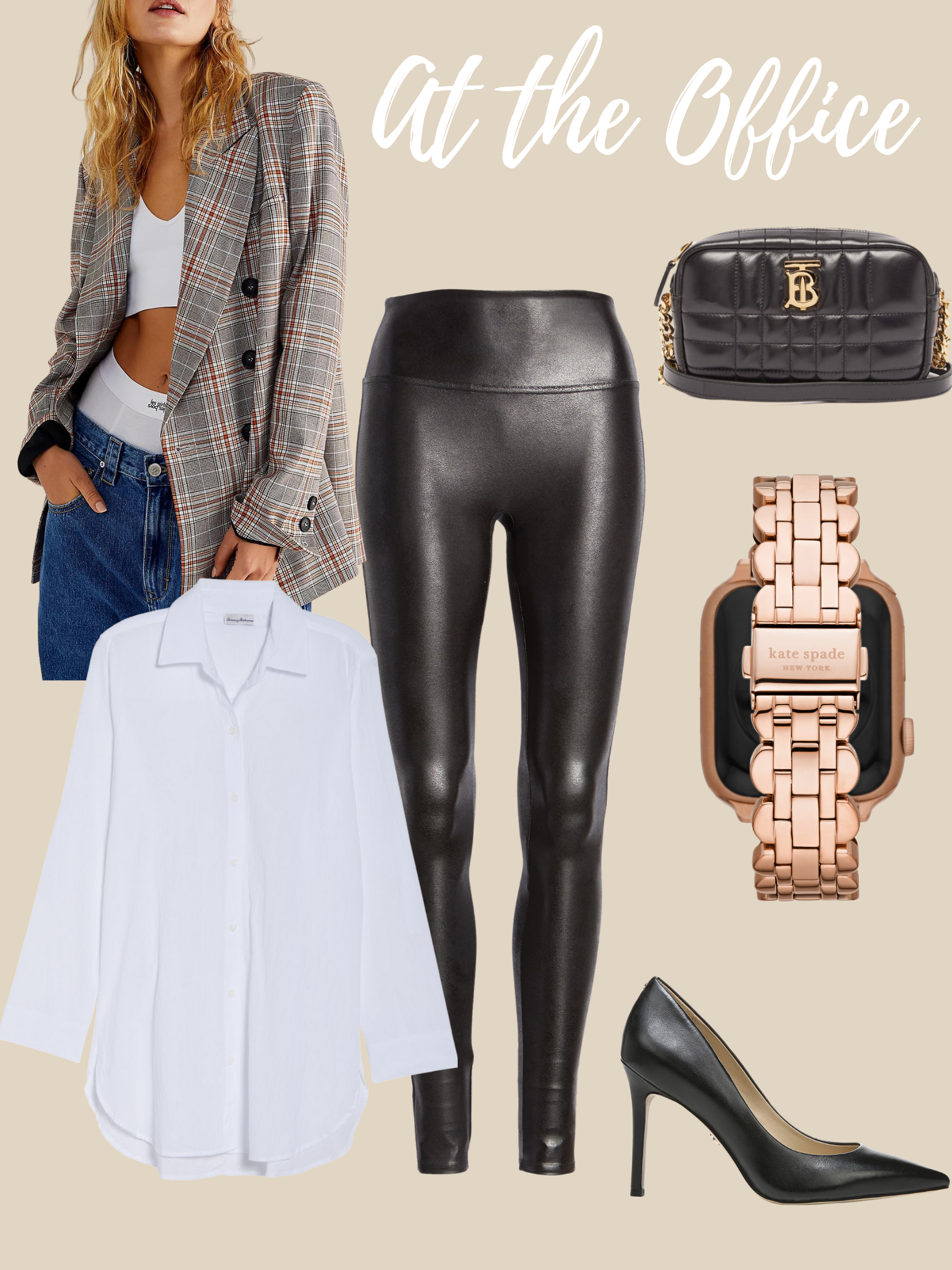 Shop: button-down | leggings | blazer | quilted bag | sandals | heels | apple watch strap
Fall + Winter Style
Erica is a Fashion YouTuber from Denver who always has great outfit ideas on her channel. Here's how she's styled faux leather leggings for fall and winter.
Affordable Alternatives
The Spanx leggings are definitely an investment piece at around $100. They'll provide you with so much bang for your buck and endless outfit options. However, if you're thinking you may only rock these once in a while, opt for a less expensive pair. It's a great way to still have fun with the look without spending too much. Here are a few you'll love!
#1: Simons | #2: Nordstrom | #3: Dynamite | #4: Eloquii (on sale with code) | #5: Aerie
Pin this to your Faux Leggings Outfit Ideas boards or share your ideas on my board here! You can follow me on Pinterest here.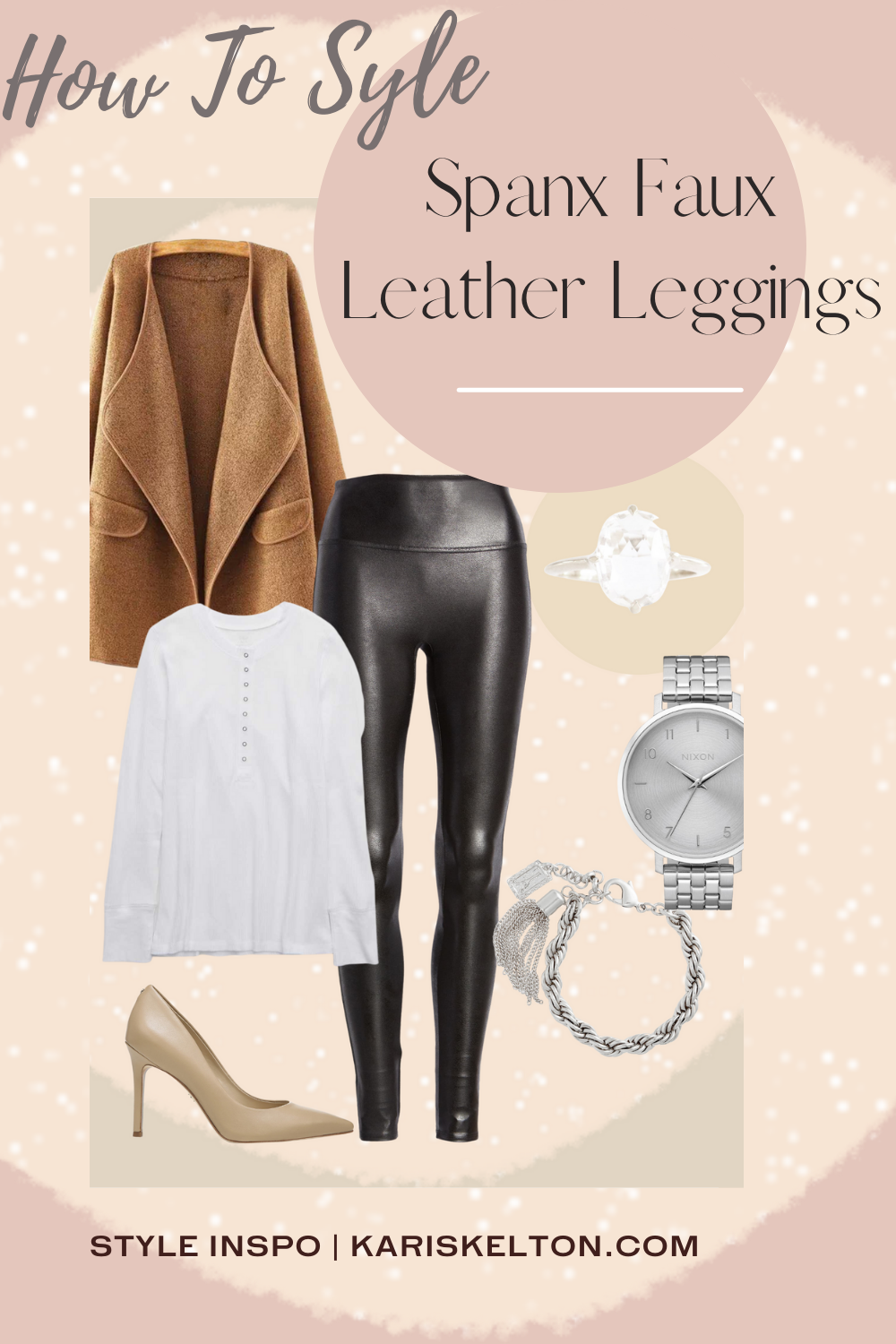 Other Posts You'll Love
The Ultimate Lighting Guide For Your Home
Must-Have Winter Coat For Moms
How To Bring Beachy Boho Vibes To Your Patio
xx